Hello! Been on this forum for a while now just browsing other peoples projects and I thought I may as well start my own thread to keep track of my own progress as I go along! (Sorry for the long post by the way) Back in January 2016 I bought I my first car the cheap and cheerful Clio MK2 1.2 8V, at the time it had around 48000 miles and was well maintained along with being and generally sound car. I don't have any pictures of the car when I bought it but I haven't changed much since then, the only thing I did at the time was the water pump and timing belt as it was due to be changed. I kept it very simple for the first year with a set of black wheel trims which made the car look a fair bit better than the standard silver wheel trims. I passed my driving test last September and I ended up needing to get a set of 4 new tires. Got a cheap set for about £30 a corner as I didn't intend to keep the steels in and wanted to get alloys at some point. The pic below is from October 2016.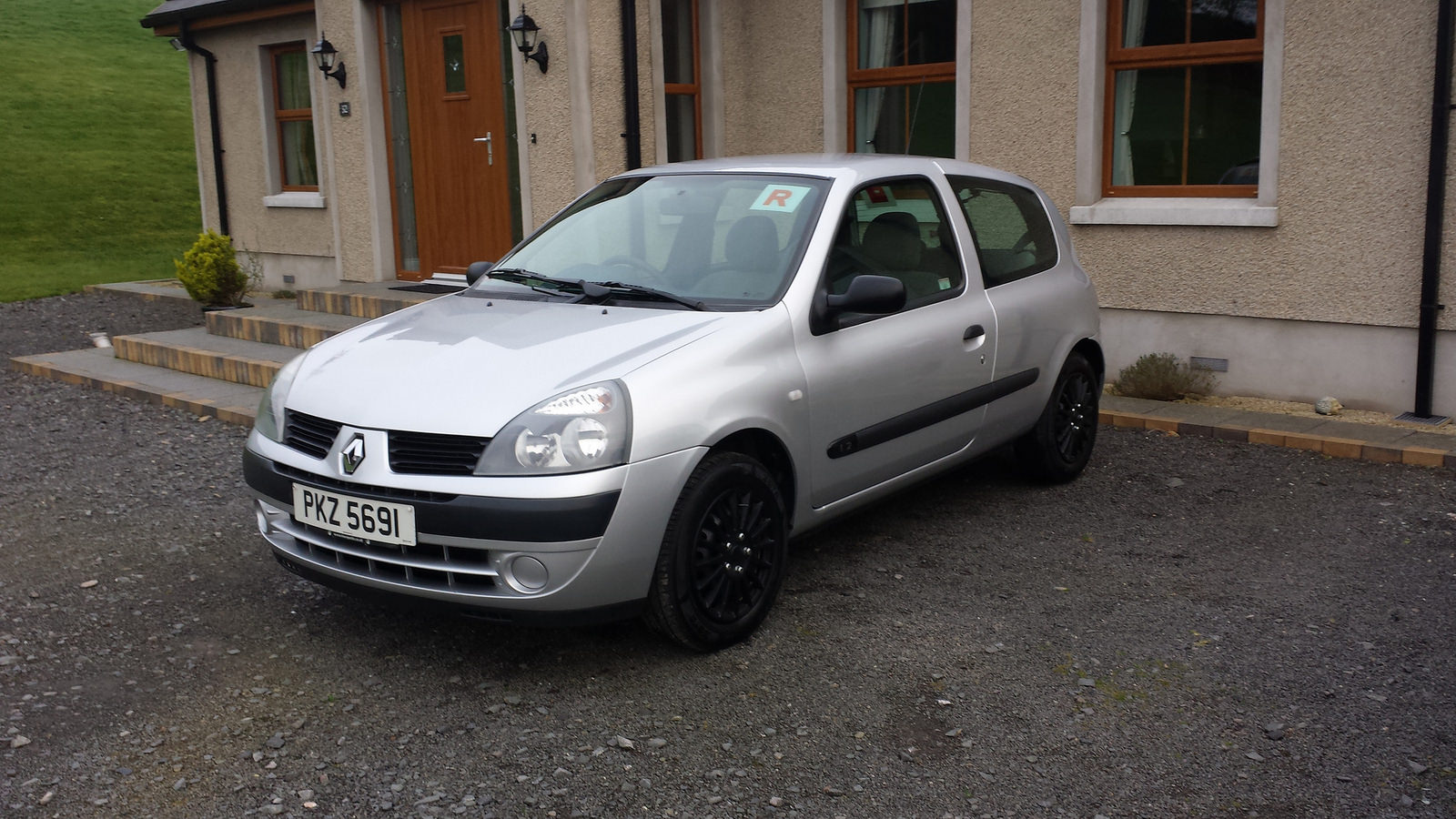 November rolled around and my MOT came around failed the first time due to bad passenger side wheel bearing (the bearing had been replaced a month ago as I knew there was excessive play) turns out the actual hub had some movement in it and I ended up getting it partly welded, car then passed the second time round.
Moving on a few months to March 2017 I decided to get some alloys for the clio! Found a set of 15" Renault Clio alloys from a Dynamique for a cheap price and got them resprayed to Anthracite. Got a set of decent tyres as well, Hankook Ventus V12 Evo 2s 195/50/15. I then started having this weird issue with the car, if the car had been on a long enough journey to get warmed up properly (lets say 40 miles) the car would have this issue where no power would be sent to the wheels when the accelerator was pressed and the tachometer would be going crazy from 0 to 5000 RPM, the engine would then stop. I thought it could be something to do with the electrics or something along those lines so I got a full service done, (Engine Oil, Engine Coolant, Oil Filter, Transmission Fluid, Brake Fluid, Checked Brake Pads and Drums, Spark plugs) also got a new coil pack thinking it could be the issue. I don't drive many miles in one trip usually about 10 miles to work in which it sits for a good few hours so it gets to cool down again so wasn't sure if the issue was still there. One day went for a longer drive than usual and the car ended up having the exact same issue. As I was fed up with it me and my dad set out to figure out what it could be, just be coincidence we were poking around where the wiring loom was when the engine was on and engine suddenly turned off, turned out when part of the wiring loom was moved the engine switched off and lost power. We then took out the starter motor and wiring loom to see for and broken wires in which we had no luck. We just cleaned up the metal contacts where the wiring loom connects to the alternator and starter and ensured everything was secure and in place and went for a test drive and sure enough everything was working fine corrosion must have been causing issues on the metal contacts! You don't know how happy I now was after having an unreliable car that would suddenly switch off.
June then rolls around and I'm still keeping it fairly simple just got a set of car mats just the standard Clio ones and for £20 you can't go wrong pretty good build quality I also picked up a rear number plate light bulb holder as the old one had gone all yellow so it needed refreshing. Also got some clean plates at the old ones were using screws which had become quite rusty.
This then brings me up to the present day where I ordered a set of Eibach Sportlines, I had been wanting to the lower the car for some time and thought why the hell not! Now I was thinking of leaving the standard shocks in the car but to be honest I think they have seen better days I think I might get some new shock absorbers and top mounts, the problem is I'm not sure which shocks to go for, I've looked at every shock absorber I can get and I'm still not sure, the car has a hole pitch of 52mm for the front shock absorbers. I've been wondering what Bilstein B4s would be like with lowering springs but I know they are not designed for lowering springs so I'm guessing they wouldn't last very long but since I can get them for around £150 it ain't too bad, but I have to say I'm very tempted to go for Bilstein B8s as they are top of the line but they are around £510! Very expensive but they would work perfectly, money really isn't an issue and I intend to keep the car for a good amount of years, it is slow as hell but the car runs fine so why not I guess? Just wanted your opinions on what shocks to get as I'm open to ideas. Sorry for the lack of photos so here's one from yesterday beside my mates saxo! (Sorry for the long post again!)