Hi there
So for quite sometime I have been looking at Citroen Saxo VTS, Peugeot 106 GTi and of course Renaultsport Clio's.
Though there were a few unmolested Saxo VTS going, well I say few, more like a couple which were not rotten or modified too silly, they had starship miles, all generally 130k plus, but were under £1000, but out of the three the Saxo was my least favourite.
So as those who know me and by my nickname on other forums (Gibbo205) will know I've owned four 205's two which were XS models and two GTI's, a 1.6 and q 1.9. So I did not want to go back here, plus a good example is over £10,000 now, so I was looking at 106 GTI's, with a firm favourite been sunflower yellow or diablo red. Unfortunately I missed out on a very clean Diablo red PH2 at £2600, was a bit too cheap. I did find a stunning sunflower 106 GTi but at £6000 it is simply over priced, the previous owner I chatted to and discovered the said garage gave him roughly £3500 for it and he had tried selling it privately at £3500 with no takers, which was a shame as I felt £3500 was a fair price and I'd have taken it. At £6000 it is too much, I did offer the garage £4000 but they refused, saying no discount which is fair enough as for sure in another couple of years I can see a very spot on 106 GTi in a rare colour fetching such money. The 106 GTi was my favourite for the looks and old school vibe!
So I moved onto Clio's I had narrowed it down to only wanting a 172 Cup, for the simple reason it was the lightest sporting no abs, no AC, thinner glass, wider tracks and lighter smaller wheels along with a basic cloth interior. Weighing in at 1011-1025kg depending where you look made it considerably lighter than the regular 172 PH2 by a good 90kg and 182 cups are around 1090kg. The power deficit is of course quite easy to make up by fitting the 182 manifold, cat and doing a remap.
As such I've been searching for a few months, discovering that most Clio 172 cups have either rotten away, blown up, been turned into track/race cars or spilt by silly modifications. The only really spot on examples fully restored are selling in the 4-6k region but are still quite high mileage at over 80,000 miles.
Then I spotted an advert on gumtree, a very poorly written advert, no pictures and even had it listed as Monaco blue which is not a cup colour, so to many would dismissed it not as a cup. What grabbed my attention was the car was 1 owner (yes still original owner) and had only done 54,000 miles, even better it seemed a very competitively priced £1950.
So I checked MOT history, which confirmed mileage and showed it had been in use since new covering 2000-4000 miles per year, I then completed an HPI check, all clear.
Next step was to email/ring the guy, asking on service history and this is where it went downhill, whilst the car was within warranty it was serviced by Renault, but once it was beyond 3yr old he has had his mechanic mate give it a yearly oil change and that is it. He has then relied on MOT failure/advisory and acted on the fails to get car through its MOT. Nothing more or less!
Yes that is right this 16yr old Clio 172 cup has never had a belts or pulley change in its life, this should be done every 72,000 miles or five years, the owners reasoning was because it has not done 72,000 miles yet and he only uses the car to commute too and from his place of work which is only 4 miles away.
I informed him that the car is due a major belts, pulley change along with service, plugs, all fluids and I'd be lucky to see much change from a grand and as such if the car is in good condition I'd offer £1750, he accepted.
So I went to view the vehicle and the condition in some ways was excellent and in others very poor.
Positives
Totally standard car apart from a replacement exhaust (not performance)
Unmarked interior, it is spotless inside
No signs of corrosion anywhere, behind seals, around fuel cap, behind arches, boot floor and underside, the shell seems absolutely spotless
Original glass throughout
New brake disc & pads all round
1 owner & 54,000 miles
Drove fantastic, felt very tight, no knocks, clunks or bangs, kept revs low due to old belts
All electrics functioning, including alarm and original stereo
MOT & taxed, not been left standing for months
Original tool kit still in boot
No wear to steering wheel thumb grips or seat bolsters
Price
Negatives
Dephaser pulley is very loud, very noisy, diesel aka tractor noise
Some minor scratches to paint, a DA / Polish should resolve 90% of them
Paint chippings on door edge, ideally needs a very good touch up / repair or respray
4 different tyres and nearly all of them losing air
4 heavily corroded alloys
Cloudy headlights
Cracked and faded number plates
High rear brake light not working and gone yellow
Oil leak or power steering leak, or both, at front bottom of engine
So after some haggling I got him down from my original £1750 offer to a price we were both hapoy to shake on.
I then asked the question, so why did you buy the stripped version of the Clio and his response was simply because it was cheaper than the AC & leather version of the car, he simply wanted a fast ish car but had a budget, in his ownership it has mainly been used for trips to work and odd road trip, he also said its never let him down apart from failing some MOT's.
So as the rear tyres looked low on air, I requested if he would put some air in for me.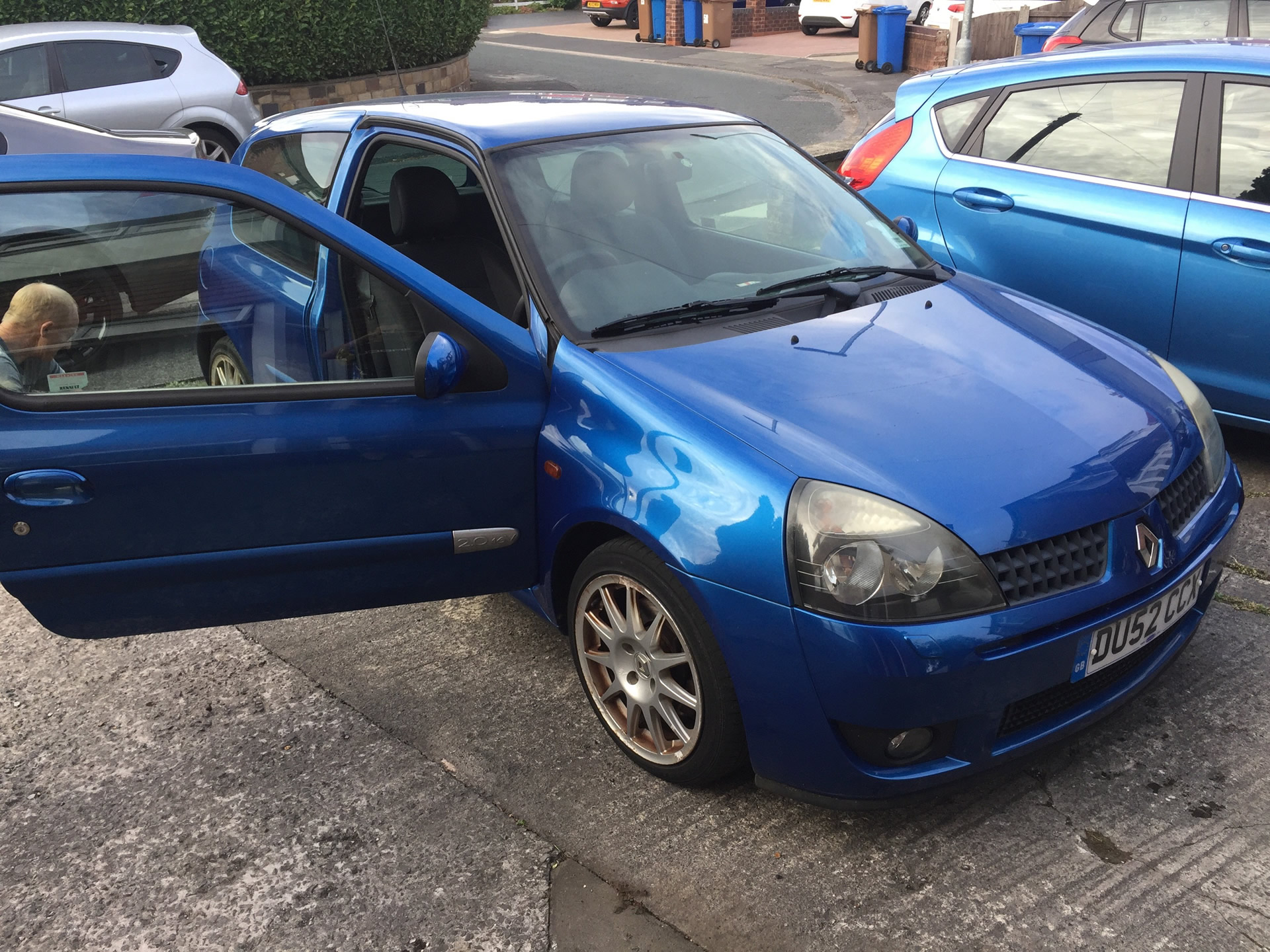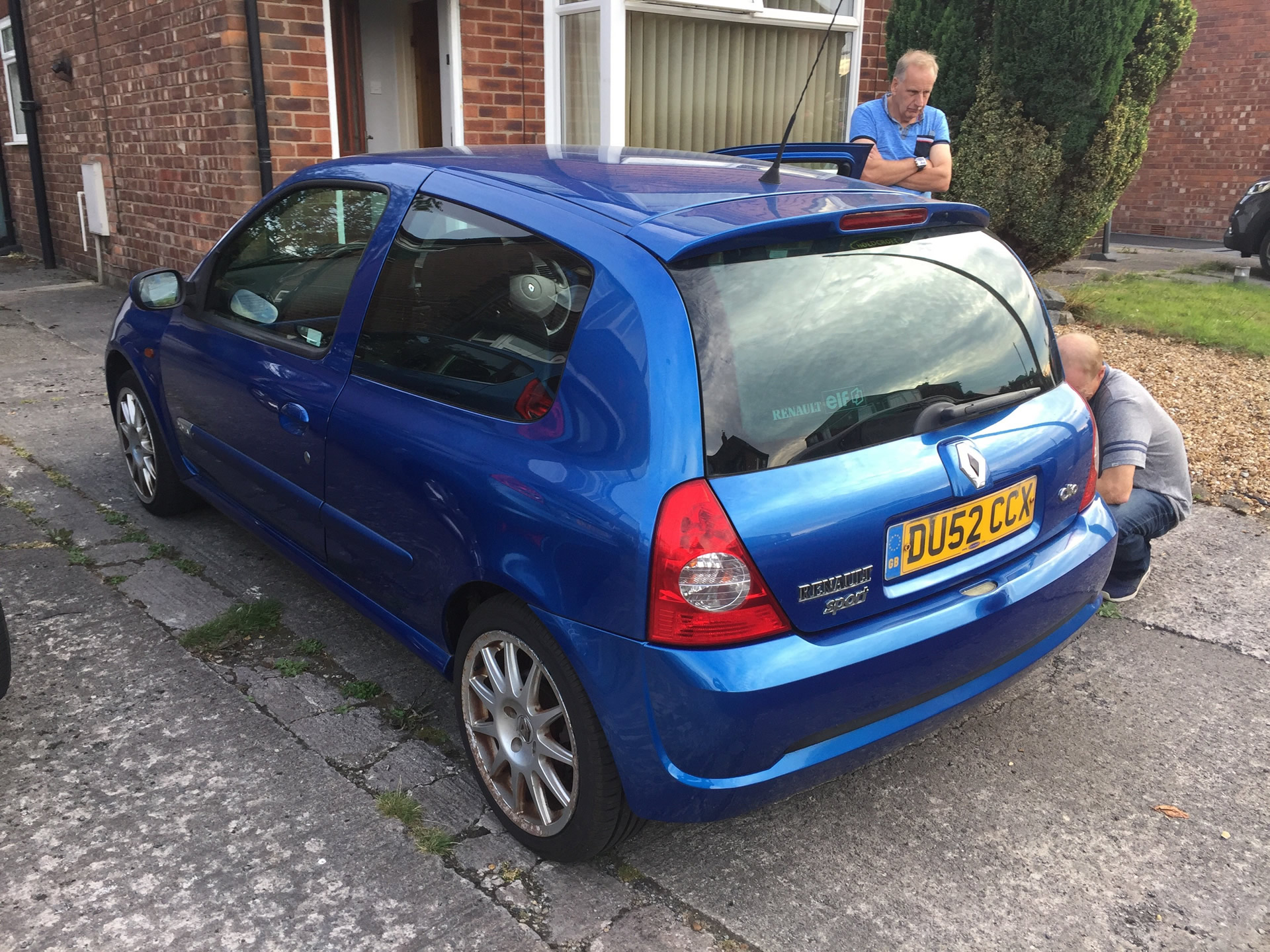 Drove the car home, keeping it in 5th and the speed around 60-70mph to keep the revs low, did give it a gentle squeeze at 60mph in 5th and the car picks up and accelerates quickly, though I only went upto 75mph, again due to belts been a ticking time bomb.
Once onto the country lanes, again just 5th gear but throwing it around a little, testing the brakes etc. The car feels like it wants to oversteer (maybe blown rear dampers) and the brake feel and modulation was excellent but felt a bit squirmy, more on that shortly.
So arrive at home, car returned 48mpg, not bad that, so checked the tyres, turns out front passenger side was down to 12psi, so that explains the squirmy feeling. Also all four tyres are different and oe of the fronts is a Winter tyre, no doubt also explains squirm under braking, it was also that Winter tyre at 12psi, as if Winters are not soft enough as it is.
Got it home, took a few pictures: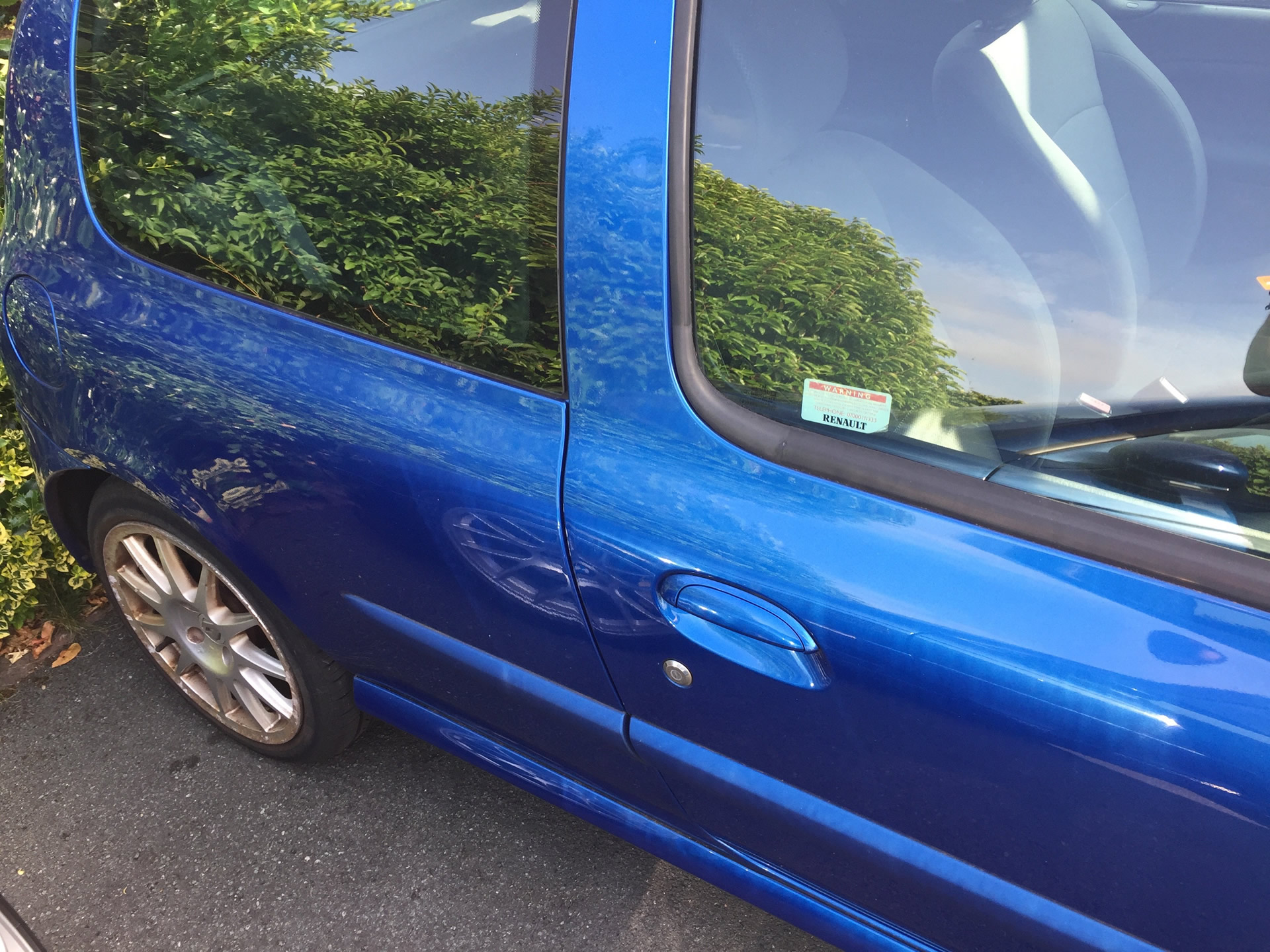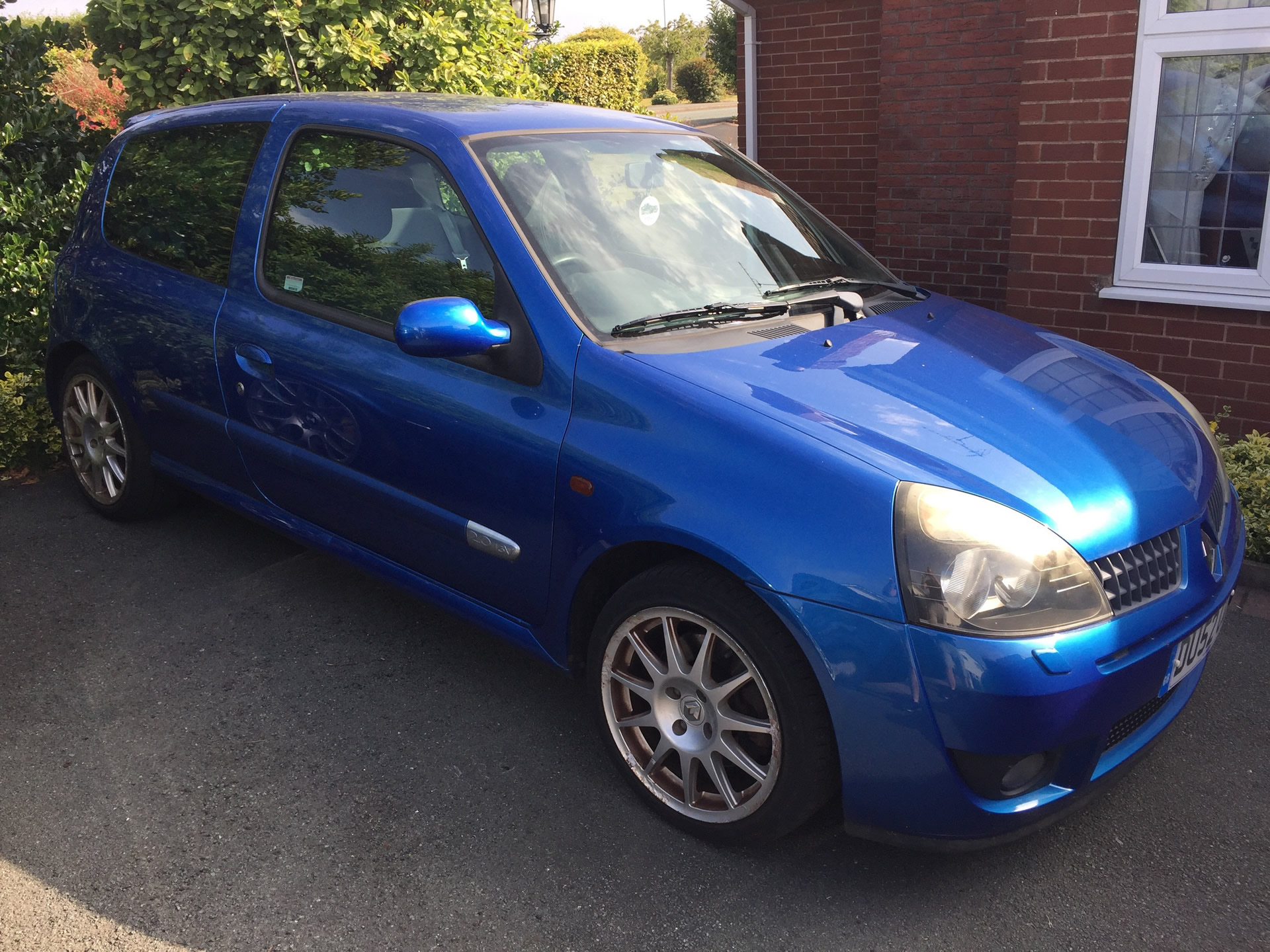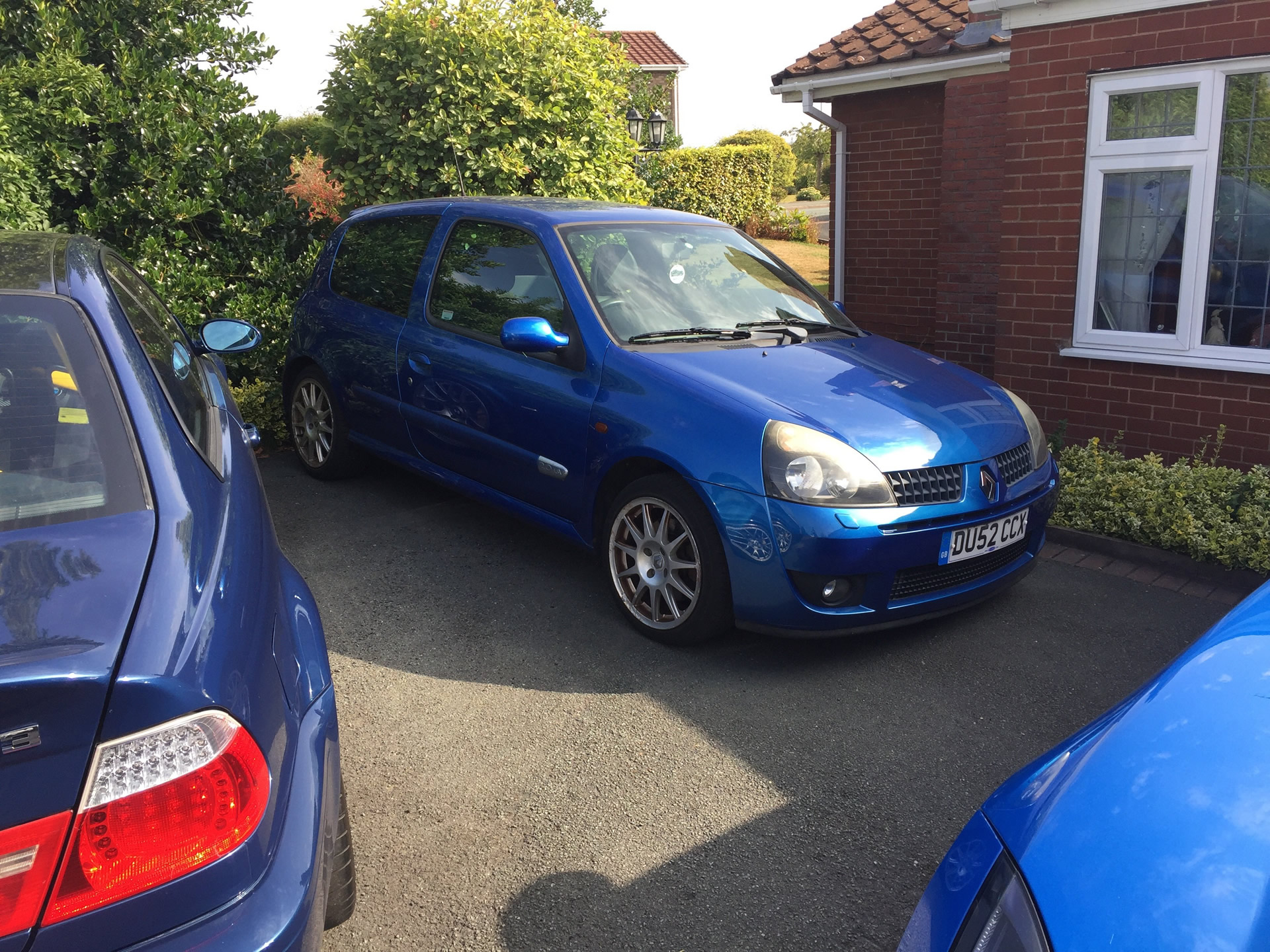 So yep three blue cars on the drive way, not that you have much choice with a 172 cup as they only came in blue and silver with silvers been under 70 left on the road.
You can see the original Renault window stickers still present (I shall probably leave these as adds to the originality of the car) and the paint missing from door edge and of course the shocking condition of the tyres and clouding of the head lamps.
That is where the car shall stay now for a week or so until it is booked in for its belts, pulleys and full service, plus some restoration work.
So you ask why?
Well I wanted a car that was different from the other two, namely lightweight, FWD and a true old school hot hatch vibe, no ABS etc. though my M3 also has an ABS disable toggle switch as well as ABS on sticky tyres and on track is more annoying than useful to me as I think sticky compound tyres and much bigger brakes upset it.
Also these kinds of cars are moving up in value, this car needs an easy £!500 putting into it for it to be classed as a clean example, of course with the advantage of one owner and low miles once its perfect could fetch 4-5k in current climate, but I've not purchased it to quickly flip it and make a couple of grand.
The purchase is done as something to enjoy, but at the same time restore to it former full glory of when it was new, put some miles on it but not too many and then in say five years if the values are rocketing or have then maybe sell it, if the values go the way of 205 GTi then in ten years this in perfect condition with the low miles and low owners could easily fetch 20k. If that does not happen, then 2k, but the end result I had a lot of fun, smiles and grins, plus with this car I can actually keep my foot pinned to floor and not risk going to jail like in M3 or SVR.
This shall be my build thread, I shall of course be posting in the Renaultsport owners thread as well, but I wanted a nice tidy location to keep my progress and updates with the car, just as with my M3 track build thread.
P.S. I got the car a few days ago, so some restoration work and purchases have already commenced, those shall be posted to this thread over next day or so.