Well i think this project thread is long overdue now so here is the build up of my supercharged ek9 so far:
Some of you may remember my clio, which was genuinley my pride and joy for the last 3 years but i got to a stage earlier on in the year where there was nothing else i could do to it so i felt i needed a new challenge. I could never in a million years imagine selling the clio before but i just felt it was time to let go and move onto something abit more special with a greater potential. The faithful old clio: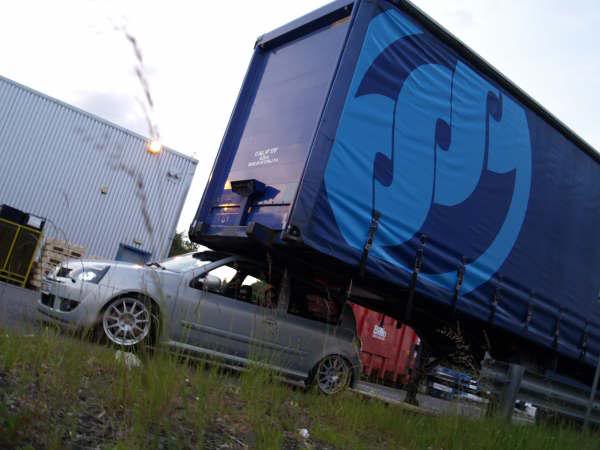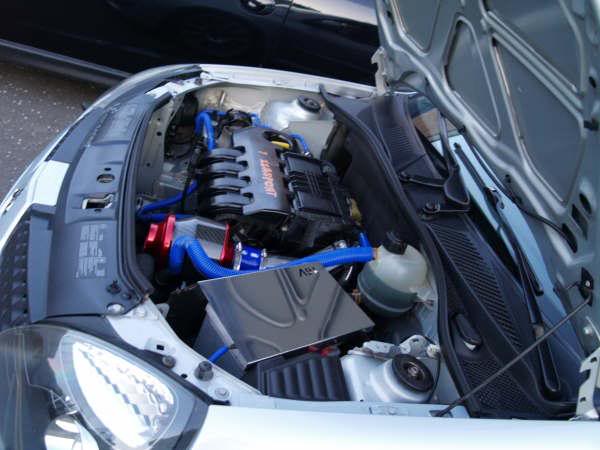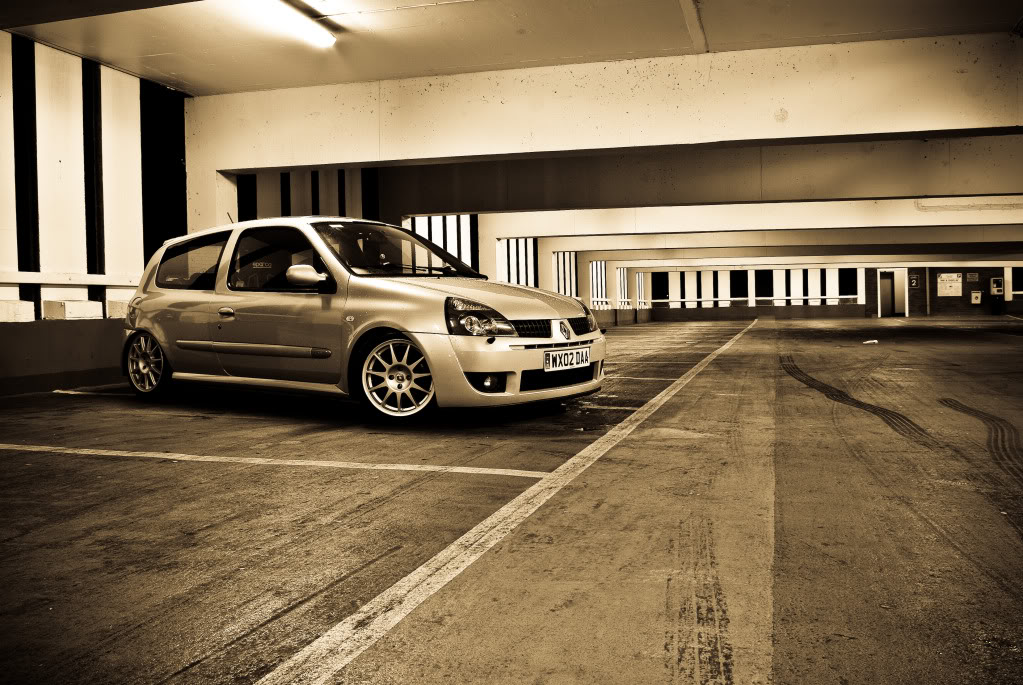 I first spotted the ek9 on pistonheads but the previous owner was someone that i knew before anyway and i heard that he was thinking about selling up because he needed something more practical for work. The car was on 78k miles, imported in 1997 and first registered in dundee (hense the last 3 letters on the registration, TTS). I actually managed to speak to the guy who first imported it aswell and managed to get a few extra details about it, which was handy. It also featured:
C's Compressor Roots Type superchargerCharger
c's ecu
TEIN superstreet Fully Adjustable Coilovers
Miracle Cross Bar
98 spec jdm DC2 Manifold
Spoon N1 exhaust
Buddy Club Racing Spec Condenser
Standard Ek9 Wheels
magnetic sump plug
yellow stuff brake pads
Exedy stage 2 organic racing clutch
Uprated map sensor
Thicker head gasket
Stainless middle section
Fully Fitted TOAD Alarm With 2 Fob's
Fully Under-sealed
MOT'd Till May 2011
Taxed Until October 2010
Timing Belt Done 10,000Km ago
Serviced 500 Miles Ago With Silkolene Pro & HAMP Oil Filter & Gear Box Oil With Honda MTF
4 x New Toyo T1R's Covered Under 500 Mile's
New Red Honda Badge's Also Fitted As Others Were Faded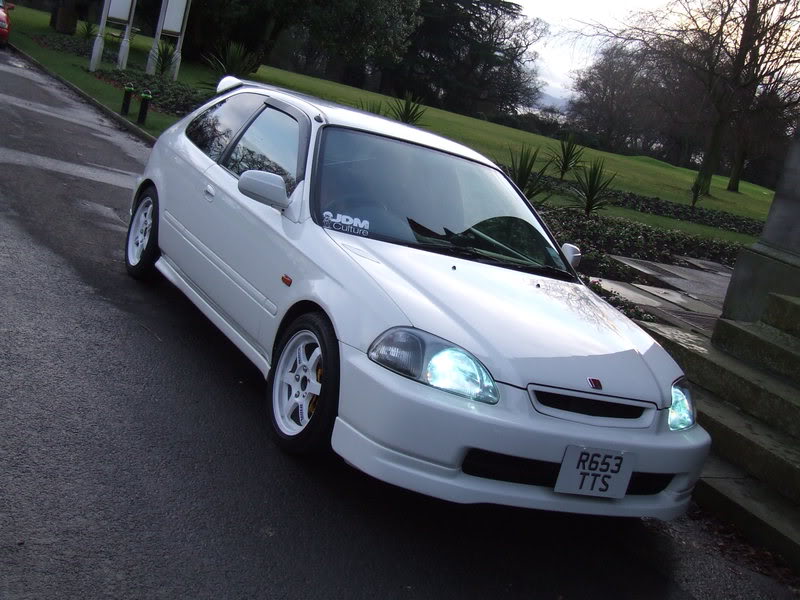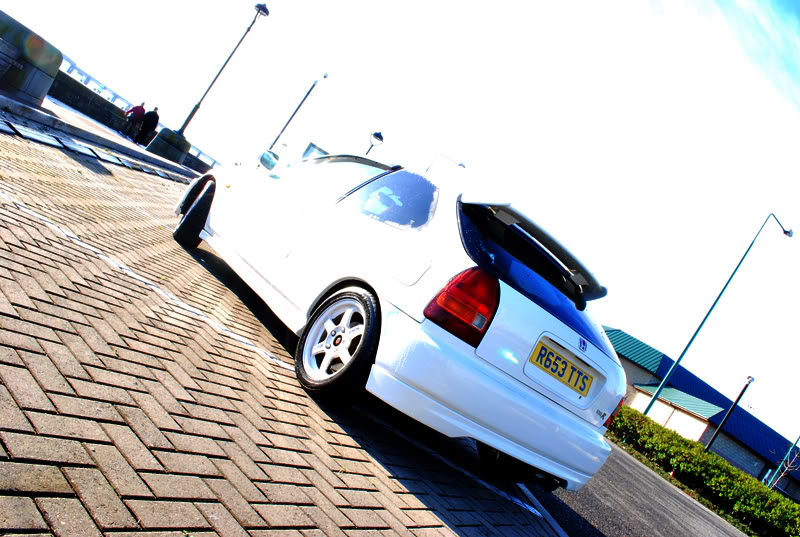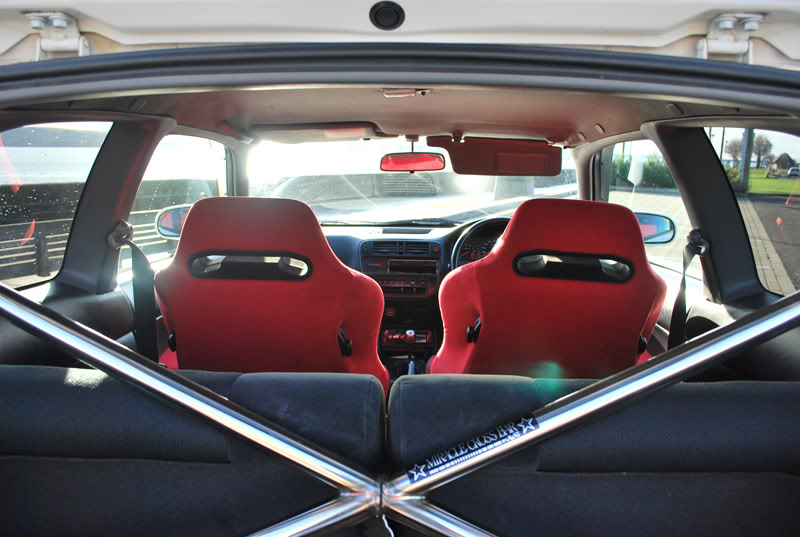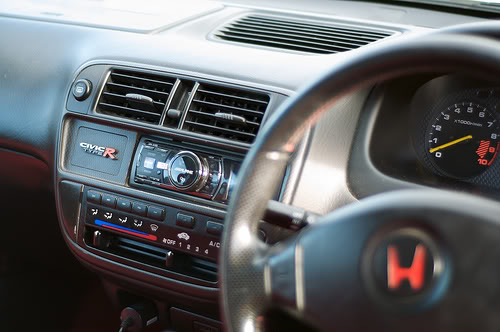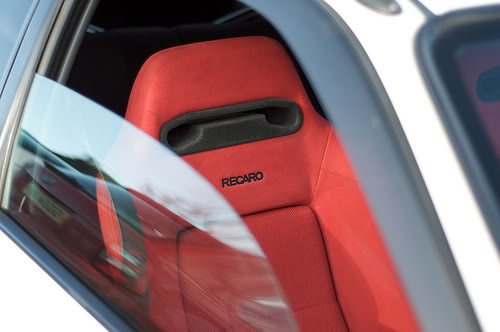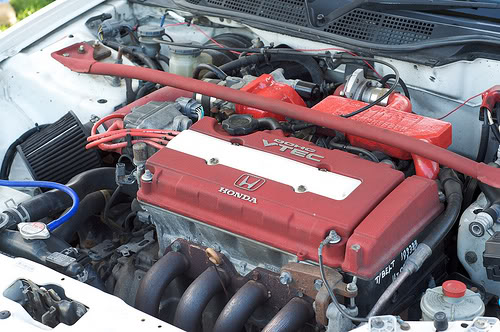 So i got in touch with him and organised to view the car in the weekend. I had never been in an ek9 before let alone a supercharged one so i was certainly looking forward to it. Anyways saturday came and after letting it warm up and getting out of town we went for what i can only describe as one of the most memorable b road blasts i have ever had. The power and torque was crazy for such a light, small car, grippin barely in 3rd gear in the dry. Also it handled like it was on rails with the limited slip differential (LSD) and the tein coilovers. Interiour wise, considering it was a 13 year old car, it was a nice place to be and the recaros were awsome in every way. The sound of the whining superchager was something else. The car was a real cracker and as soon as i stepped out of the car i was in love. I got back in the clio to go home and it just didnt feel right. It felt like a bit of me remained in the ek9 and i think it was at that point i realised that it was time to part company with the clio.
I was still very new to hondas and before i commited myself to the sale i want a friend, who has been around hondas alot longer than i have and who has a highly tuned b16'd civic to give the car a once over. Thankfully all was well and i left the guy a £200 deposit and it was taken off pistonheads. A deal was done that would include the spoon n1 exhaust but not the volk te37's, which was something that pissed me off because the original deal was that the rays would be included at the agreed price. I would instead get a set of original enkei ek9 wheels, half of which were red and half were white. I still decided to go ahead with it and i Spoke to the bank the next day and got the money a few days later so my mate Ben (Brembo) took me through to pick it up. A final once over on the car, money counted, all papers sighned and it was all mines
The cash(minus deposit) i parted with: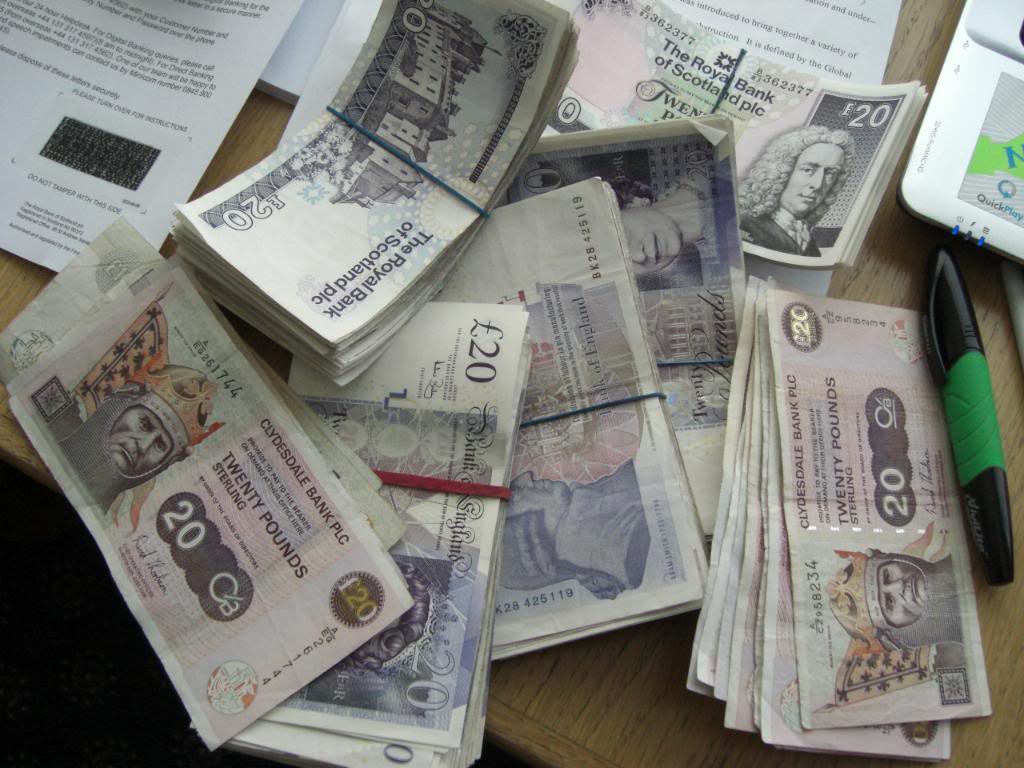 Drove it home safely and the morning after the night before it sits on my drive waiting for its first bath: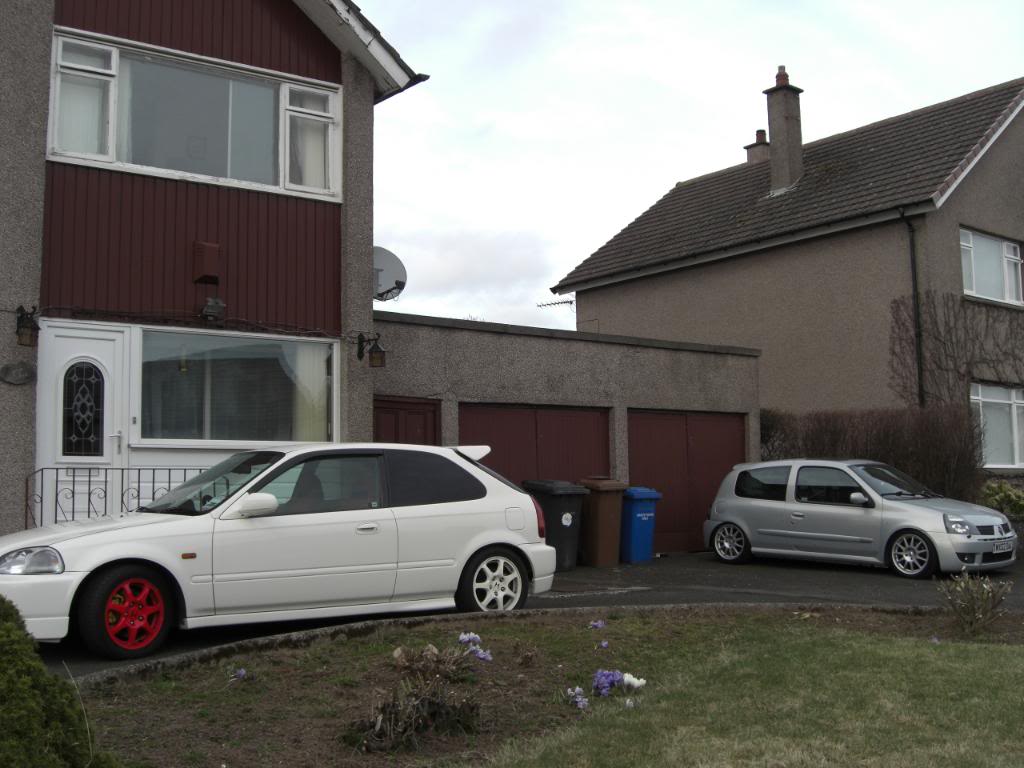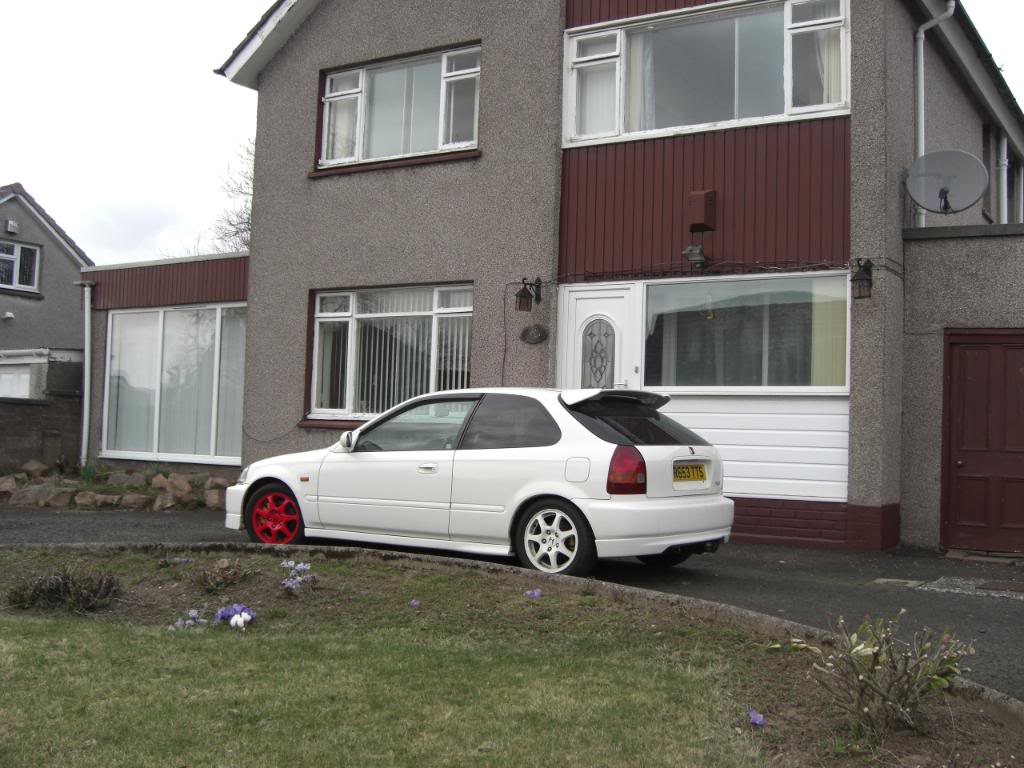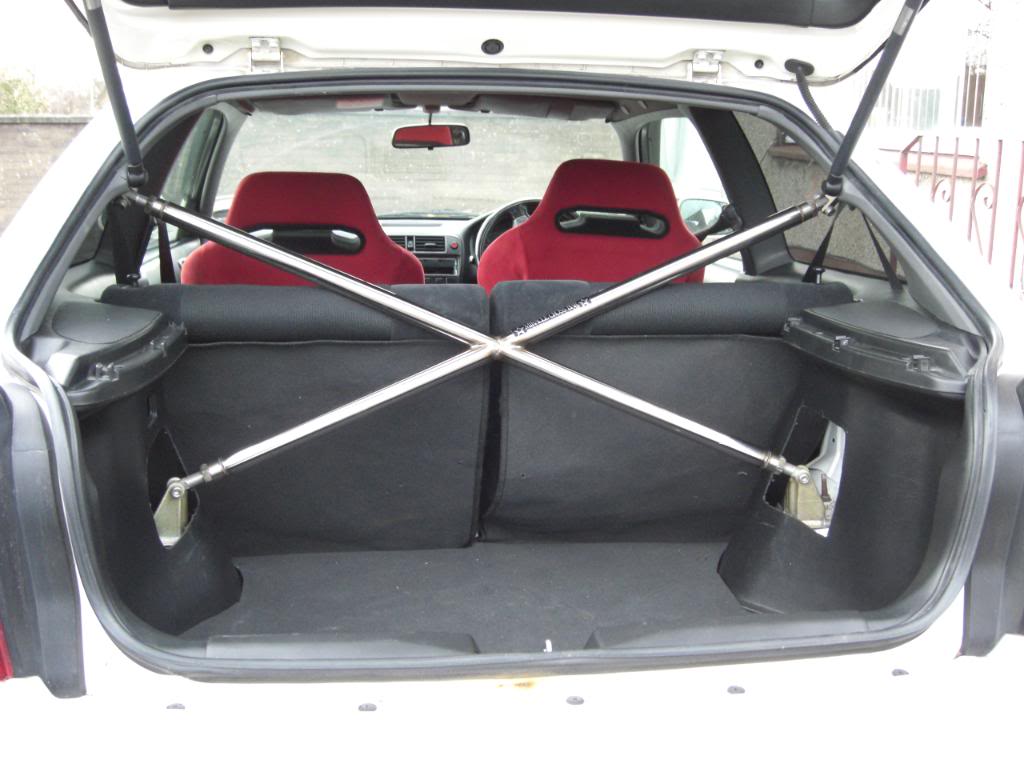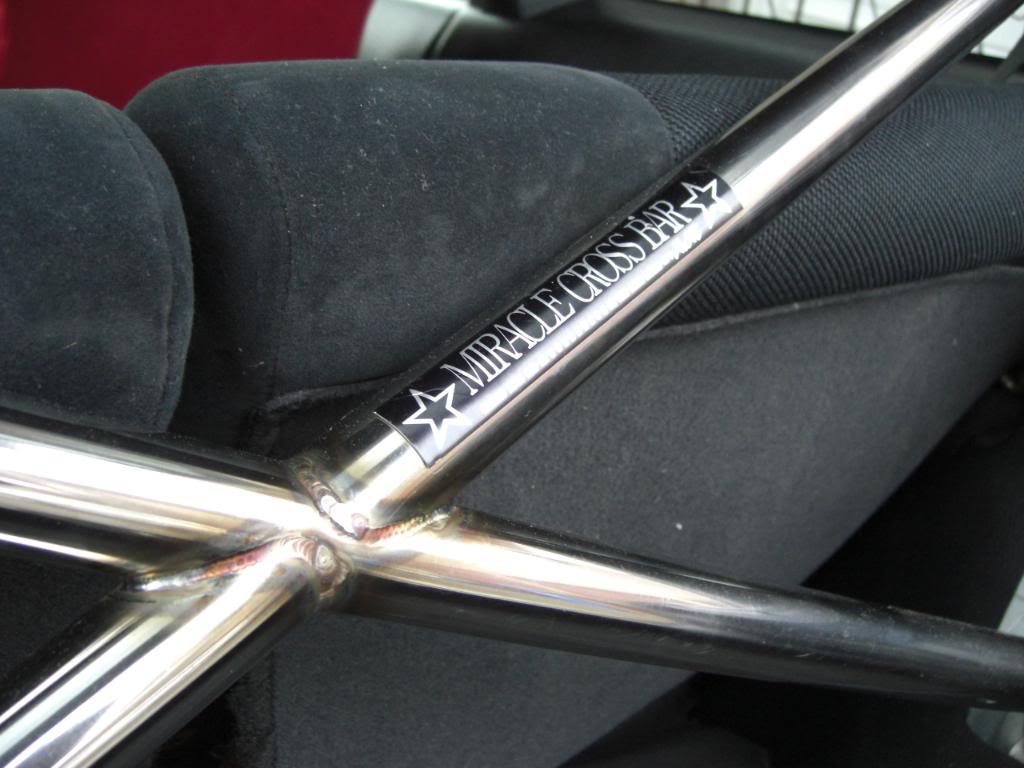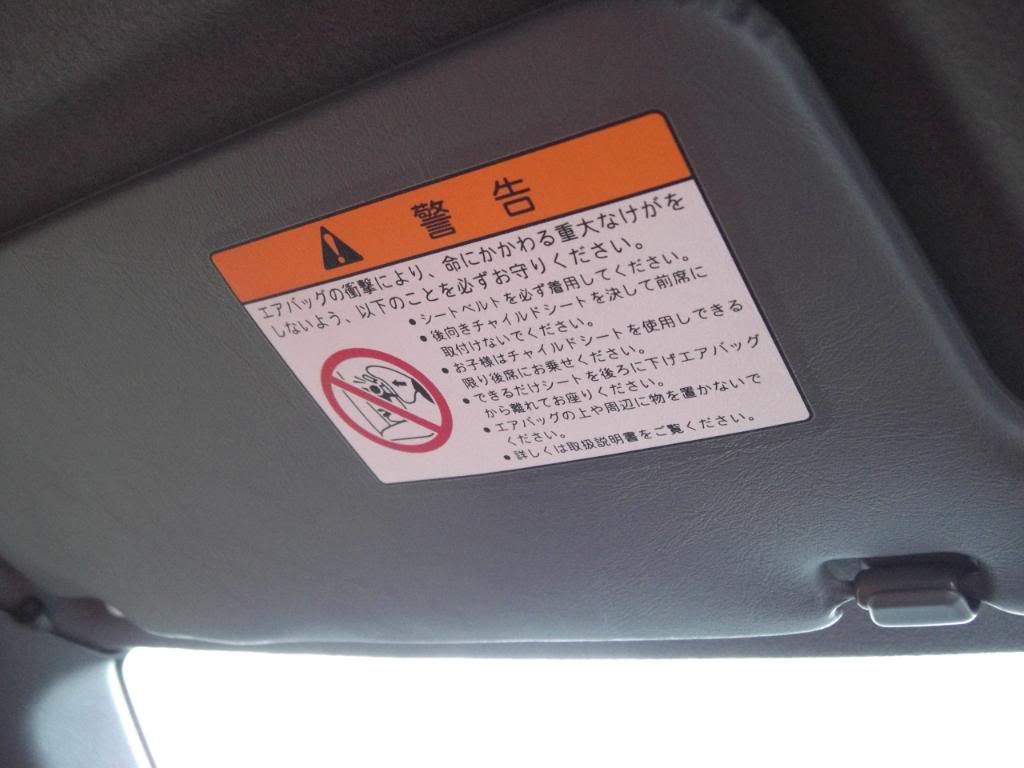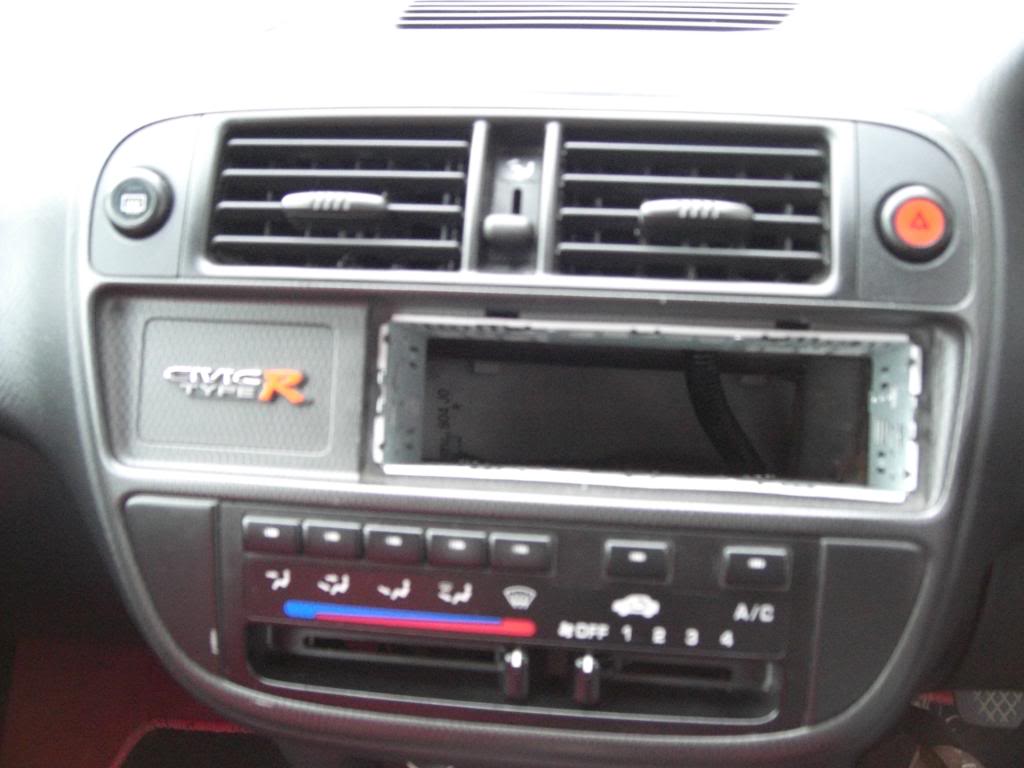 I knew the car needed abit of work and elbow grease to bring it back to its former glory but then again thats what makes great projects. I couldnt get much sleep the night i got it so i woke up nice and early to give it a clean. My mate ben poped by aswell and he took a few pics before i started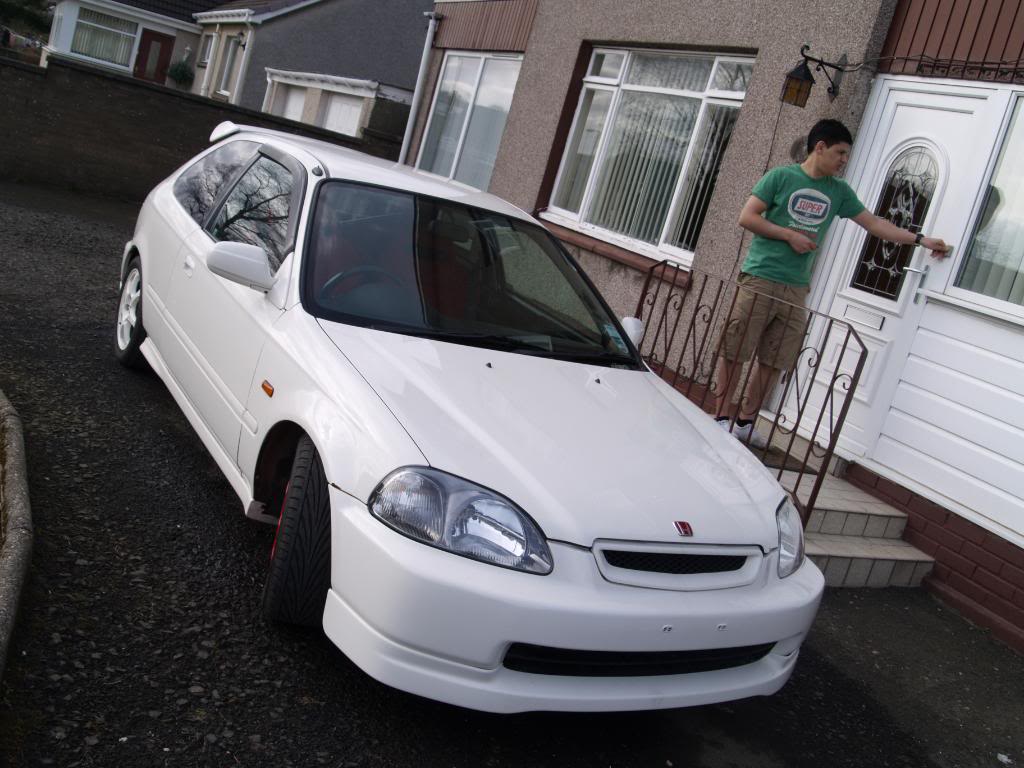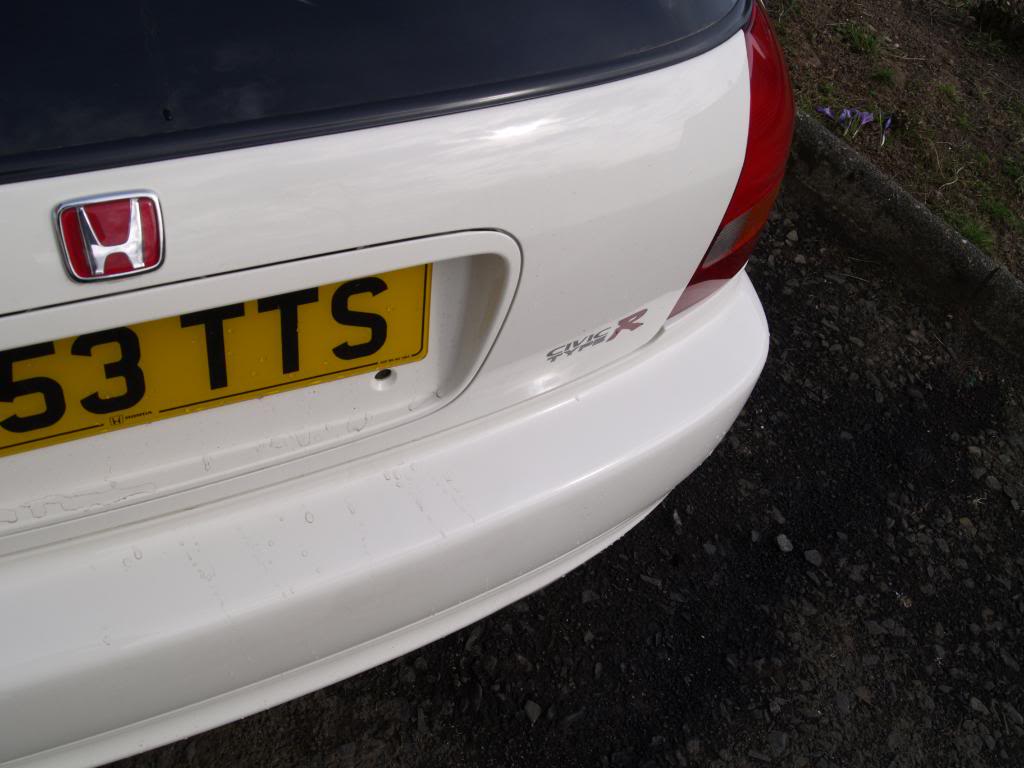 After a good wash and hoover of the inside it looked alot better.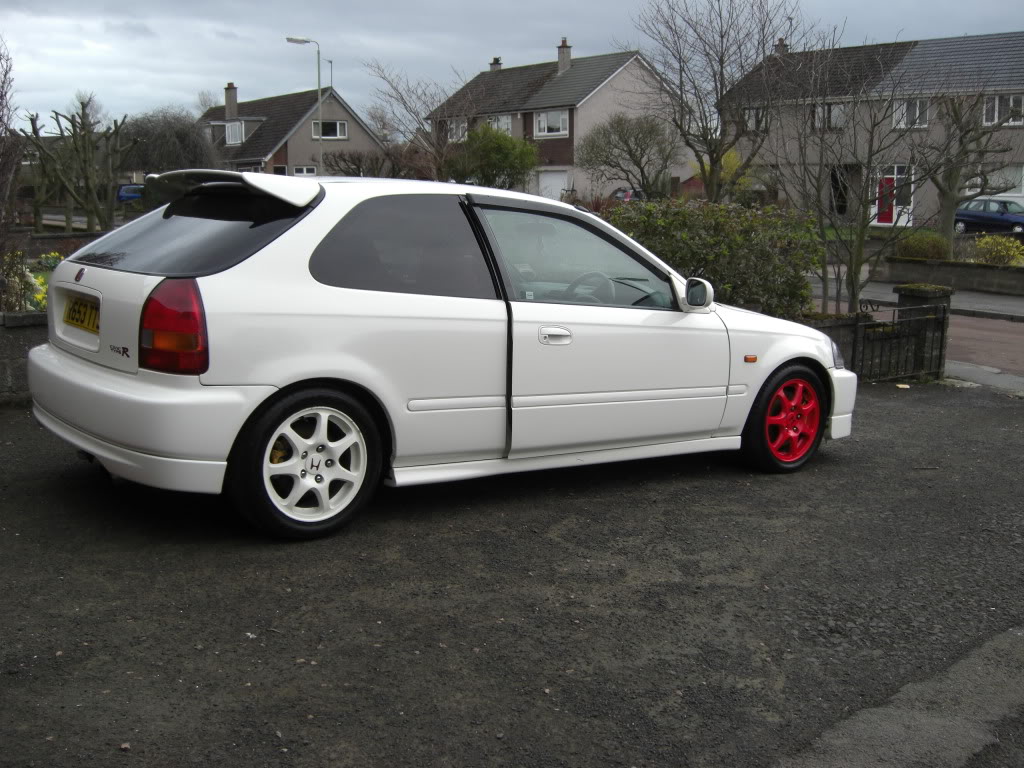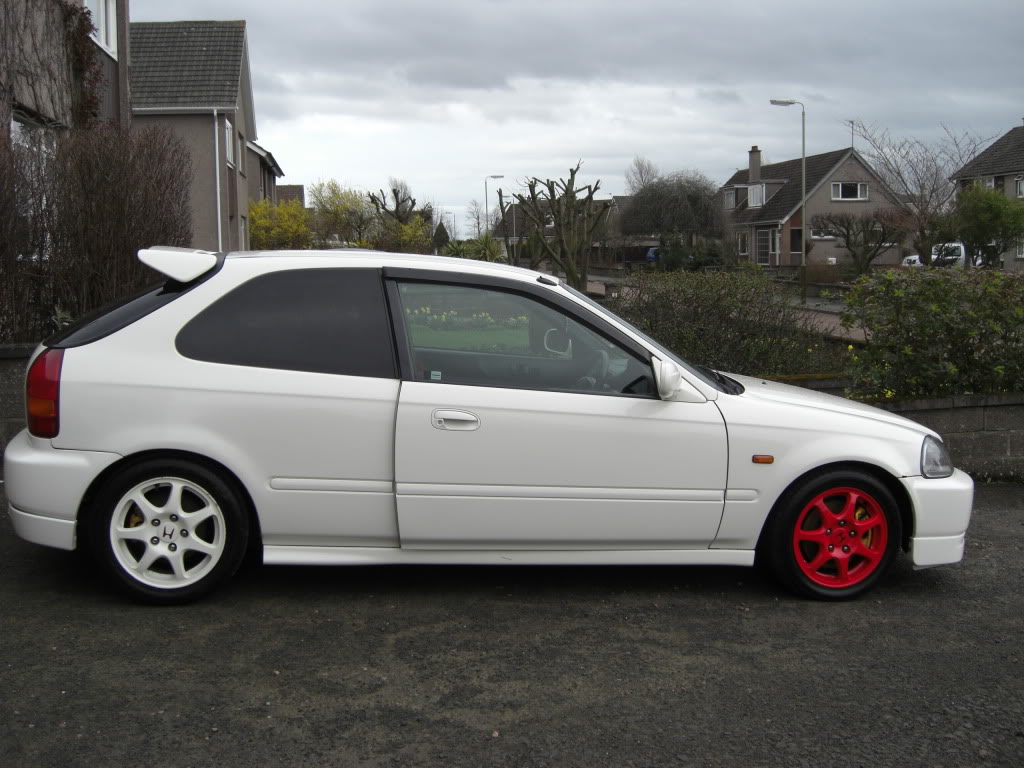 At this point i was still driving the clio and i wasnt insured on ethe ek9 as it was much cheaper to run being a 1.2 and the money i saved could be put into the ek9. When i bought the car, the original ek9 exhaust was put back on the car so the spoon was sitting in the garage looking pretty, which is a massive waste so that was the first thing to go on.
out with the old: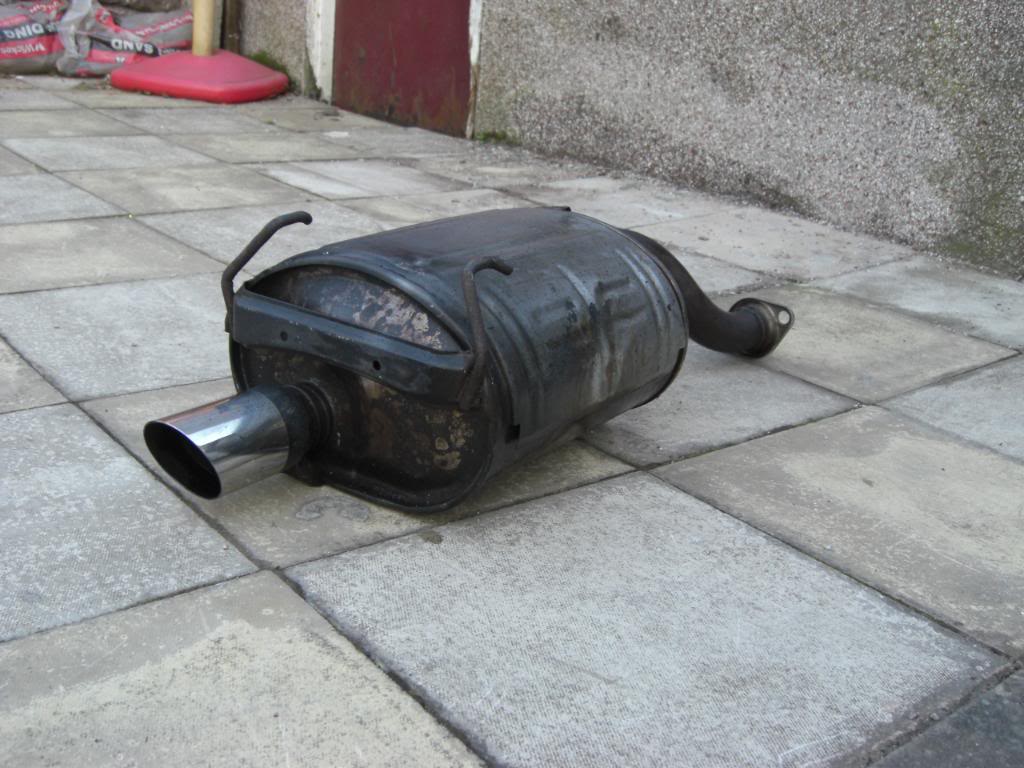 and in with the new: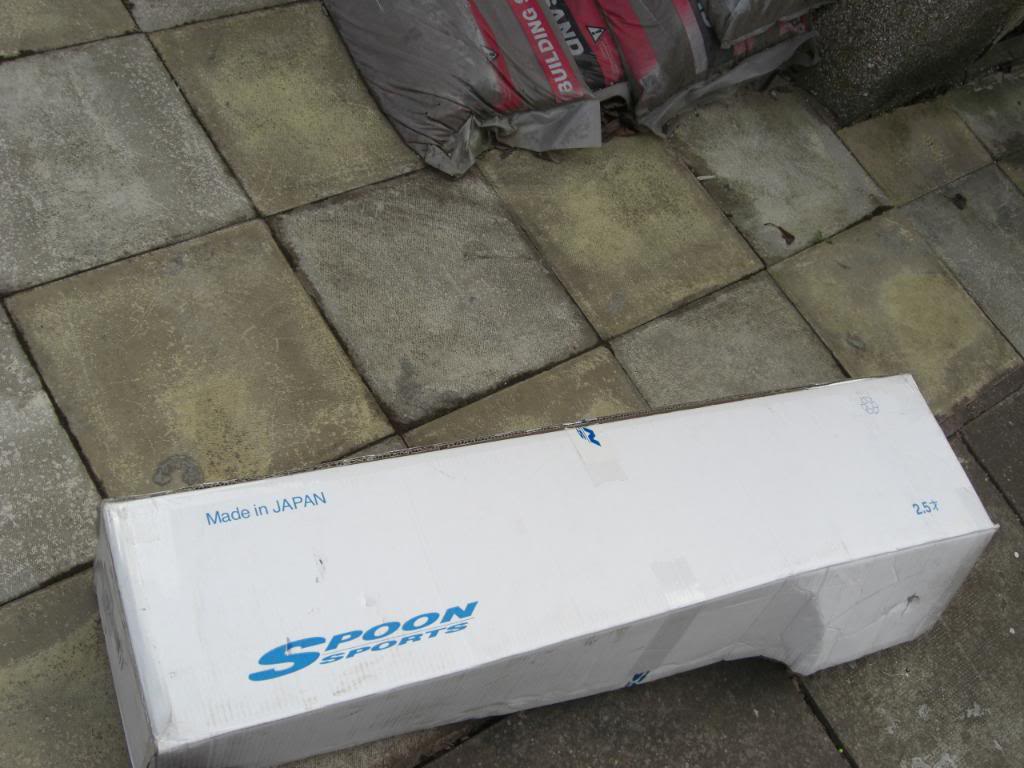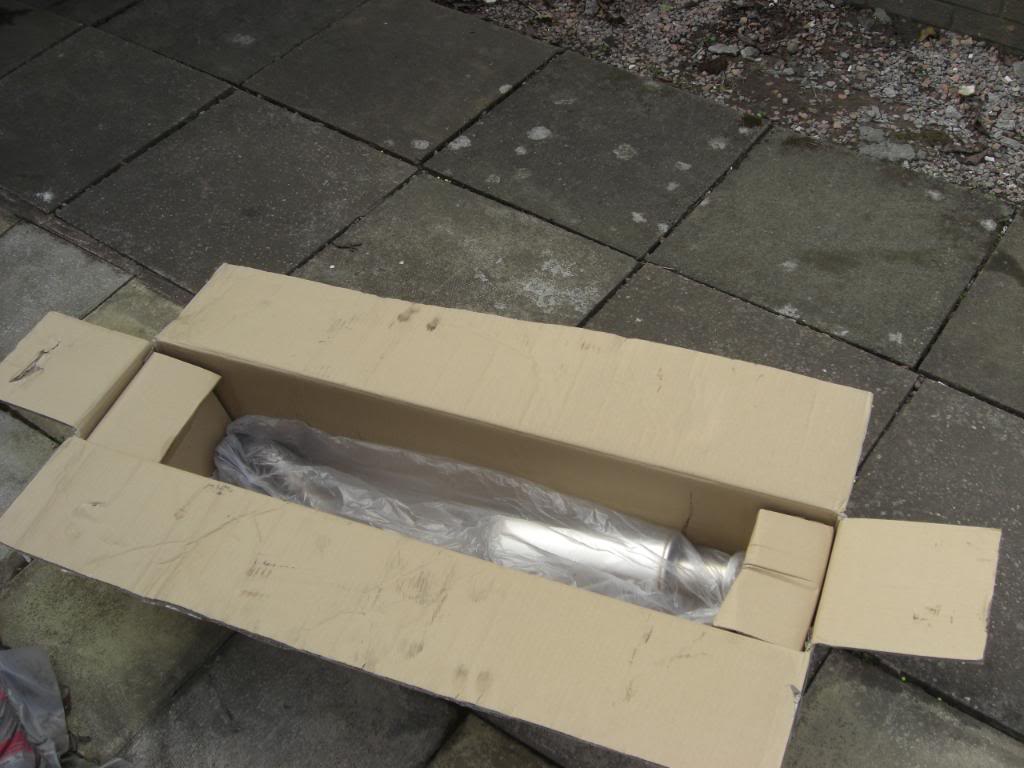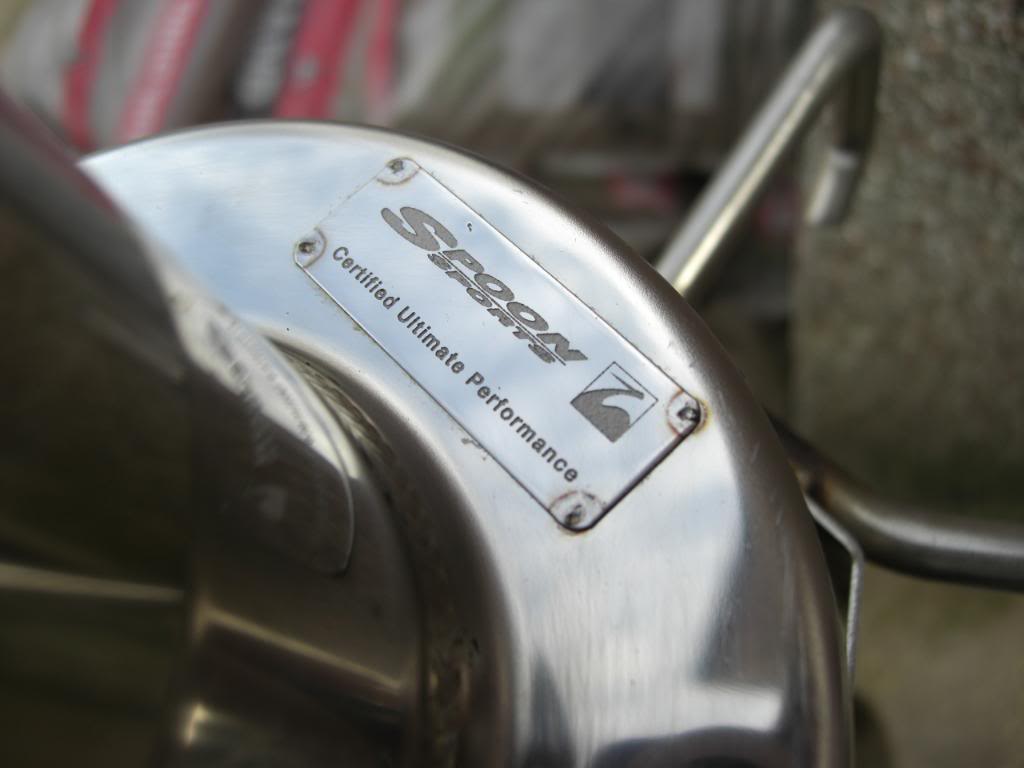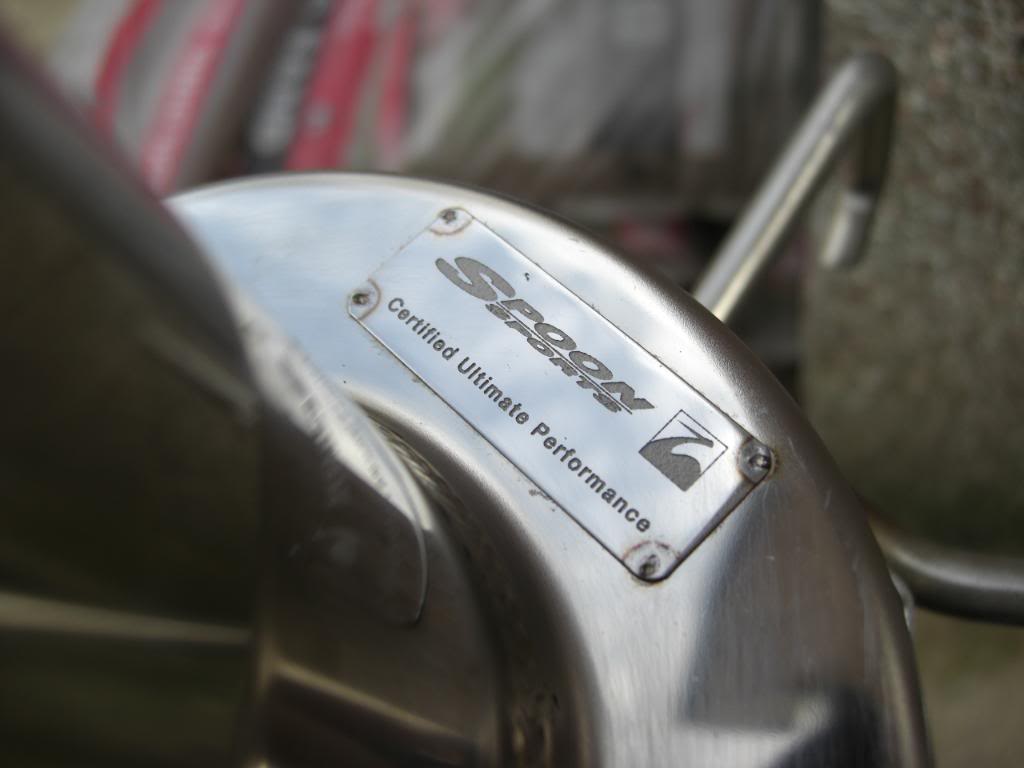 on the car:
After doing a fair bit of research into the car before buying it i stumbled accross its sister car, which is also a 1997 prefacelift with the exact same c's charger set up. It used to be in scotland belonging to Ant and then it was bought by another ek9.org member(aza) and now stays in england i believe. Both of these guys were very helpful and helped clarify a few things for me, which i was not too sure about so big thanks to them.
Only difference between them is that my car has a c's ecu, whilst Ants car had its c's ecu nicked at the docks so he had to invest in a dta s40 pro standalone. Also it was imported roughly at same time, which kind of got me thinking about the possibility that both cars were maybe part of a race team in japan, however im not entirely convinced about this because both of them dont really look as if they have had a hard life or been scarred up on track. Also because i wasnt sure what the internal spec of mines was i would probably say they could had the same internal work done but only a dyno run will prove this, which is another reason why im looking forward to getting mines mapped.
This was the car at its best when ant had it before selling up: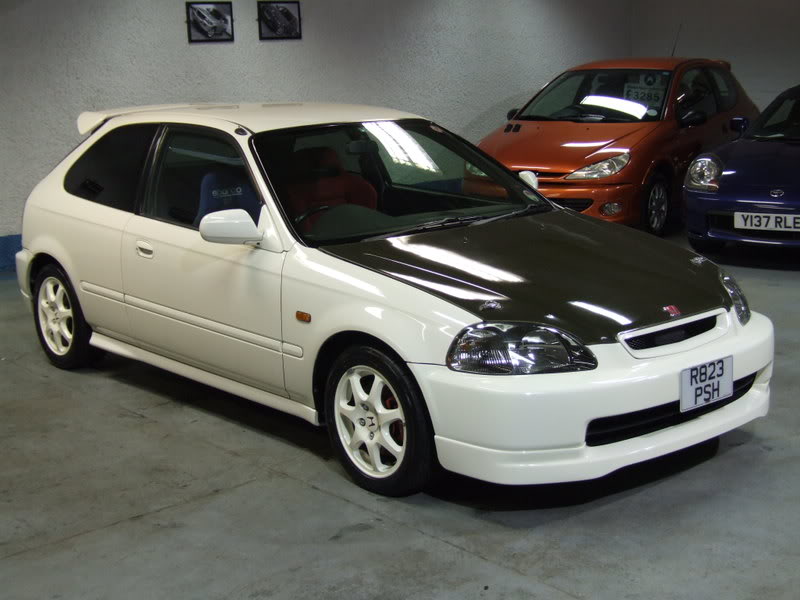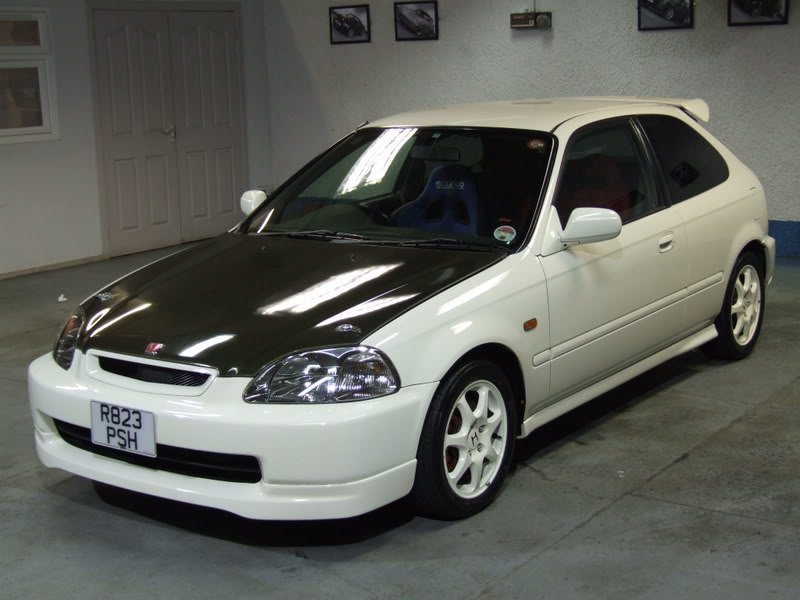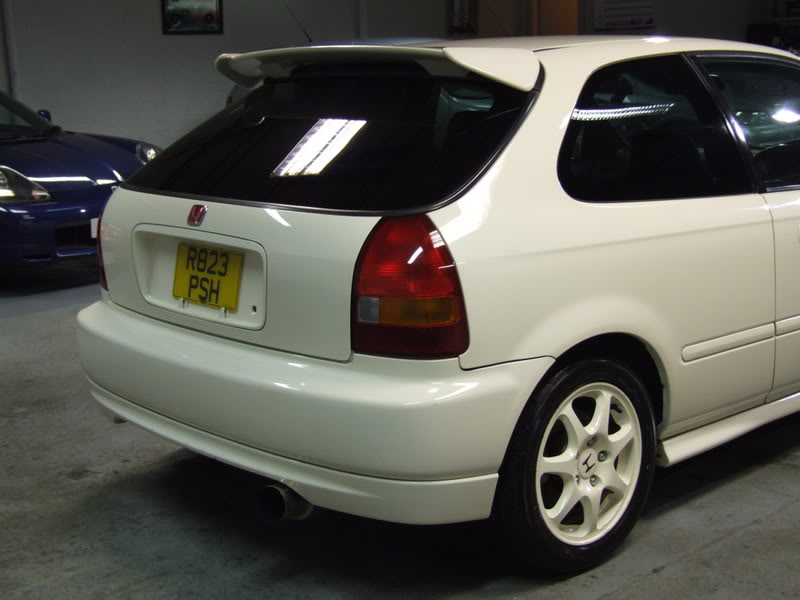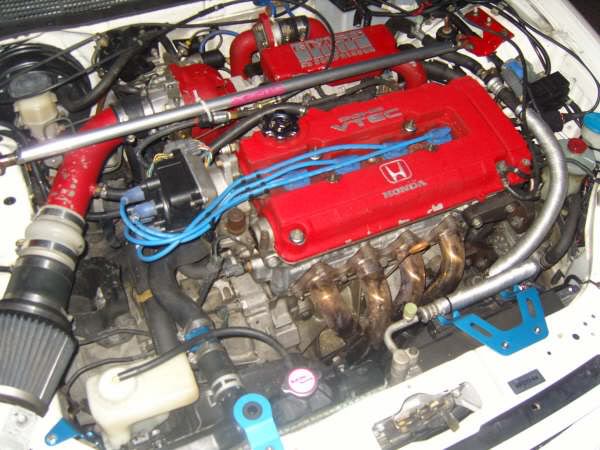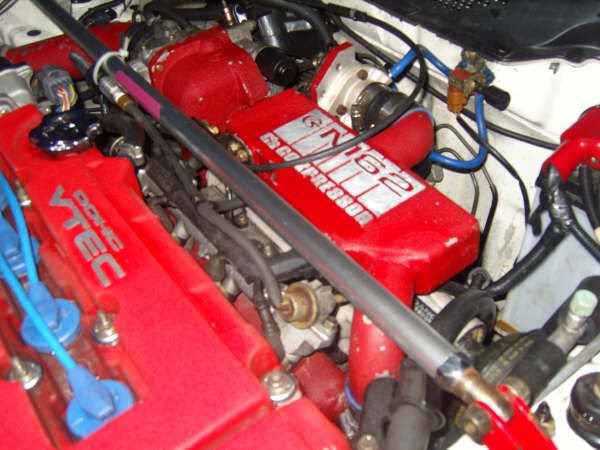 A few more pics and details that may interest some:
Miracle cross bar-possibly the most over-engineered rear strut brace ever made. I have allways been a huge admirer of great craftsmanship and this is simply an amazing piece of engineering for a strut brace. Tighens up all 4 corners of the car nicely and is adjustable from all 4 corners. Not the cheapest as well at around £400 for what is basically just a rear strut brace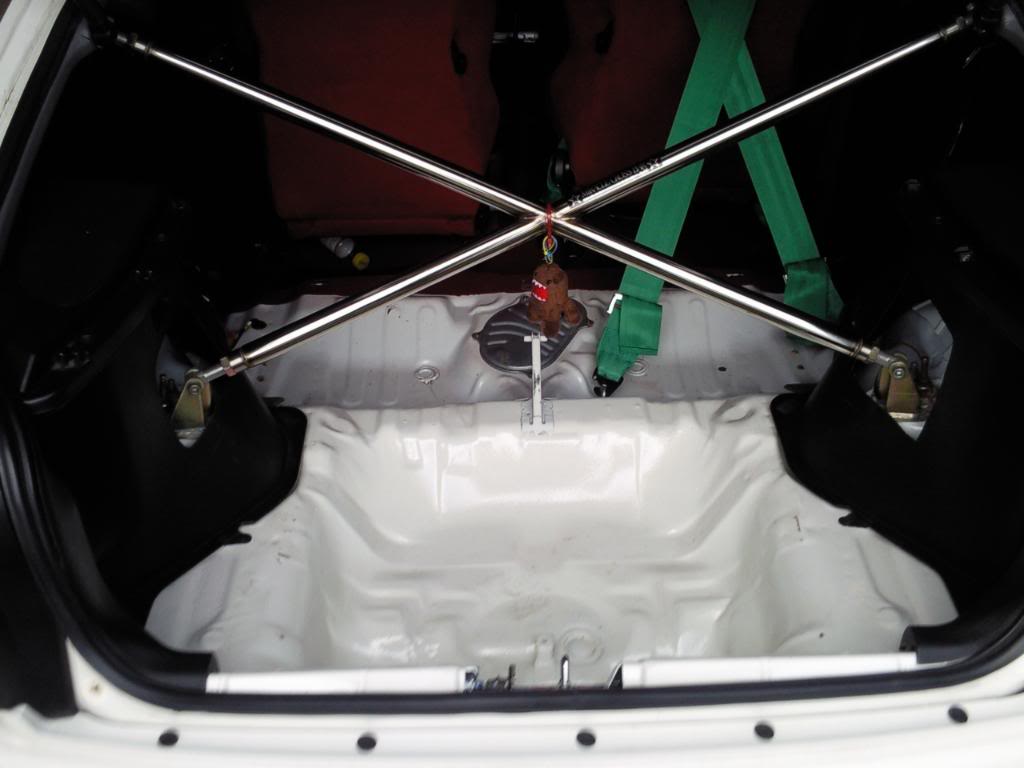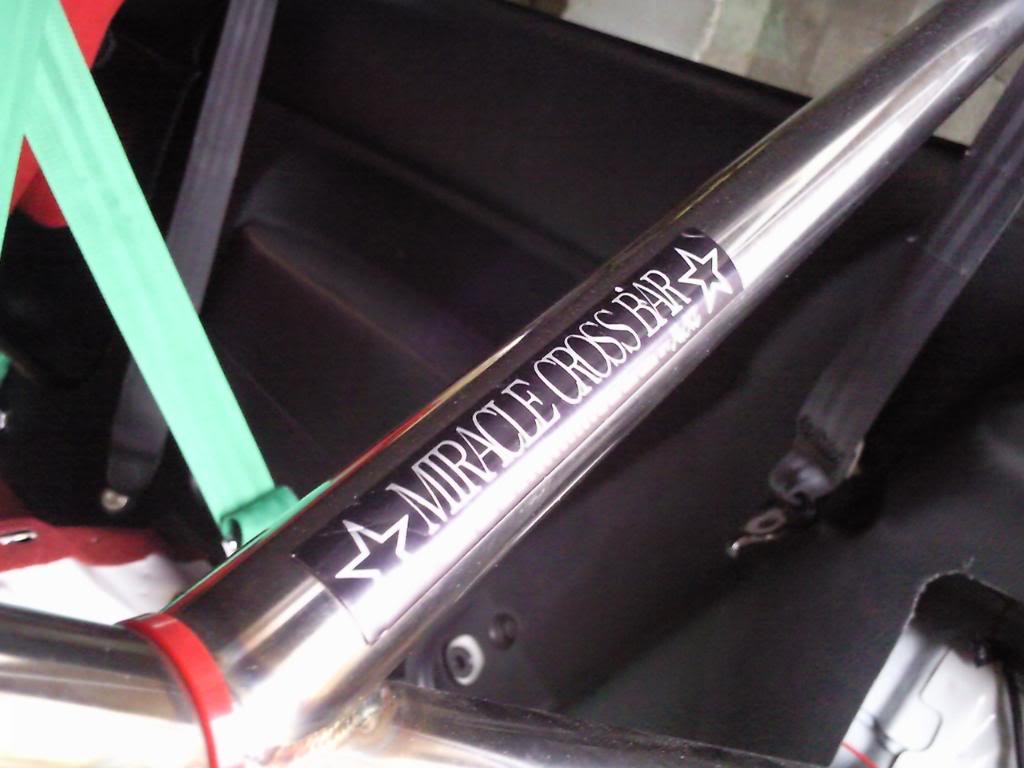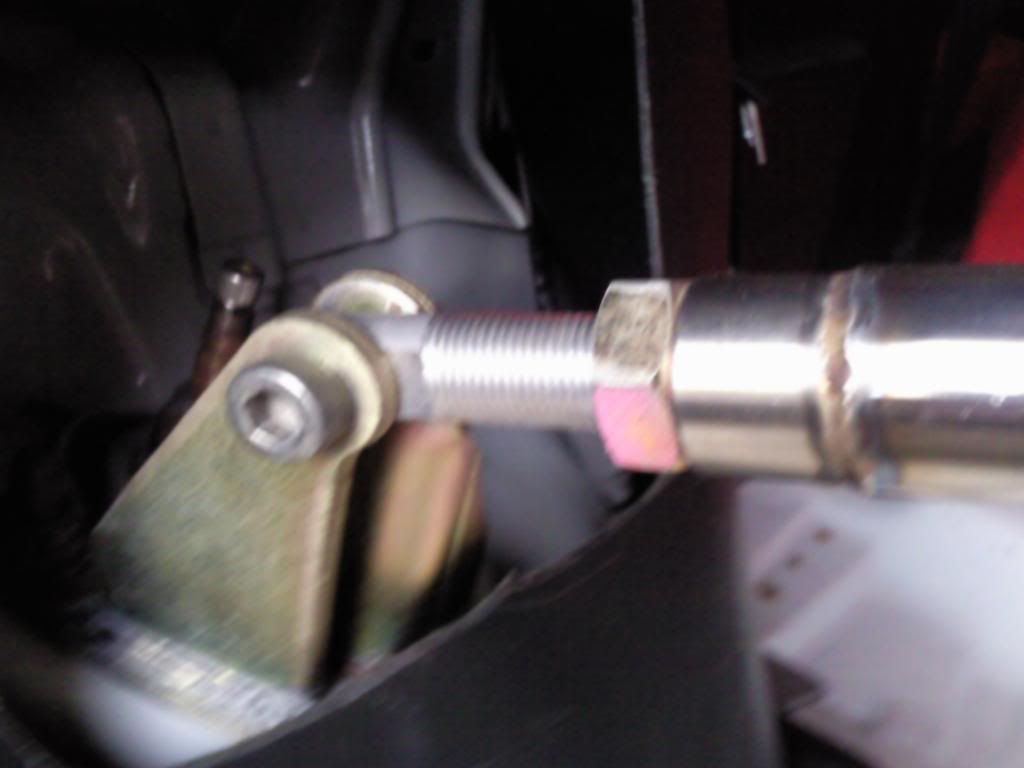 Top work on the welds:
Alot of people also ask me what that black box in the engine bay with the blue light is. Its a buddyclub racing spec condenser. In other words a fancy earthing kit desighned to stabalise battery voltage allowing for a smoother idle and better general running of the car. Fitted by the previous owner, he said it improved the drivability of the car considerably.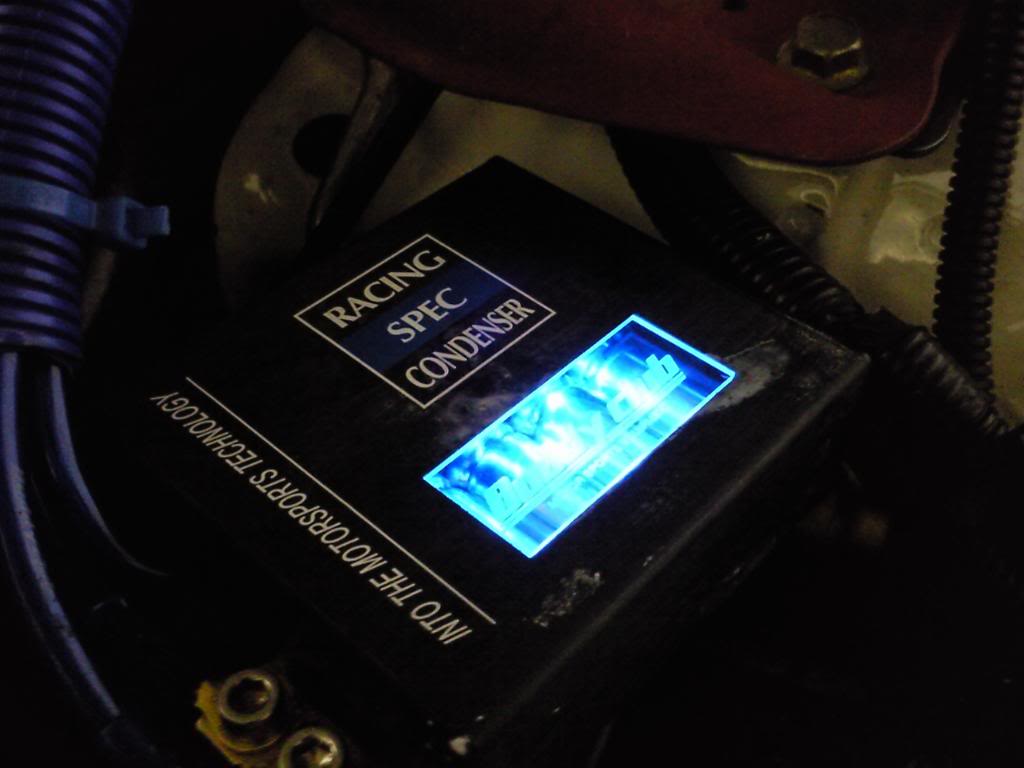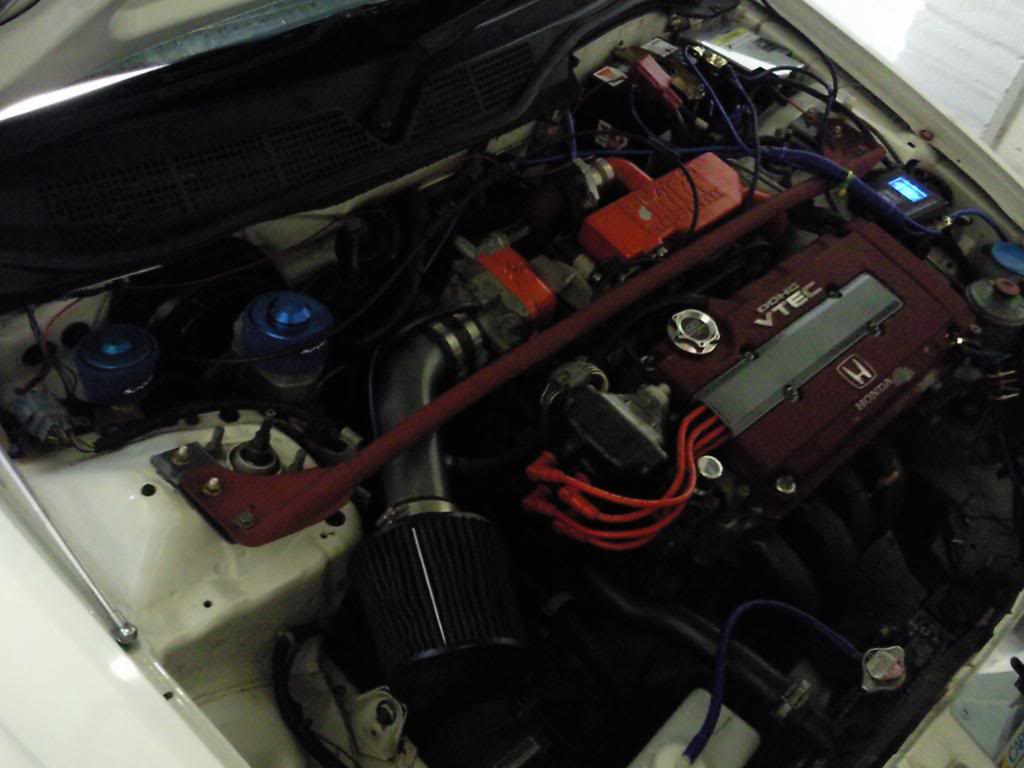 C's throttle body, which sticks further out than than the standard throttle body meaning im limited to what induction kits i an use eg cant use j's racing intake, which is rather annoying.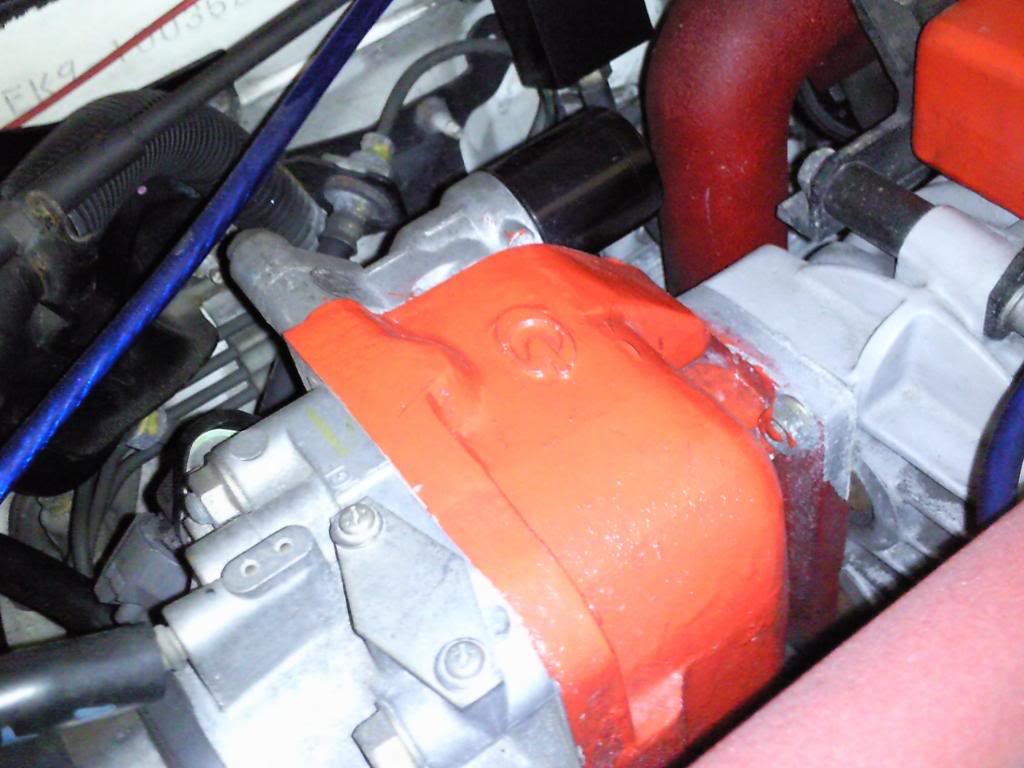 C's roots type supercharger. Its basically an eaton type supercharger remade by c's to fit the b16b. These superchagers are commonly used by General motors (GM) in America and for those who maybe interested in how it works, basically its a positive displacement superchager consisting of lobed rotors which turn moving air at a fixed rate in pockets towards the intake. Being positive displacement it moves air at a fixed rate meaning that there is no chance of over boosting or boost spikes/surges. Also max boost can be acheived from a very low rpm and there is no lag at all obviously. They do produce alot of heat though which makes them rather inefficient in long runs and especially since its not intercooled then heat production is its achilles heel.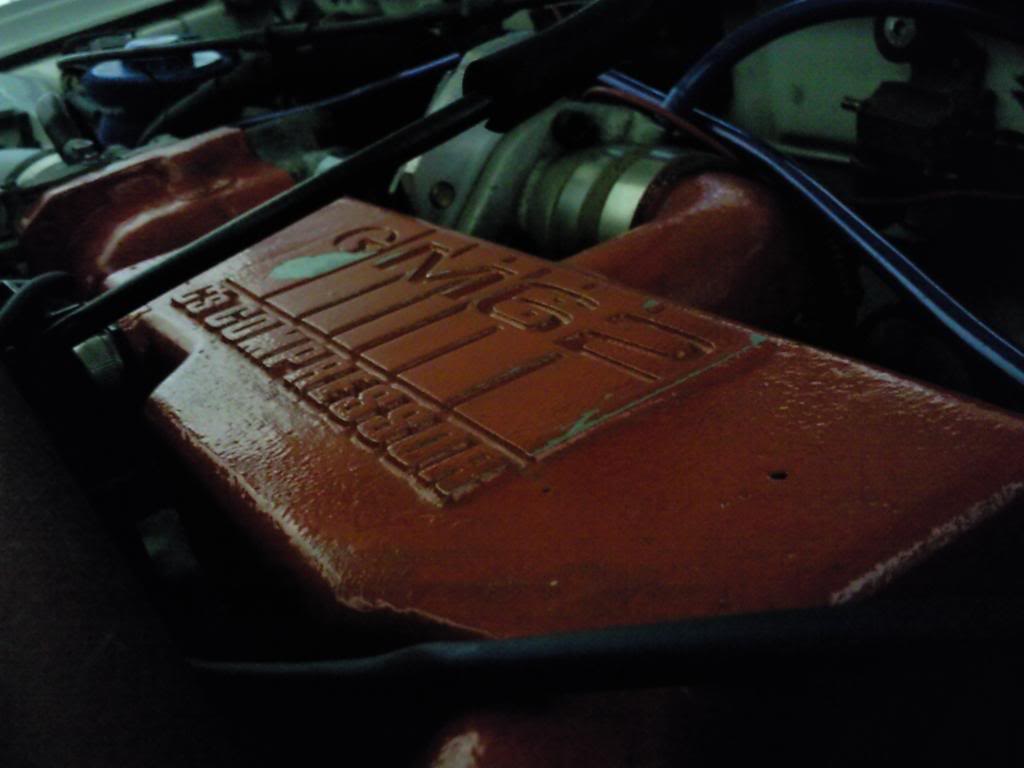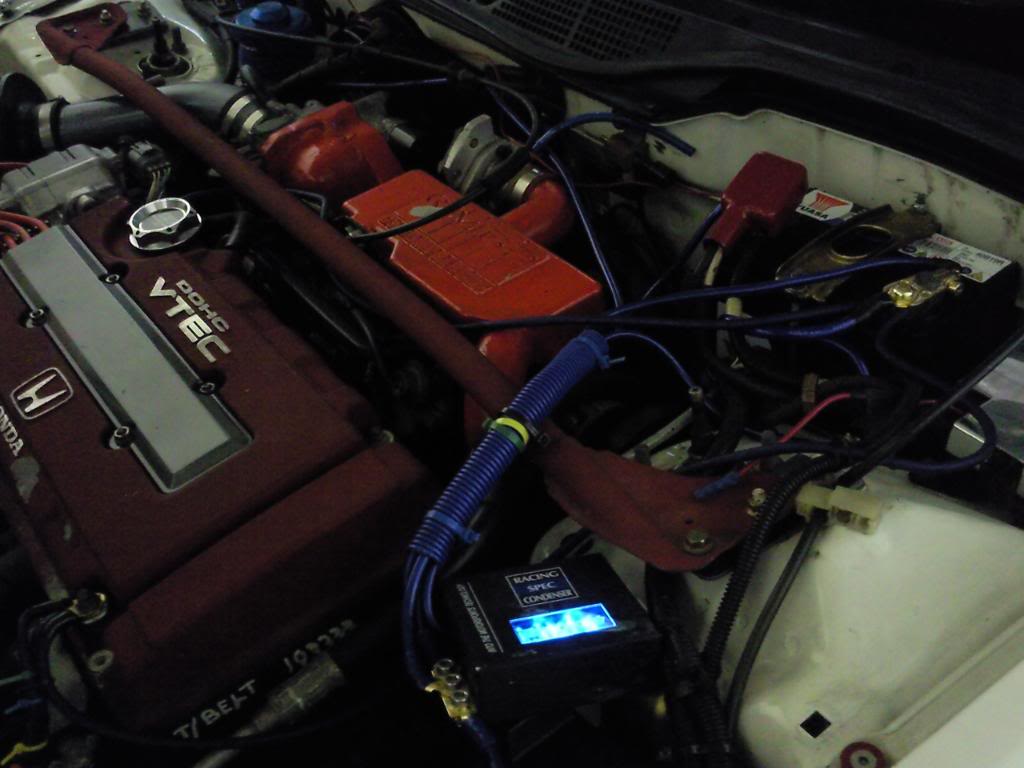 One of the rev counter with the carbon surrounds, which are standard. limiter on the car is set at 9k rpm by c's.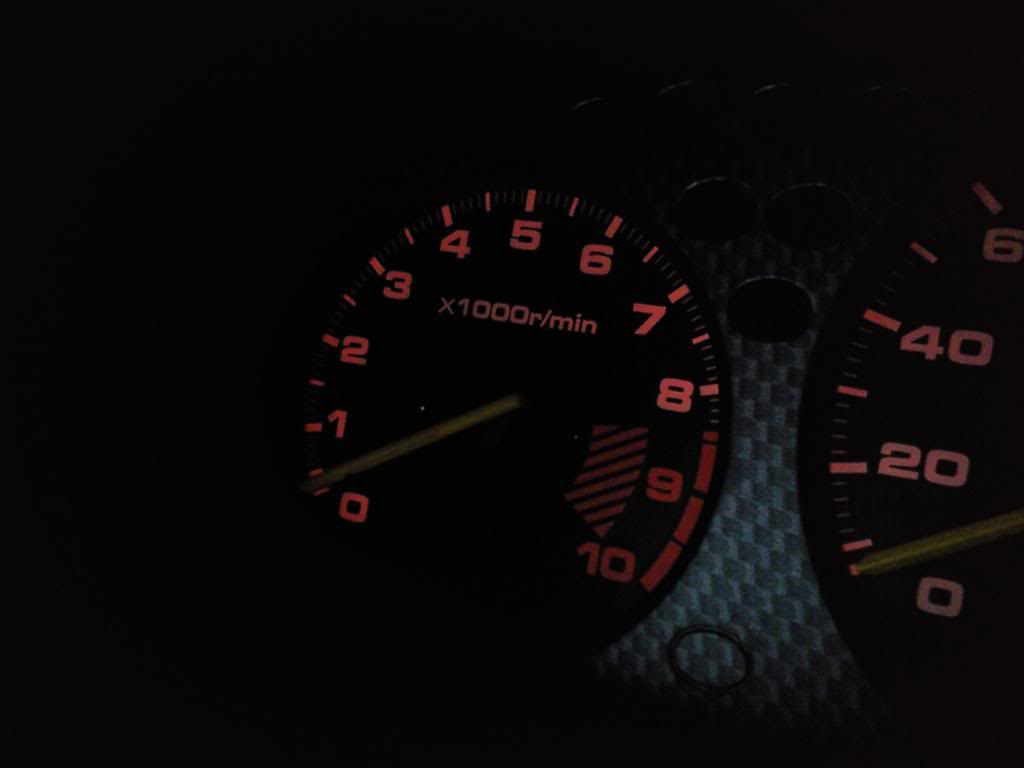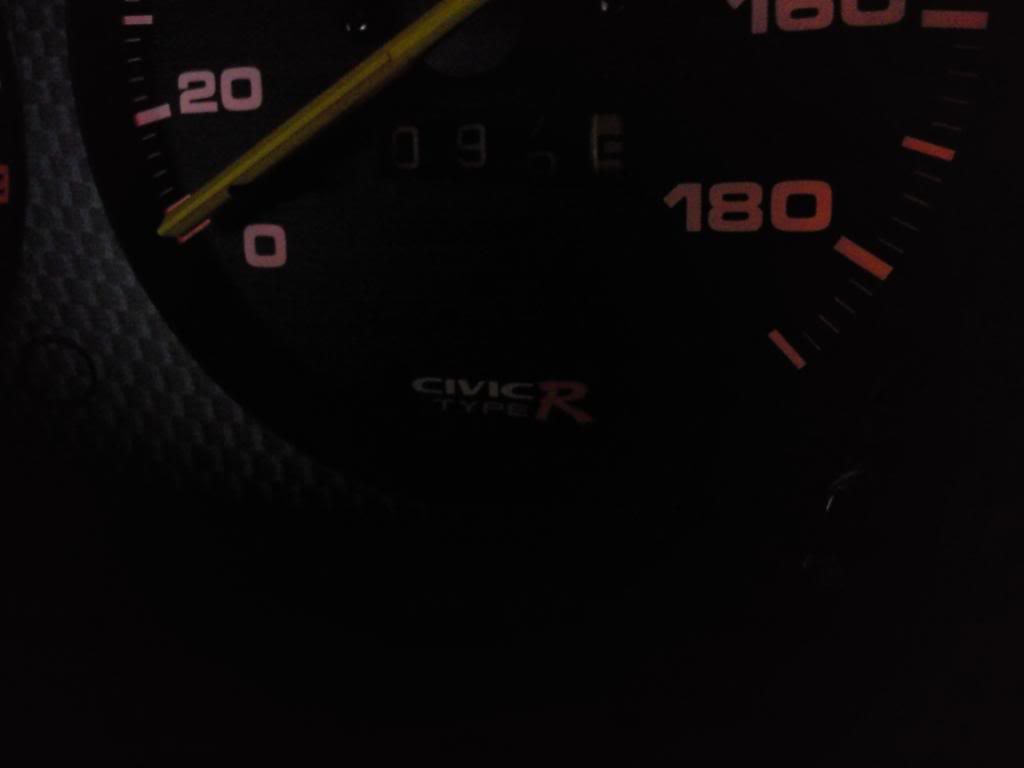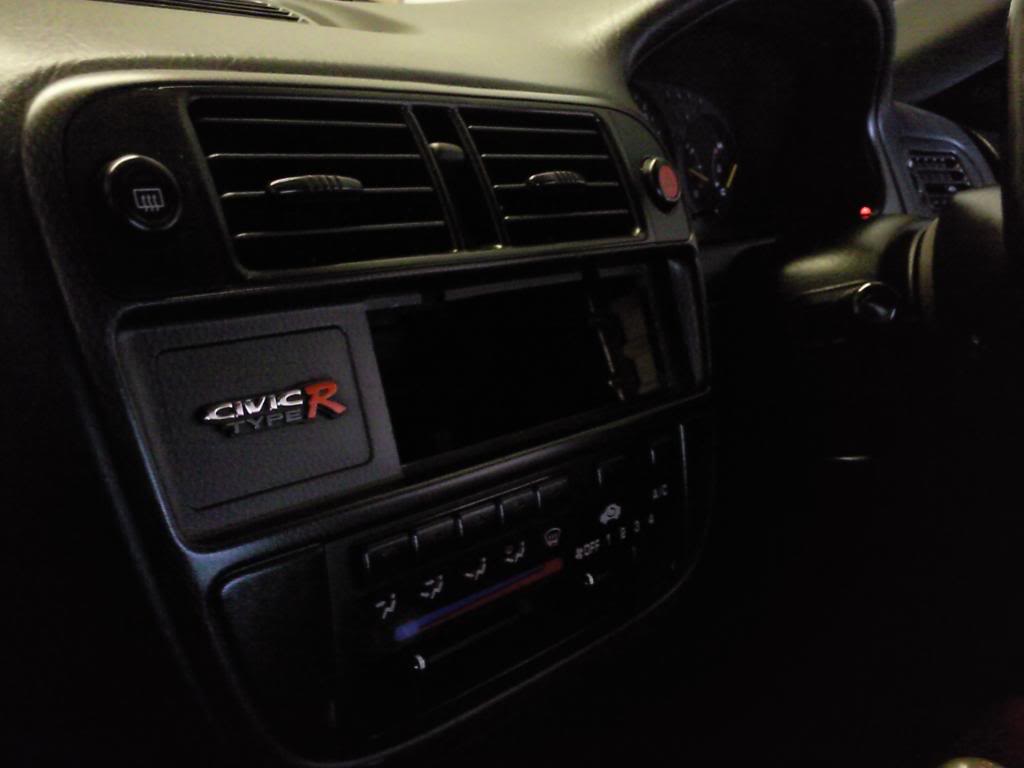 Standard ek9 momo steering wheel, which is heads and shoulders over the RS steering wheel i had in the clio.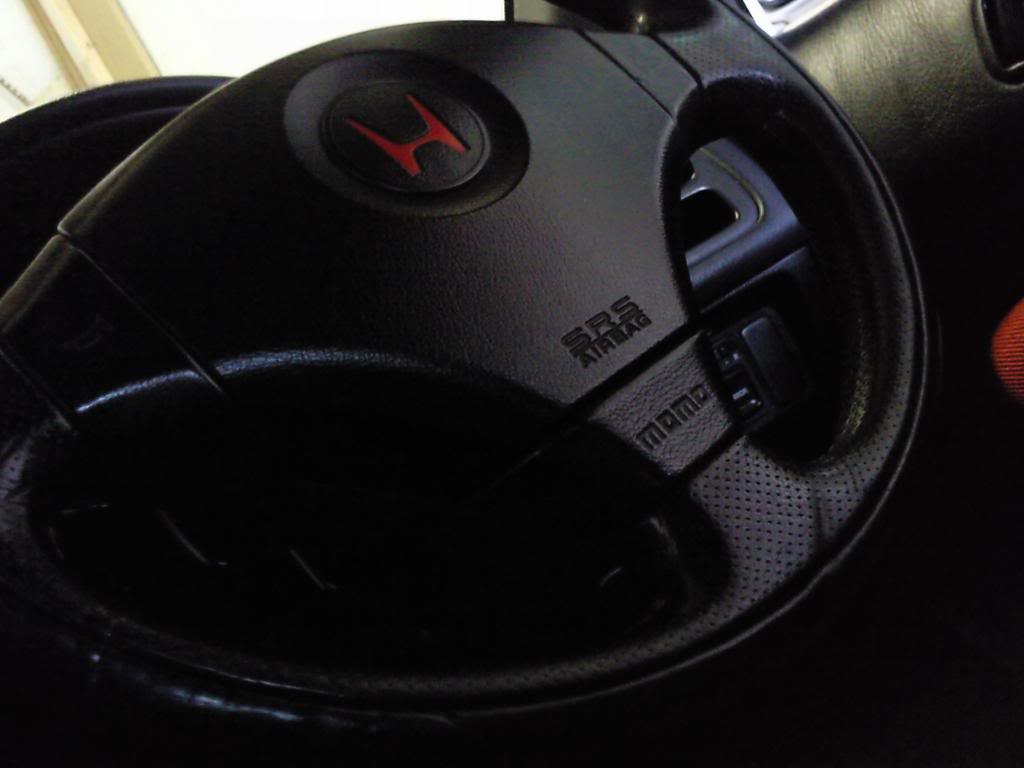 JDM recaros-maybe/hopefully getting replaced in a couple of weeks with some Bride goodness if all goes well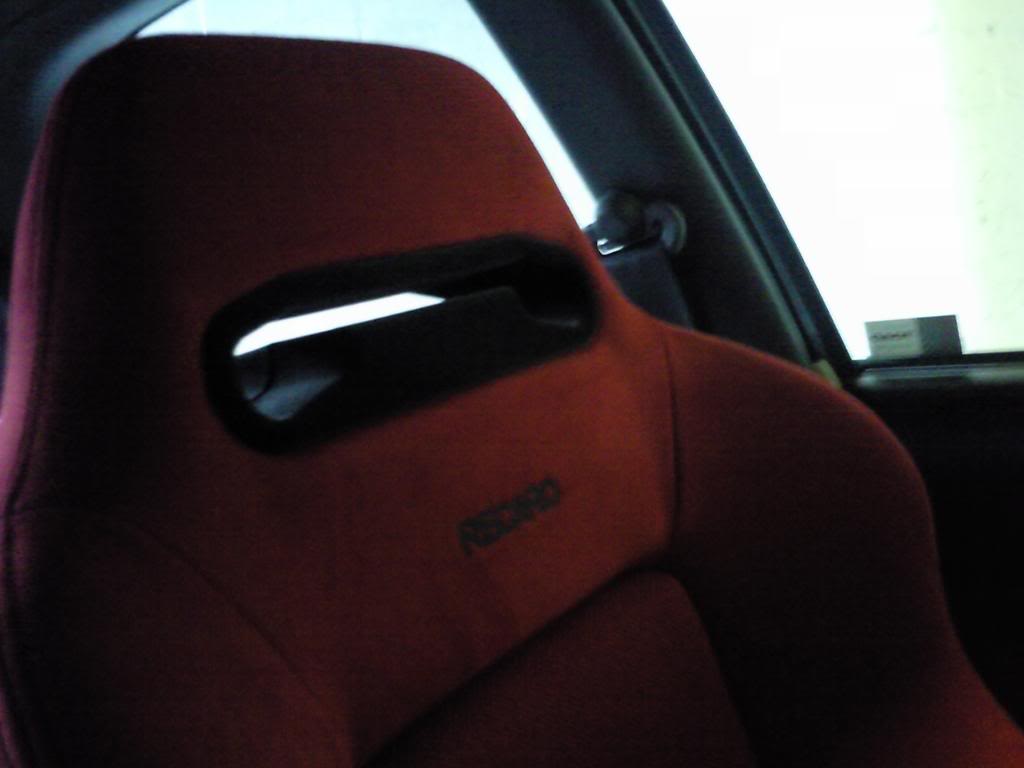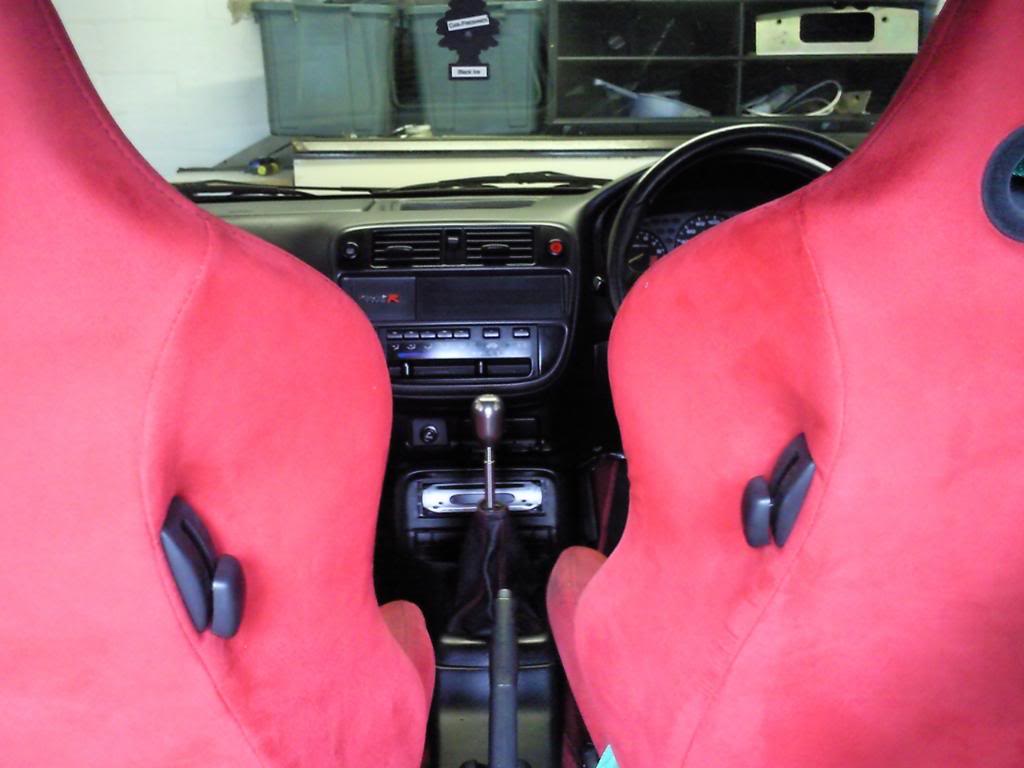 Uprated map sensor: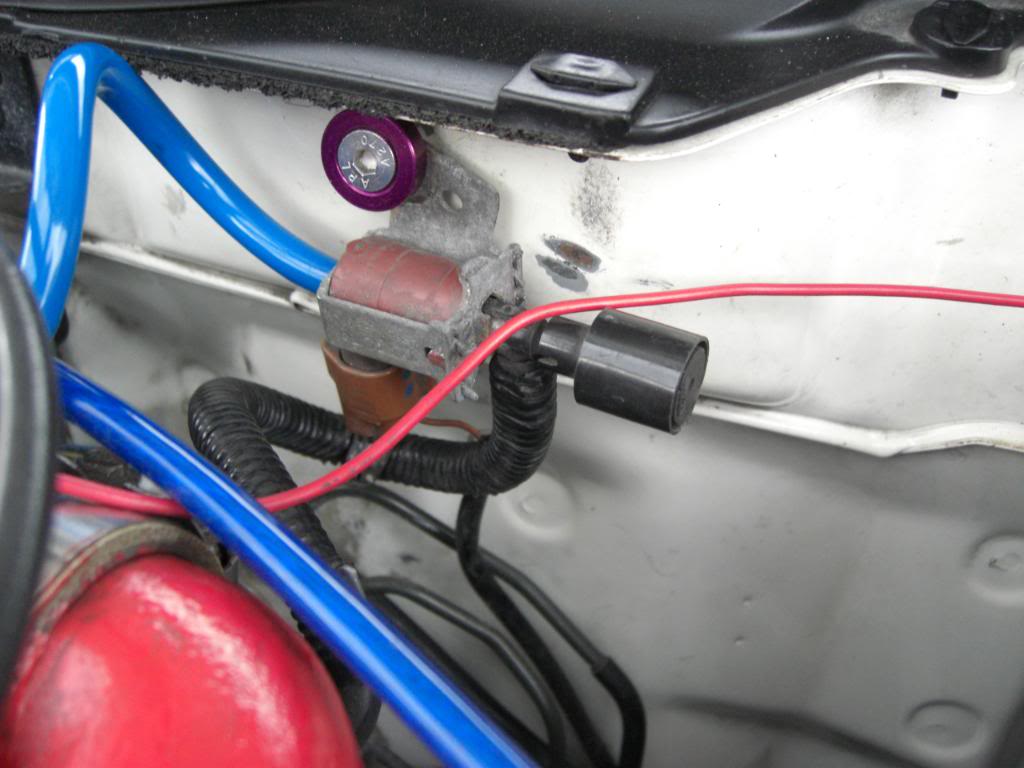 First few jobs were get rid of the spare tyre for some tyre weld, which im not entirely convinced works well. less weight=more speed...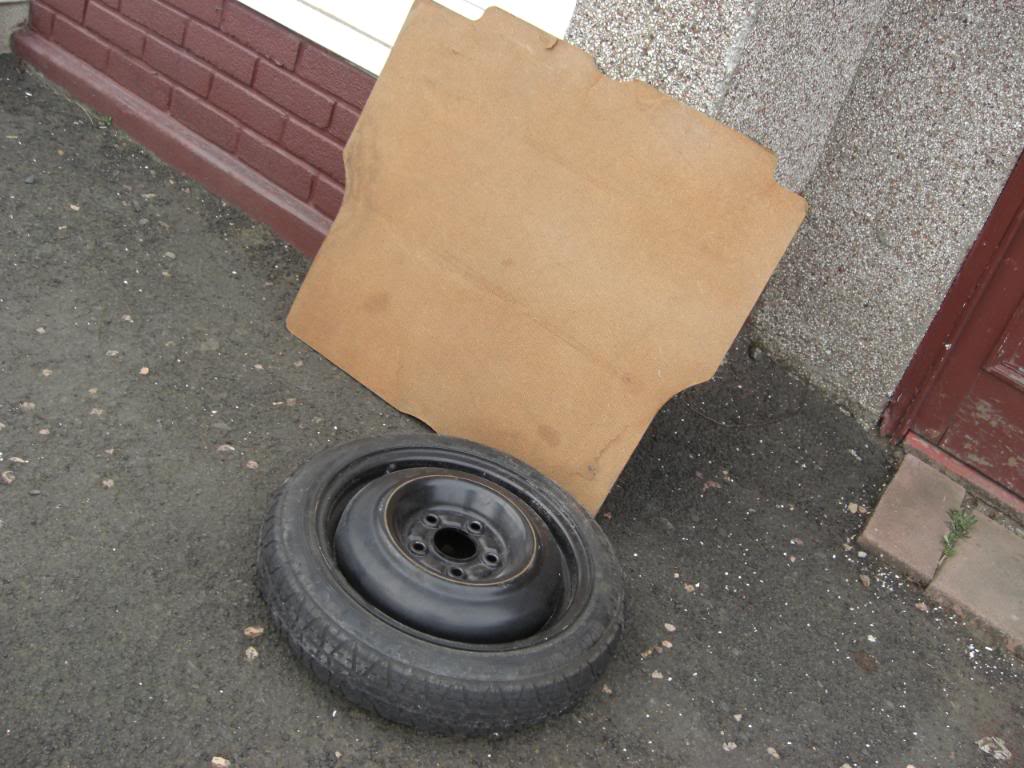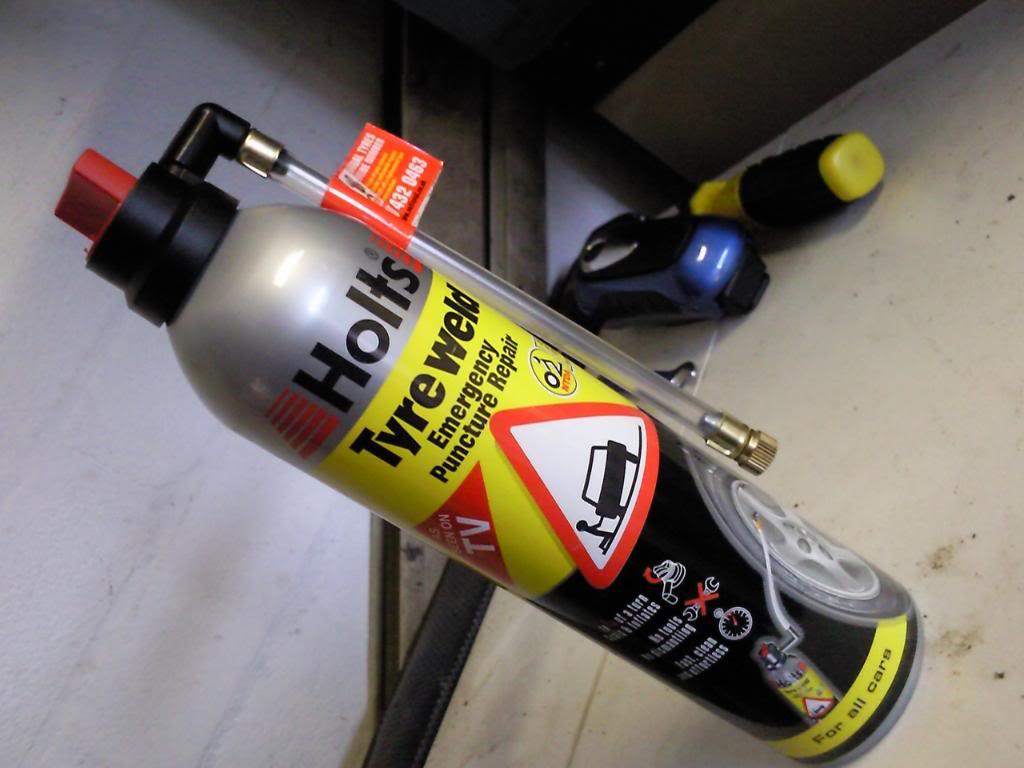 Then i removed the rear seats to reduce weight and since the ek9 has no sound deadening that pretty much stripped out the back.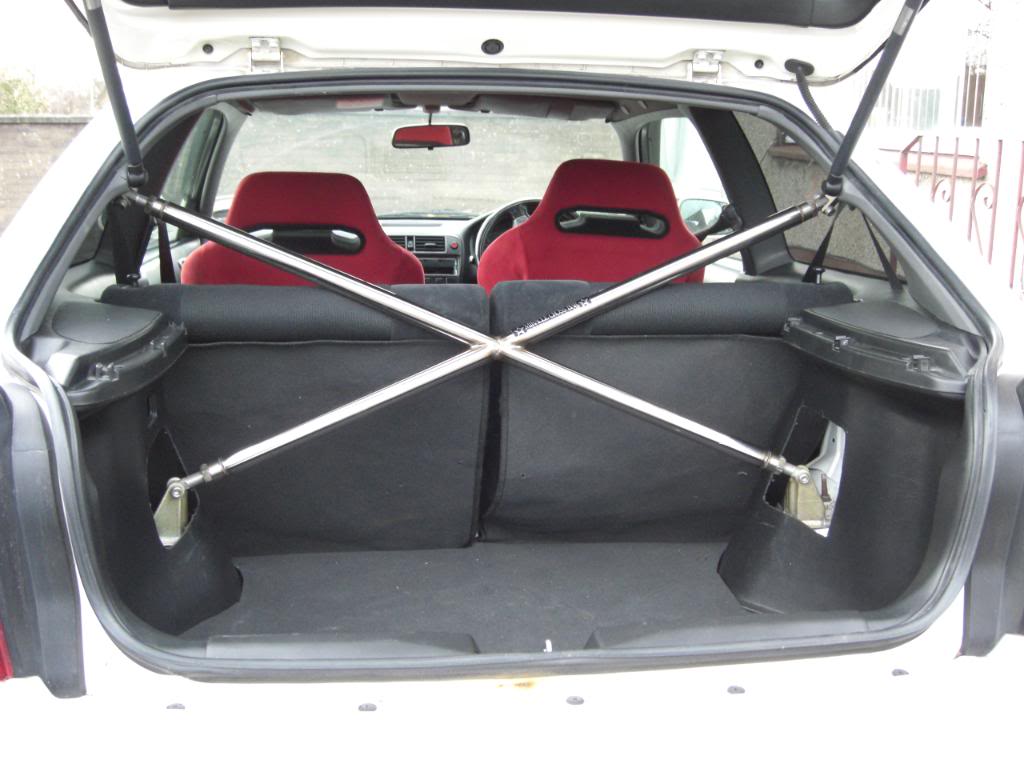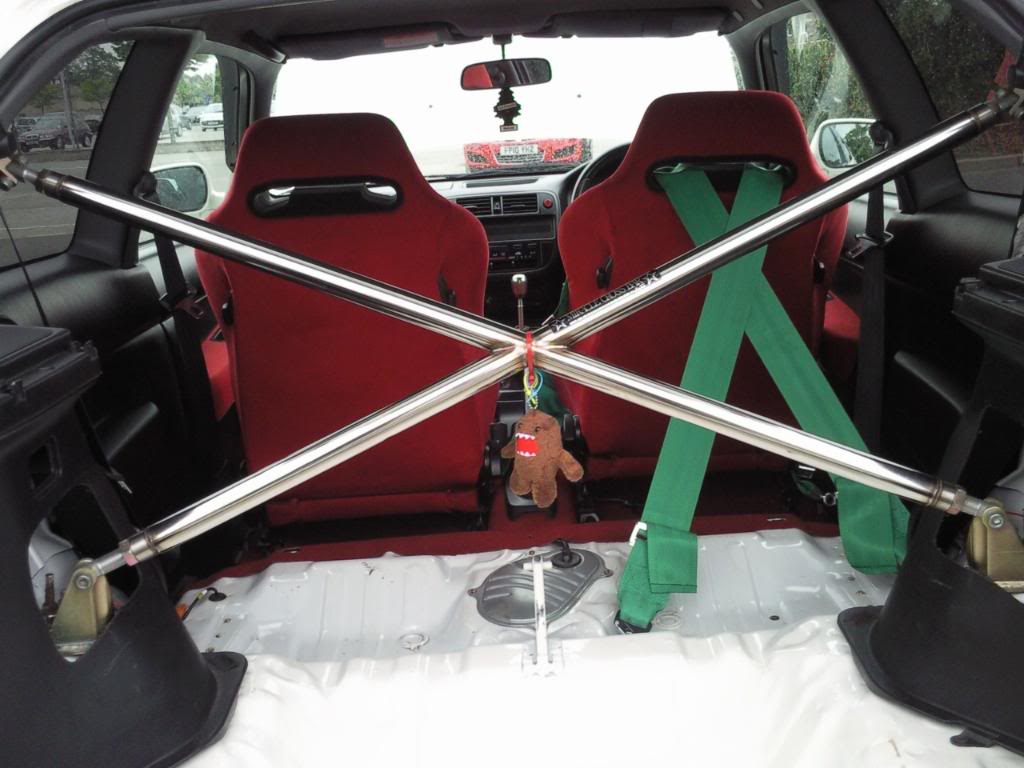 Well preliminary jobs done, and a day into ek9 ownership i was hit with the modding bug. So decided to order a few bits and bobs mainly to tidy the engine bay up. first batch of goods:
Old type r front and rear badges were faded so thankfully fresh type r badges were fitted by the previous owner, which arent cheap so thats one less expenditure.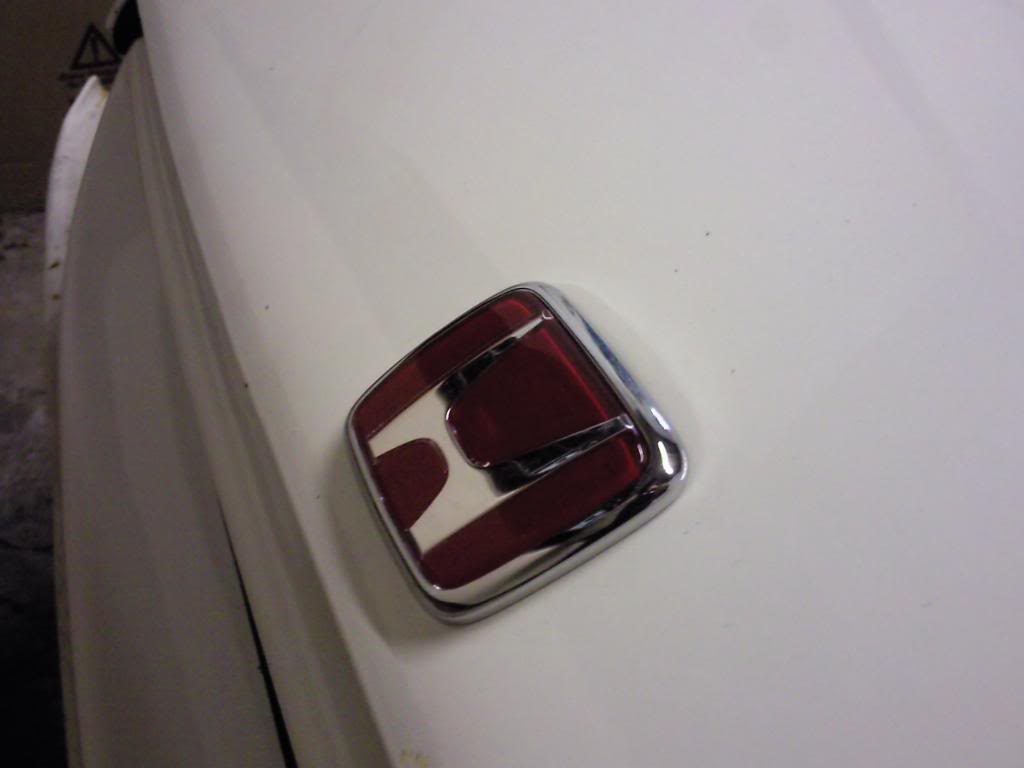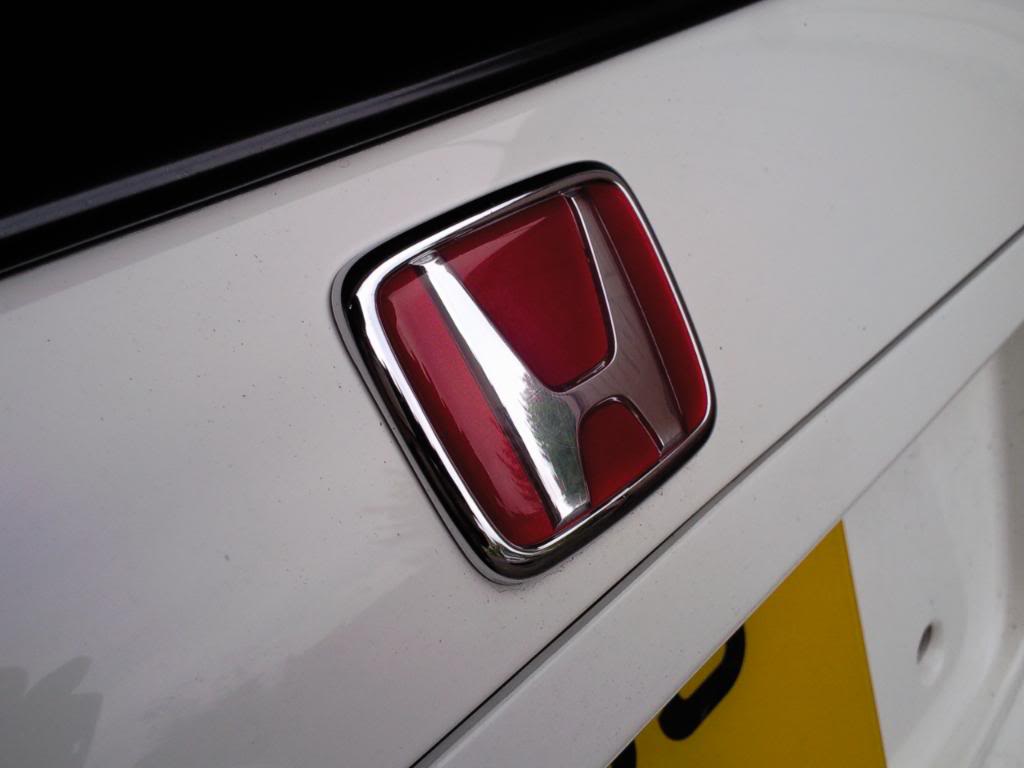 Manditory spoon socks were purchased.: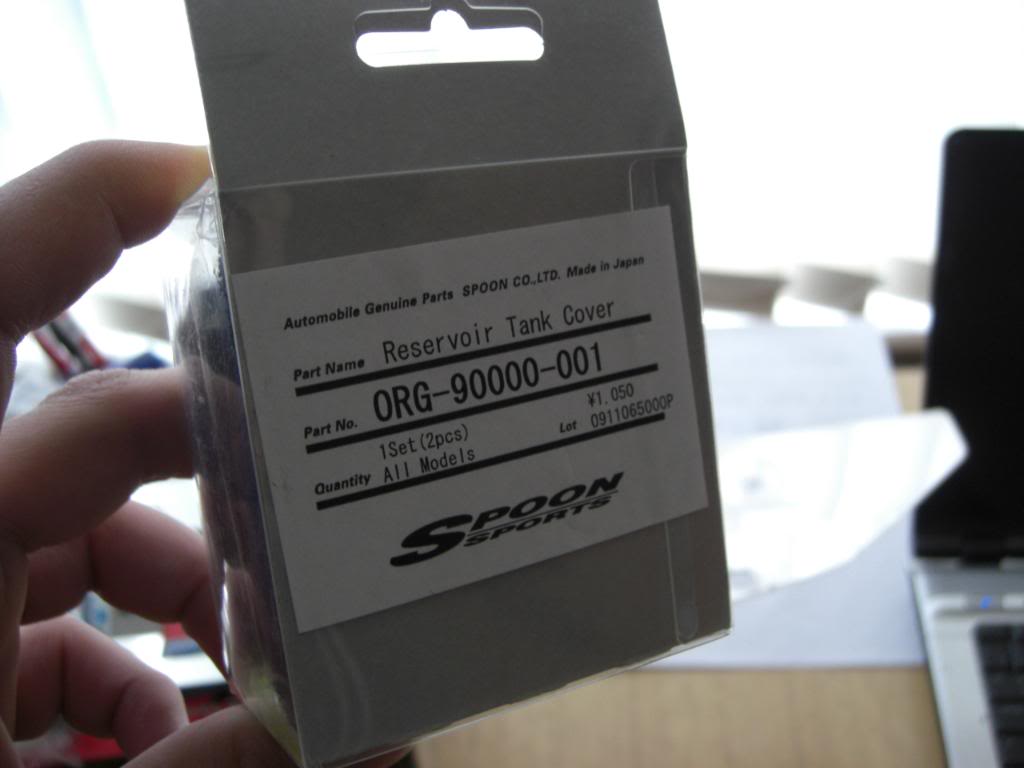 Along with matching resevour caps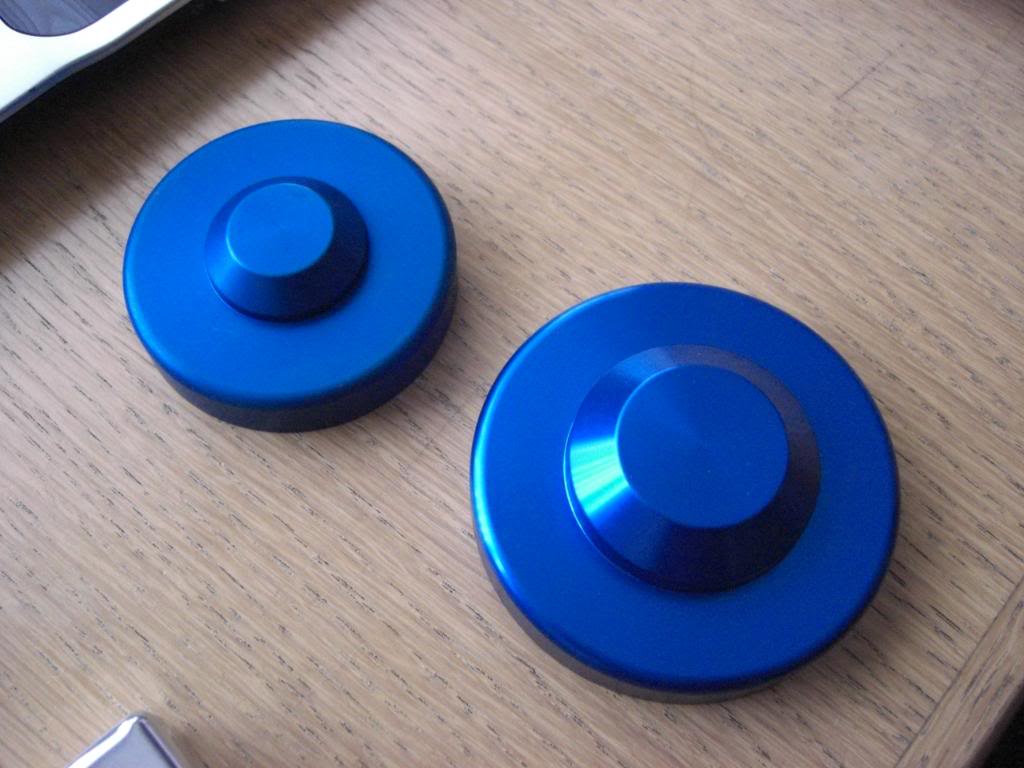 Poor pic of both fitted: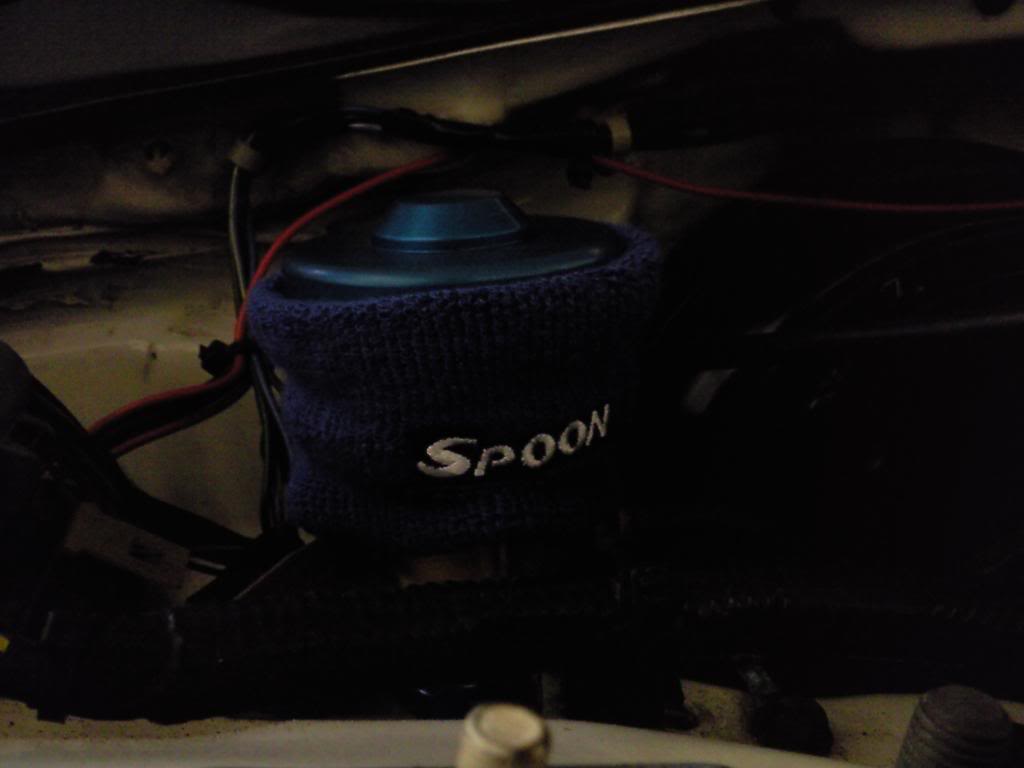 Spoon style radiator stay purchased and fitted only for it to fall off on the dual carrage way... b*****d
Vtec solenoid cover-just a bit of bling for the engine bay .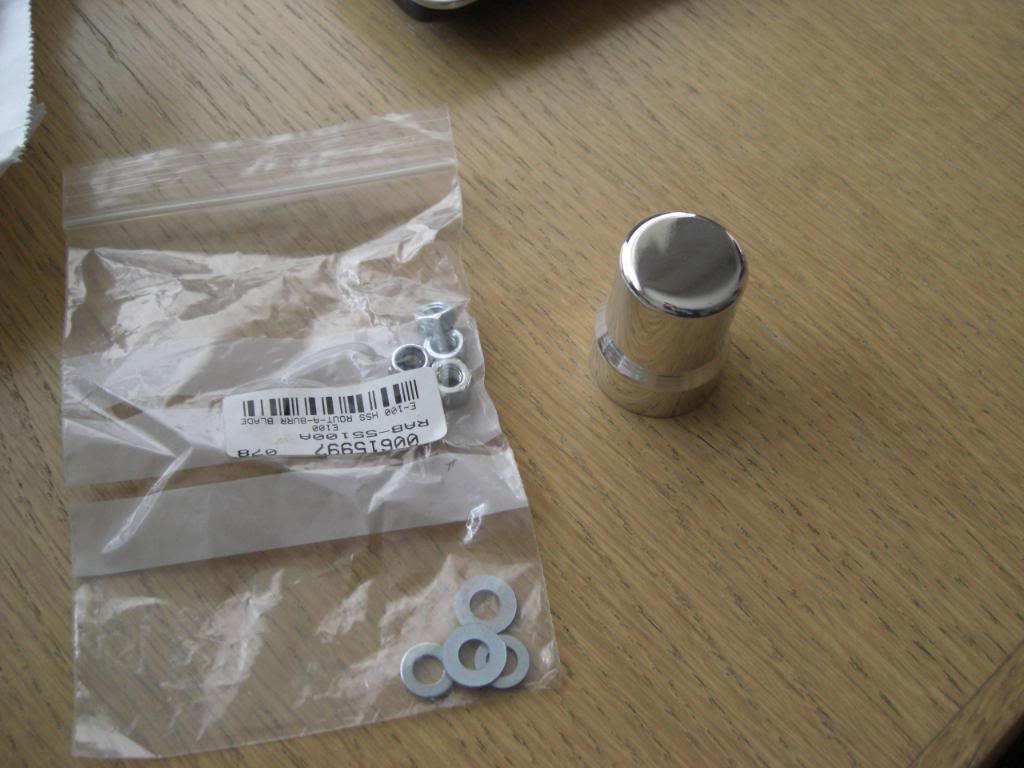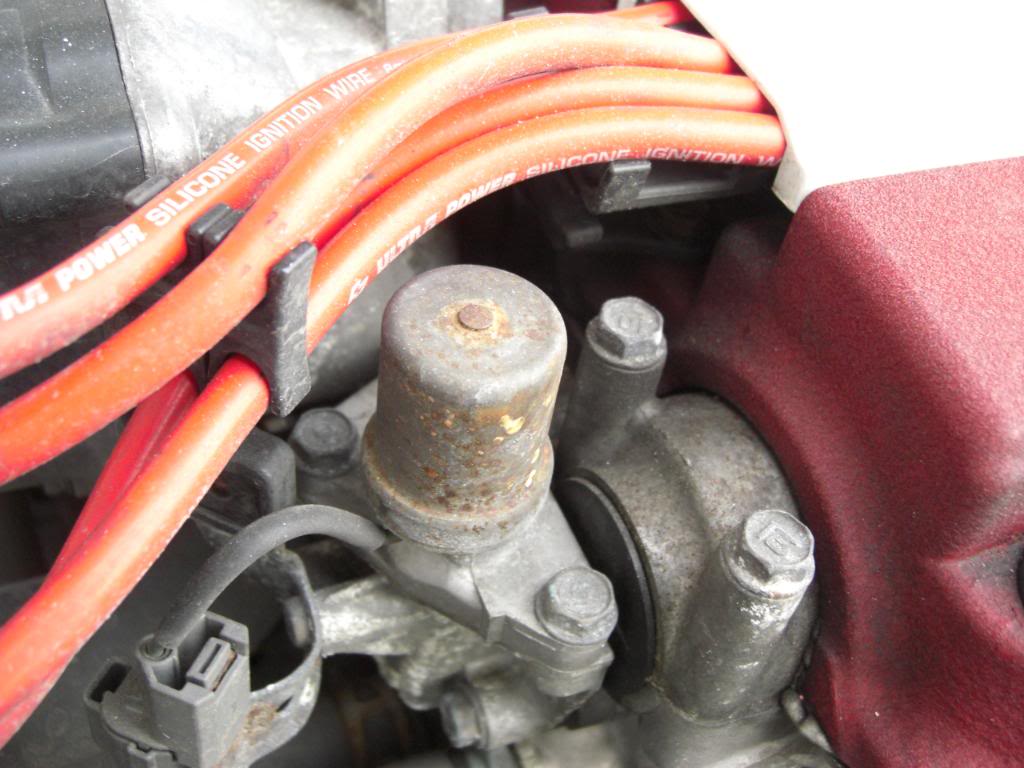 Fitted: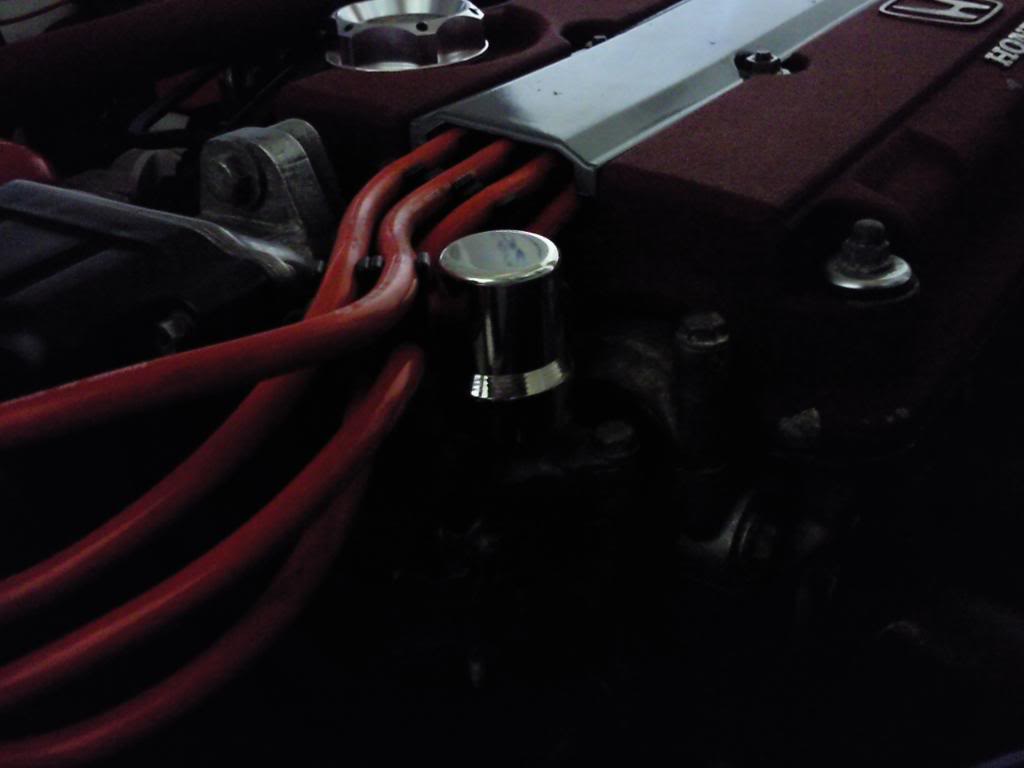 Single din gauage holder. This fits in your radio slot neatly but im not going to be using a different holder, which will be revealed later.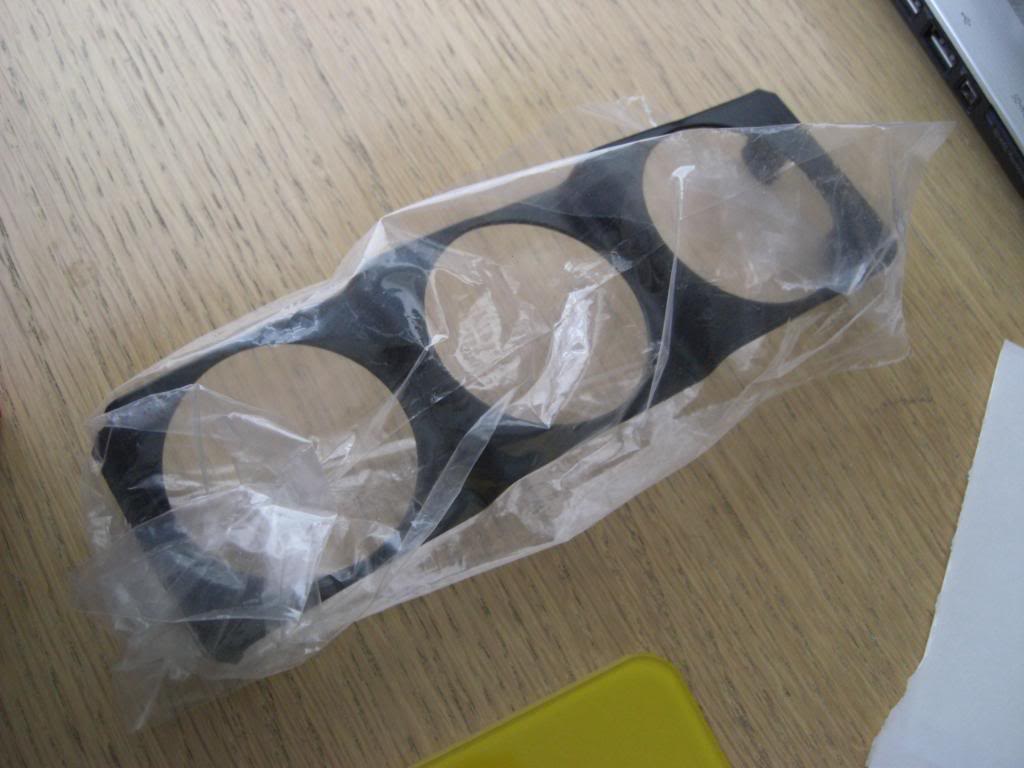 Mugen oil cap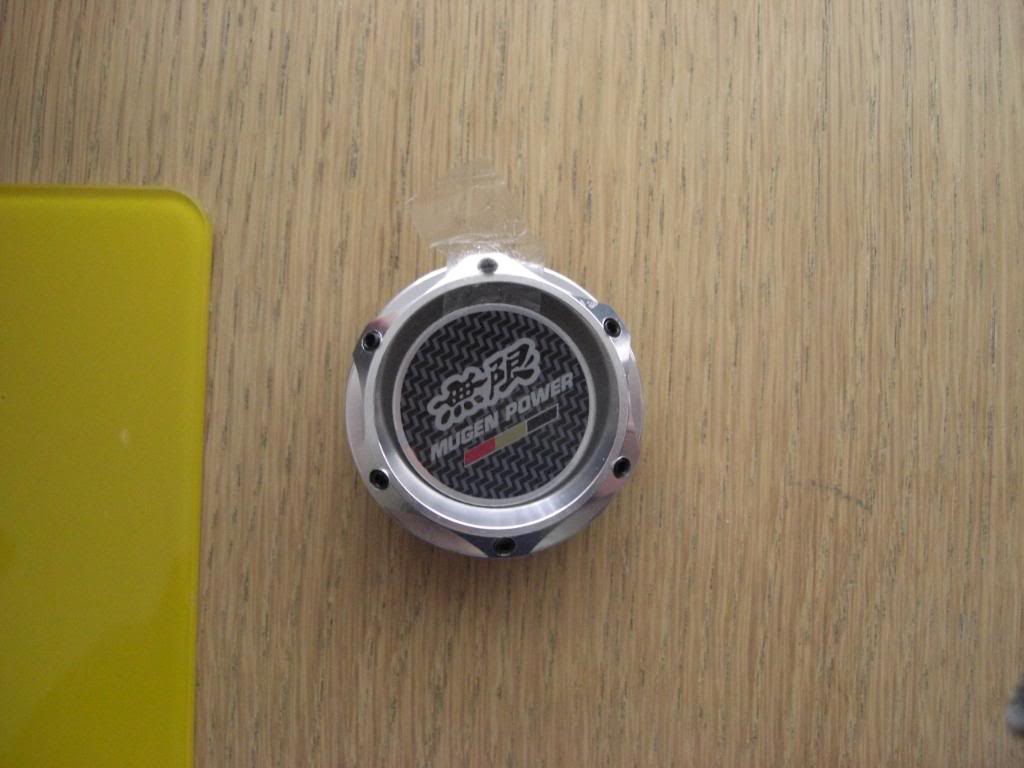 Fitted: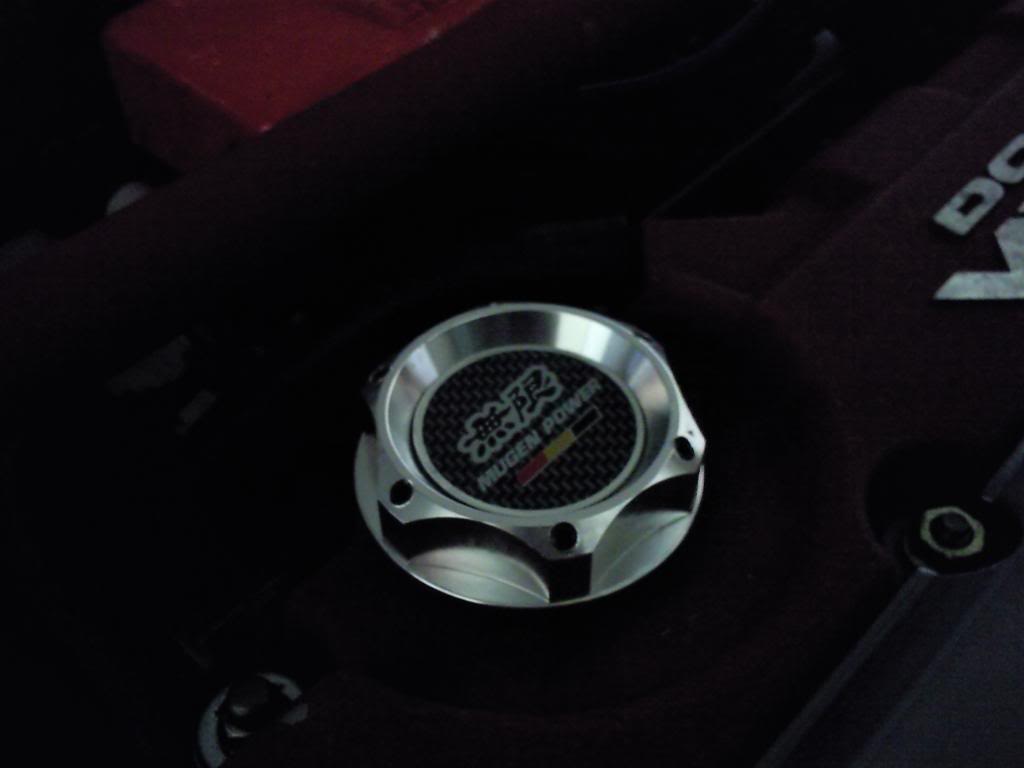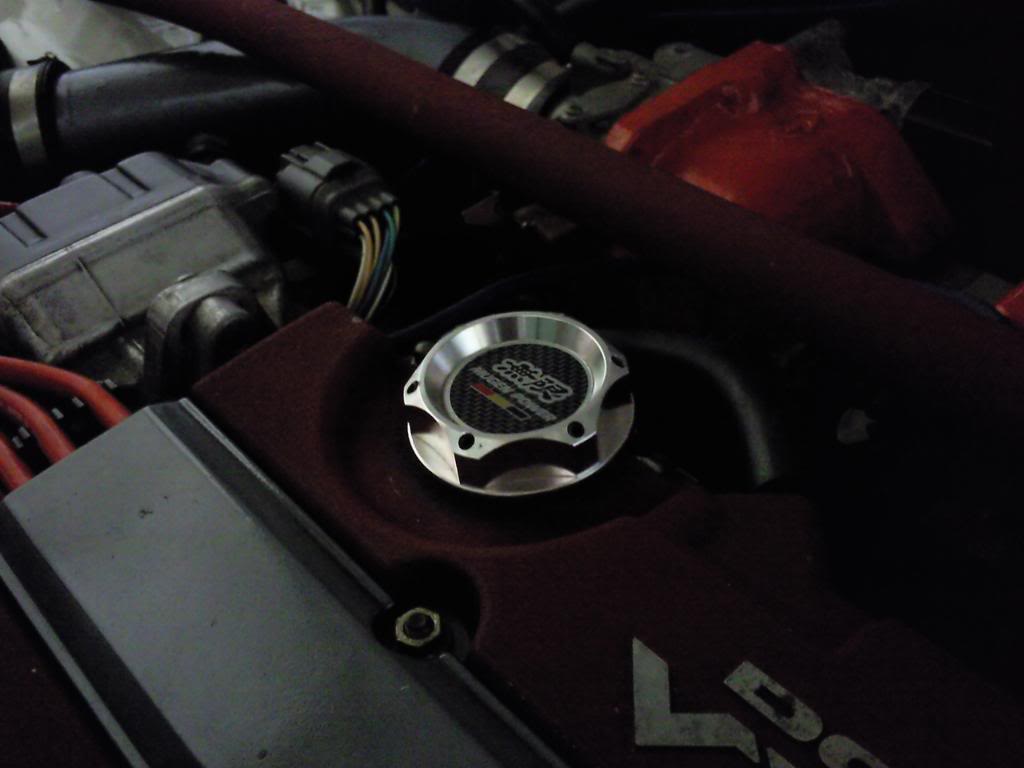 Custom stainless steel battery and fusebox covers with new nuts and washers.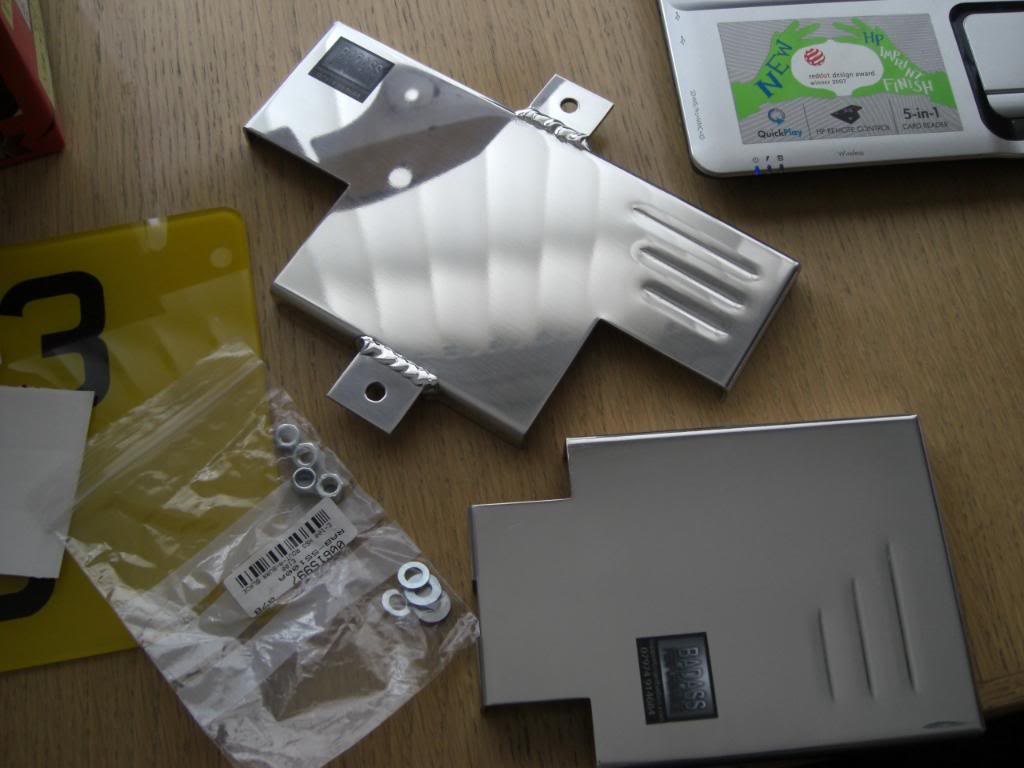 Fuse box cover was fitted along with a funny jdm sticker i bought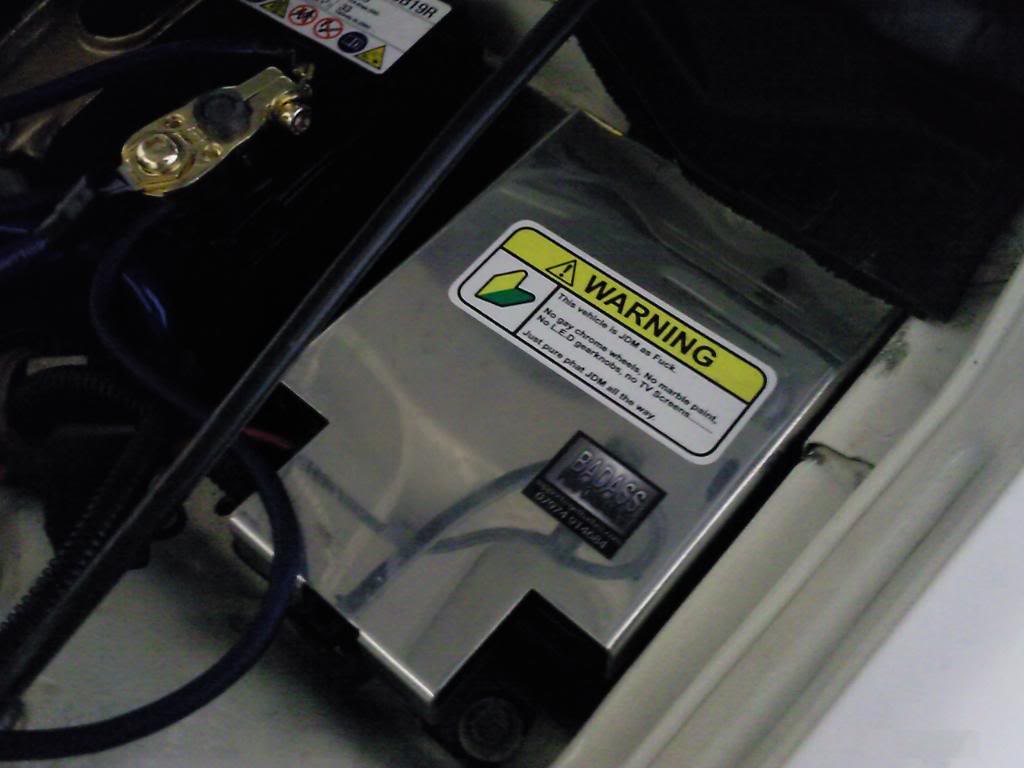 The battary cover on the other hand wont be getting fitted as it cost me a perfectly good battery. Its has a flaw in the desighn really as no matter how you fit it you cant avoid contact with the 2 terminals resulting in shorting the battery cells out, which is exactly what happened. In the process i also got a shock and the terminals started leaking sulphuric acid onto my hand. So i called it a day at that. Next day took the battery back and got a free replacement as it was only a few months old and it had a big hole in one of the terminals, which was leaking acid.
Honda centre cap decals for the centre caps after they get refurbed
Purchased a domo to keep me company lol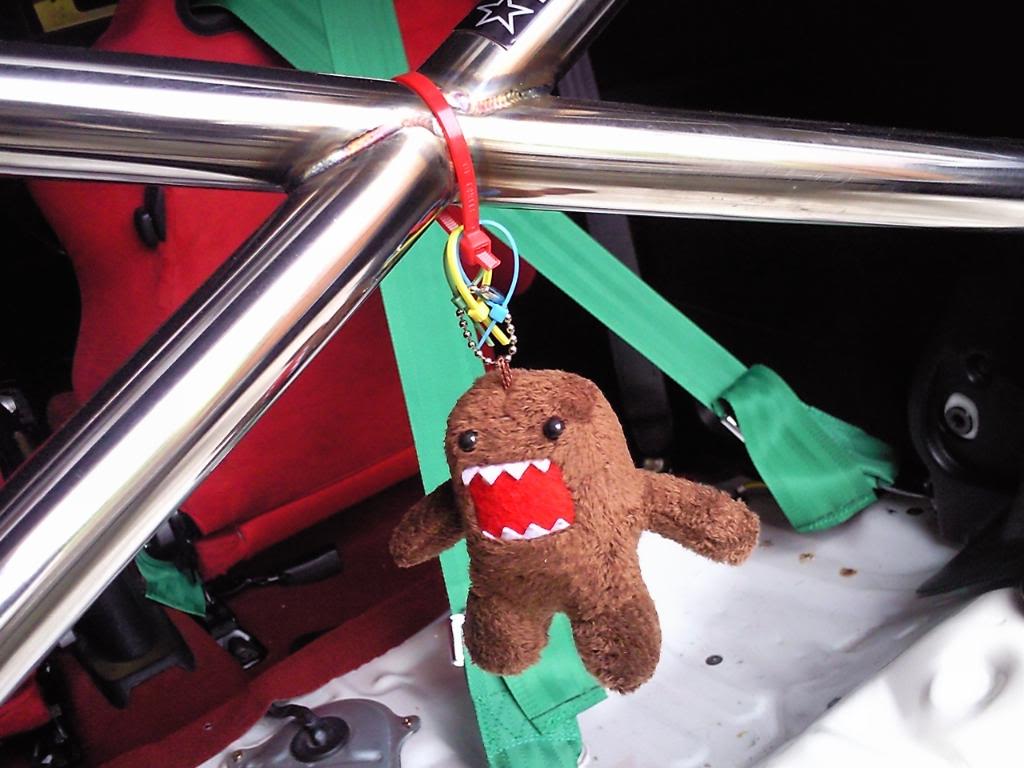 Carbing radiator cooling plate. Idea behind this is that when your driving at speed air is directed towards the radiator thus providing better cooling.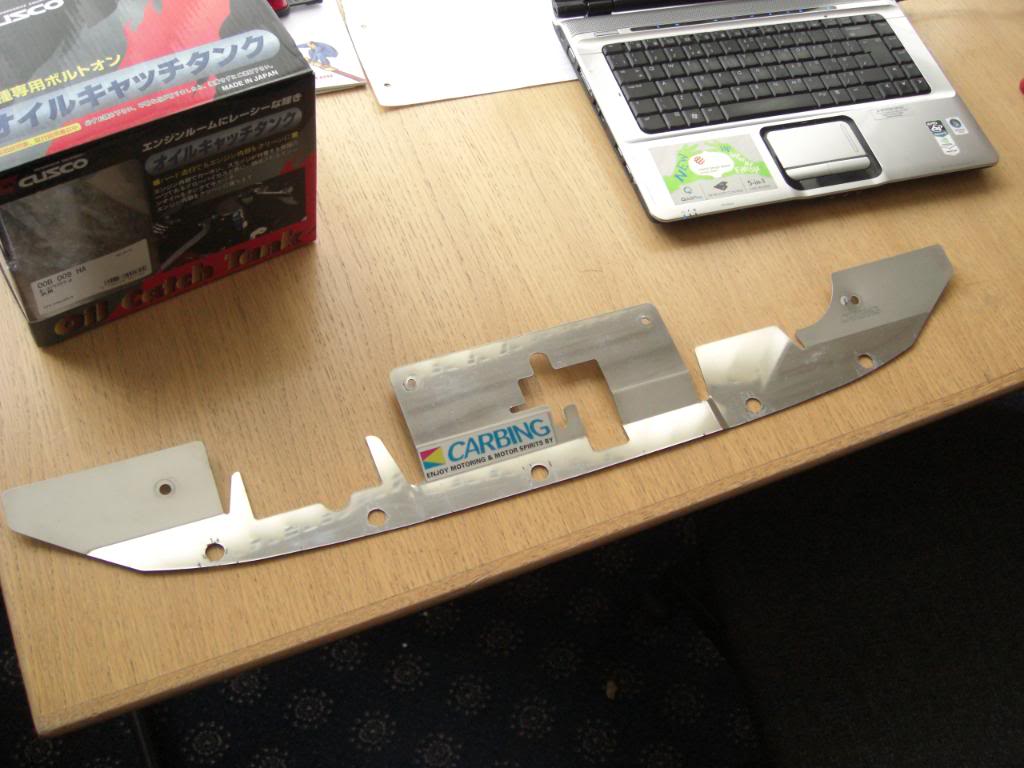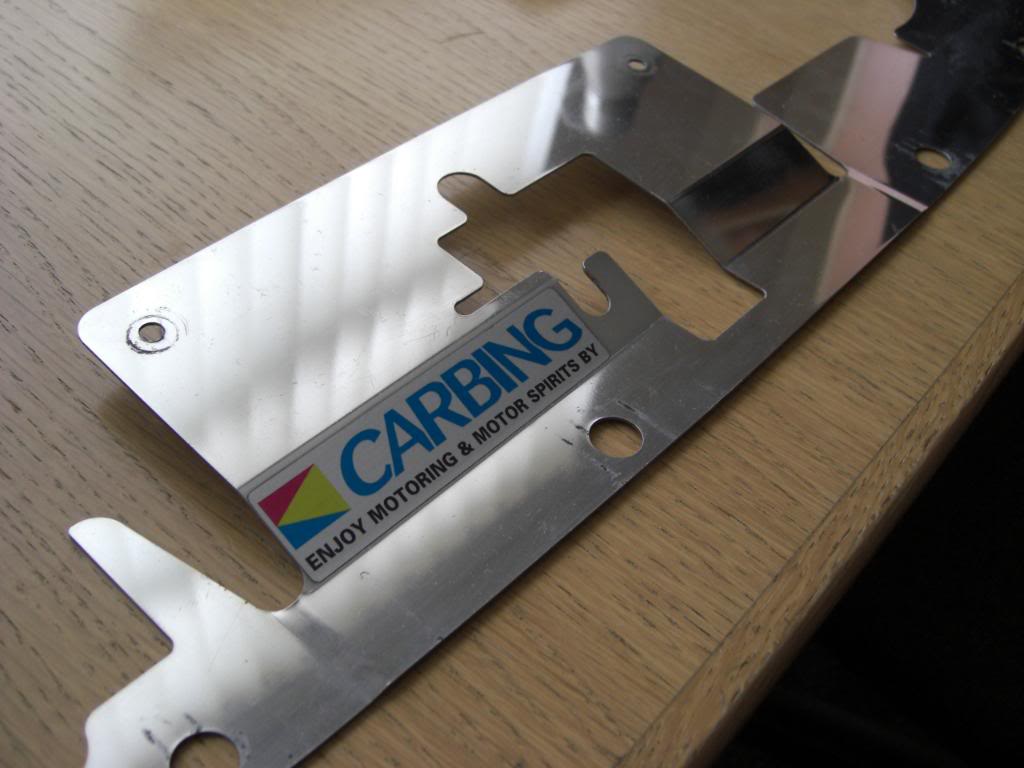 £80 worth of Anodised tegiwa washers lol. Oh and no their not edible if your wondering lol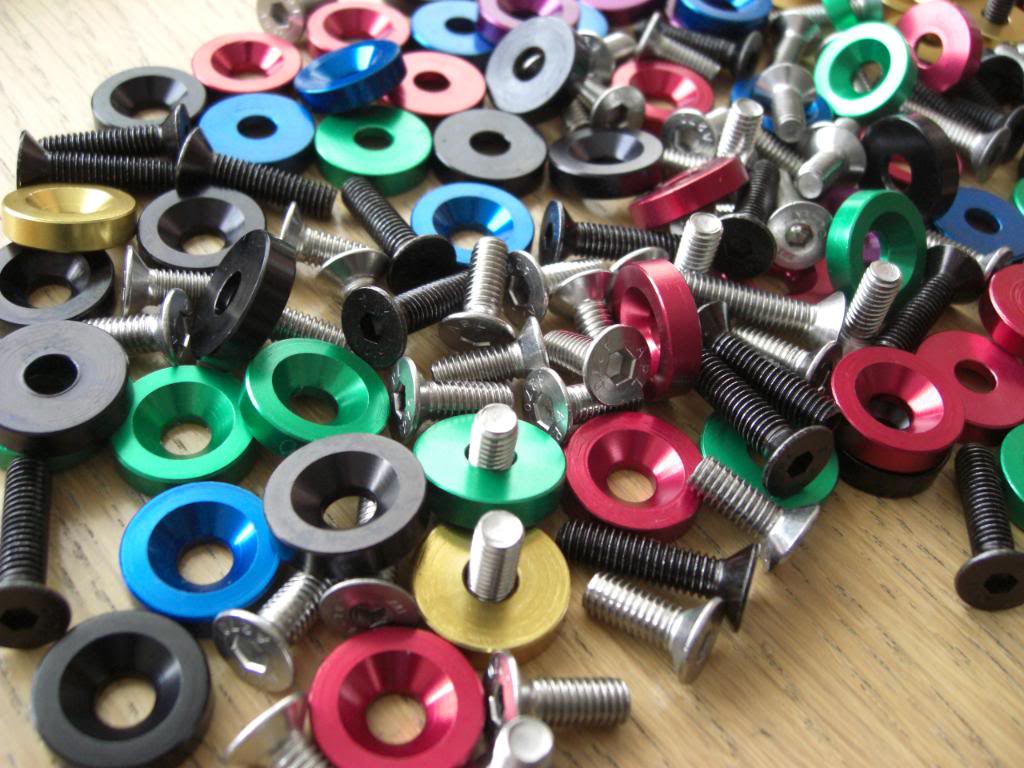 fitted a couple to the boot catch: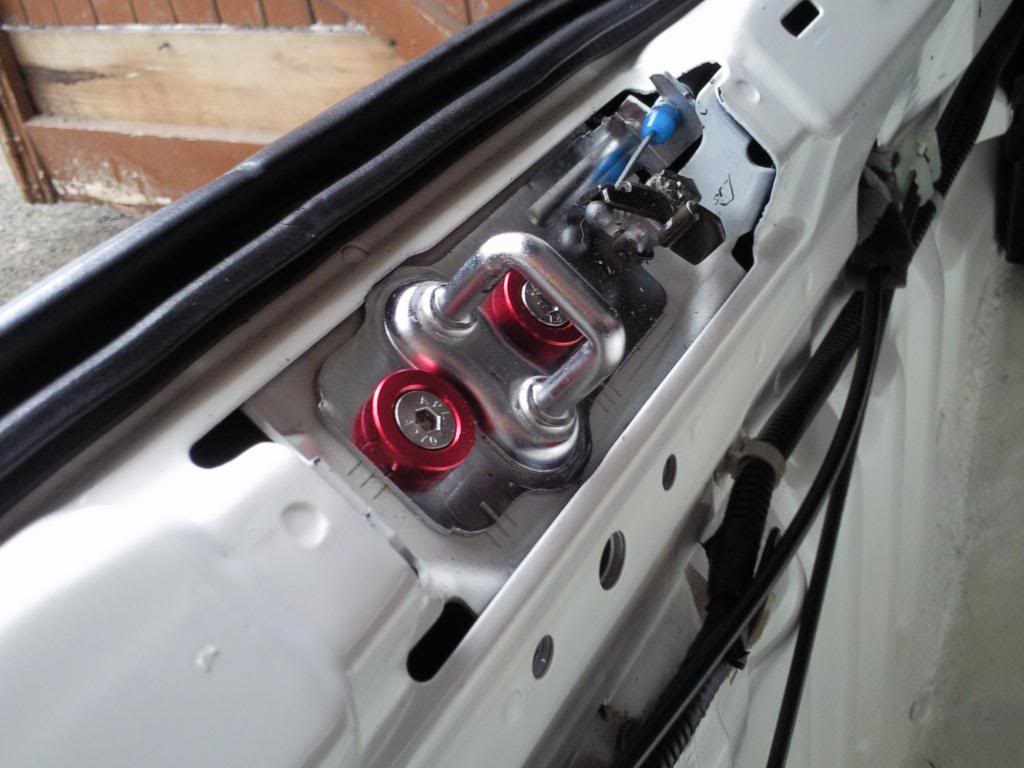 Holding down the grill but you need to use a washer and a nut to hold them in place. went for green but i think i will swap them for purple when i get bored.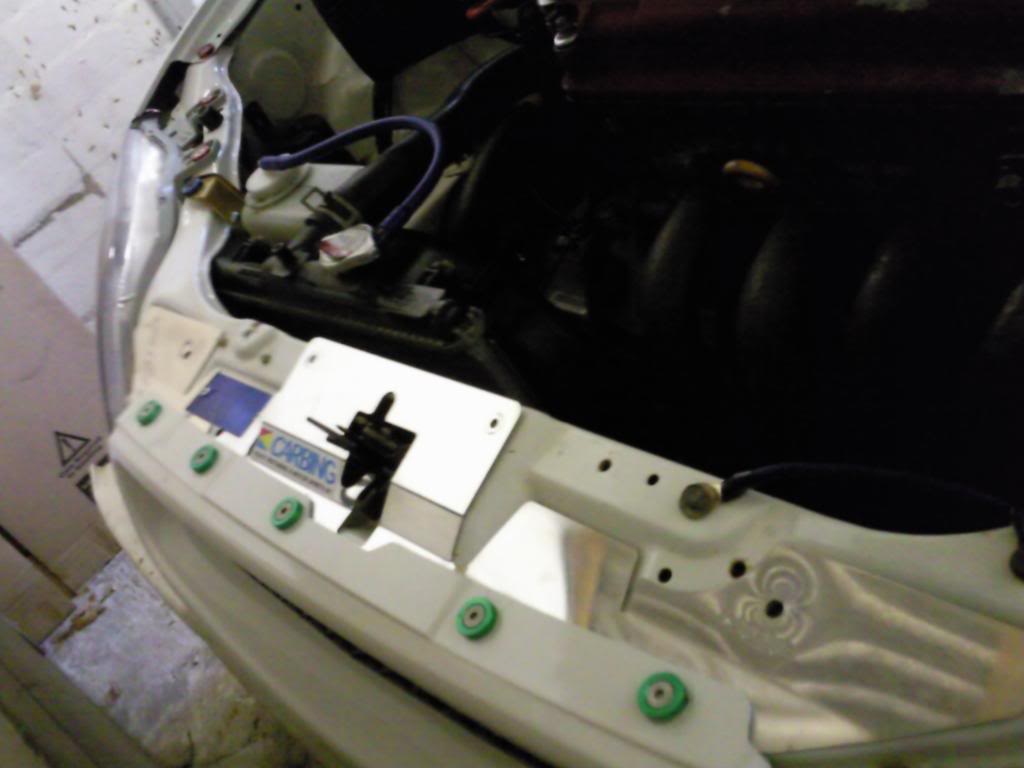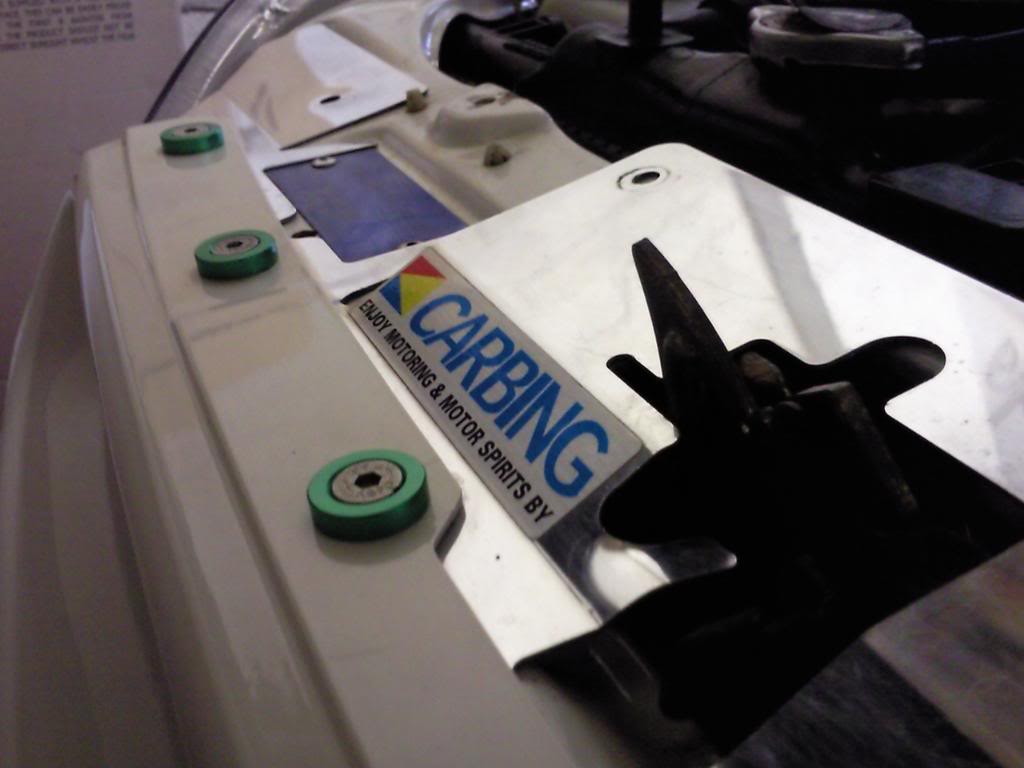 As far as i can remember the ones for the headlights use a slighly longer hex screw so if anyone is thinking of ordering some bear that in mind as tegiwa imports do 2 different sizes.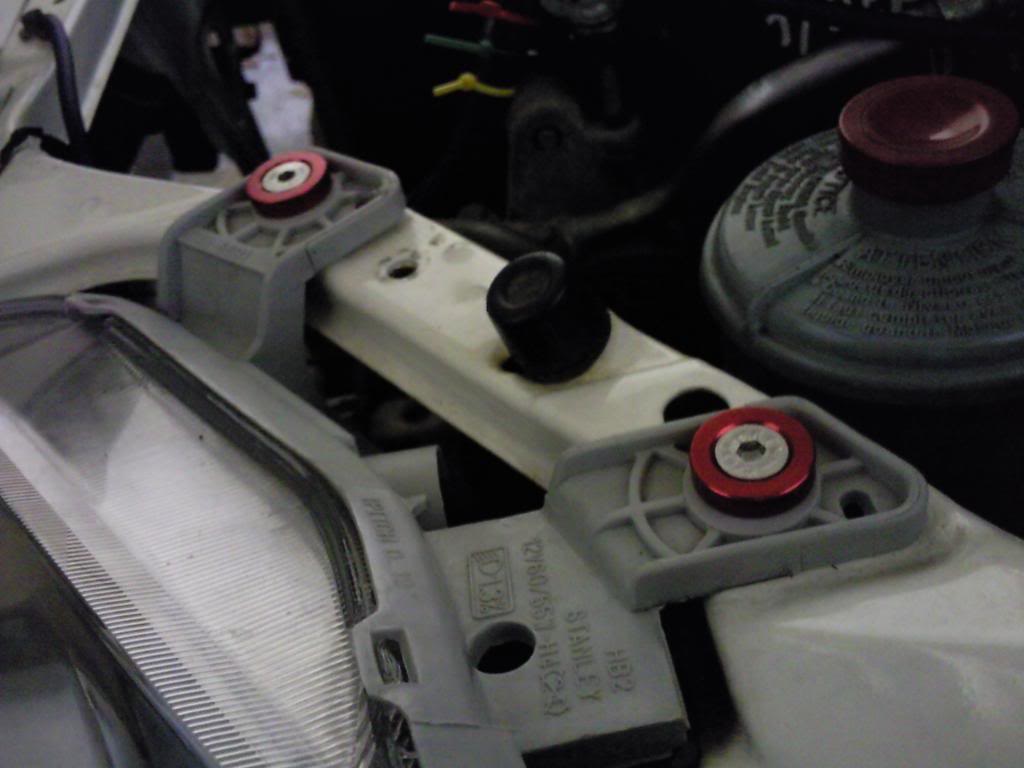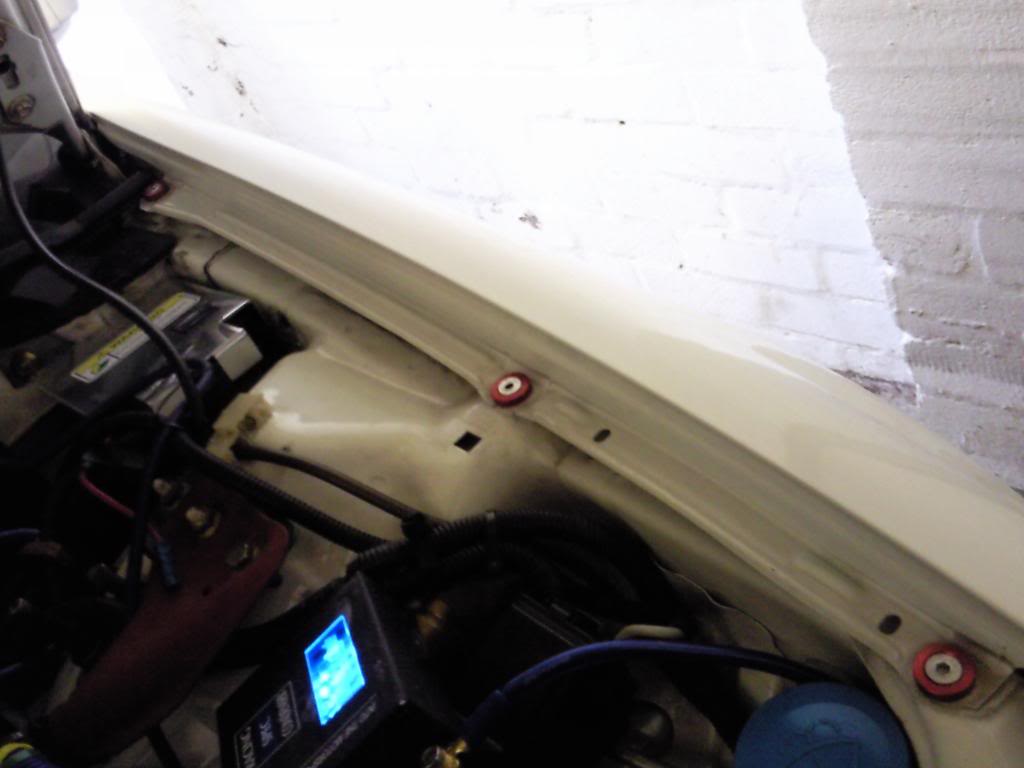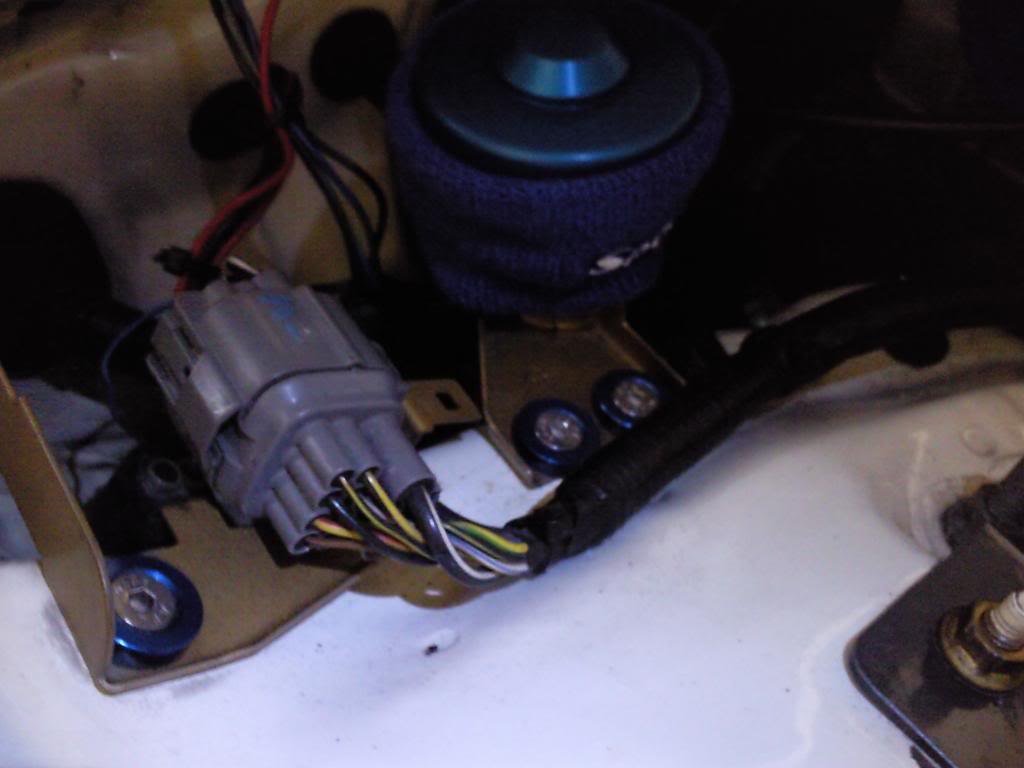 updates again:
Didnt think there was much point in having an imported car with uk style plates so one of the first thing i bought were fresh front jap plates.
Went from this: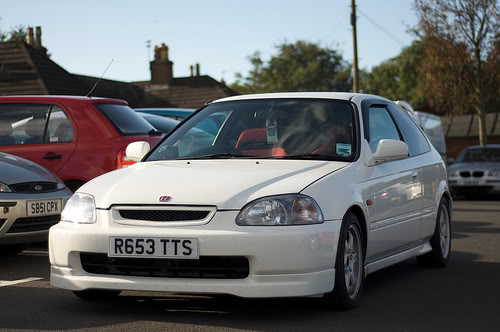 To this: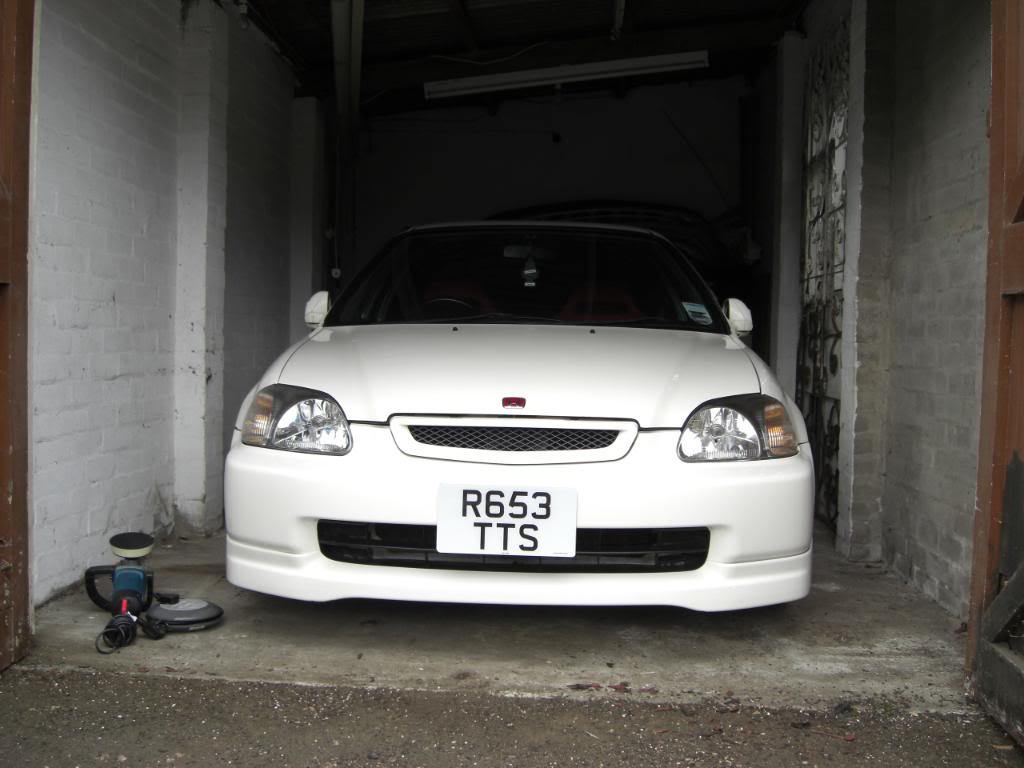 I was lucky enough that the previous owner kept the rear number plate holder that came with the car from japan,which is worth a fair bit of money. So i also ordered a rear jap plate for it:
how it looked before: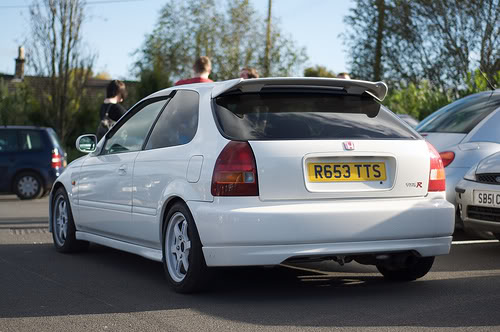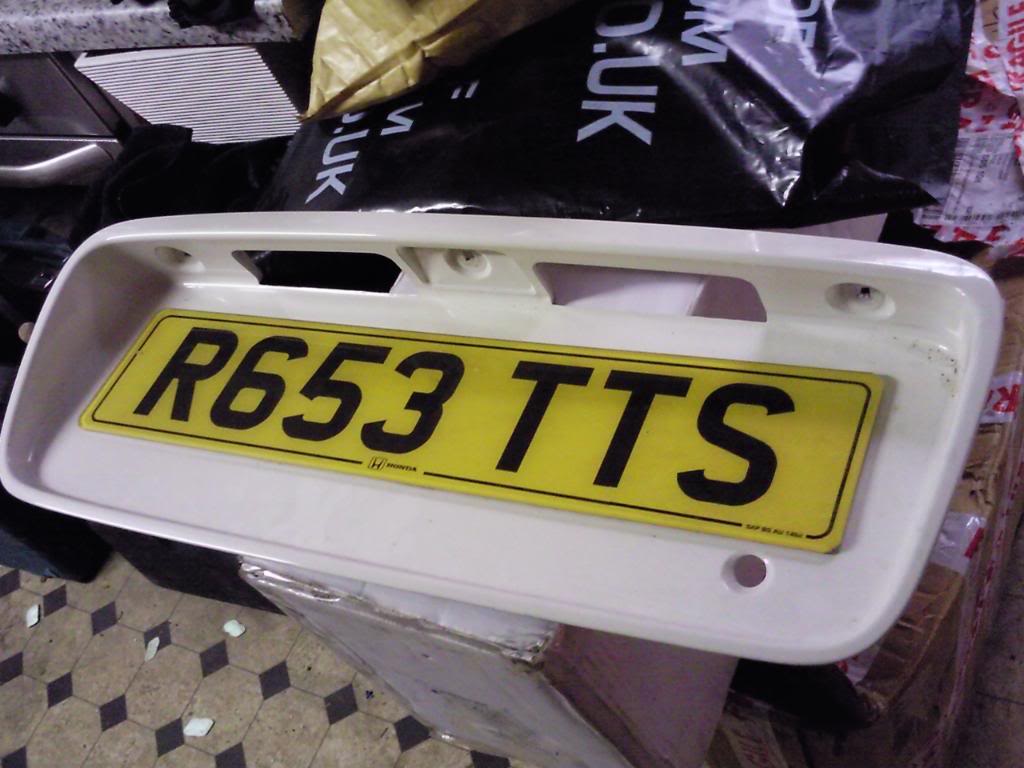 Now: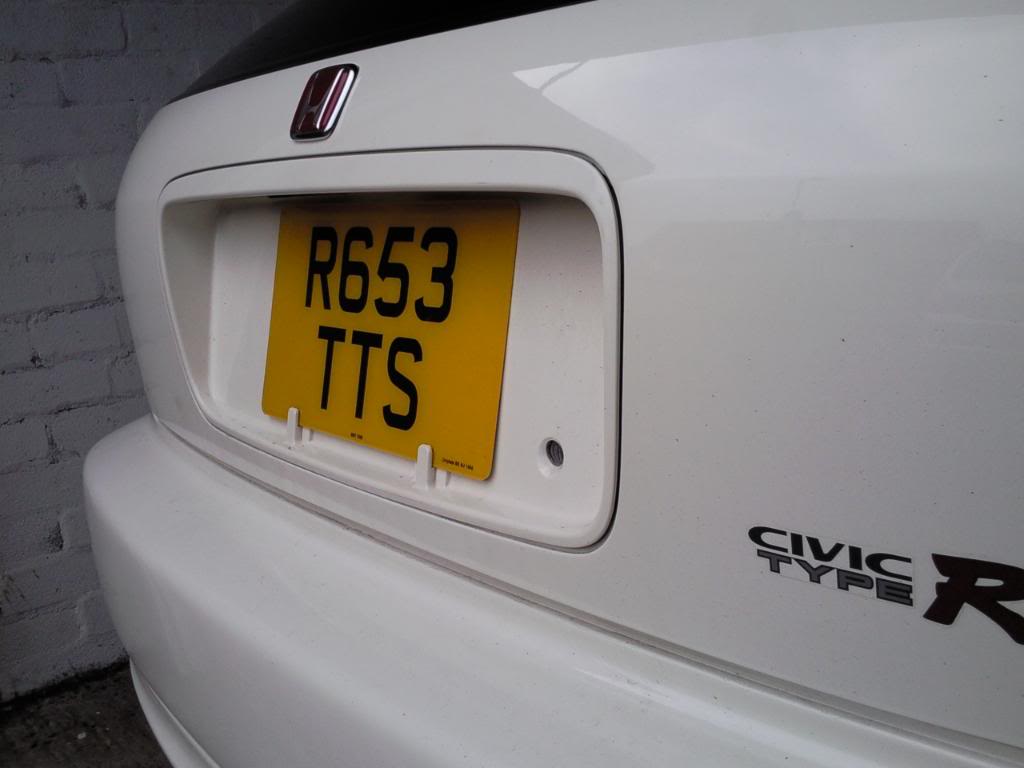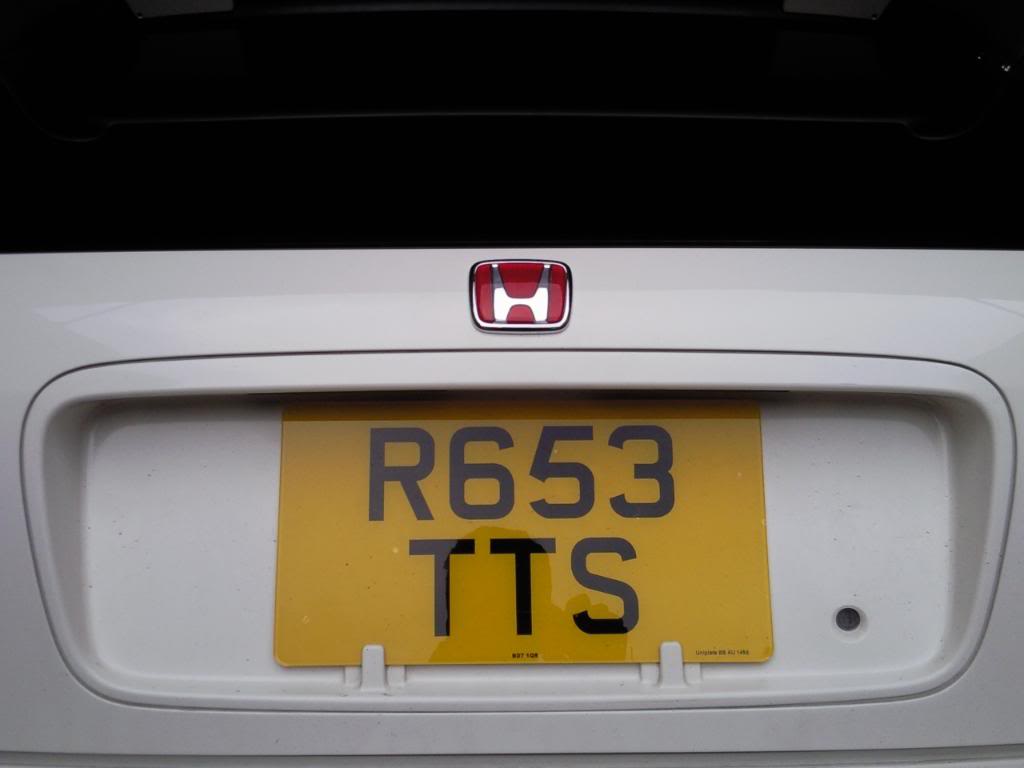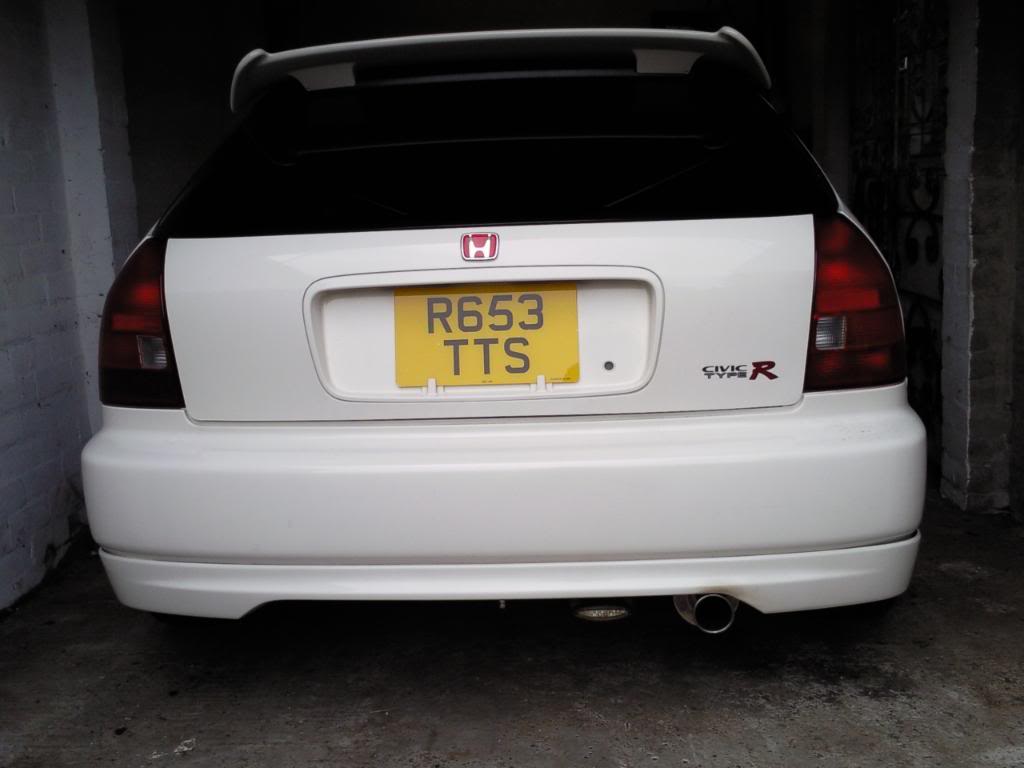 Next step was i wanted to freshen up the engine bay abit with a good clean and i took the spark plug cover off, which was painted white when i got the car and painted it a gun metal gray/anthracite colour, which is similar in colour to its original colour. All brackets in the engine bay were also taken off, sanded and painted so in VHT anodised gold paint. This is not proper anodising obviously but it give s a similar look.
Before, the brackets were oxidising, the plug cover was white and so got dirty very quickly, the paint on the induction kit arm started to flake and there were rusty bolts that were needing replaced with the anodised ones that i bought.
Before: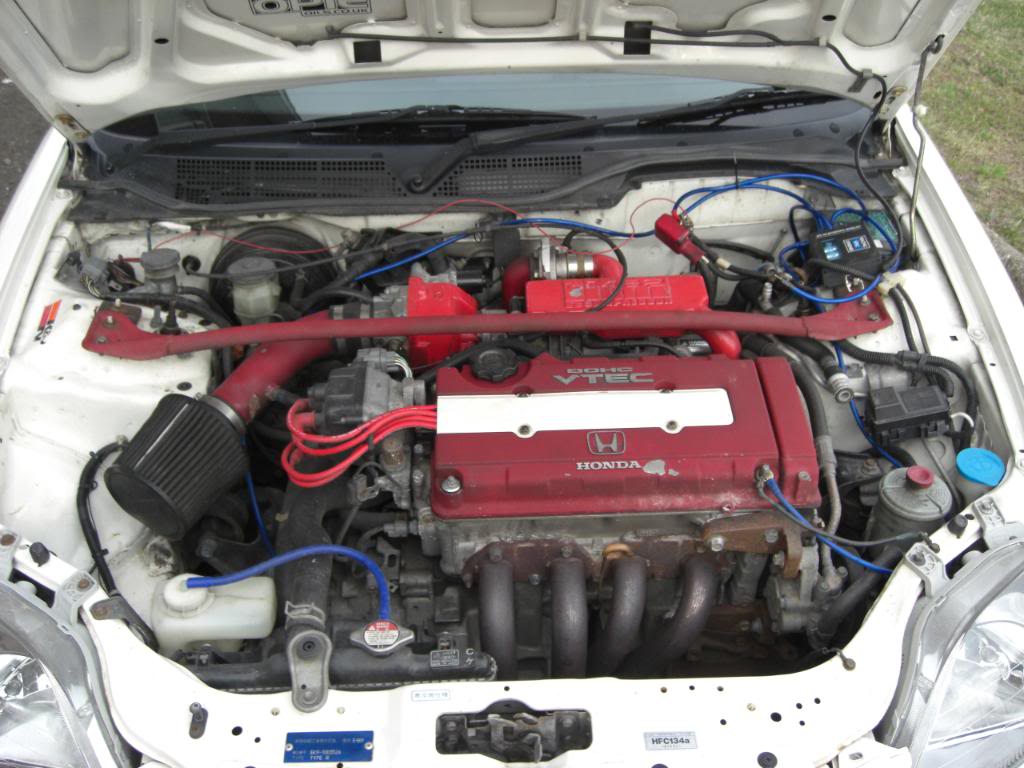 In its previous years the taillight gasket had perished, which is a common thing to happen on the ek shape civics, allowng for water to get into the wheel well causing surface rust but luckily the previous owner caught it early and replaced the gasket before it got really bad. This was bugging me so i got the wheel well resprayed to freshen it up. However the garage ended up spraying it with chip paint, which isnt rally what i asked for but since it was more durable and it still looked much better i didnt make a huge fuss about it.
However before it went to the body shop i removed all the door cards and all plasics from the inside as i didnt want any chance of overspray on them. also it gave me a chance to clean behind the rear door cards, which were alot dirtier than i expected.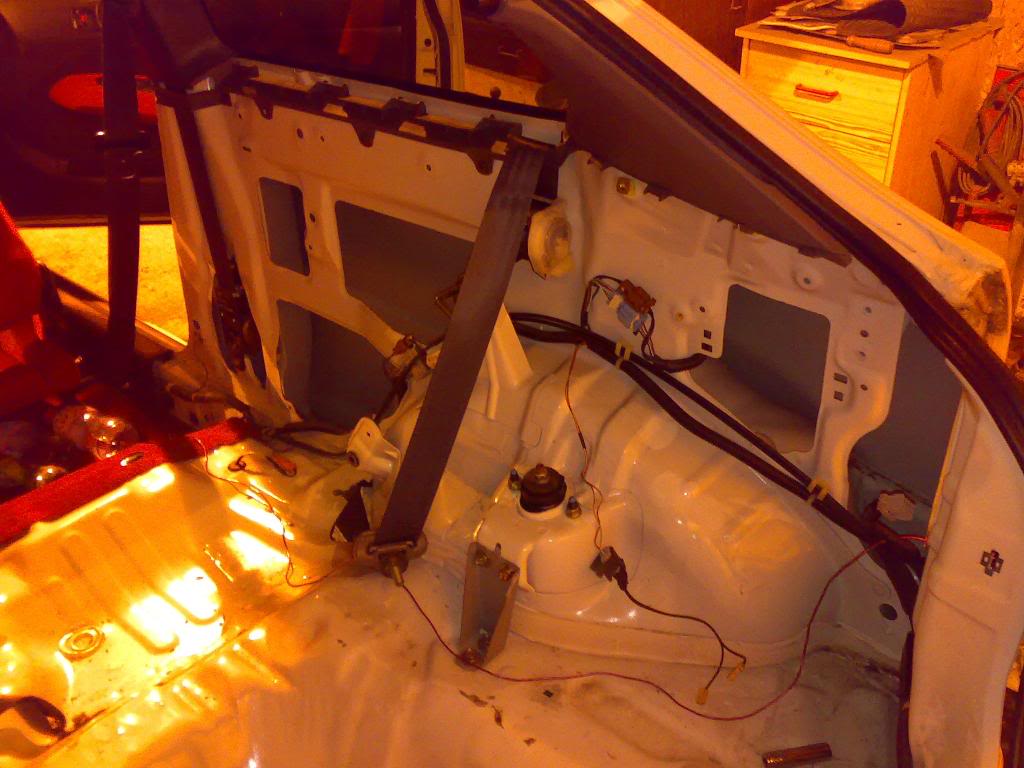 Painted: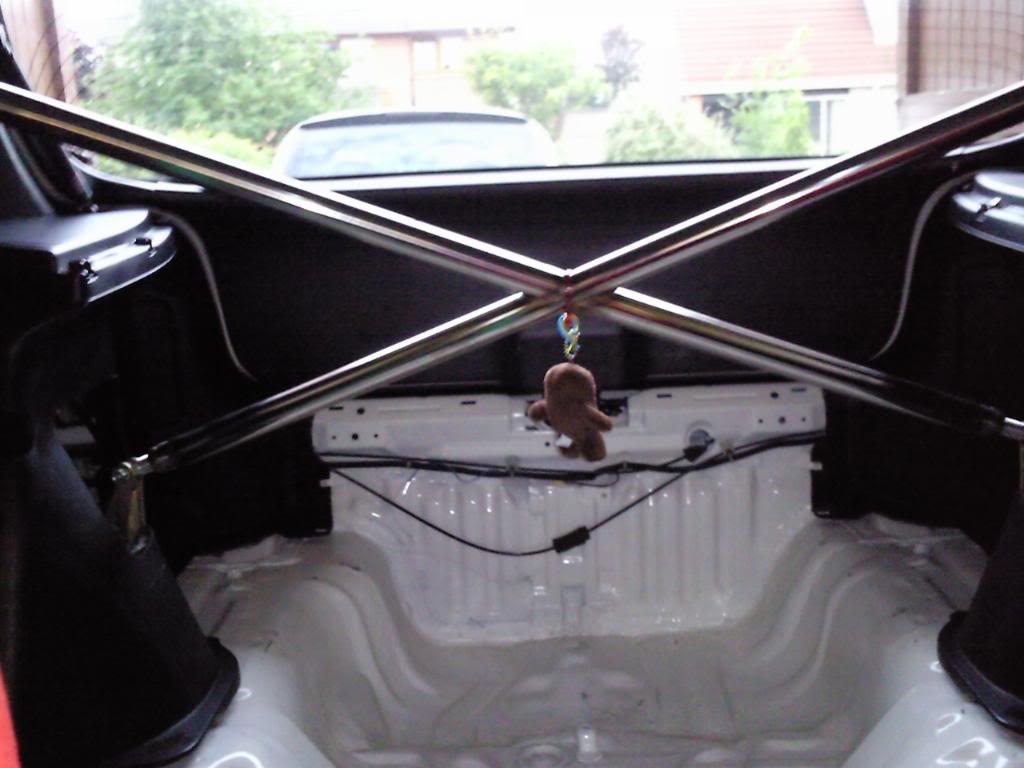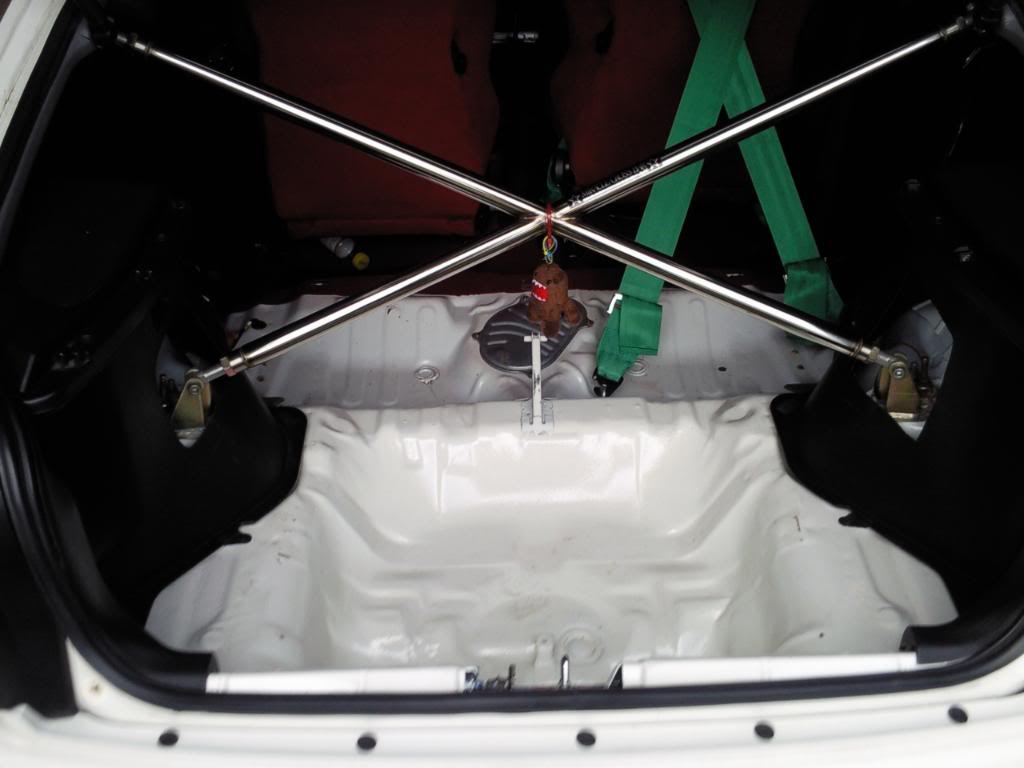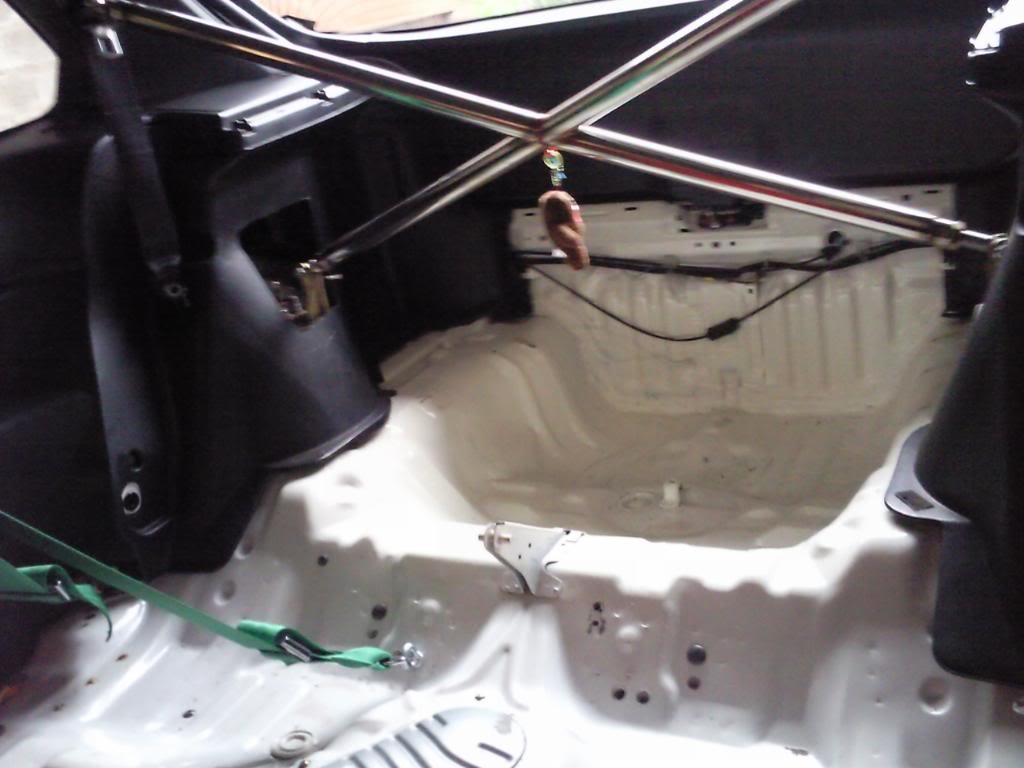 Another thing i got done at the same time was i got a new wing painted and fitted. If you notice where the wing meets the front bumper, where the paint has chipped and was starting to rust. I didnt want to repair this it as i know rust eventually comes back so i got a new wing in chamionship white from an ek9 but i still decided to get it resprayed aswell as it had one or two stone chips that i didnt want.
Damaged wing: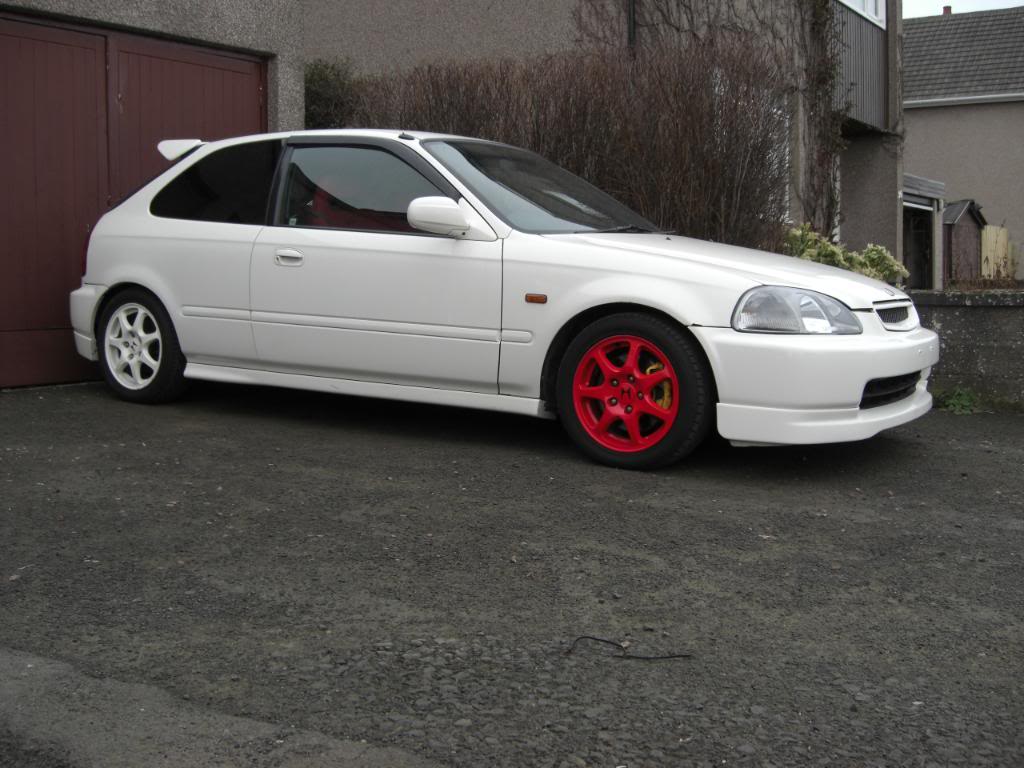 New wing waiting to be resprayed an fitted: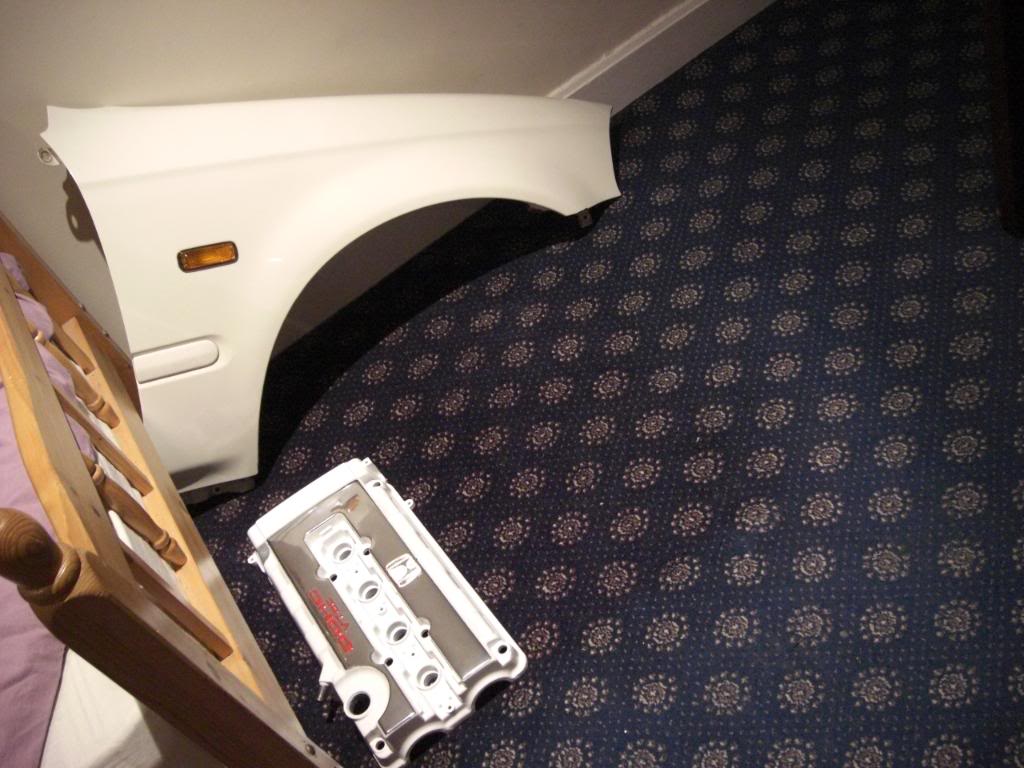 New wing sprayed and fitted: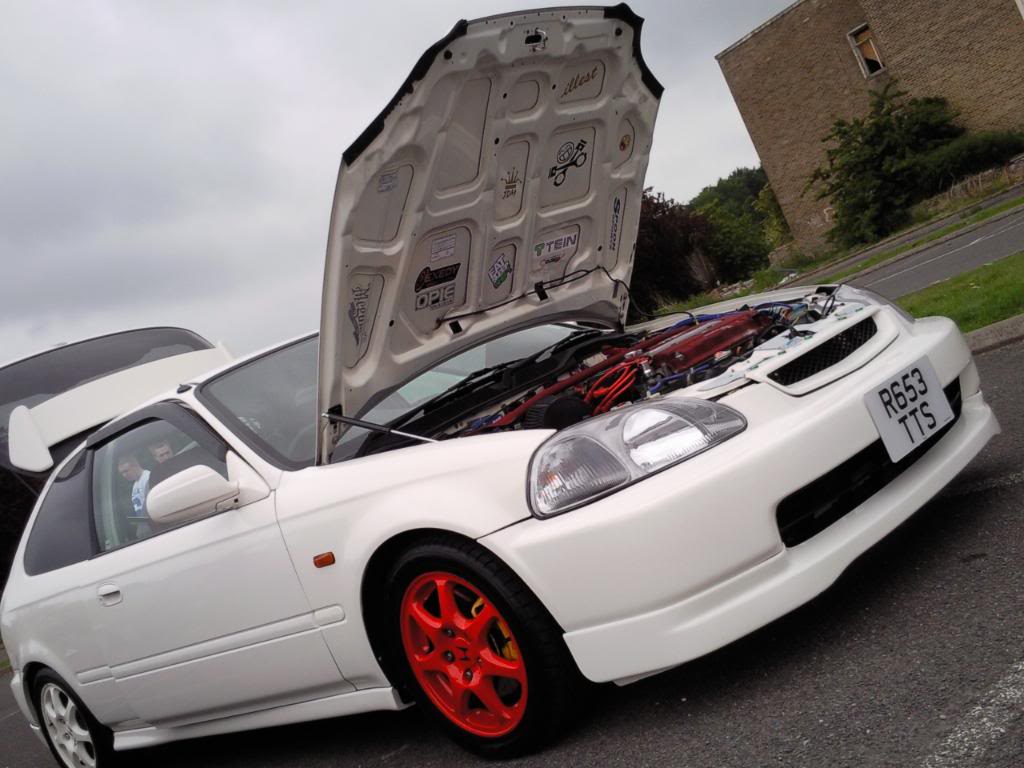 A few other bits i bought:
B series rocker cover painted in white, with a polished top. I got this at the same time as the wing and although it looked nice i decided against fitting it so i just sold it on.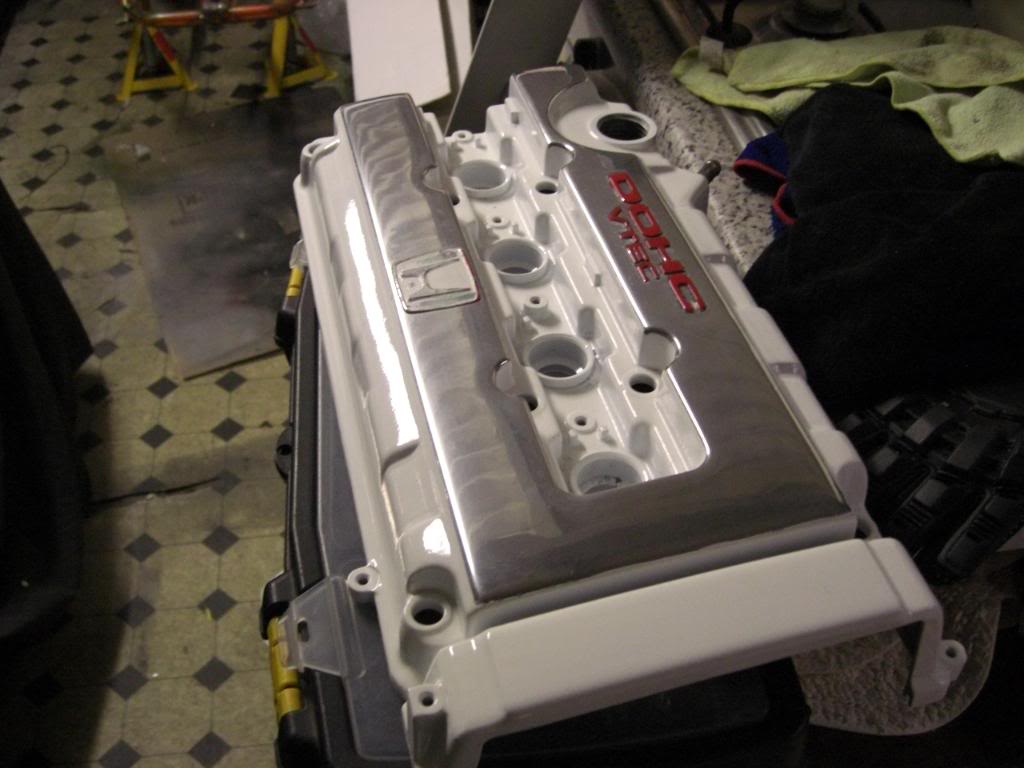 Cusco oil catch tank- still to be fitted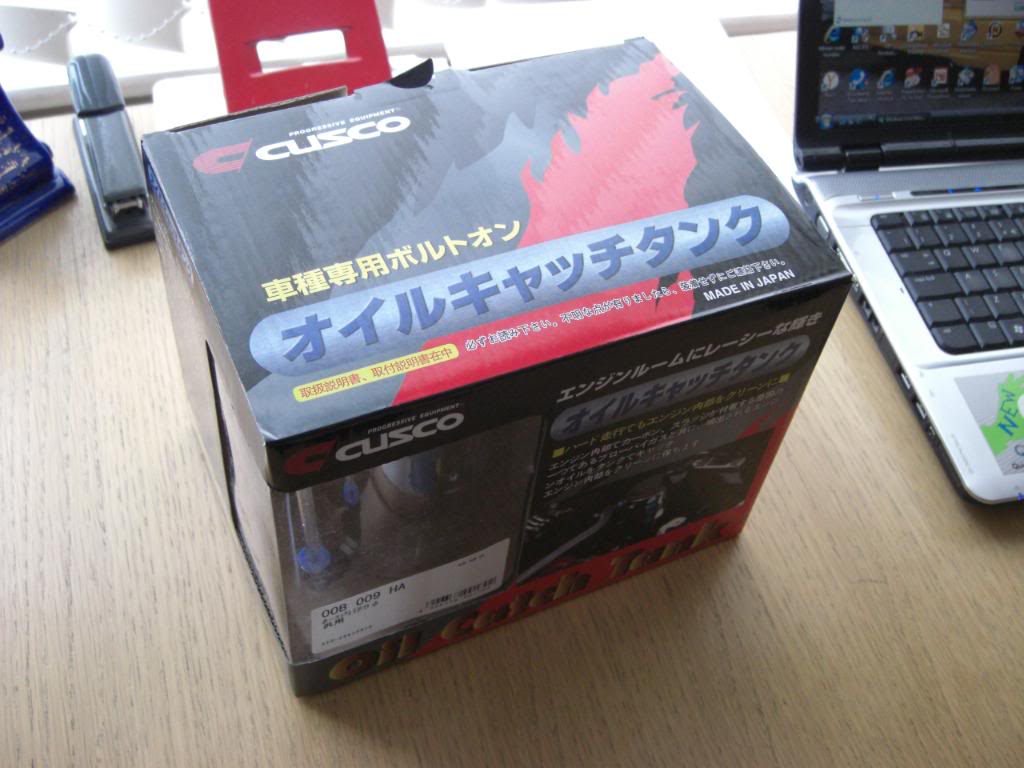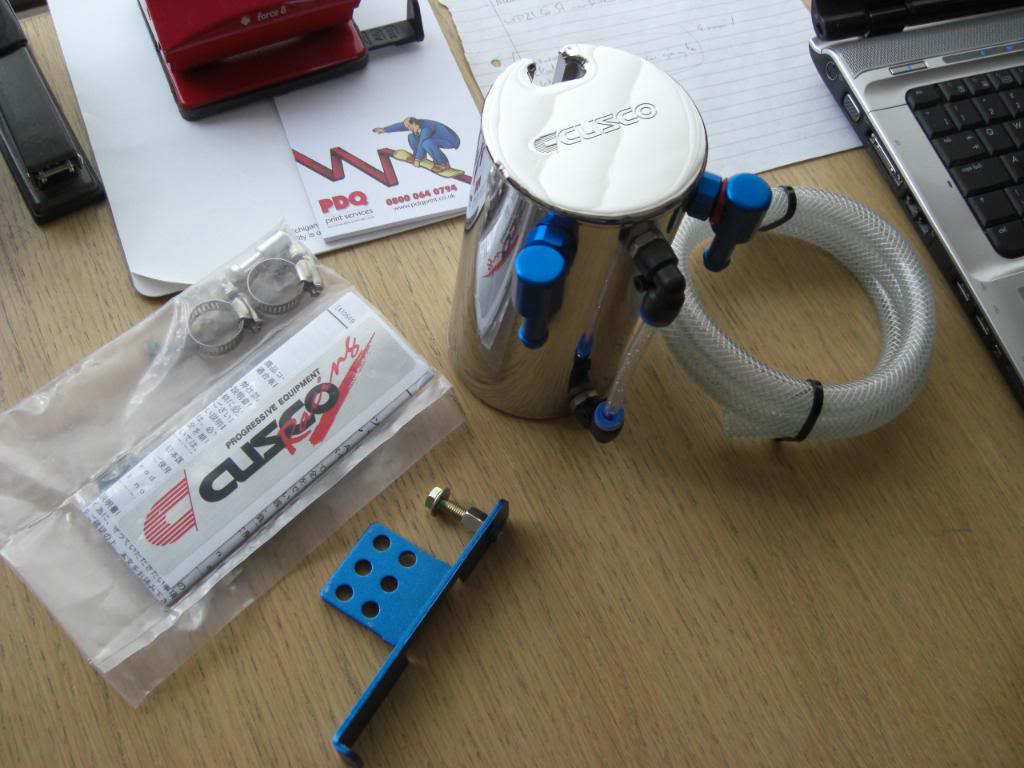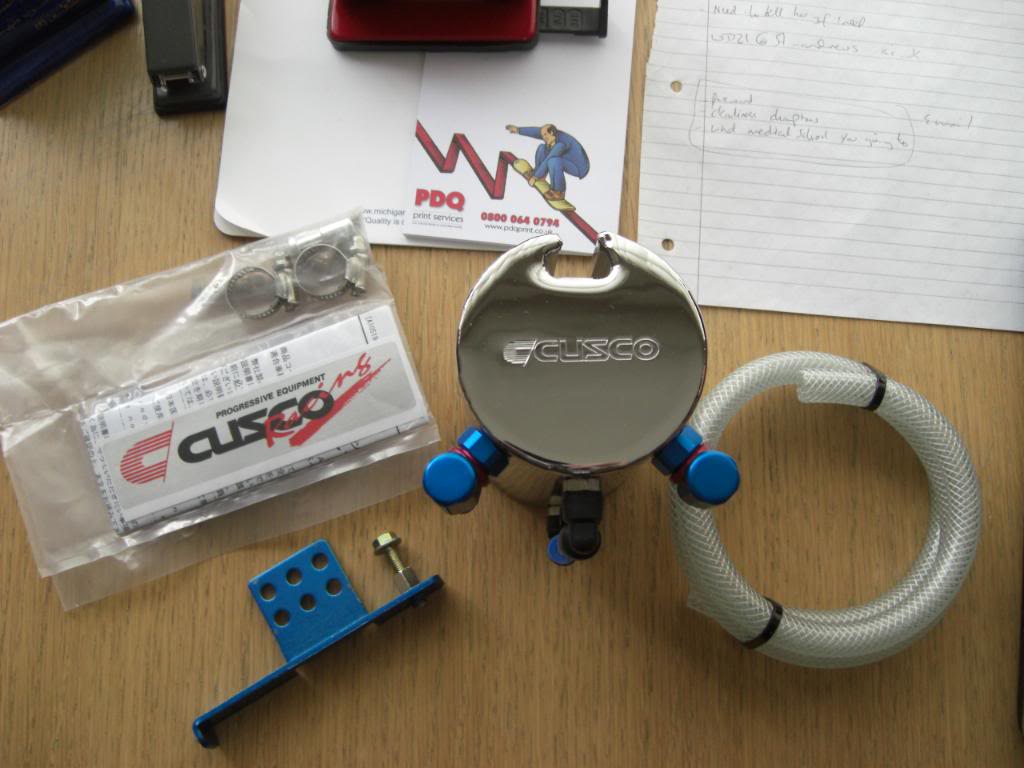 Also when i got the car, despite paying a silly amount of money for a 13 year old car it never came with a cd player so i bought a sony headunit, which was nothing fancy but it does the job. Most of the time the music is drowned out by the sound of the superchager and the spoon exhaust so invsting in something more expensive was daft. however instead of placing the cd player on the top i moved it down. This was so i could use the top space for my gauages eventually, which im yet to buy.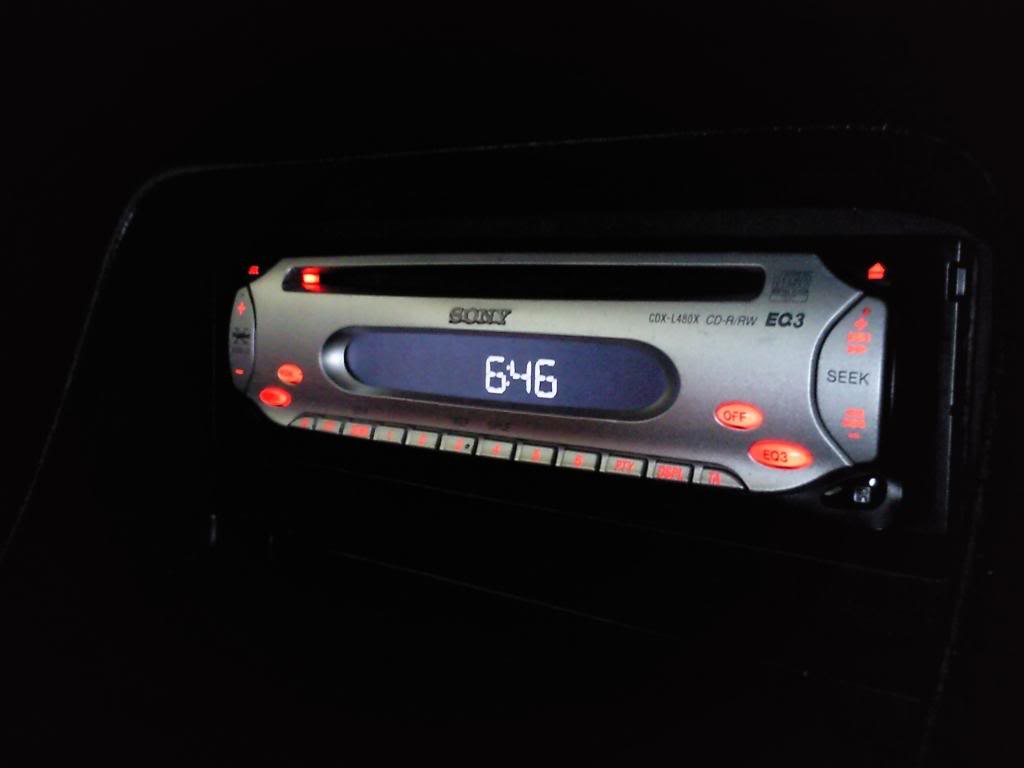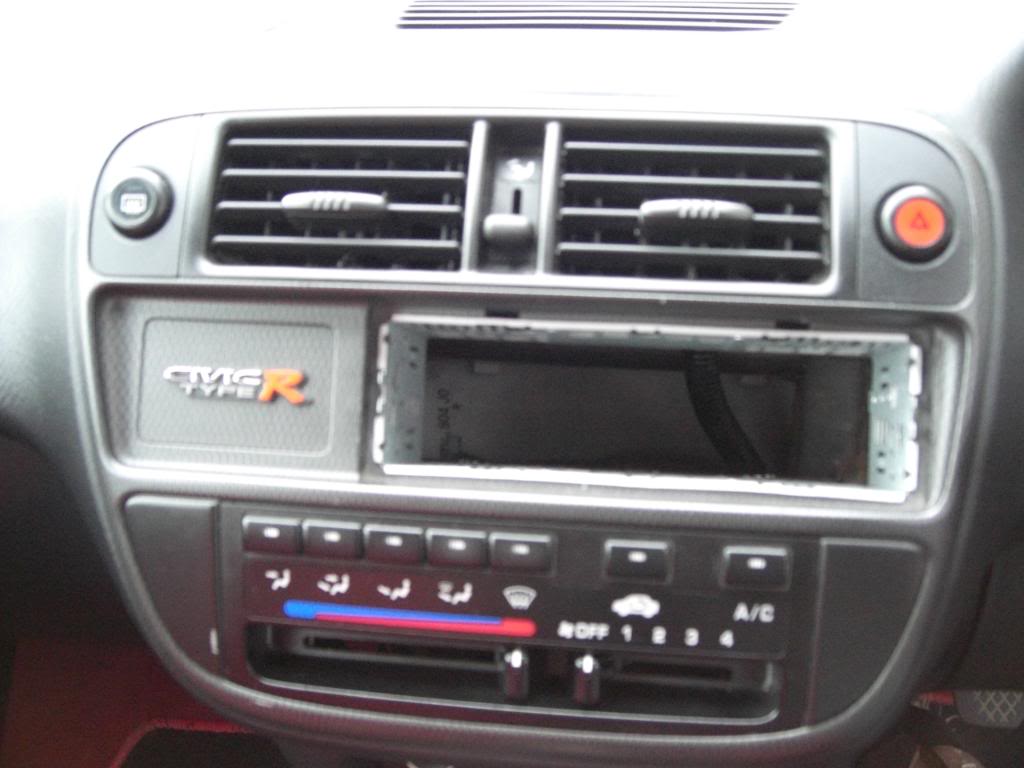 So to fill the space for the time being i bought a genuine honda radio delete, which i am going to use as a holder for my gauages.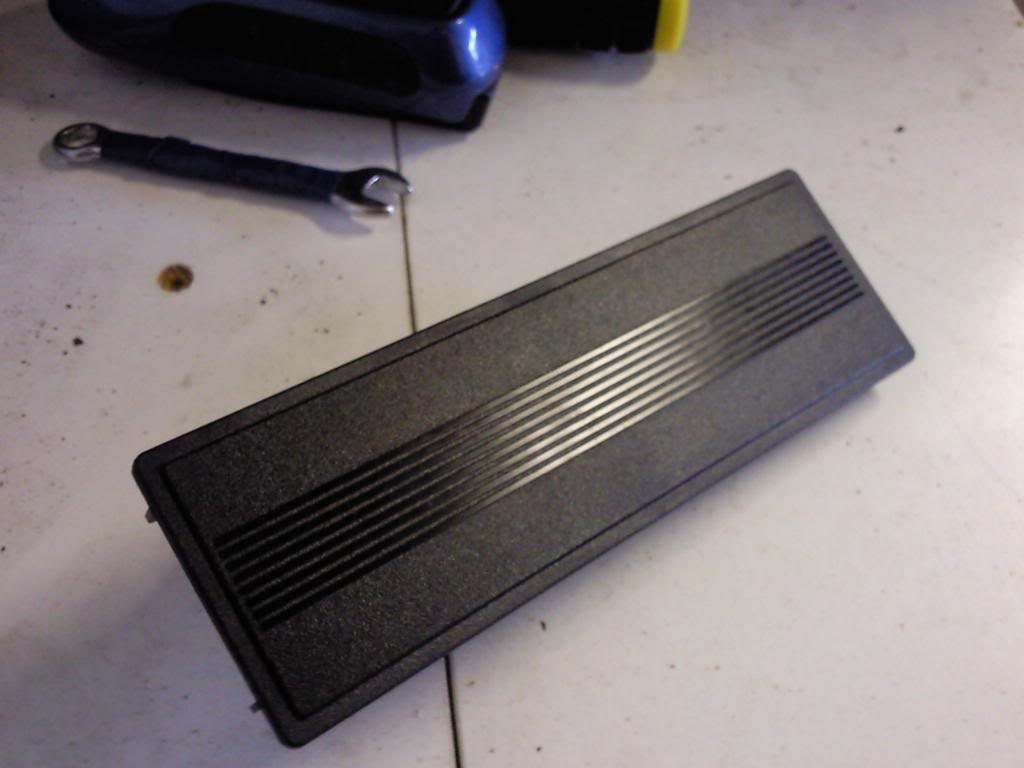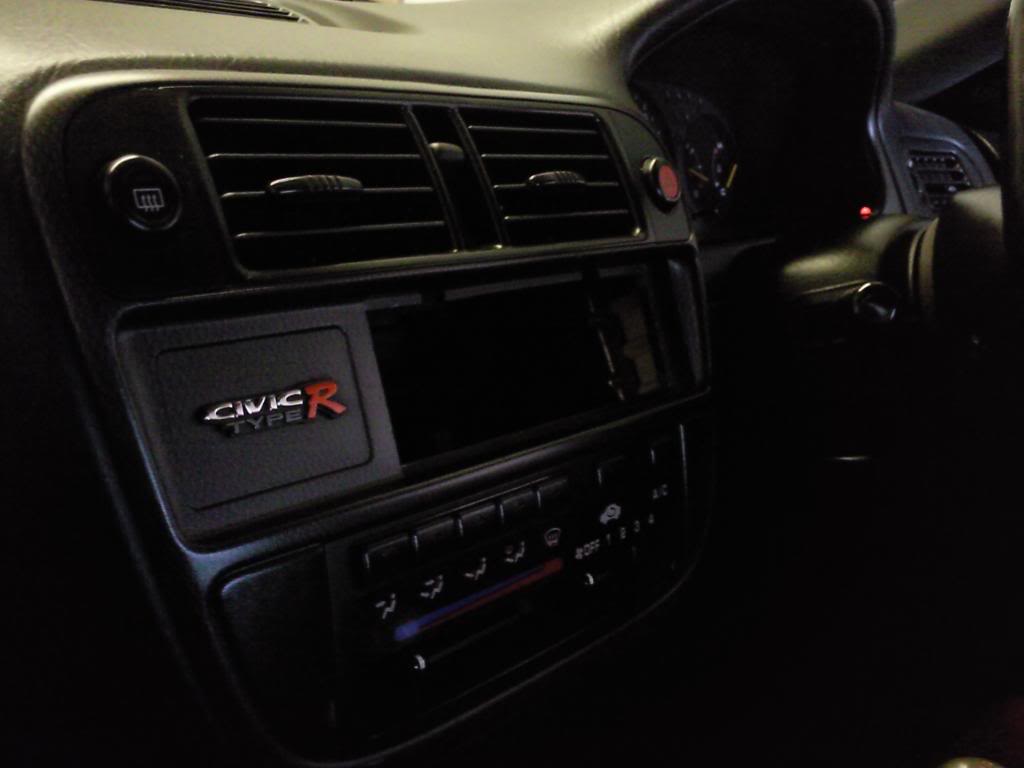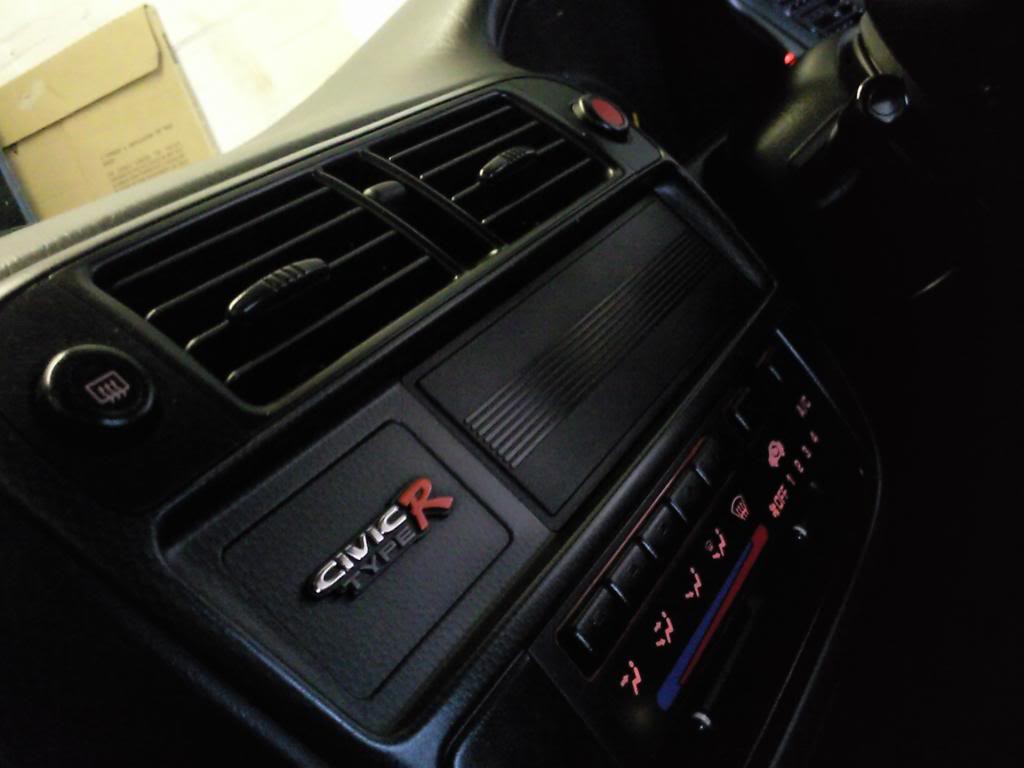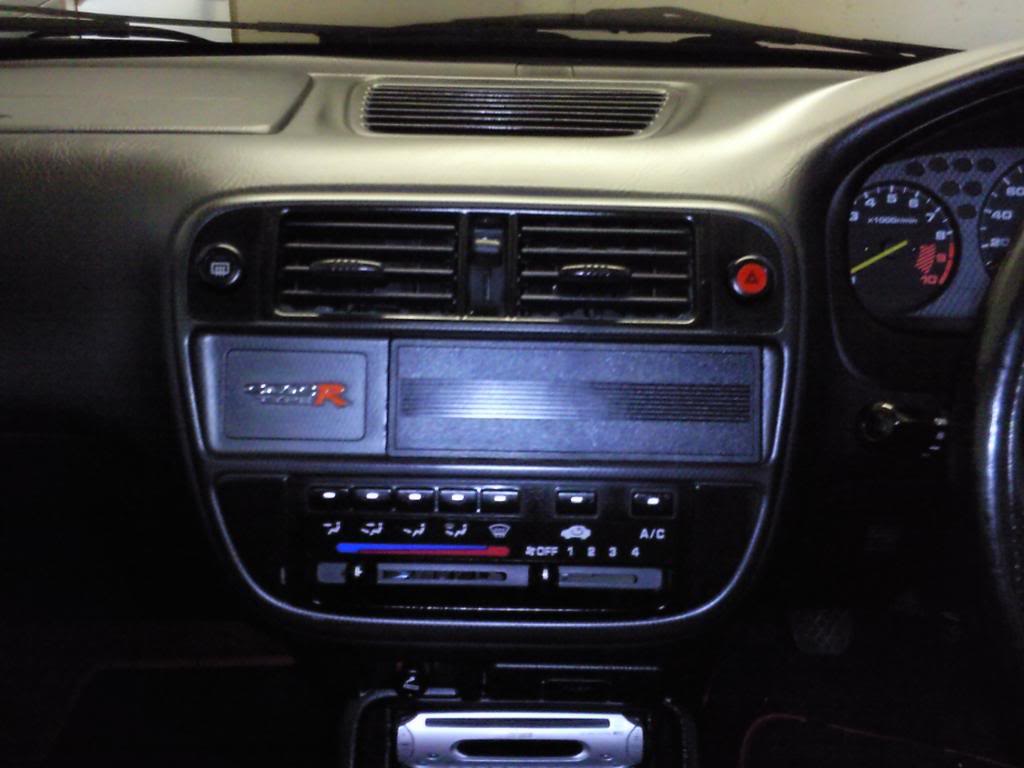 Also fitted an led interior light that i had lying around in the garage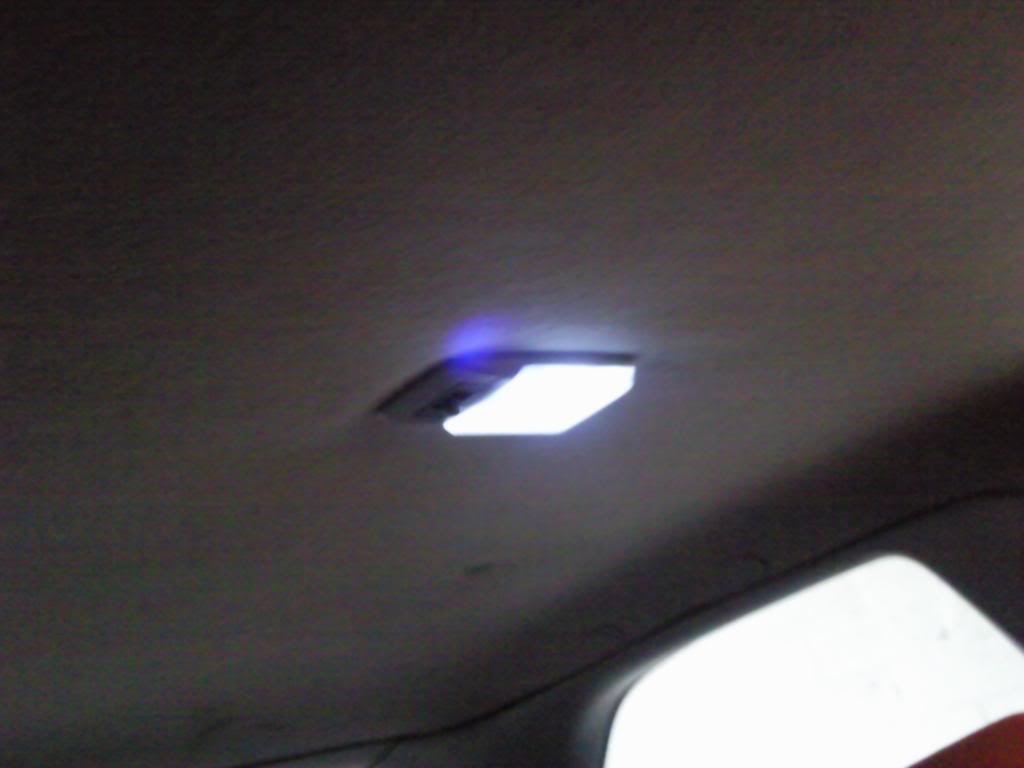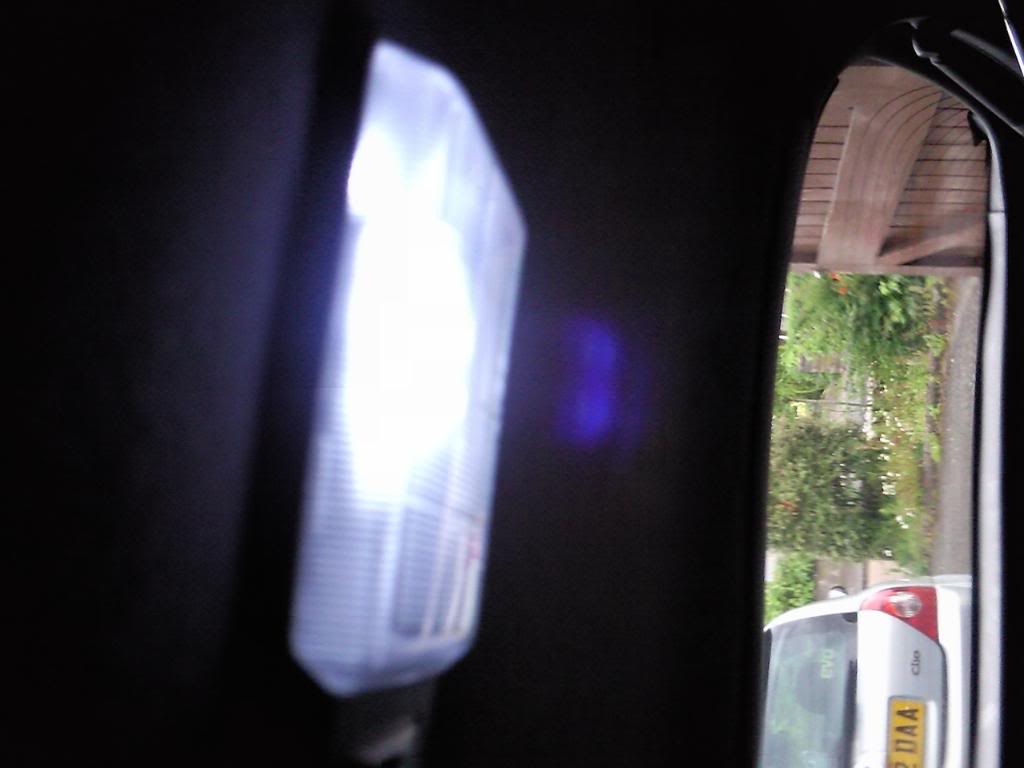 During:
Sanded down and painted the belt tensioner, which looked rusty before. will give it another lick of paint this week for extra protection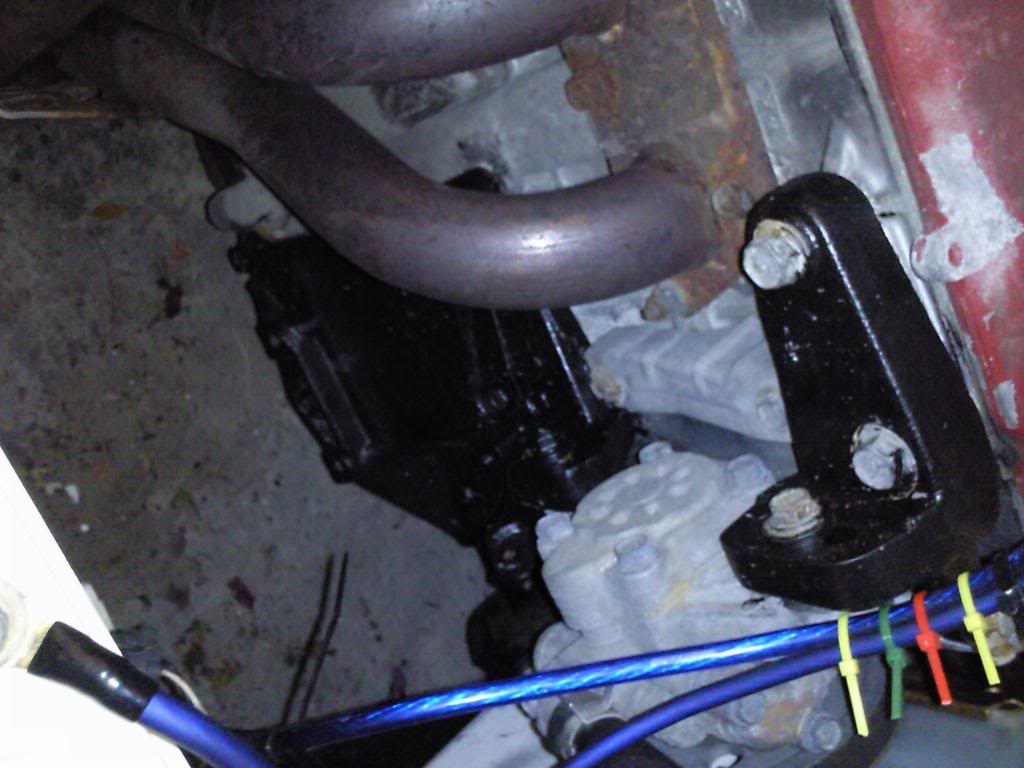 Took all brackets, induction kit arm, battery seat and plug cover off then primed and painted them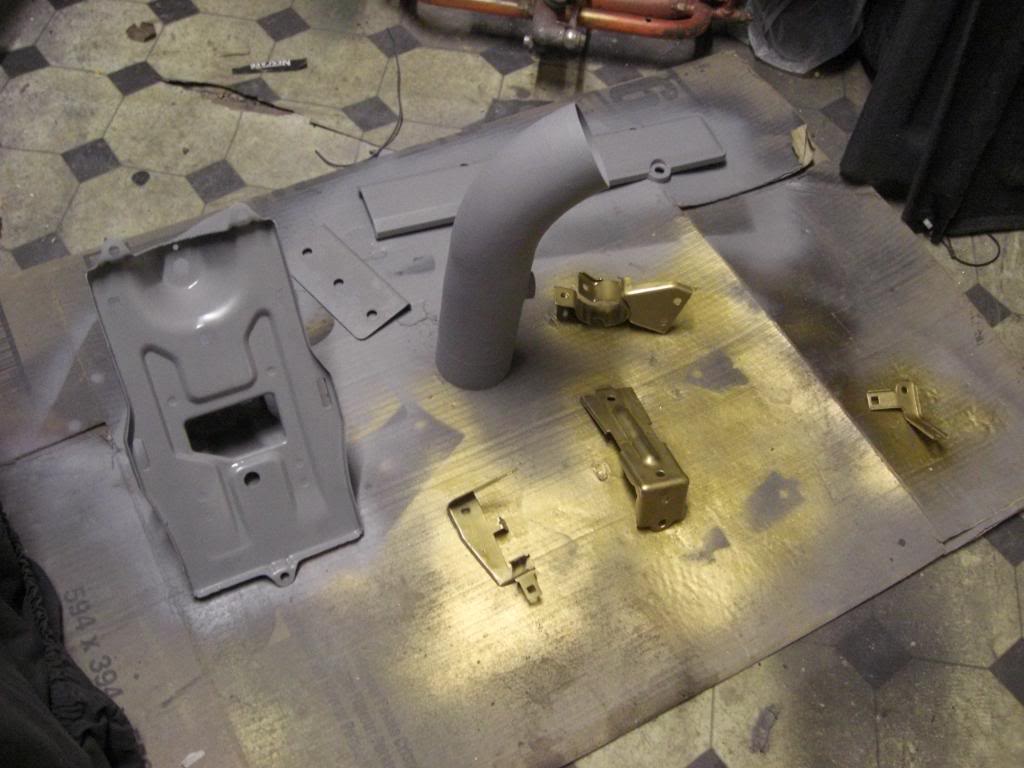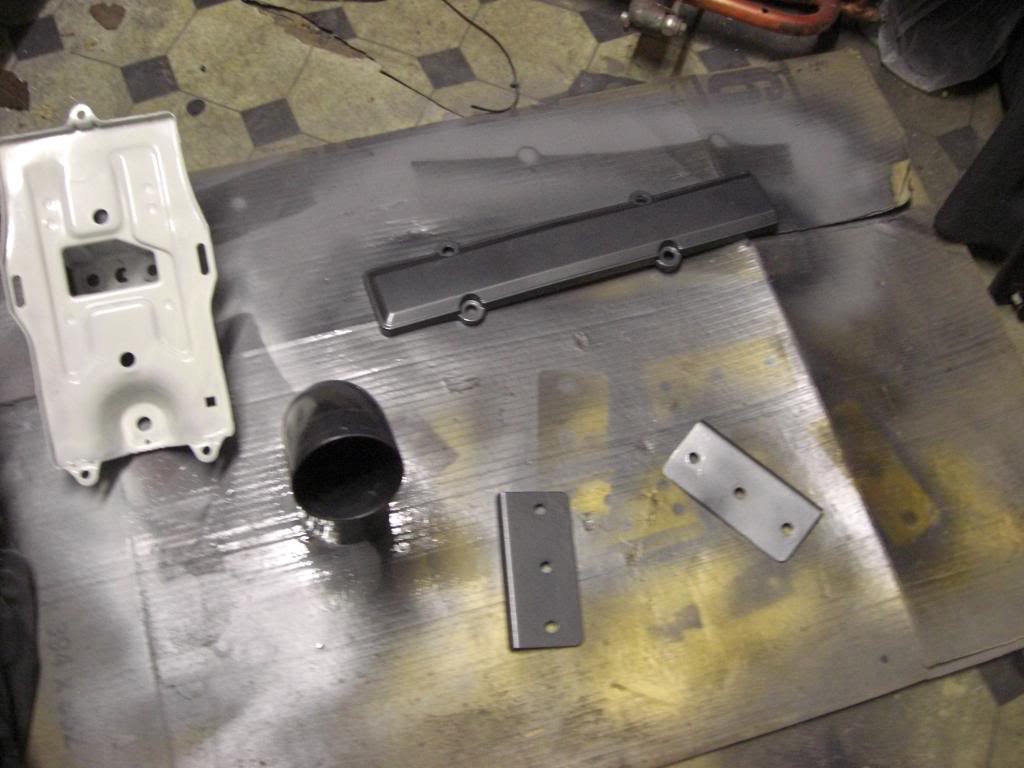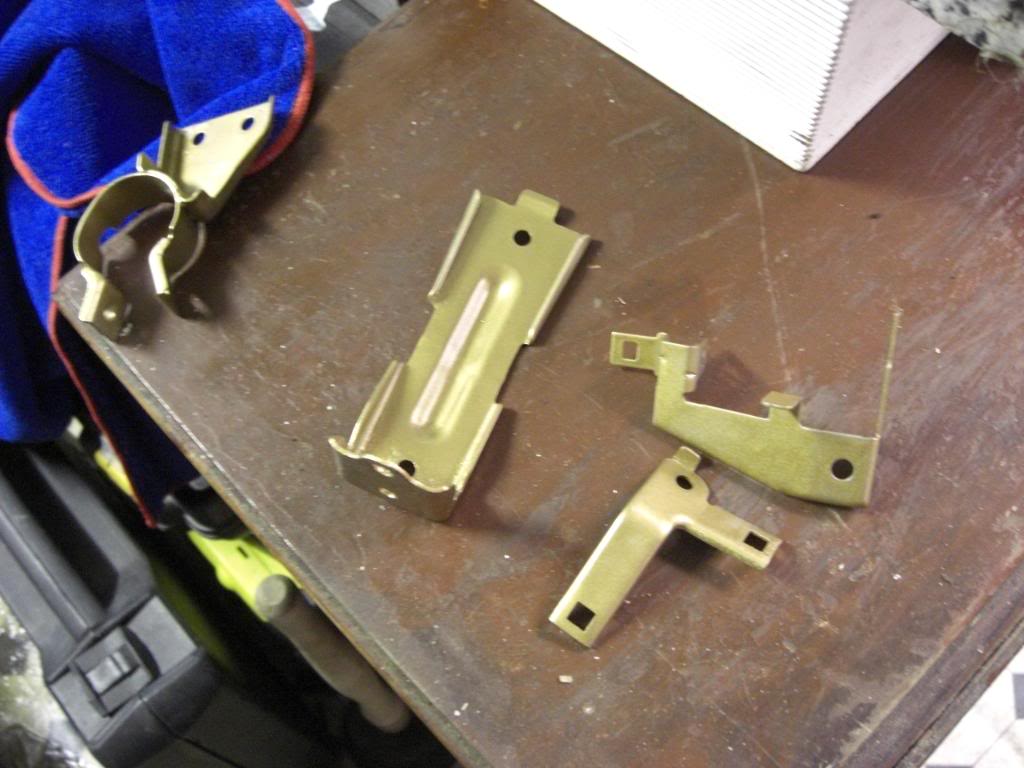 Fitted relay brackets with the anodised washers and new screws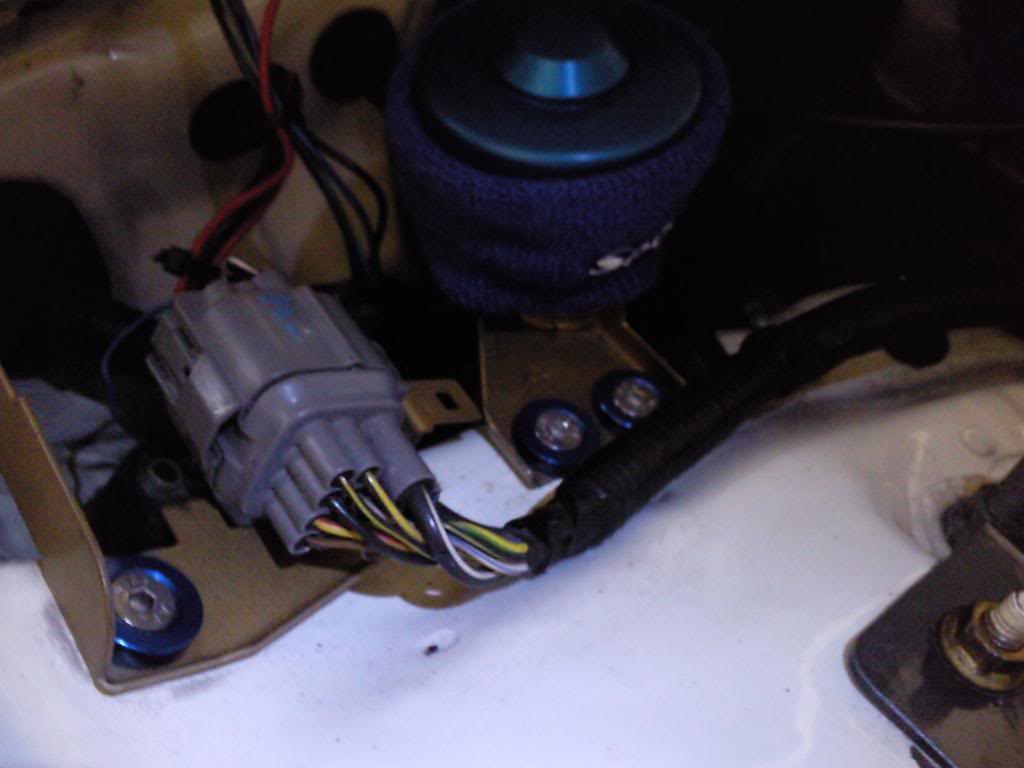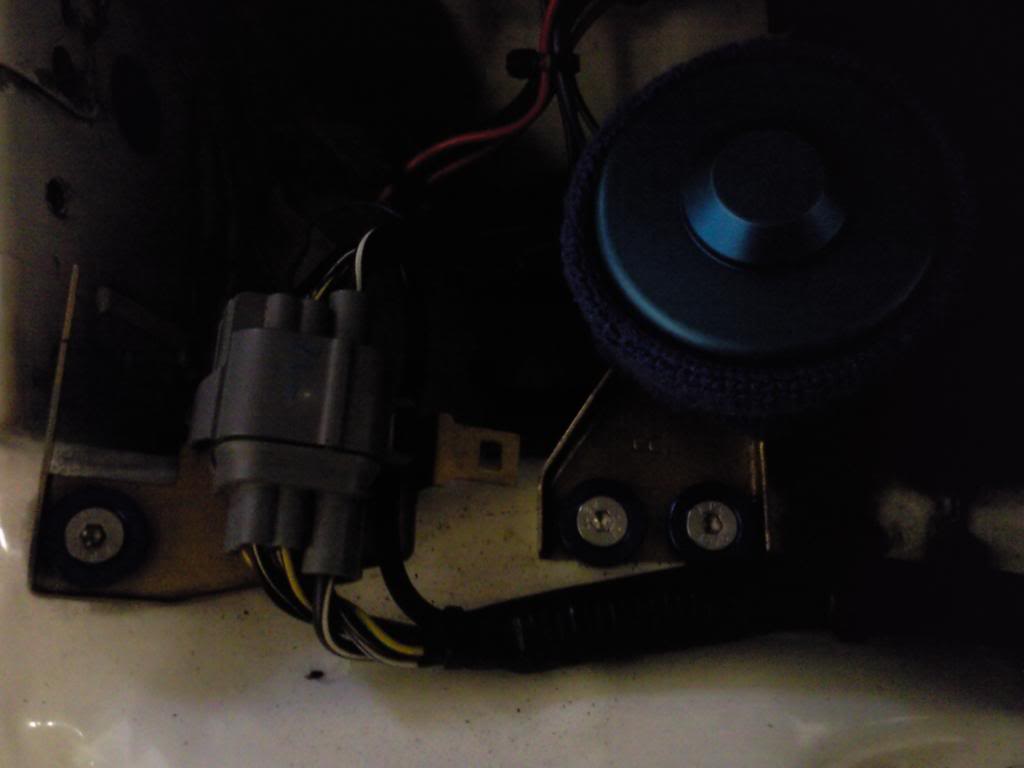 Rad expansion bottle bracket painted and fitted usng anodised washers again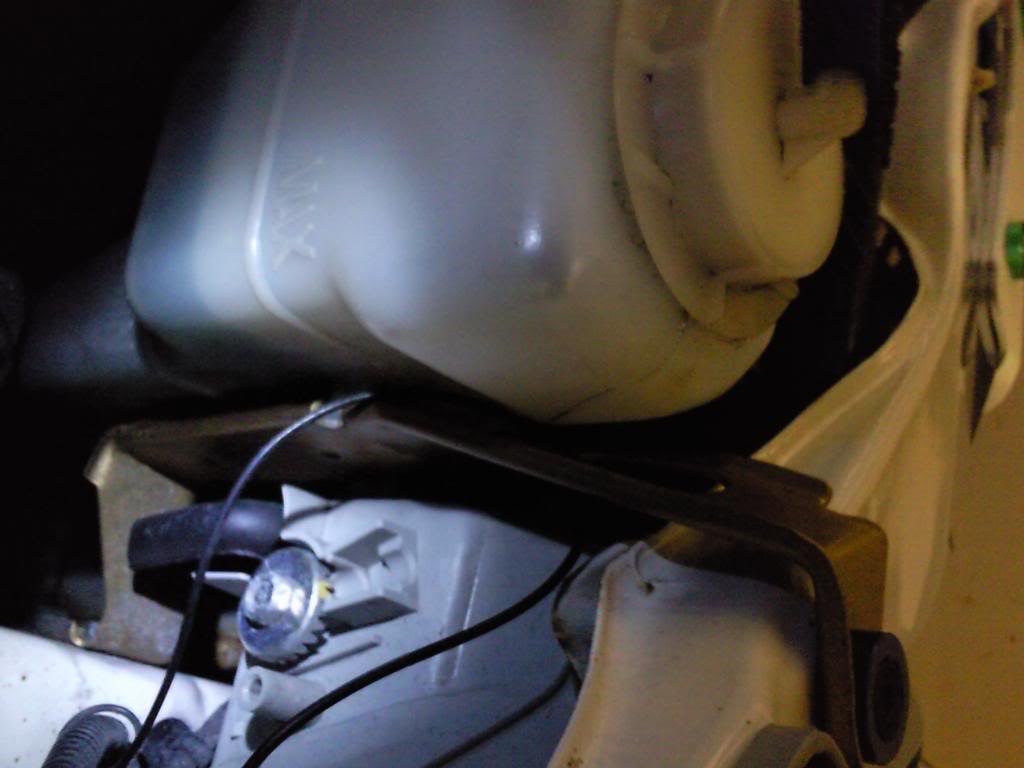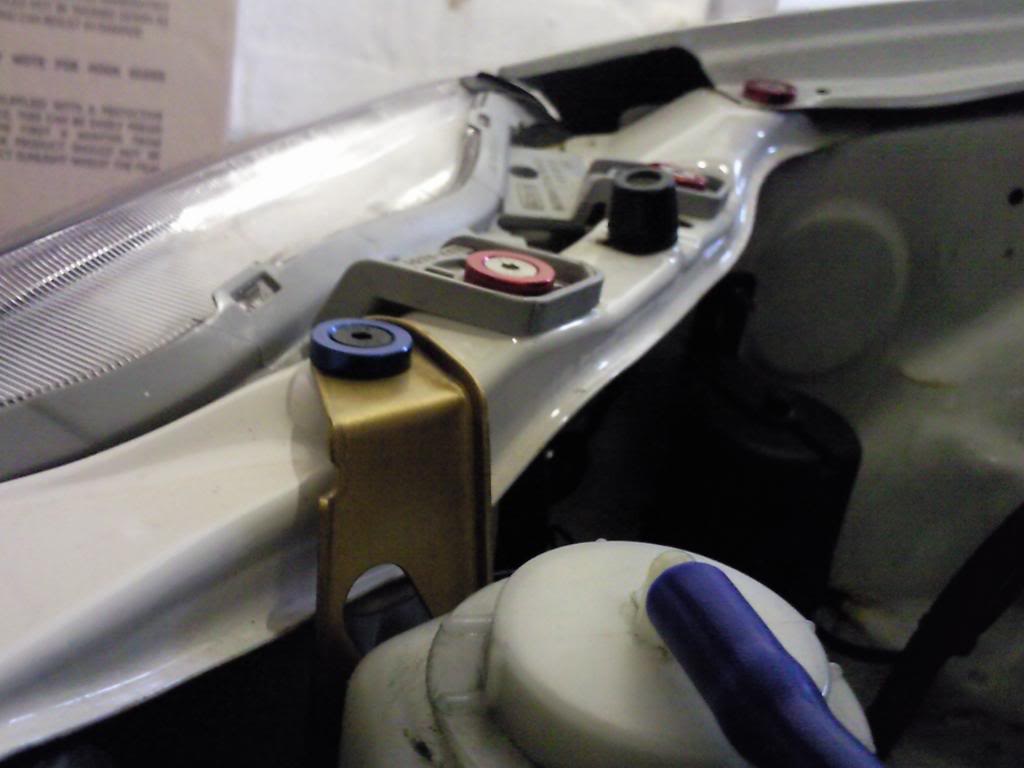 Battery stay also painted in VHT anodized gold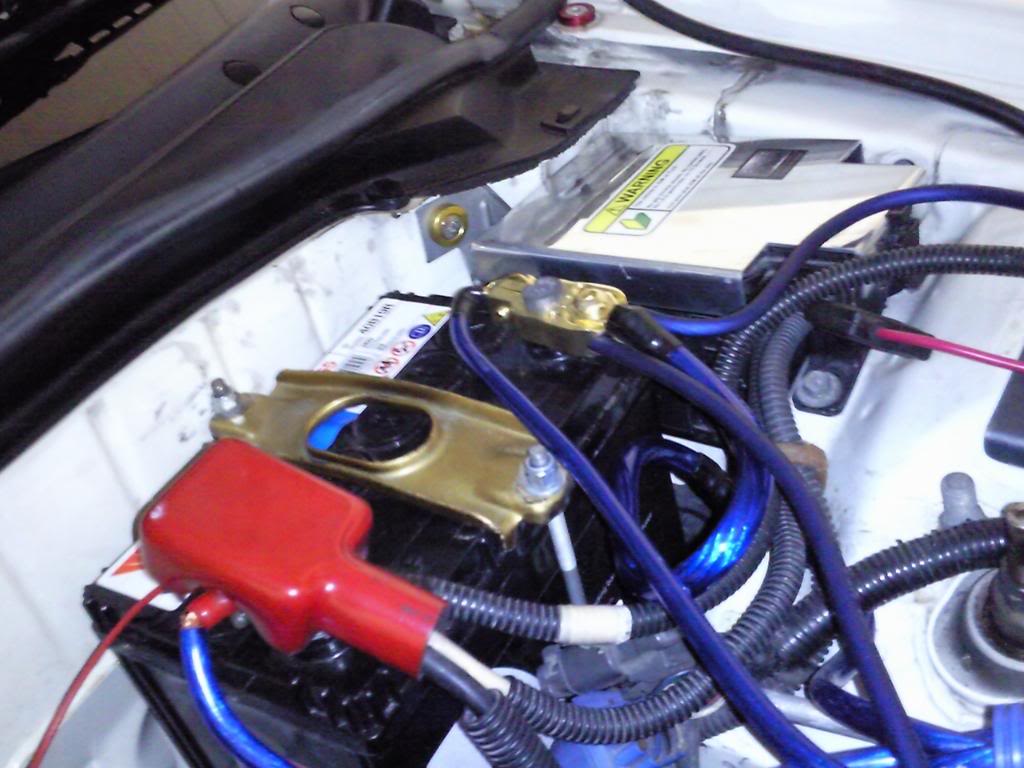 Plug cover painted in anthracite paint and fitted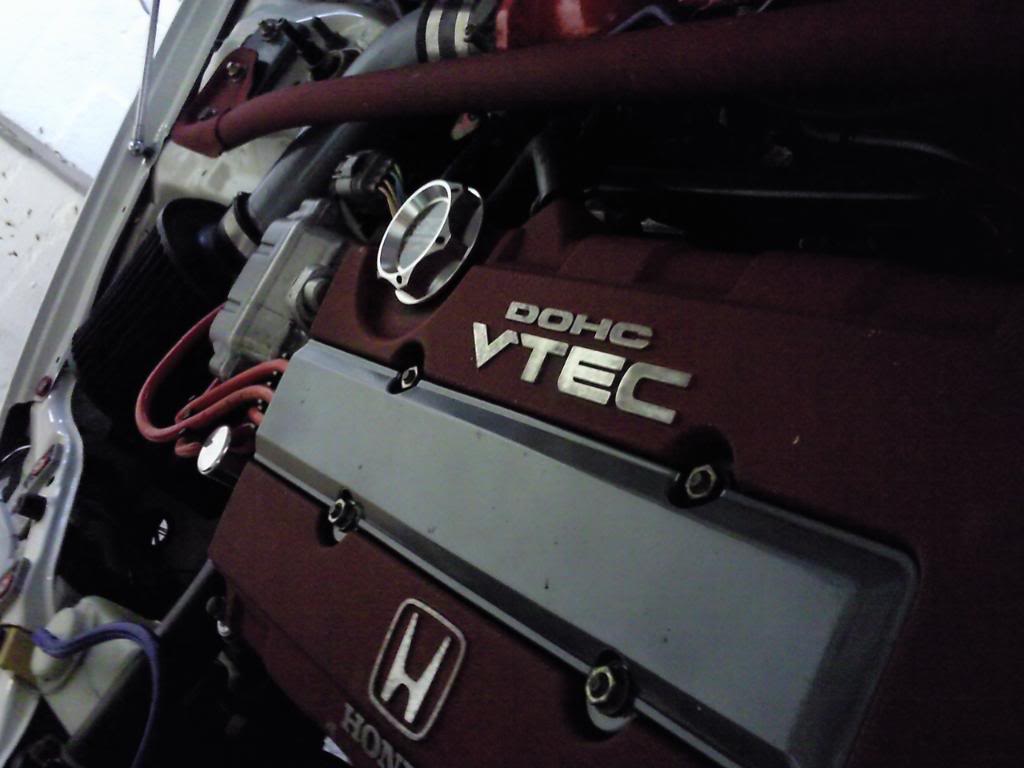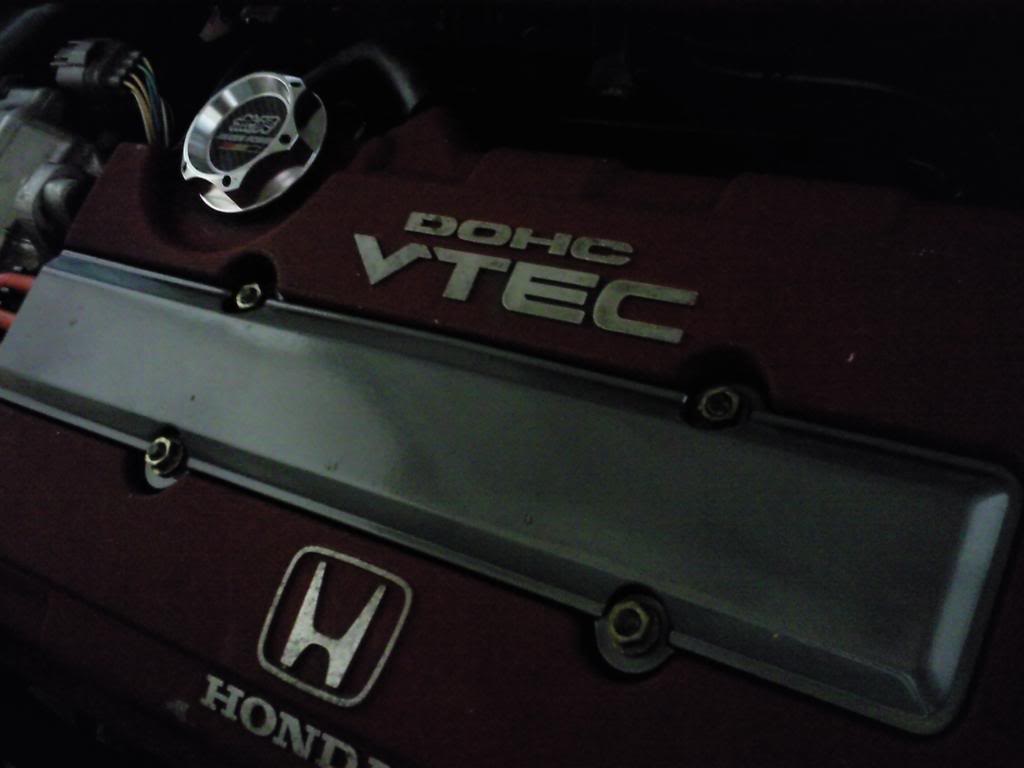 After: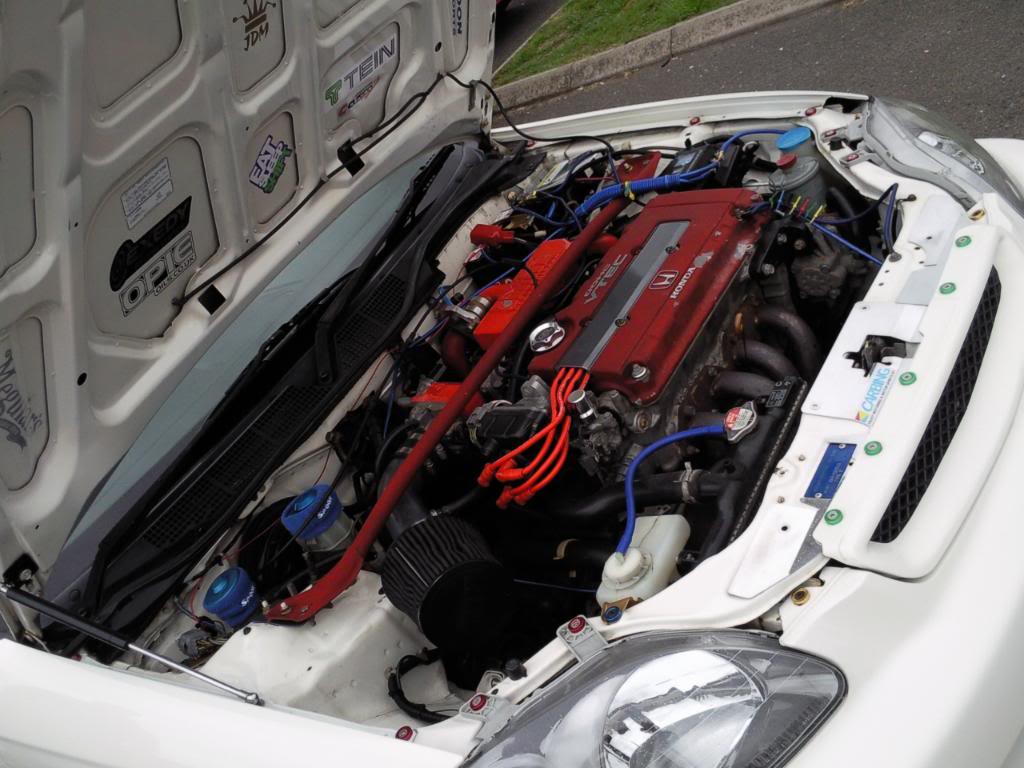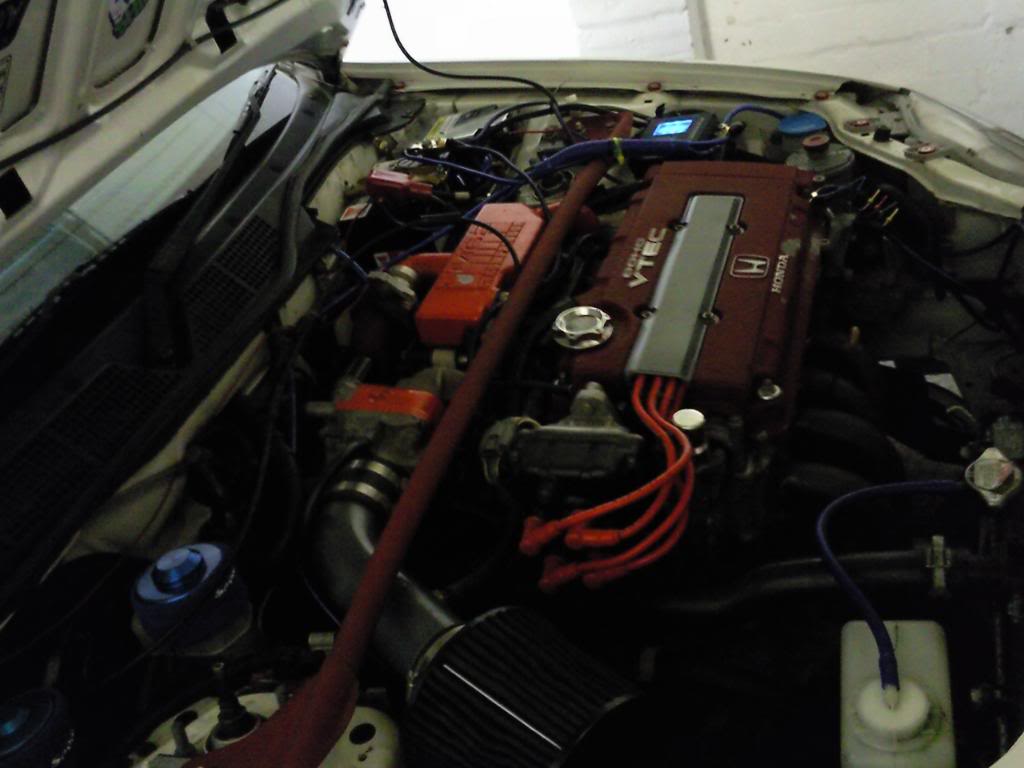 Pay day came and i invested in a Takata racing harness. These retail at £400 each but i got it for a price i couldnt refuse so i snapped them up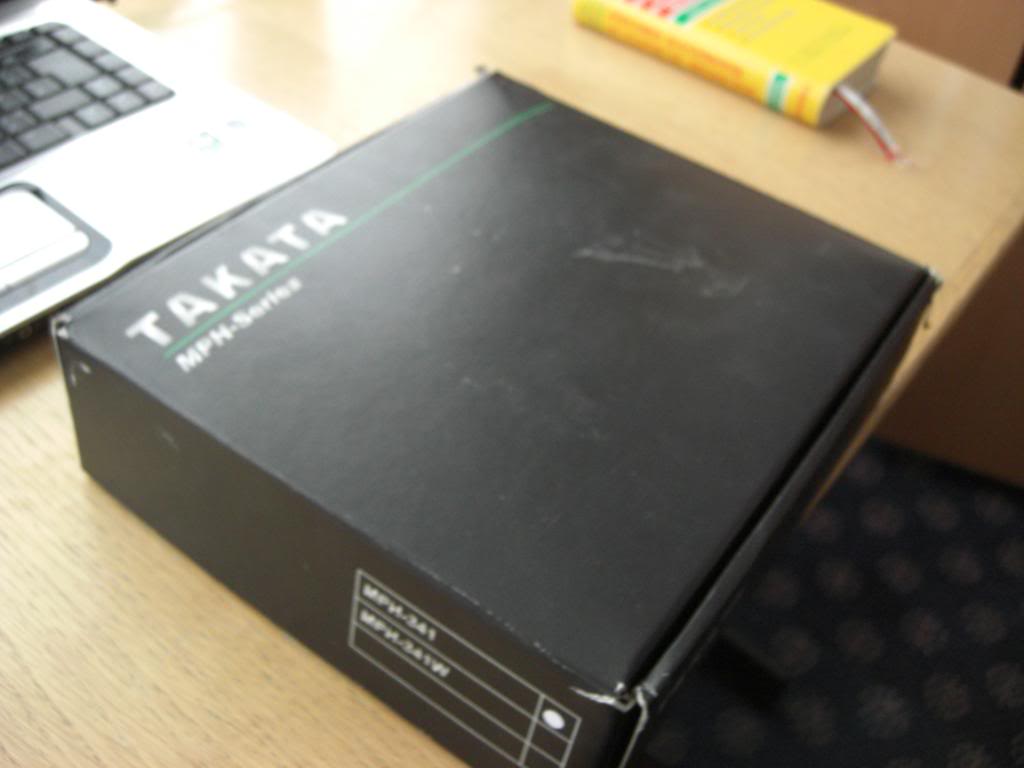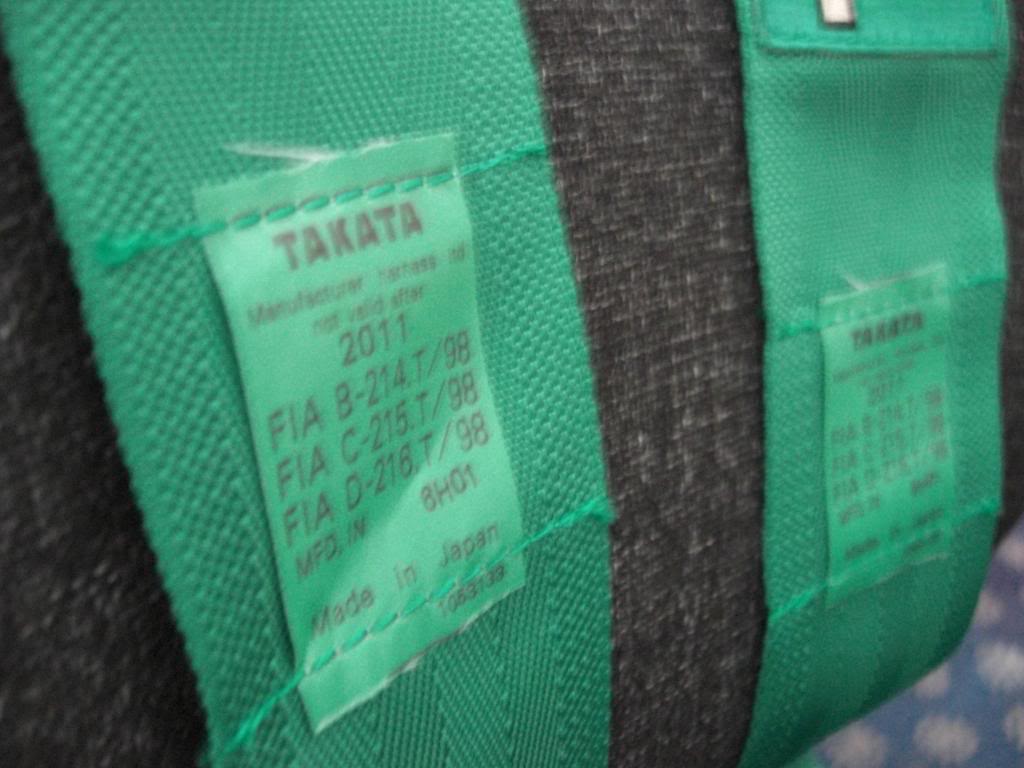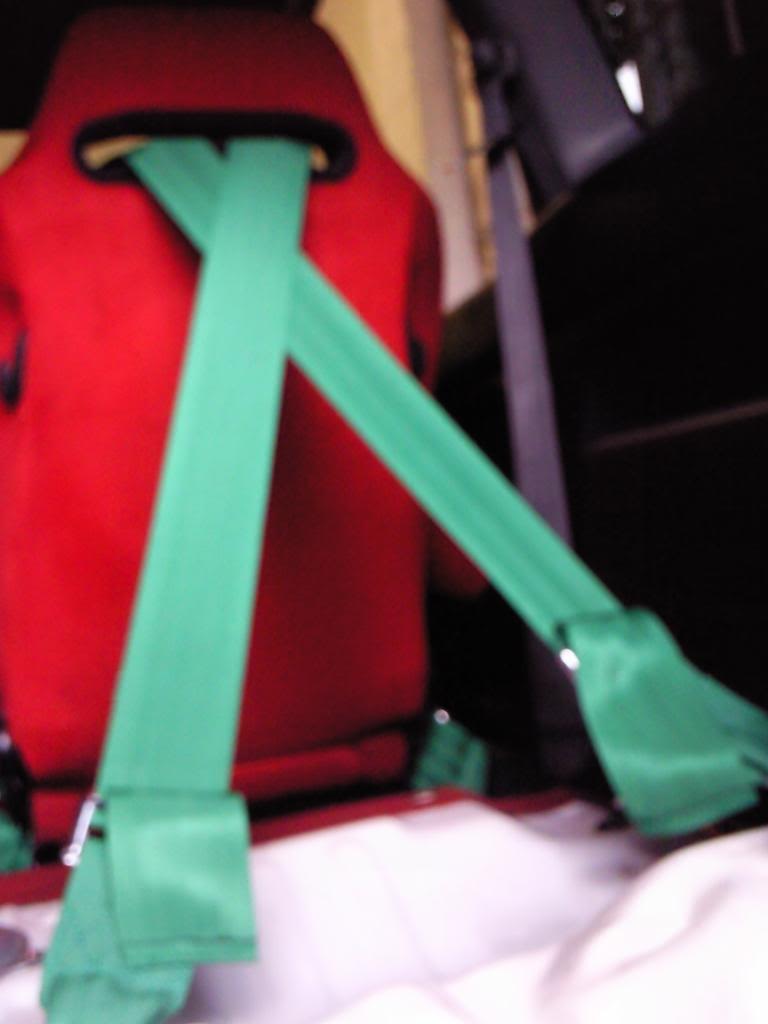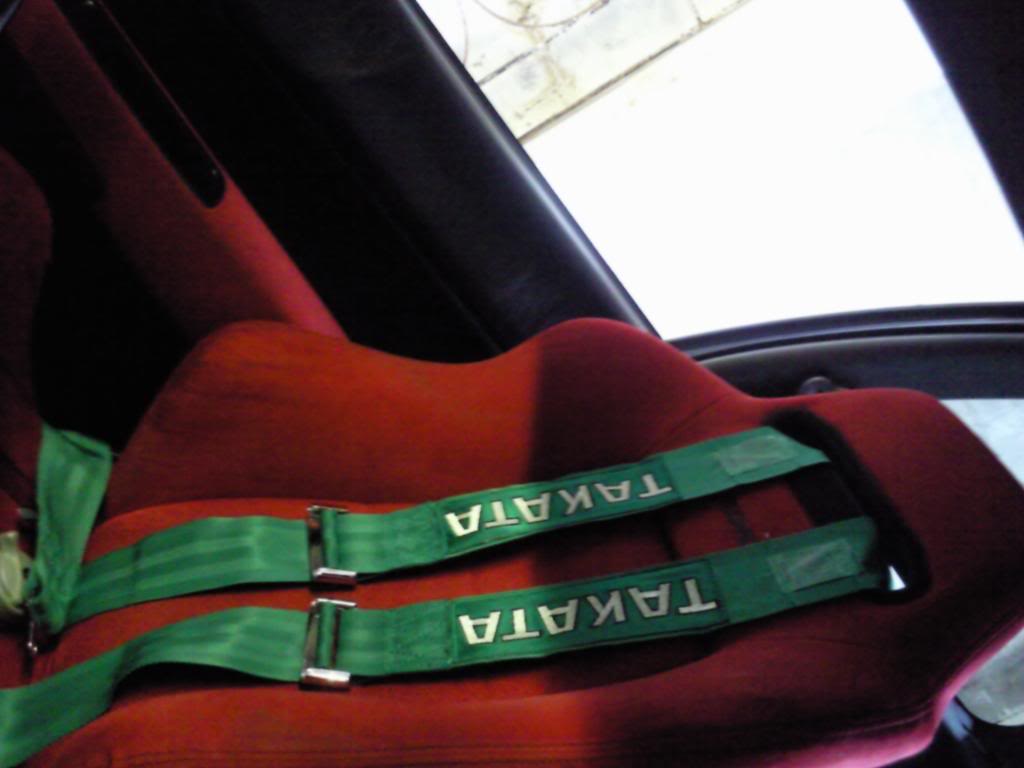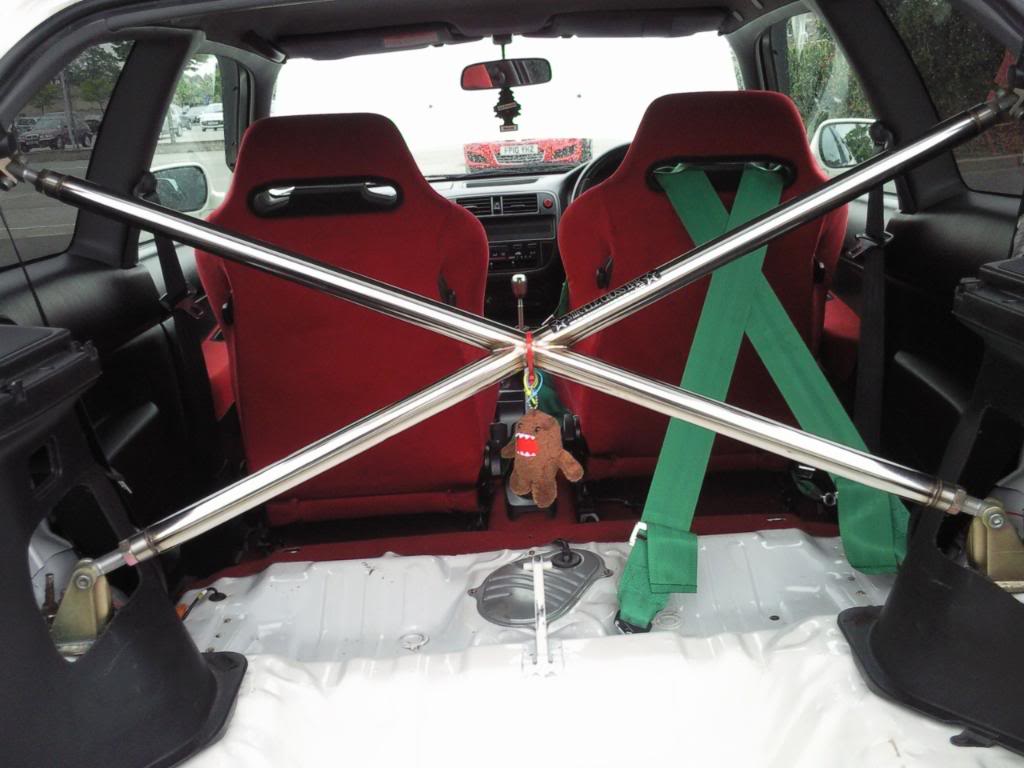 Well getting close to the first Honda civic meet in Dundee that i was keen on getting to so i wanted to sort a few minor bits that were nagging me, however i was feeling like crap that week due to catching the man flu but in that petrol head spirit i got the job done lol.
First of all i set about installing my new leather gear gaitor with the red stitching as the old one was torn from one of the corners. This turnd out to be a bigger job than i anticipated.
old one: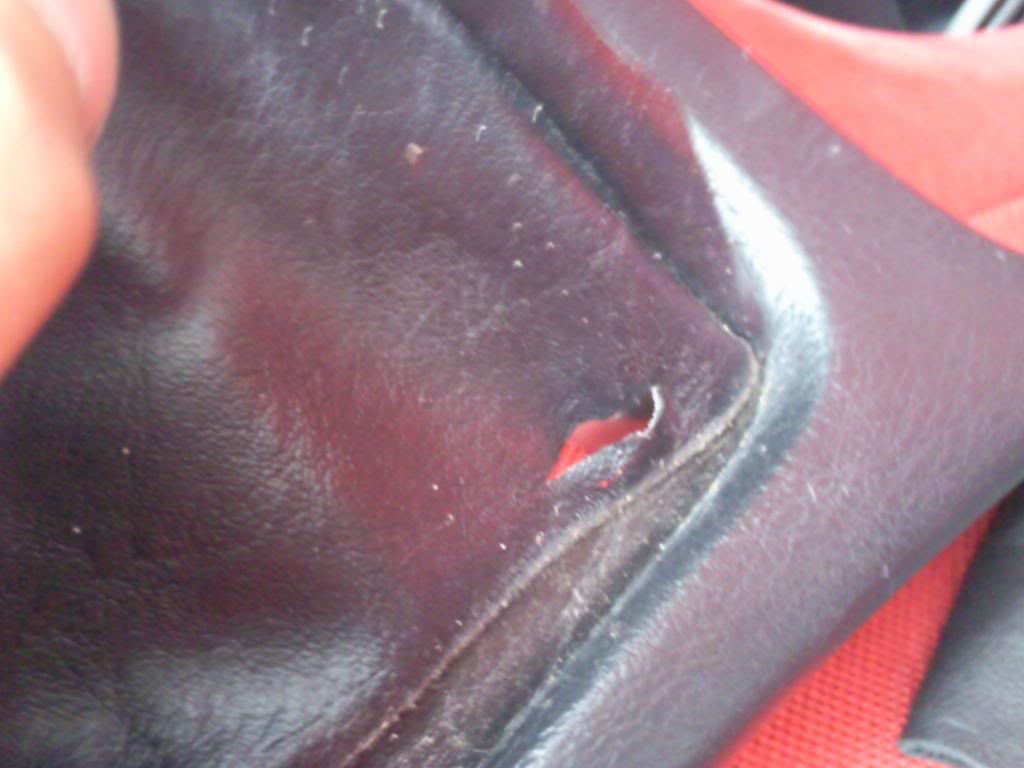 Gear consol removed: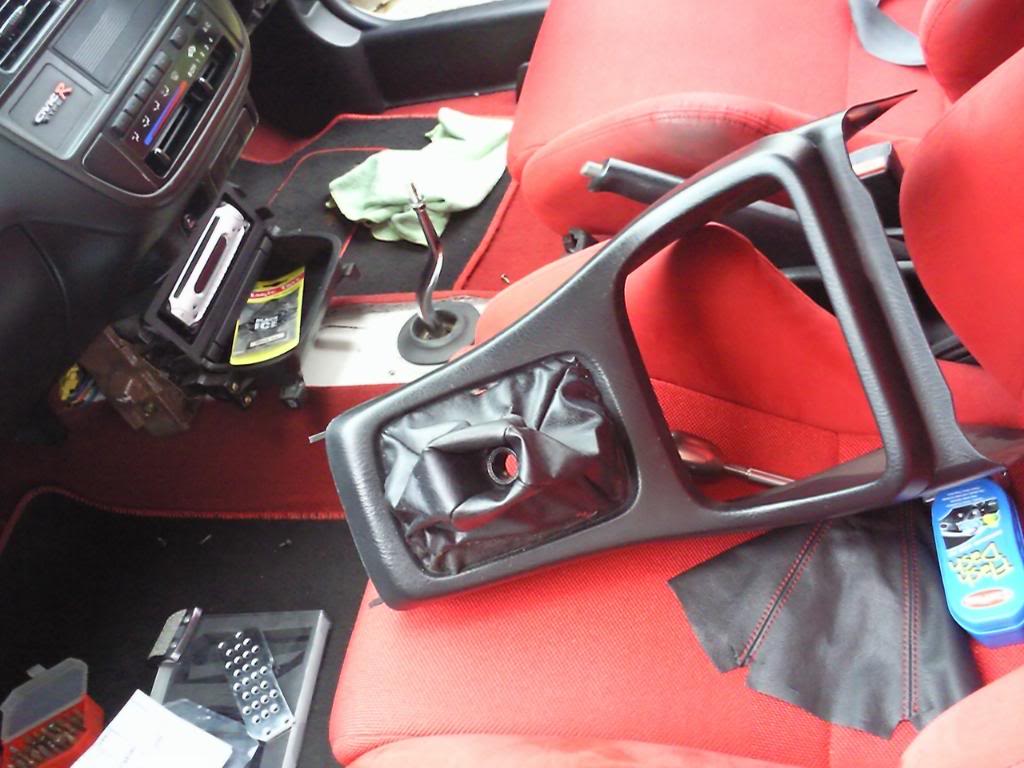 Took the opportunity to do abit of cleaning;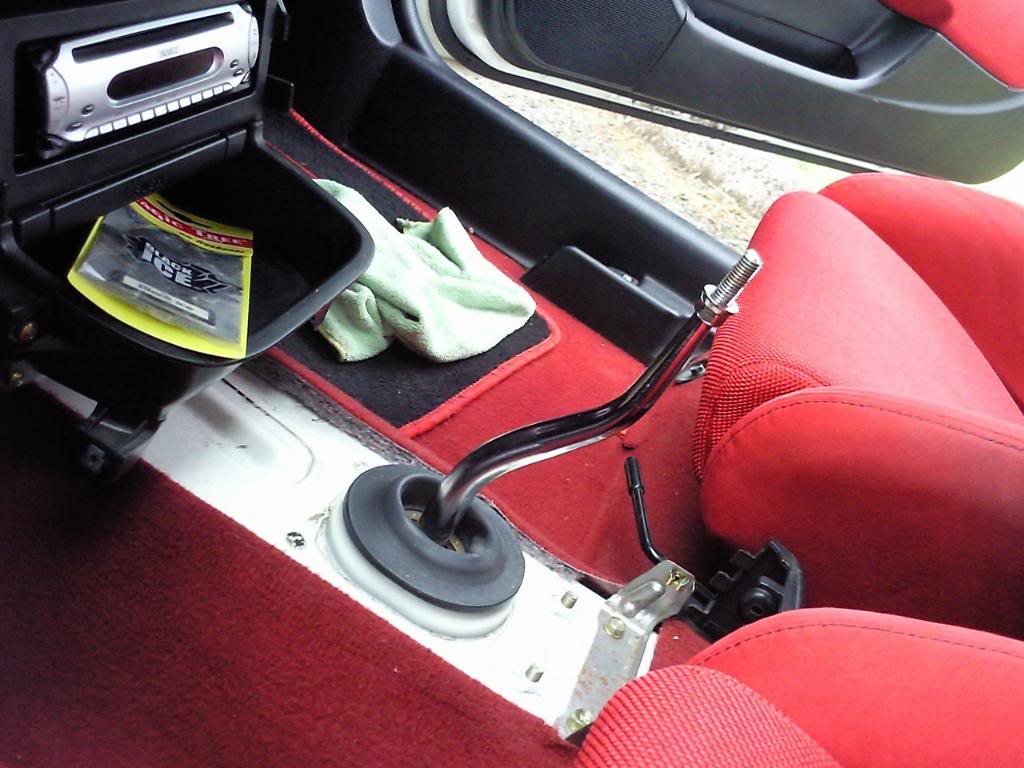 New gaitor fitted: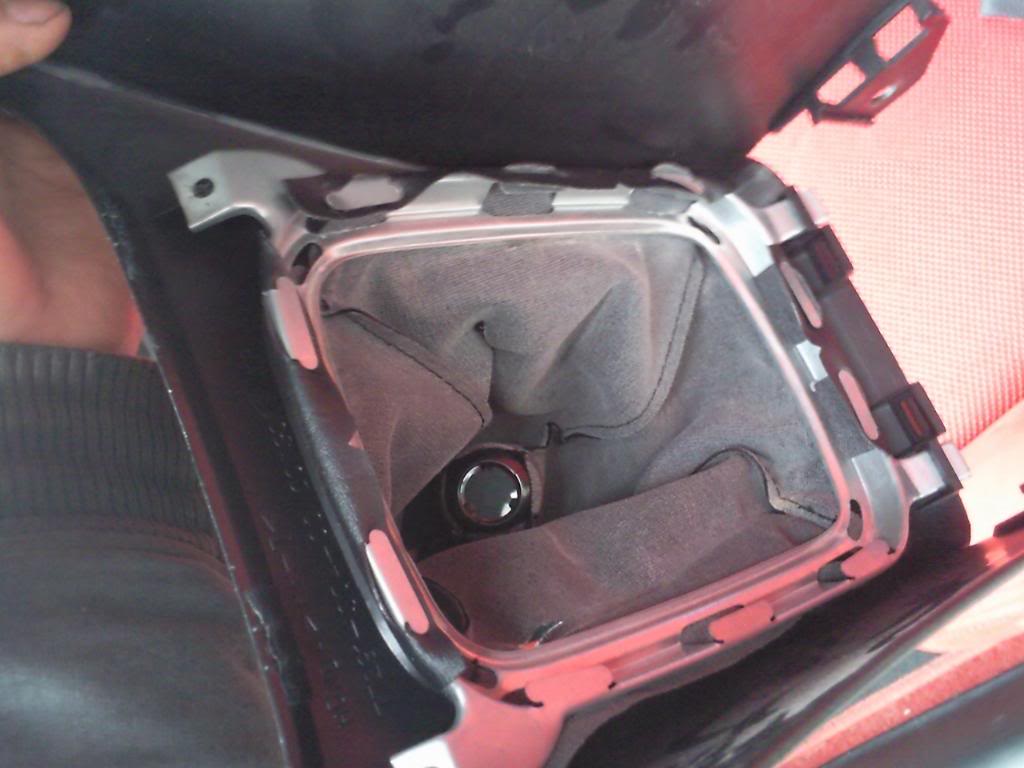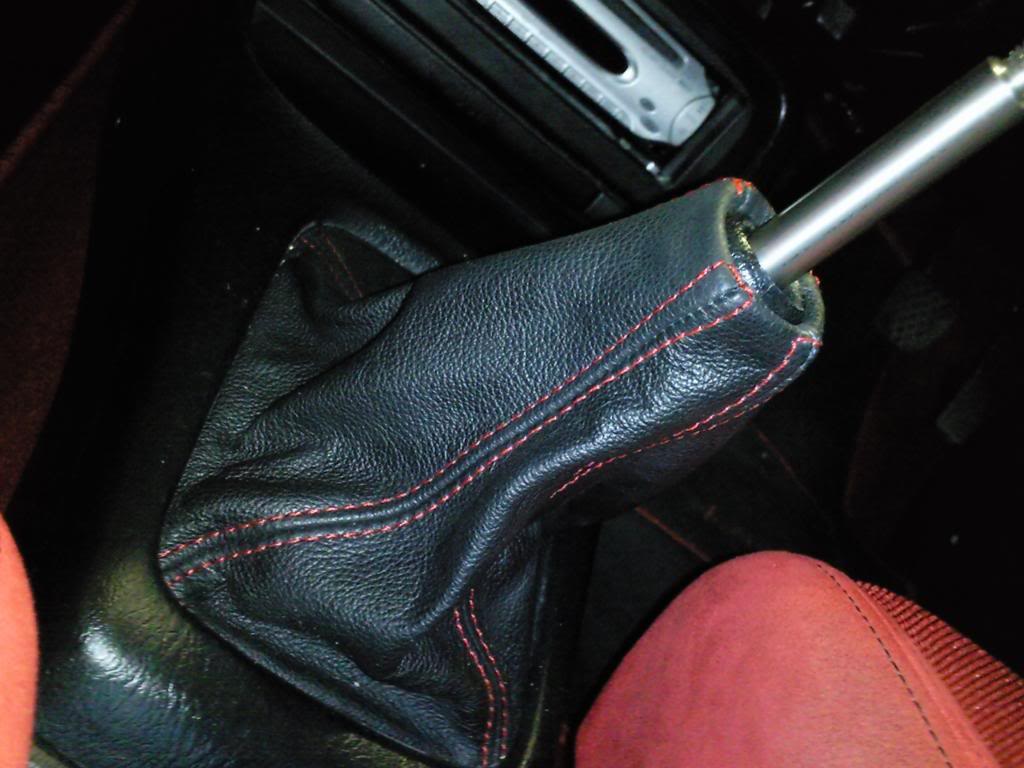 Took off the remaining part of the aircon piping. Air con in this part of the country is useless anyway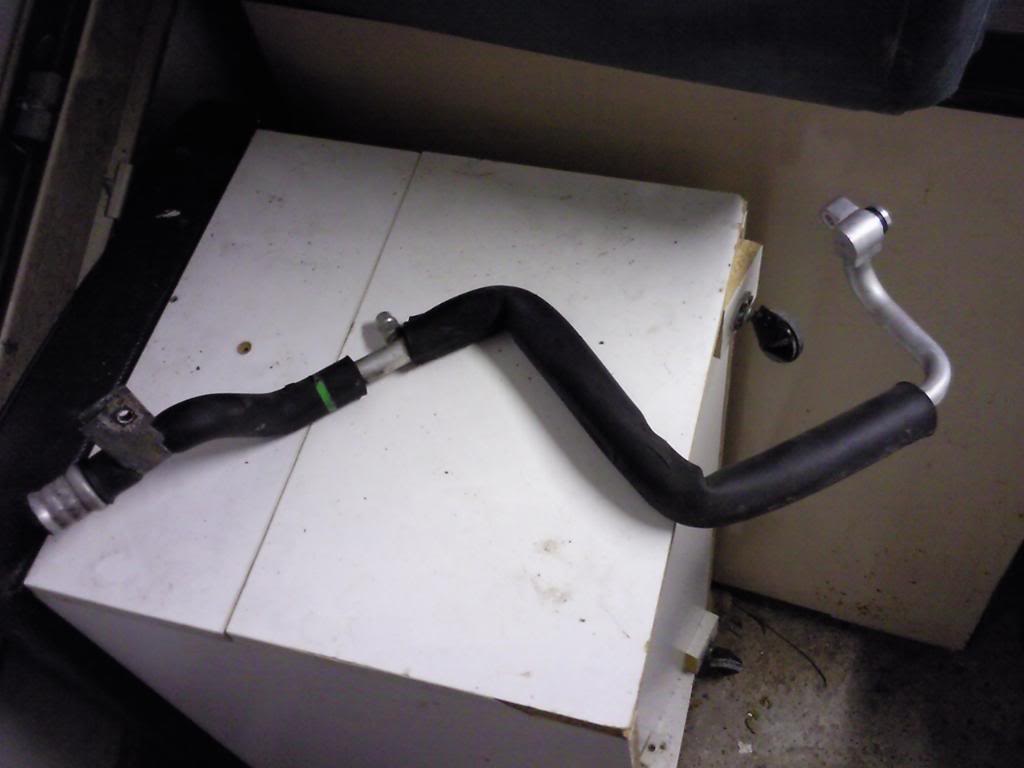 Also put on the custom made recaro subframe decals: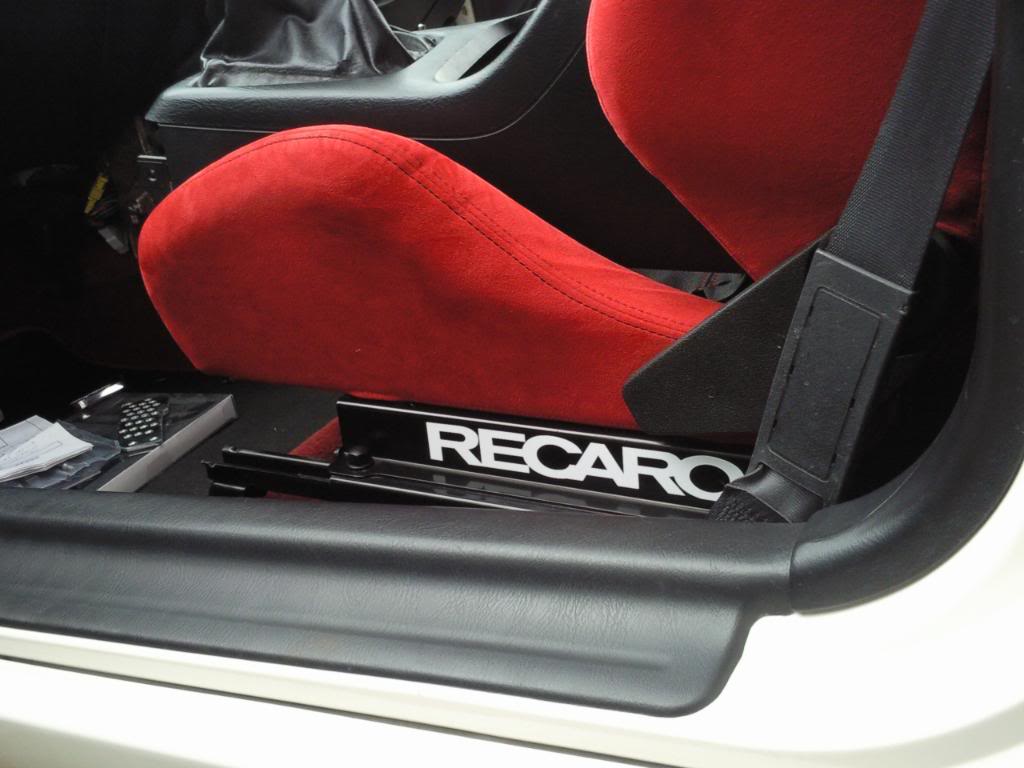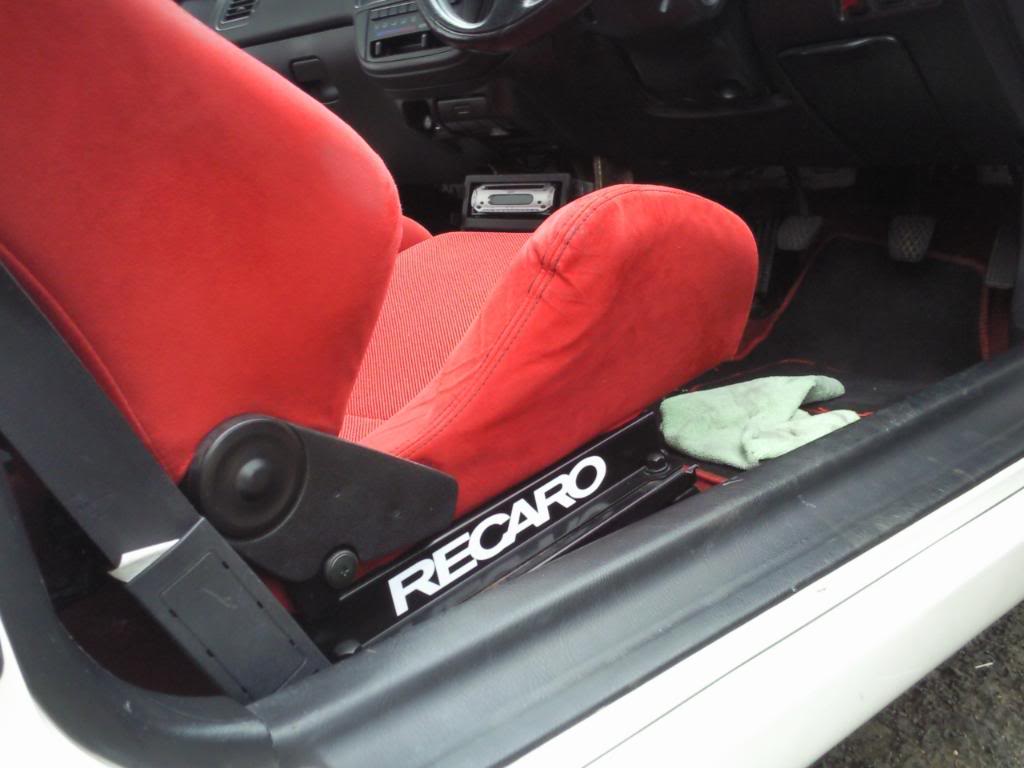 Bought this earthing/grounding kit to repace the 13 year old, worn out grounding wires. All the lead heads and positive terminal are real gold plated to improve conduction/prevent corrosion.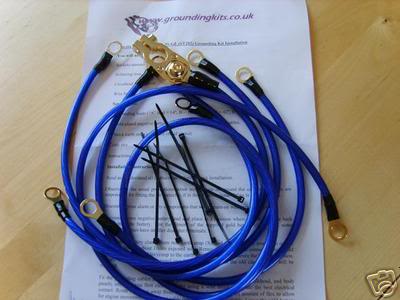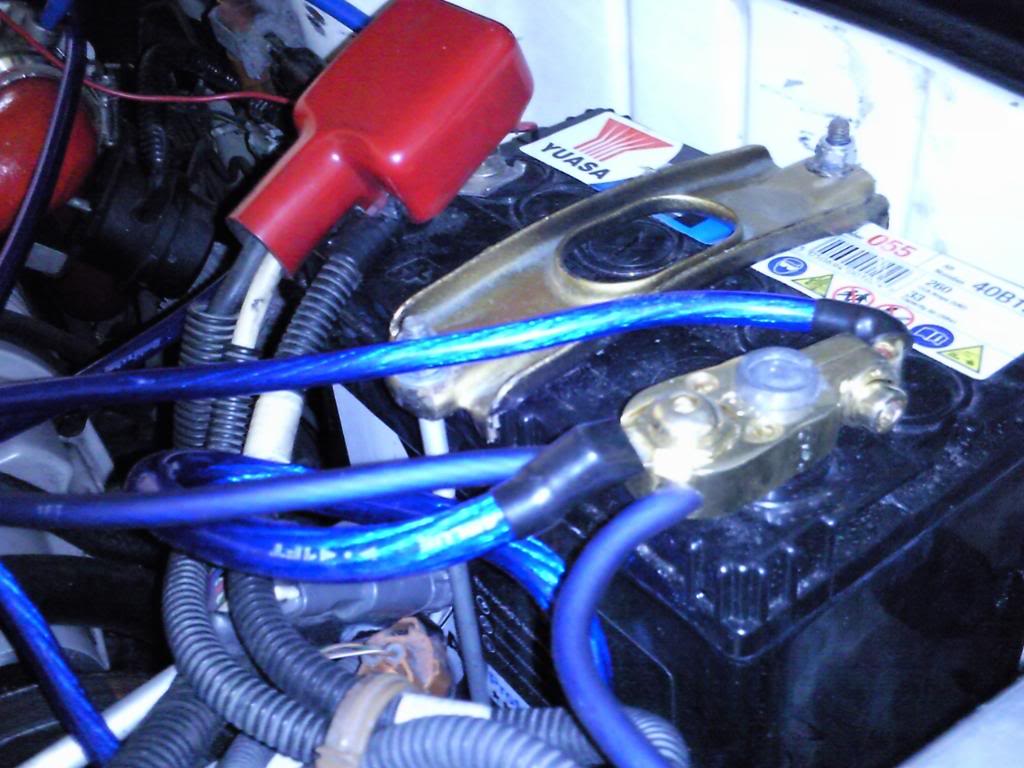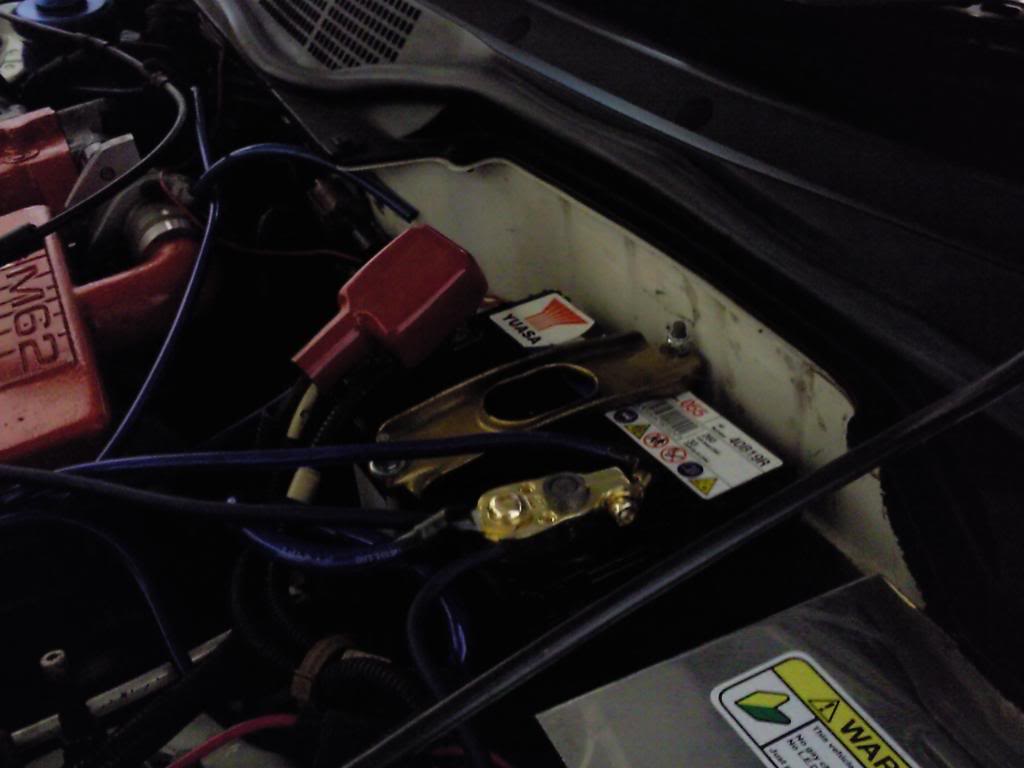 Maditory zip ties were purchased for good measure. General rule is that if it cant be fixed with zip ties, then its f**ked
Bonnet struts/lifters- probably one of my favourite mods.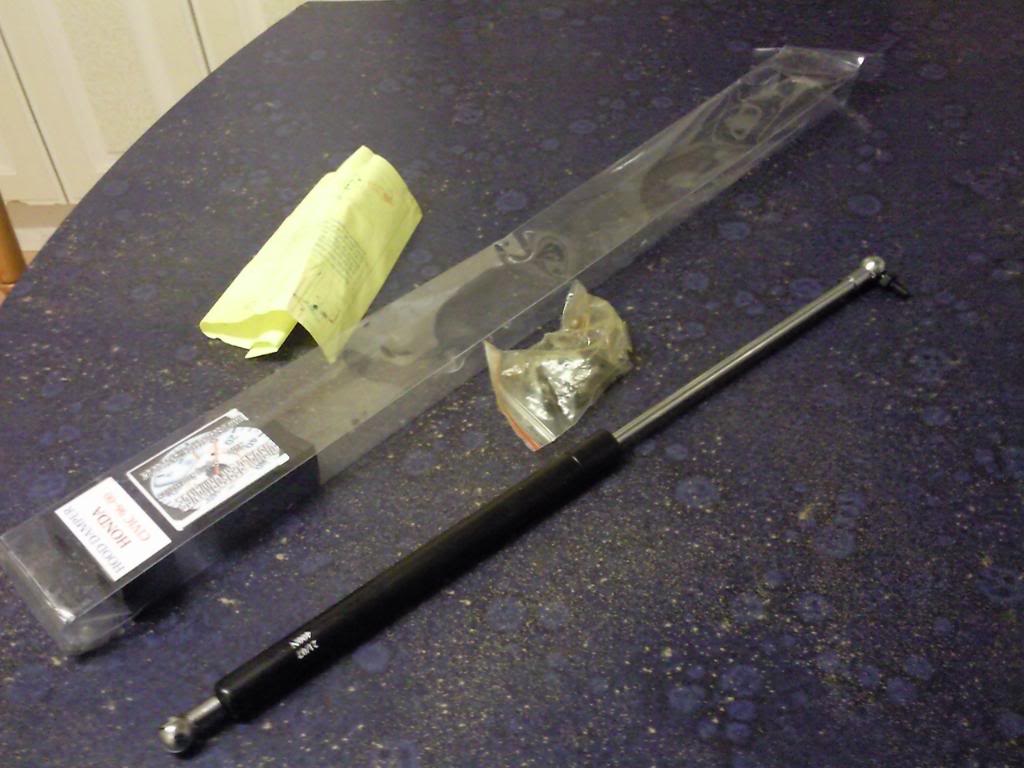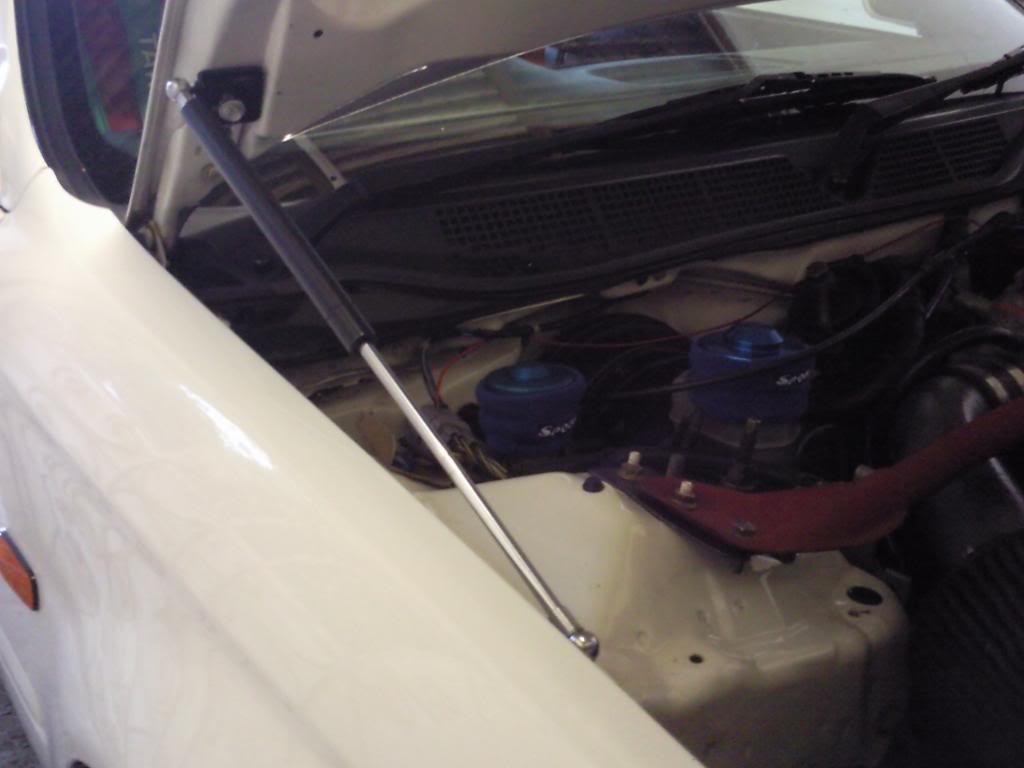 Tegiwa shifter extension. Though i think it would work best with a short shifter its height is perfect imo.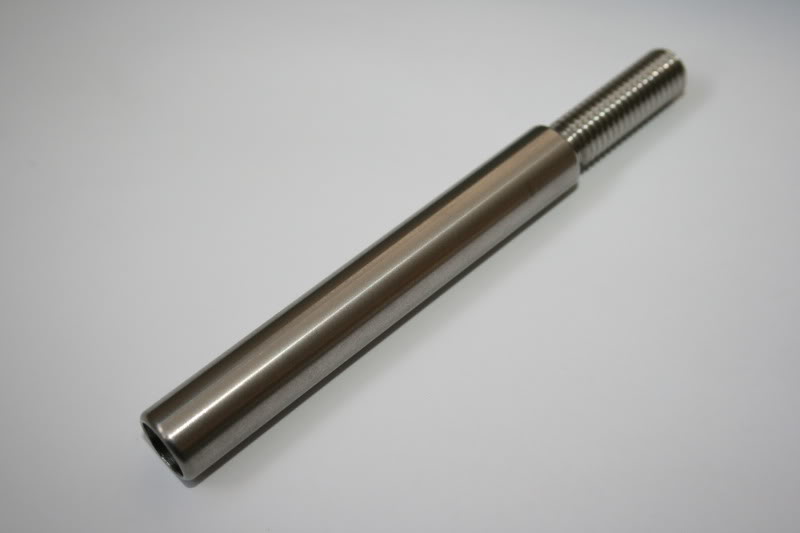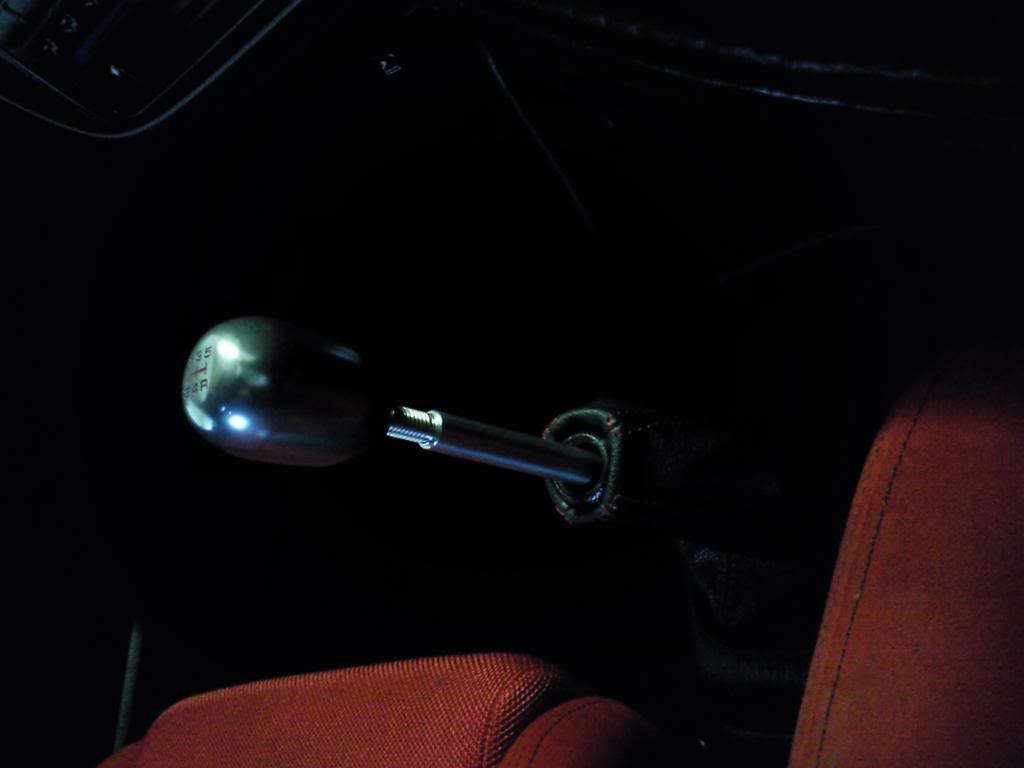 The car needed new mats so i invested in some new custom red recaro ones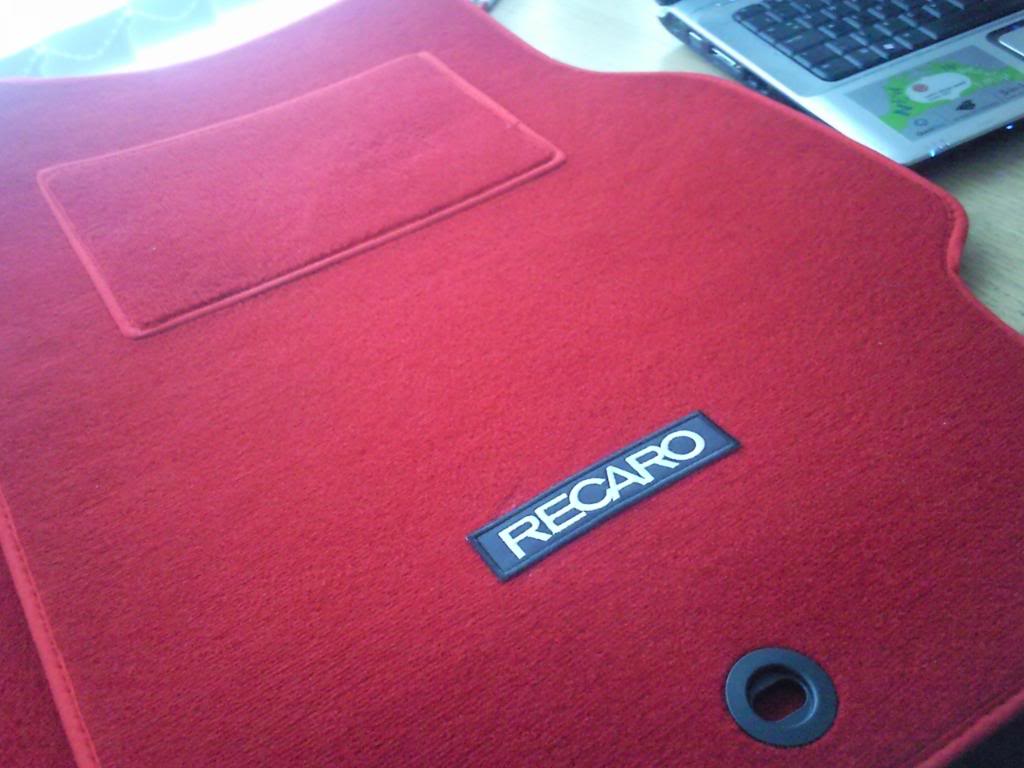 Added the black ice magic tree and finally the car was semi-ready for its first meet.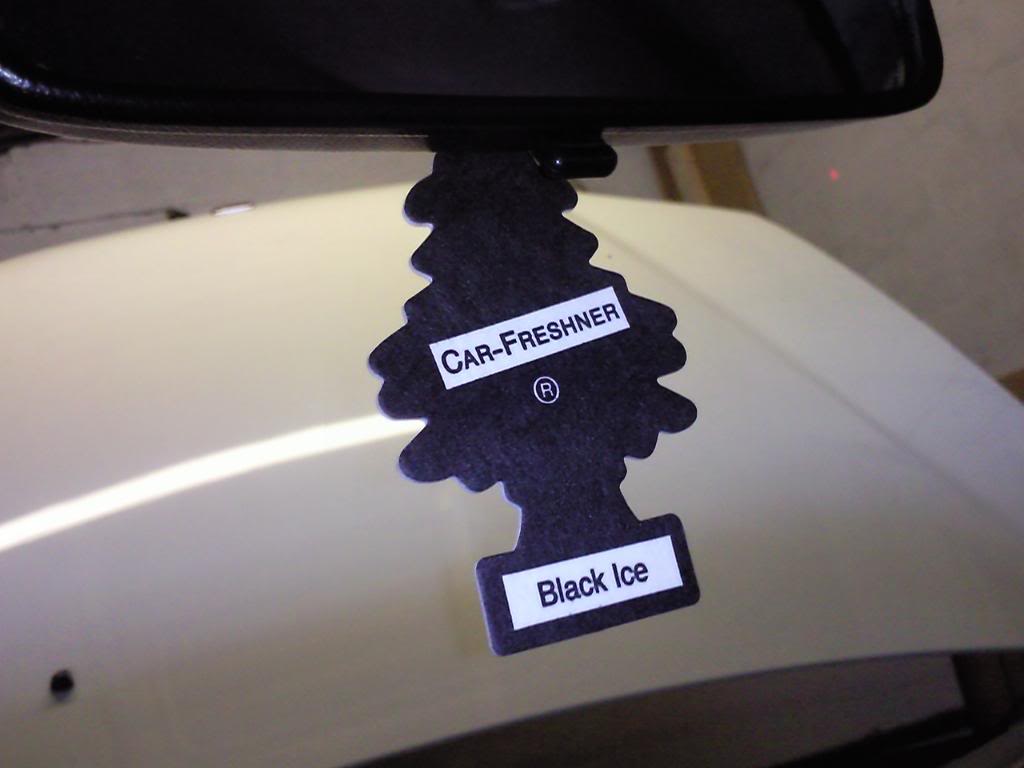 A couple of snaps i took at the meet: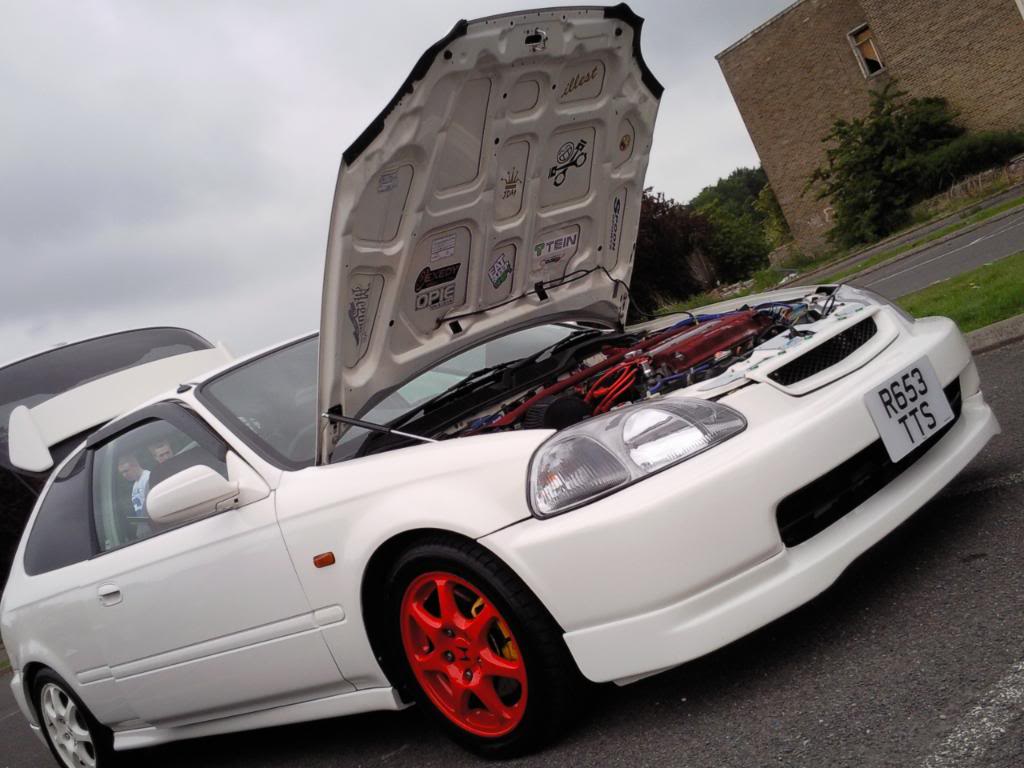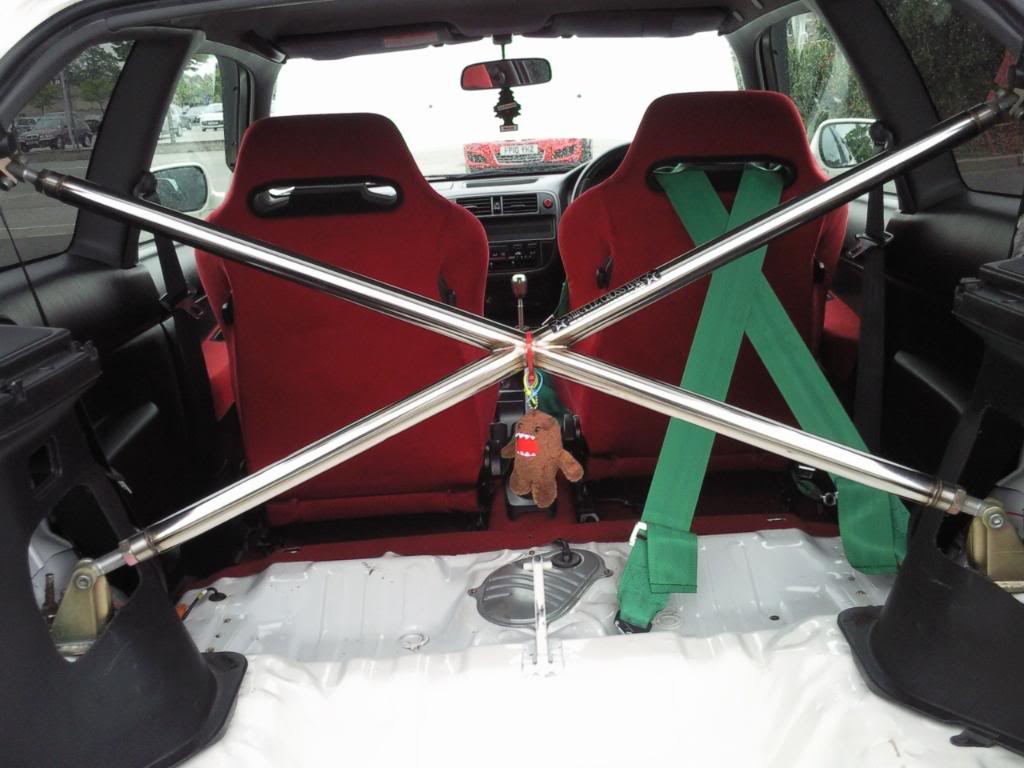 Ordered a set of rear trailing arm bushes from honda, which needed replaced as they were starting to wear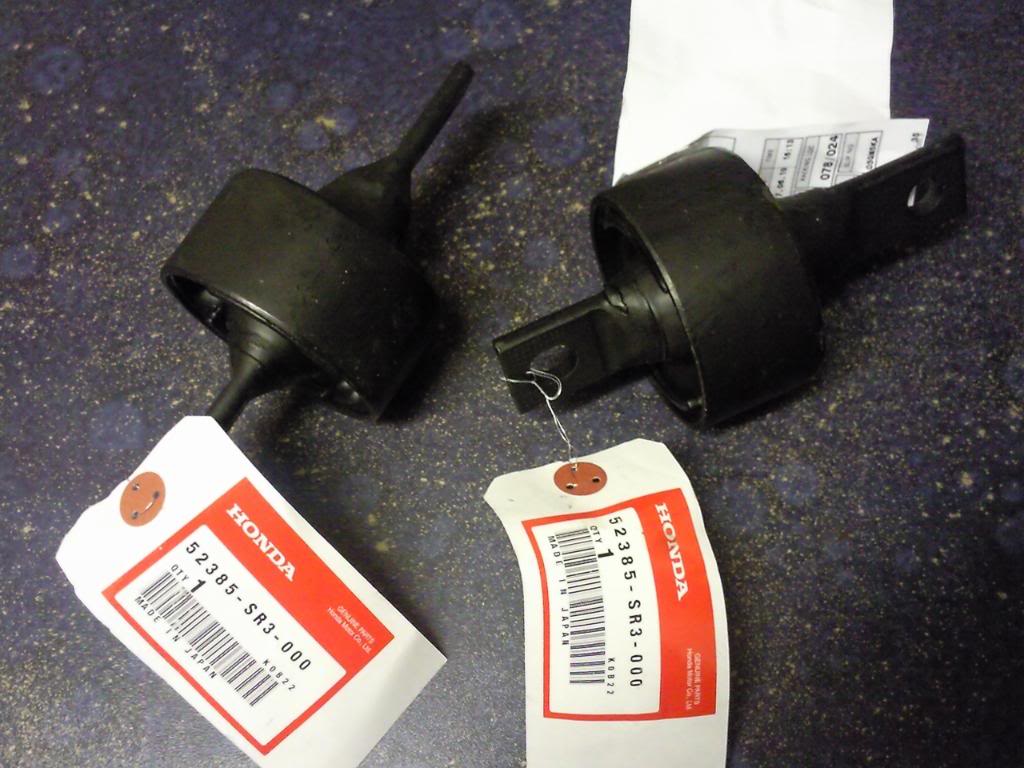 Although i didnt have a problem with cooling and the fan has never came on since i have had the car, I just felt that if the car was gong to see any track action then the stock radiator had to be replaced with an uprated. I managed to pick up an aluminium dual core koyo radiator and samco top radiator hose off of another ek9.org member for a good price so i went for it. Its a Straight fit for the stock one and because its thicker, it has a greater surface area for heat exchage thus providing better cooling. Before it is fitted though it will be getting polished up using a metal polishing kit i got.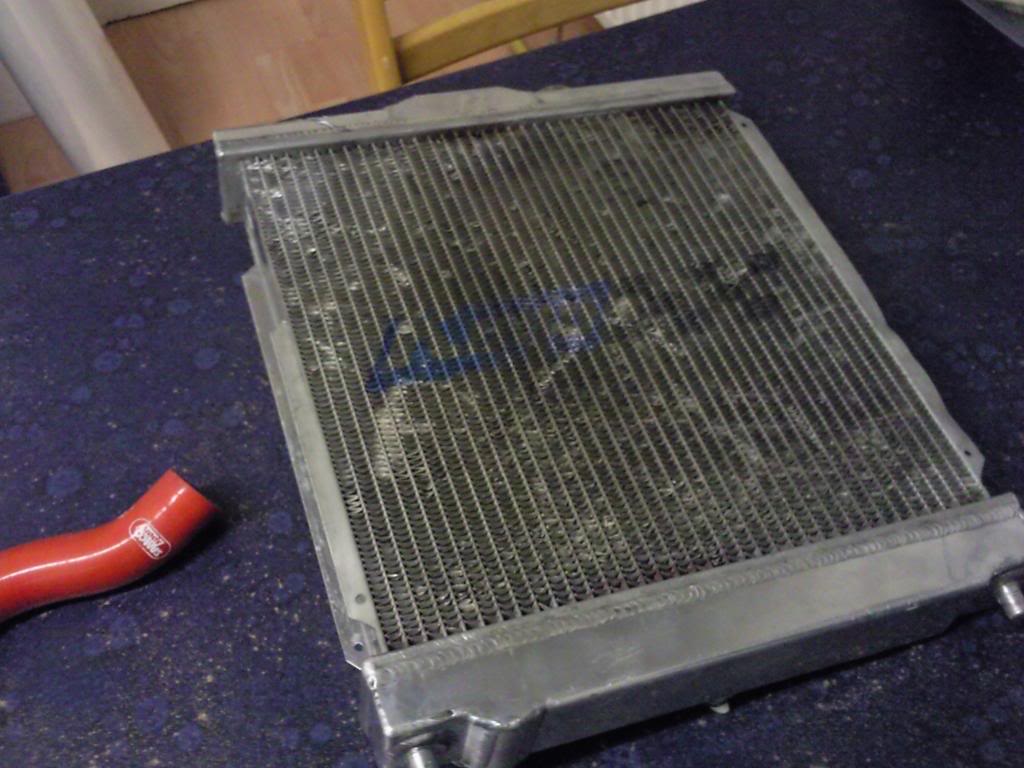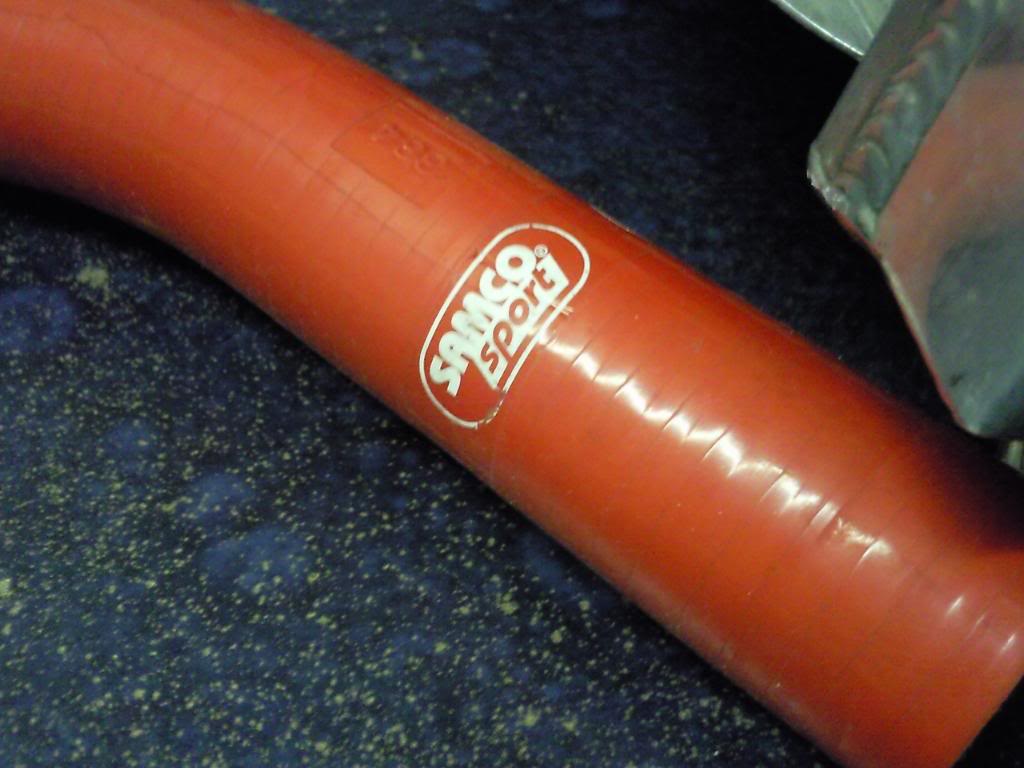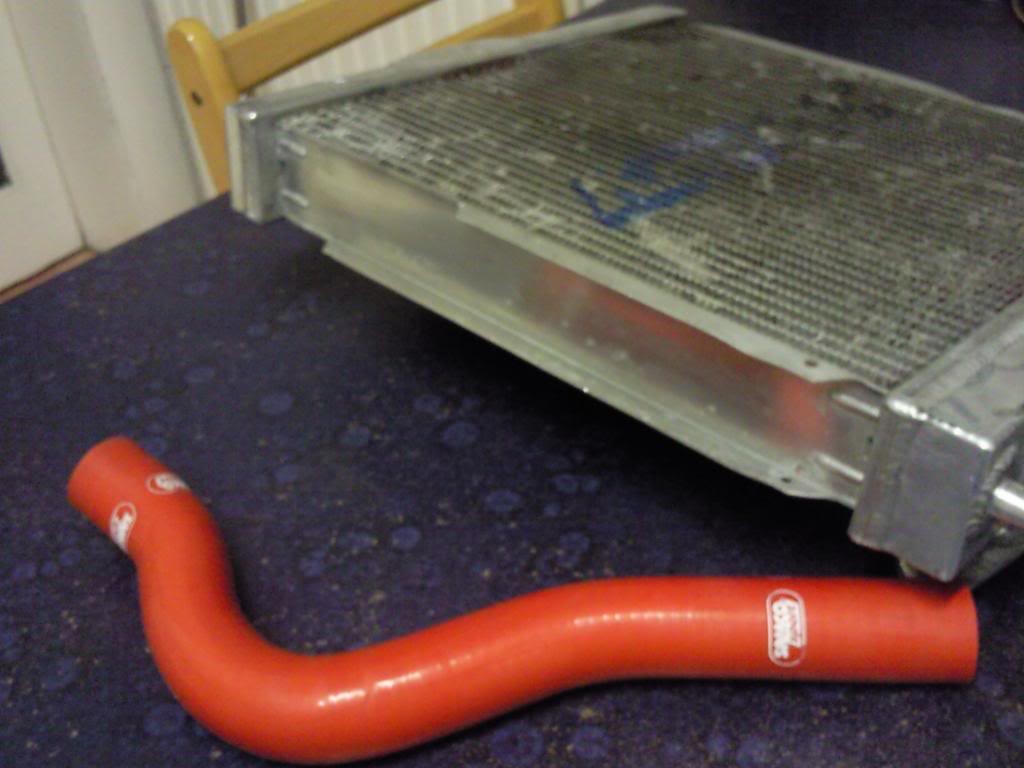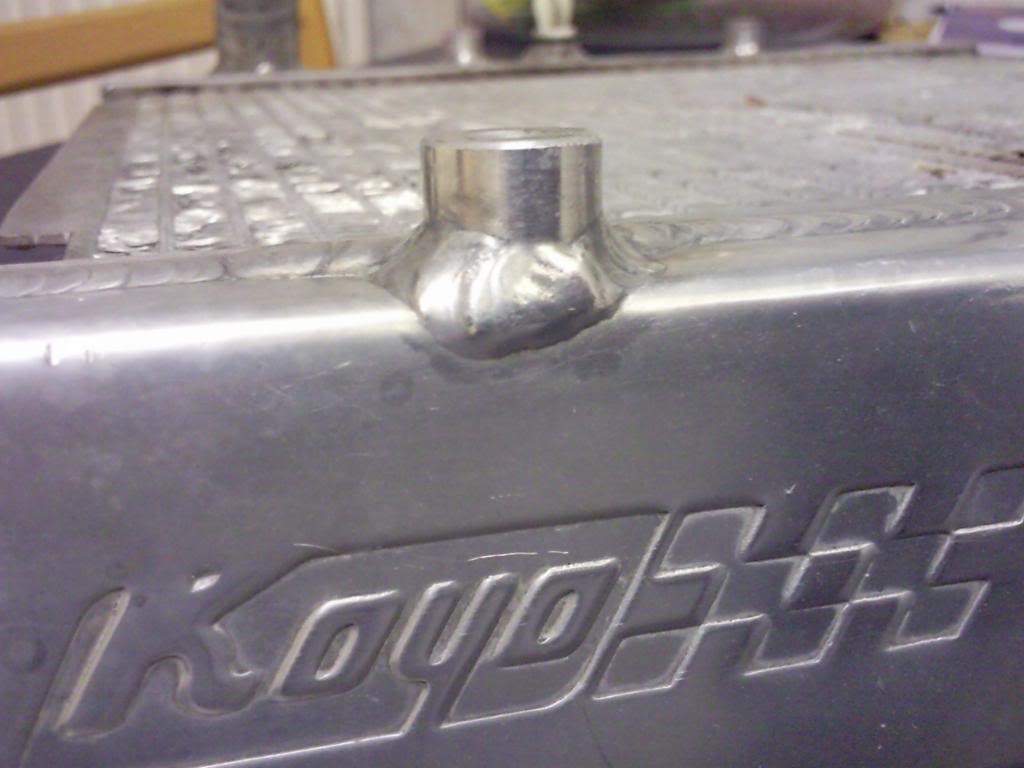 Manfold heat wrap and metal cable ties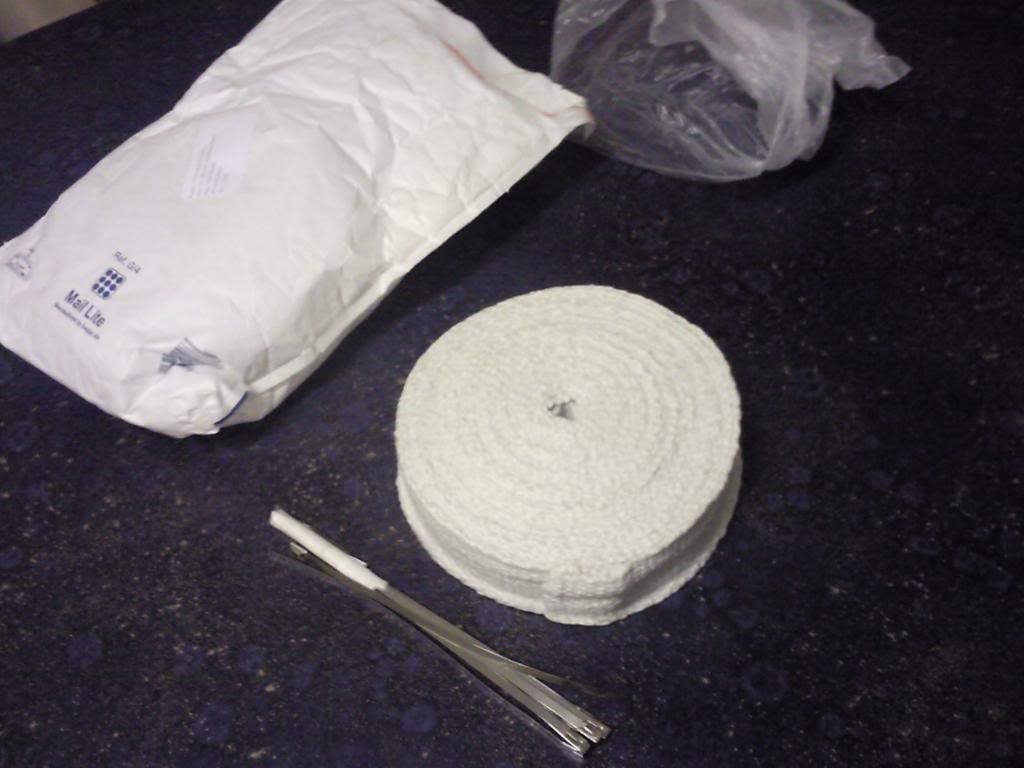 Mugen foot pedals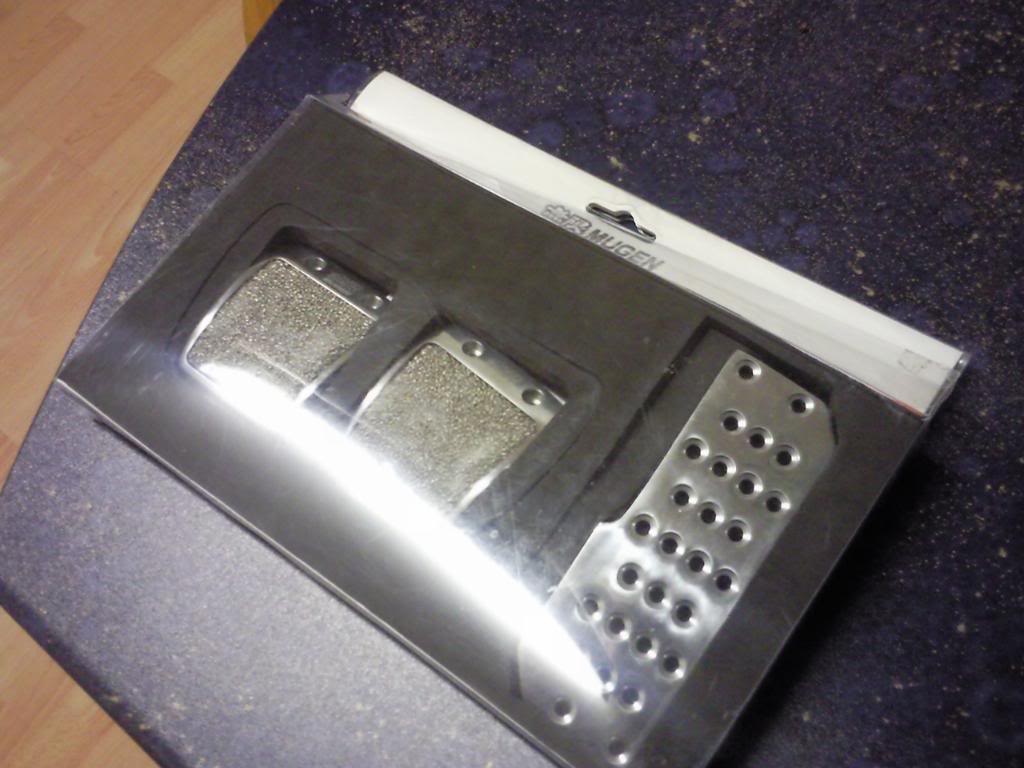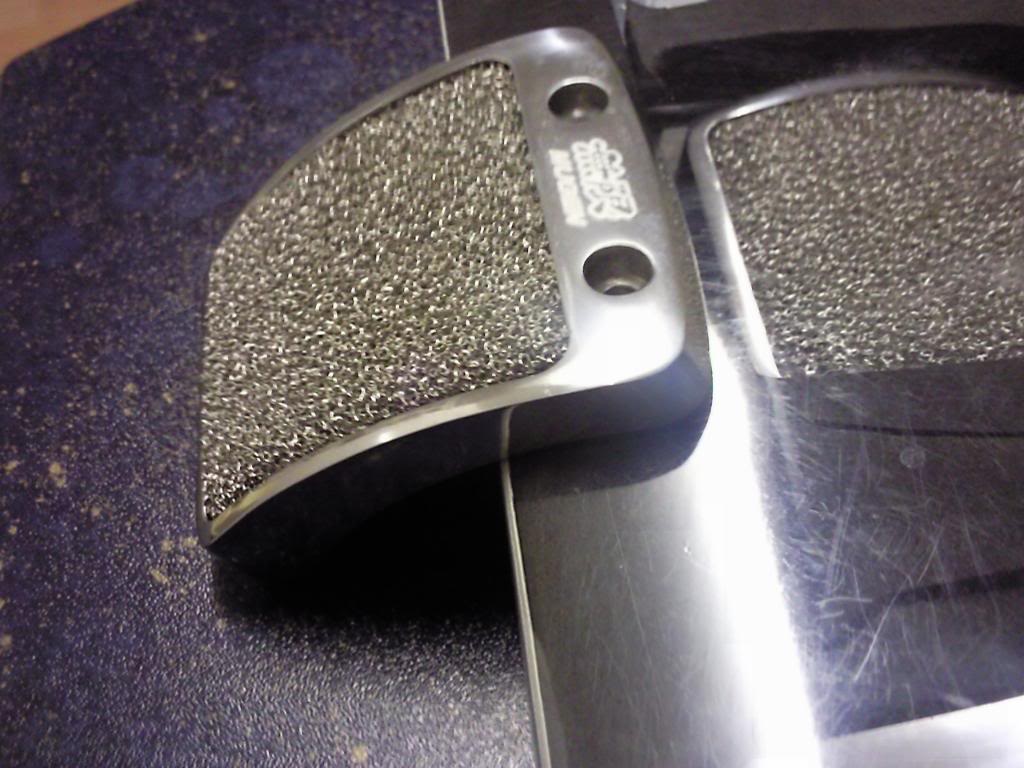 Jdm Bride material, which im planning on using for the head lining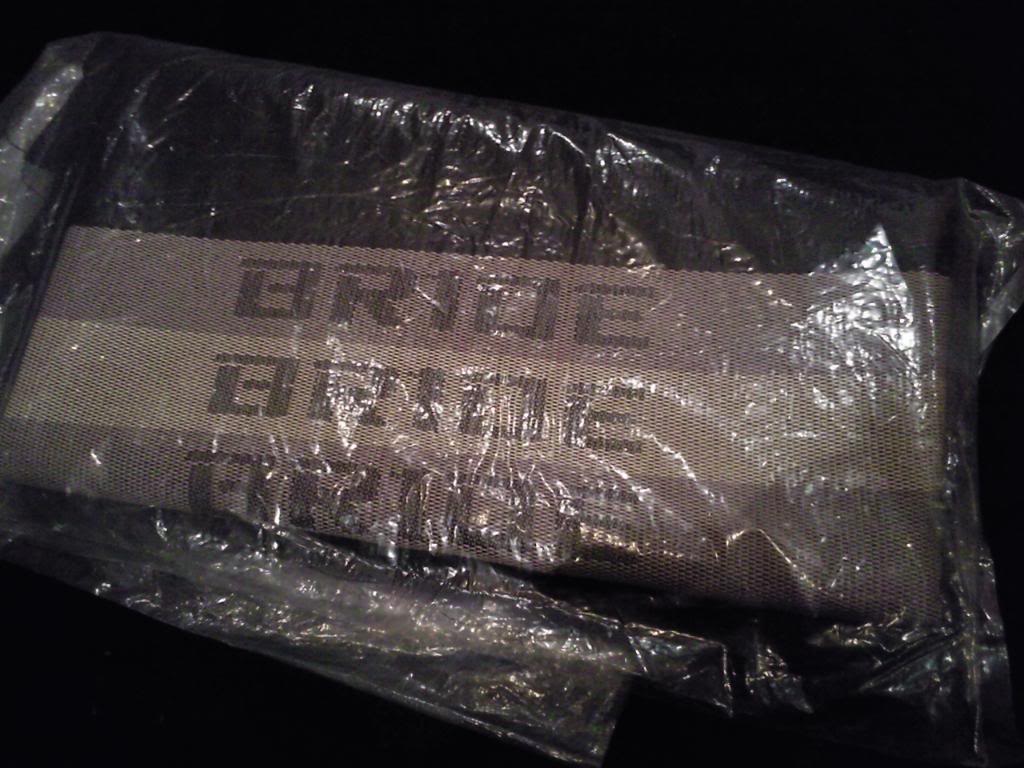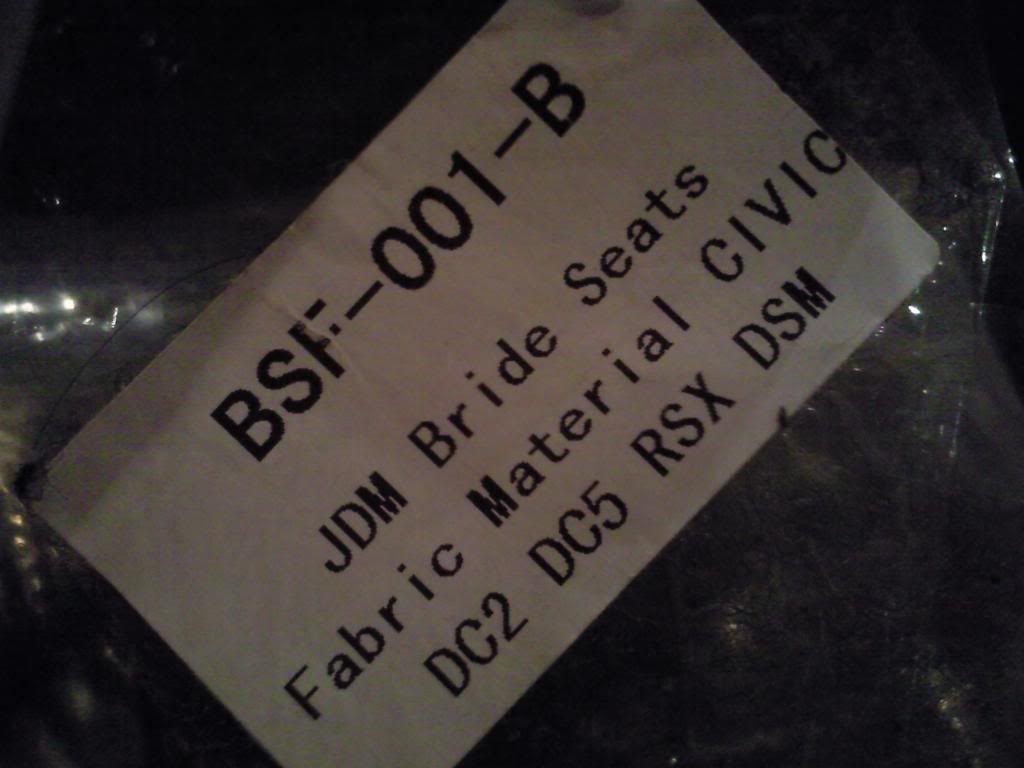 This also came through the door today all the way from Setagaya, Tokyo. Inside were a set of geniune Arc magic winglet decals, costing £25 for the pair, which is extortionate for a couple of decals but then again this is a 'No Compromise' build so it had to be done.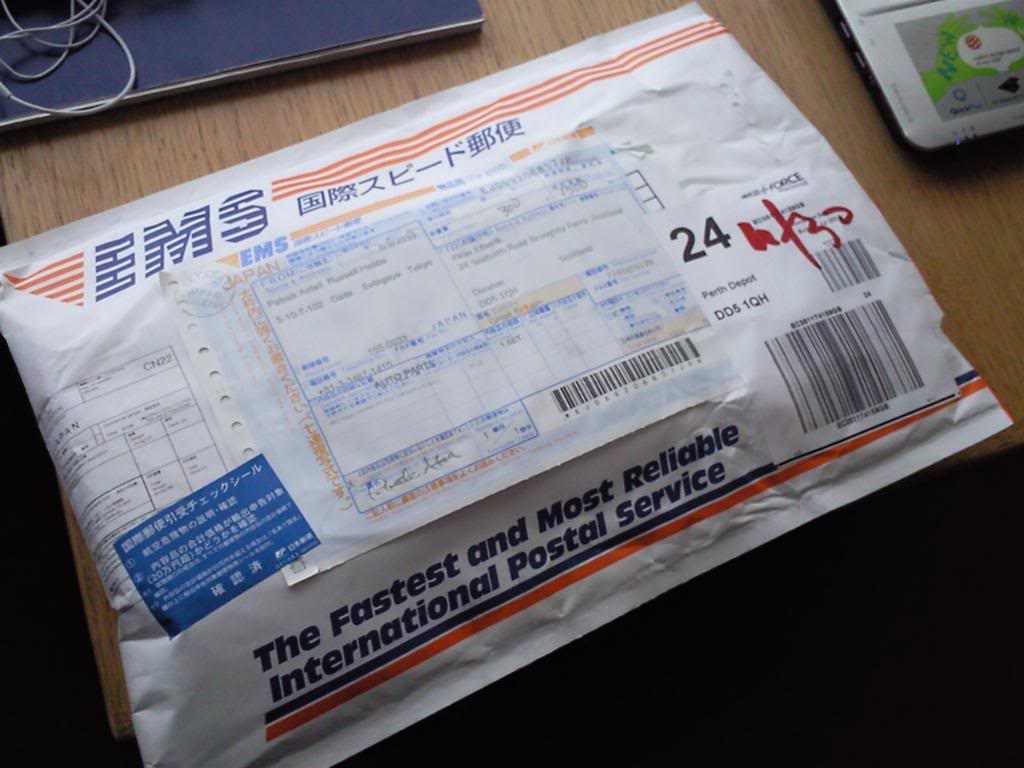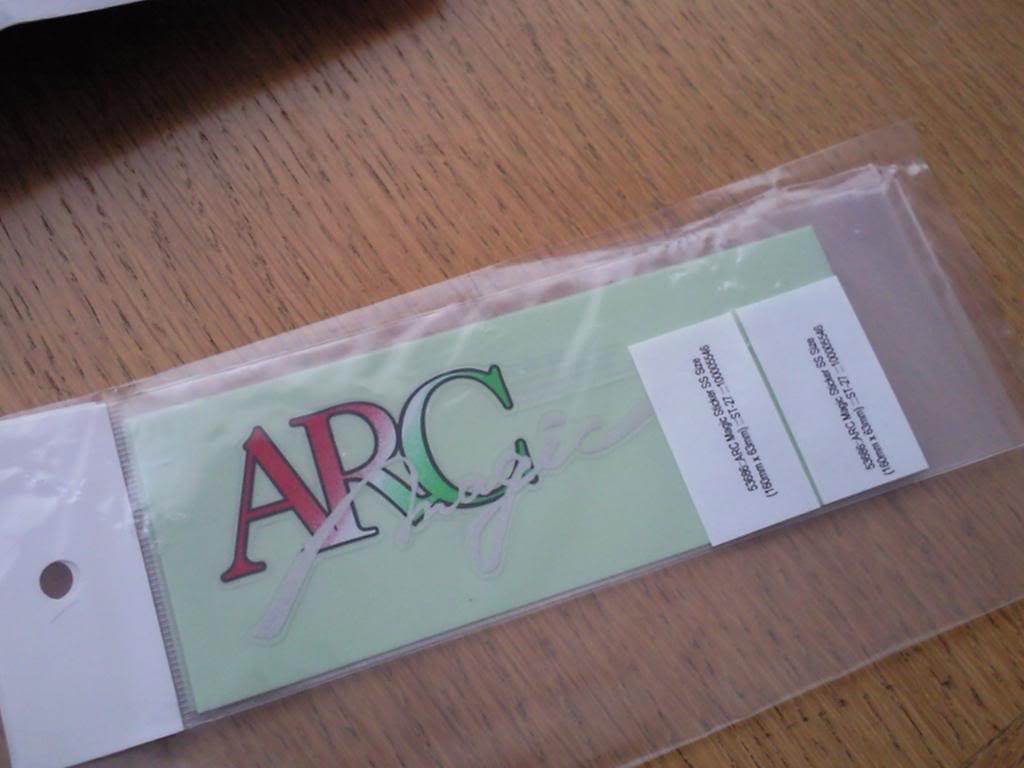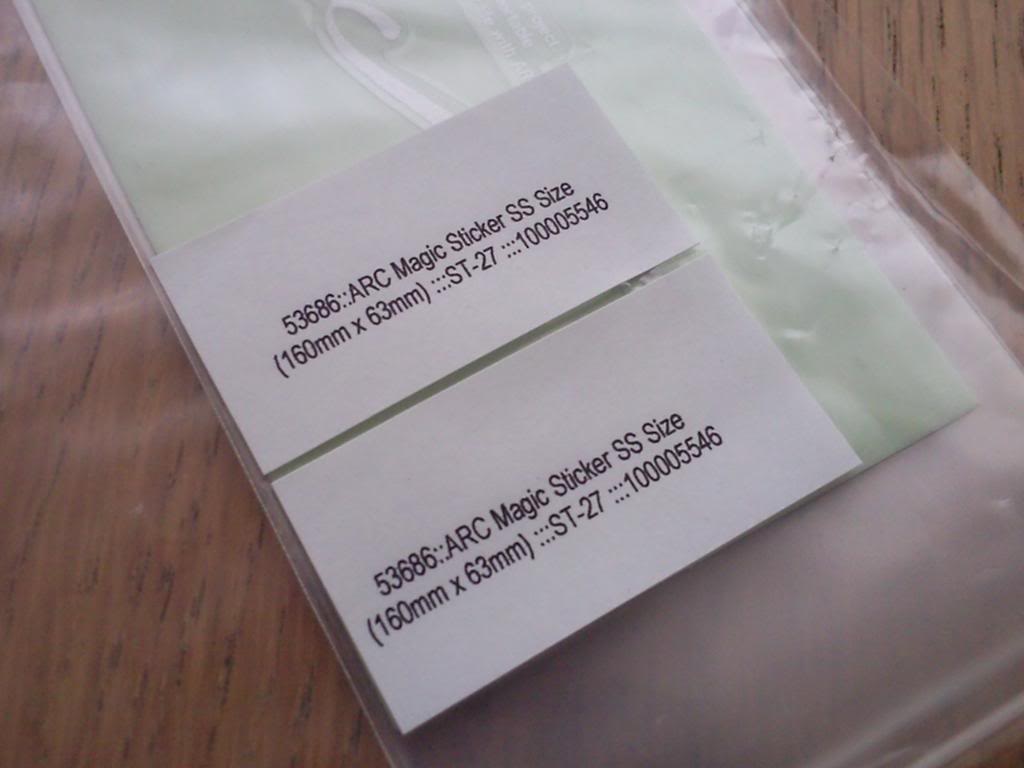 These low entry car ramps came through the door yesterday. Should make working on the car alot easier.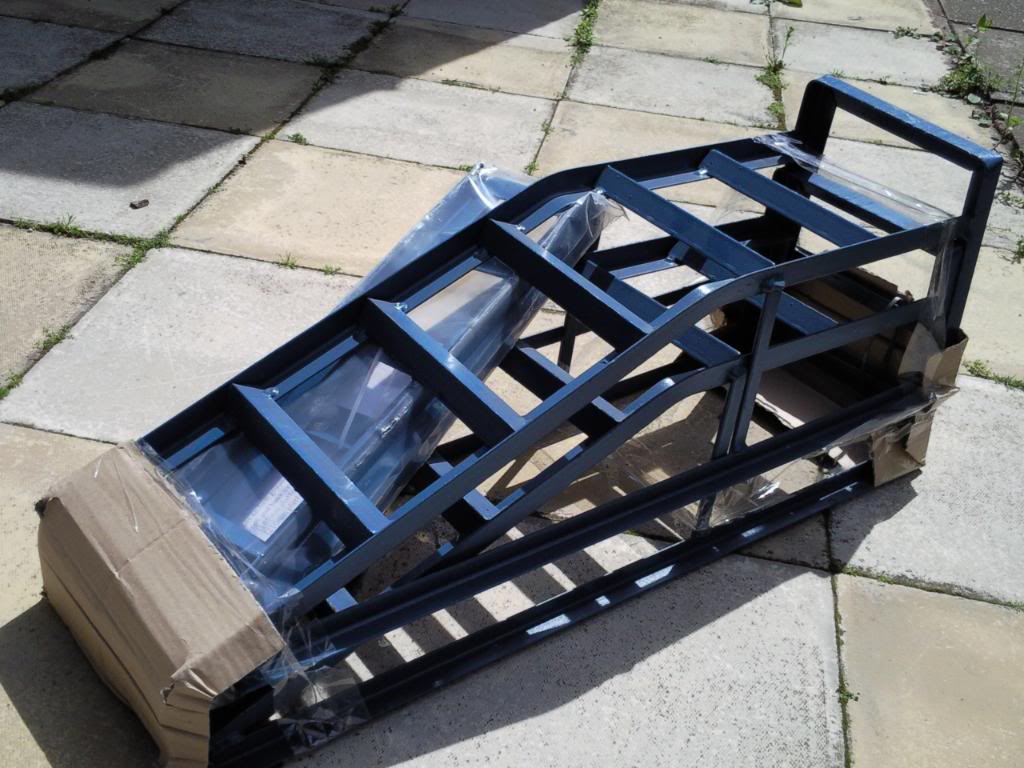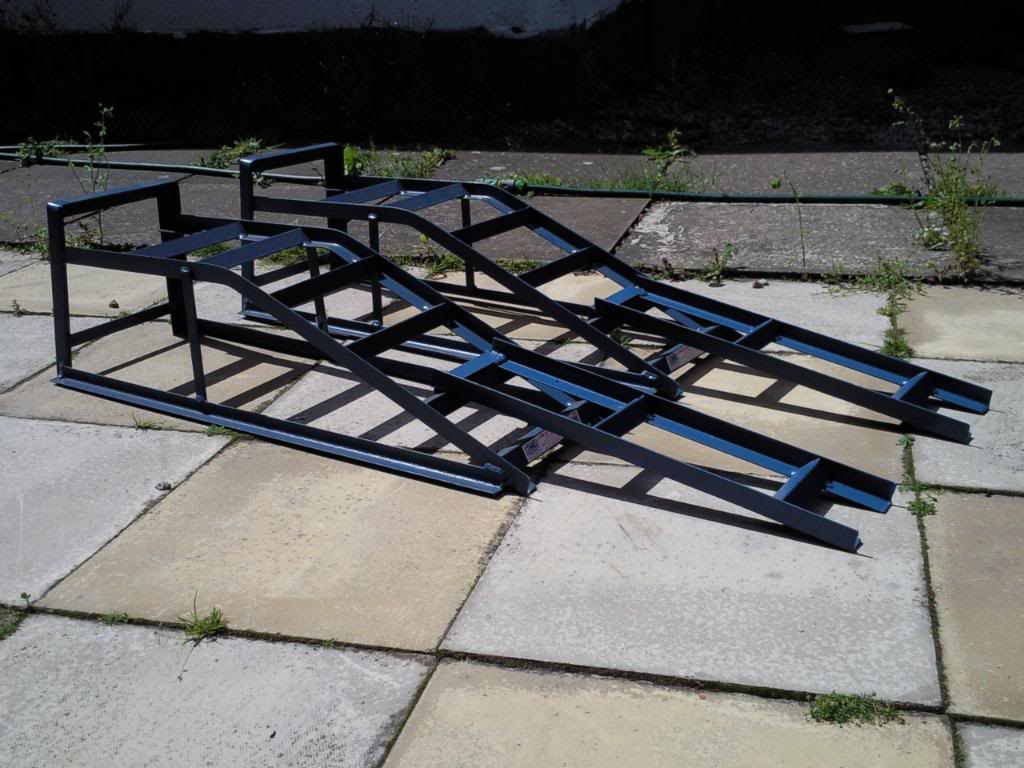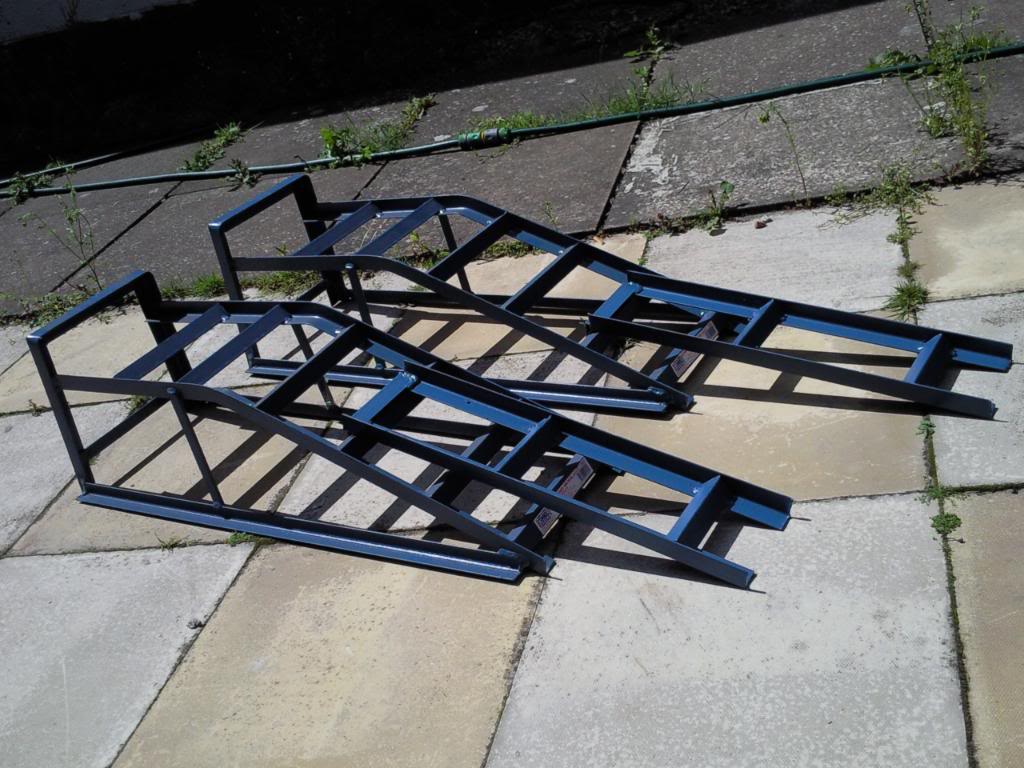 Finally i received my 2.5" jdm resonated decat. I was never a massive fan of stupidly raspy exhausts so i went for the resonated decat, which is meant to be moderate in terms of loudness and raspyness. I was very impressed with the quality of the decat as a whole and especially with the quality of the welds. Also it came with new gaskets and all bolts aswell, which was a nice bonus.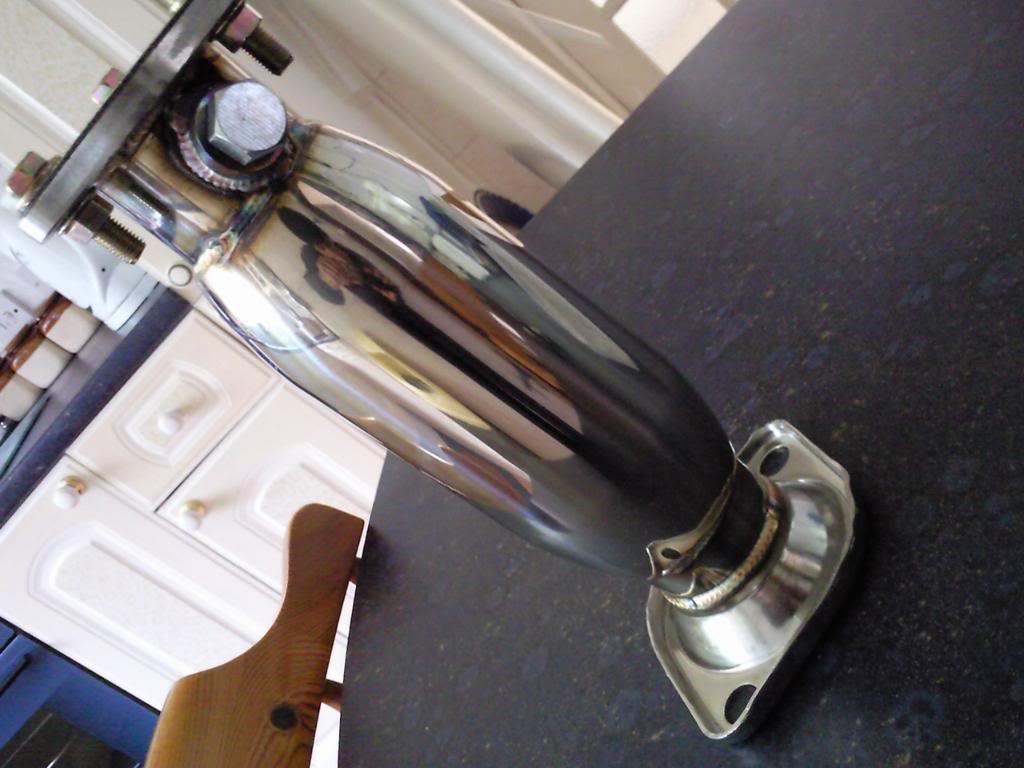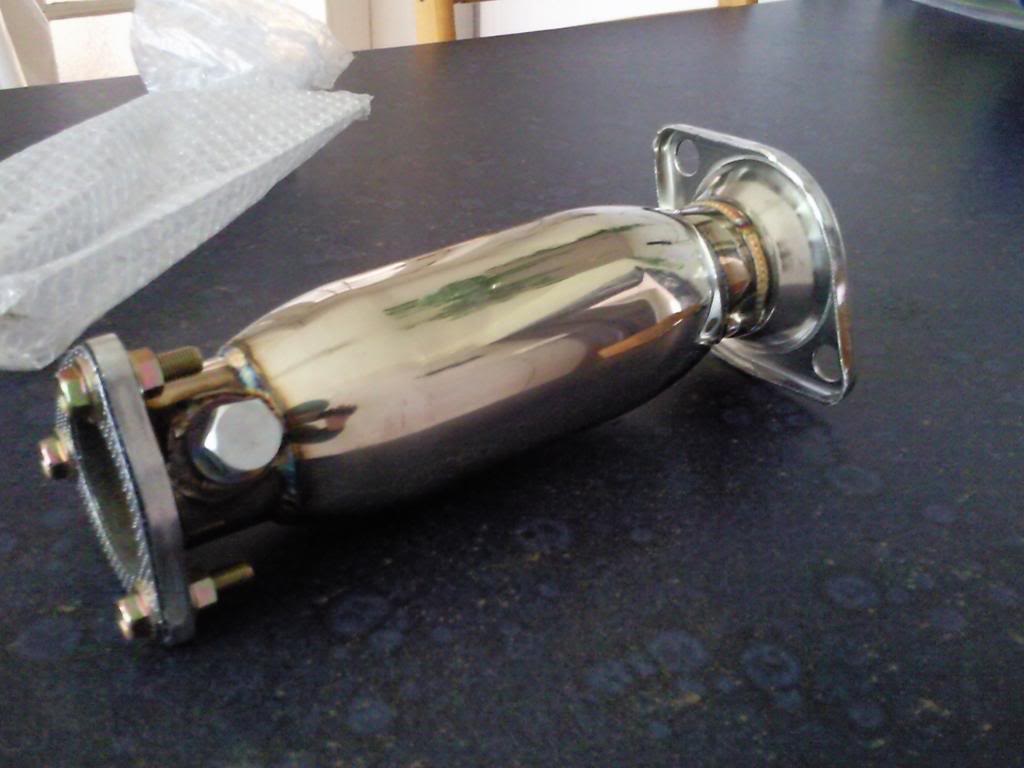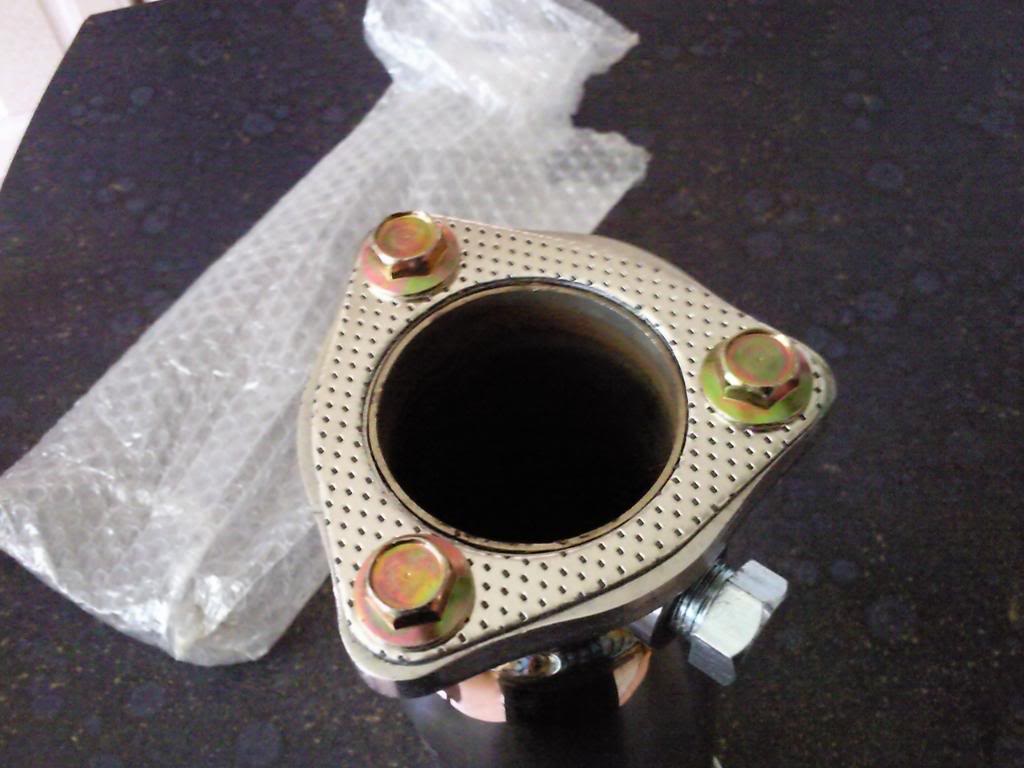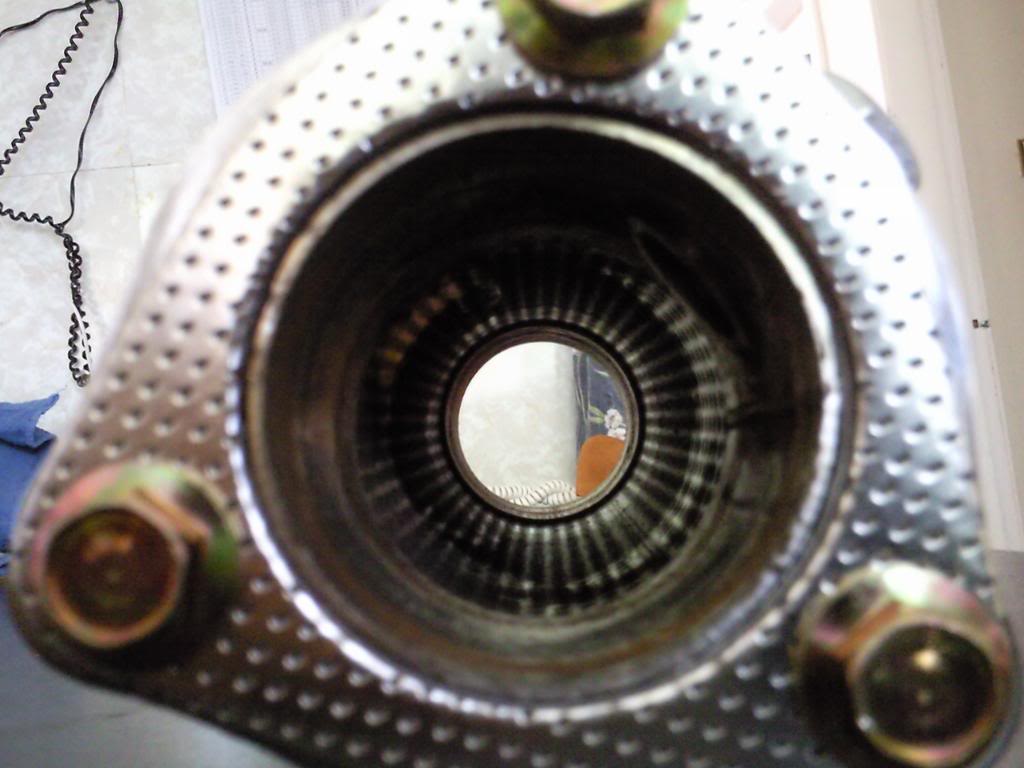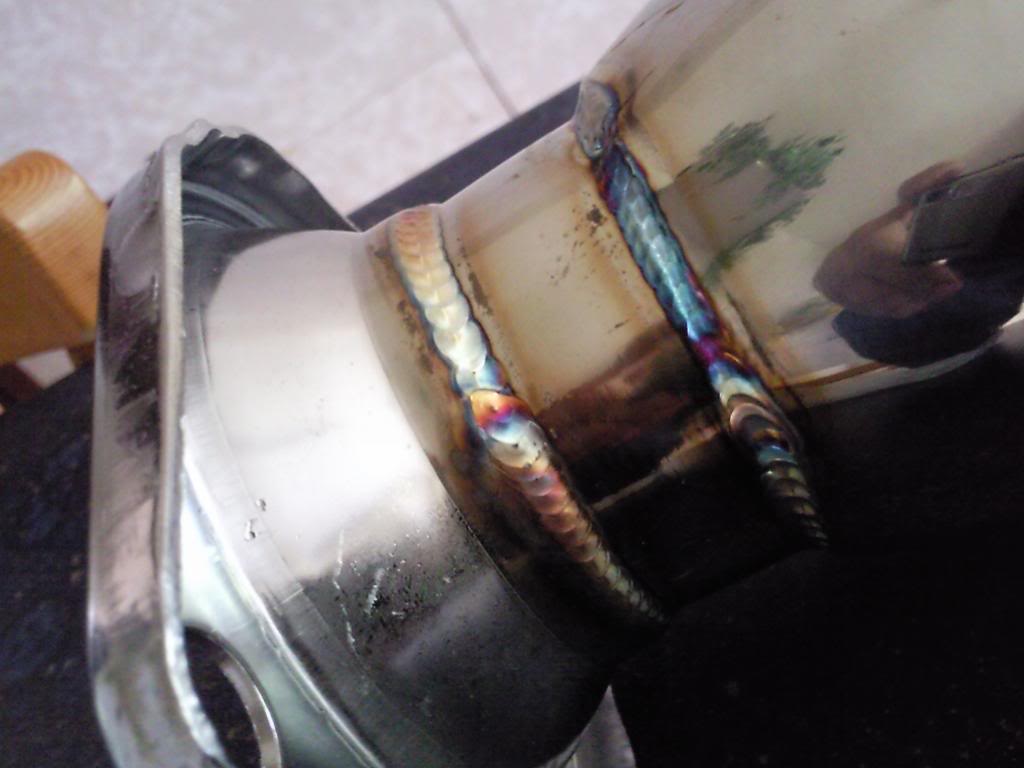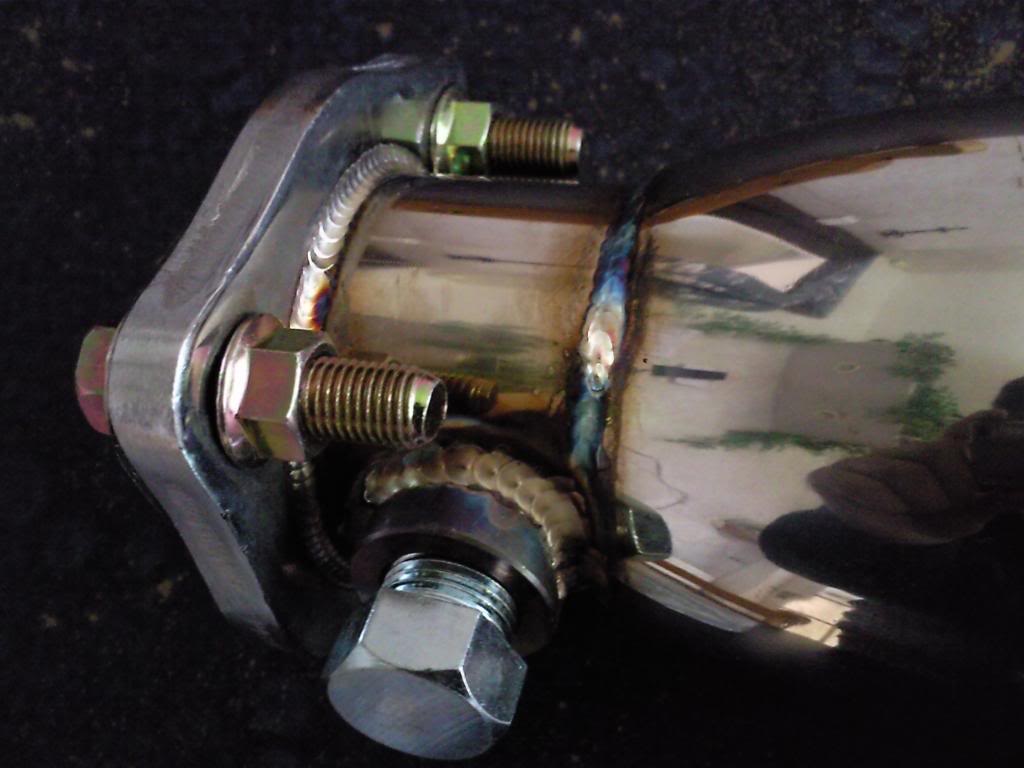 look what the postman brought for me this morning
. At first i wasnt sure what it was because of the size of the box and the fact that it didnt wegh much at all. turned out to be my new induction kit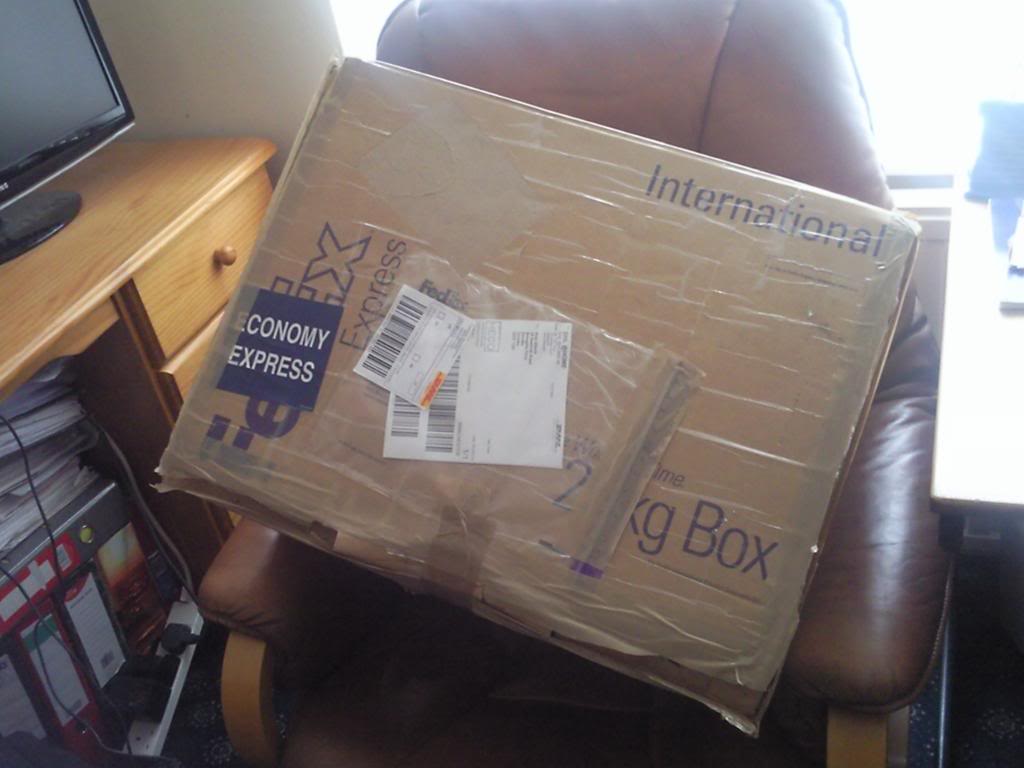 This thing is bloody massive. Its made completely from carbon fibre so is very light and strong. Really is a work of art for an induction kit and craftsmanship is second to none aswell. Will reserve my judgement of how it works when i try it out but the desighn looks spot on tbh.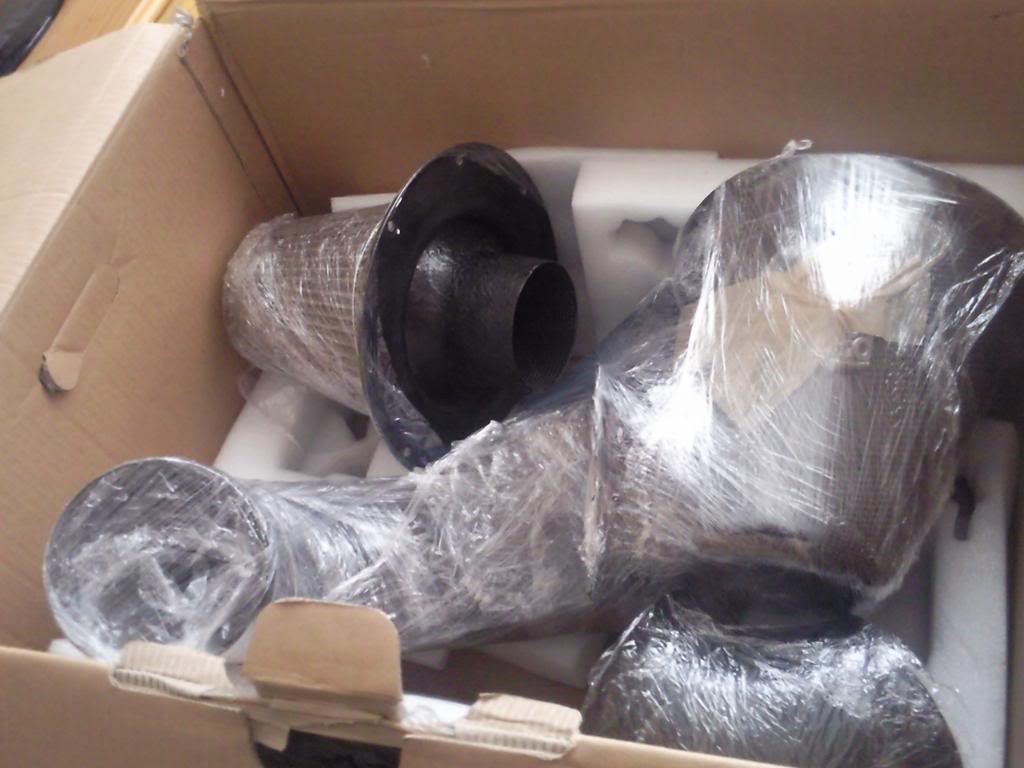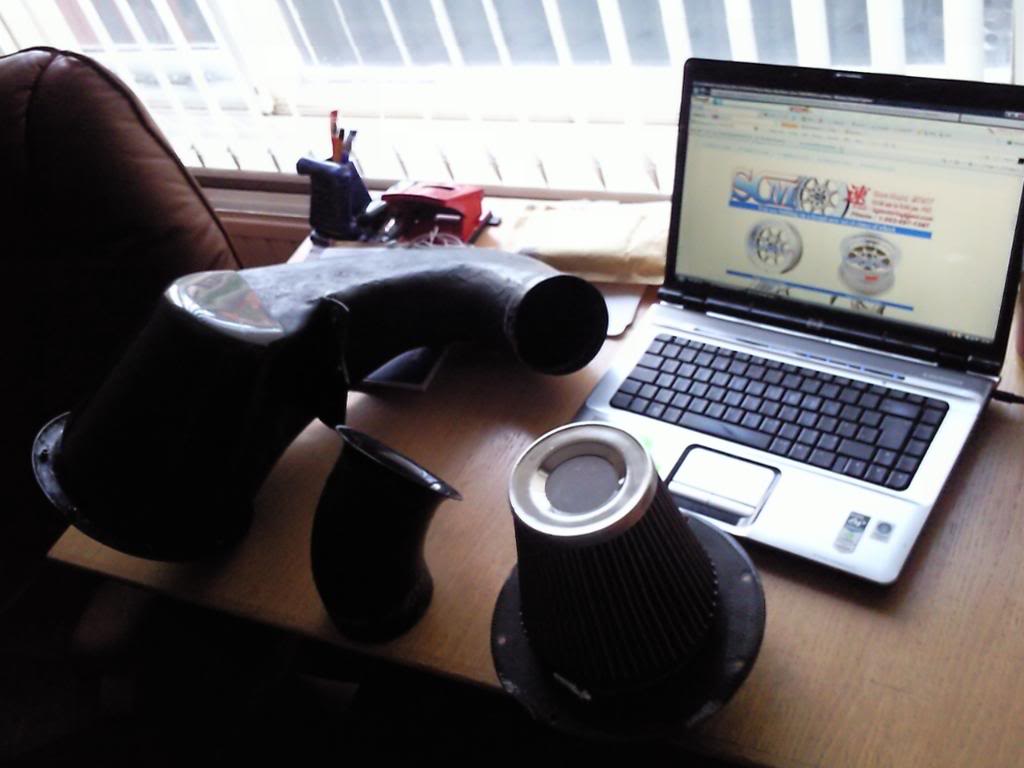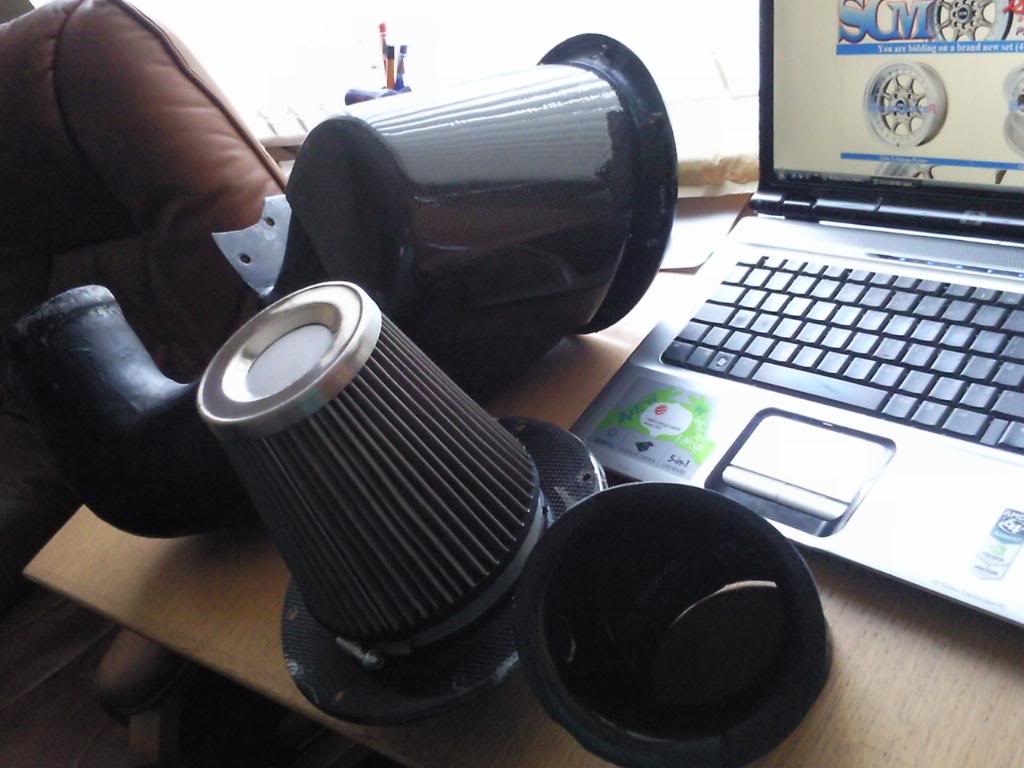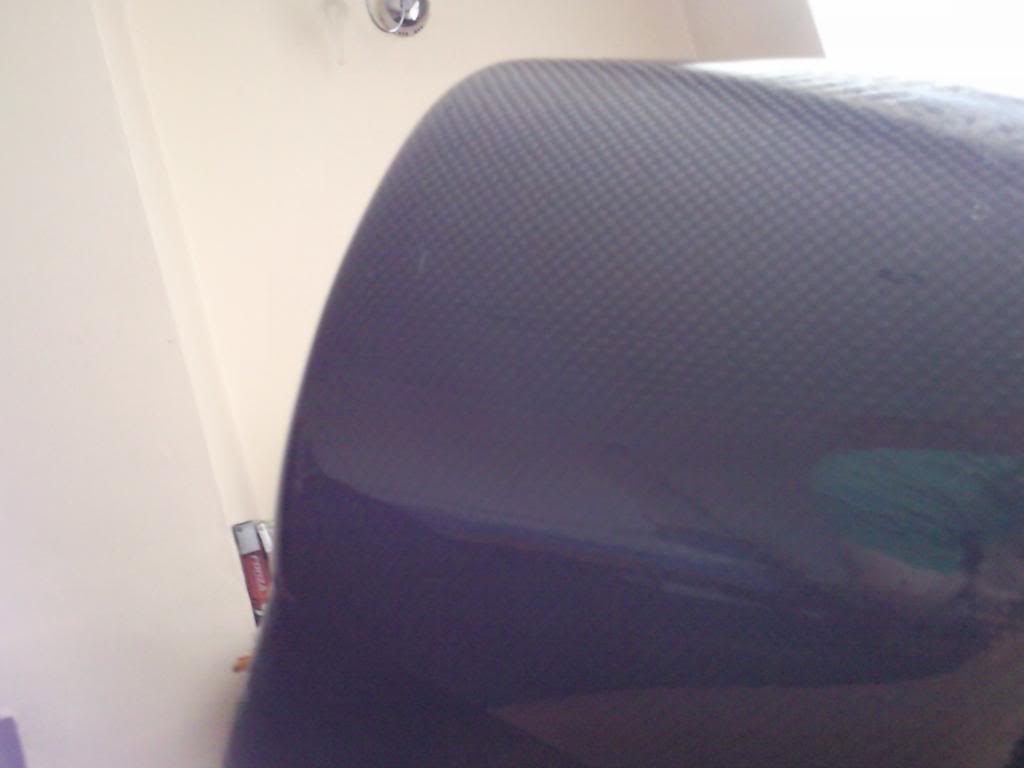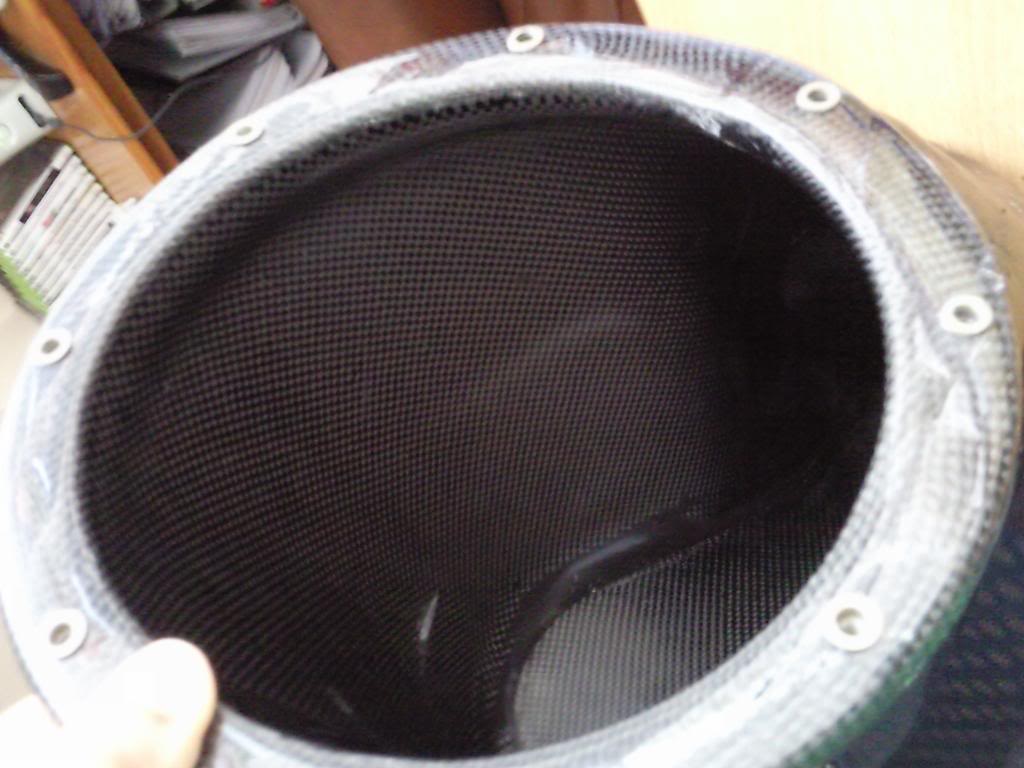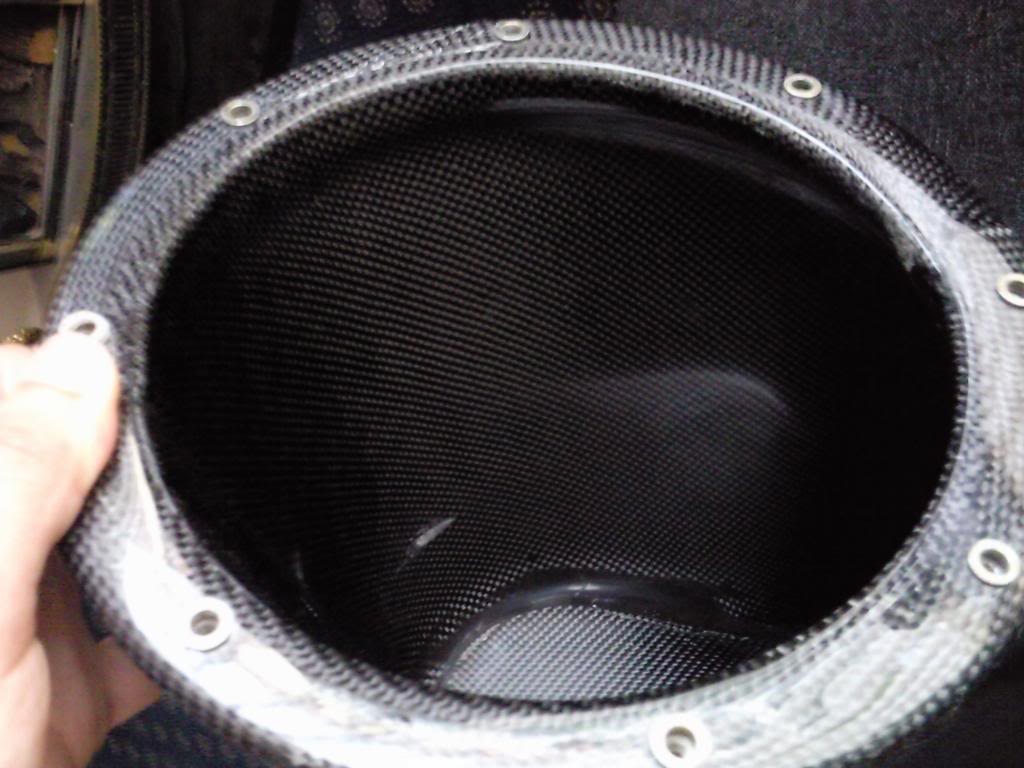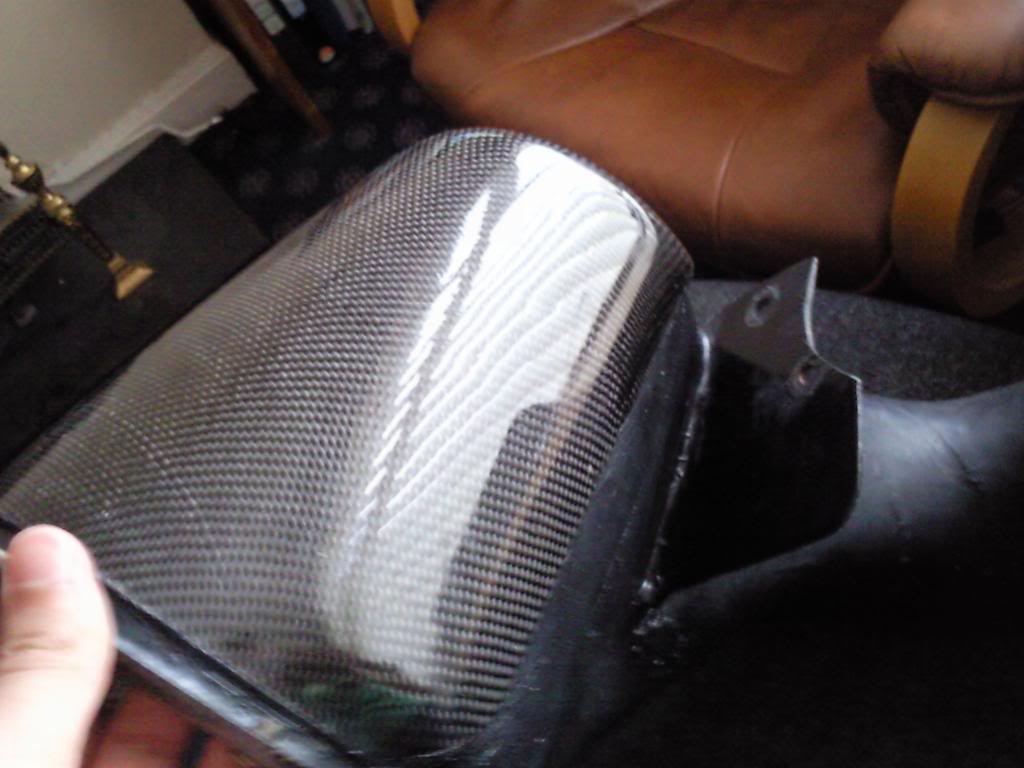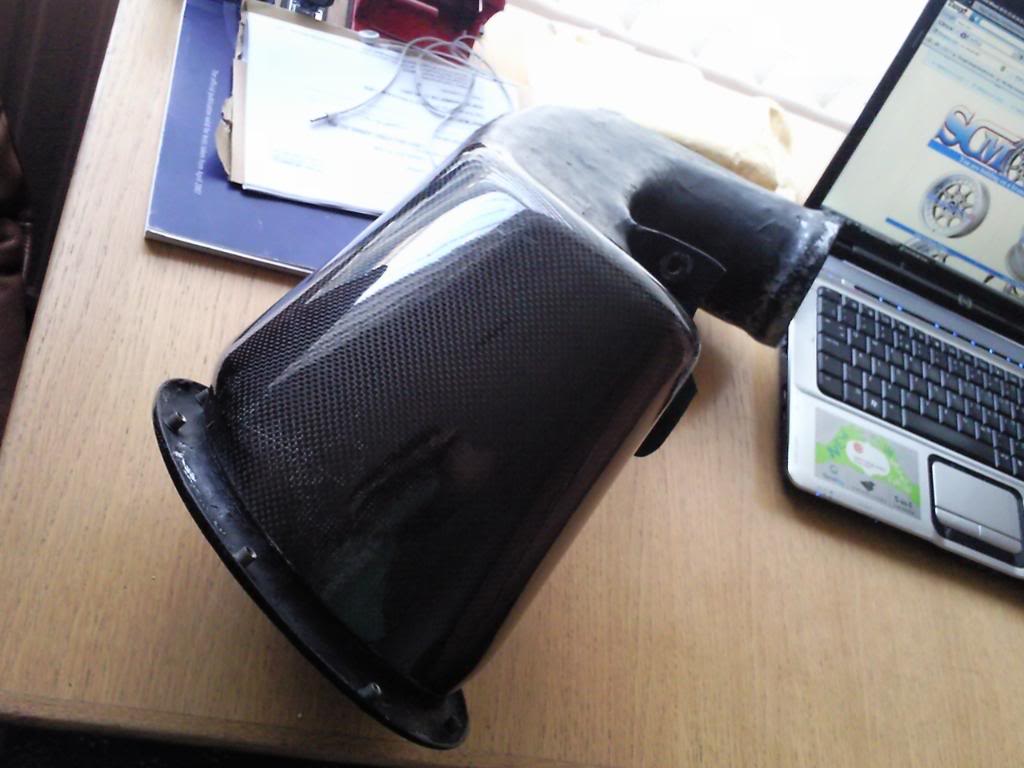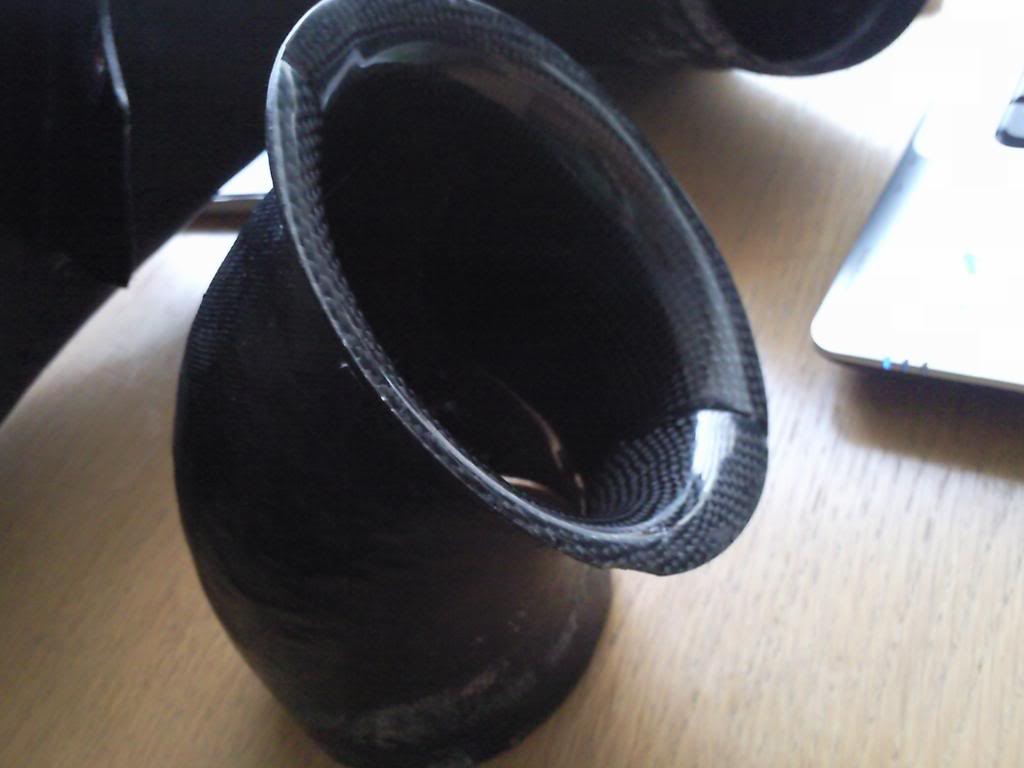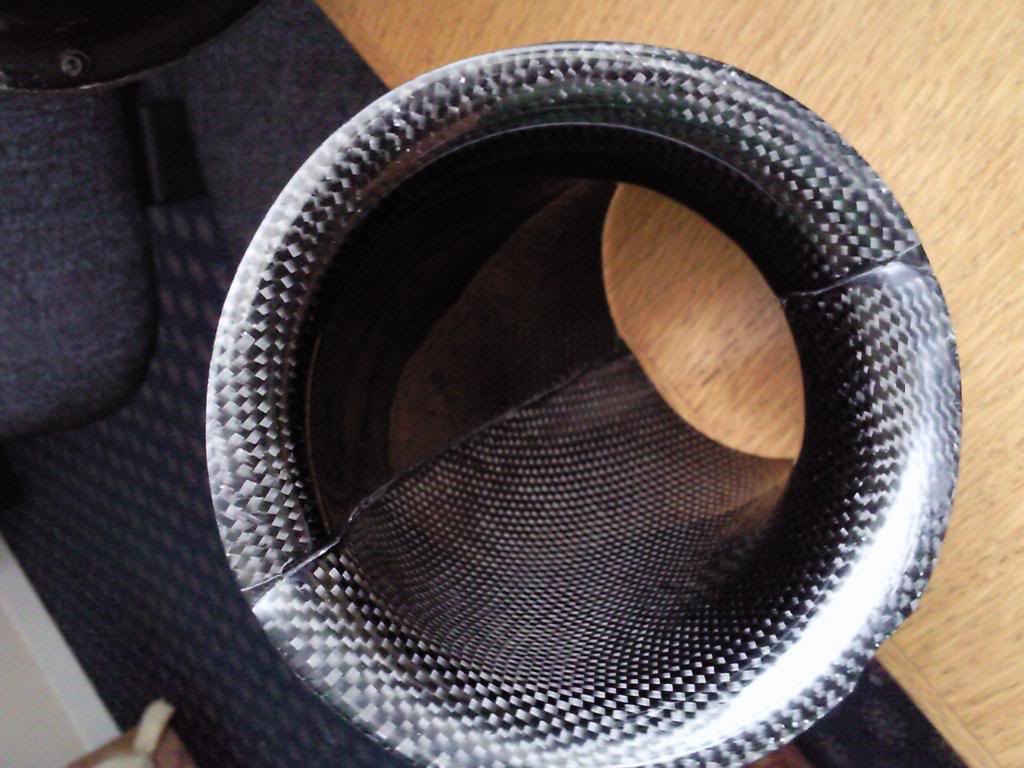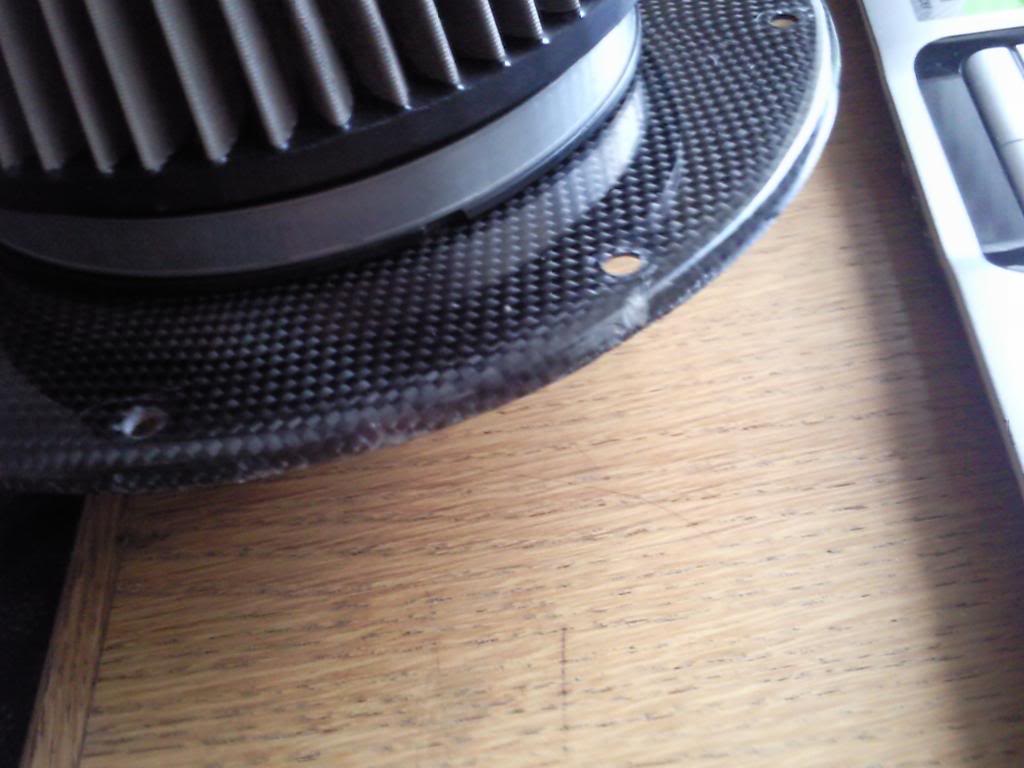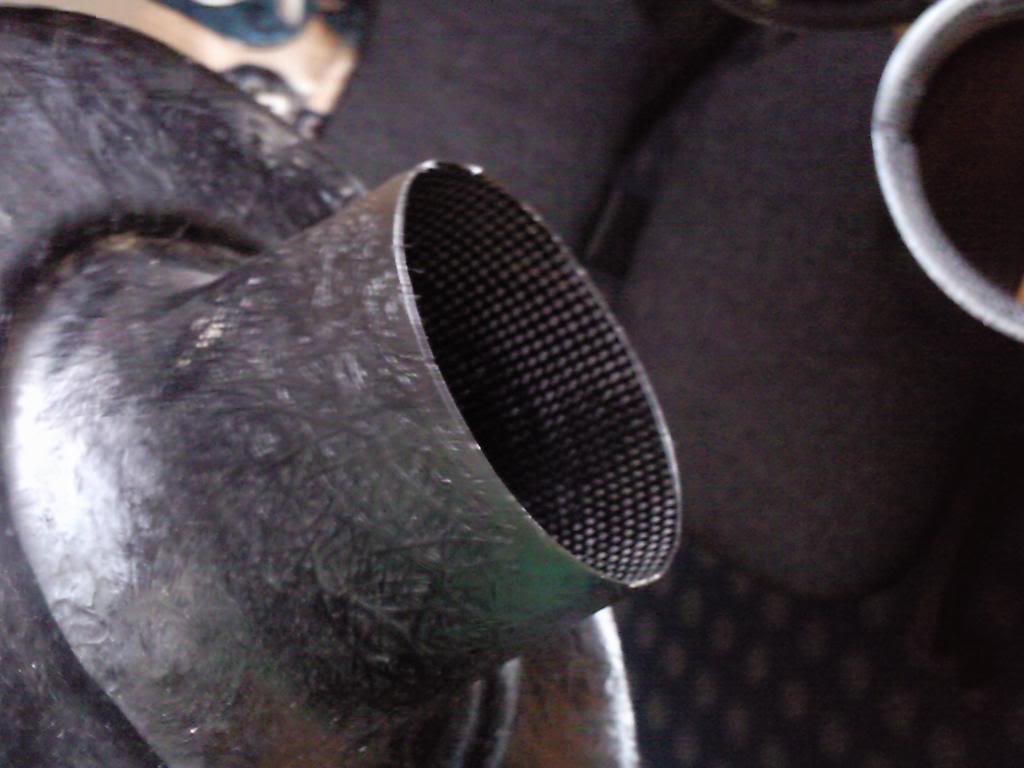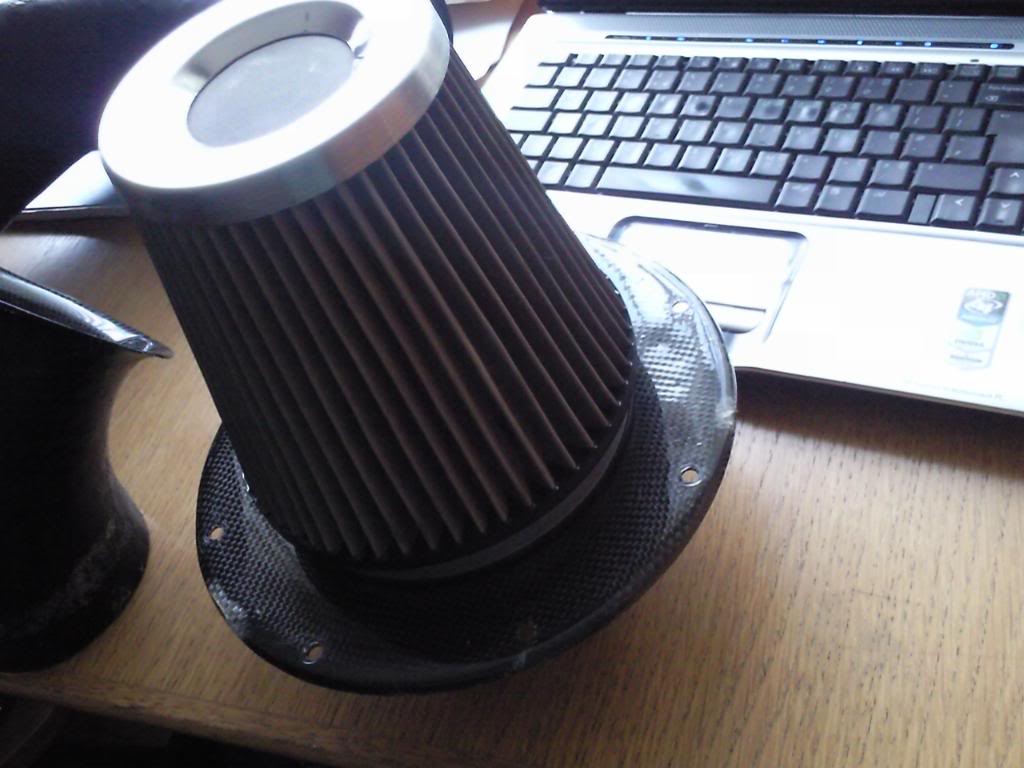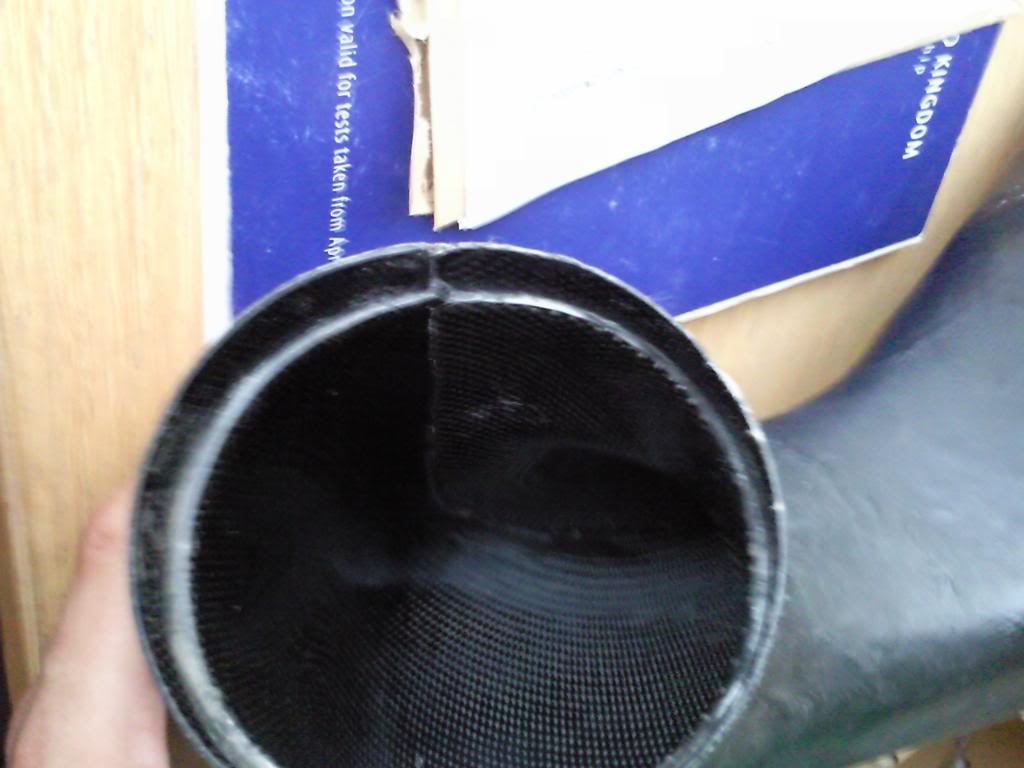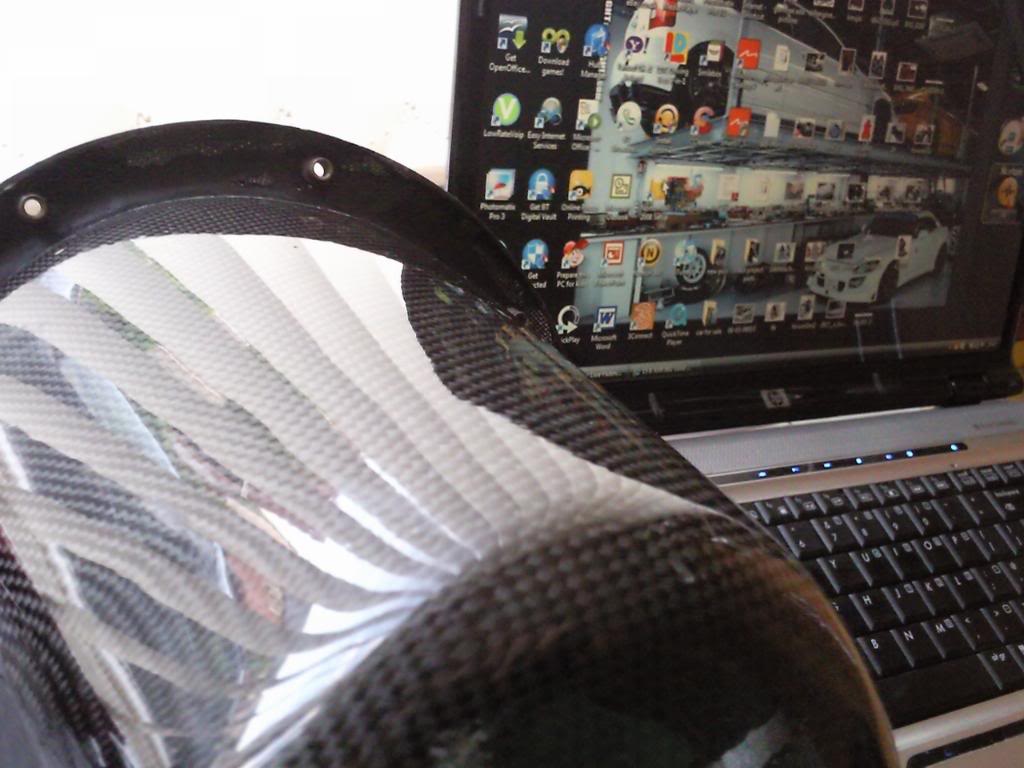 I decided to polish up my koyo radiator before i fit it this week to freshen it up.
I picked up the polishing kit from halfords for £20, which has worked a treat so far.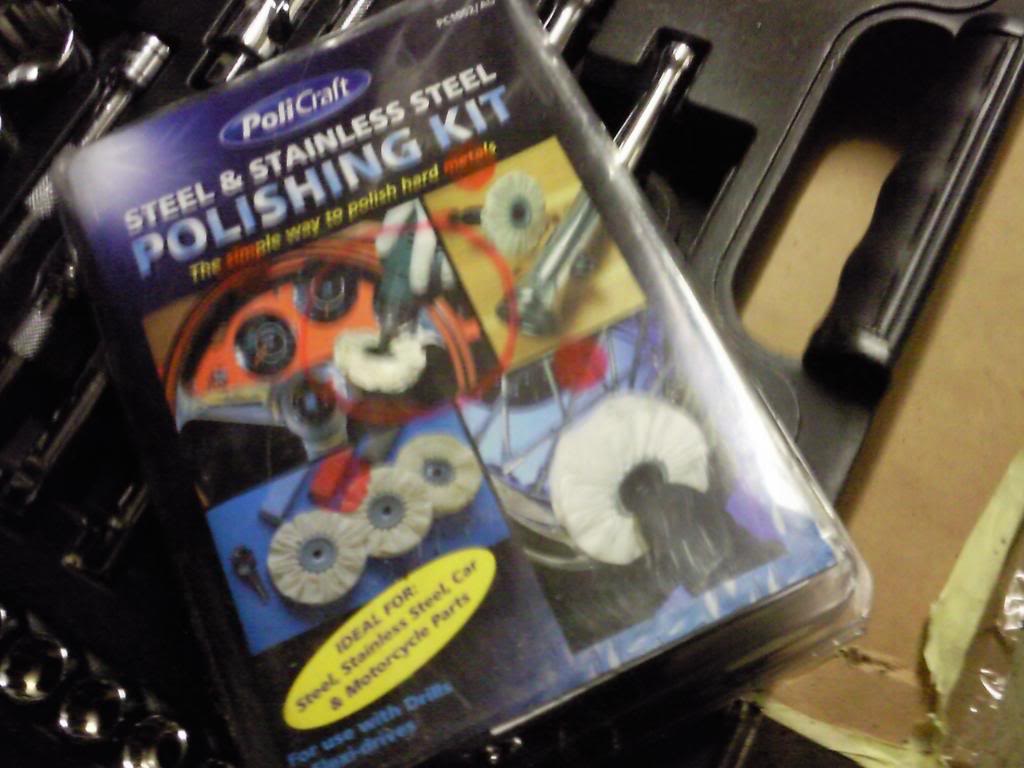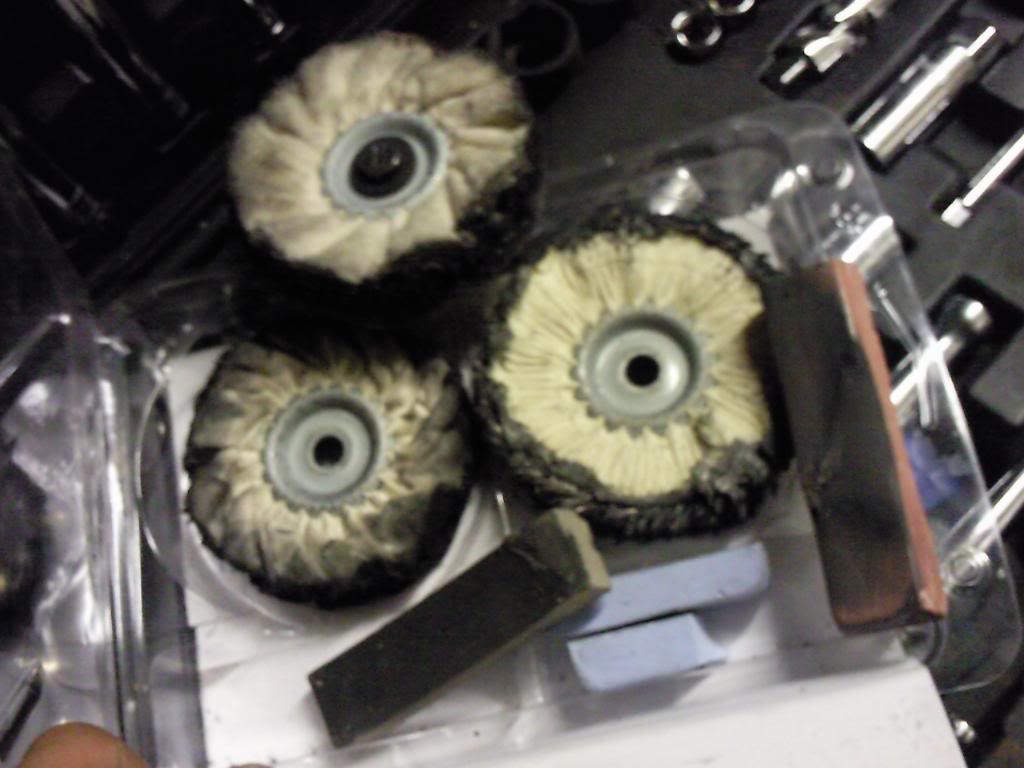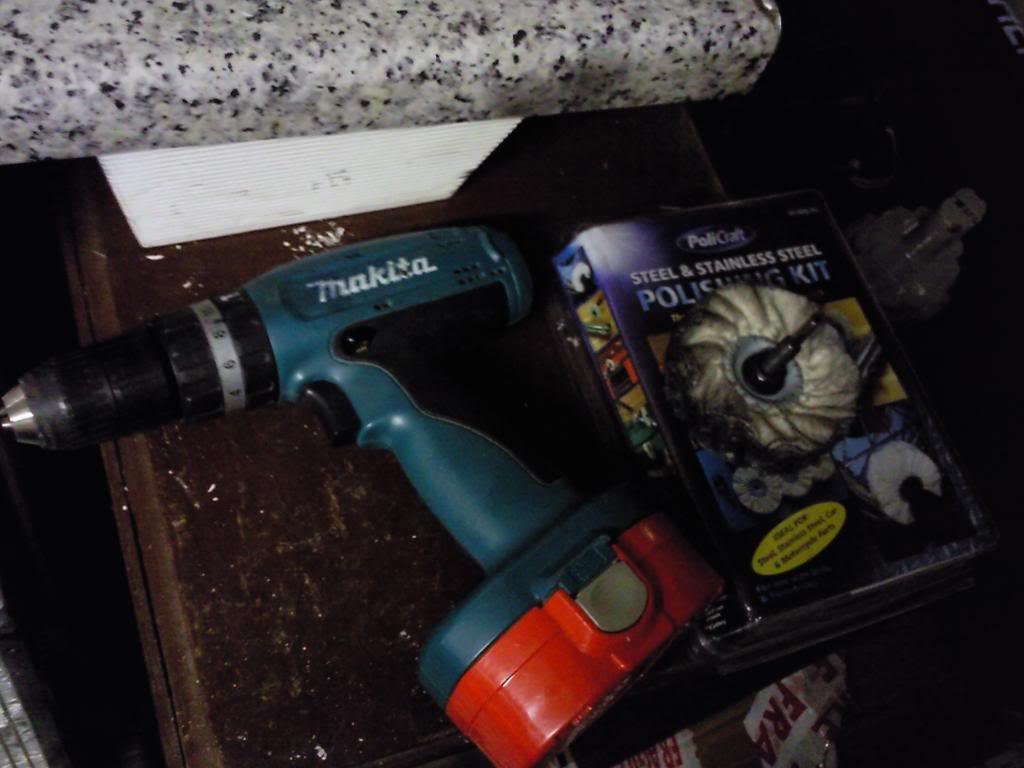 Here is a 50/50 shot where i started polshing the bottom right hand side. This was at stage 2 of 3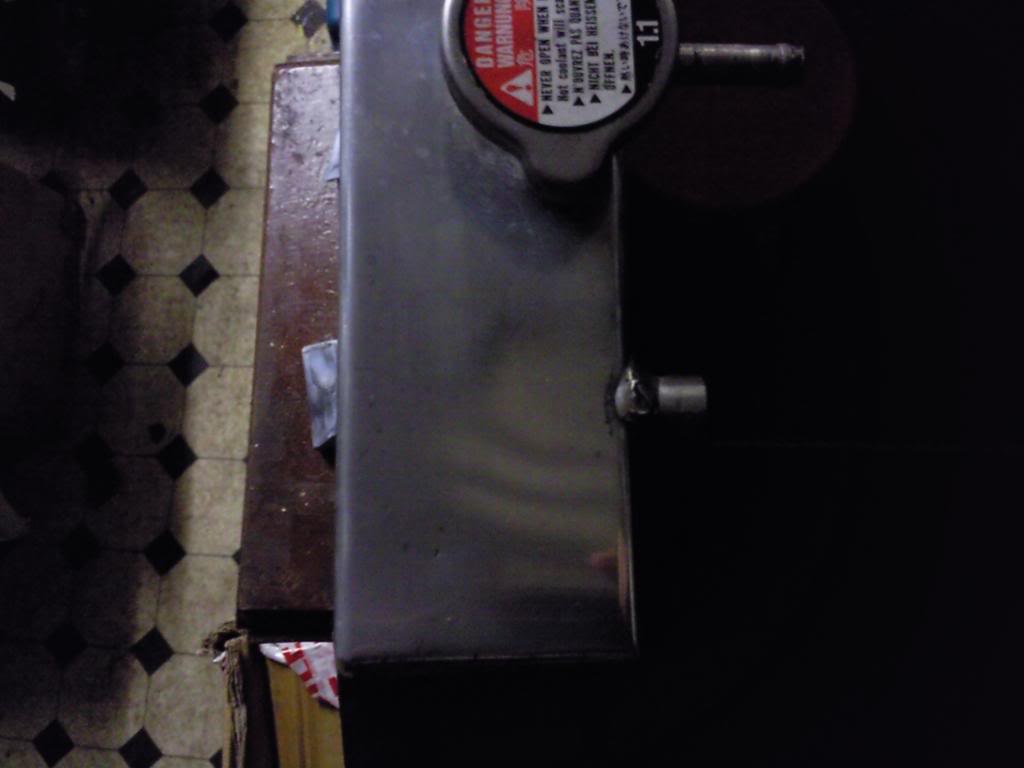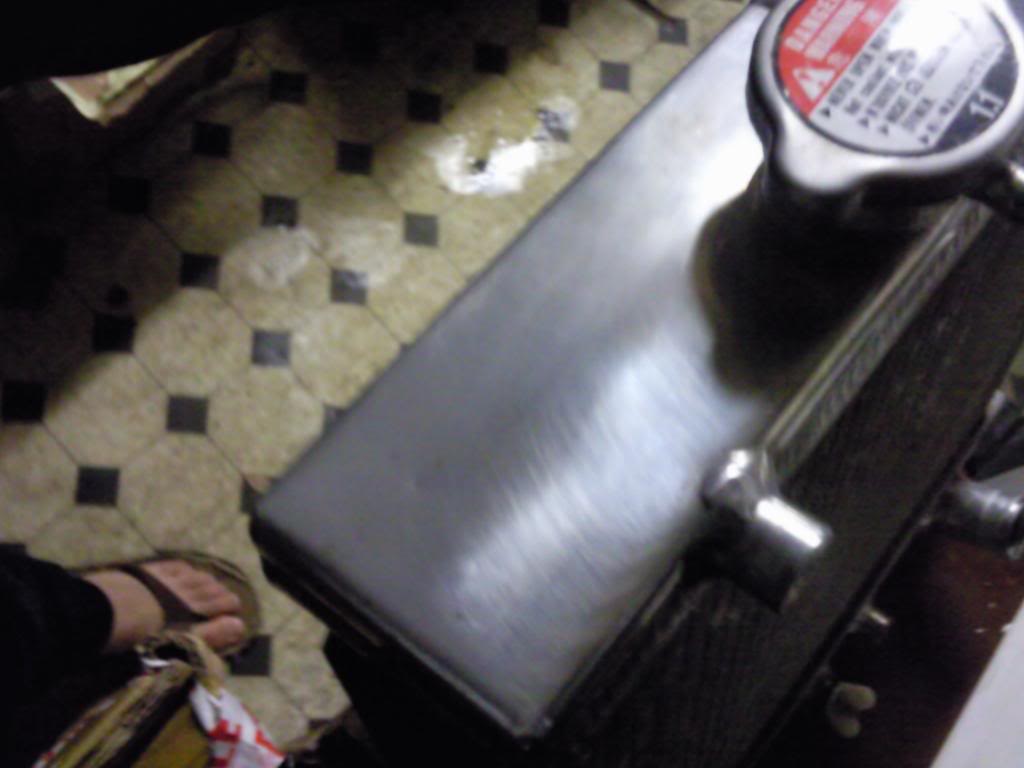 Then after stage 3 of 3 it started looking much better. pictures dont do it justice as it looks like a mirror in the flesh.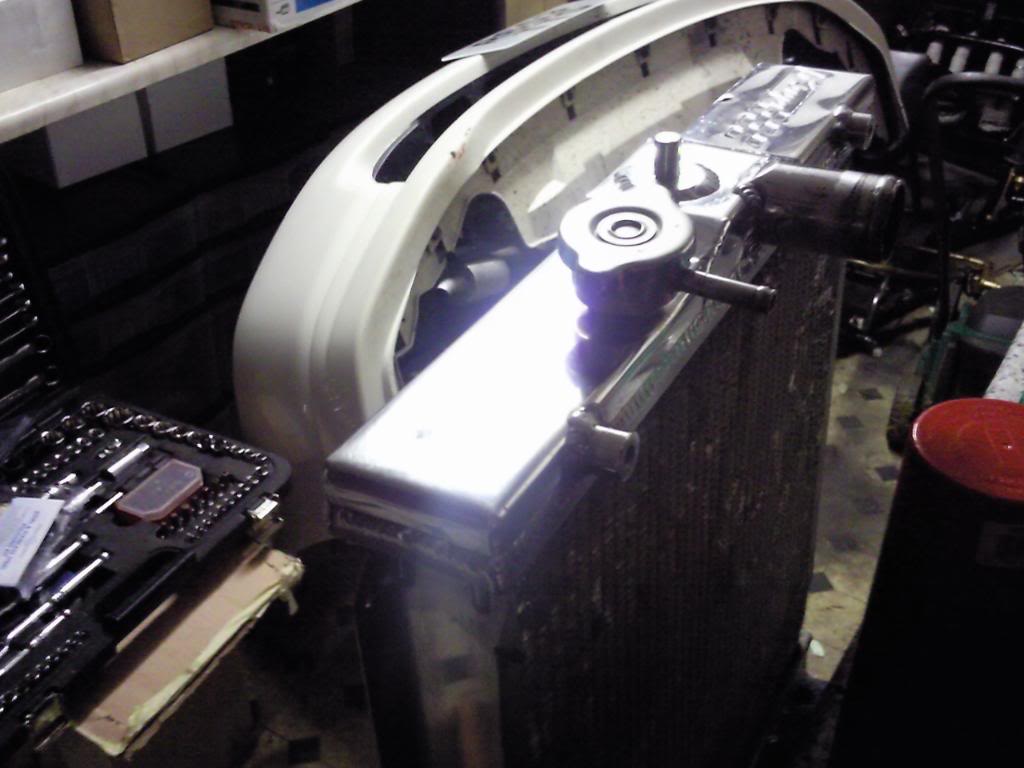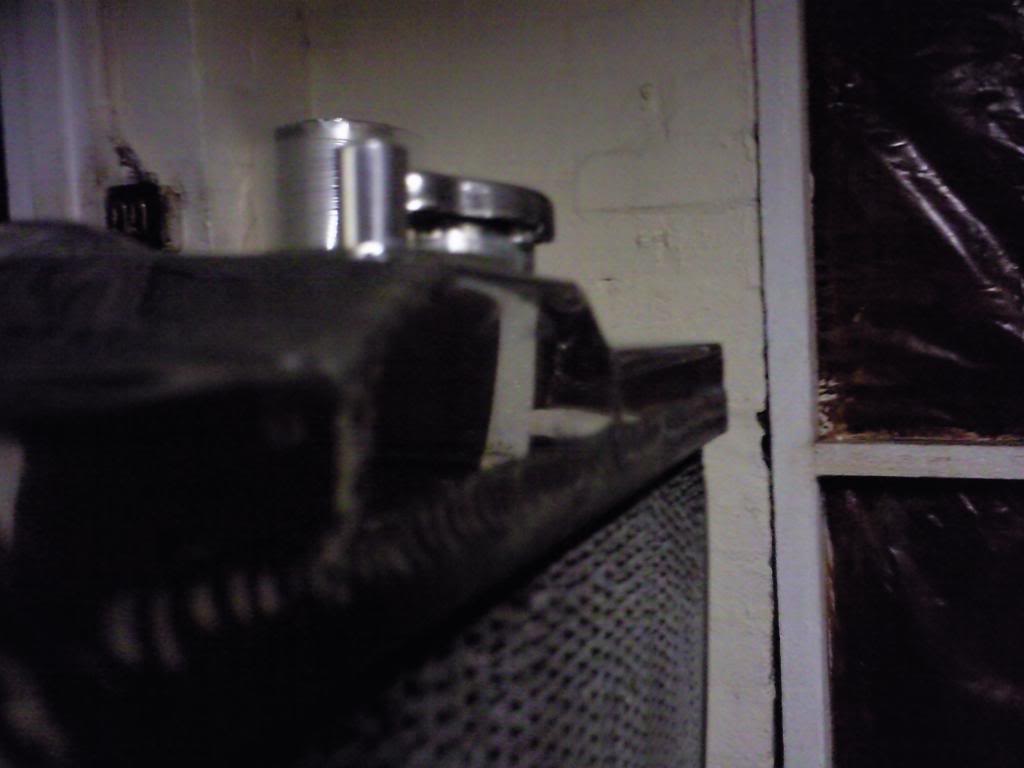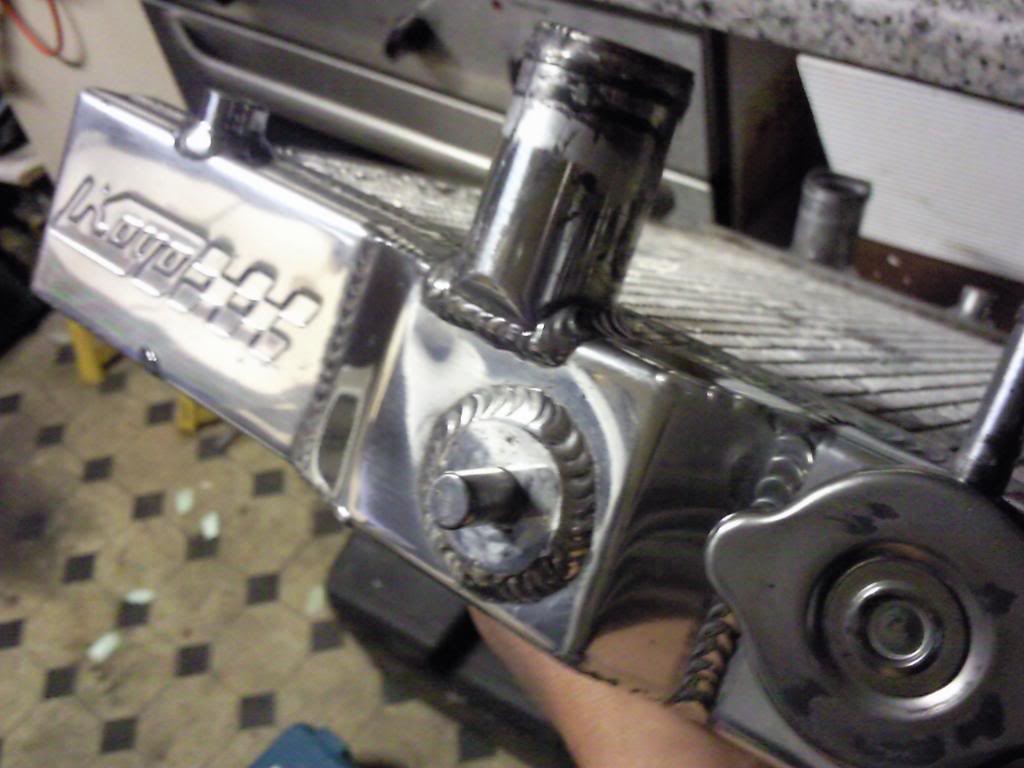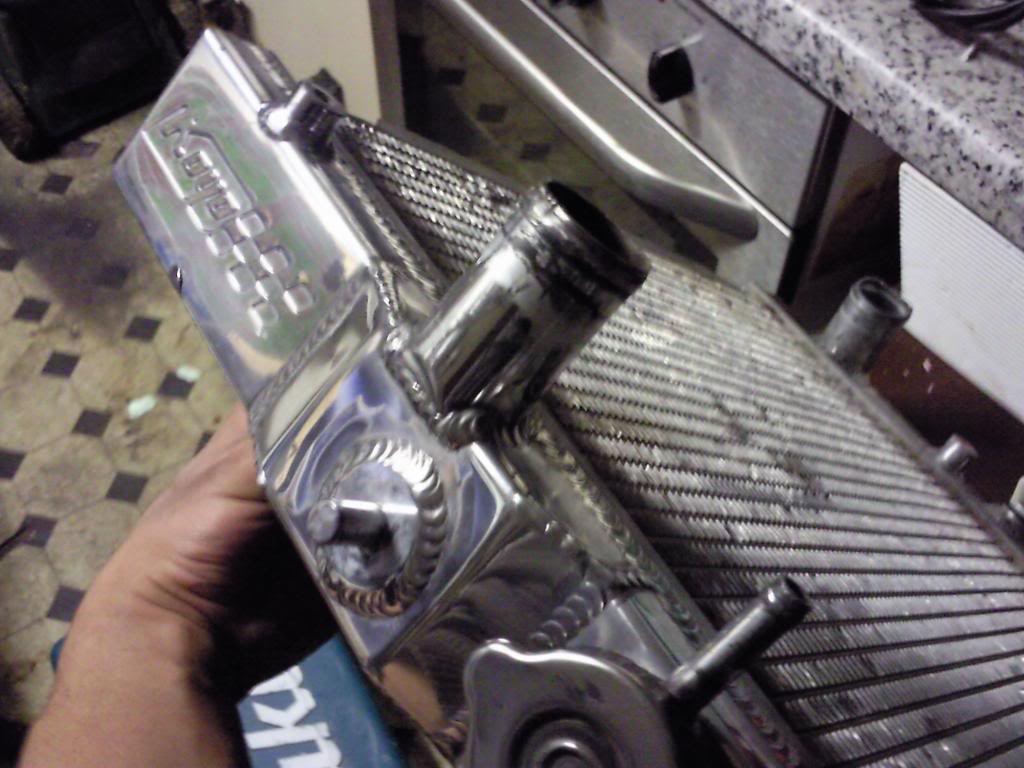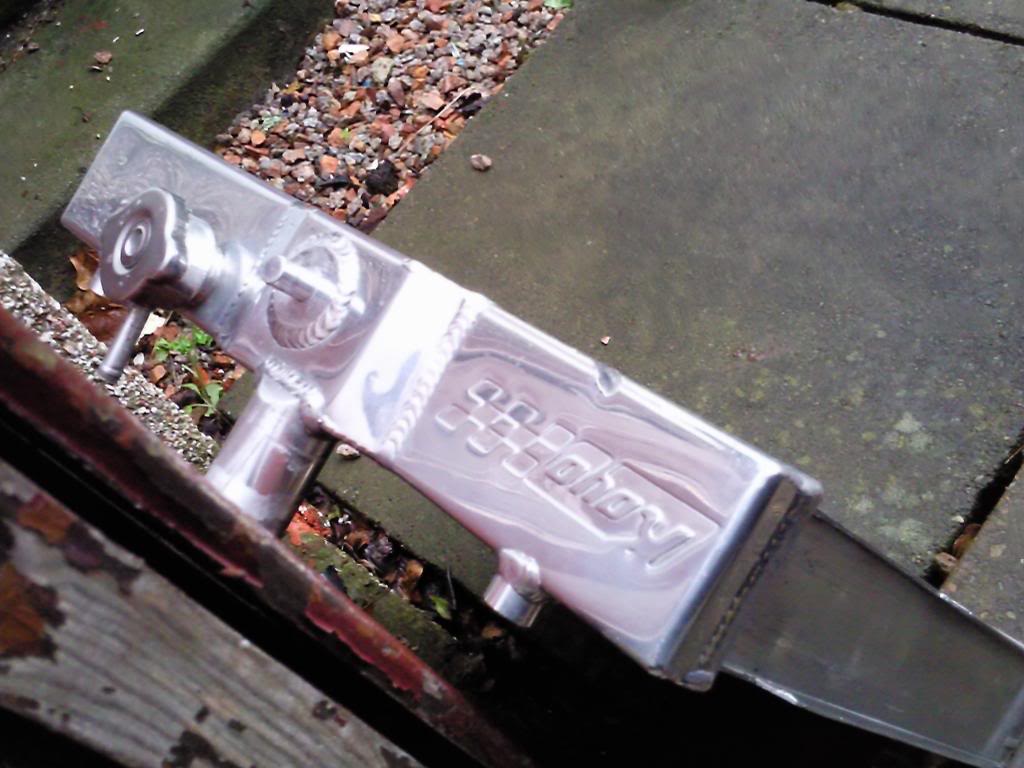 Got some Vht red wrinckle paint and nitro mors paint stripper ready to do the rocker cover this week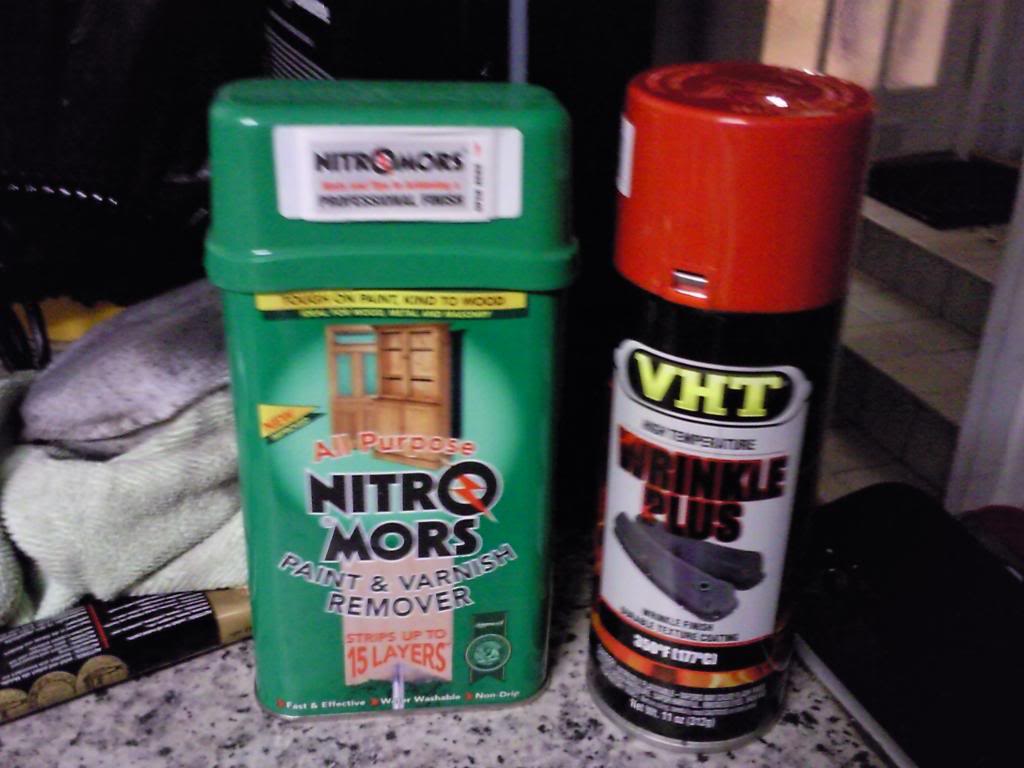 New polished rocker cover nuts to go on after the rocker cover is repainted.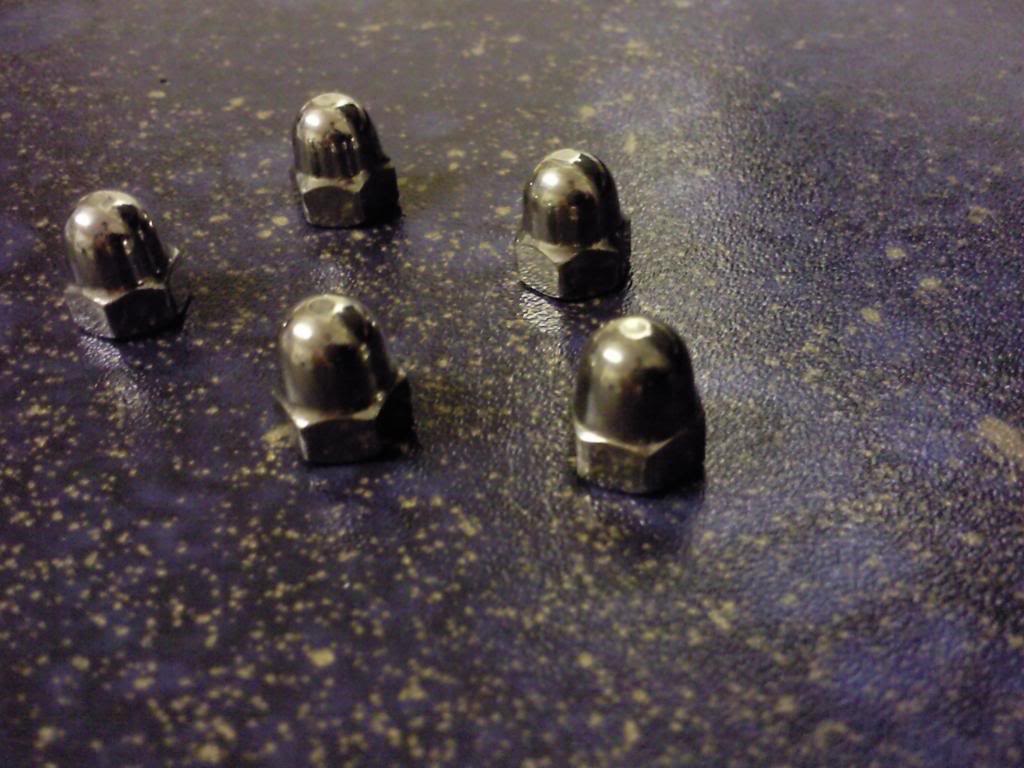 Old nuts were looking abit dull so they had to be replaced.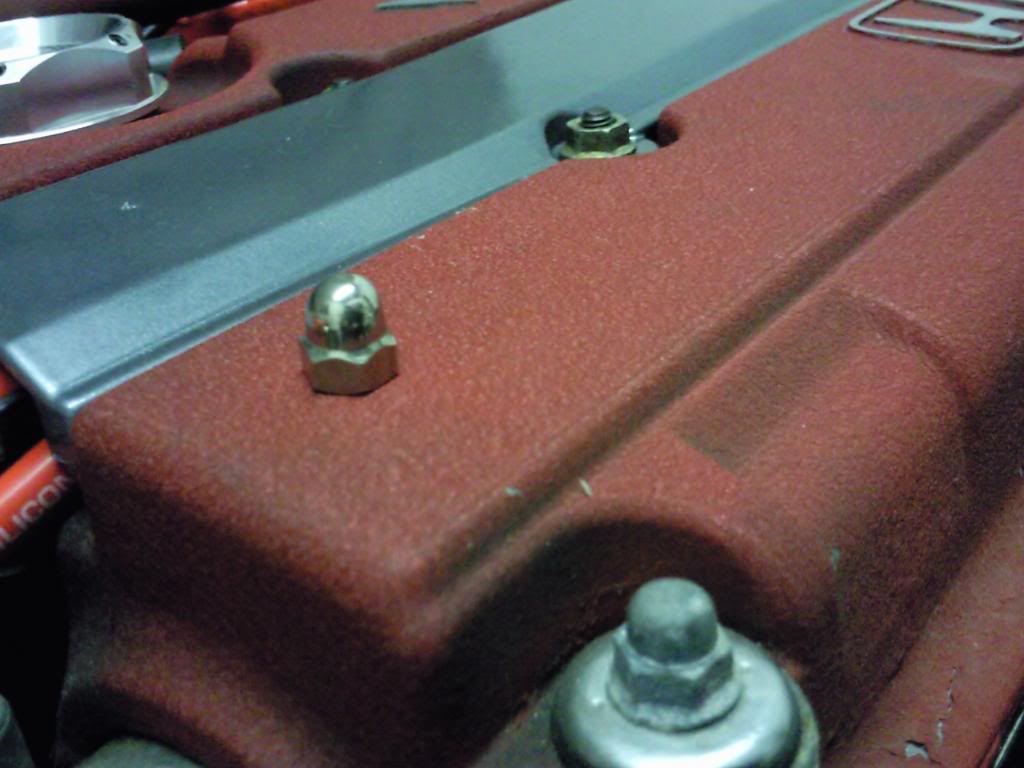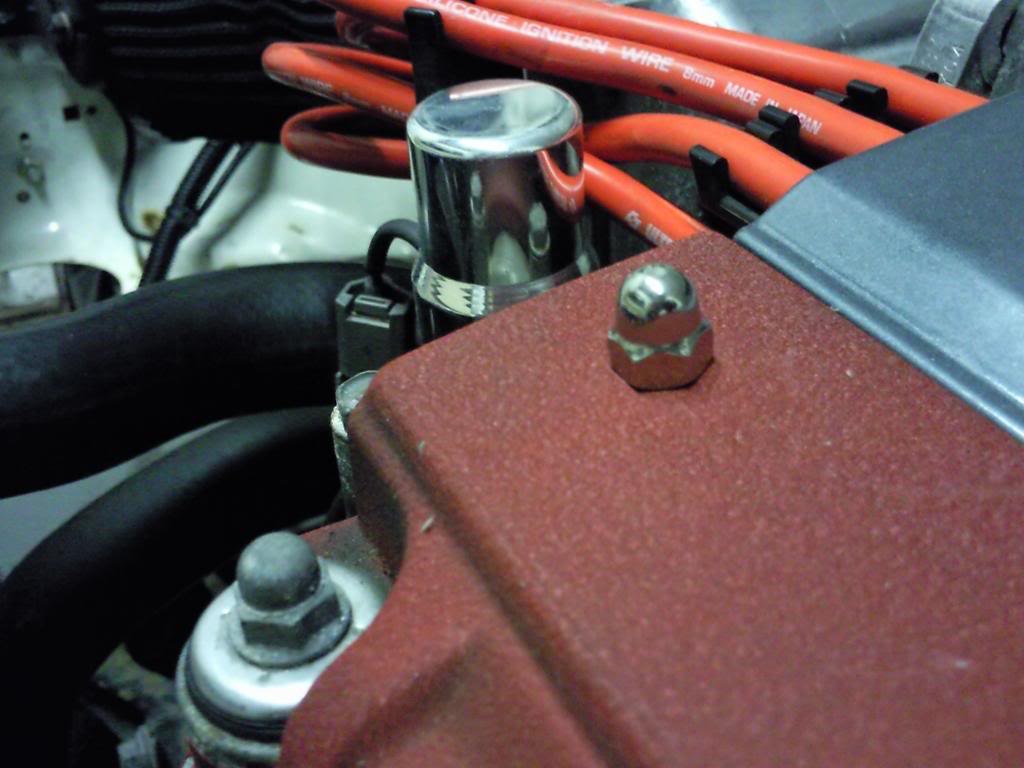 Black anodised washers and hex screws to replace the rusted screws holding the lips onto the bumpers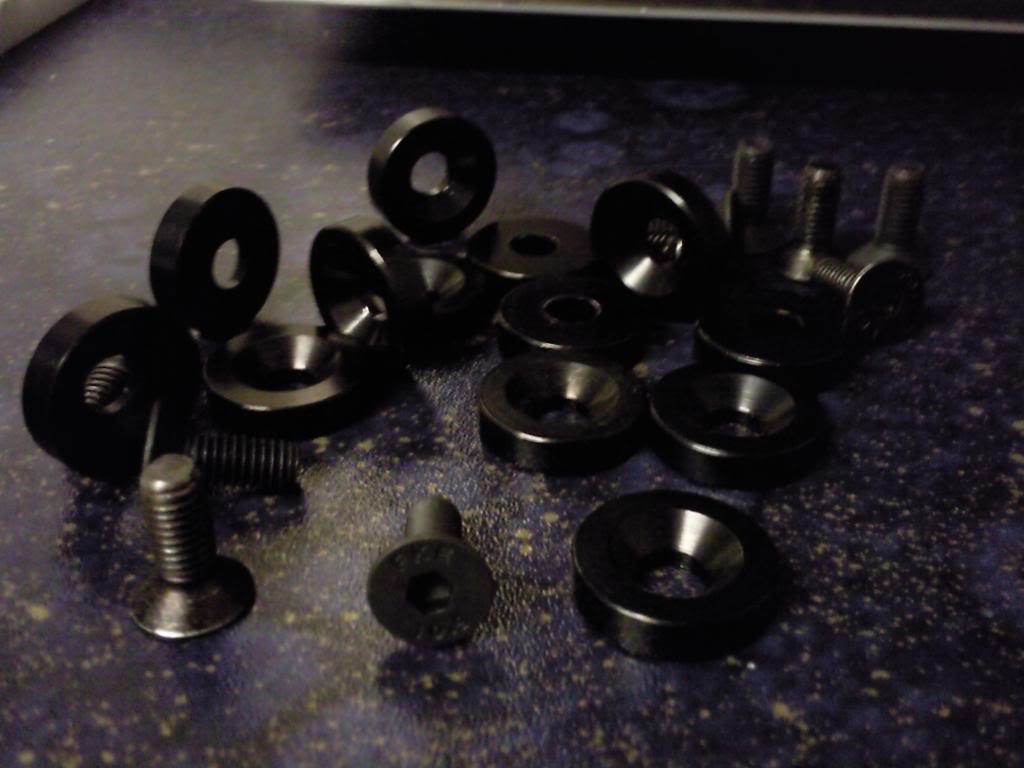 Messy wires in the boot were sorted with the use of some jdm cable ties lol.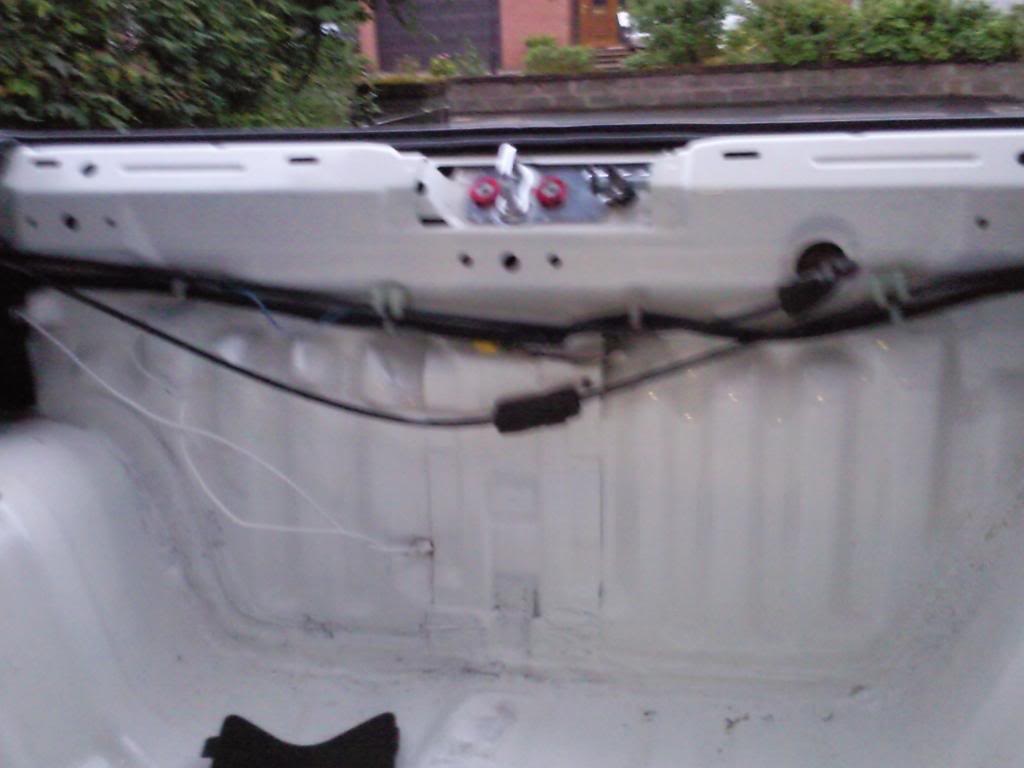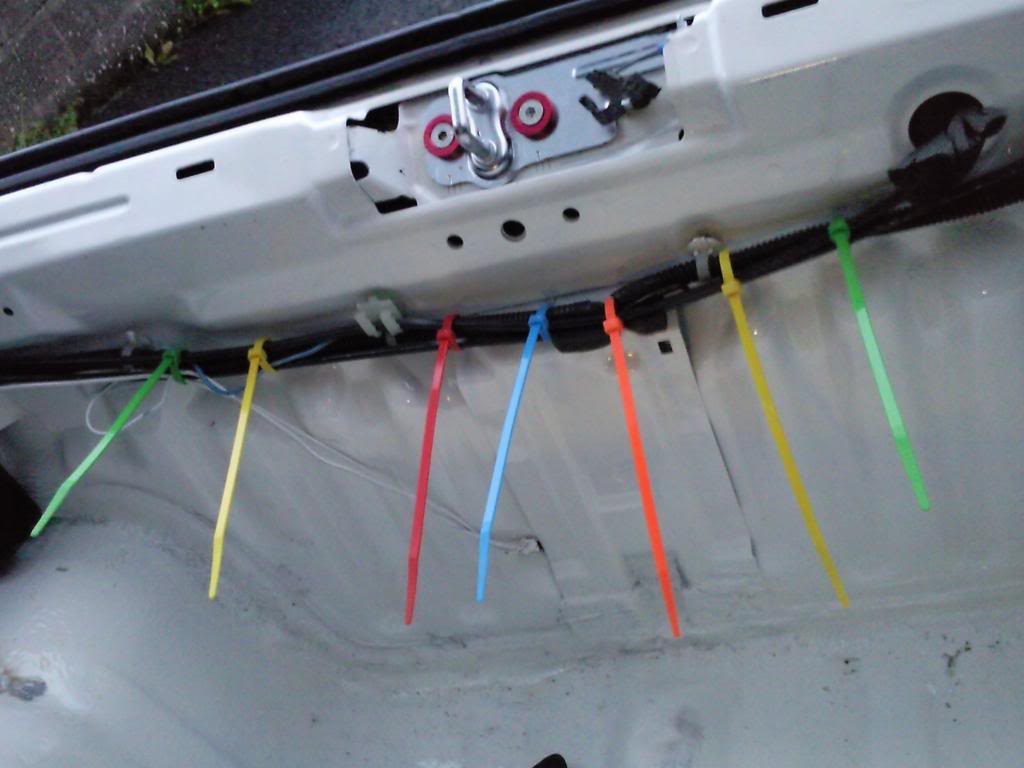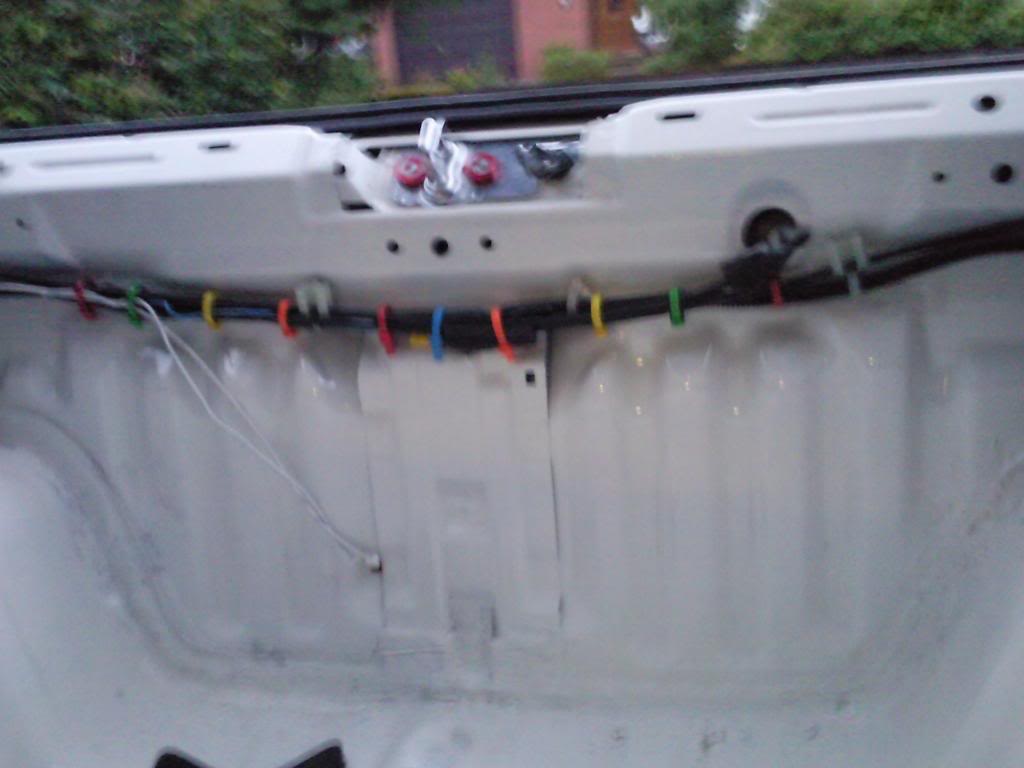 last night i also started stripping the car as im going to re-underseal it this week. When it was first imported the car was fully undersealed but im going to do the whole car again properly for peace of mind. Im not looking forward to it as its a very messy job but it has to be done i suppose
Front bumper off and in the garage.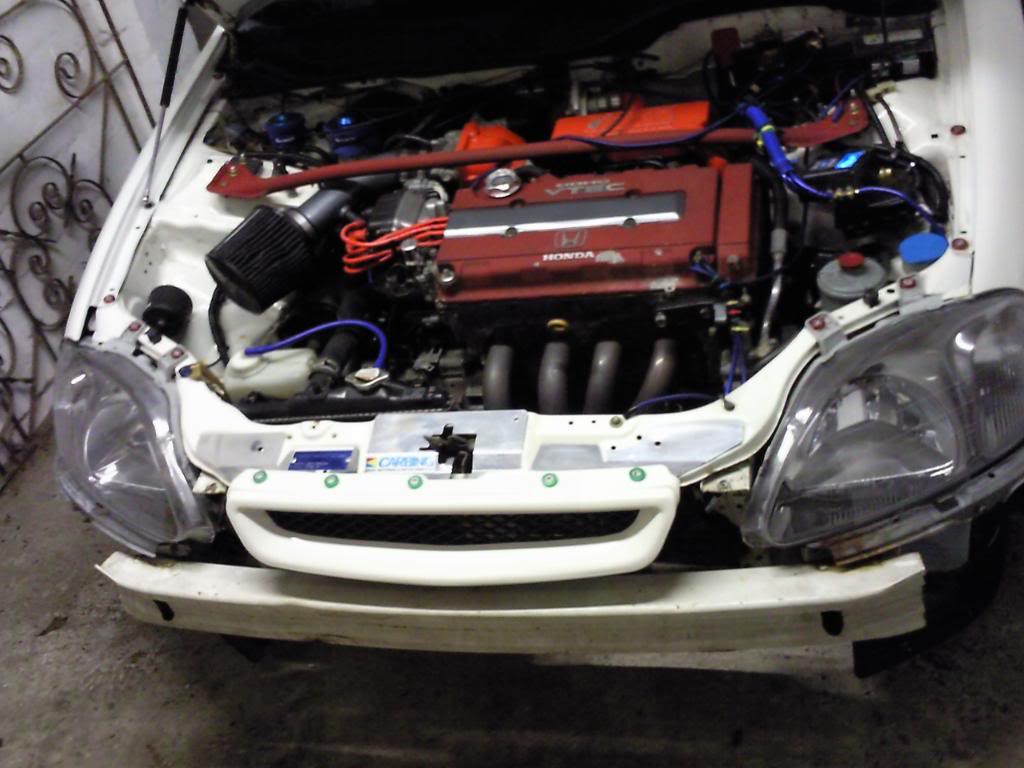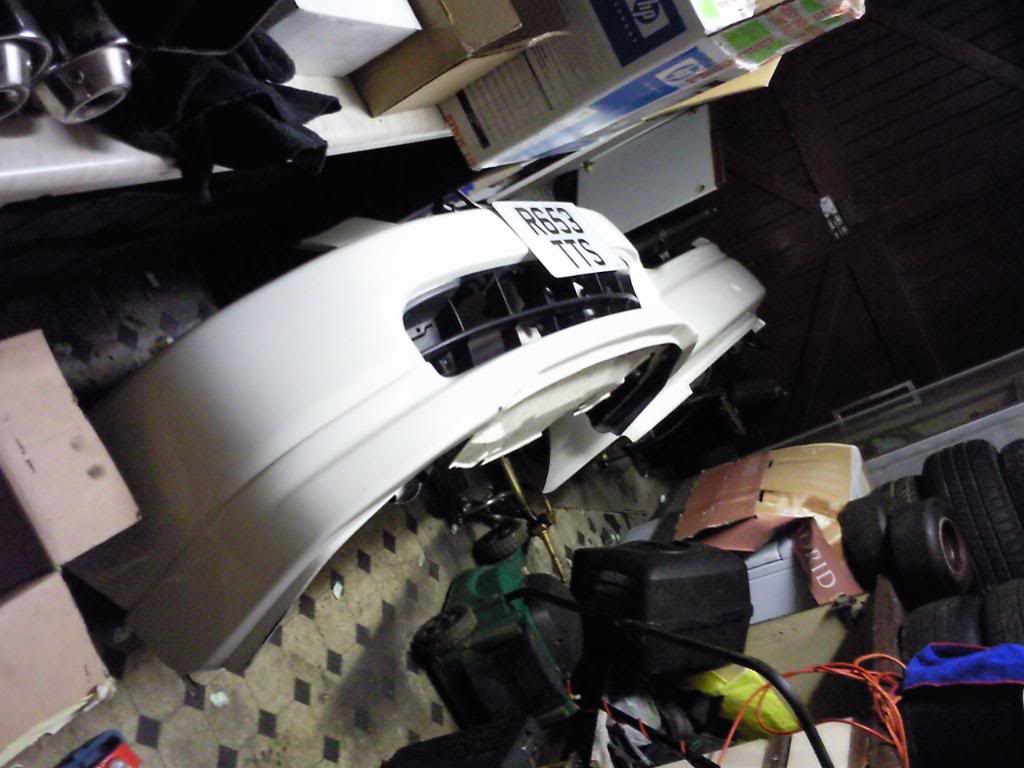 Screws for healights, grill and wings taken out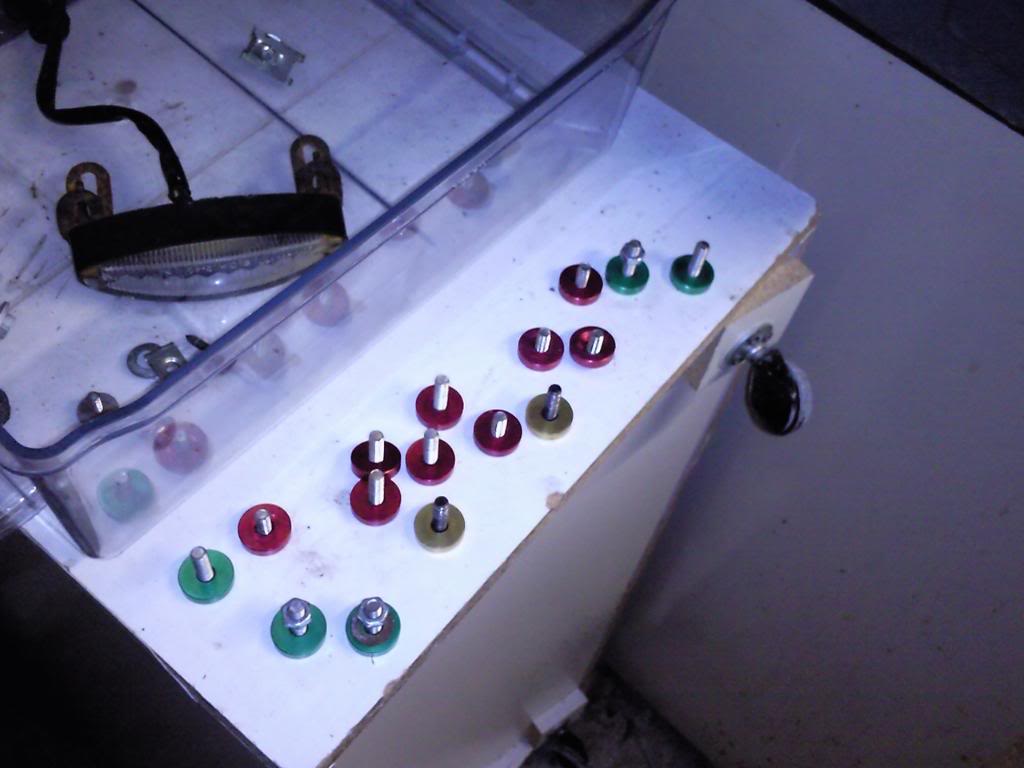 headlights off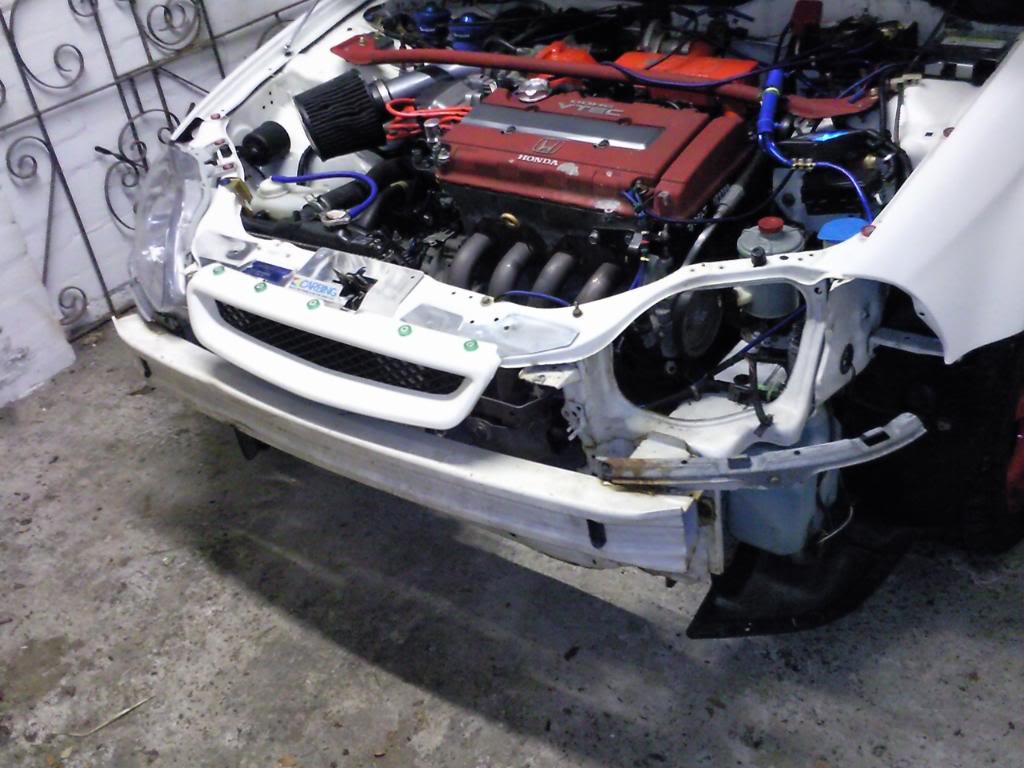 finally grill off and front end is stripped ready for undersealing
going to polish up the radiator cooling plate aswell while its off tonight to get it looking fresh again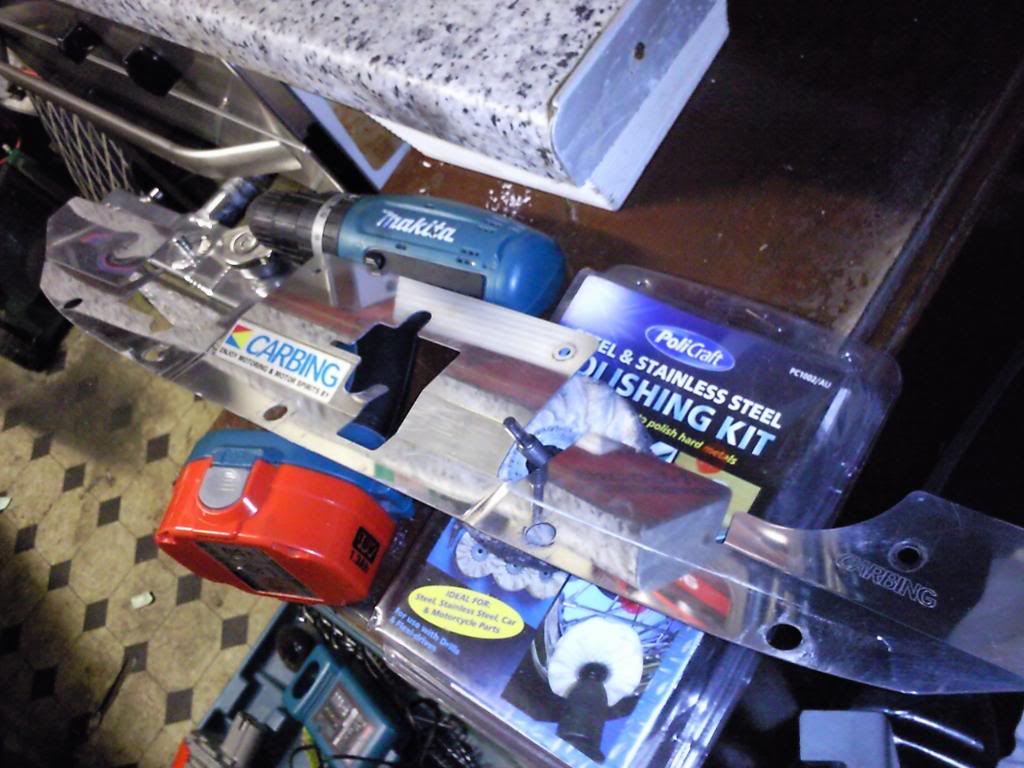 Then i moved onto the rear end. removed the bumper and rear fog light and bracket then the taillights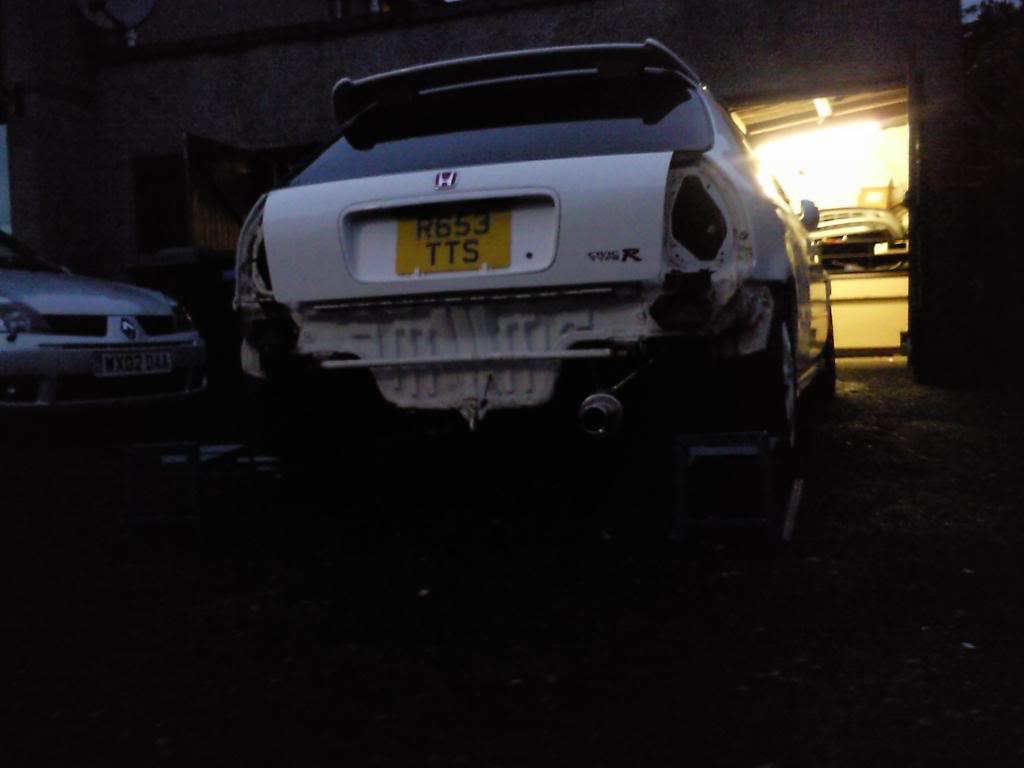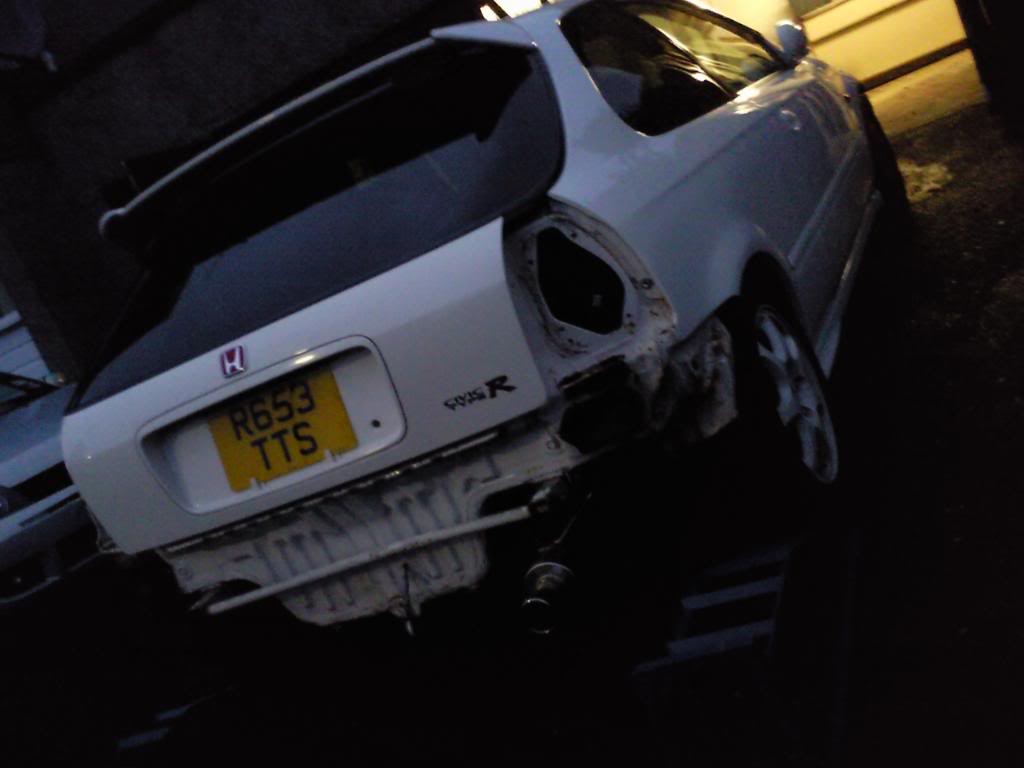 Got rid of the horrid rear fog light and its rusty bracket which wont be going back. im going to see if can wire my fogs into my tail lights similar to normal ek's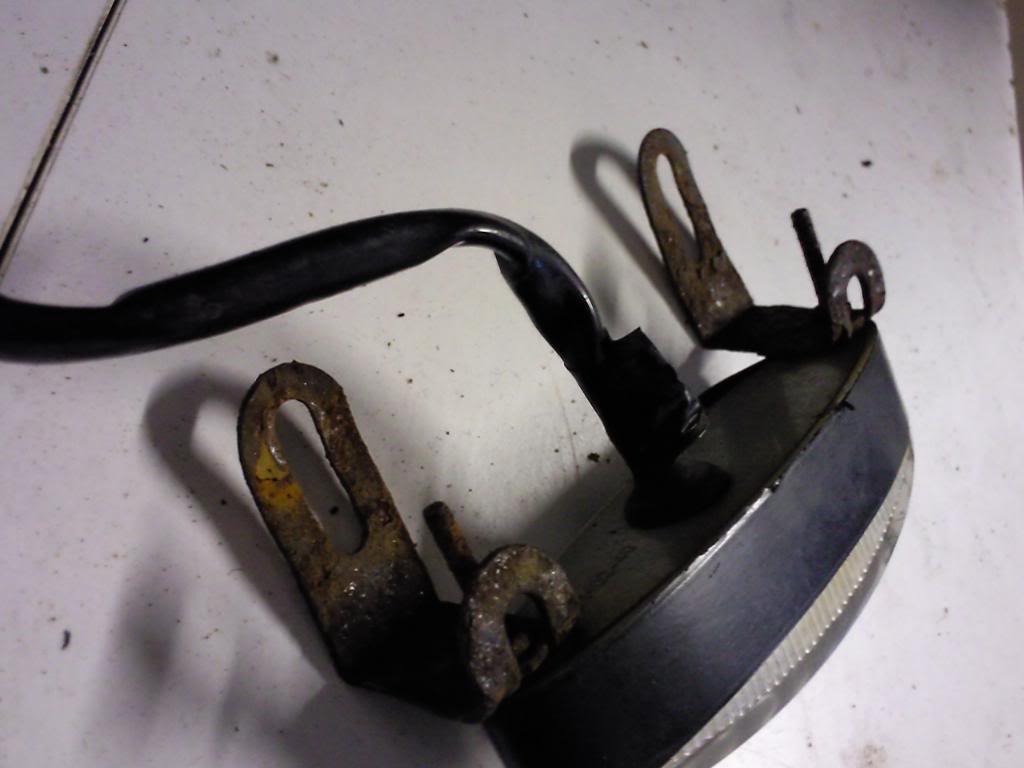 Stuck the bumpers away in the garage for the moment.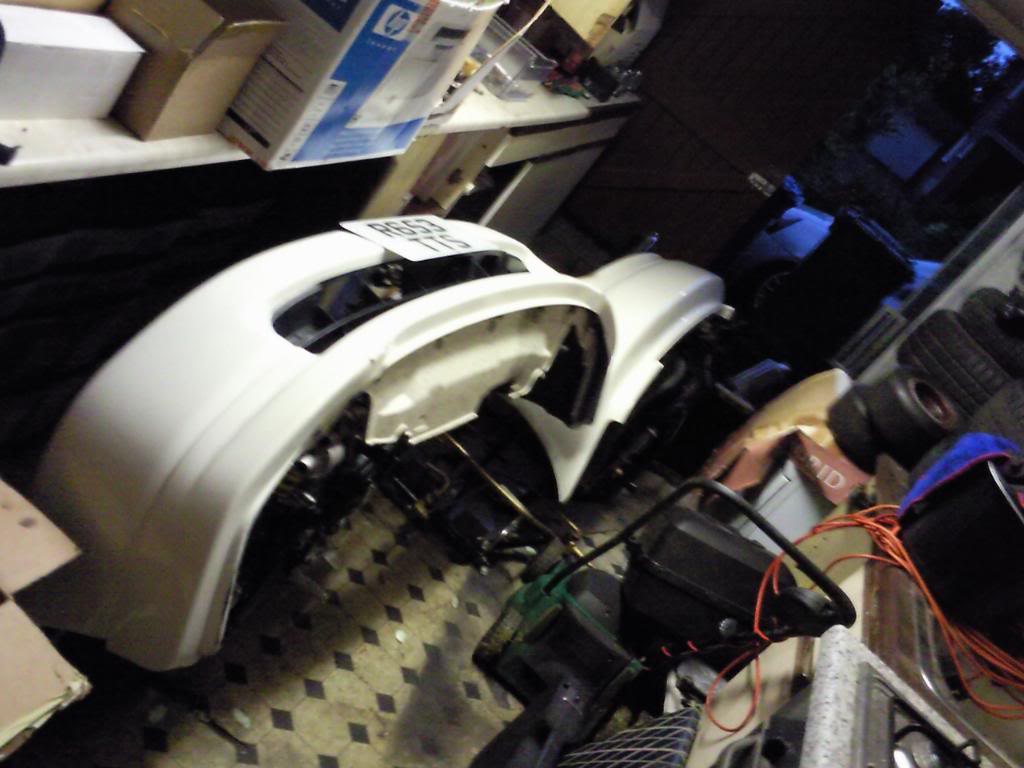 Car is coming up for 3000 miles since its last oil change so ordered 5litres of 5 w40 silkolene pro s engine oil with a hamp oil filter for the oil change which will be done this week hopefully. Need to go to honda tomorrow and get a some coolant and radiator flush aswell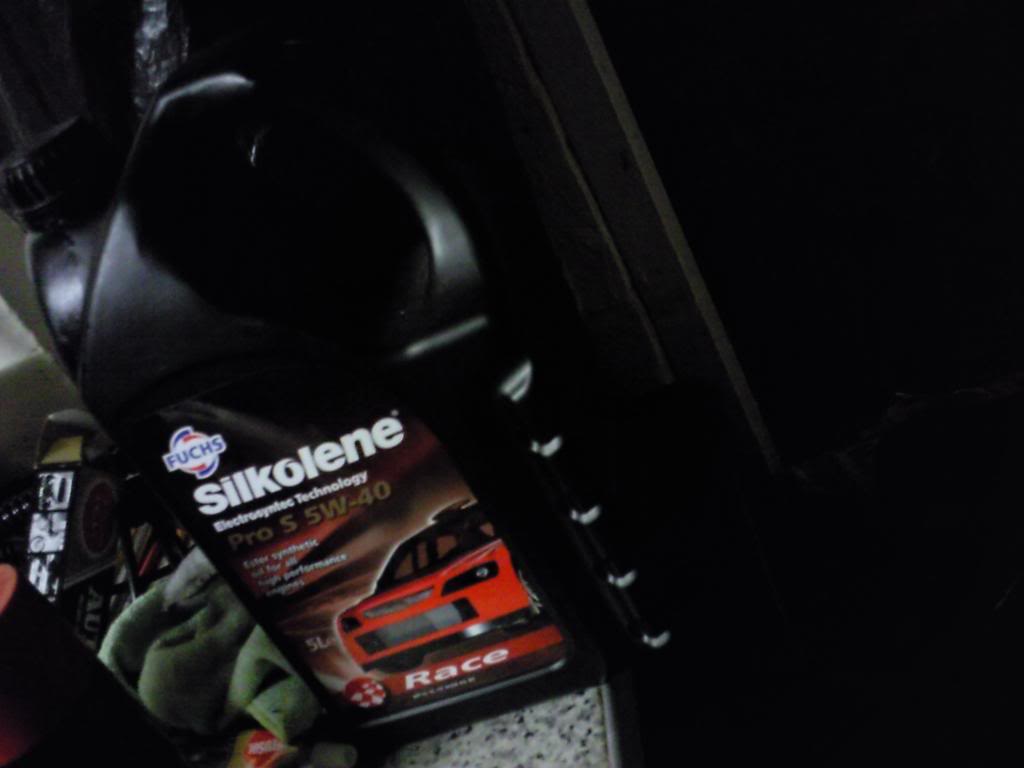 Oh and last friday a bride zeta 3 drivers seat has been ordered
. Also i will hopefully be ordering a bride super low seat rail from japan for it when it gets here.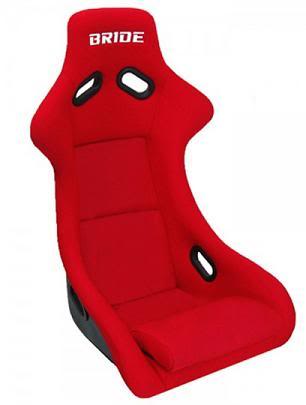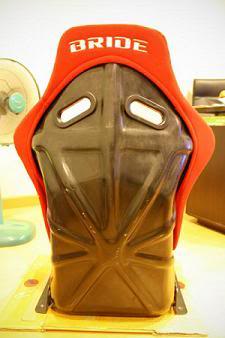 I stripped down the whole car to get it reundersealed so since i already had my bumpers off i took the headlights and tail lights off and put them in my room so they dont get damaged. headlight go for £250 second hand so last thing i want to do is damage them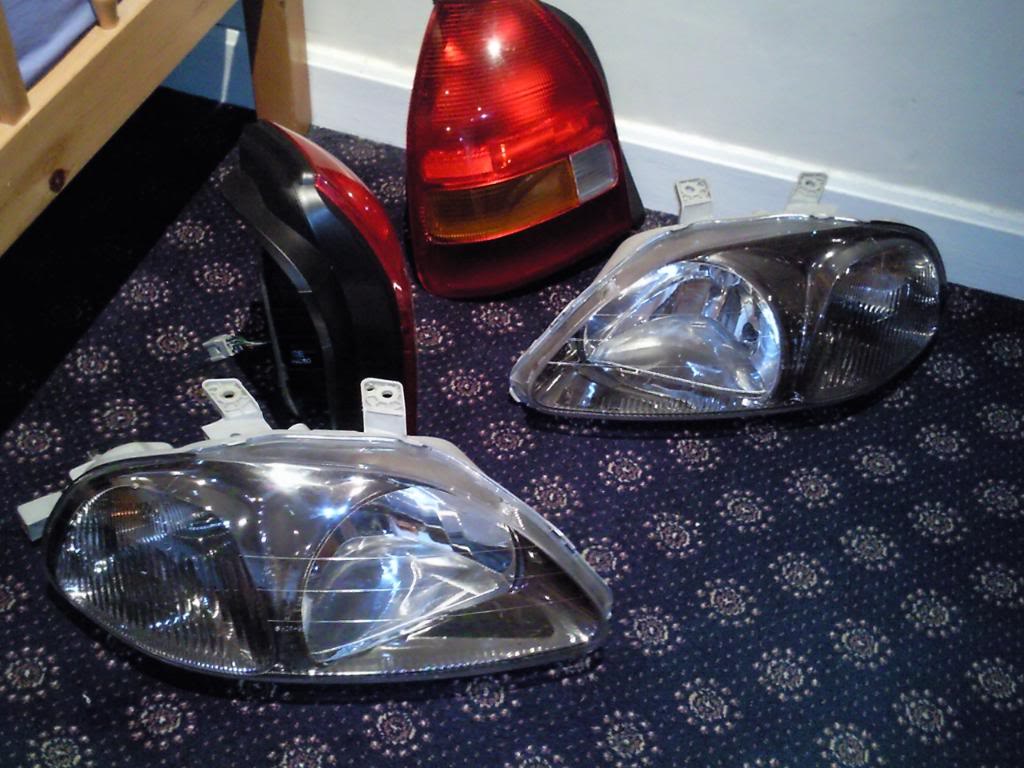 Then i removed the sideskirts and there was a fair bit of dirt, tar and stones that it picked up over the years, which obviously needed cleaning.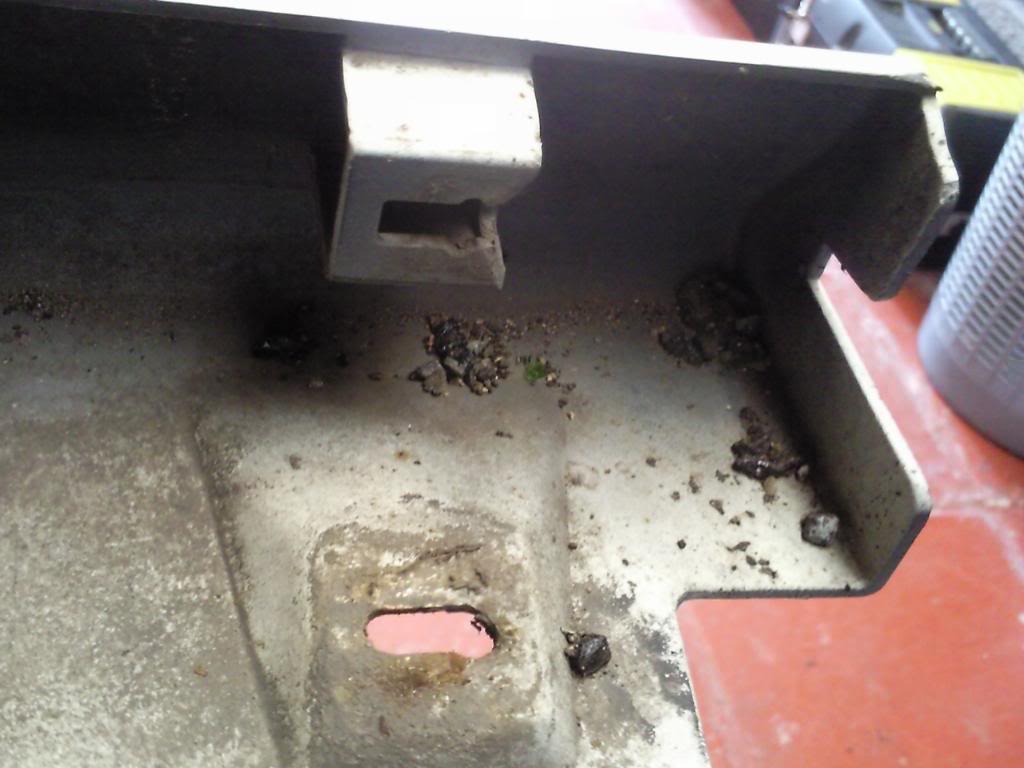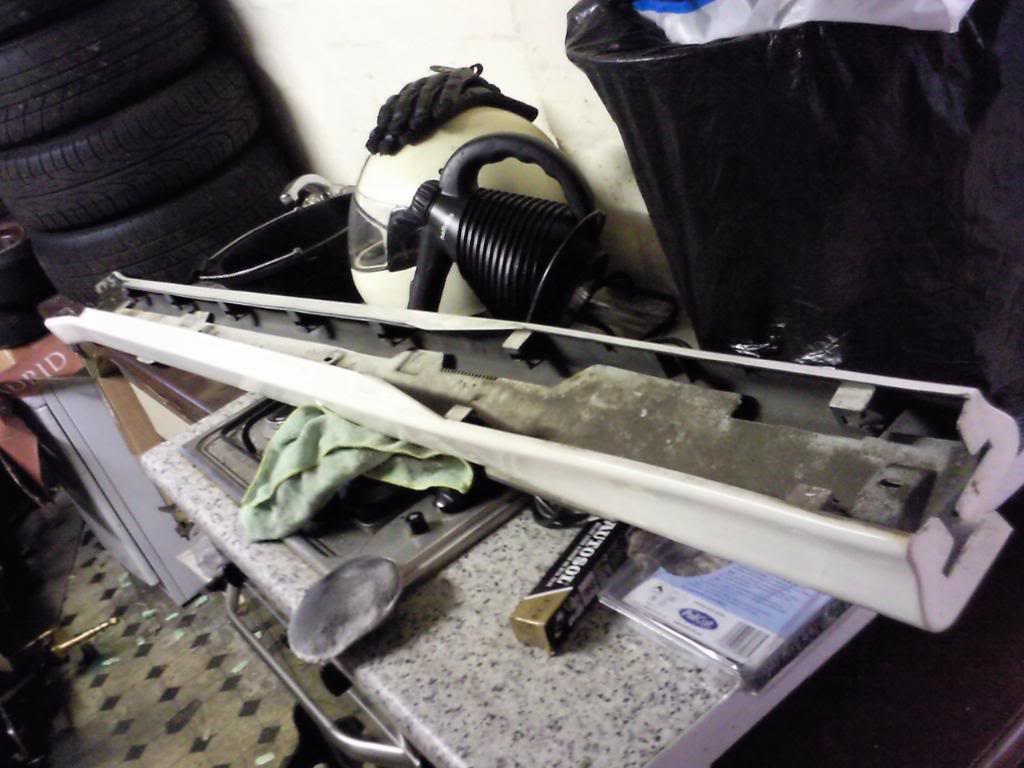 front wings removed and moved inside so they dont get damaged or knocked about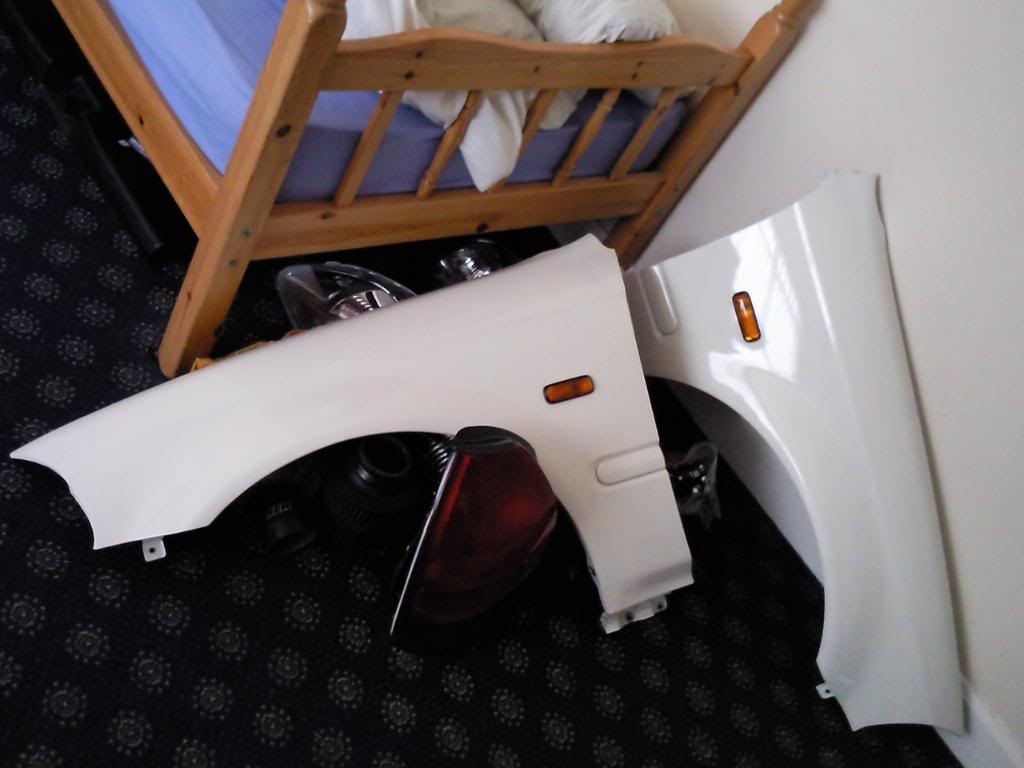 Once all the bumpers and pannels were off the car i took them into the back garden to give them a proper clean along with the aem long arm, arch liners, spoon exhaust and wheels.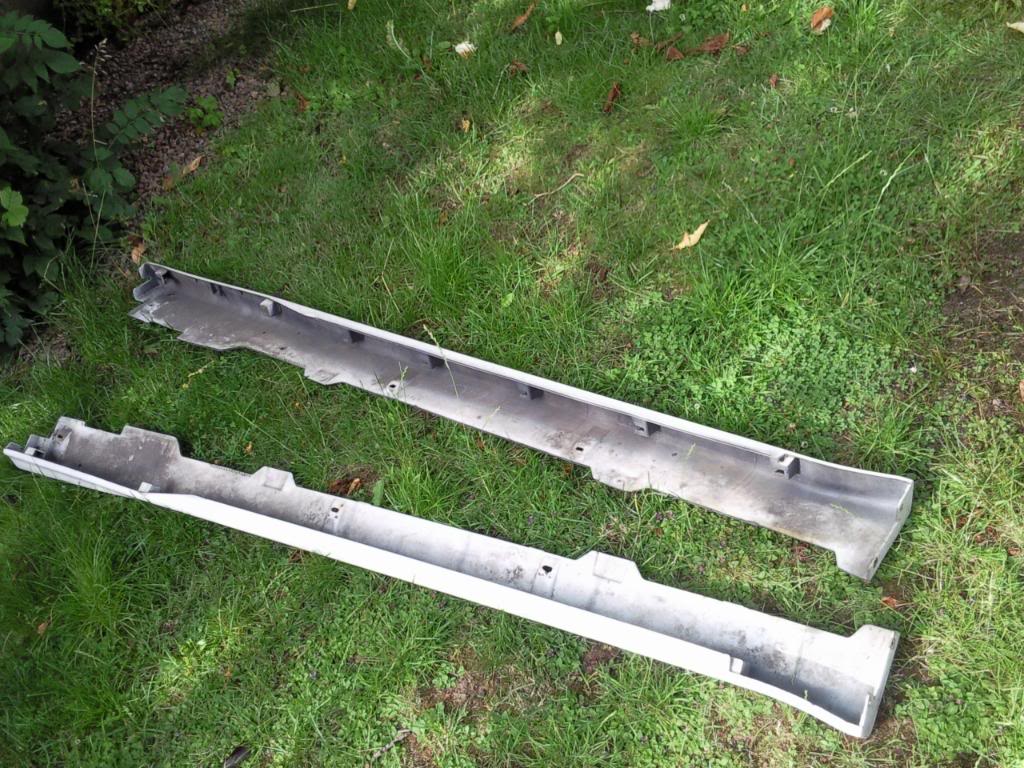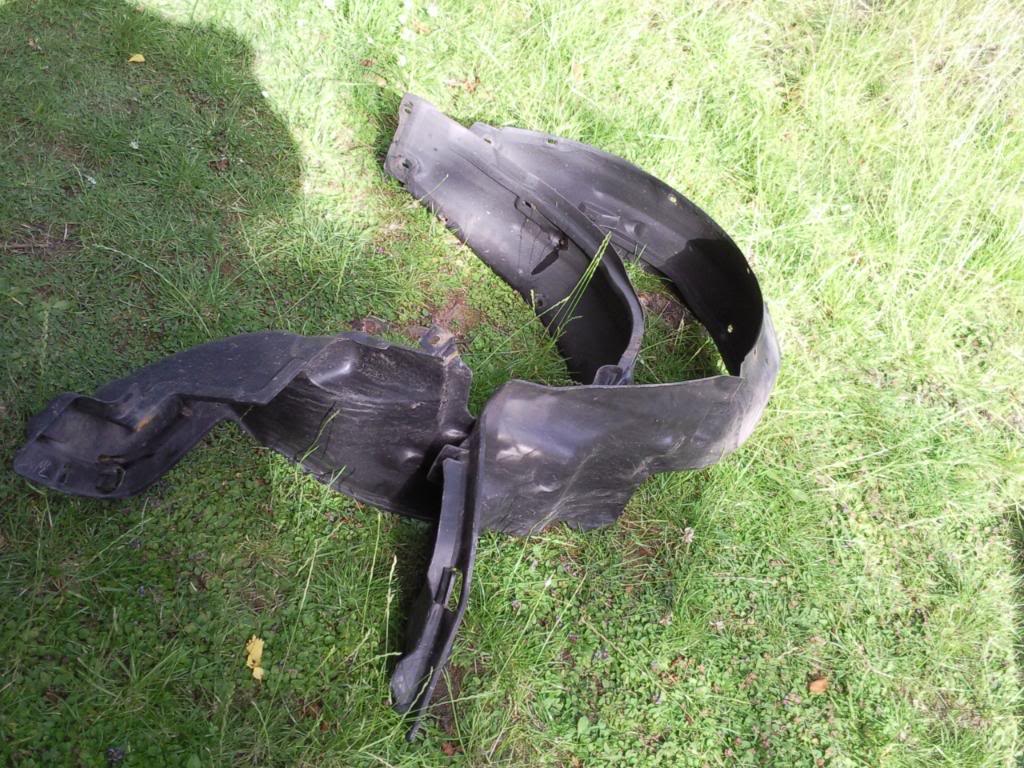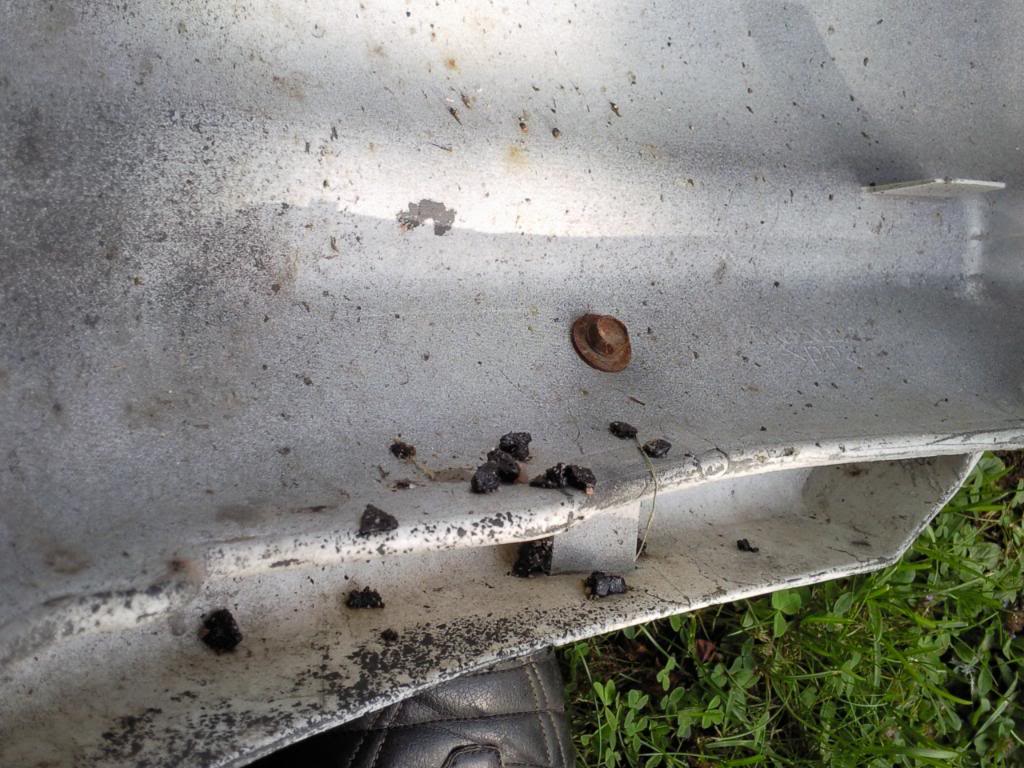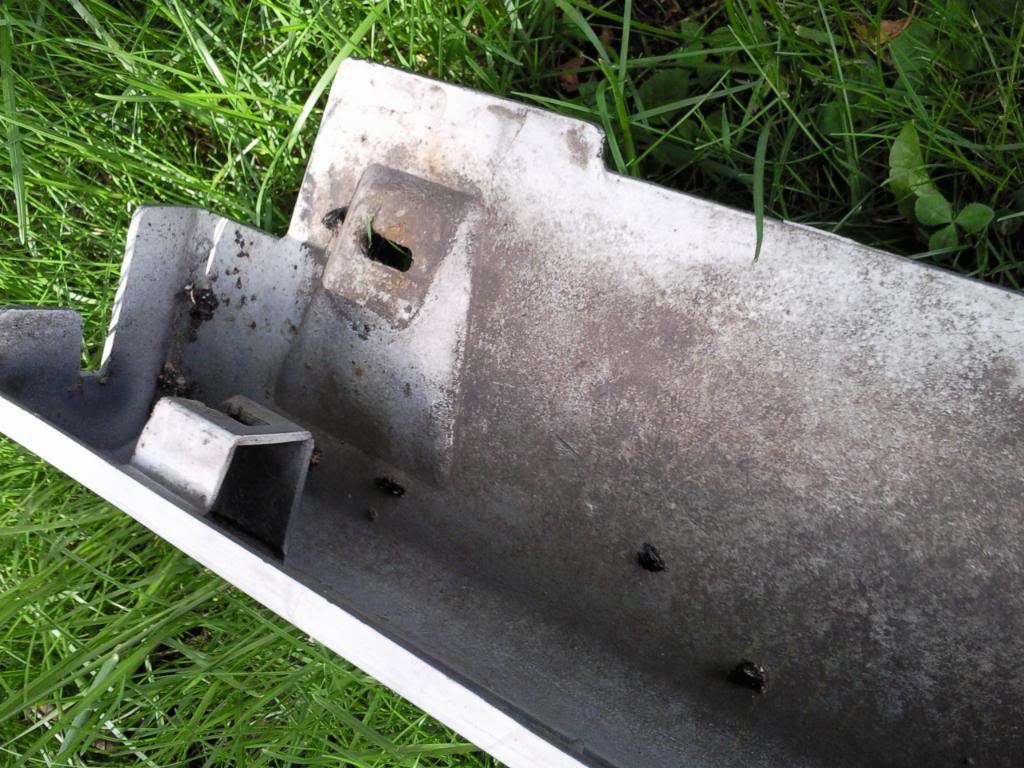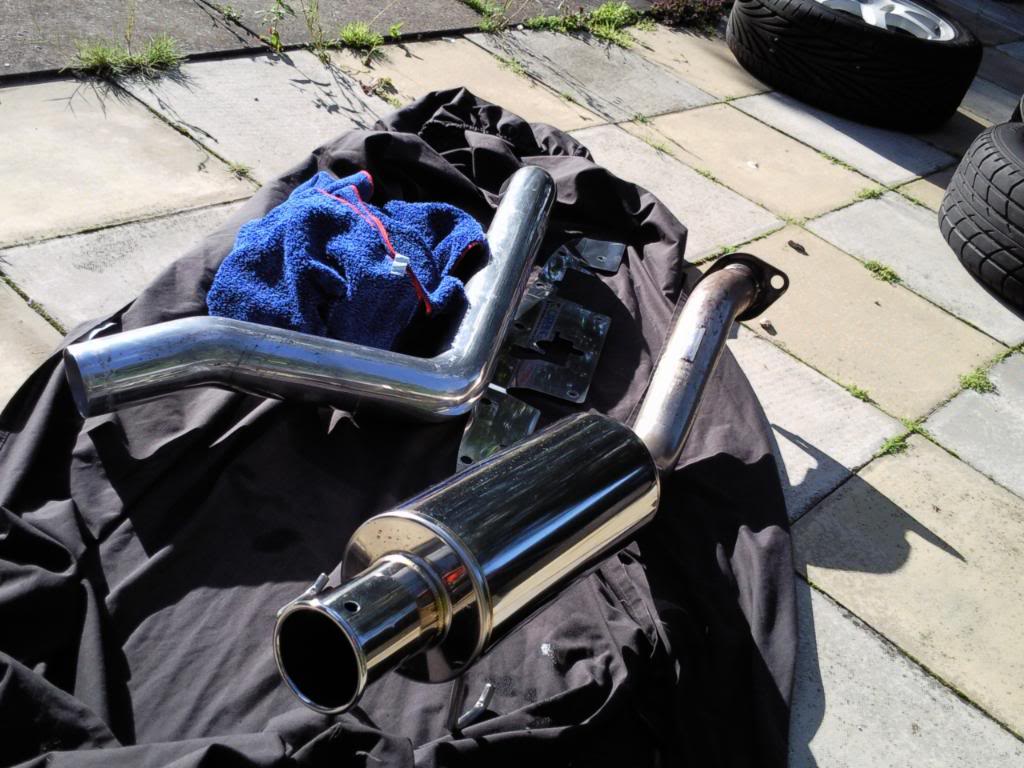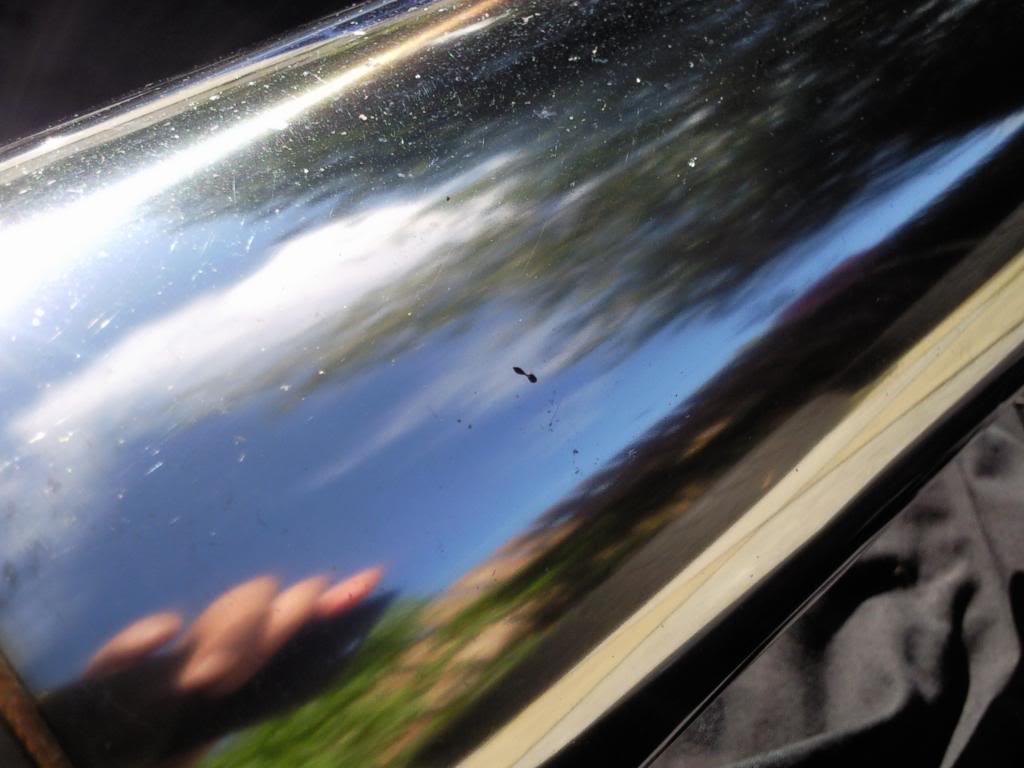 Bumpers cleaned and i set about replacing the horrid rusty screws with nice new anodized ones.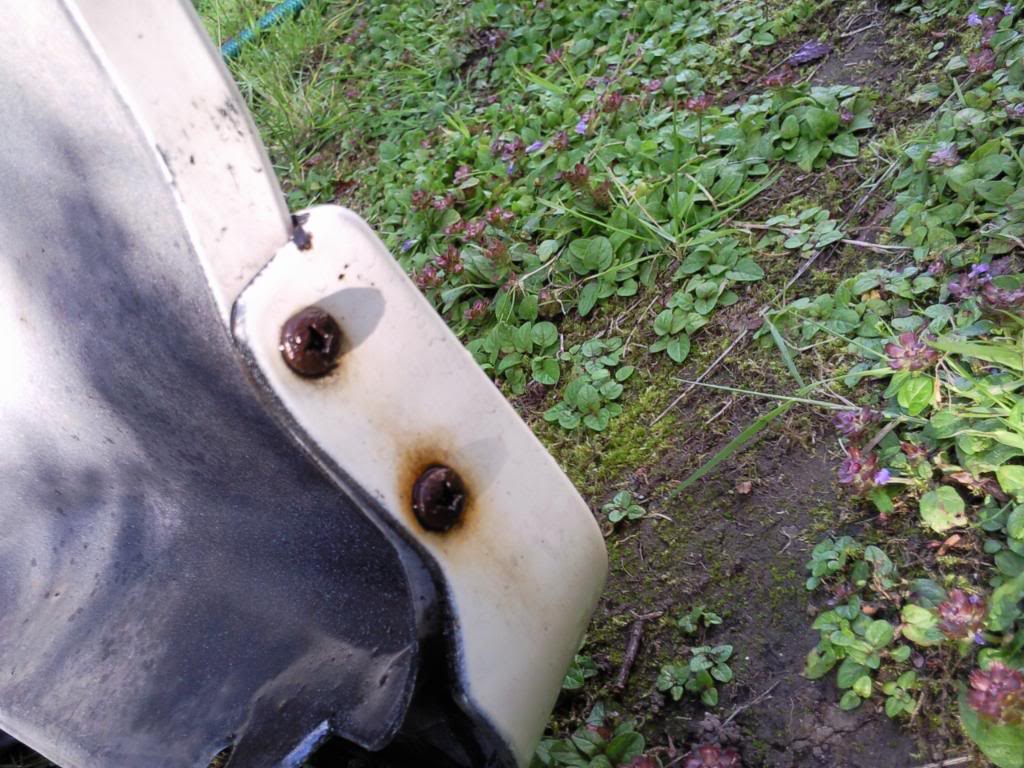 I originally bought black ones for them but i thought about a change to a different colour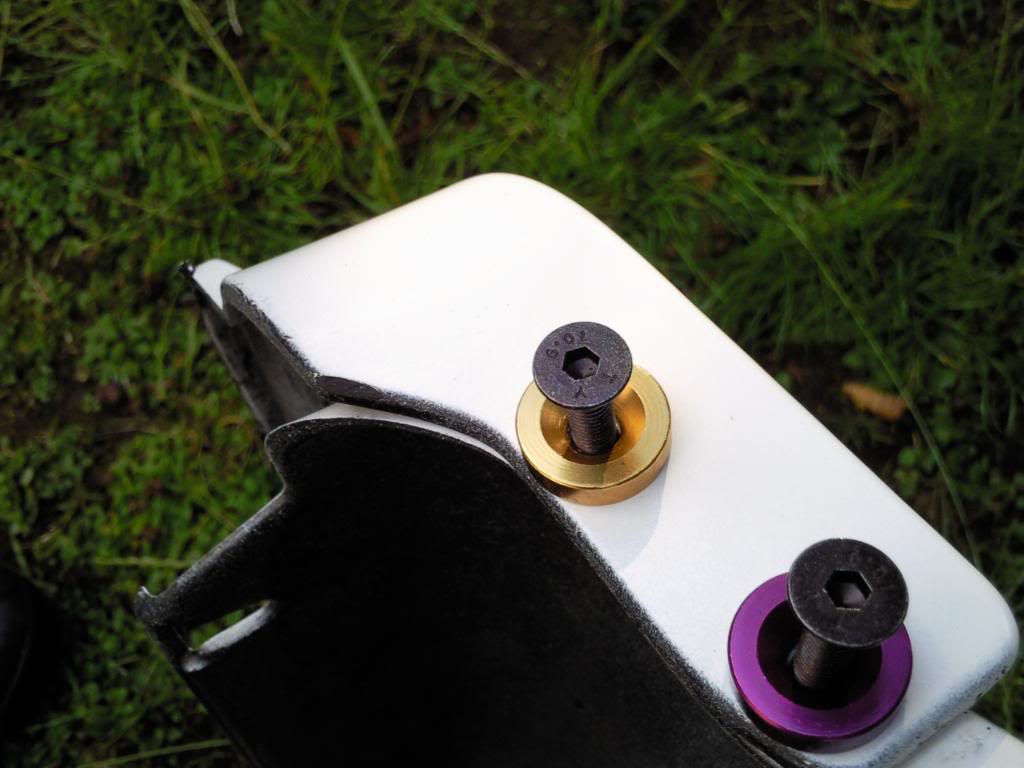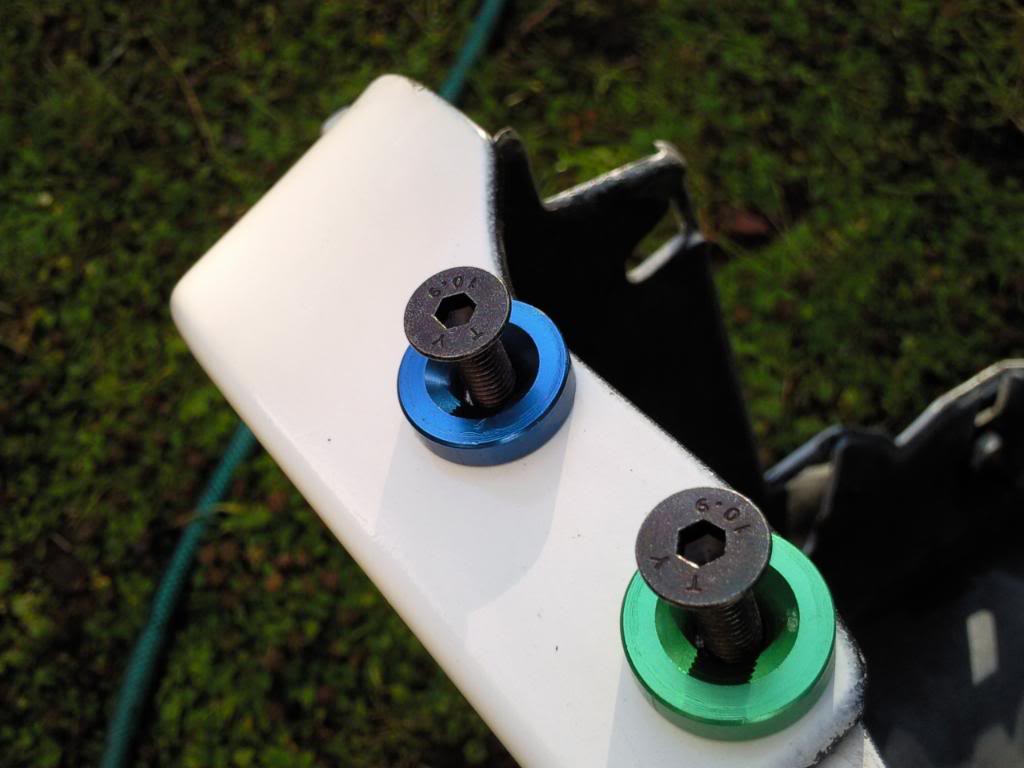 I ended up sticking with just black ones though.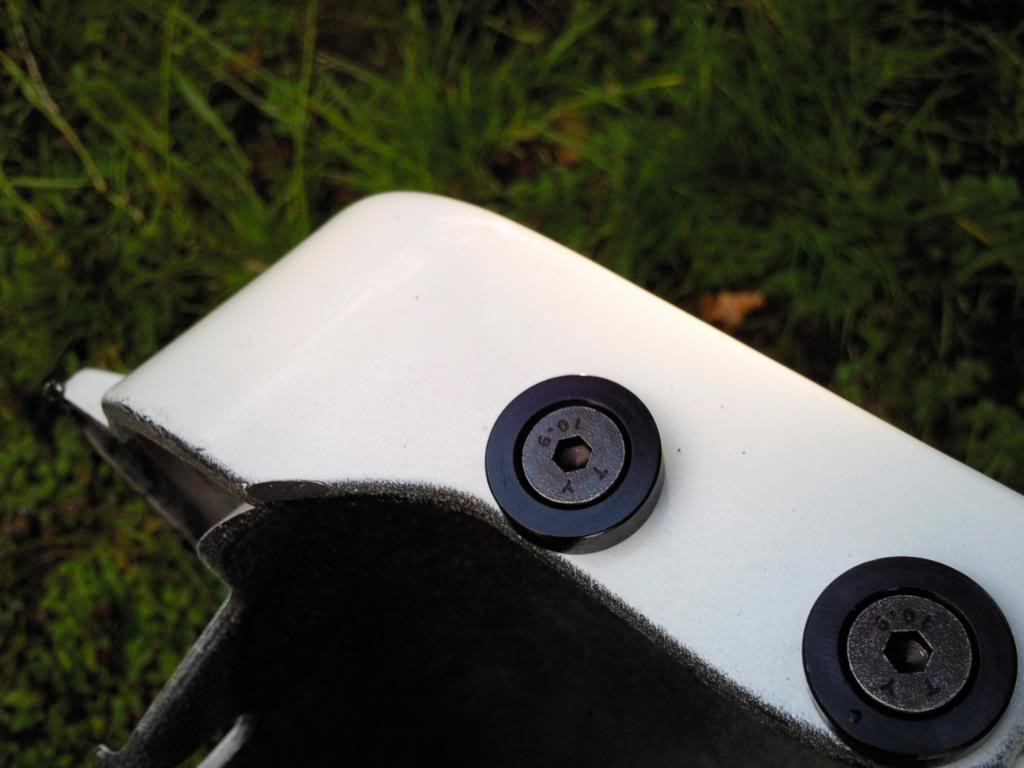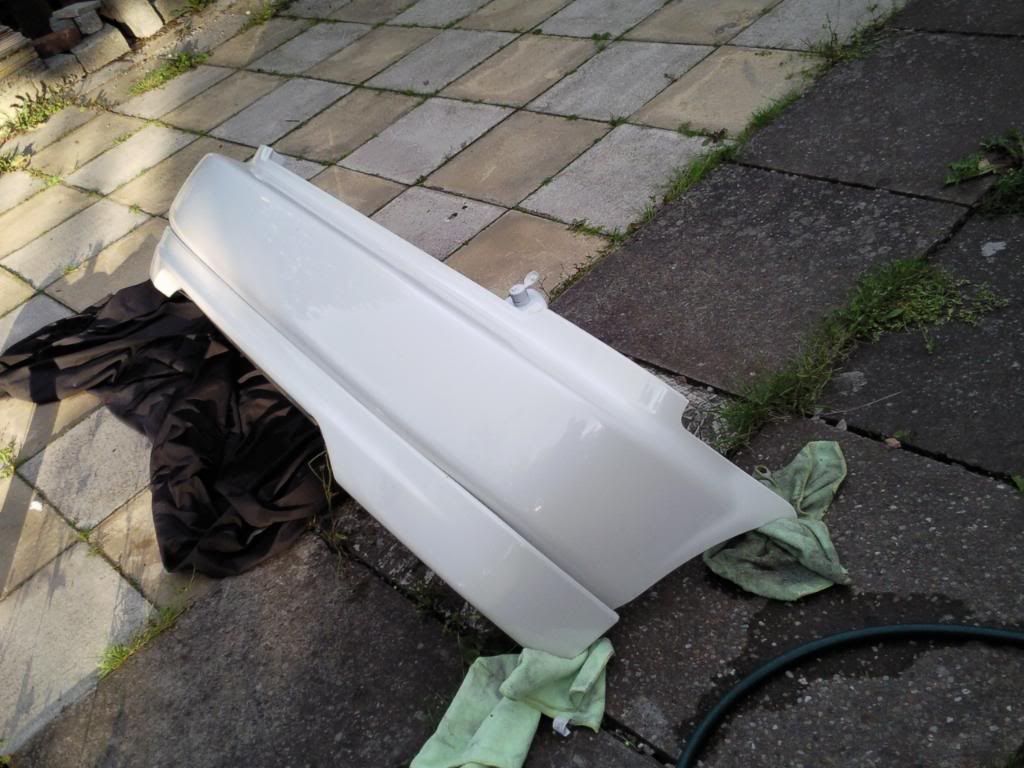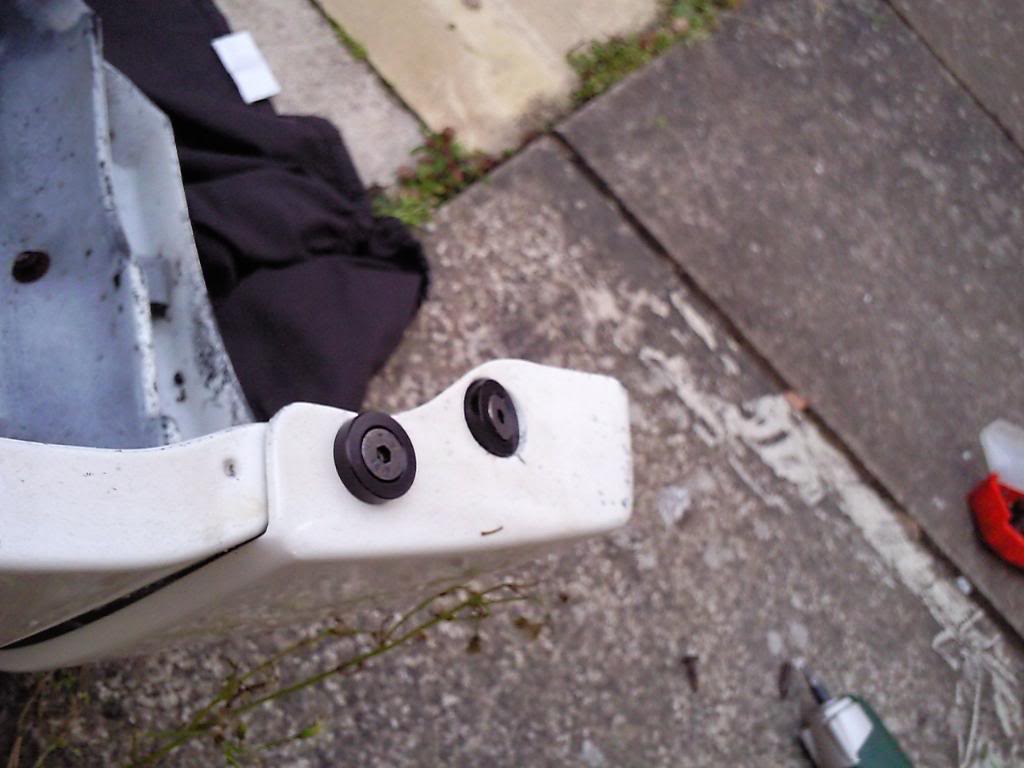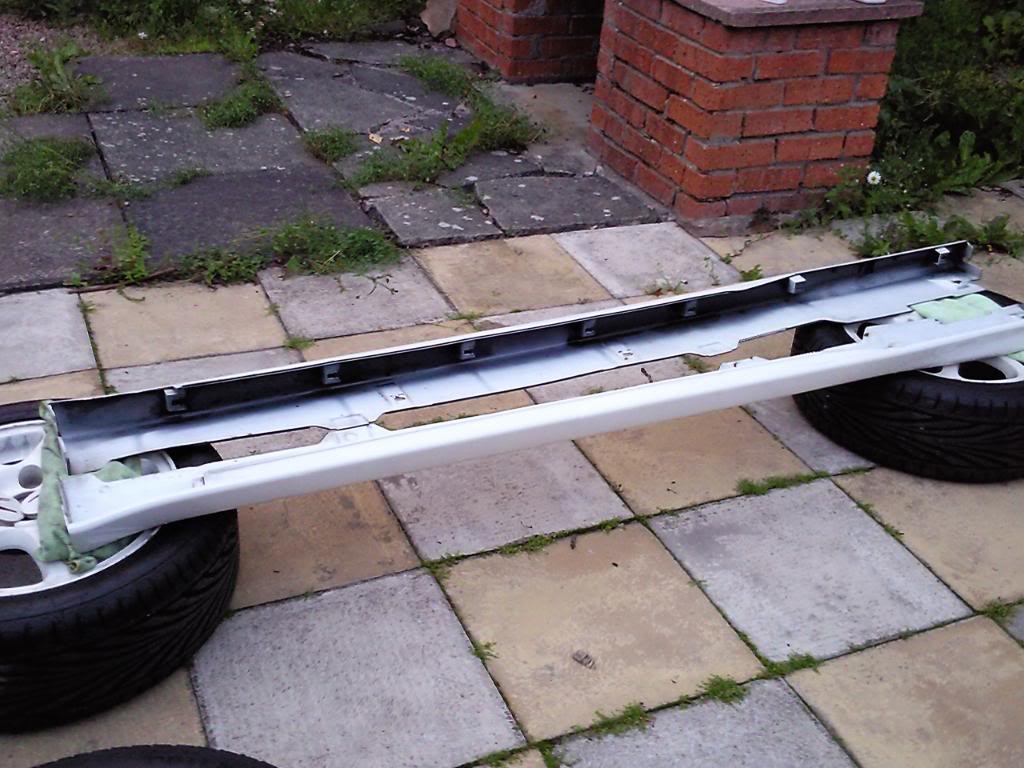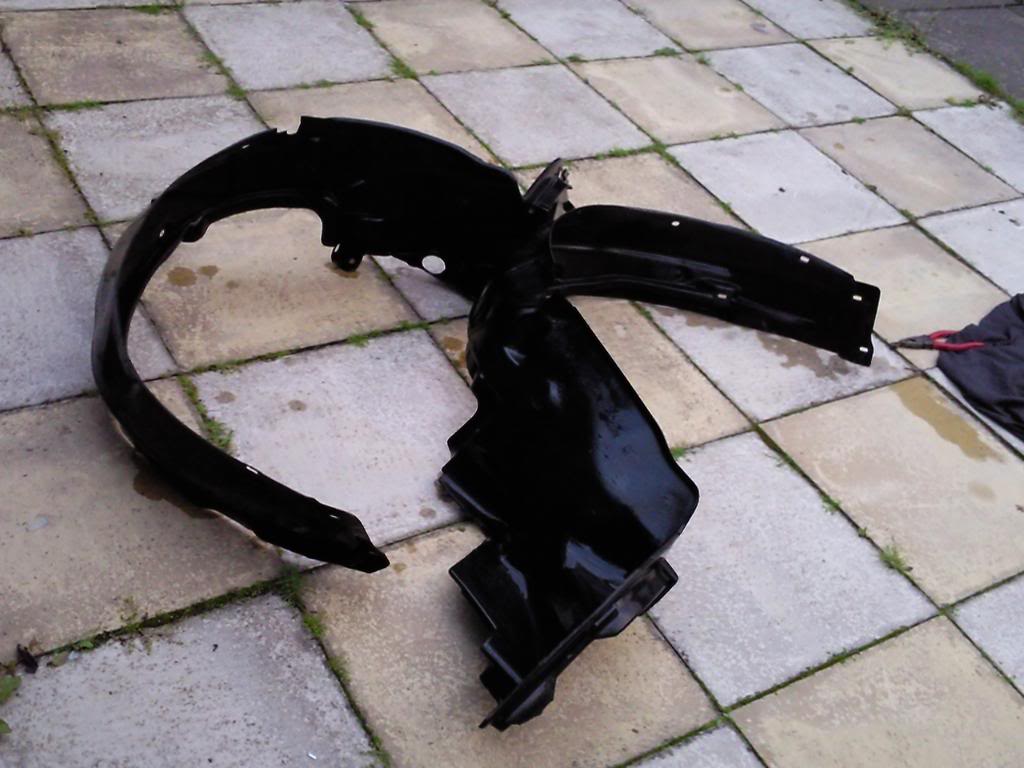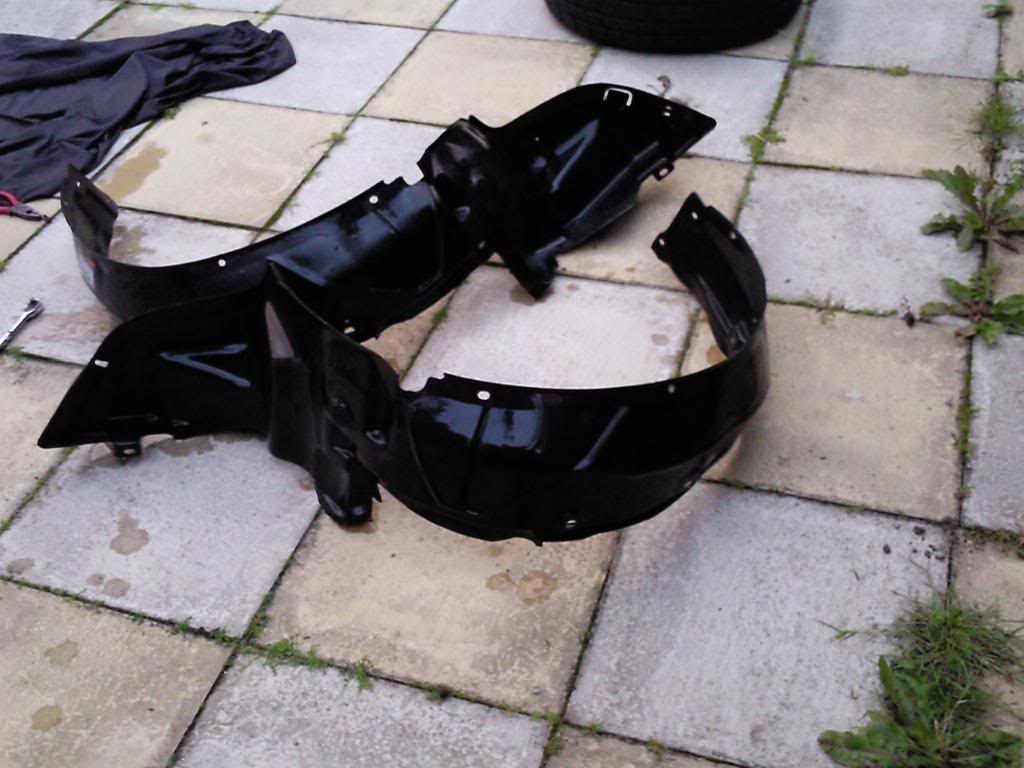 Then i took the bumpers and sideskirts inside for a hand polish. i also dressing the black trim on the front bumper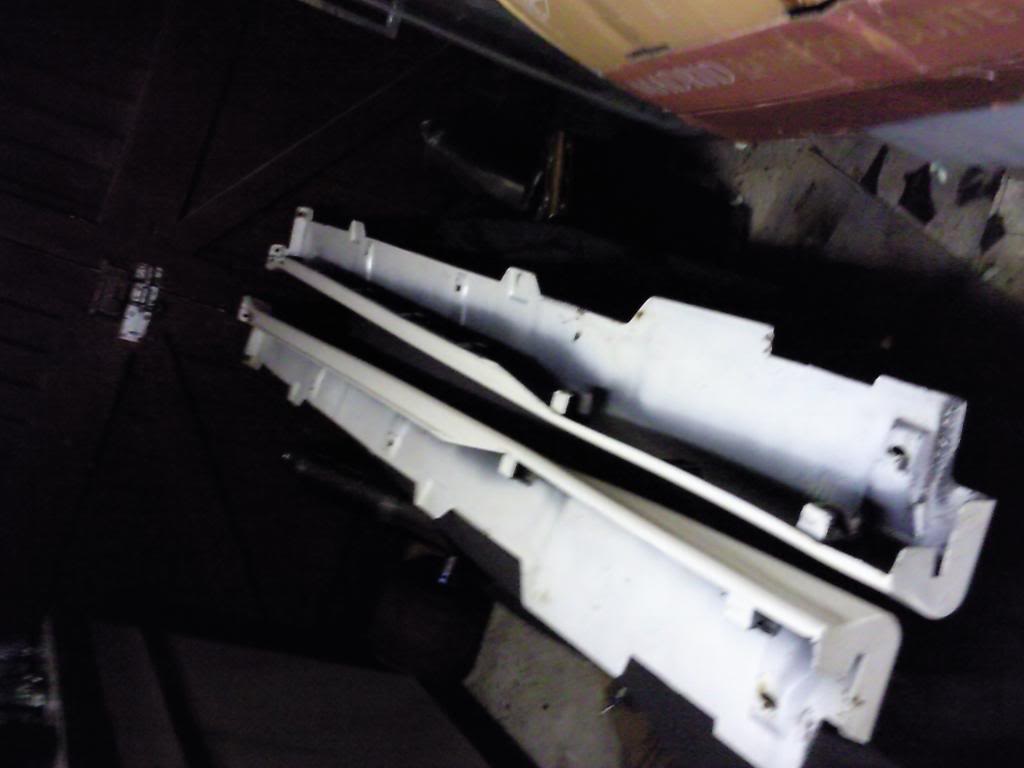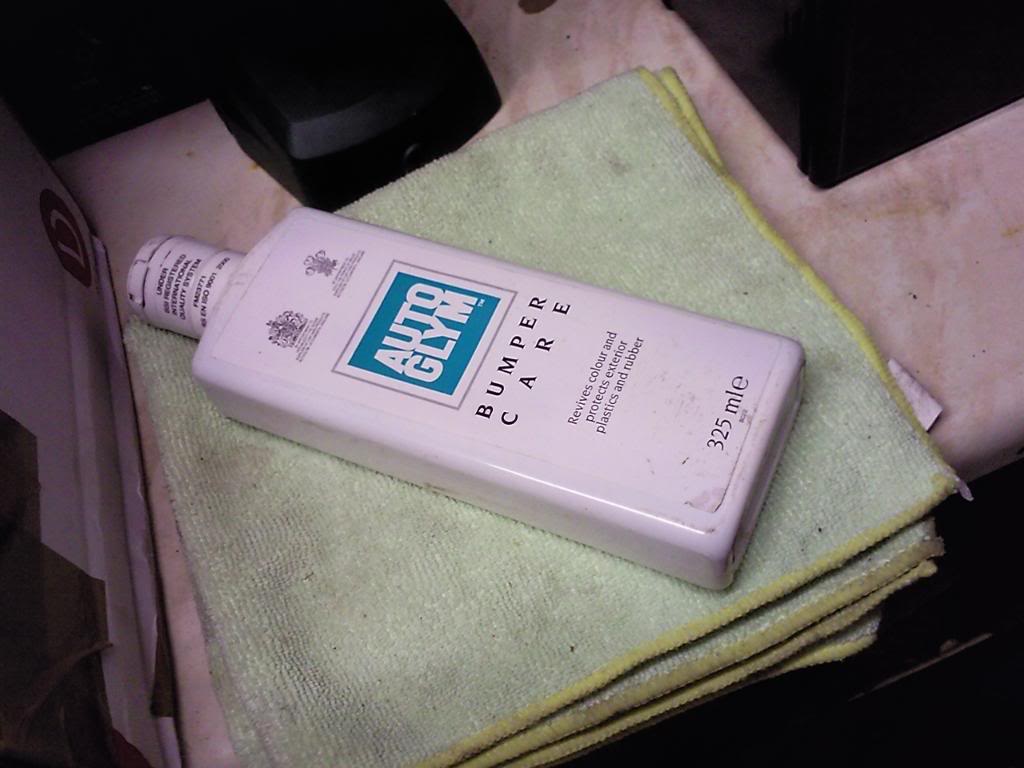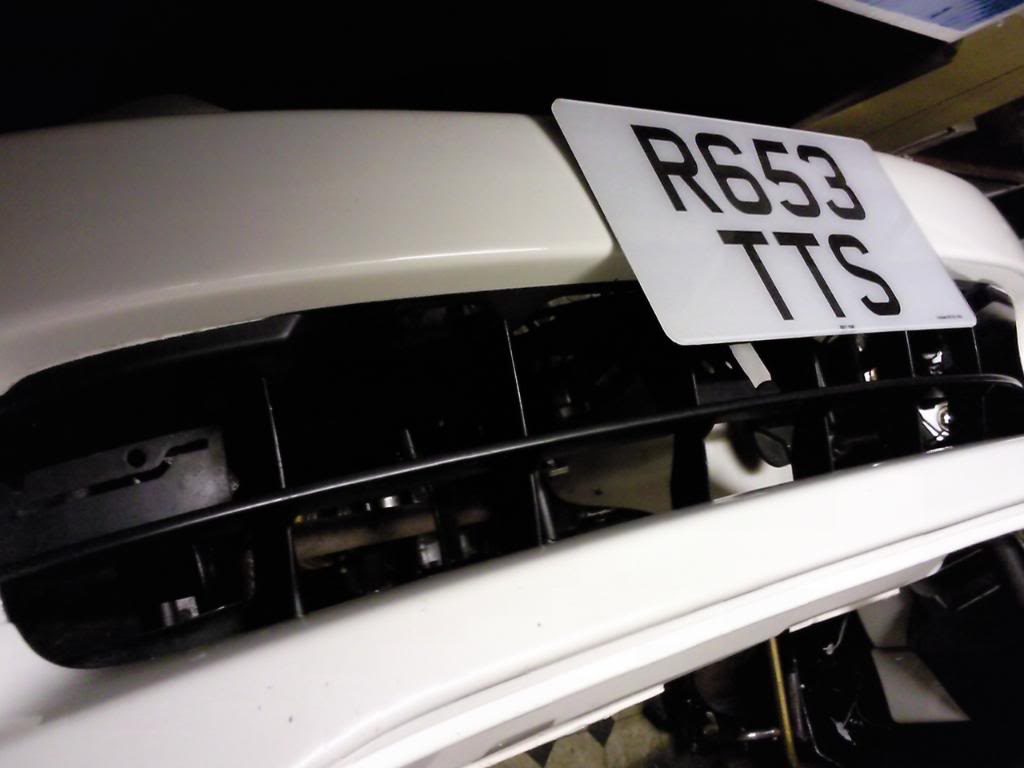 So i jacked up the car and took the wheels off and removed my spoon exhaust as i didnt want any underseal on it and also i wanted to polish it up and get it looking brand new again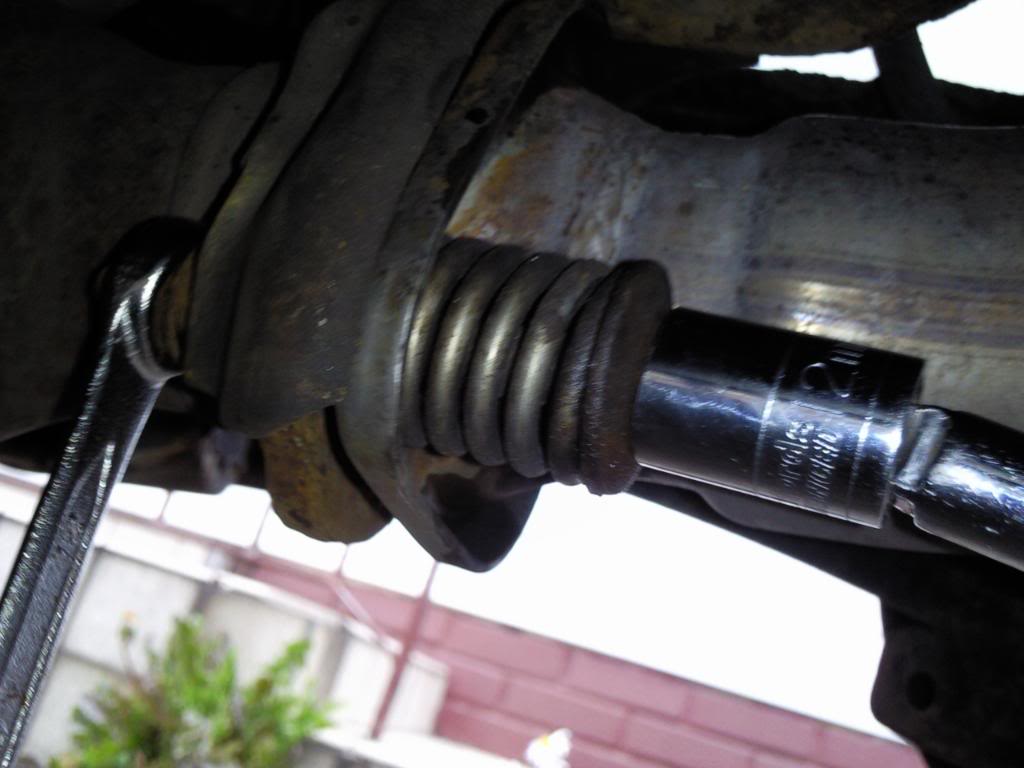 The exhaust bolts and springs, which i cleaned up and polished.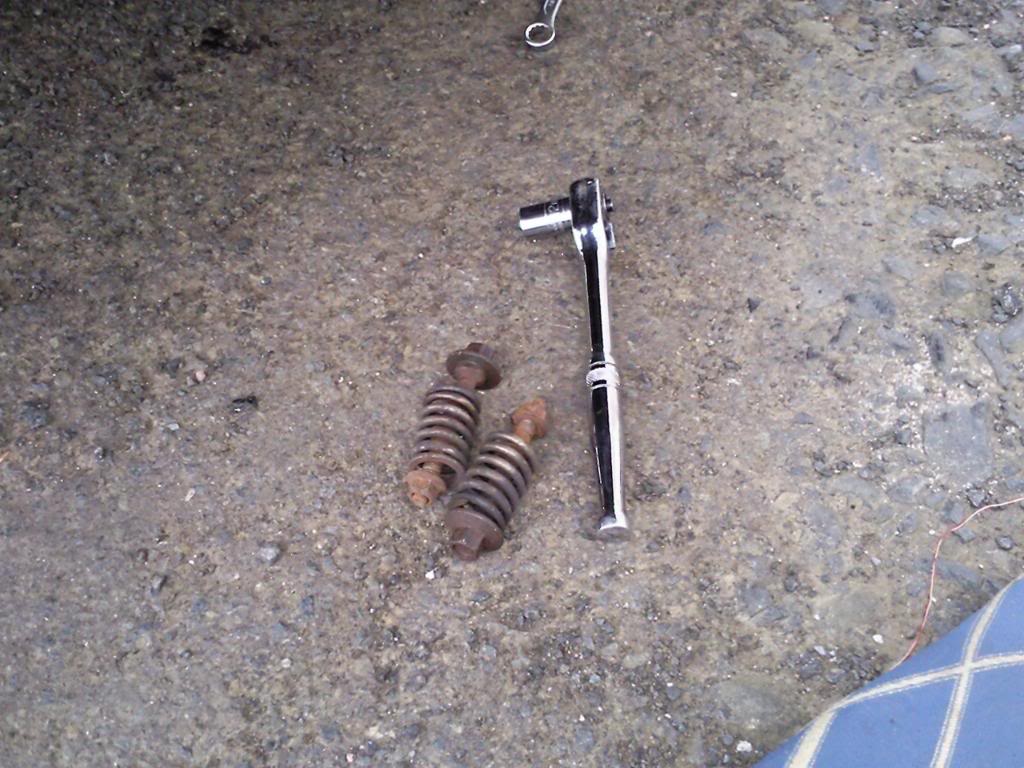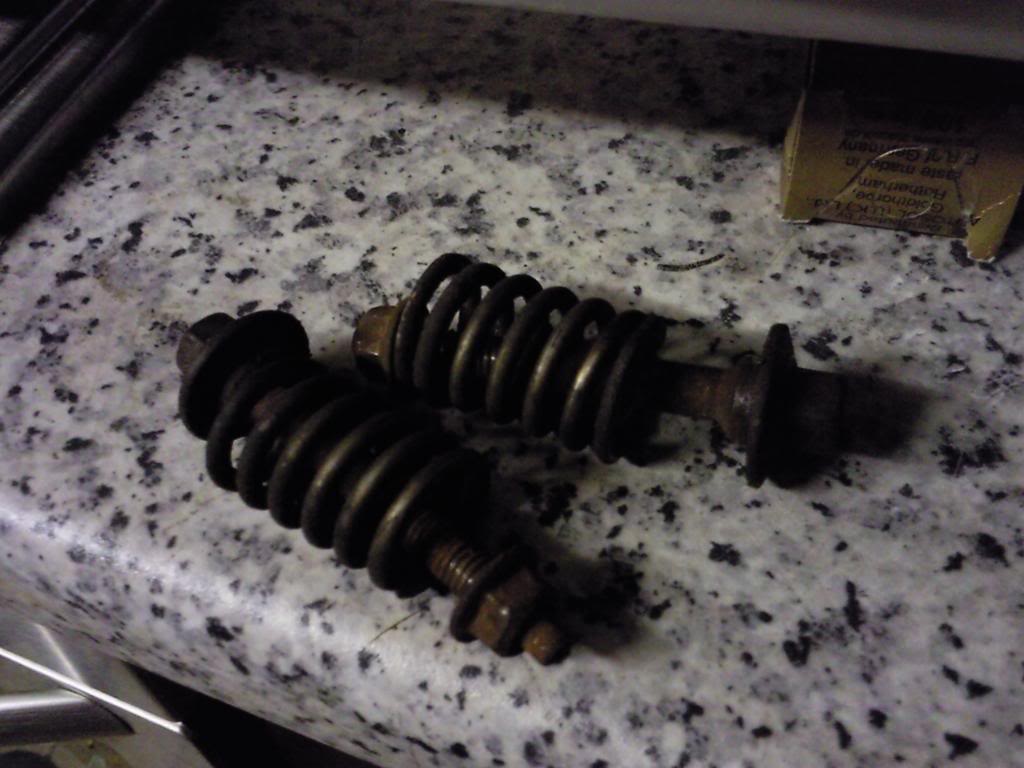 cleaned and polished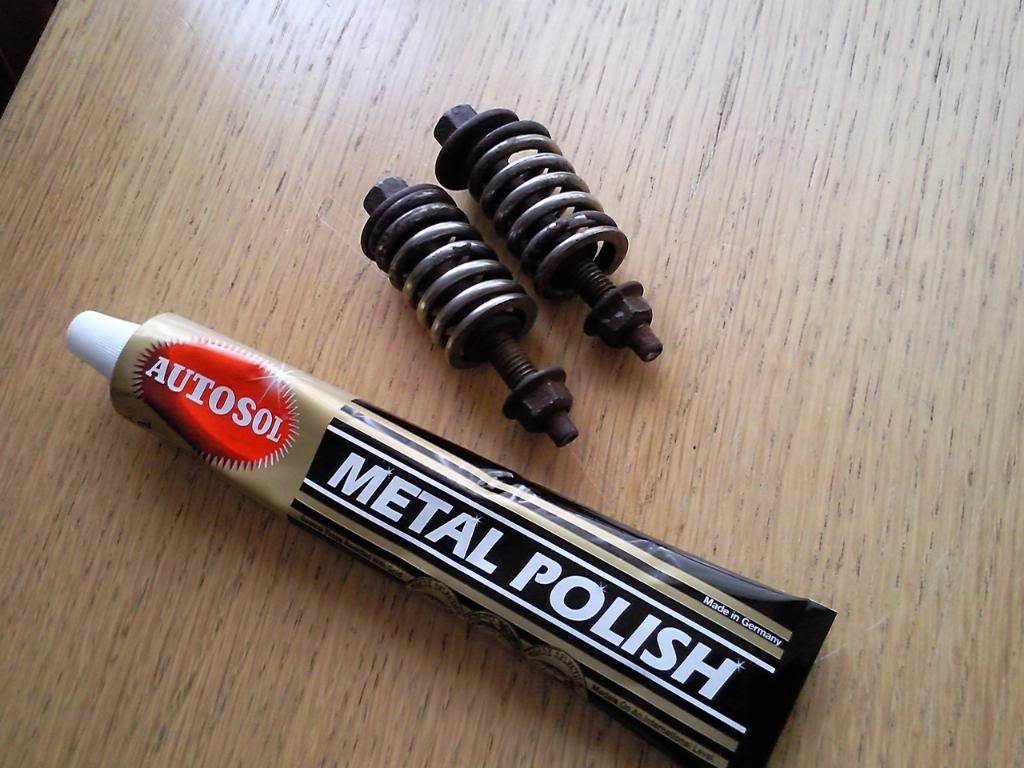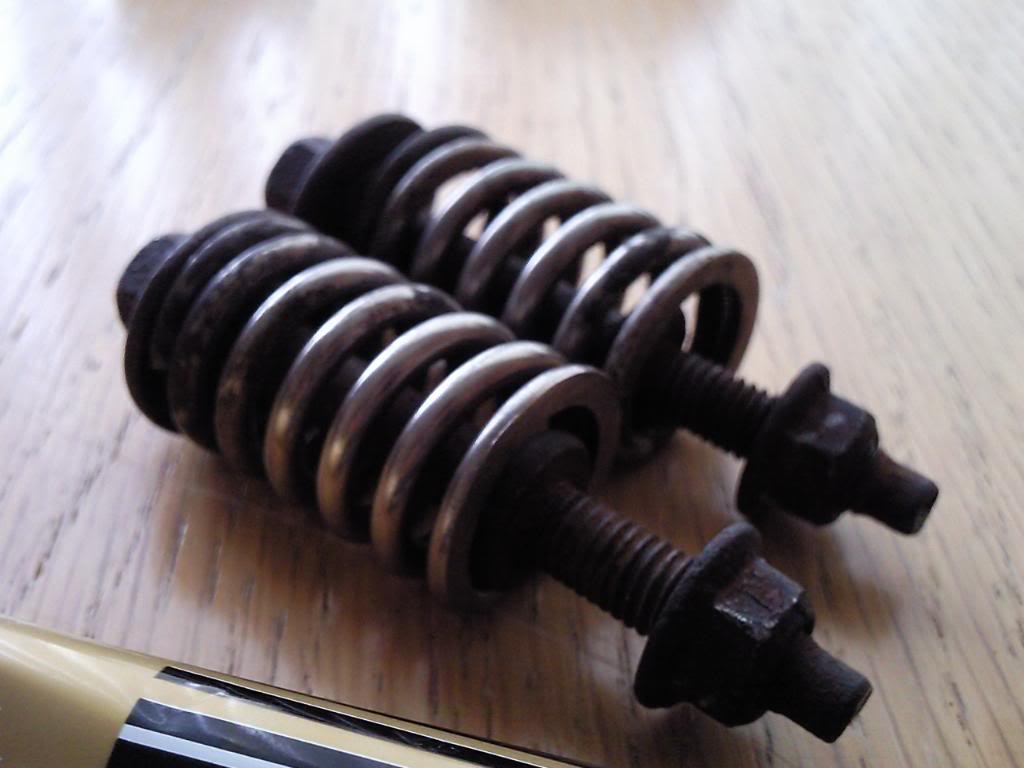 greased up ready for assembling when the spoon exhaust goes back on
Although the spoon came up well there were still a couple of tiny marks that i wanted to remove so i took it inside for a polish with the polishing kit i got and it came up better than new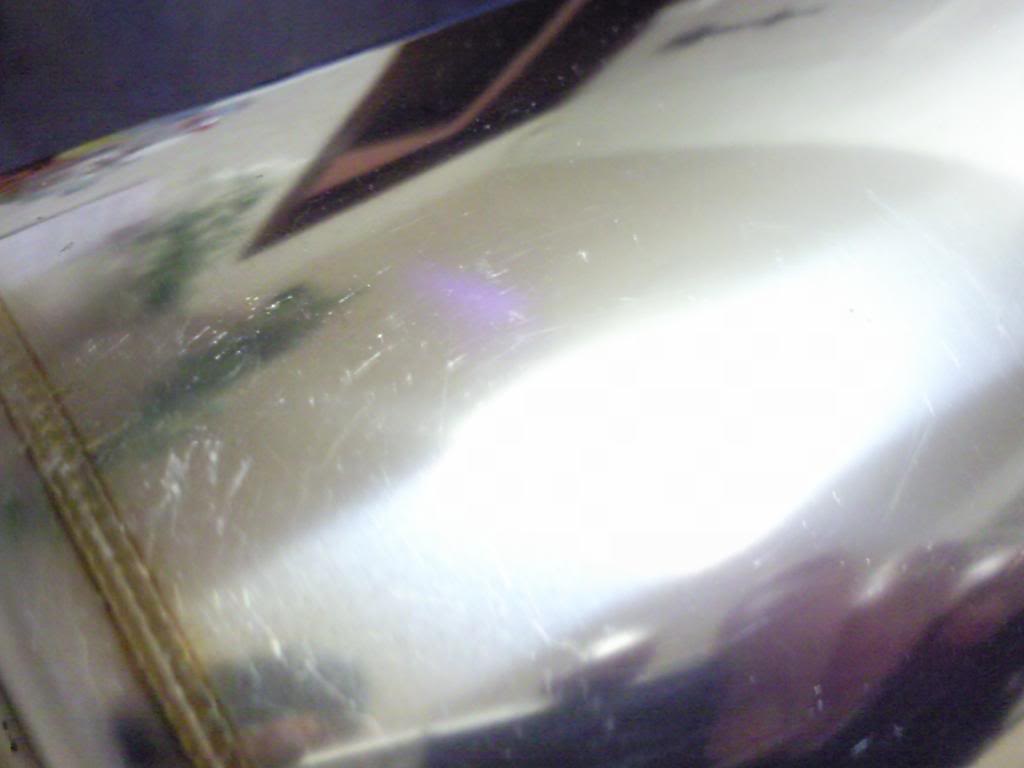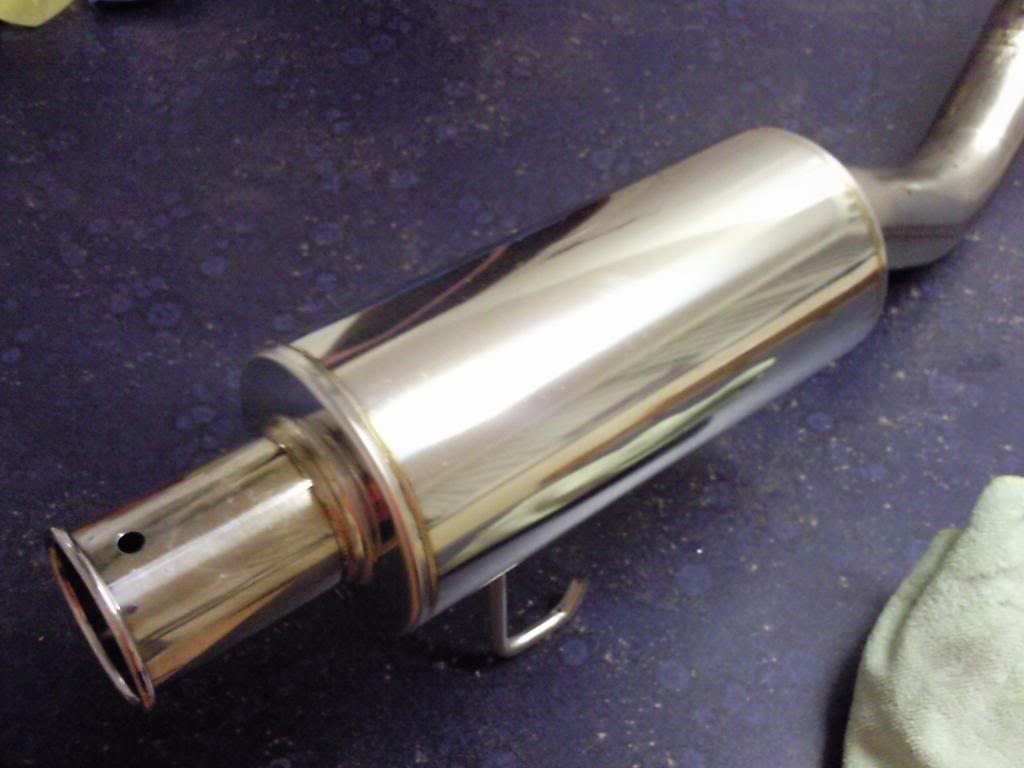 after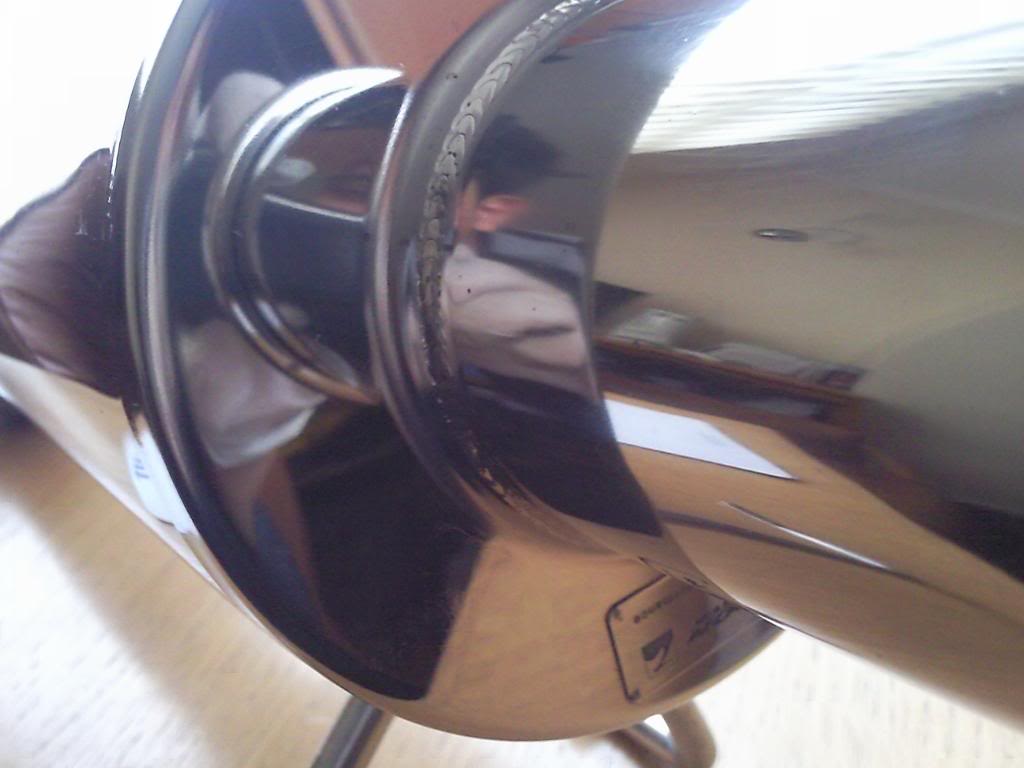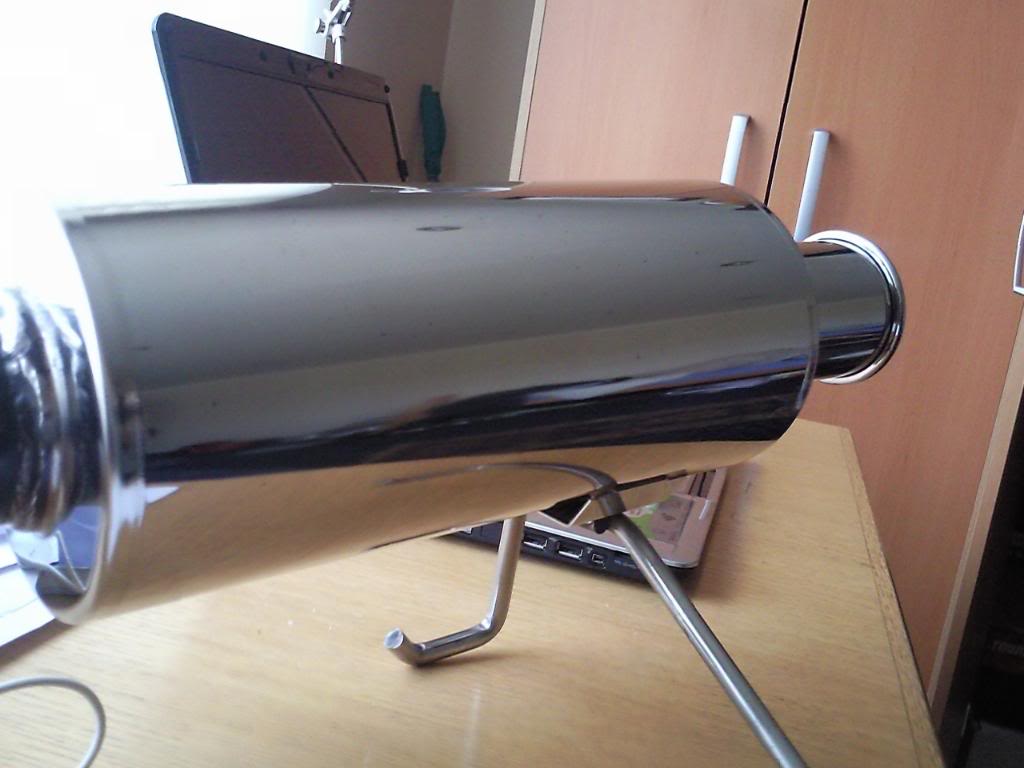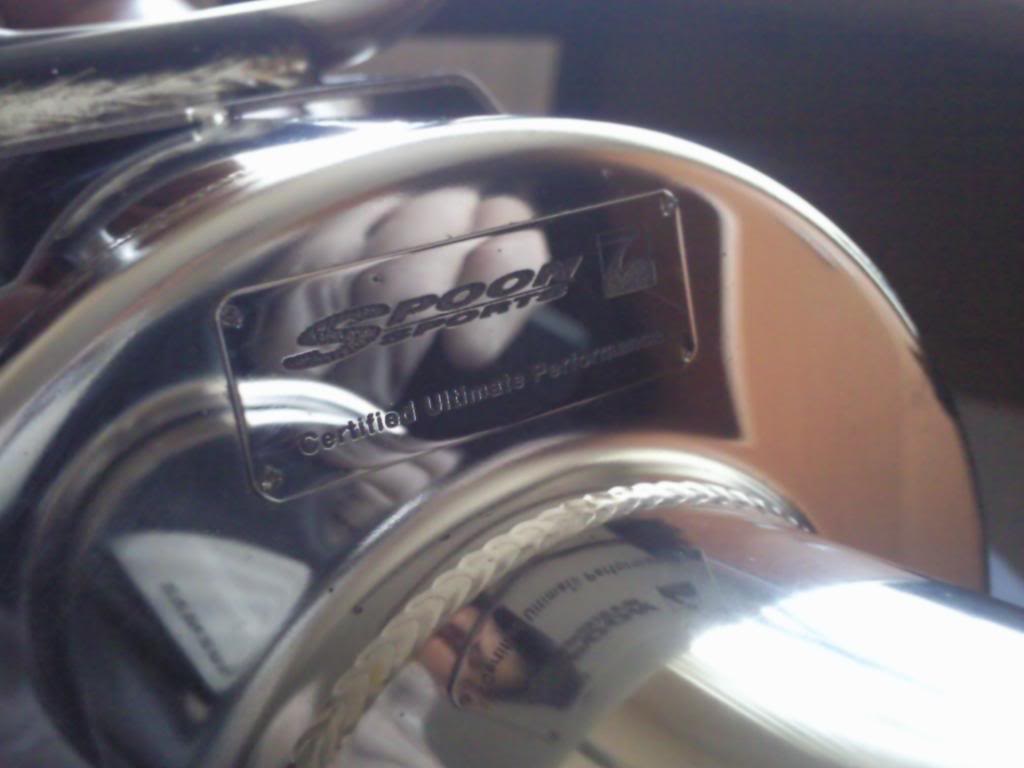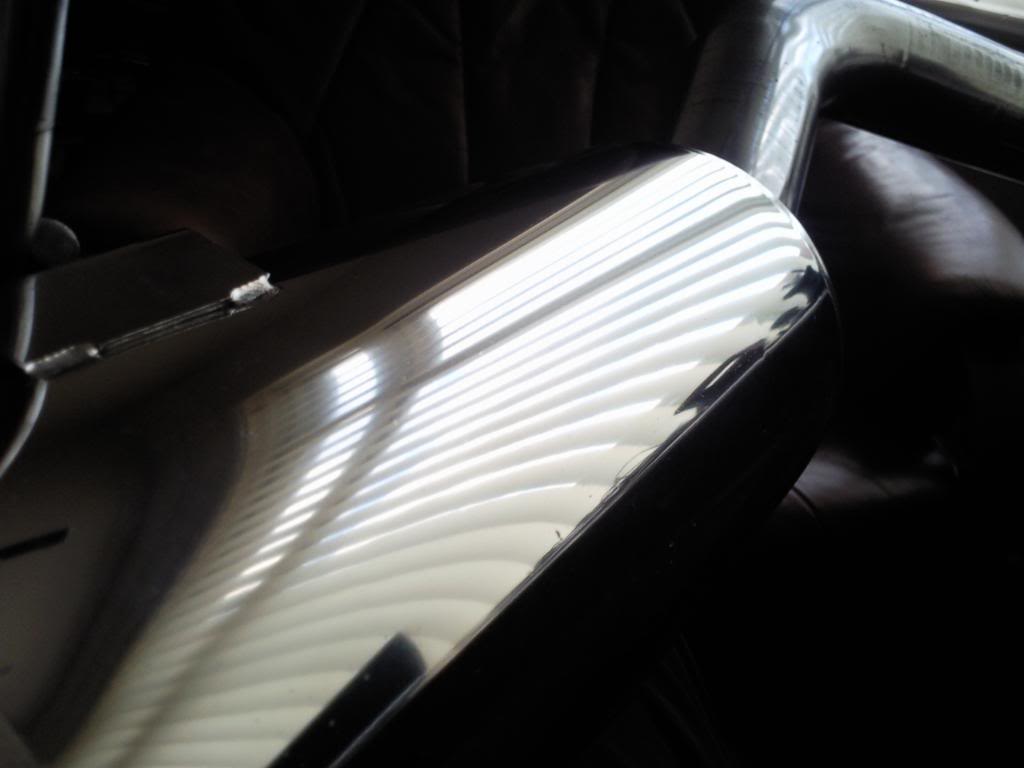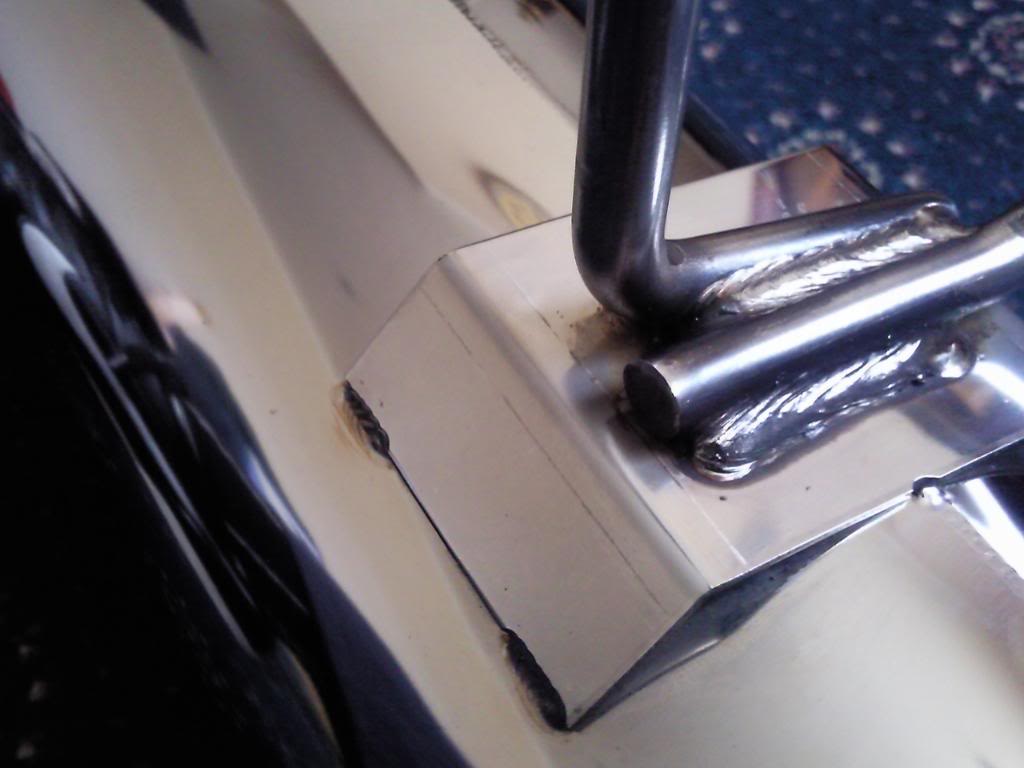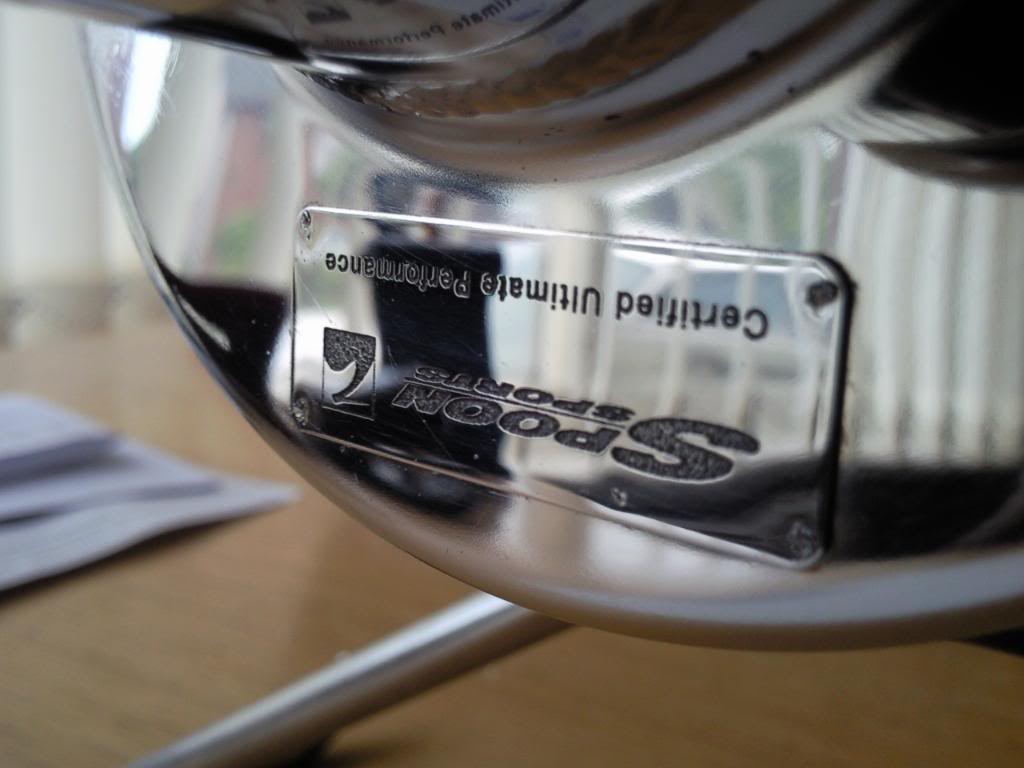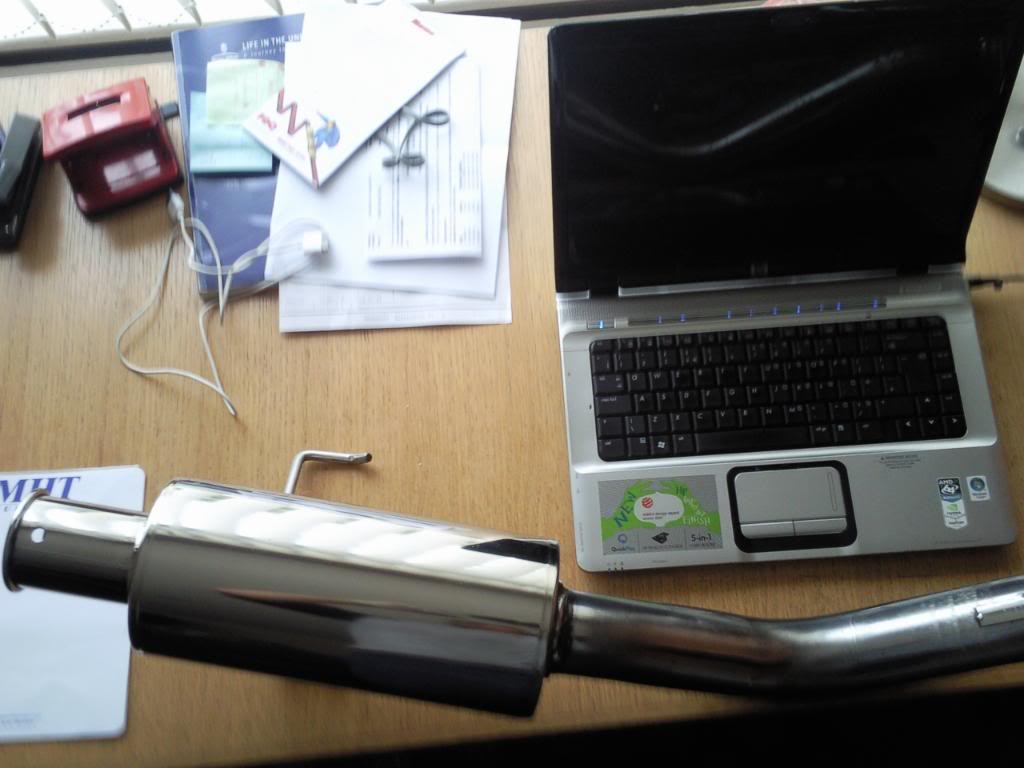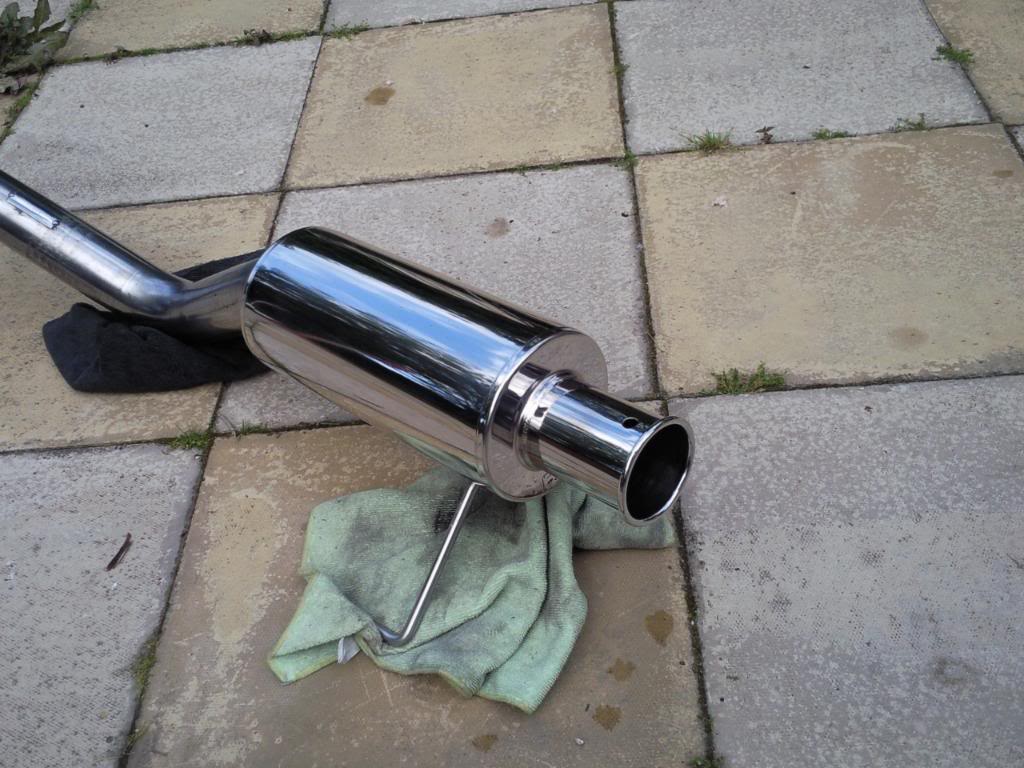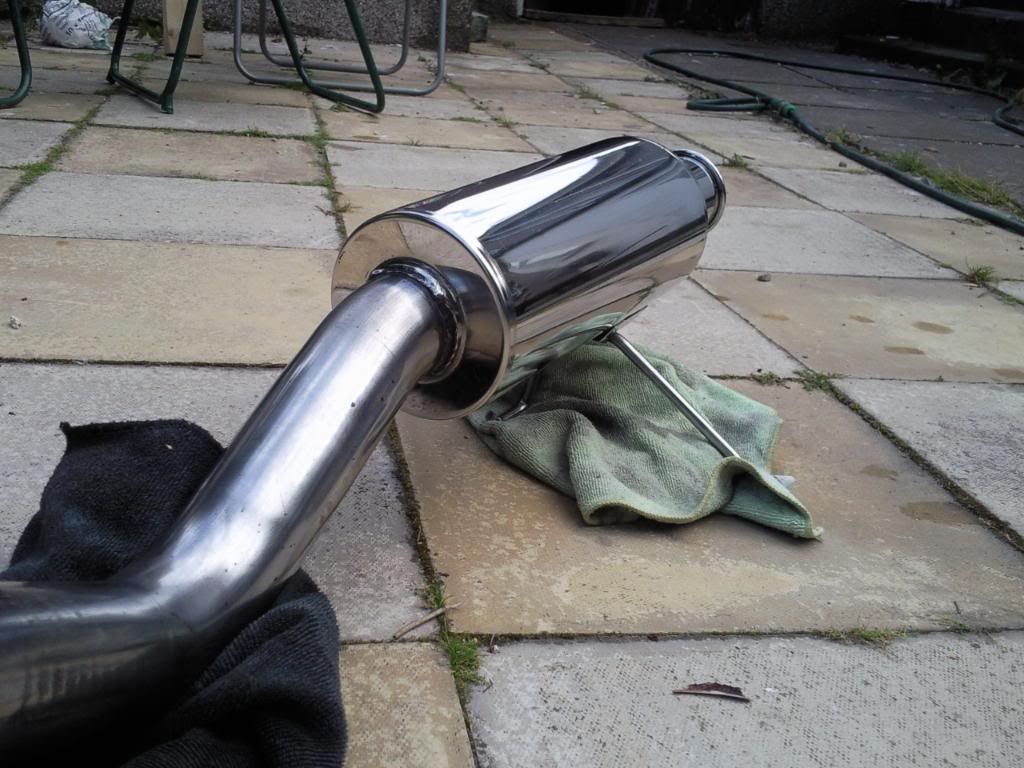 My tools for the job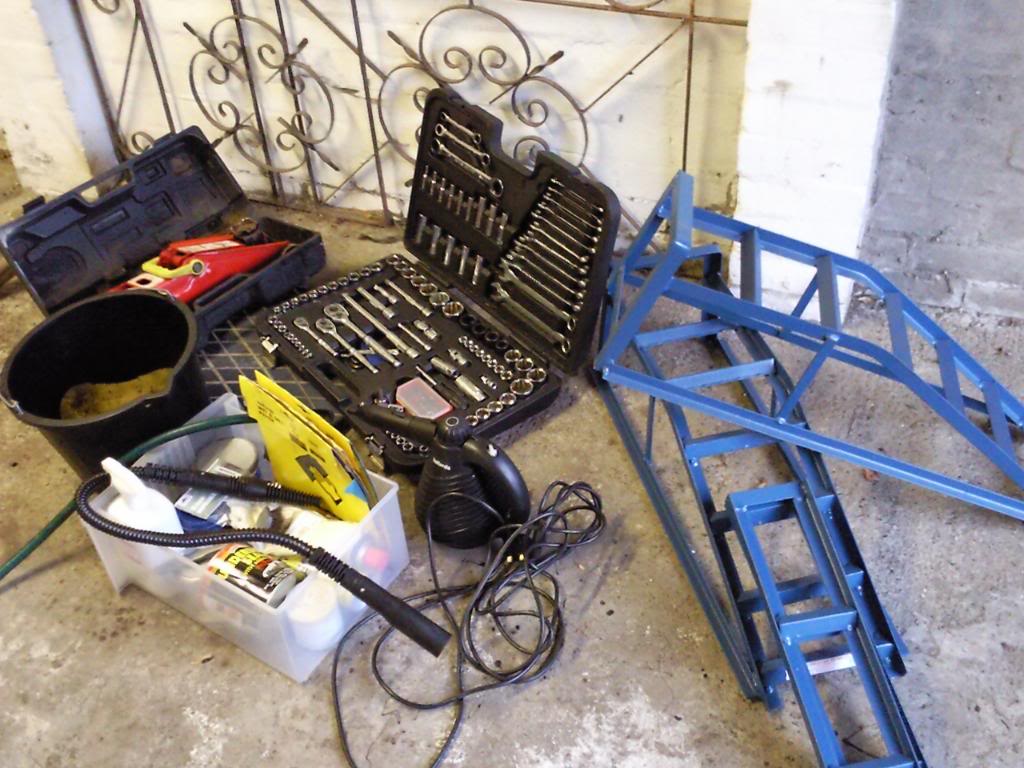 The undersealant i used, which worked really well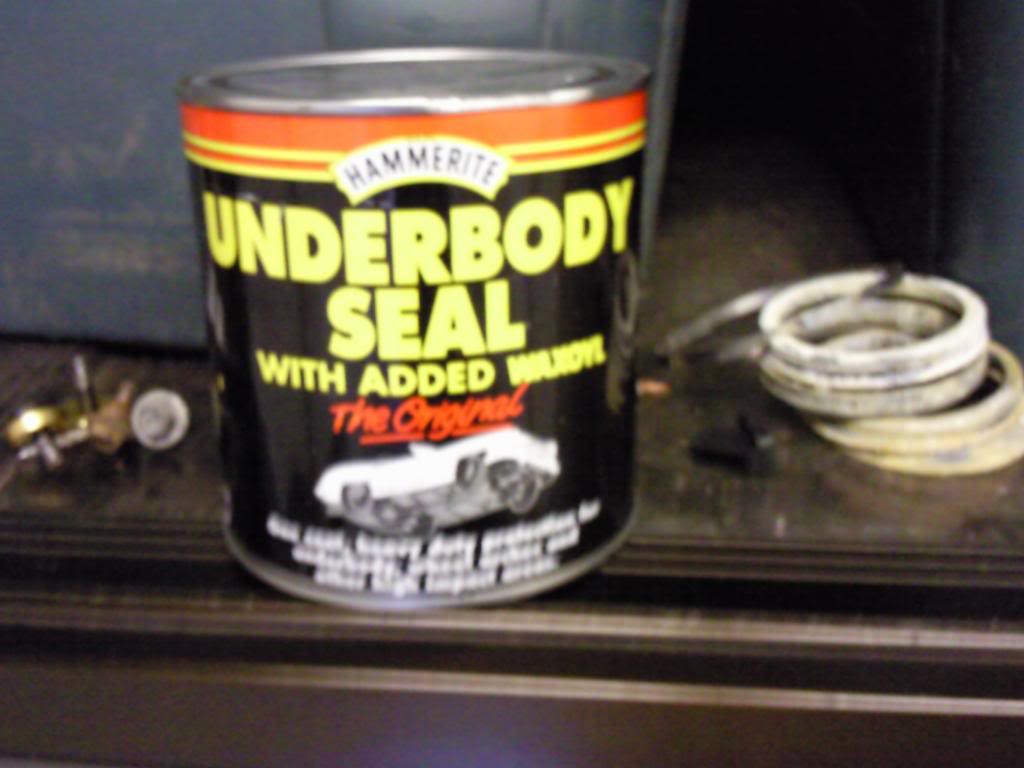 Also managed to get a shot of a steam cleaner from my mate ben, which i used along with white spirit and autoglym machine degreaser to get the majority of the old underseal off, which was a pain to do.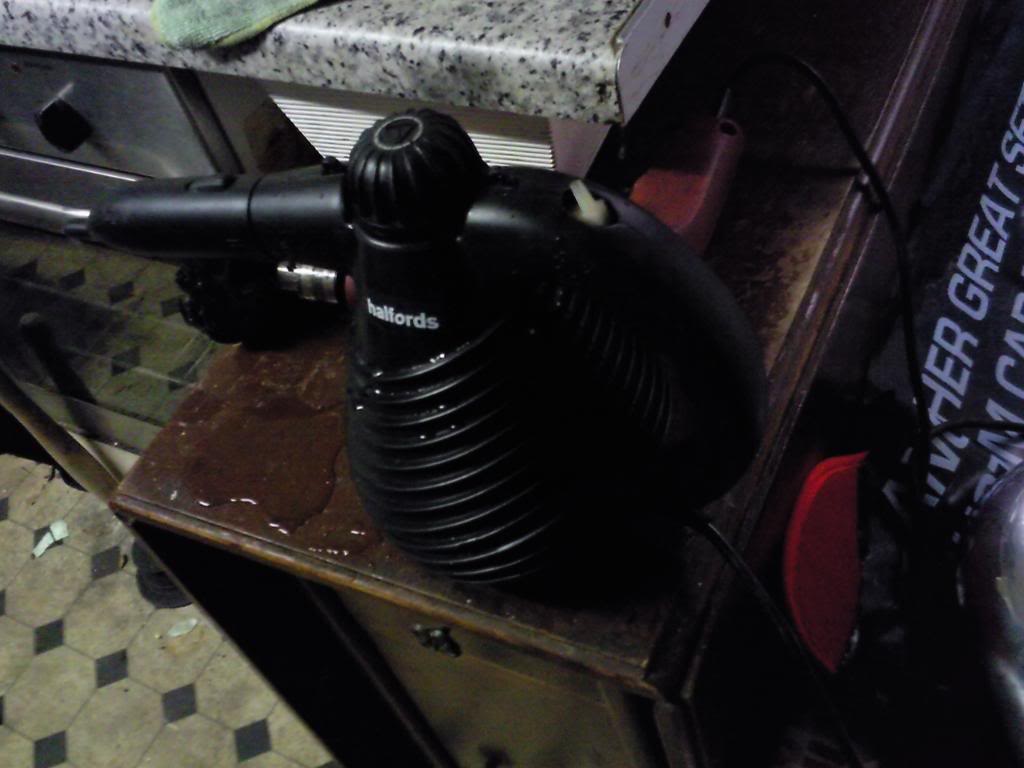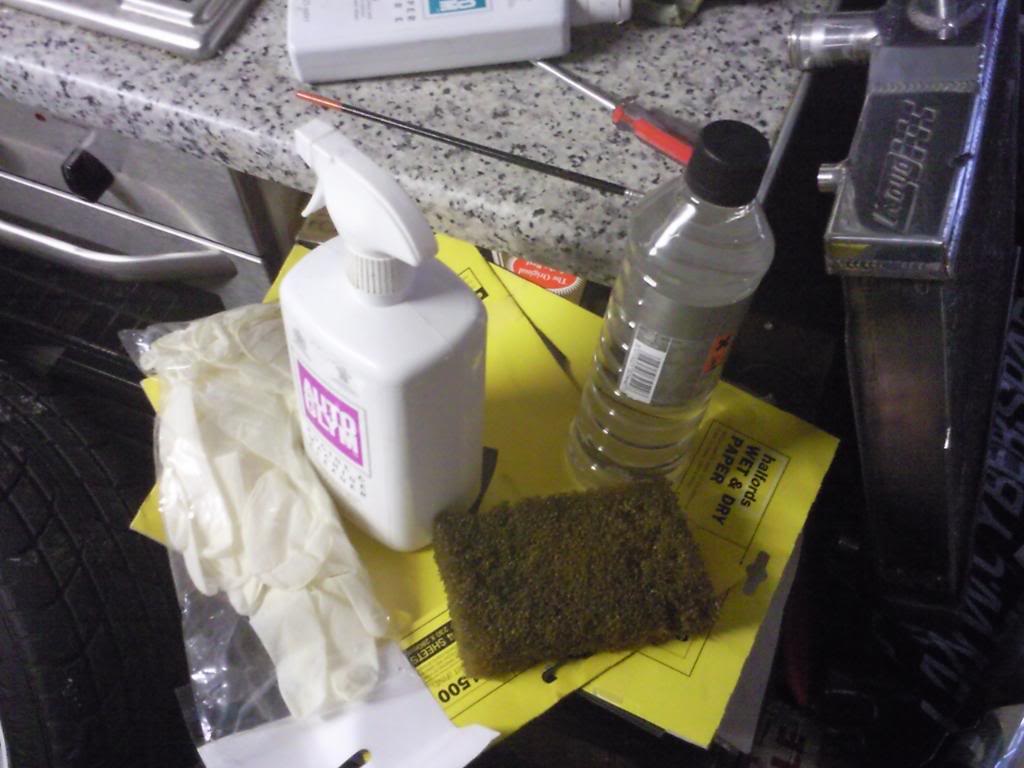 I always like to work on a clean car so first thing i done was i age the car a wash and dry.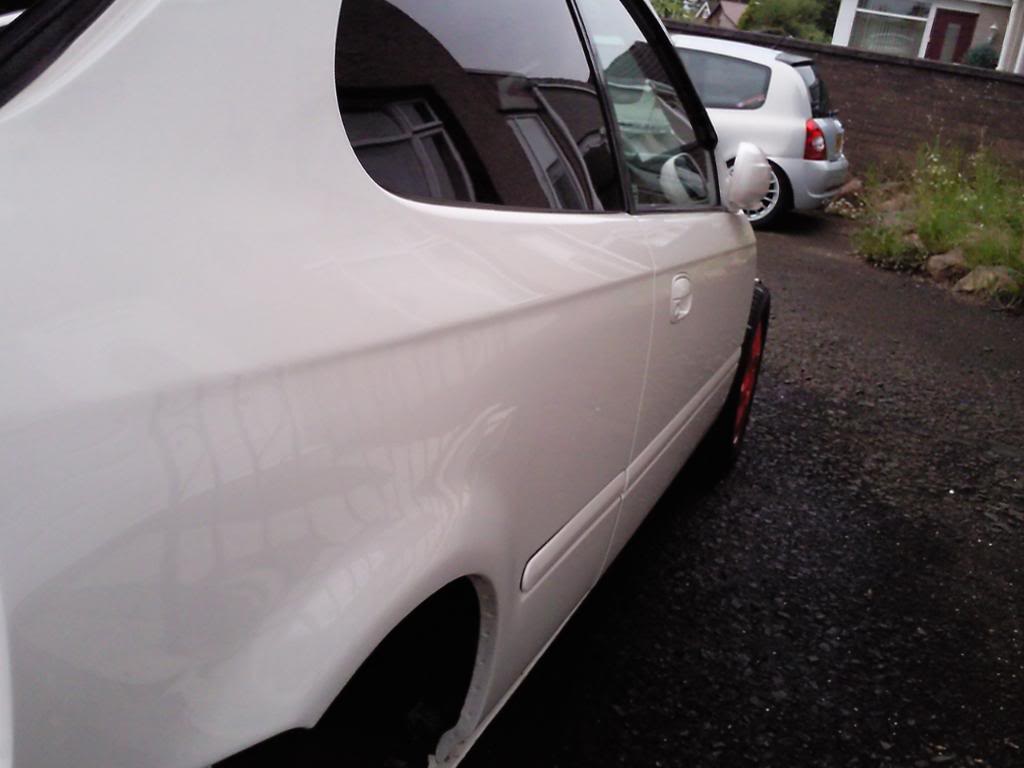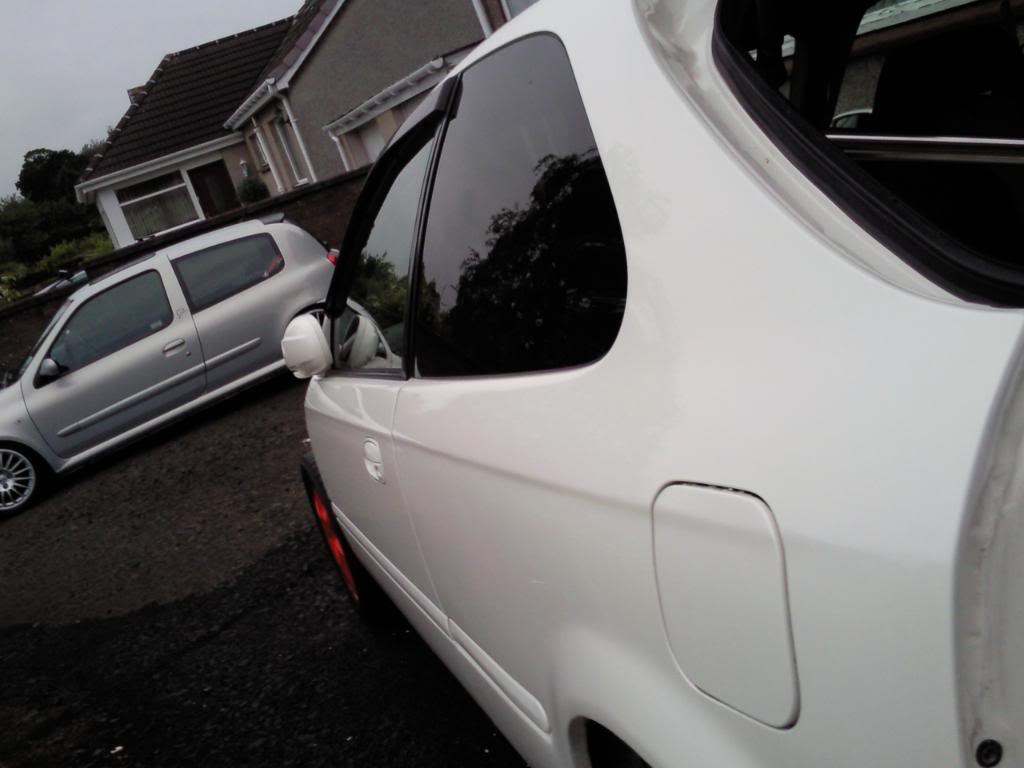 After i gave the car a good clean i was very happy with the fact that under all its clothes (wings, bumpers and sideskirts) its infact a very clean shell with no rust issues at all, which was confidence inspiring.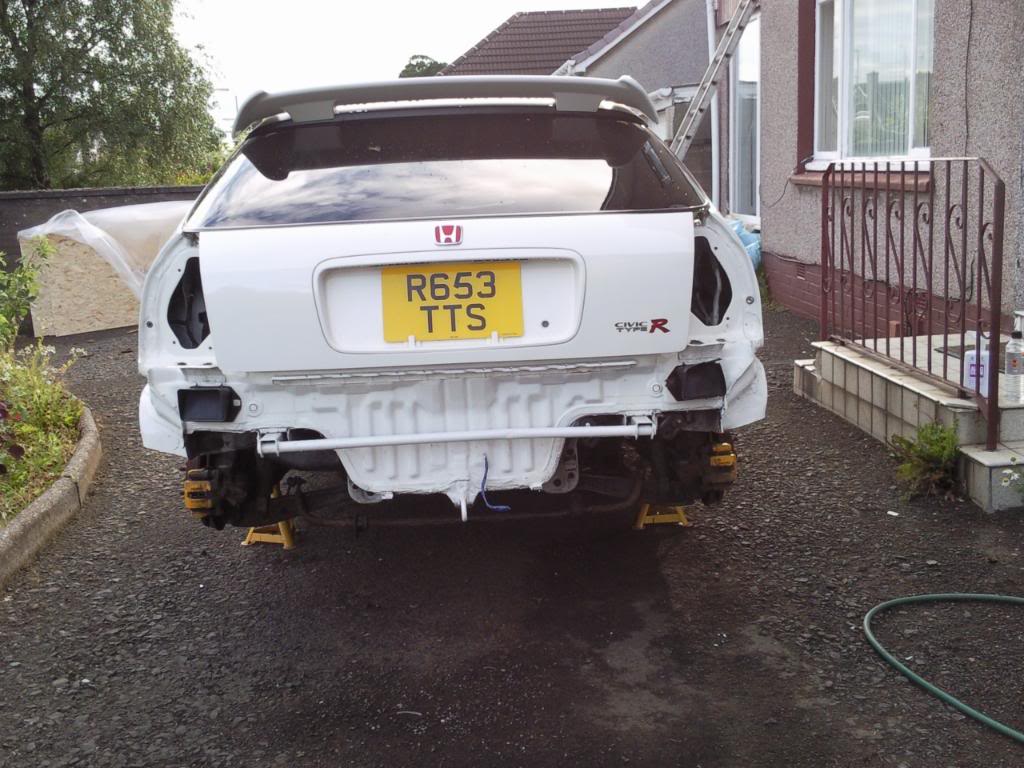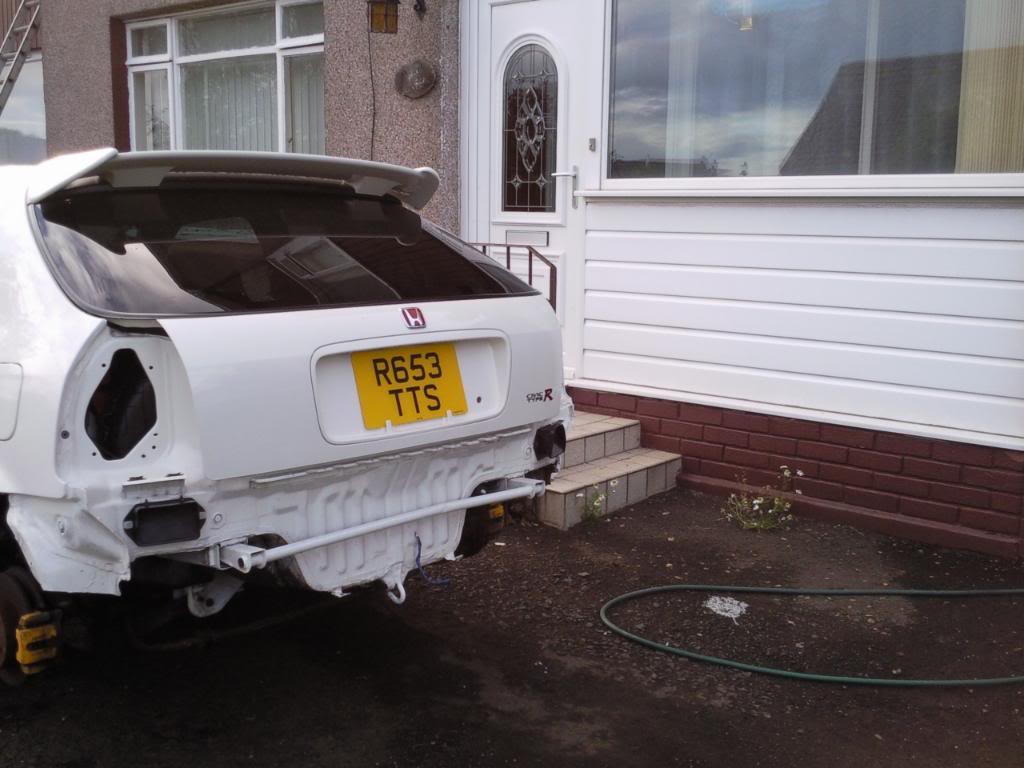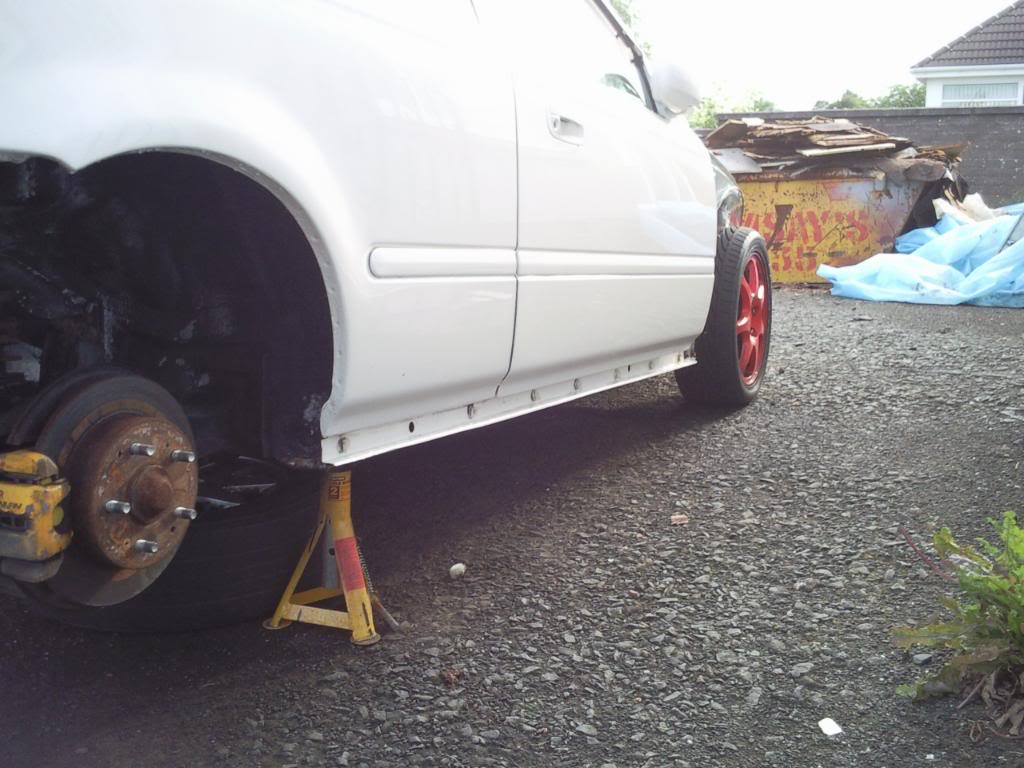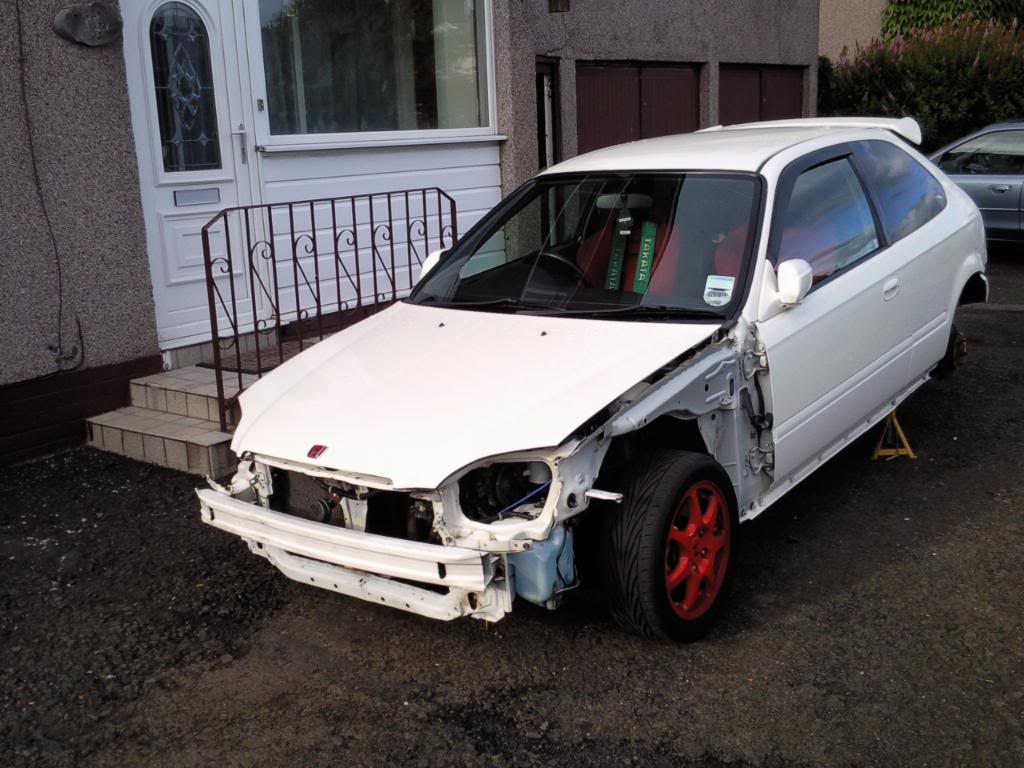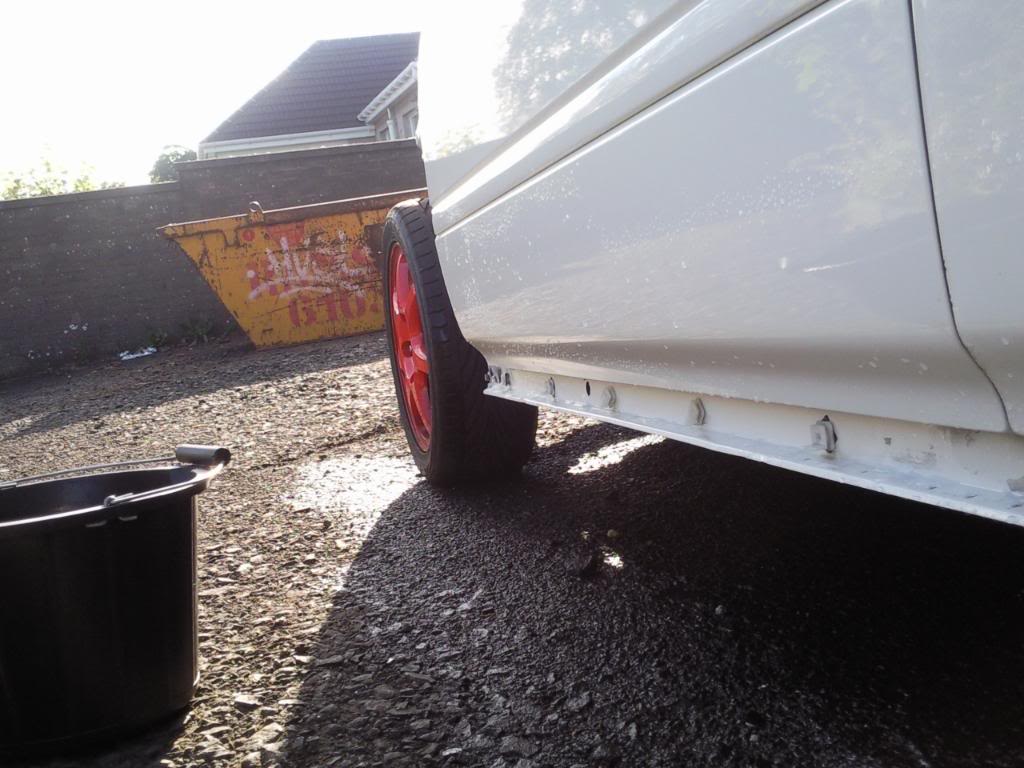 Then i moved onto the rear arches and cleaned them and then started scrubbing them down with a combination of white spirit and engine degreaser and steam, which got the majority of the old underseal off. Any old underseal that remained was rewarded for doing its job by staying on. I also removed the fuel sender cover and who ever undersealed it before never removed it as there were white patches behind it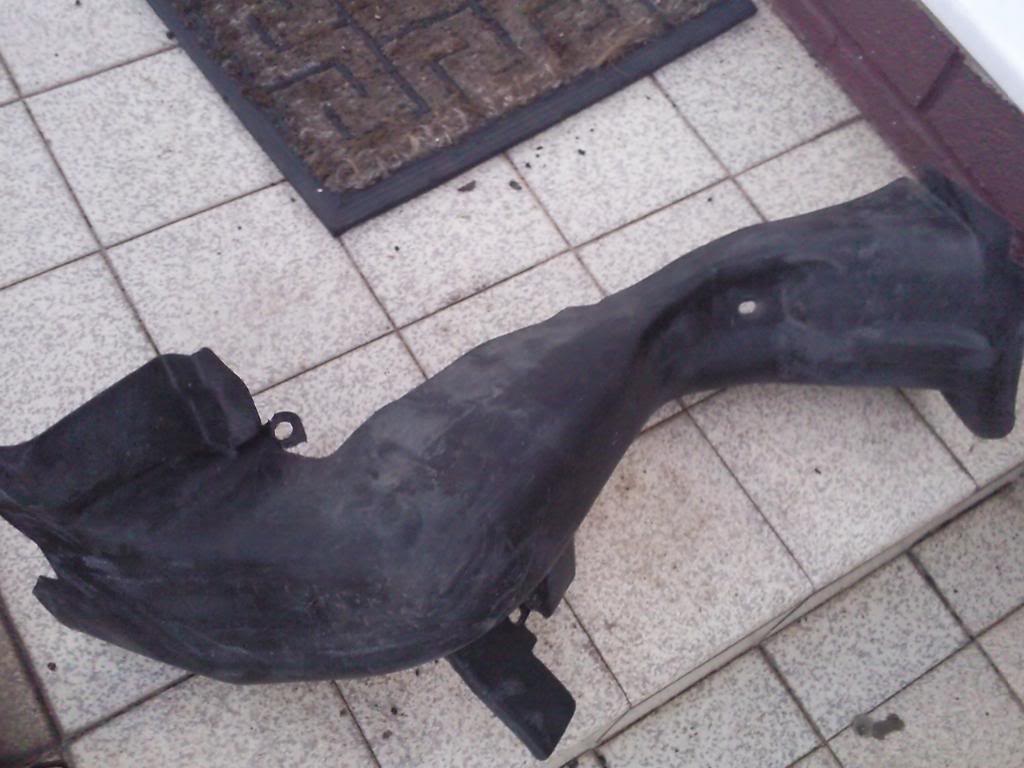 fuel sender cover cleaned and dressed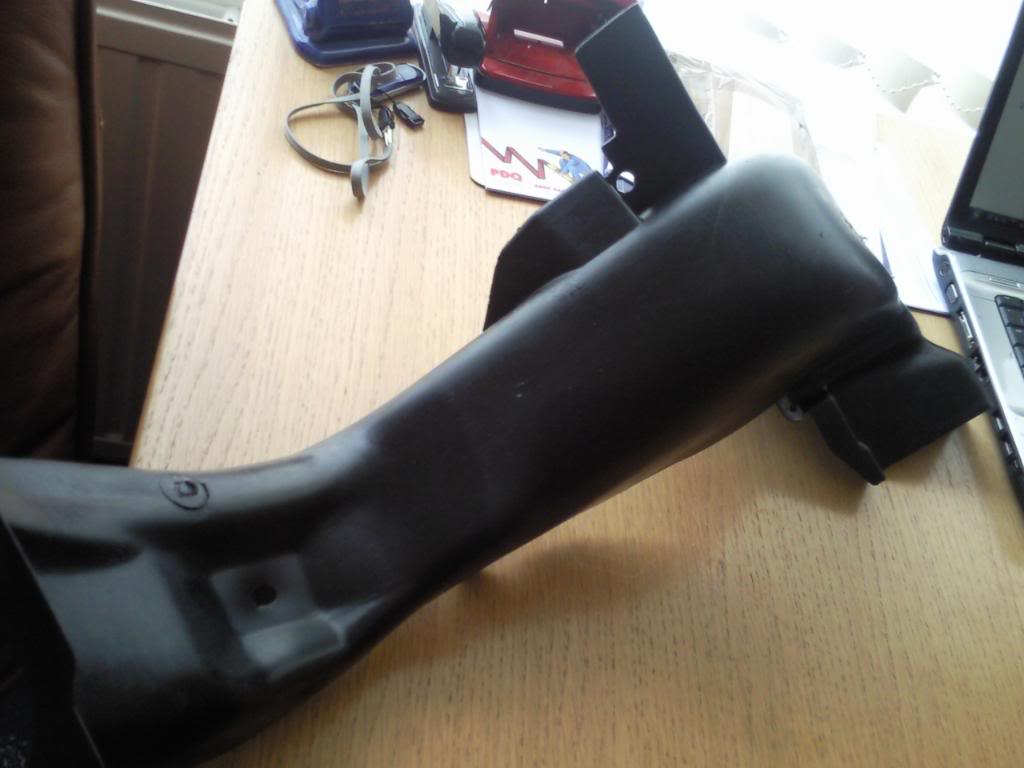 Before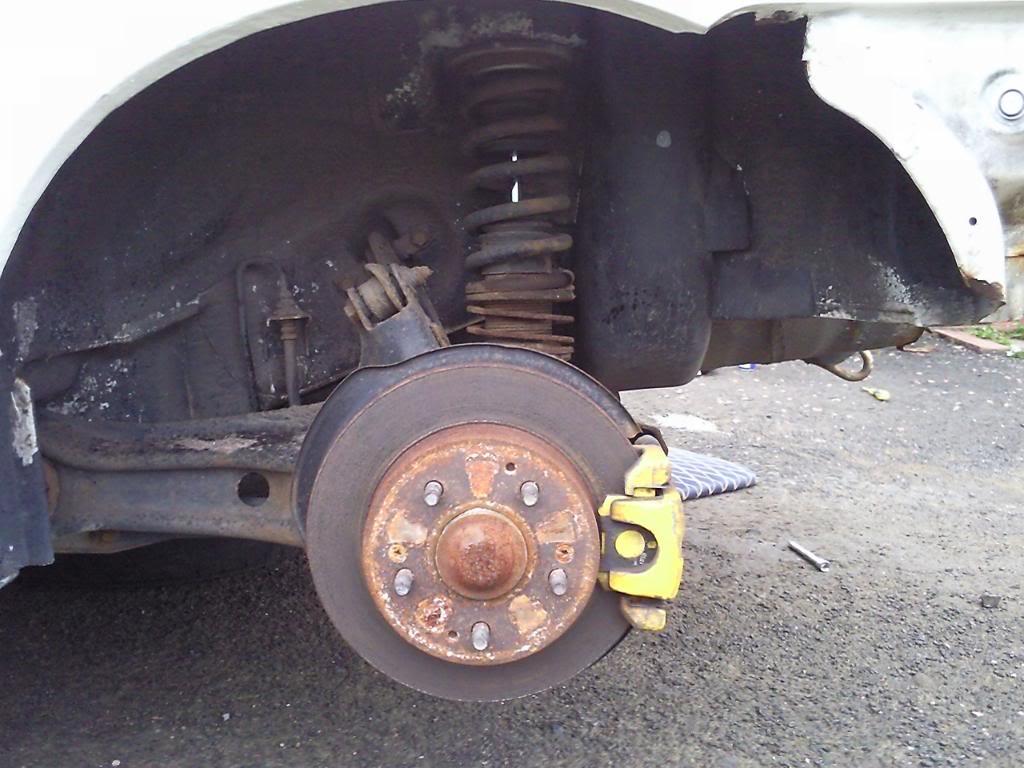 Then with alot of scubbing, sweating and swearing it started to come off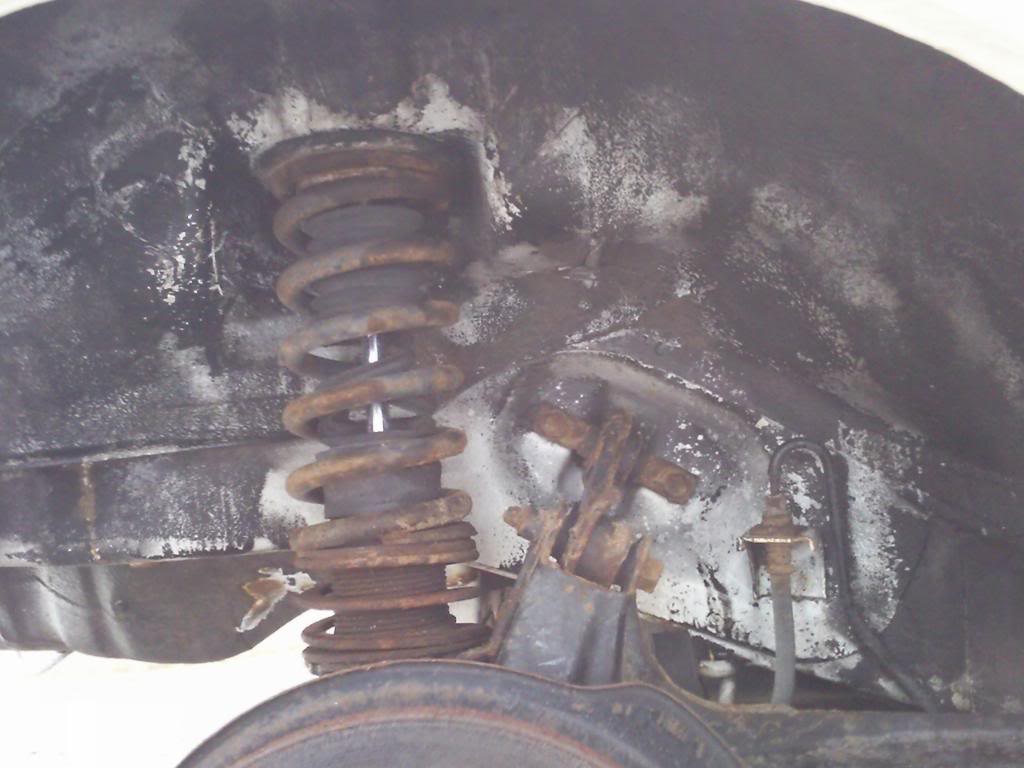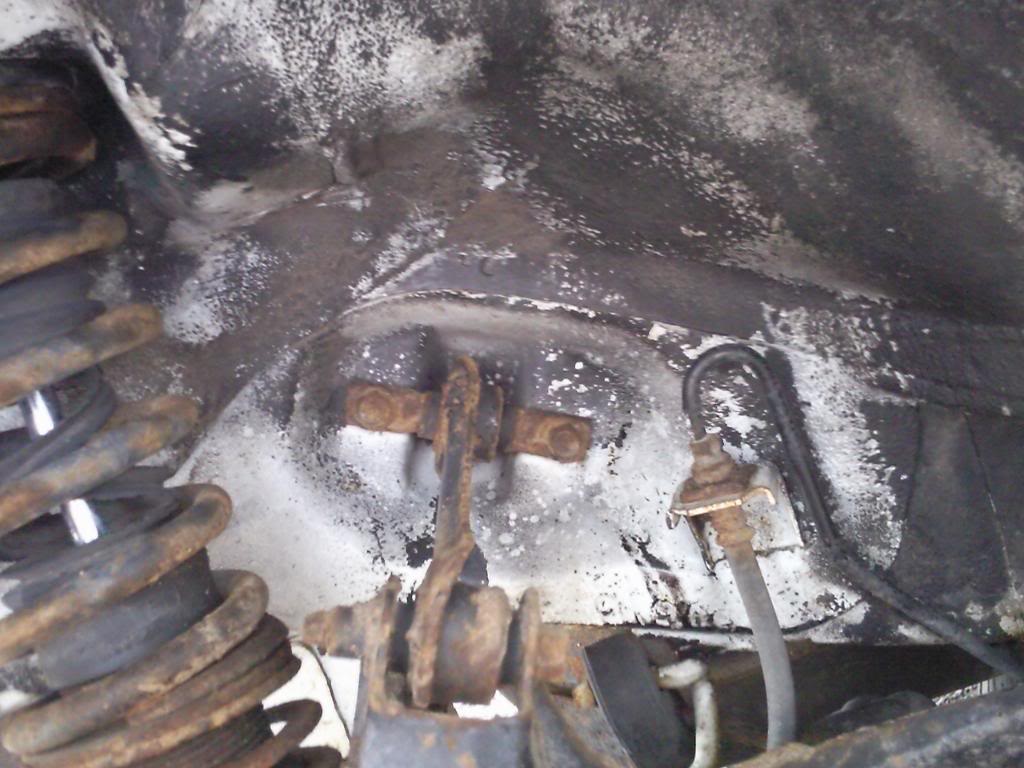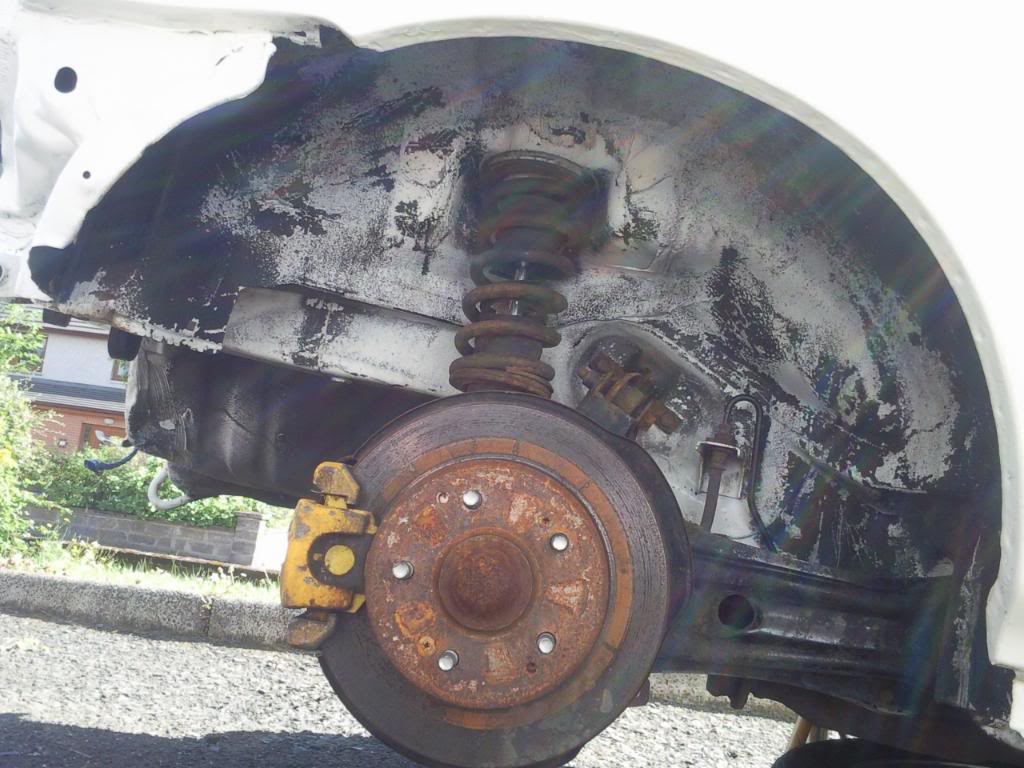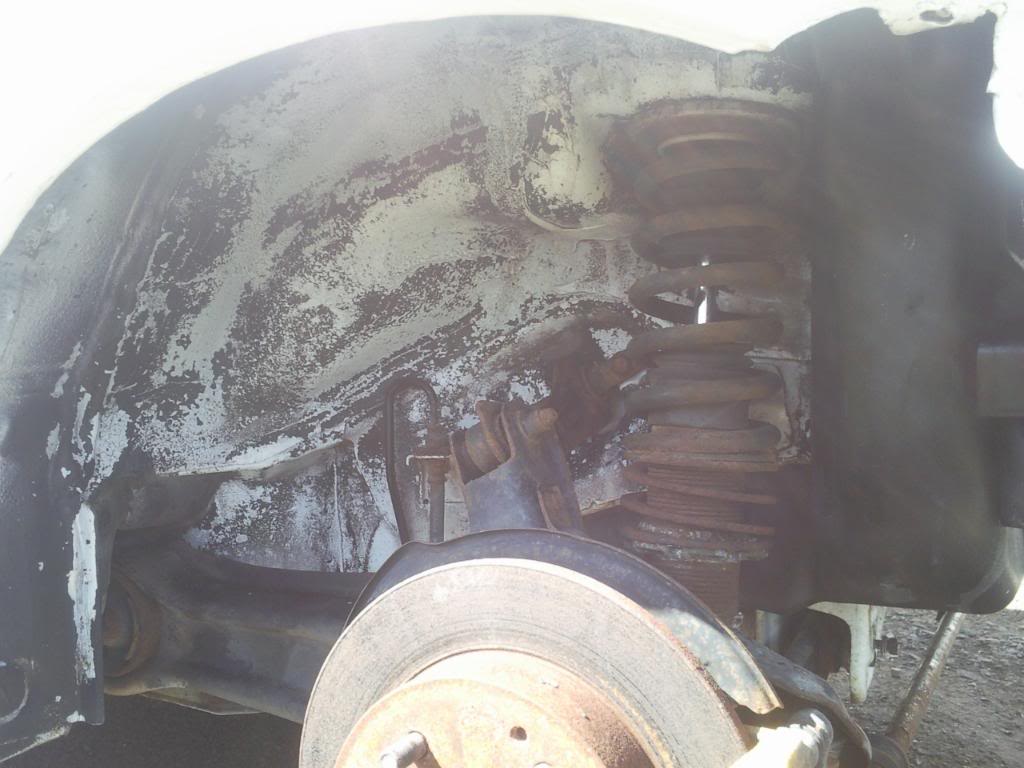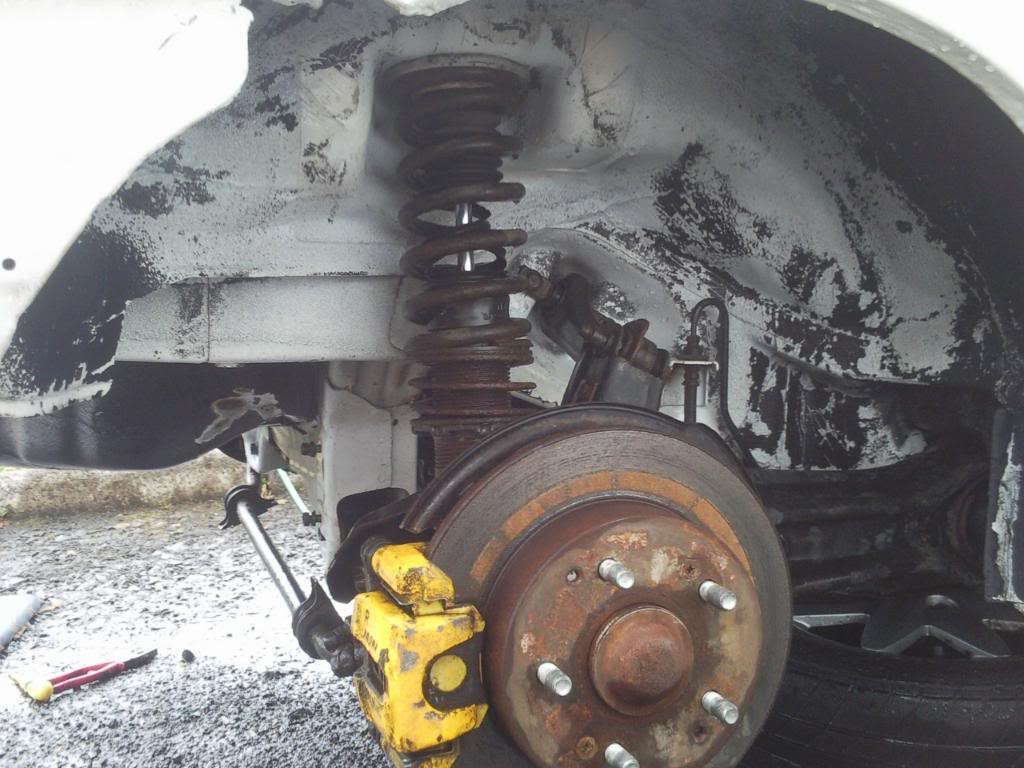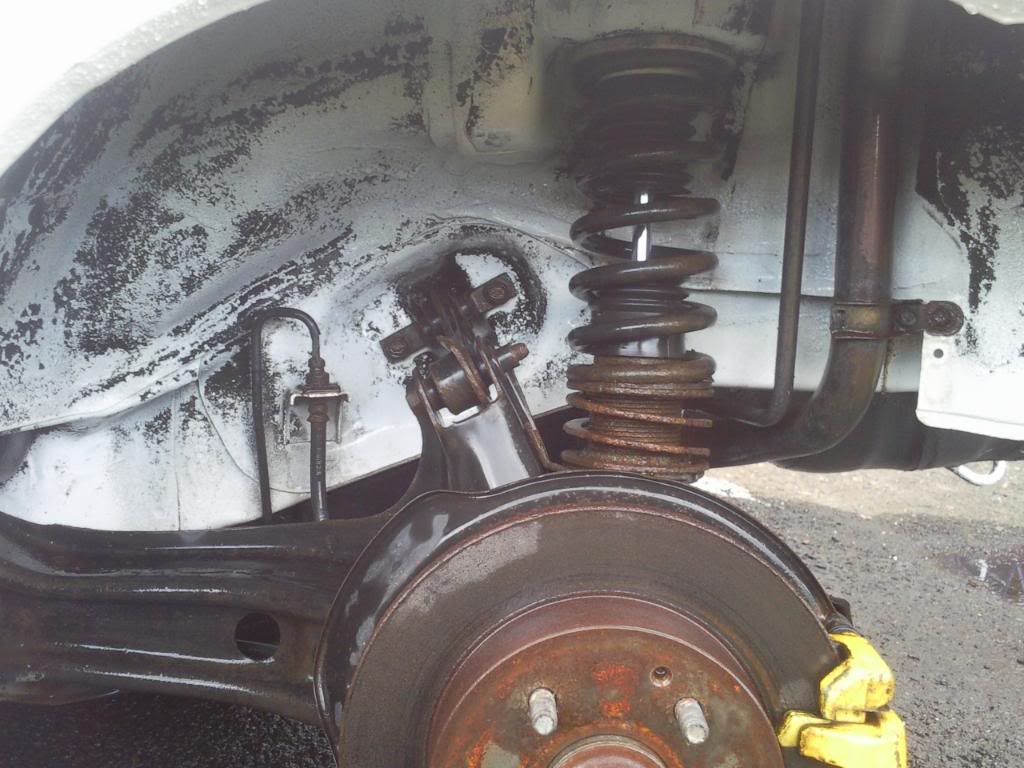 Then i washed the arches one final time to get ride of any loose particals and let it dry over night so i could start with applying the underseal the next day.
I painted the rear calipers and anti roll bar yellow the night before then the next day i masked up areas where i didint want any underseal to keep the job neat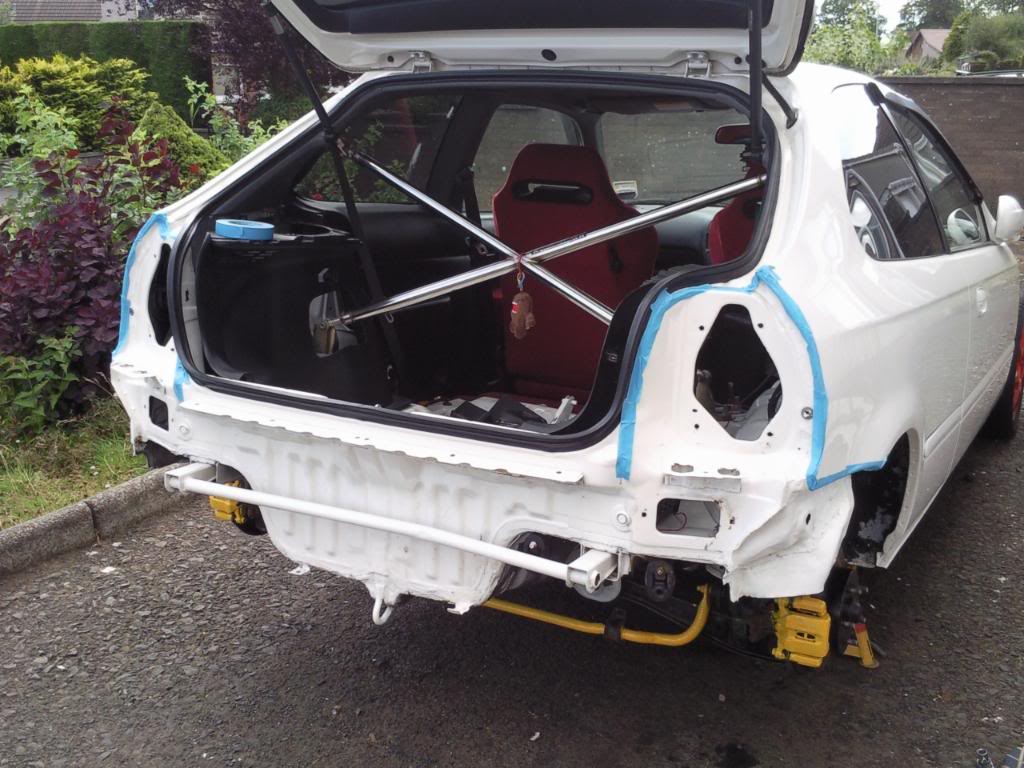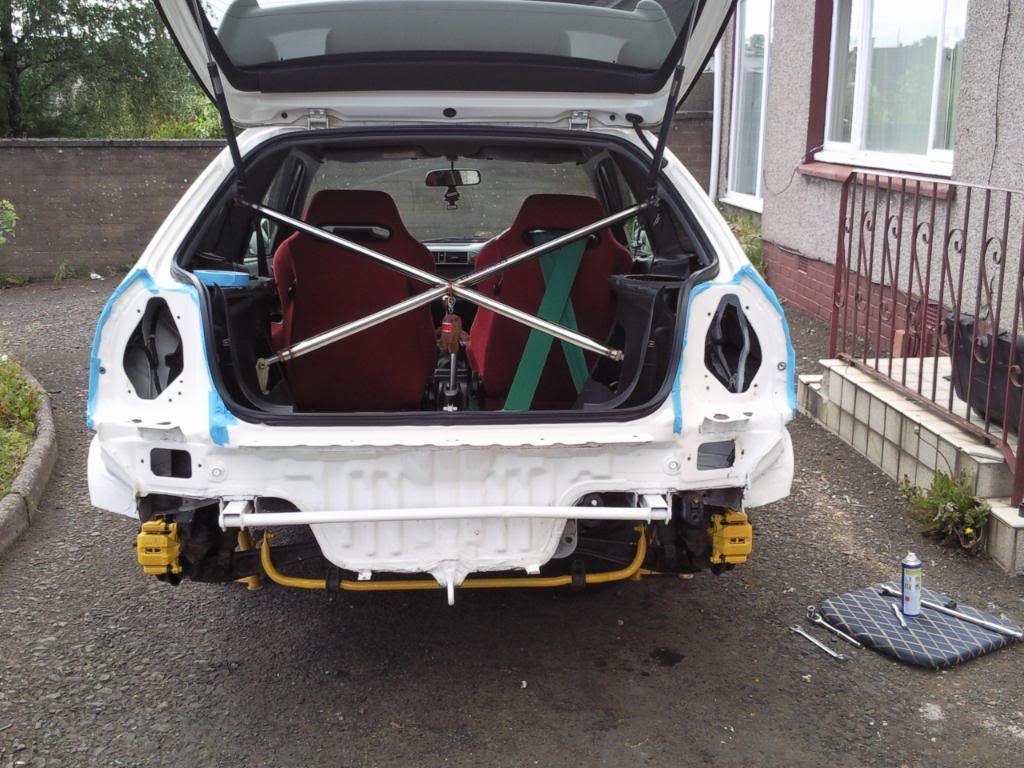 Then i gloved up as its horrible stuff to get on your hands and got cracking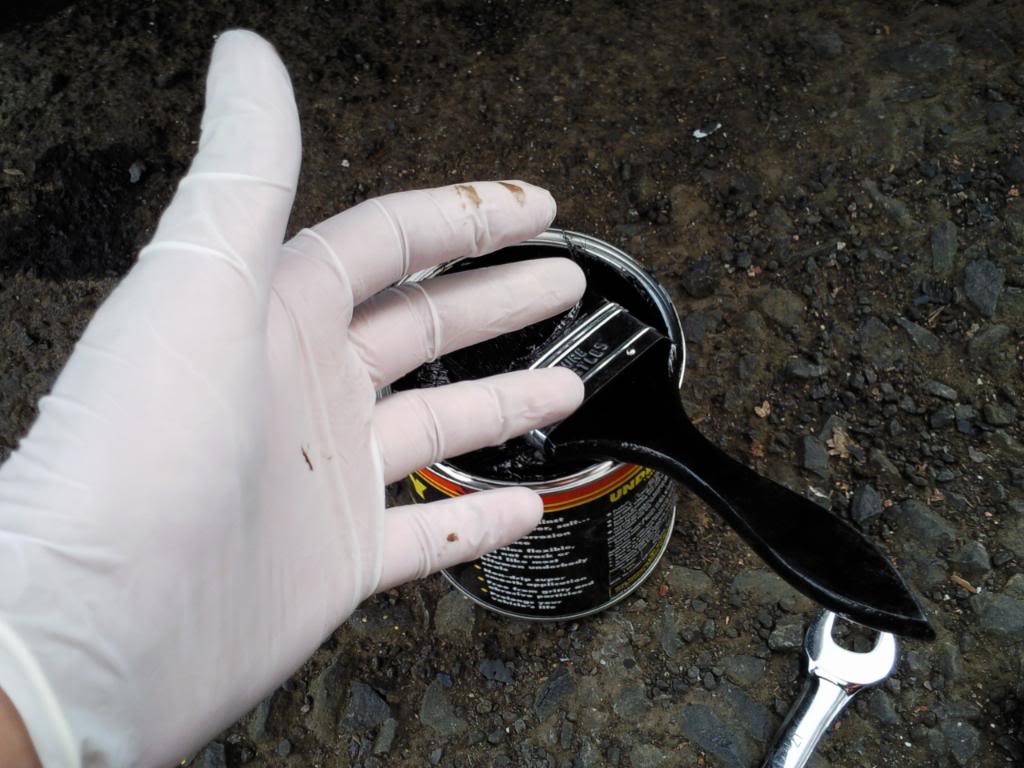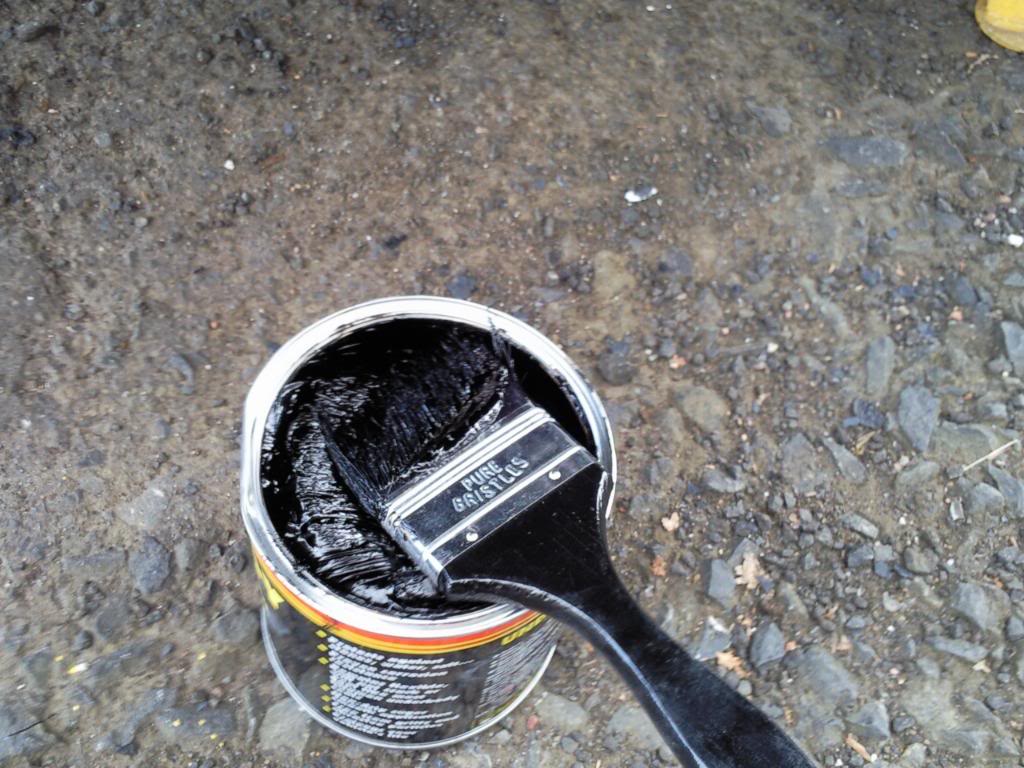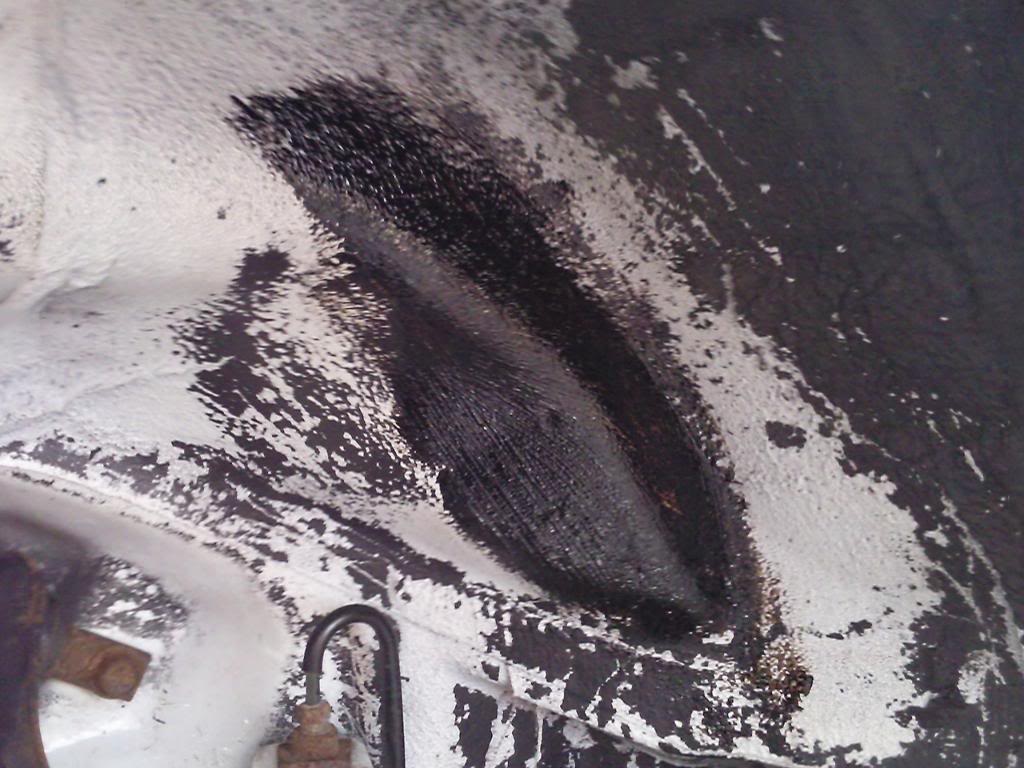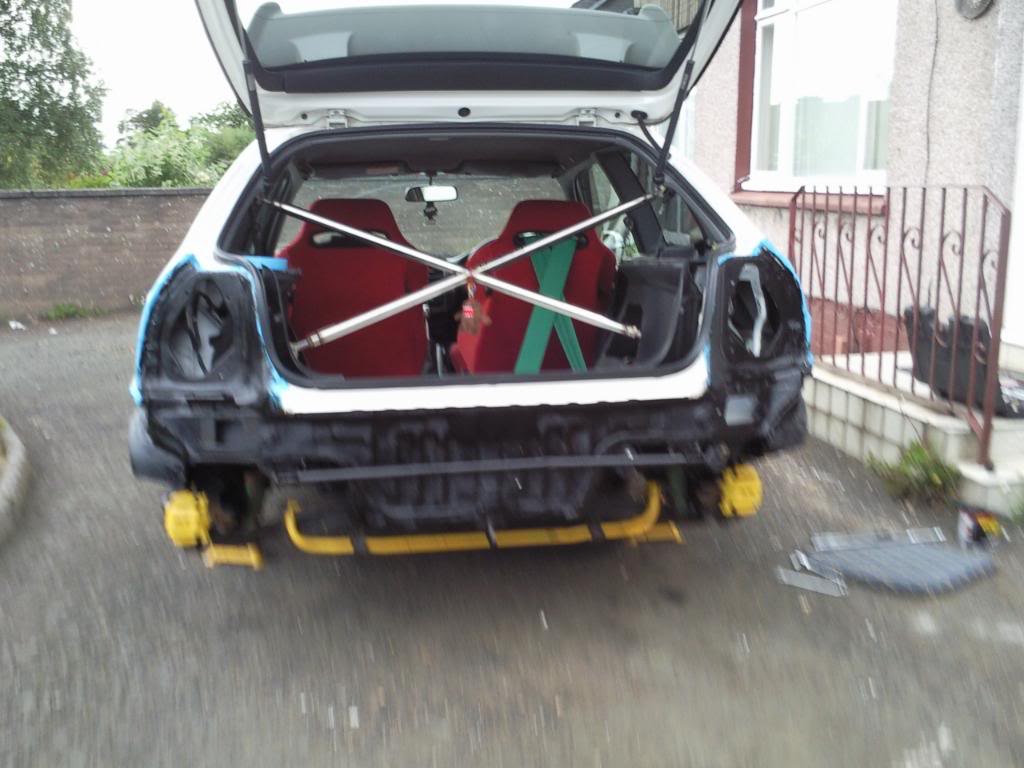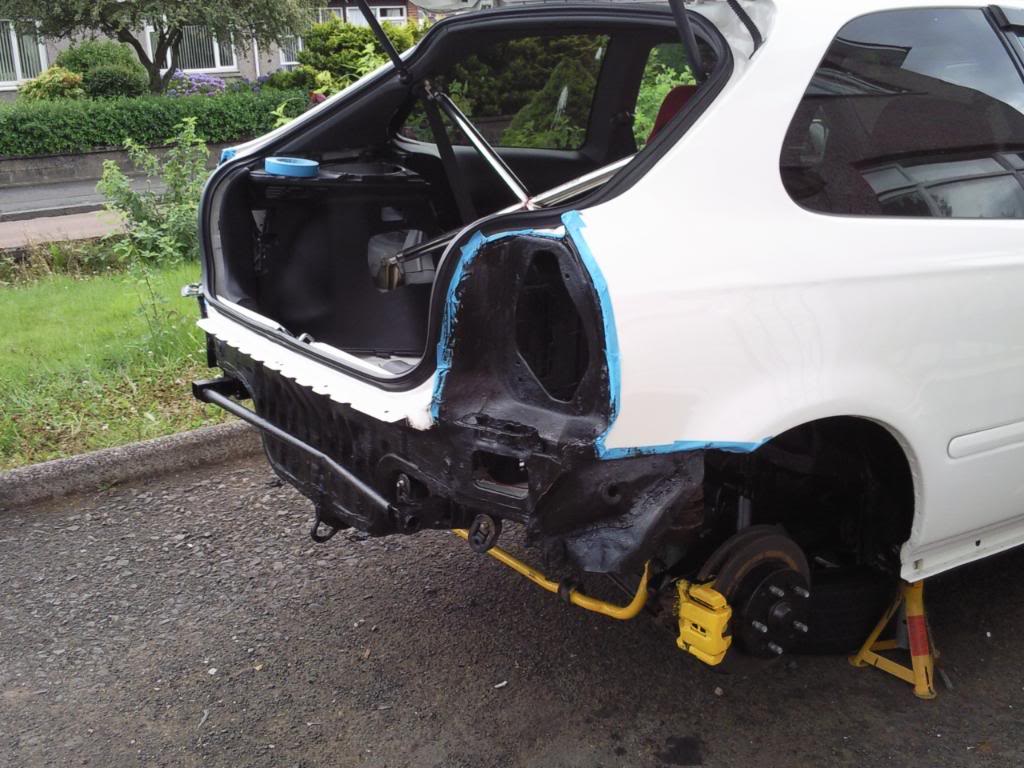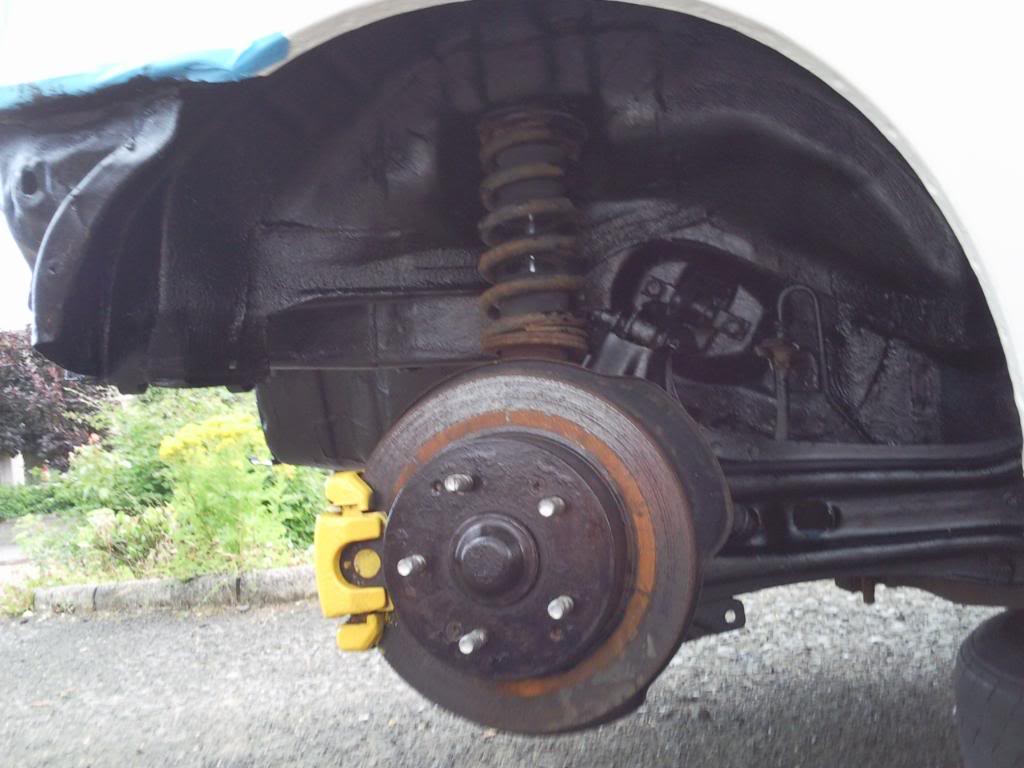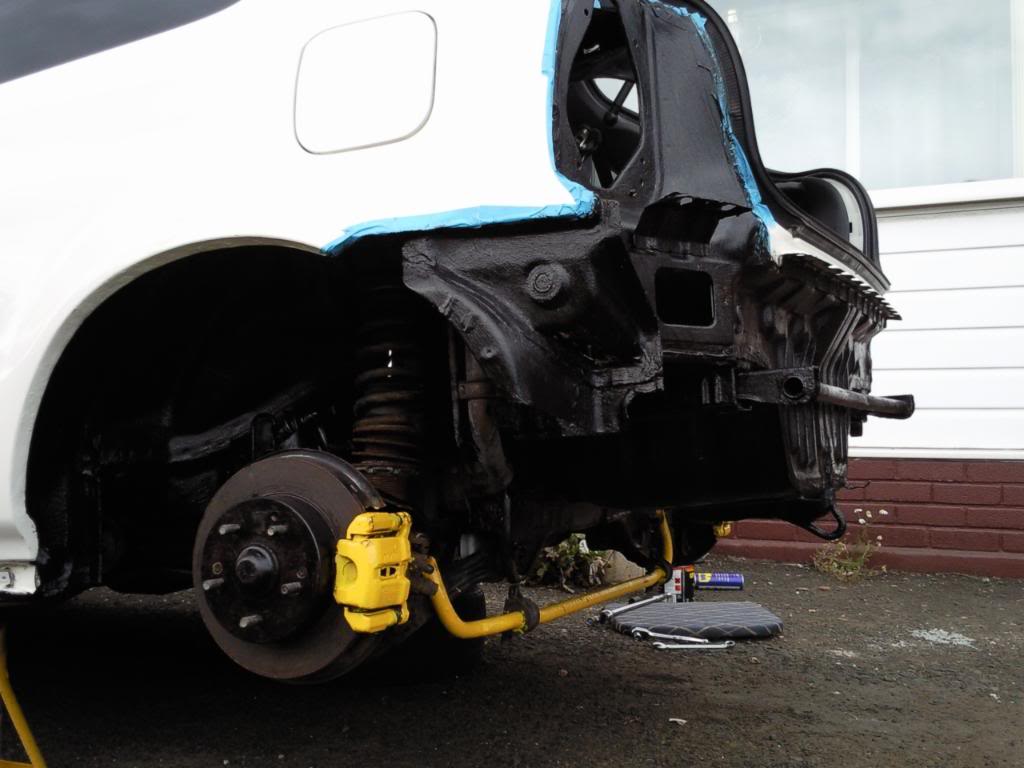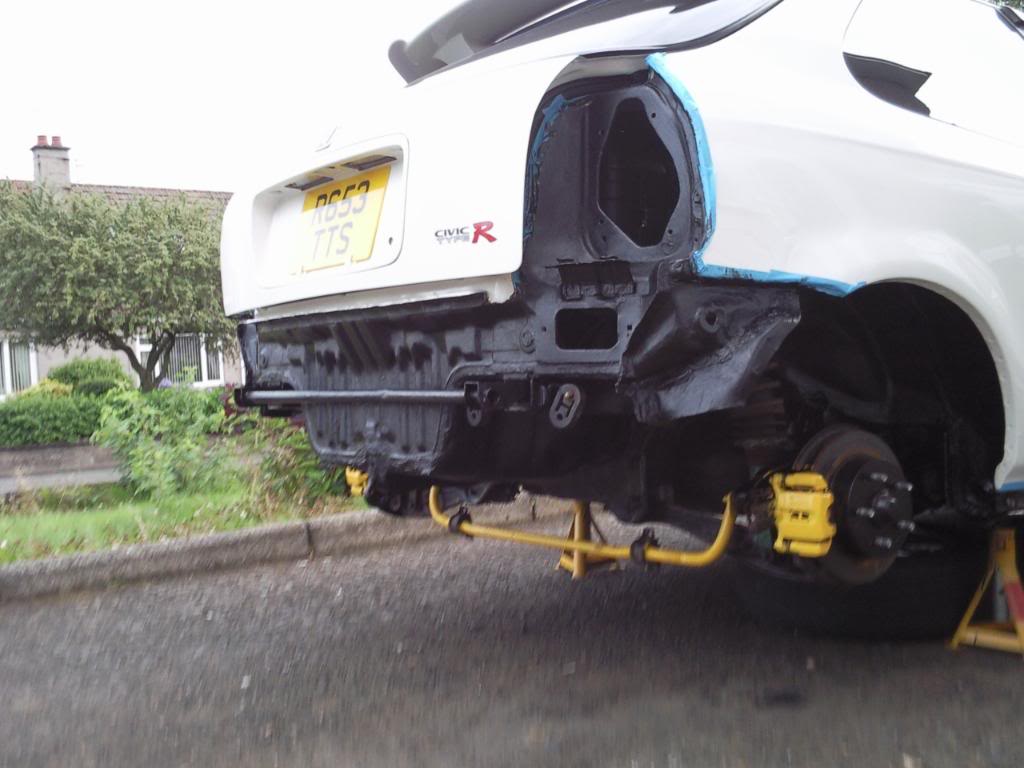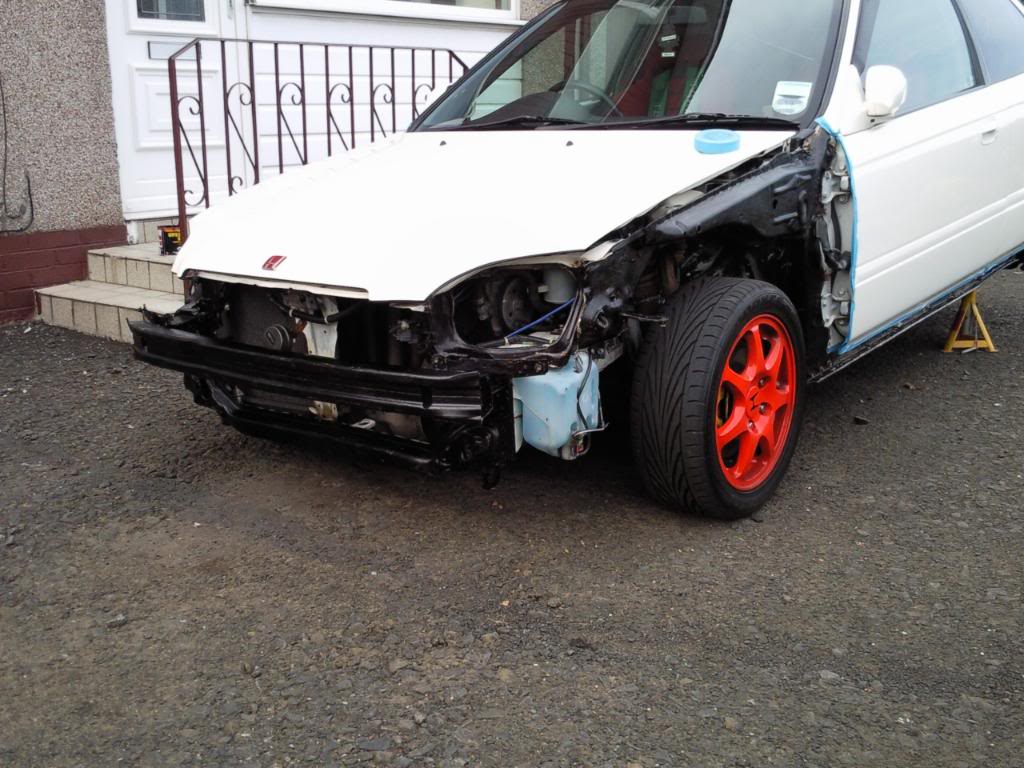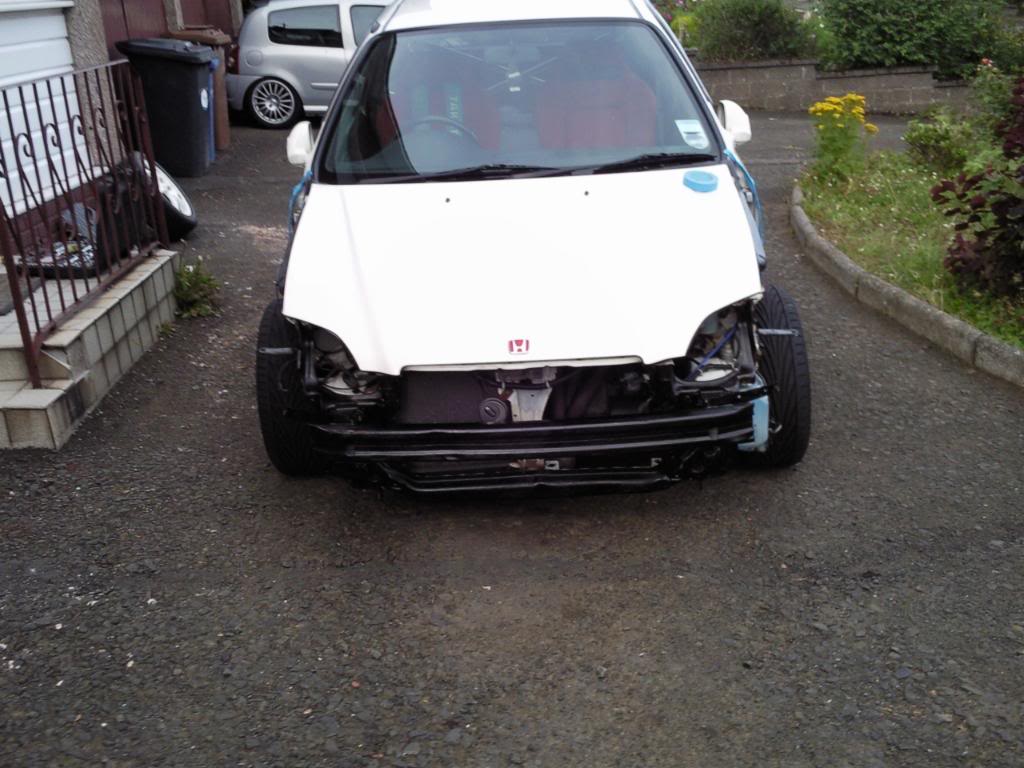 I also undersealed insde the rear quarter pannels as thats a very common place for rust to start on ek and eg civics.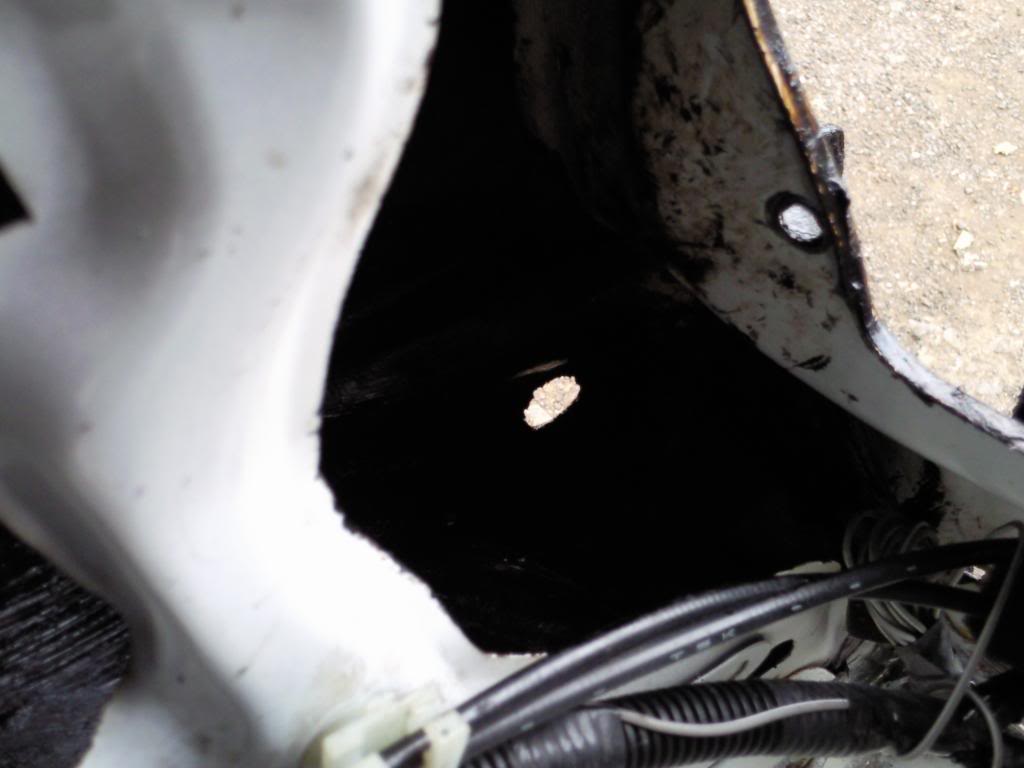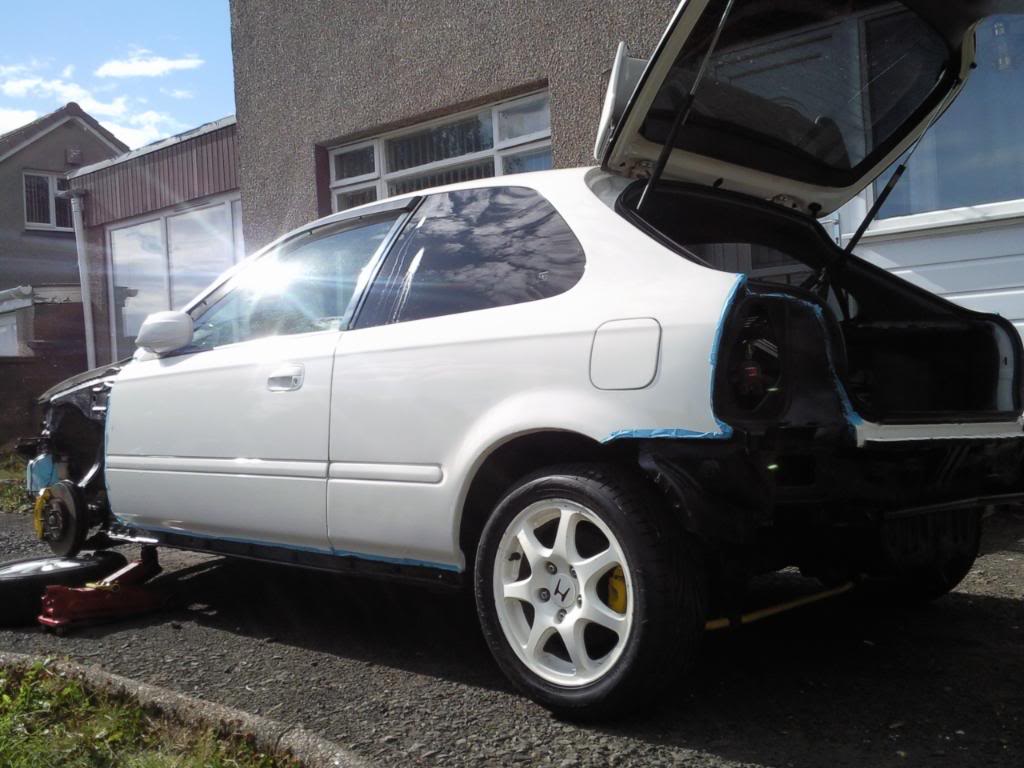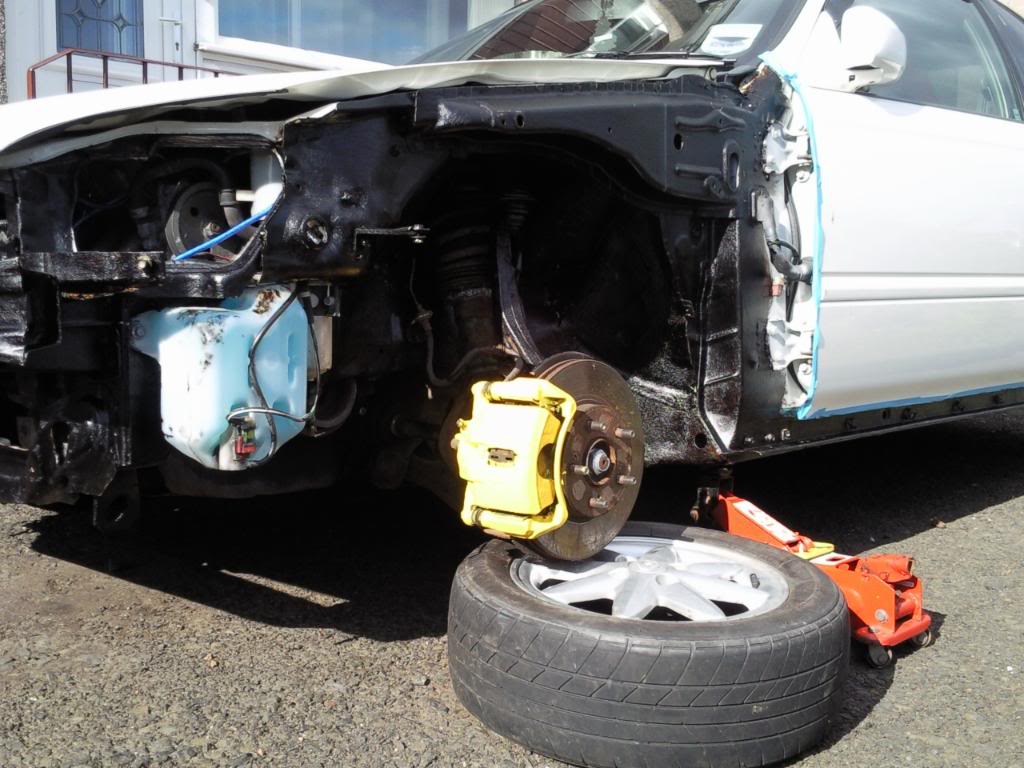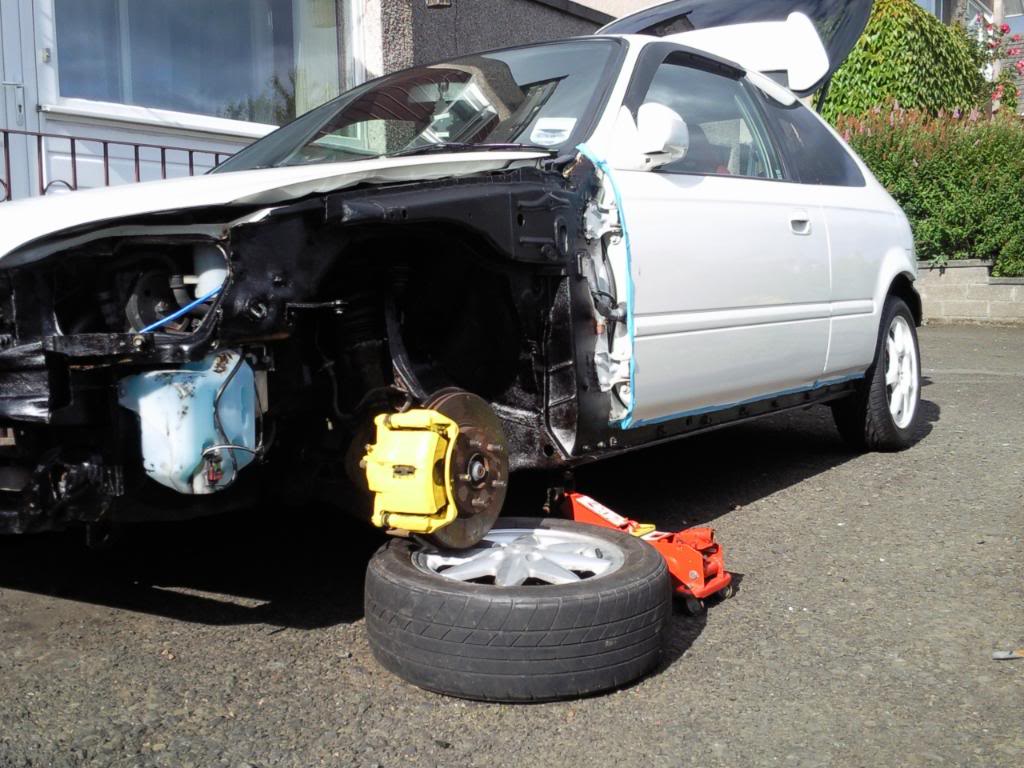 Again i painted the calipers and the underseal on the washer bottle came off with a wipe down with white spirit and also the car was not resting on the wheel in the pic above. it was on the jack but i put it there incase the jack failed for some reason.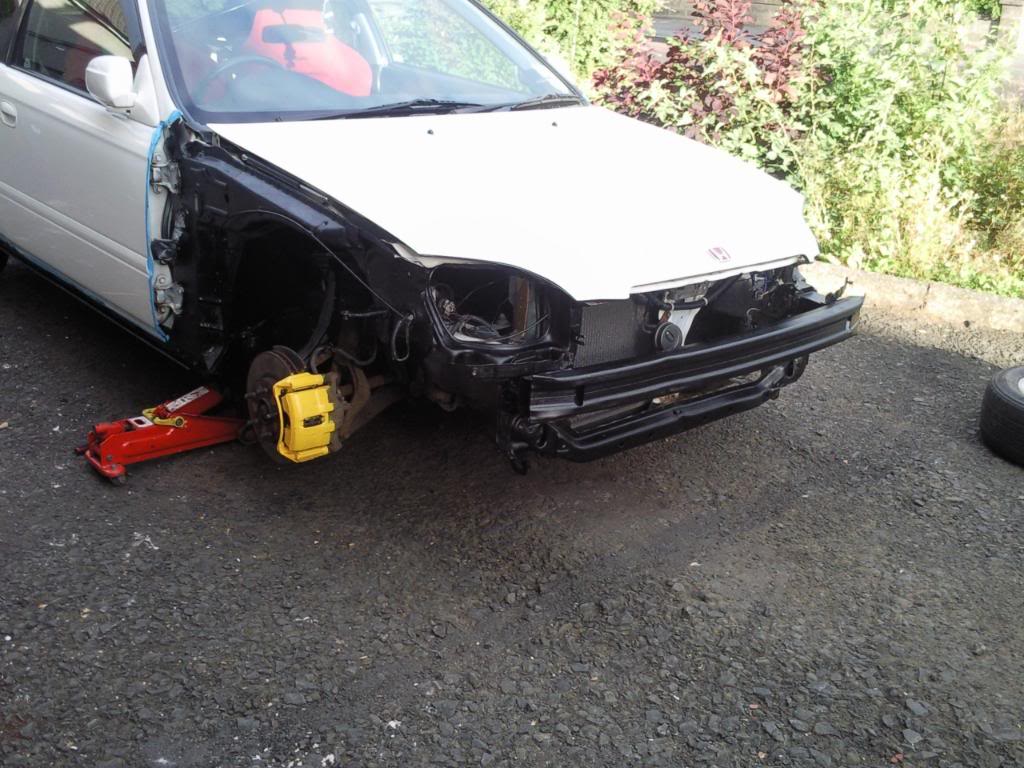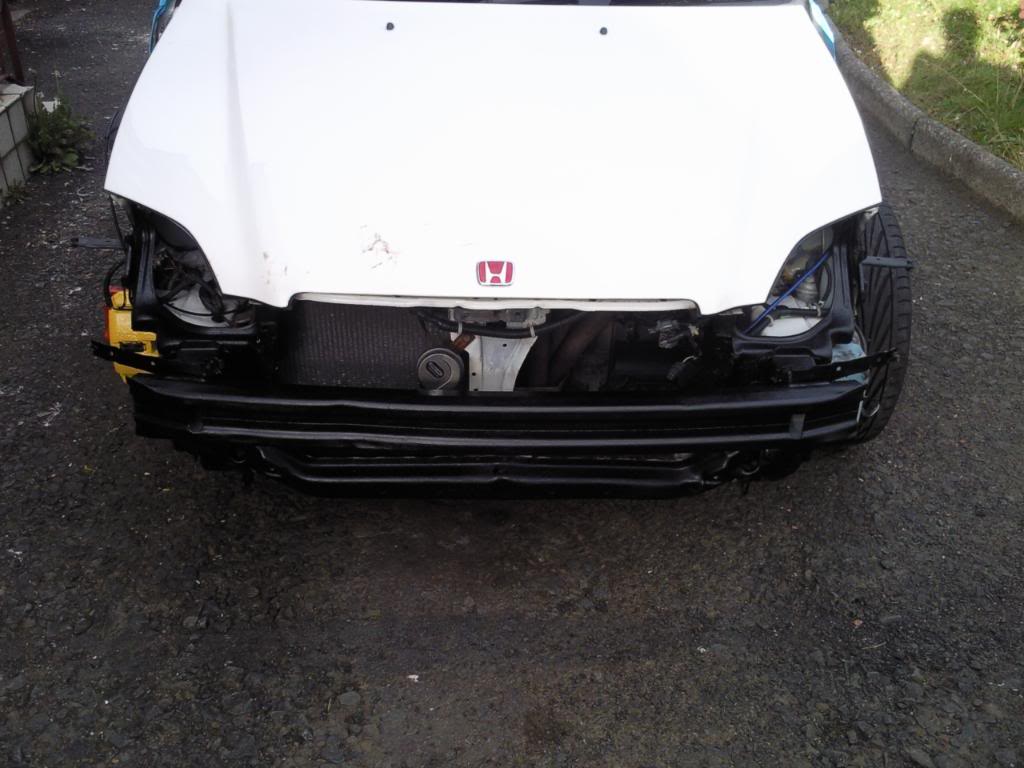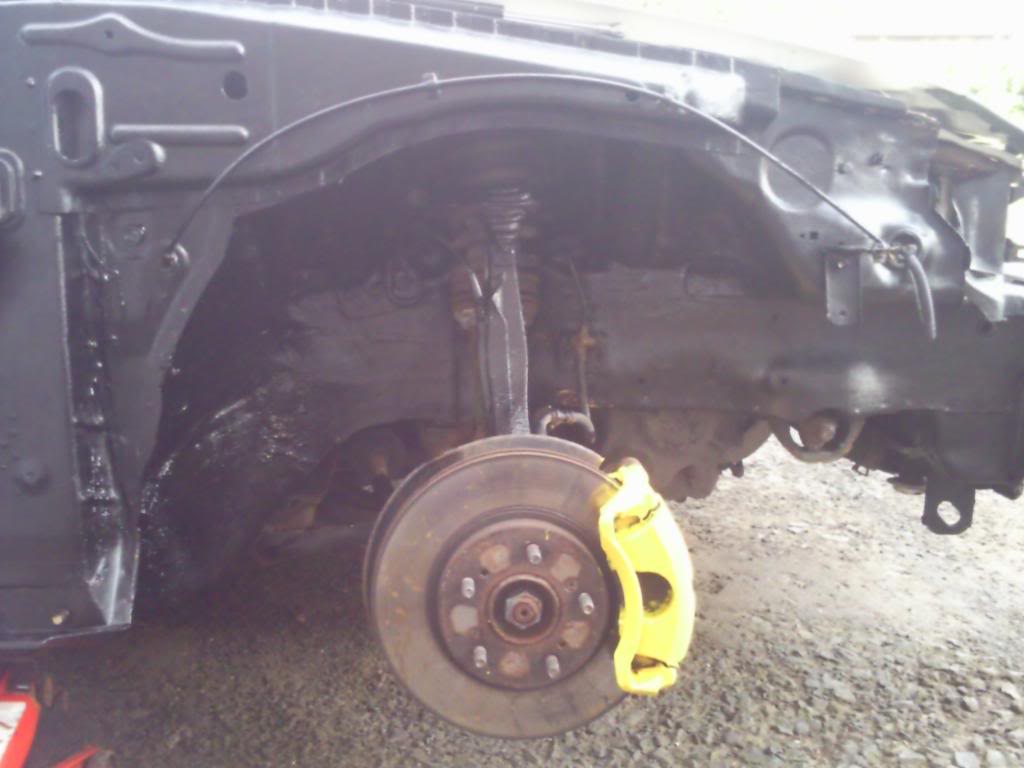 Then i covered the car up over night to let it dry. Overall i gave it 3 thick coats and let it dry for 5 days. i wasnt insured on teh car and had the clio to run around in so i wasnt bothered. the weather was amazing aswell and didnt rain once which was a bonus.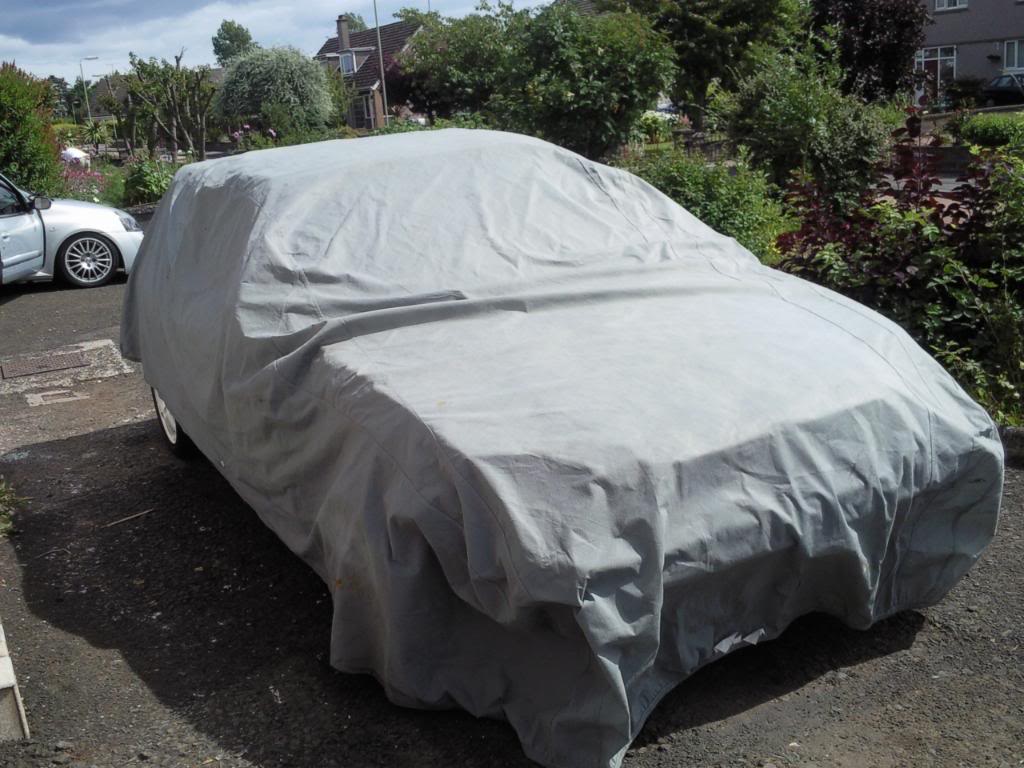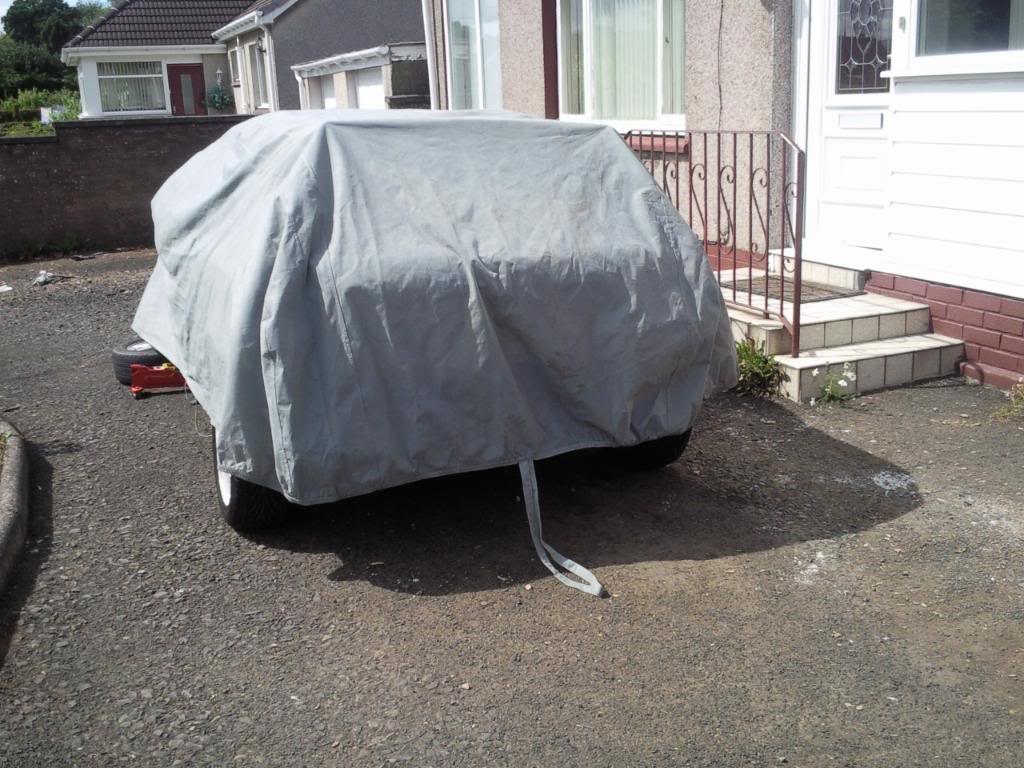 Also undersealed behind the front wings for added protection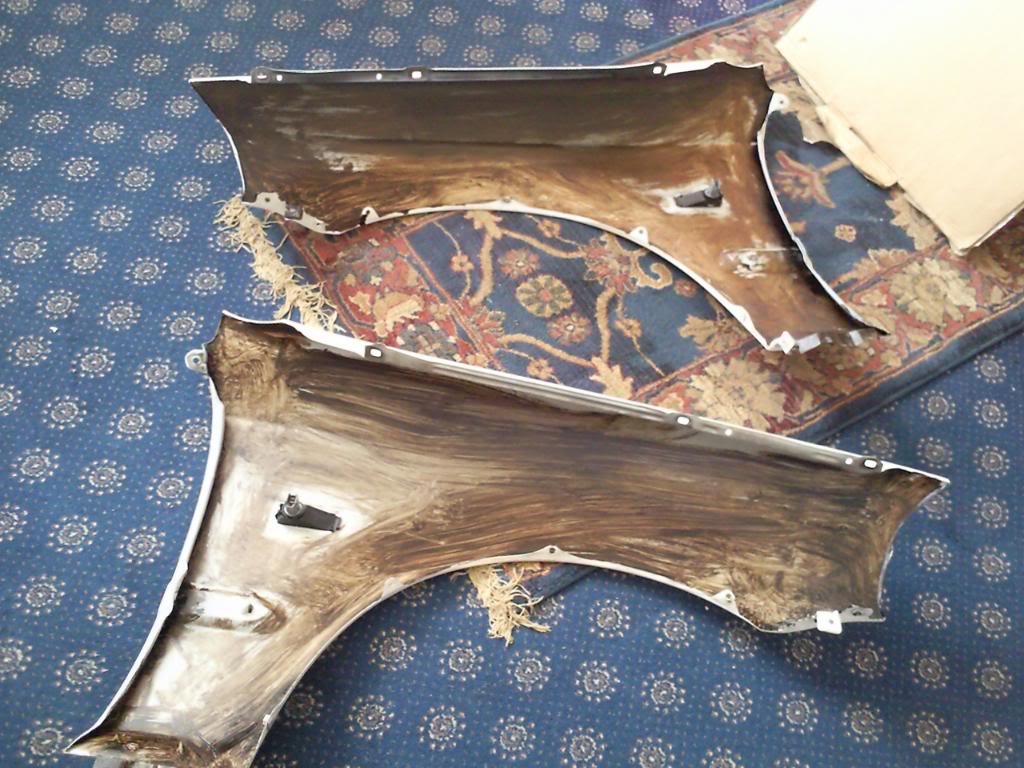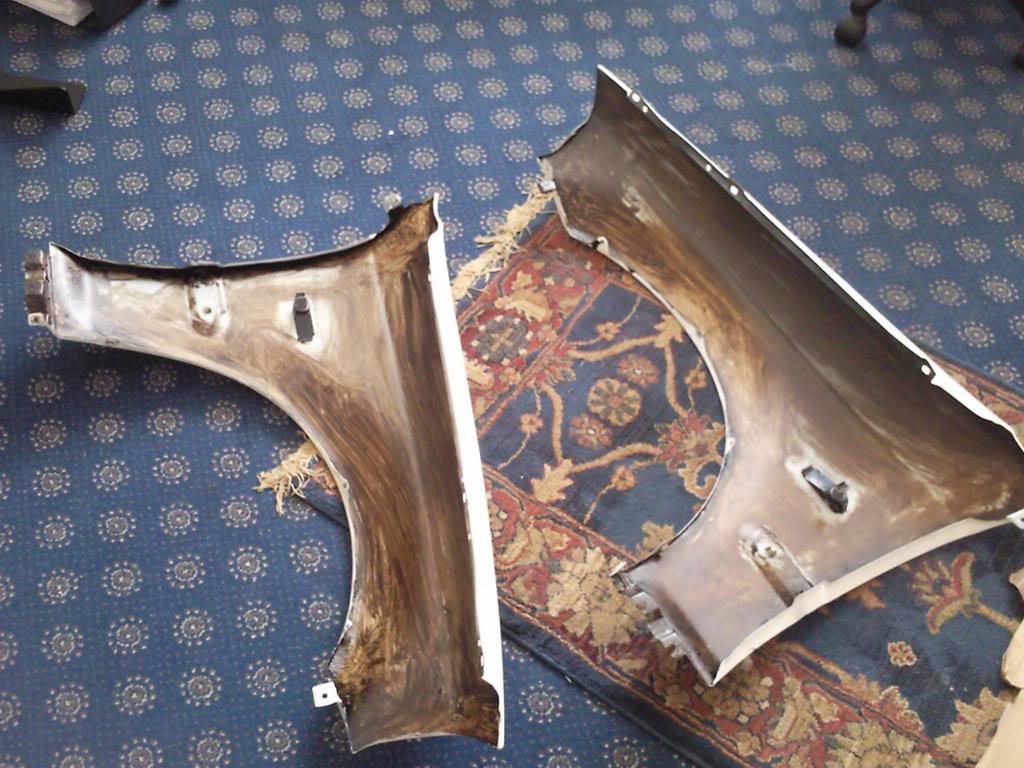 I made sure to cover everything and then once it was done it looked like this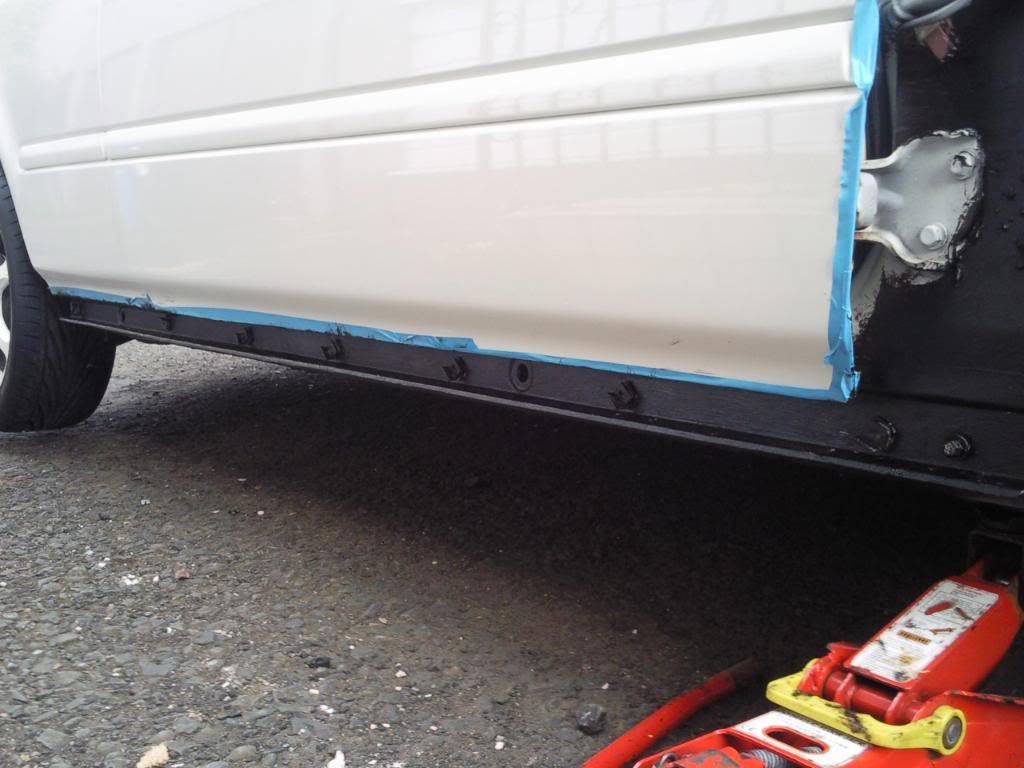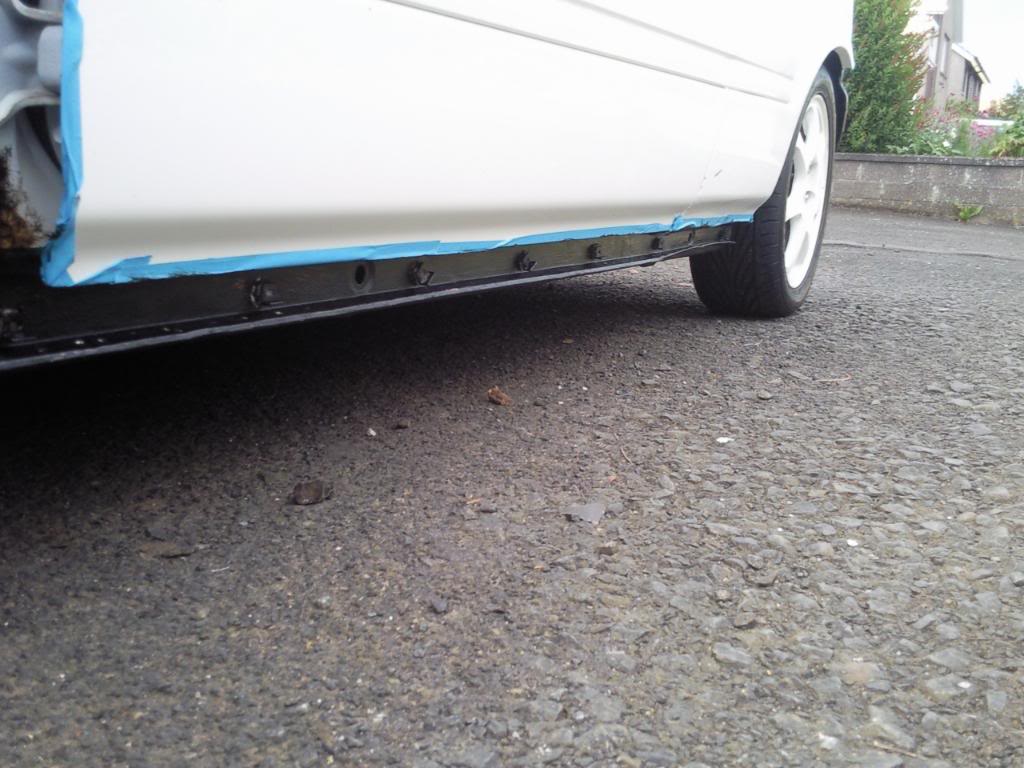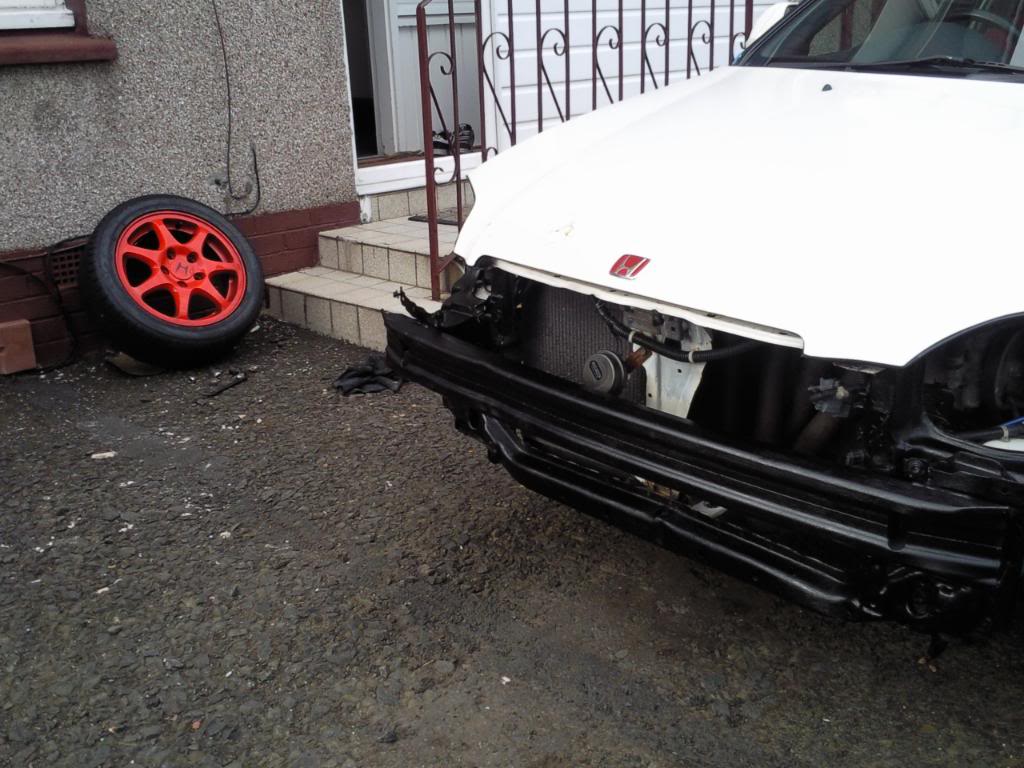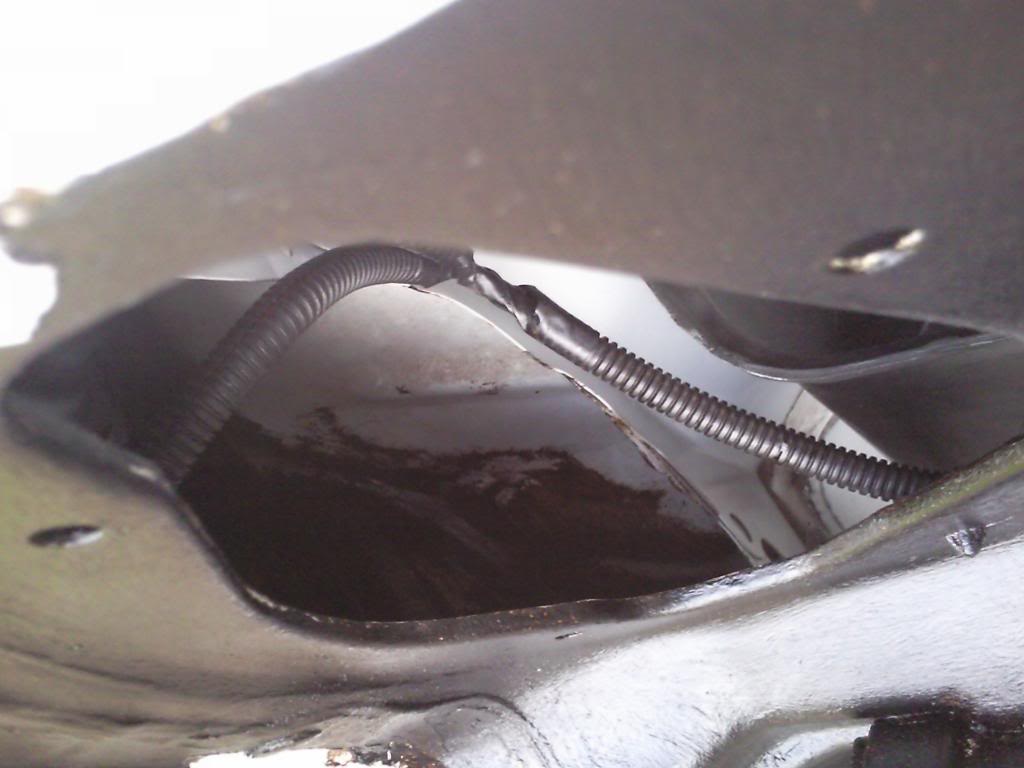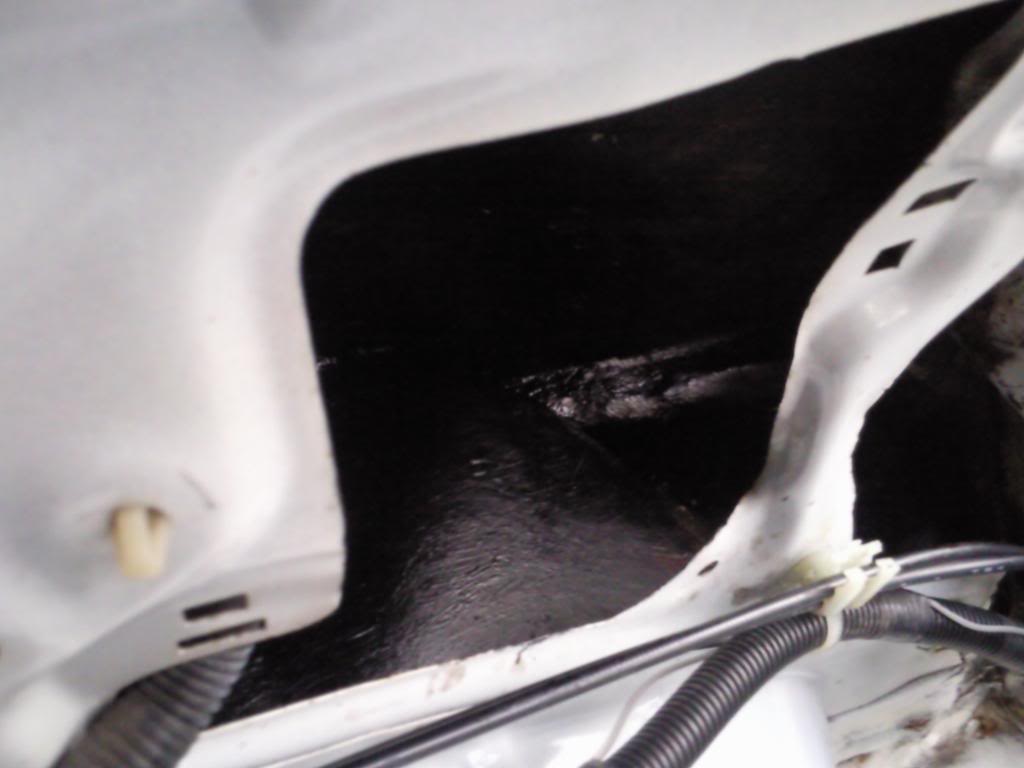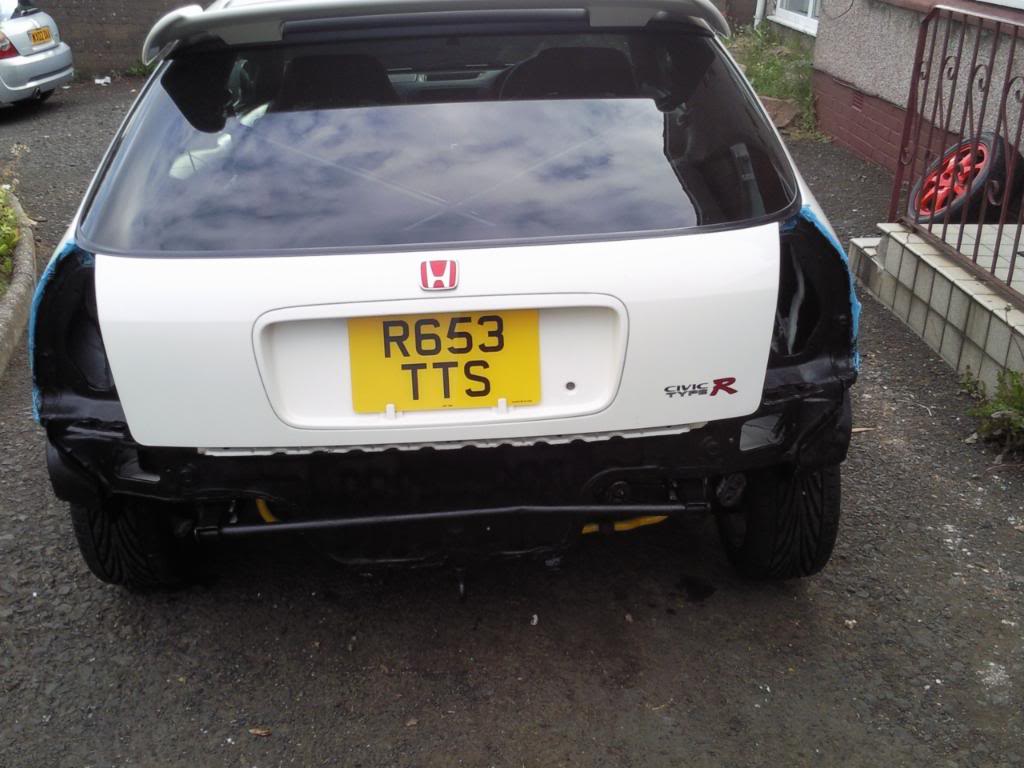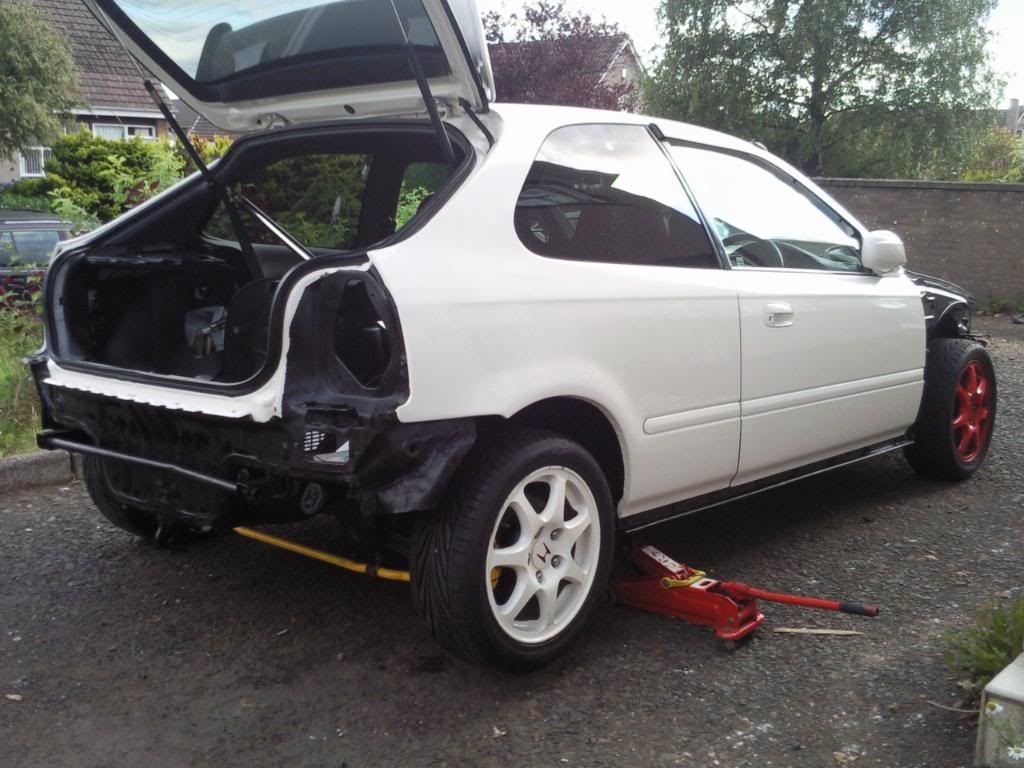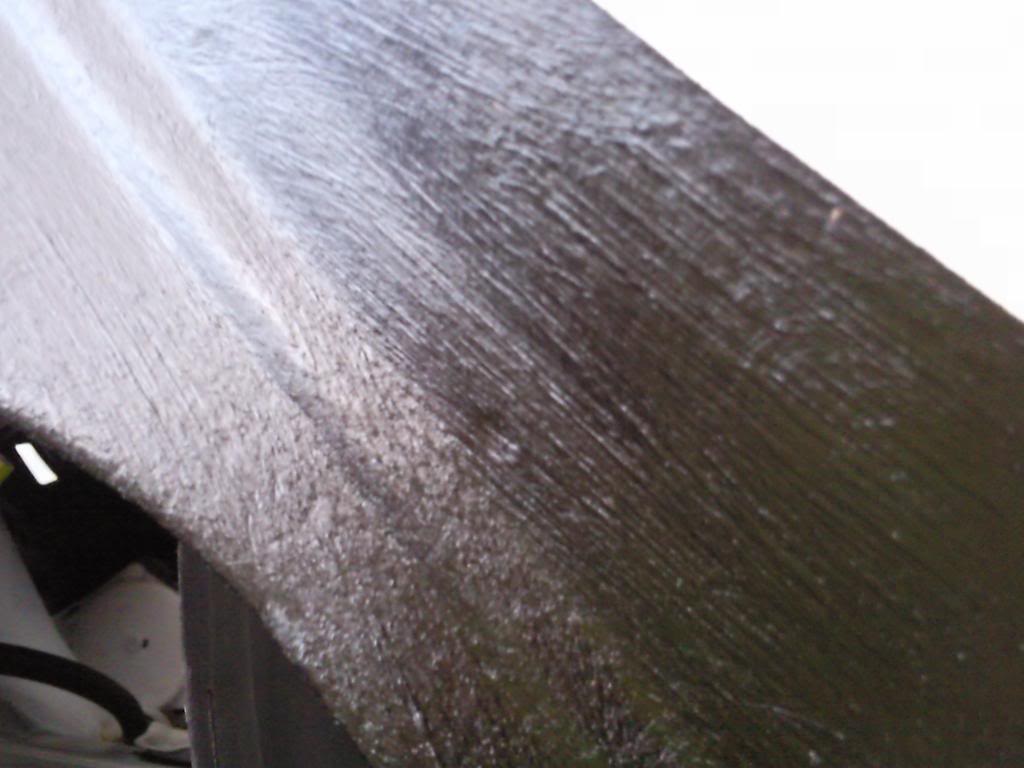 Went on another shopping spree at halfords and autosave and picked up a few bits as i had vouchers that i needed to use.
Fuse for demister as old one blew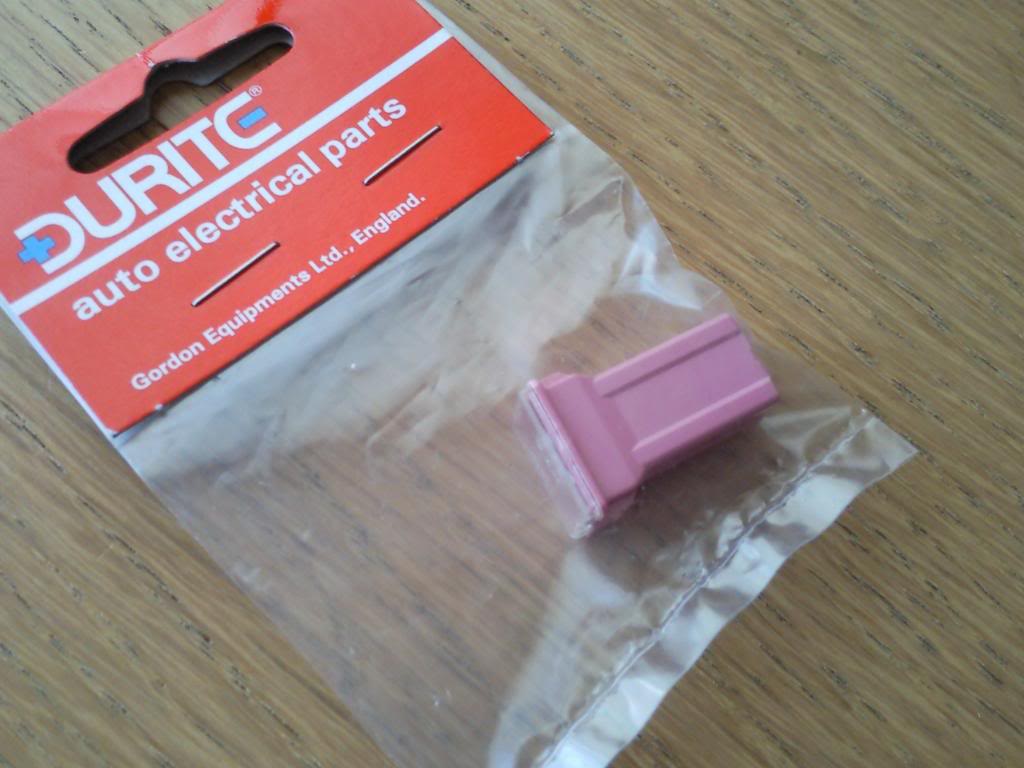 Old one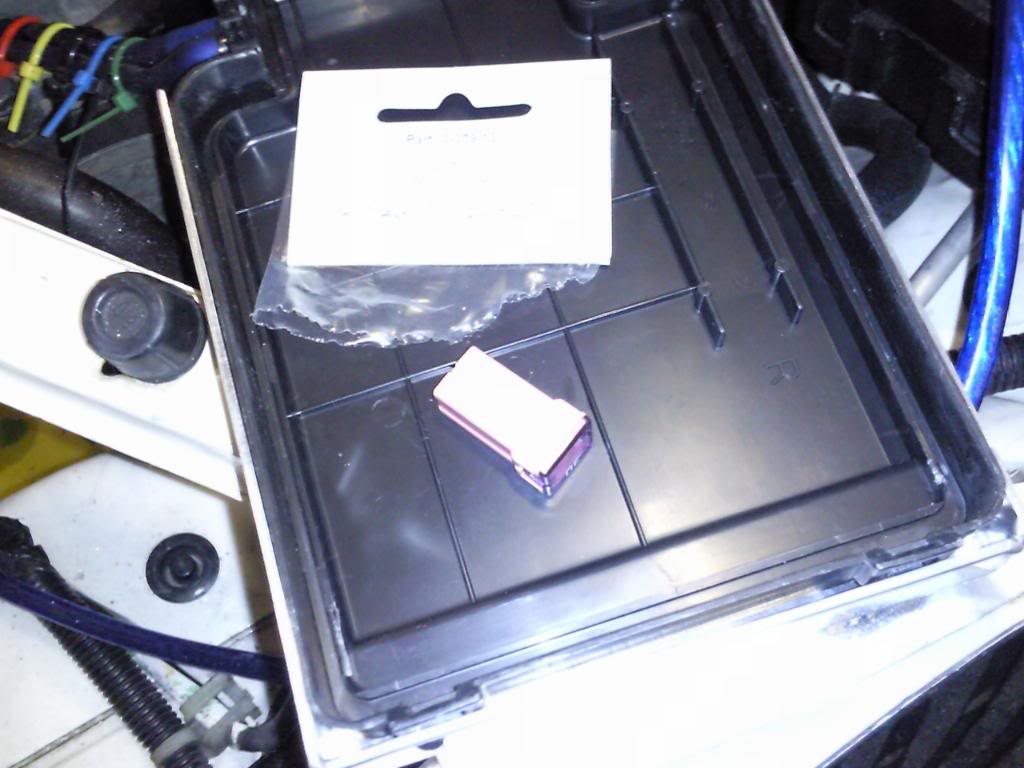 Replaced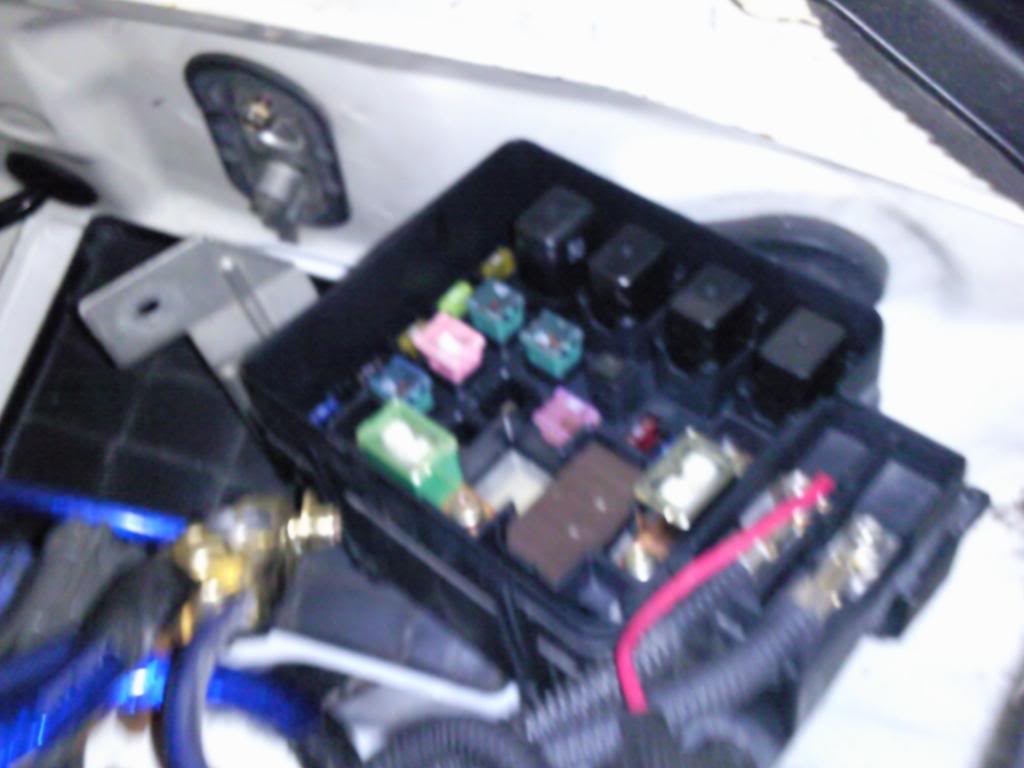 Halfords were doing a buy one get one free on cleaning stuff and i needed some paint anyways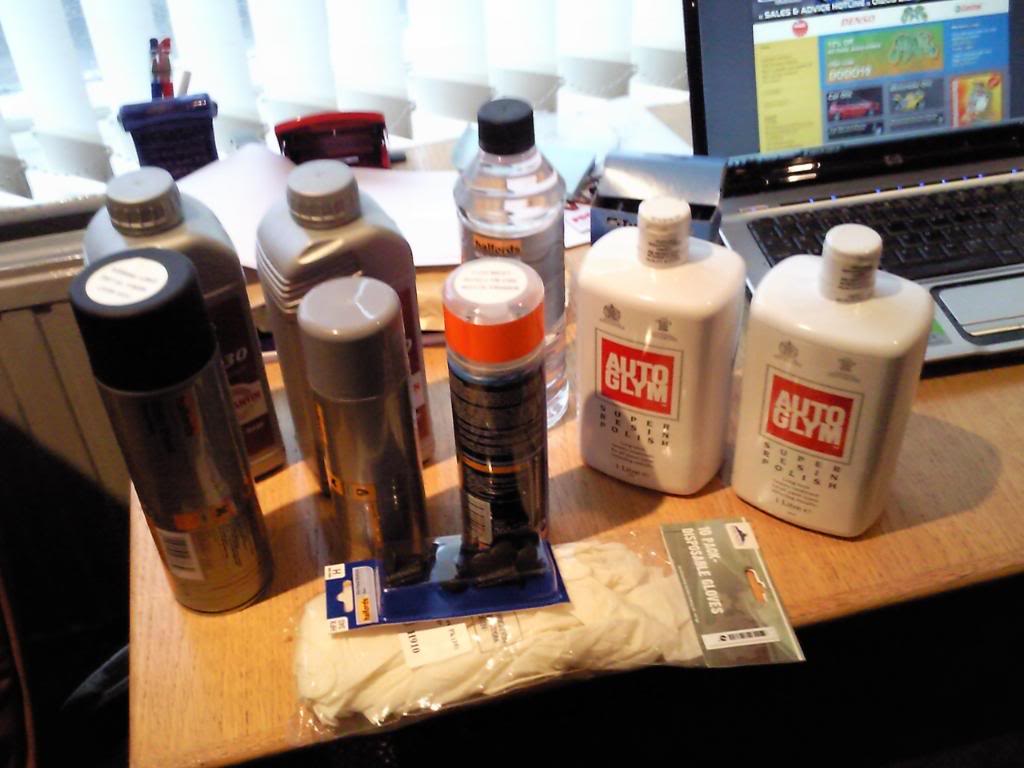 Got my oil through the door from opie oils. Top quality service and the oil arrived the next day and it was well packaged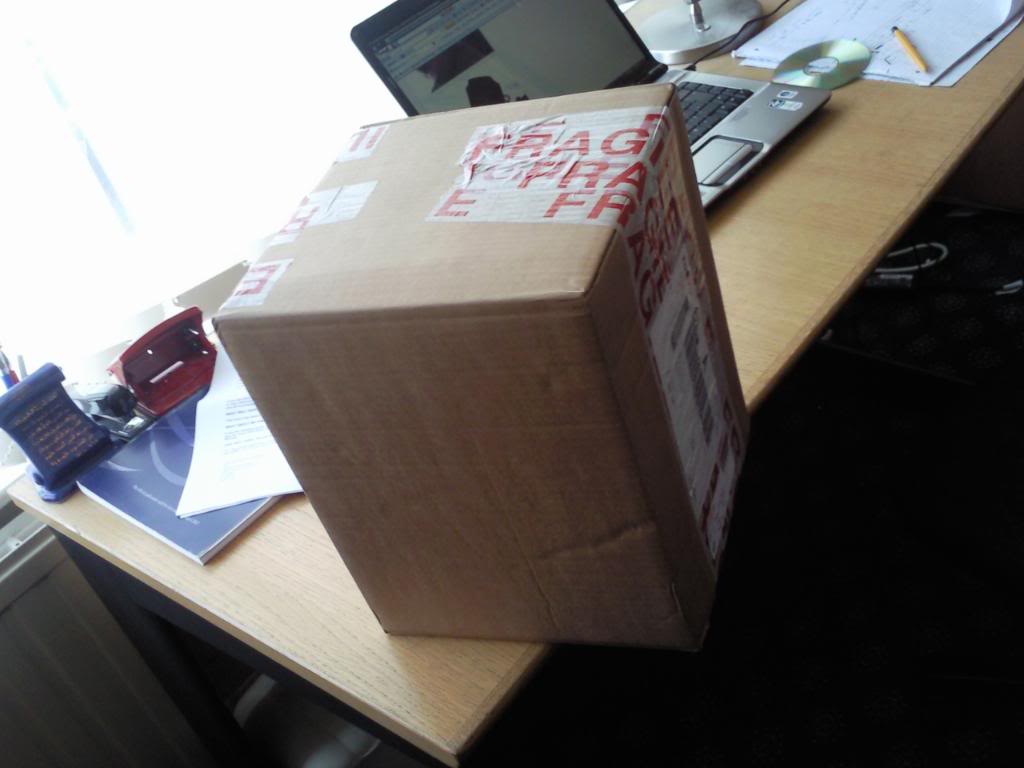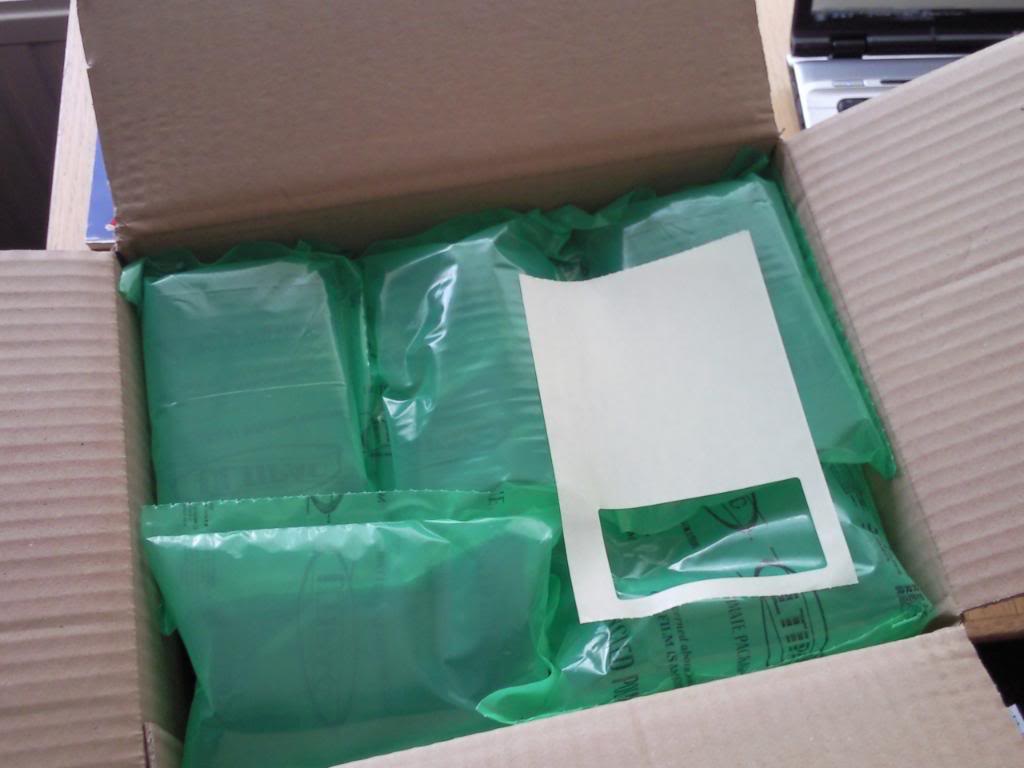 Went for 5w 40 silkolene titan which is the new name for the silkolene pro s, which is now discontnued. Not exactly cheap at £54 for 5 litres but i dont like to skimp on something as important as oil. in the long term i think its worth the extra money imo.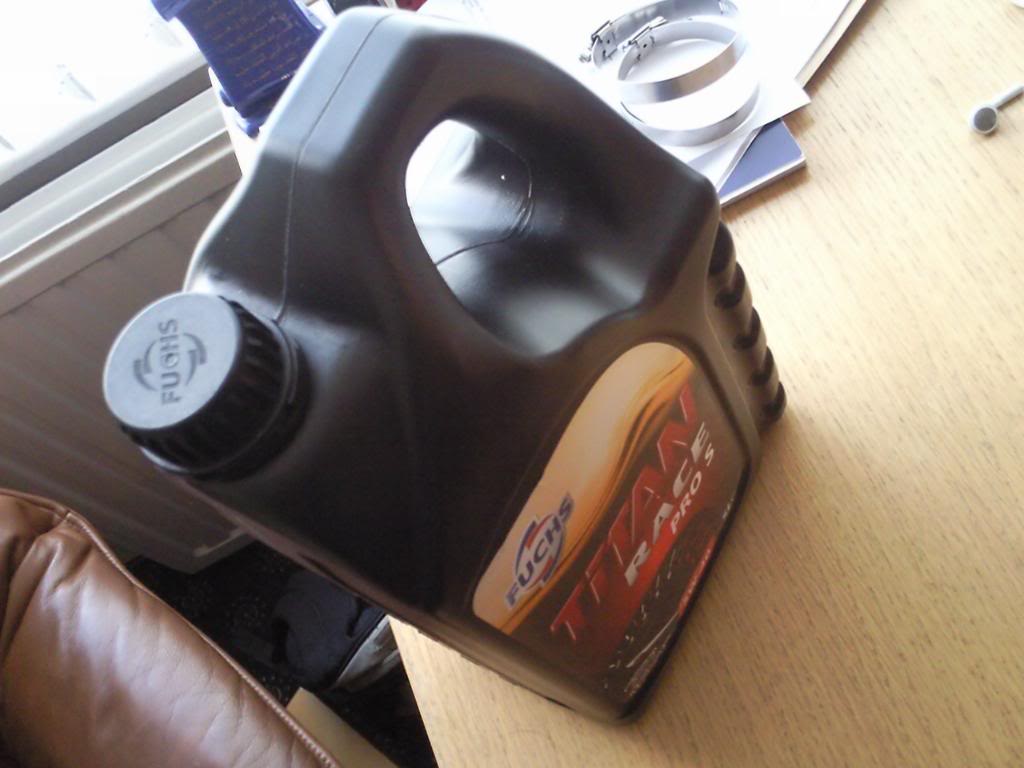 old vs new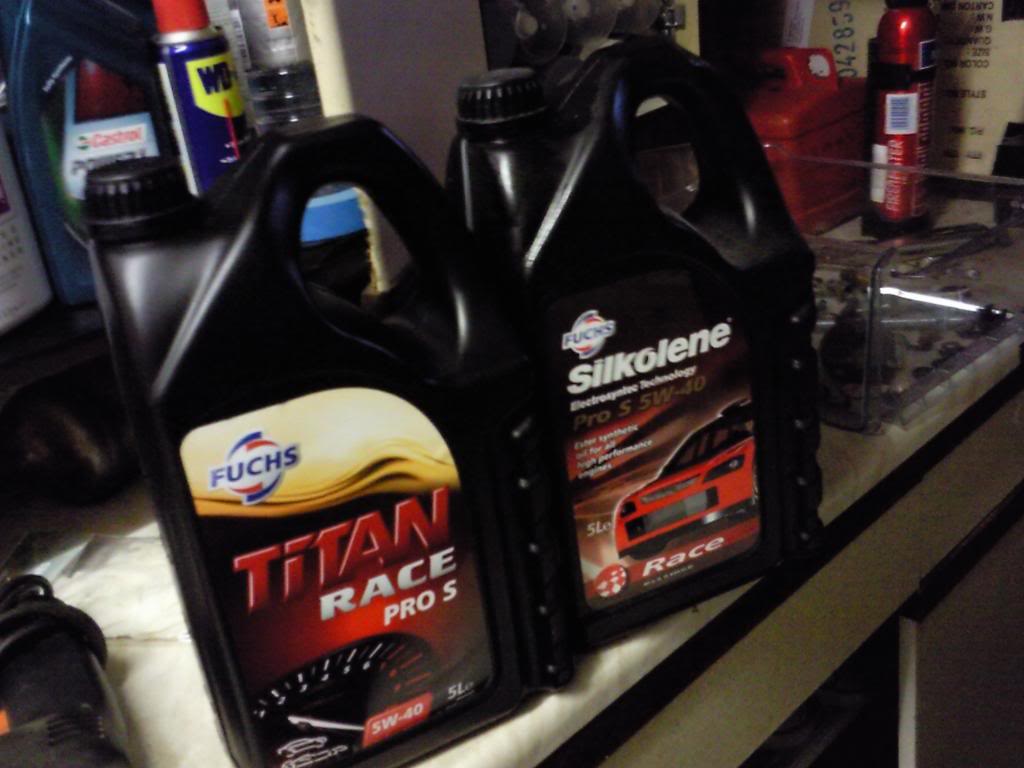 plus i ordered a hamp oil filter and new washer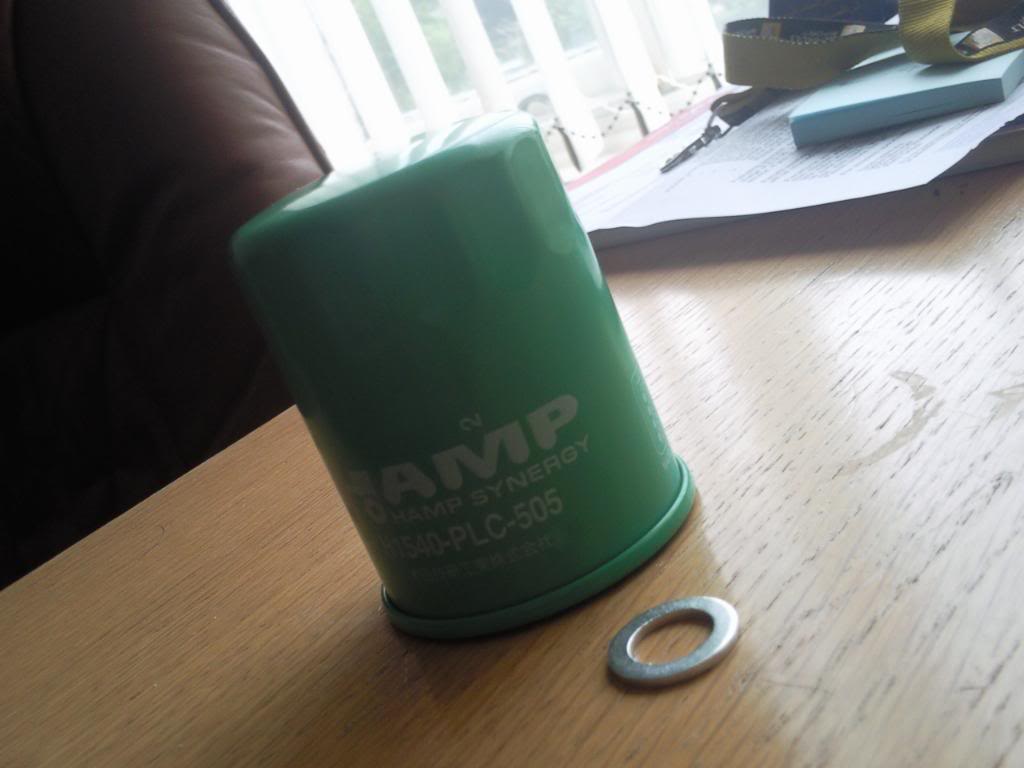 Drove the car onto the ramp. Started it up for a few mins to get the oil warm. switched it off and let it cool down for 20 mins. Then i removed sump plug and let the old oil drain for 20 mins. once it was drained i removed the old filter from behind the engine and cleaned its place for the new one to go in after i oiled its gasket for ease of removal at the next oil/filter change.
Cleaned the sump plug, which was an m factory magnetic one installed by the previous owner.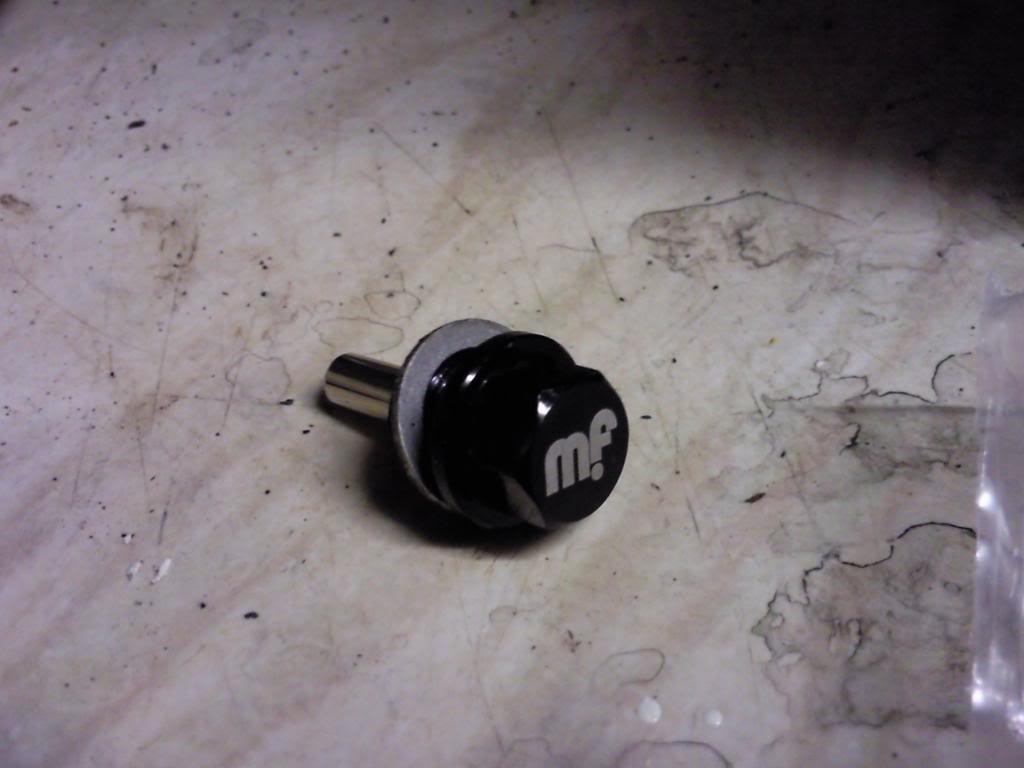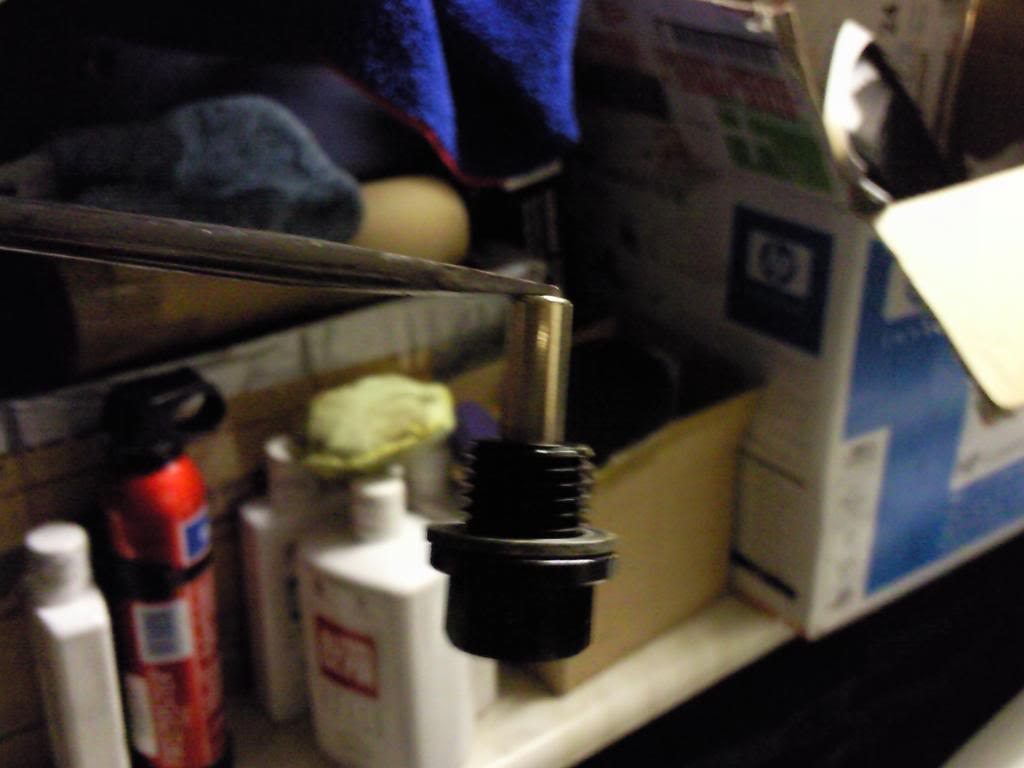 Then i refitted the sump lug with the new washer. filled it up with 4 litres of oil, rolled it off the ramps onto an even surface checked the oil level and started here up for a few mins. let her cool down and checked the oil again and topped it up.
Eventhough the standard ek9 braking system worked fine, i wanted more. Most people would be happy with the spoon twin block set up but i still wanted to take it further so i got in touch with a machinist on the ek9 forum who has been making brake kits for the last 15 years so i got chatting with him about caliper choices and in the end i decided to go for the daddy of all brake kits and went for porsche 911 4 pot monoblock brembo calipers with 312mm aem 2 piece front discs lol. These things are just mad but thats exactly what i wanted.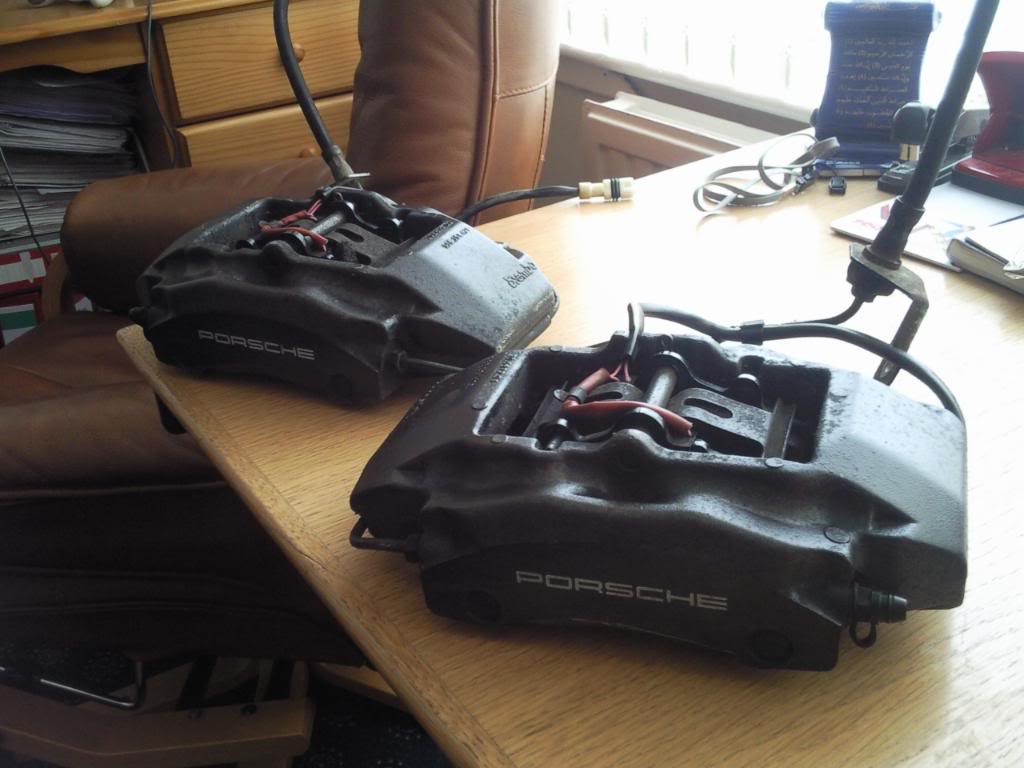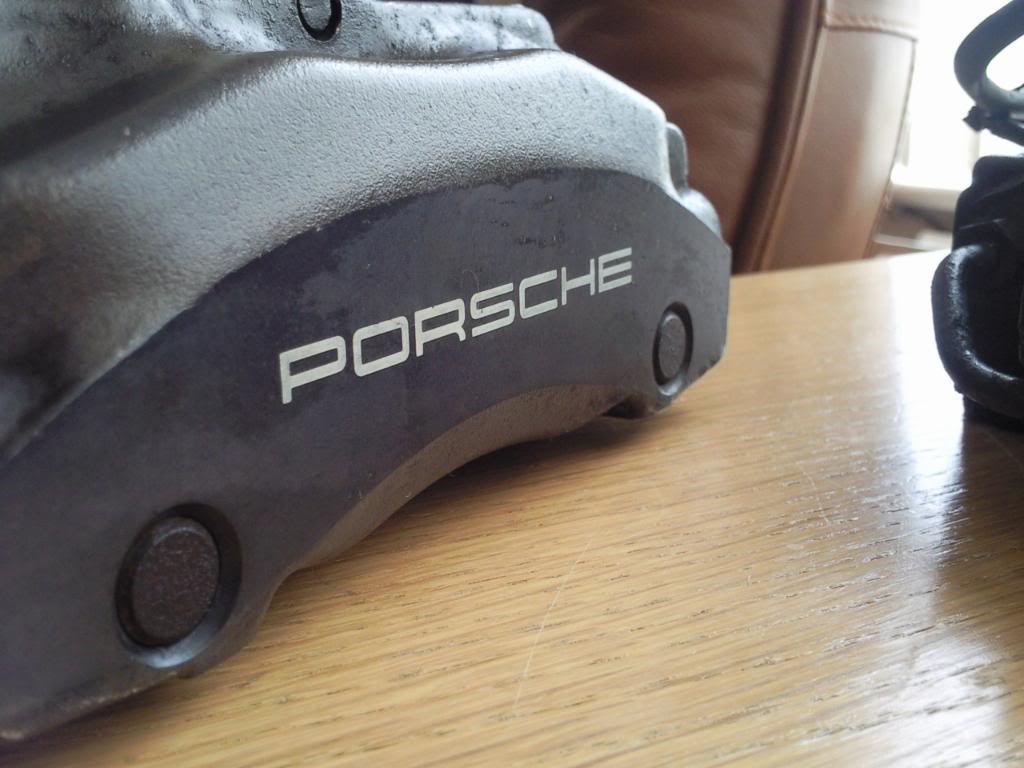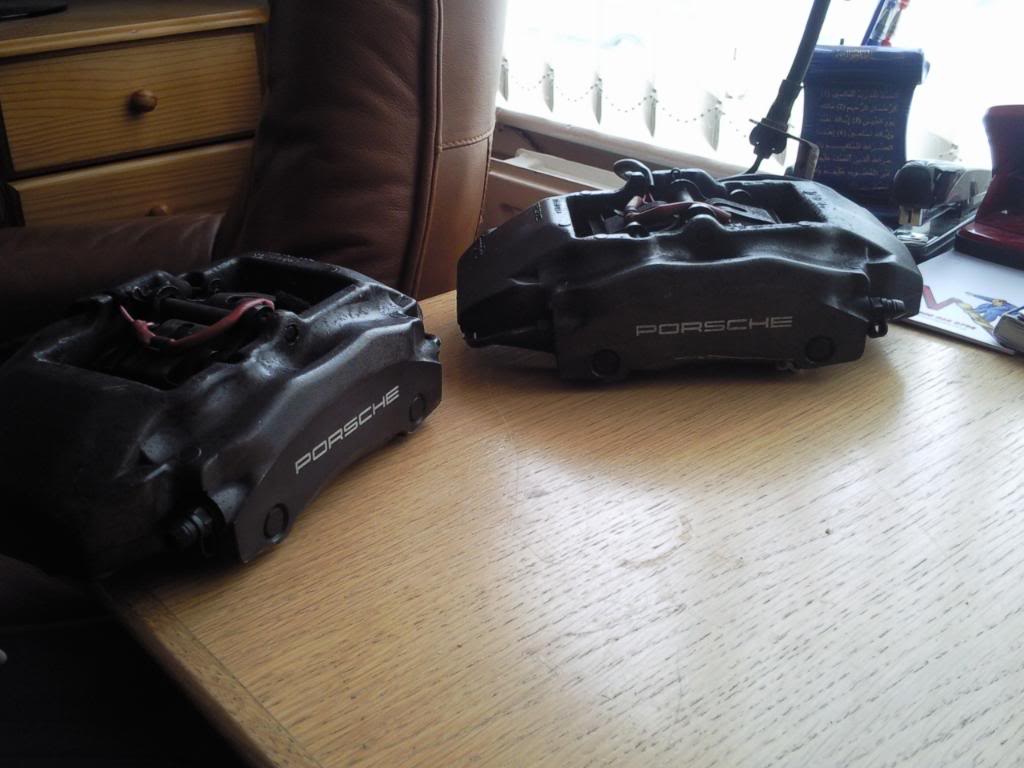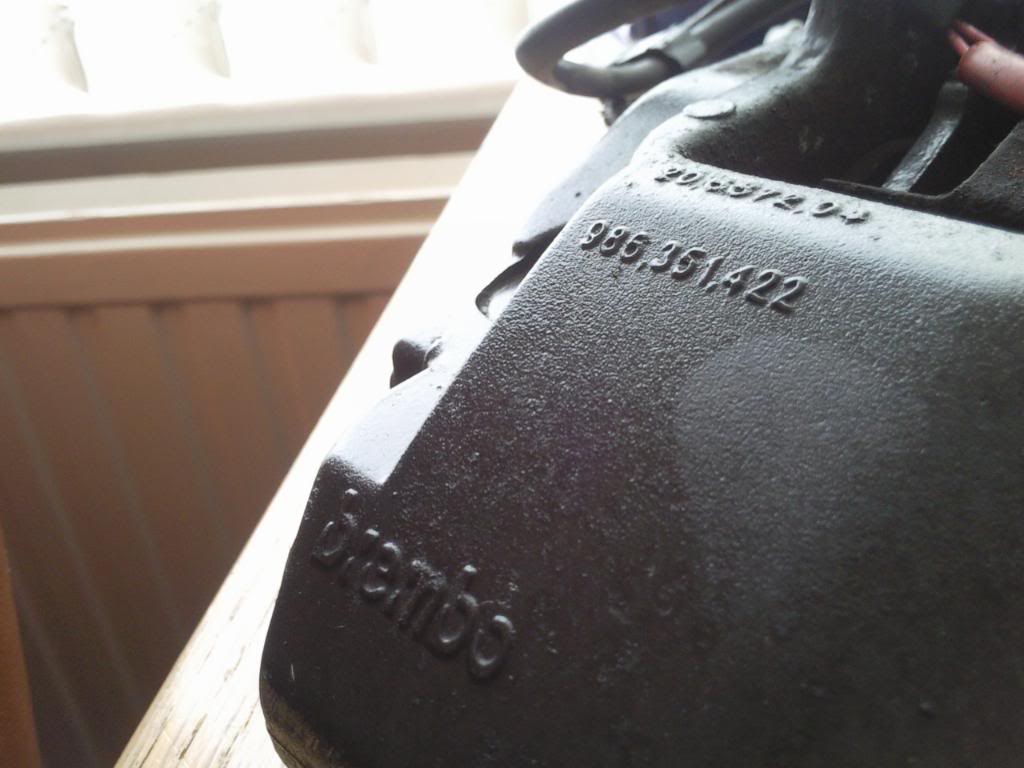 Only thing was that unlike the spoon calipers there was absolutely no way the porsche ones would fit under 15" wheels and even with 16" it was a push so i was getting ready to send them off to the machinist in england and then i saw a set of minted desmond regamasters in 15" that i just had to have so now i wont be able to use this porsche set up as they don't fit under the wheels. A few days later my new wheels came though the door and I couldn't be happier. I had no intention to buy new wheels this year and i was just going to get mines refurbed or get a set of cheap 98 spec itr wheels but the reggas were mint and in my fitment so i couldnt resist. They are very rare to find in this condition and in a good fitment/ offset as they are discontinued. Probably my favourite wheel of all time so im really happy i got them. I sacrificed a monstrous brake set up for them so that shows how much i love these wheels. They are forged wheels just like the rays te37 and volk ce28n's. Spoon rebranded the regamasters and painted them anodised black but i prefer them in the original white.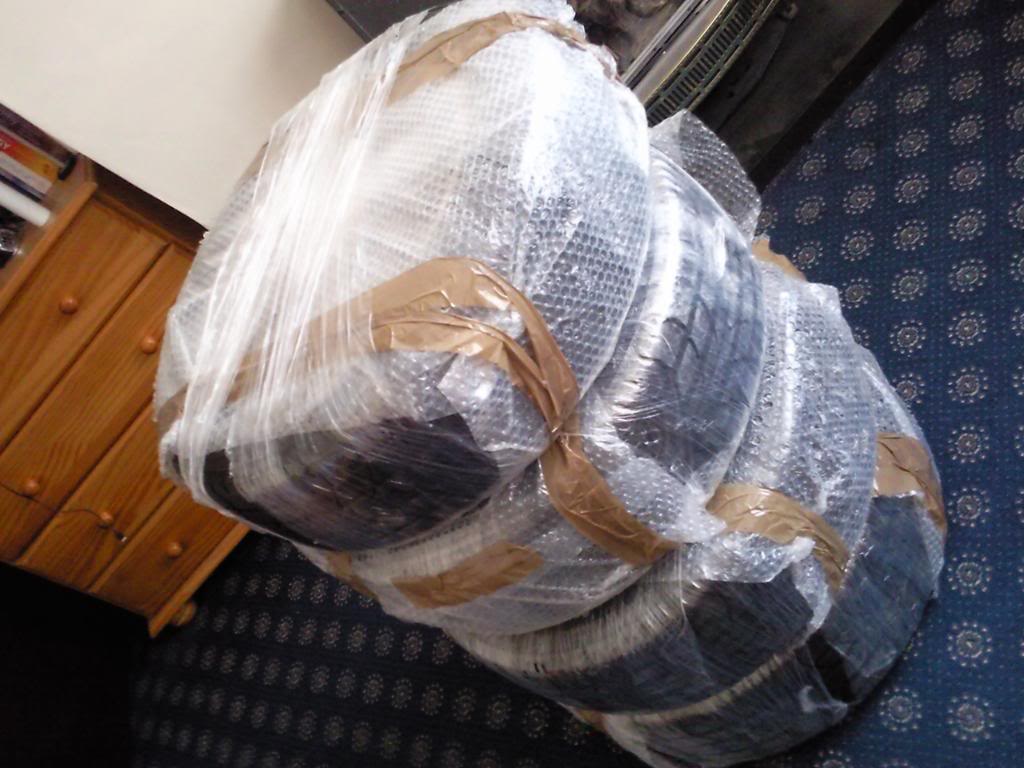 Took them outside for a wash first of all.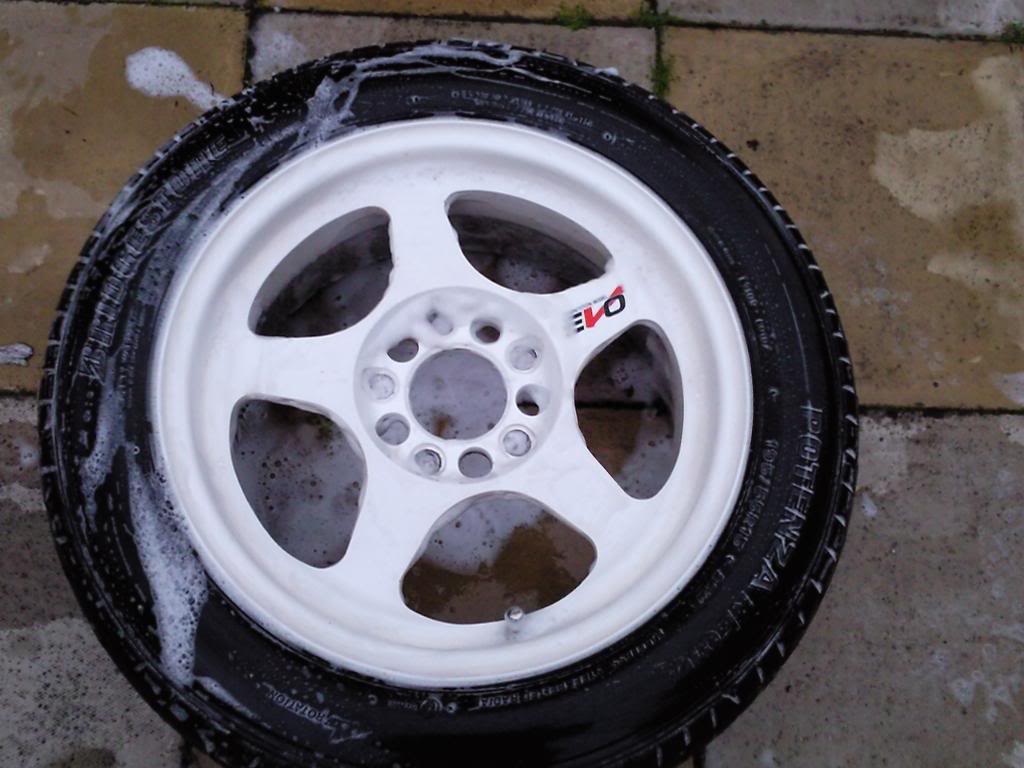 Then brought them into the garage for a polish with autoglym srp and paint renovator and sealed with autoglym egp. also i used some autoglym tar remover aswell to remove some tar spots. They came up really well i thought after spending about 3 hours on them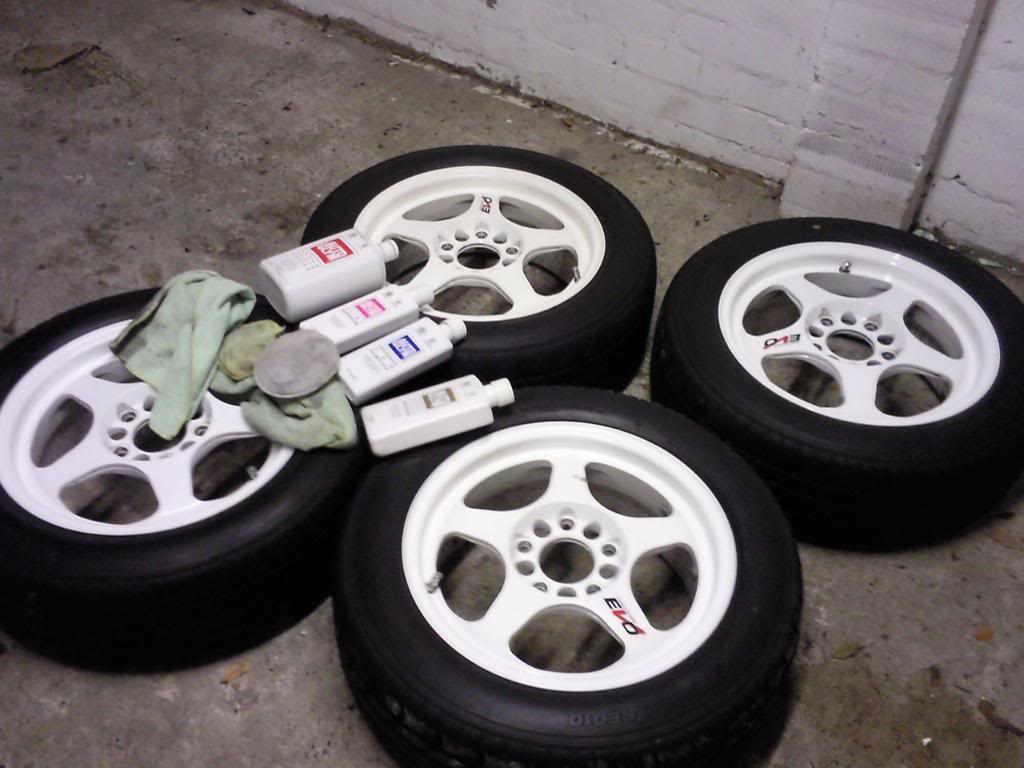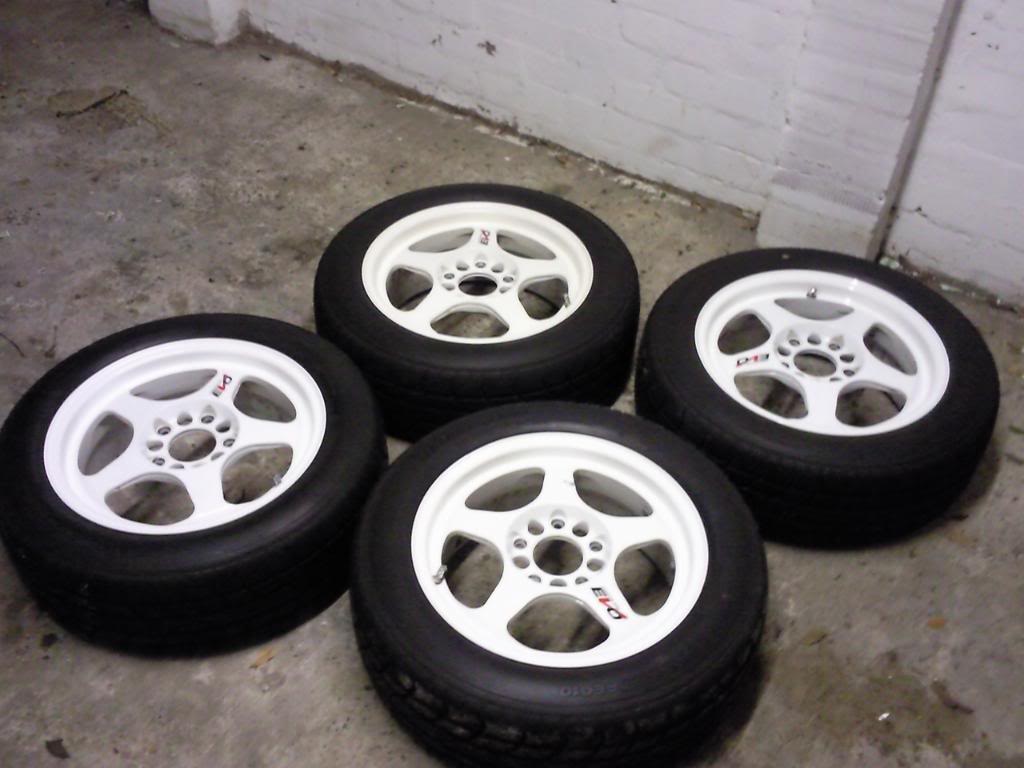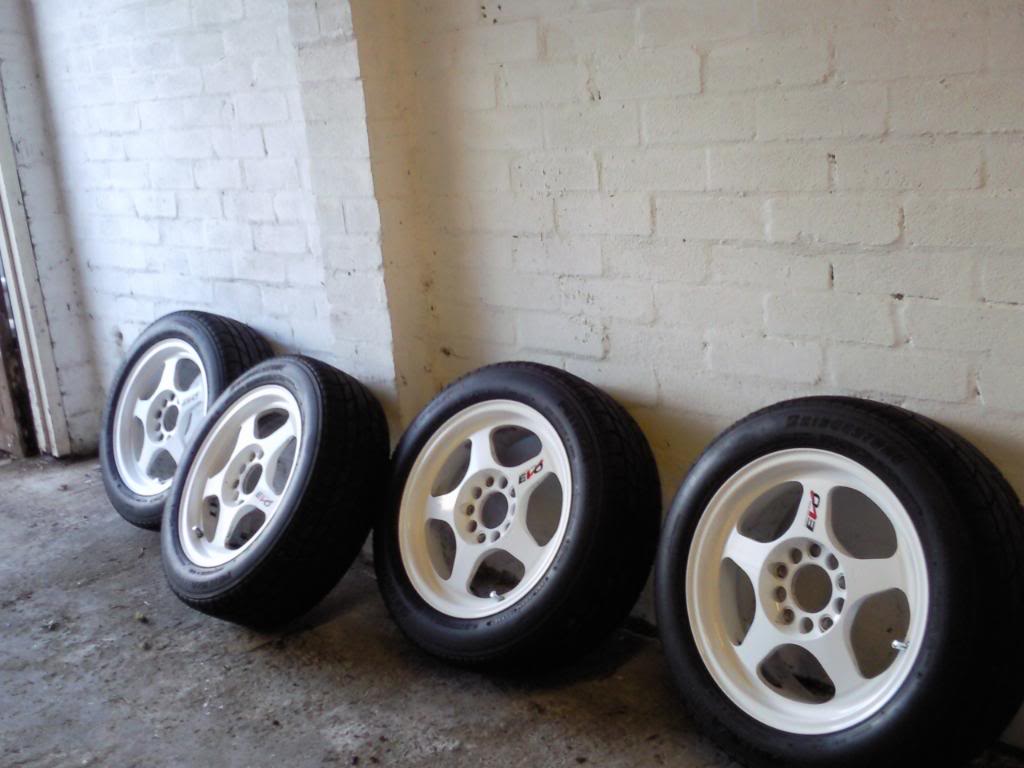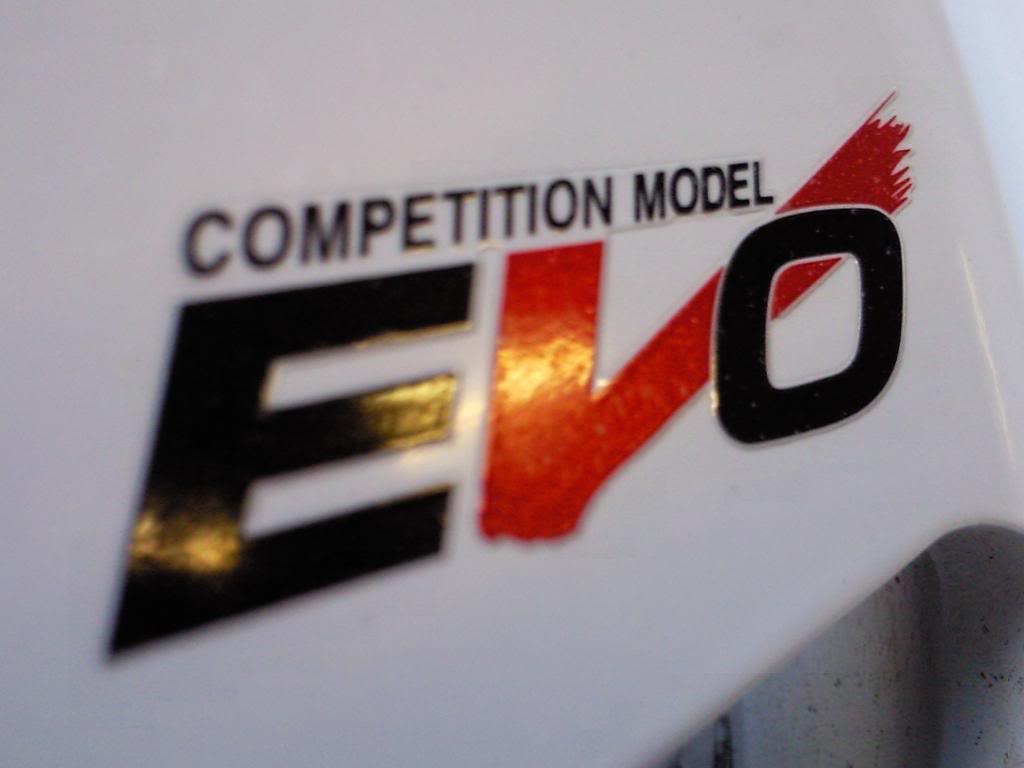 i used cotton wool buds and srp to clean the hard to reach areas which worked a treat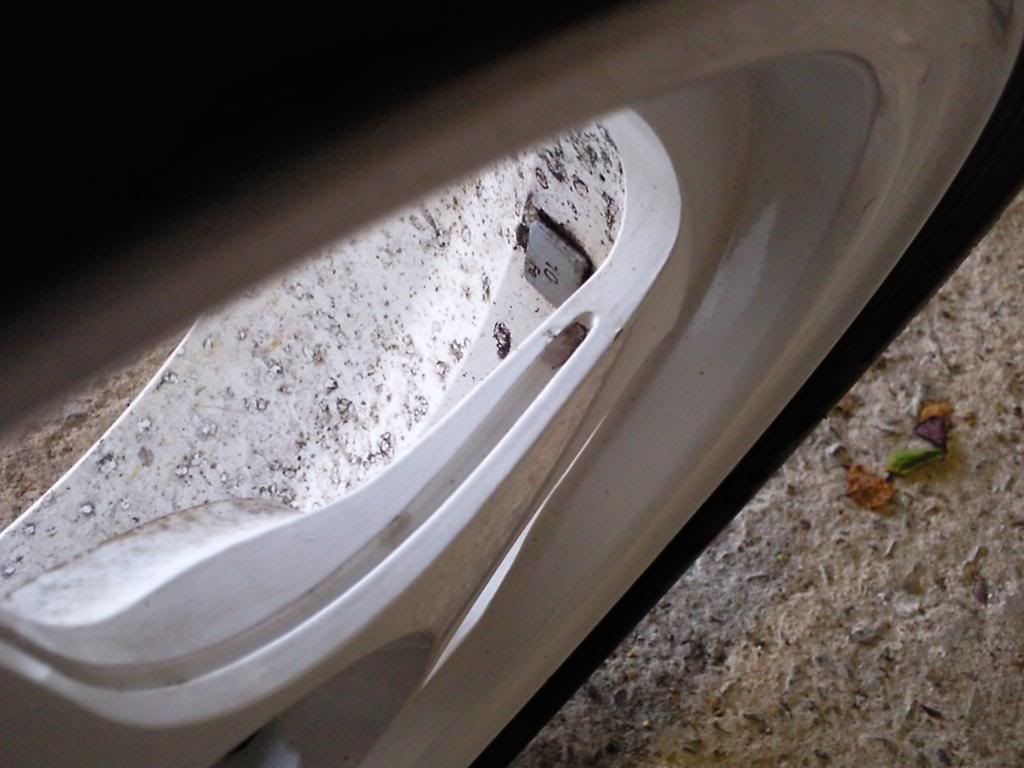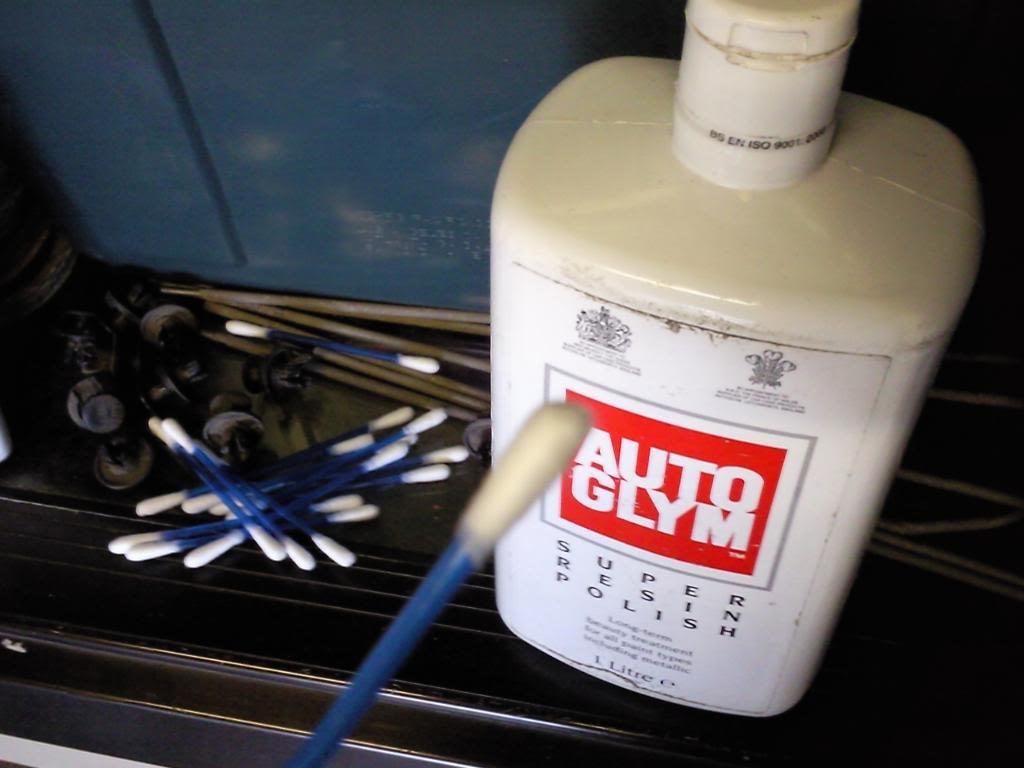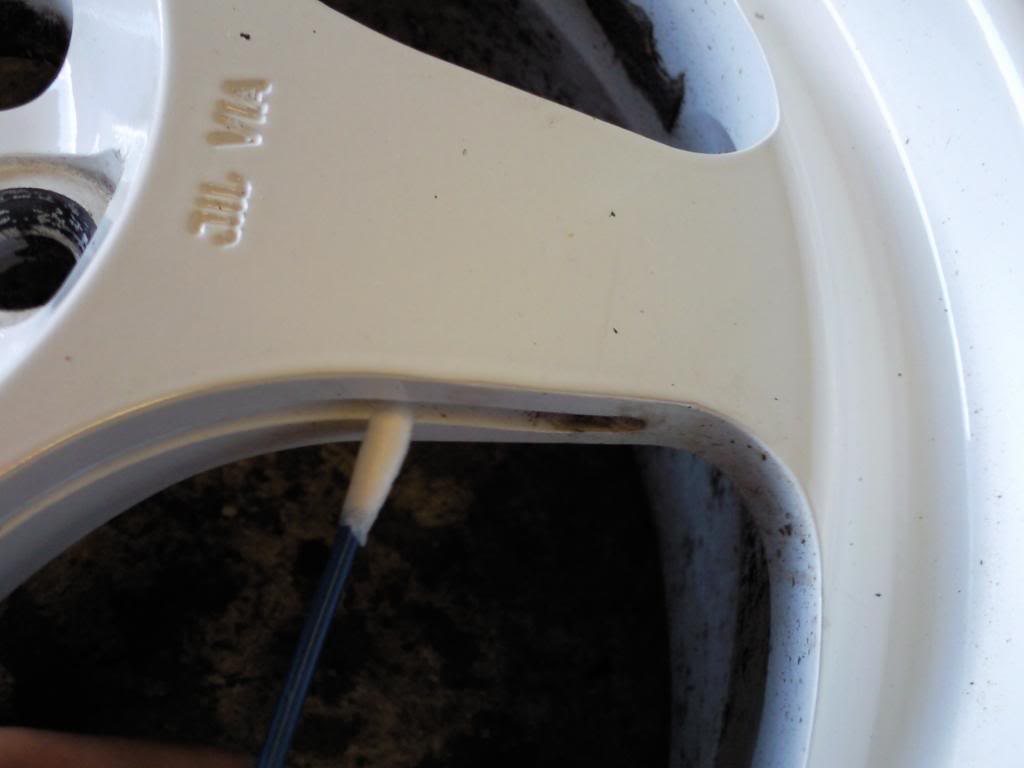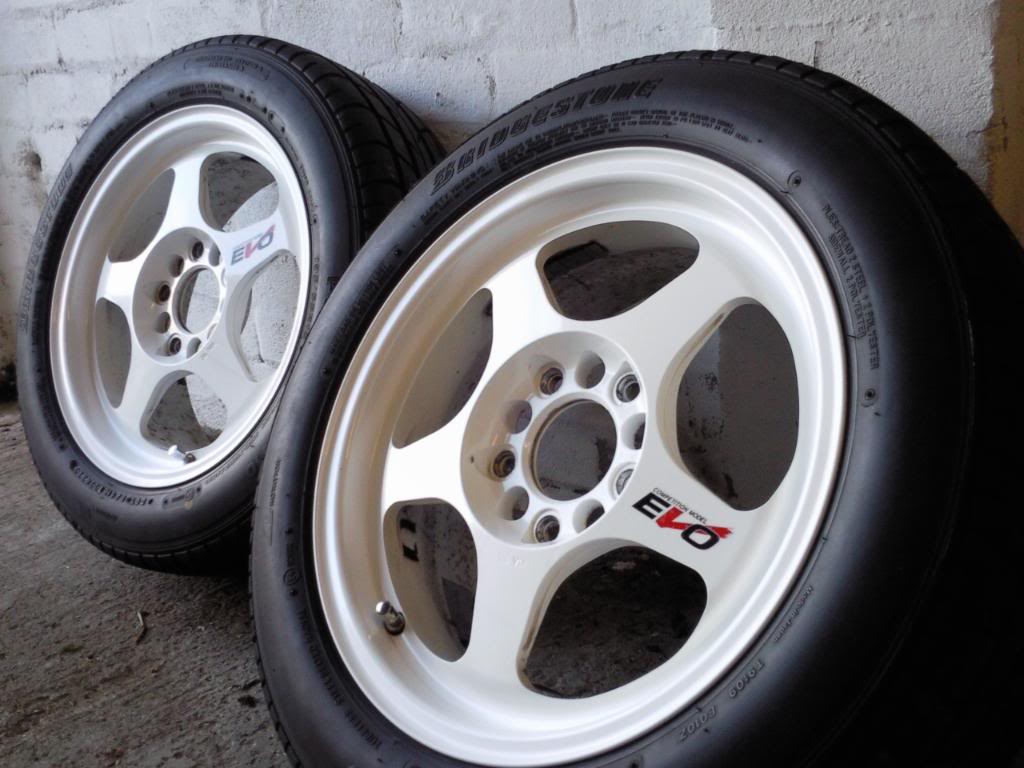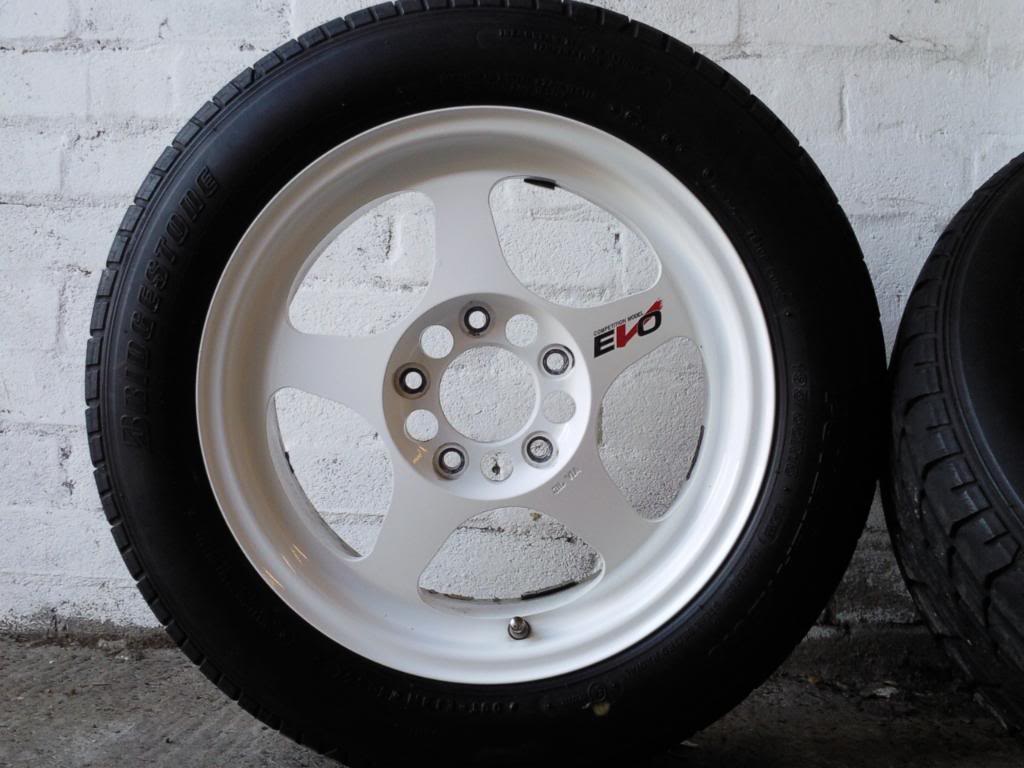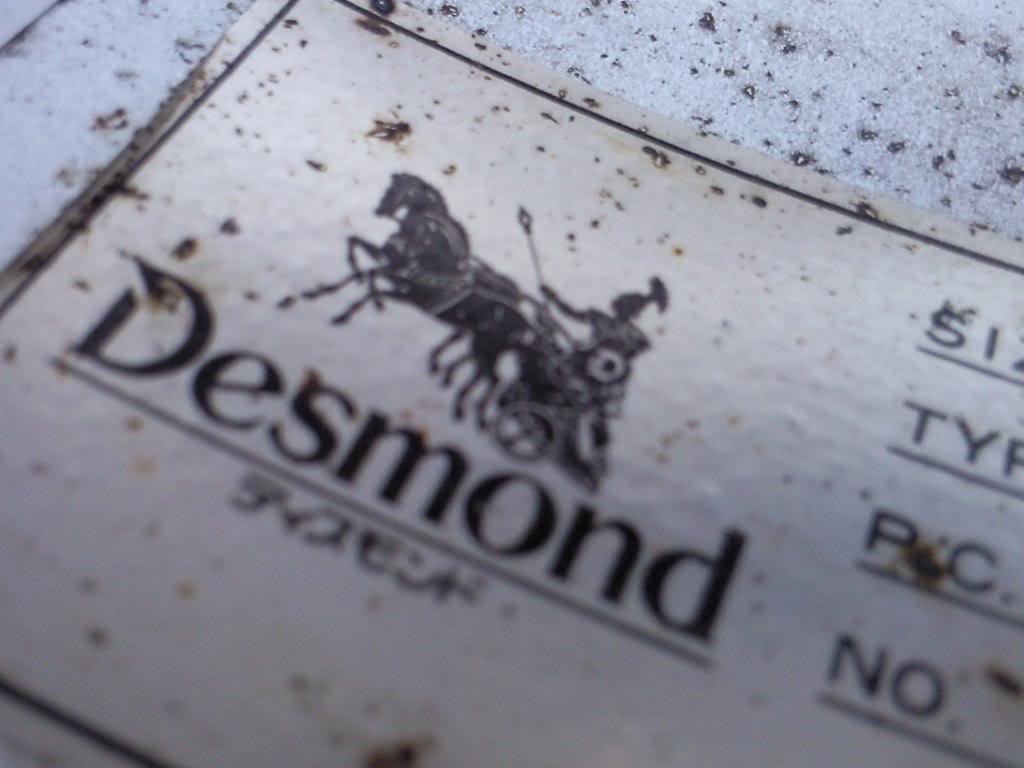 i also got anti theft valve caps aswell, which is a nice touch imo
Thats the key for them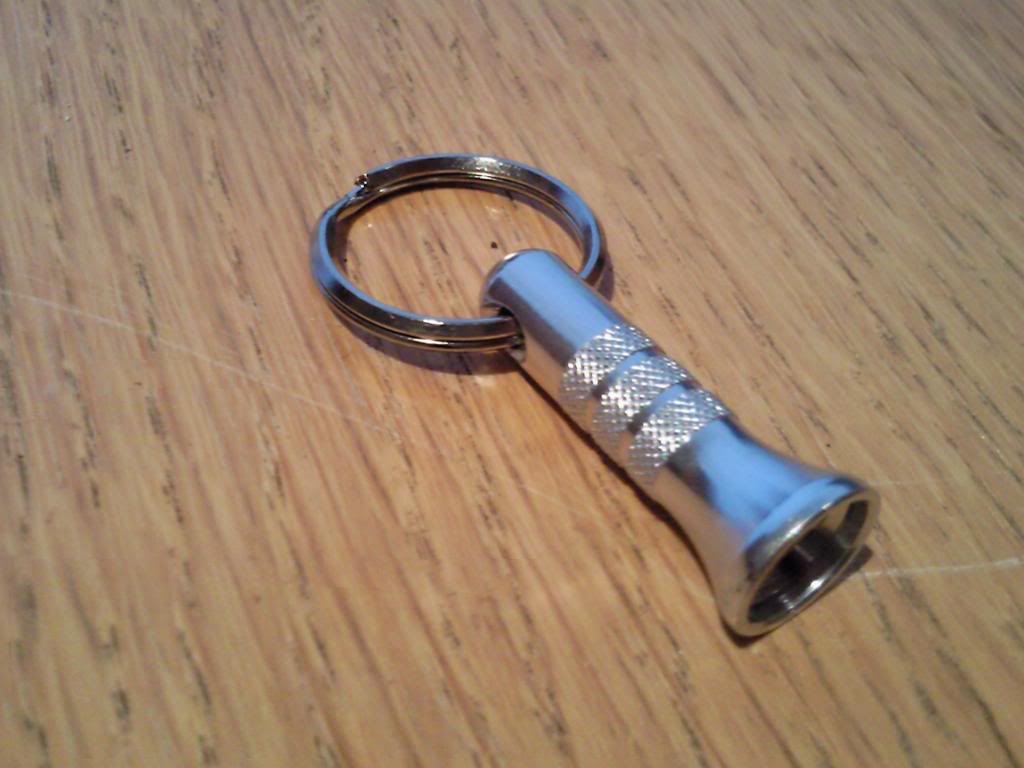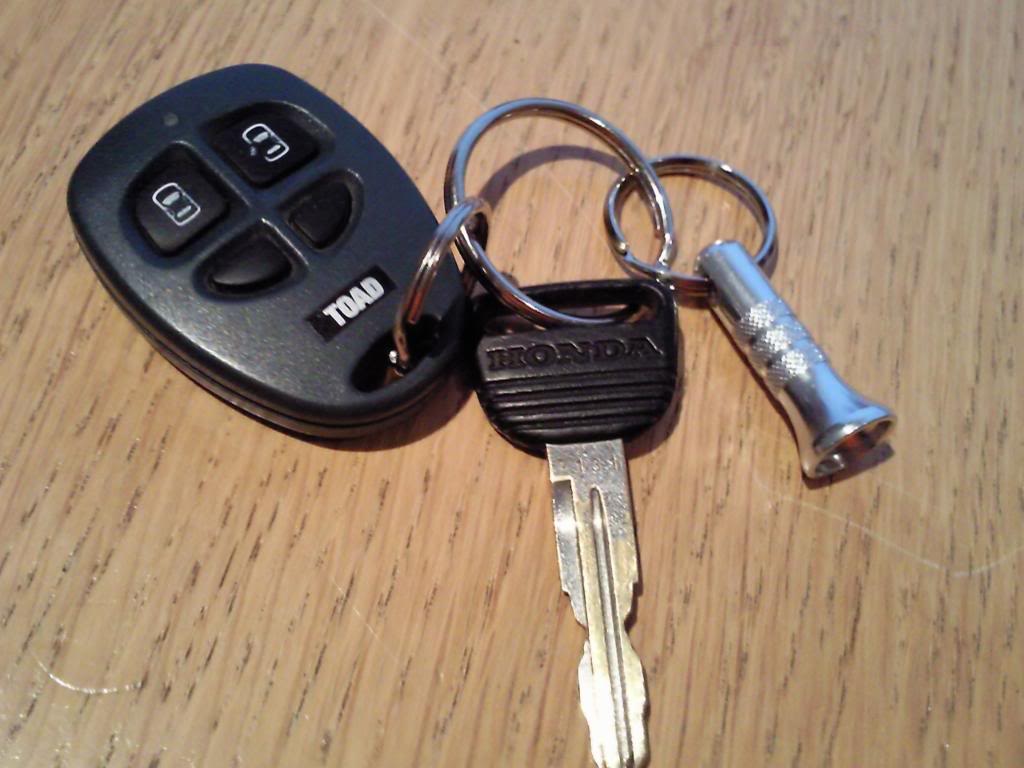 With these wheels you cant use standard wheel nuts as you risk damaging them so i got some forged rays engineering lug nuts in anodised black. i would have went for red but red lug nuts fade eventually go pink, which i didnt want.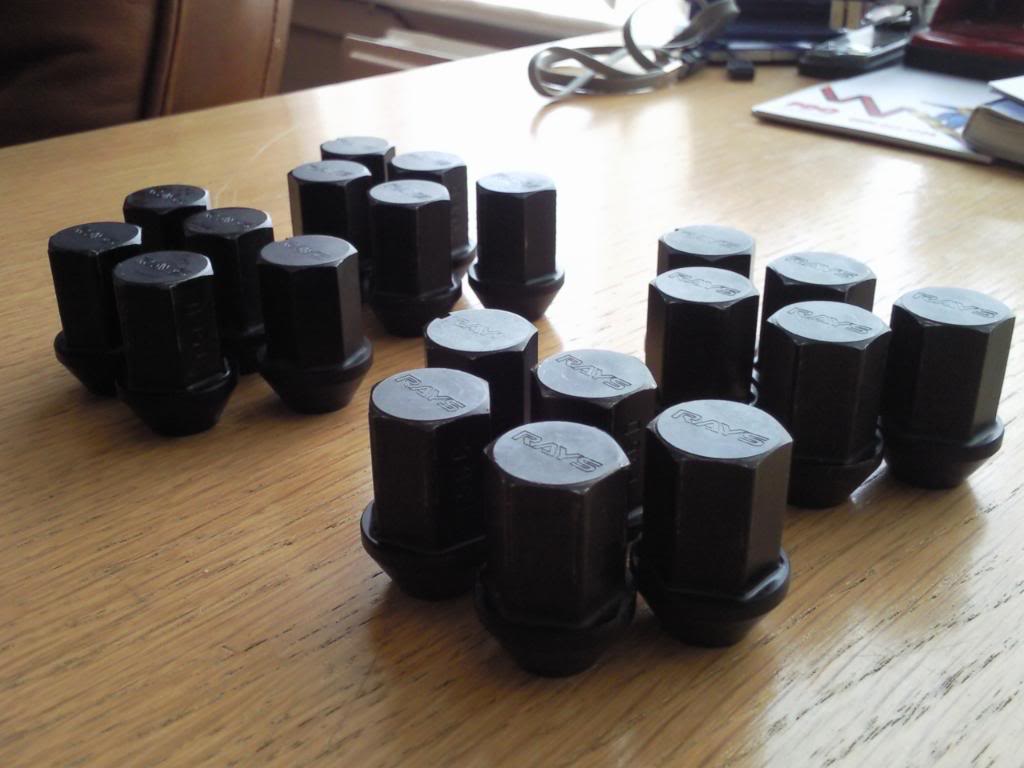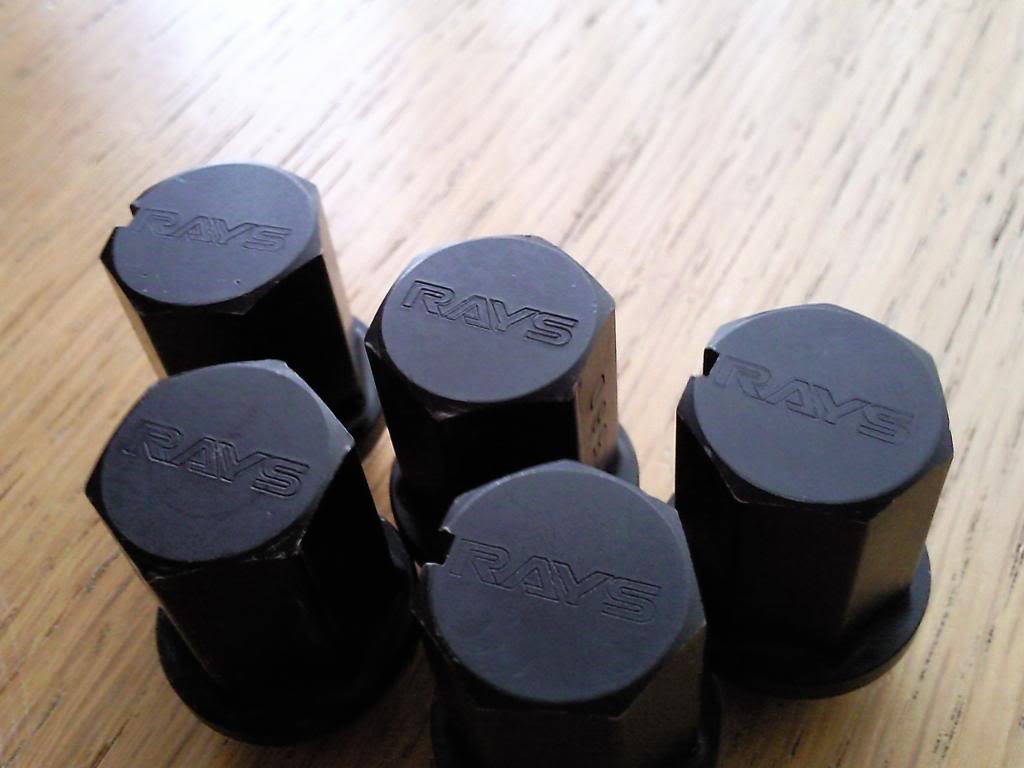 Since these are forged i was interested in seeing the difference in weight compared to standard so i weighed them.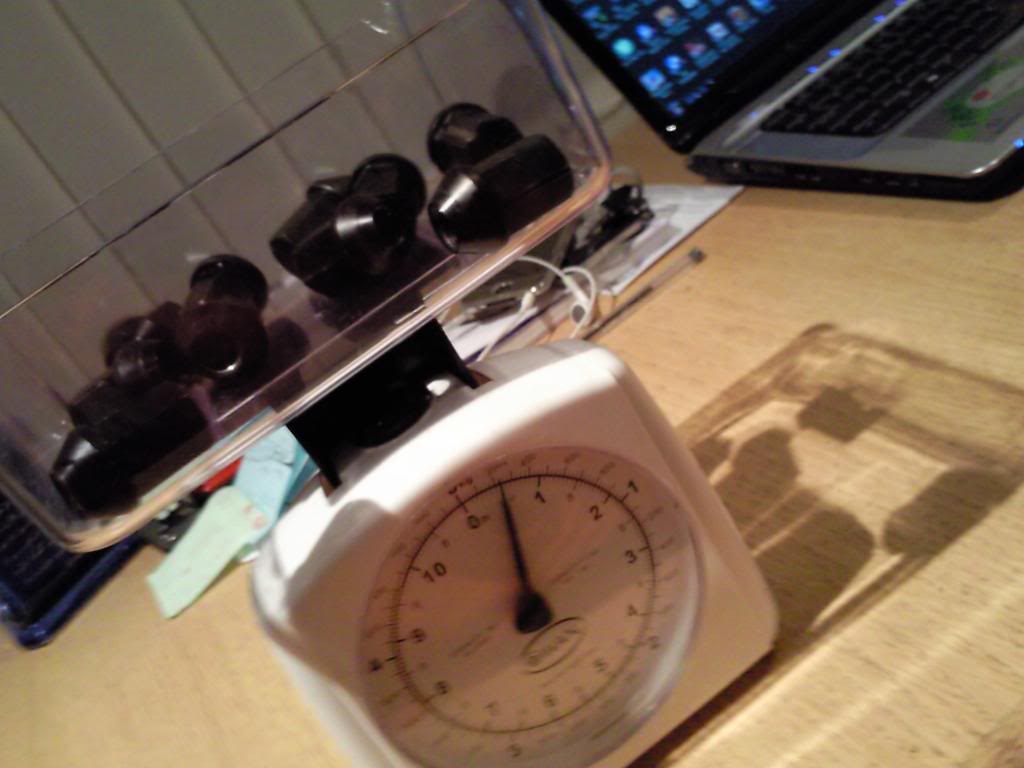 10x rays nuts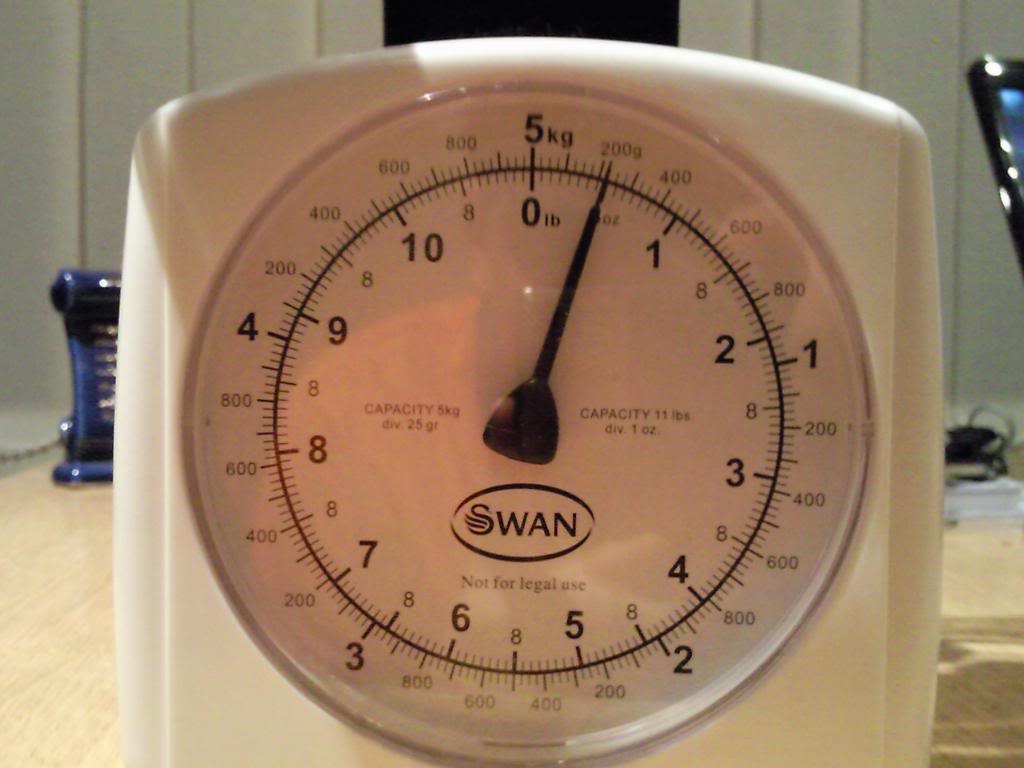 10x stock ones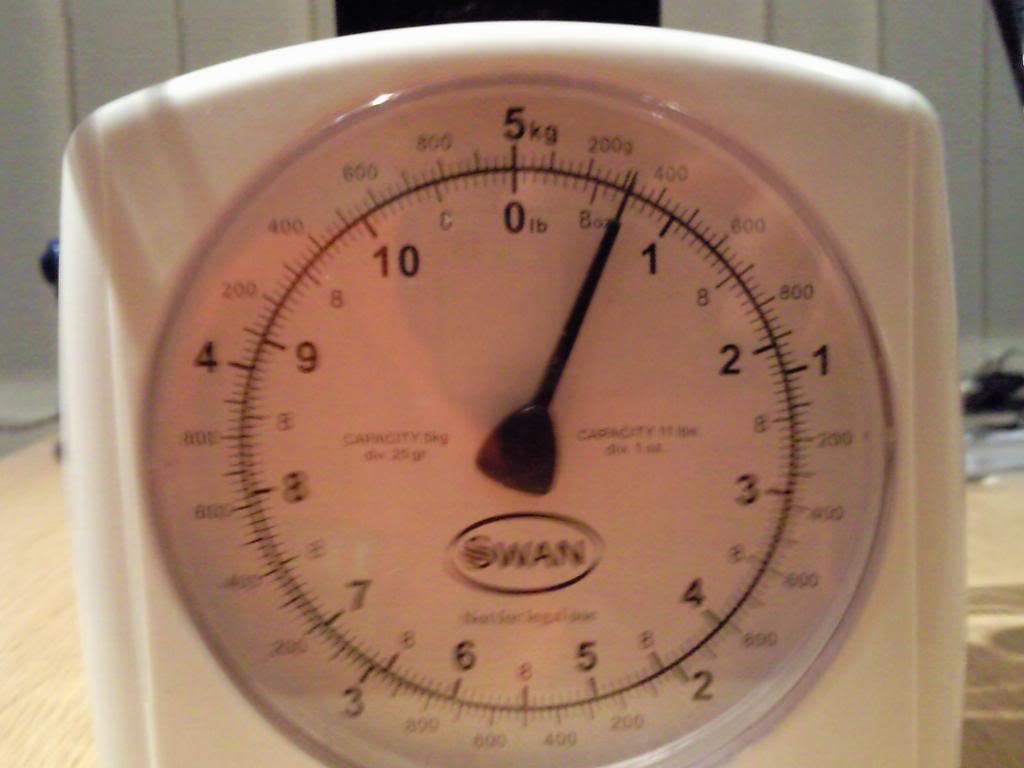 Not an awful lot in it really so if you were wanting to buy the rays lug nuts to save weight then your probably best off spending the £115 somewhere else.
I also decided that i wasnt going to use the mugen icebox so i bought an aem v1 to go on instead for a cleaner look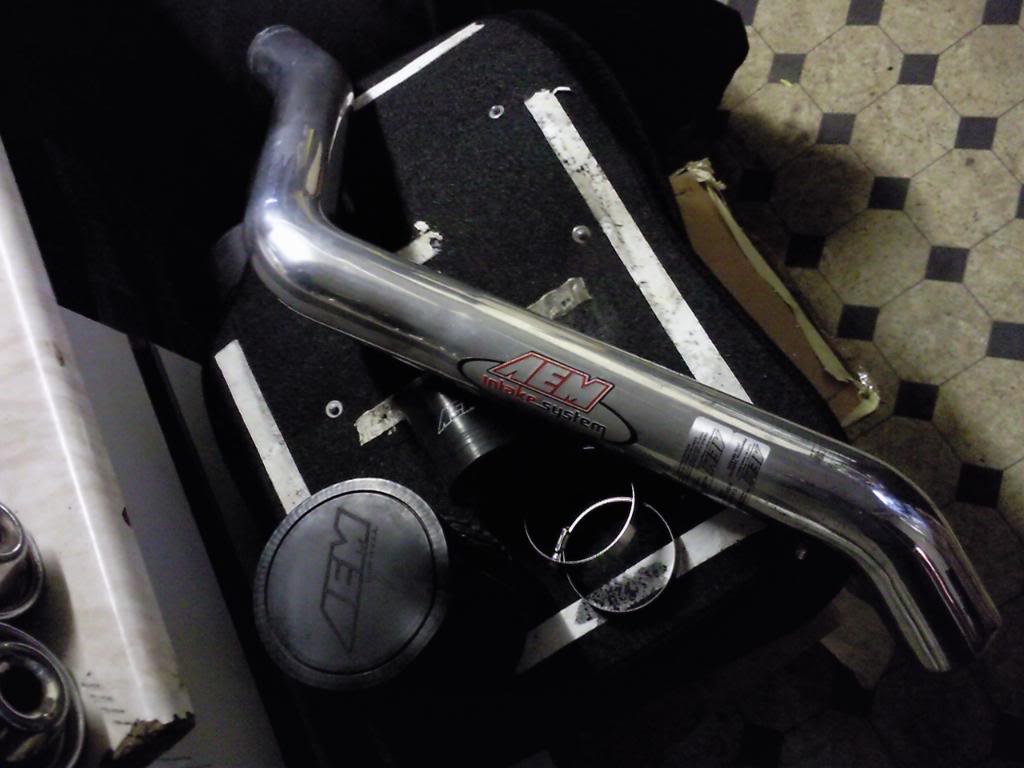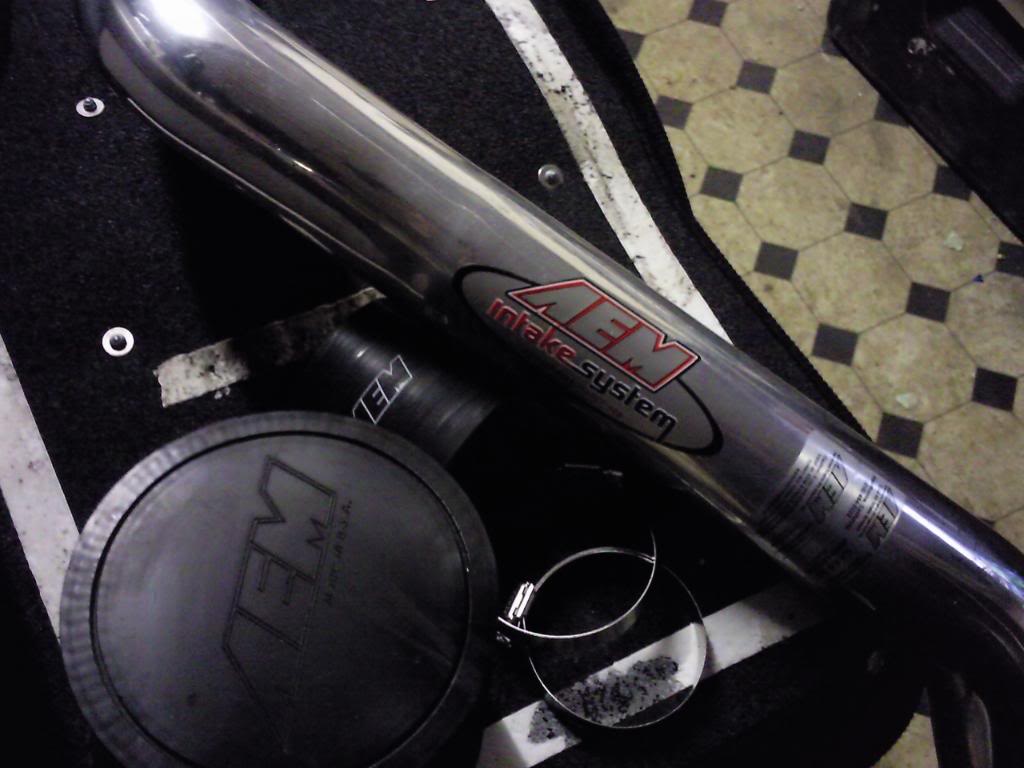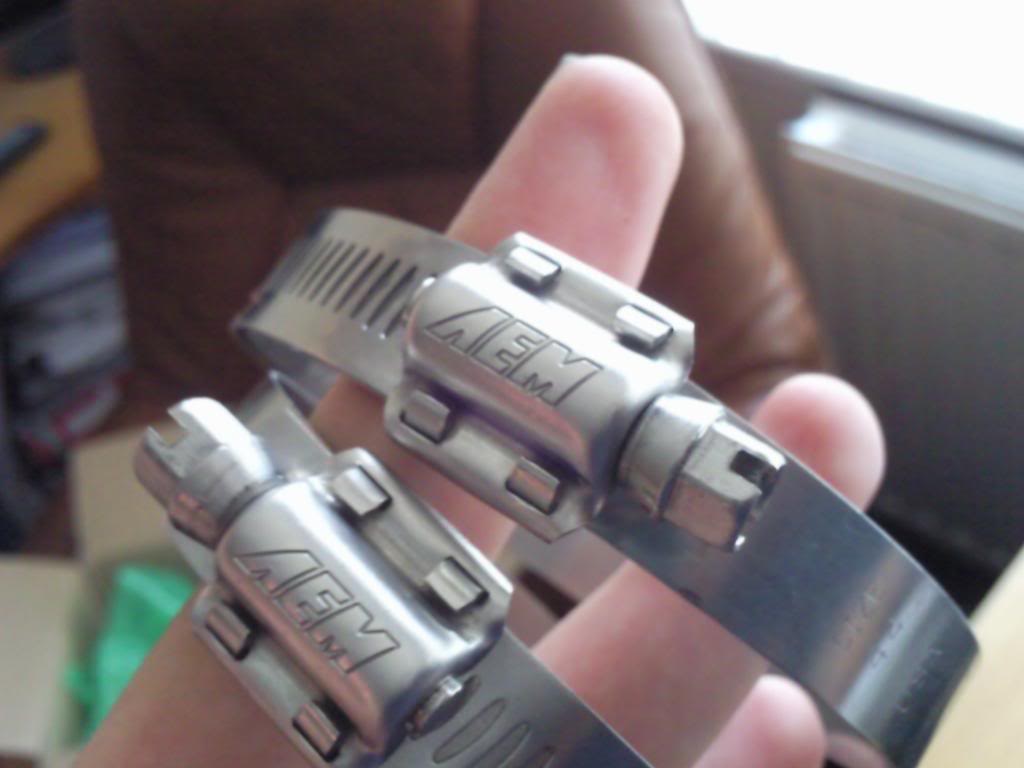 It wasnt going to be a straight fit as my throttle body sticks further out than a normal b16b would so i had to cut bits of it off. Chopping up a £200 induction kit does make you feel abit sick but it had to be done.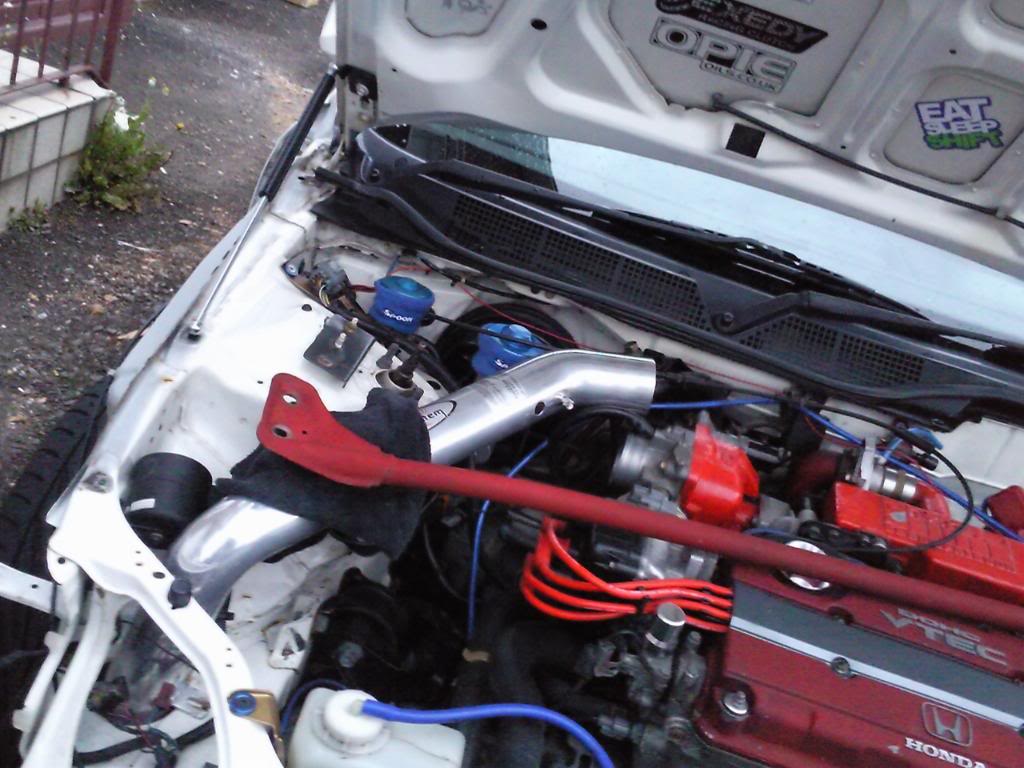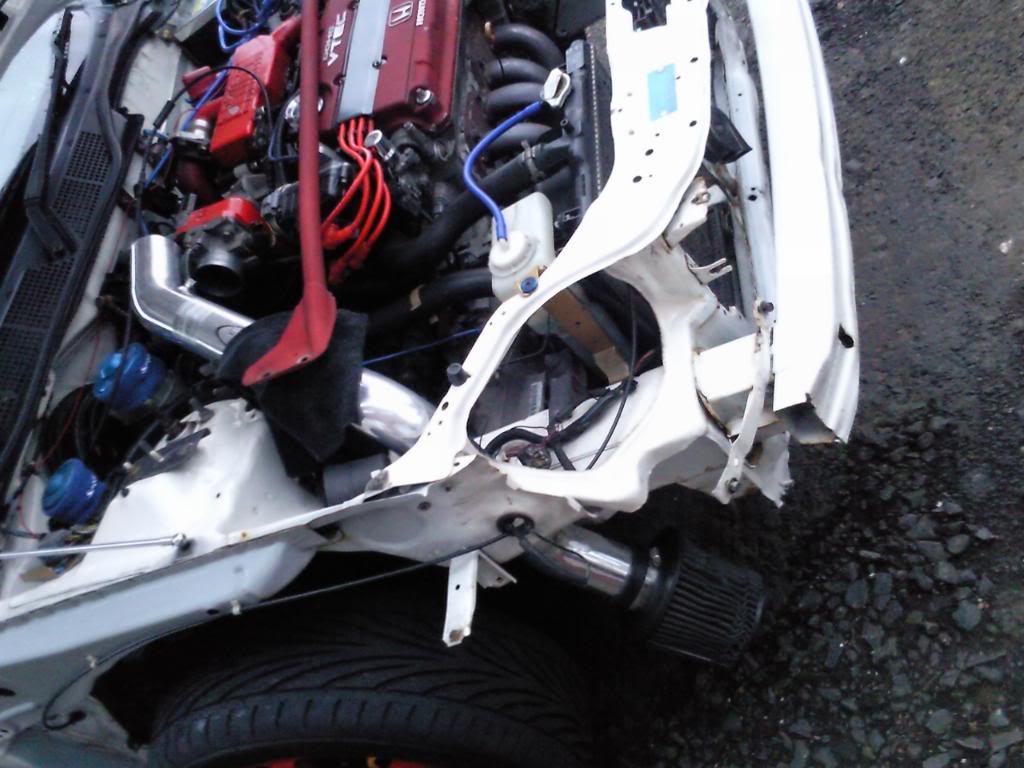 The long arms i bought was also a slightly larger diameter than the short arm i had on before, which should allow for better breathing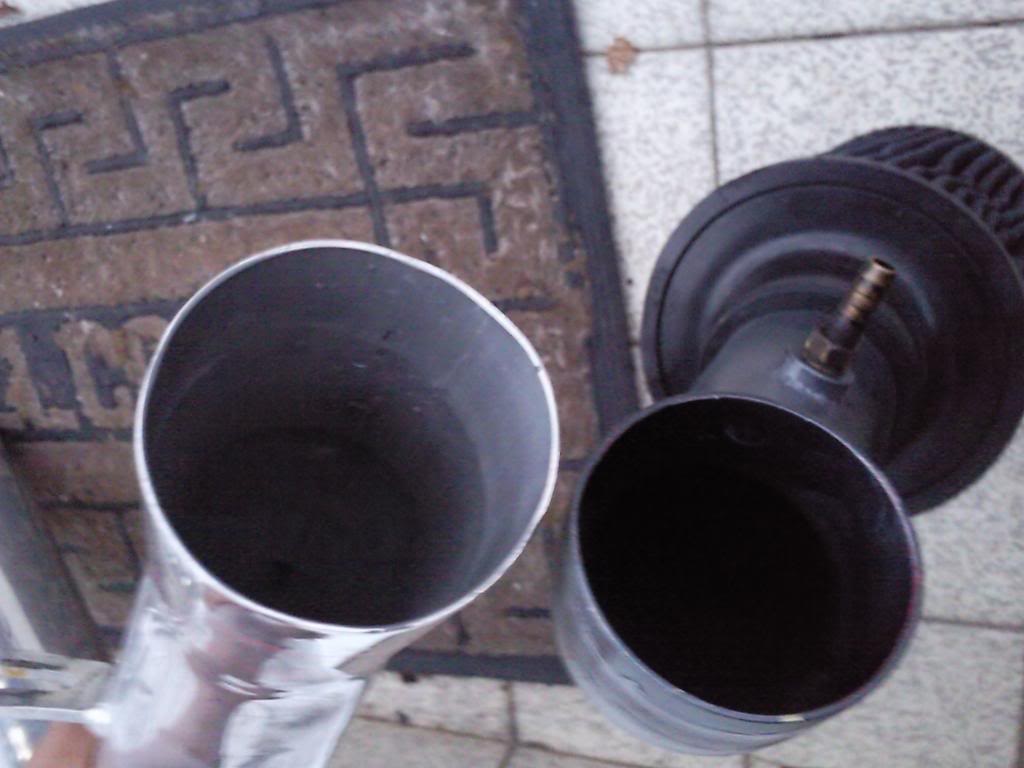 Anyways started cutting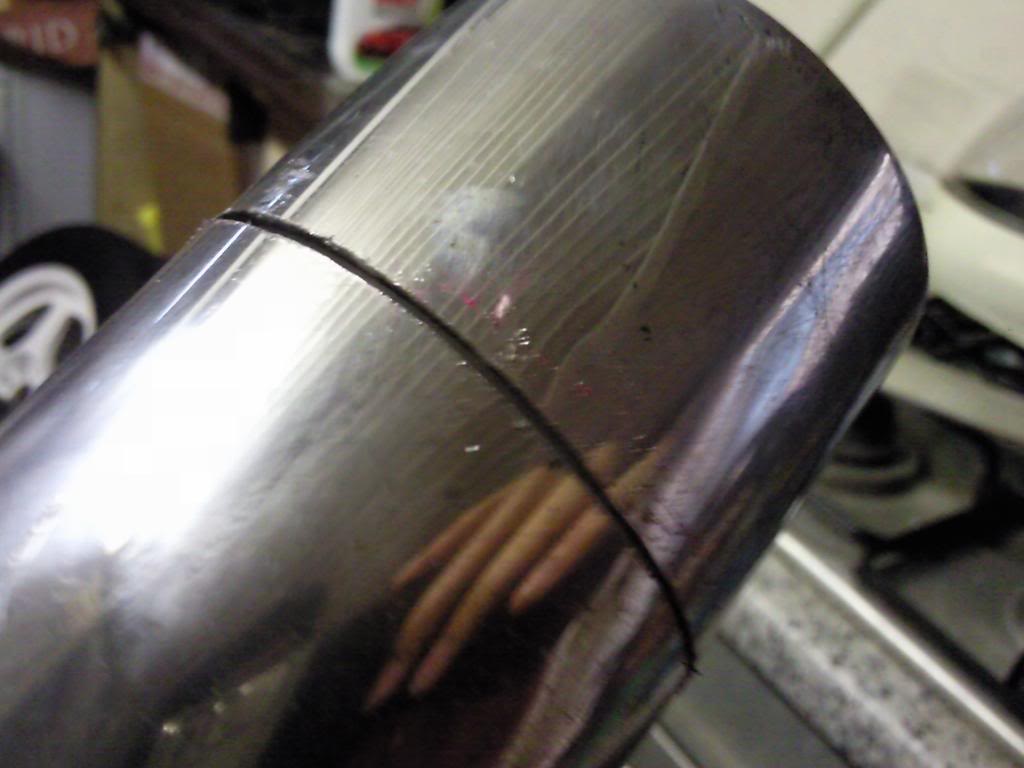 Still a wee bit left to go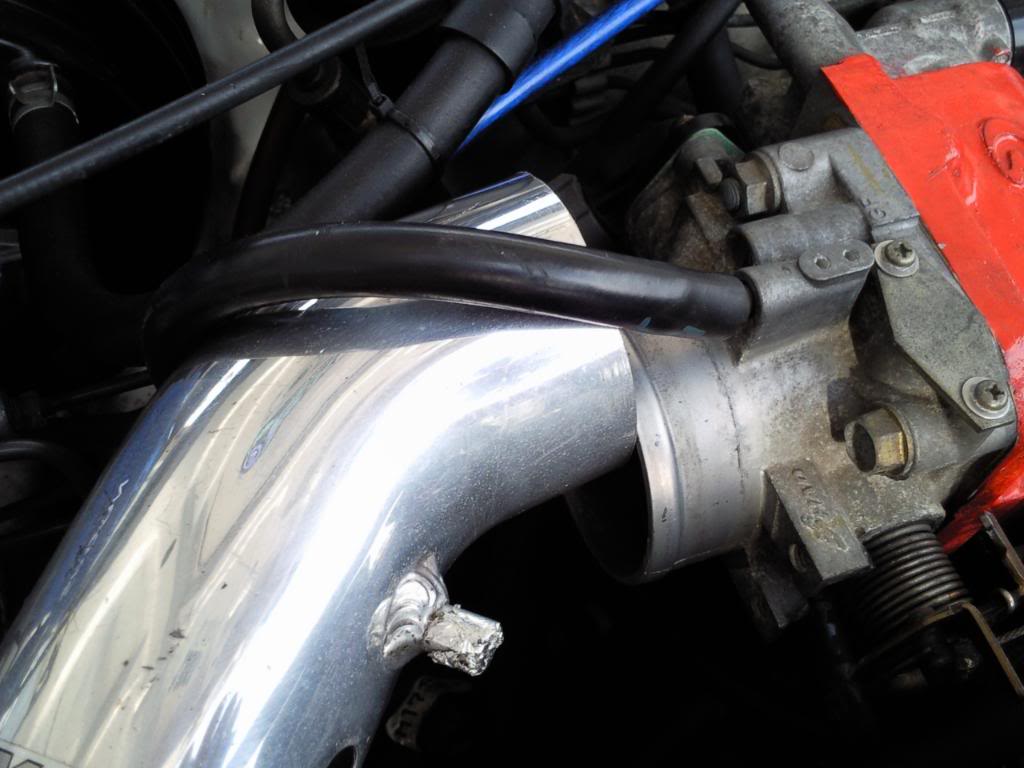 So i decided to split it from the middle. only problem with the aem v1 is that it cant be split unlike the aem v2 so i split it in half so that i could make it a short arm if it ever gets a bit flooded over here so i dont end up sucking in water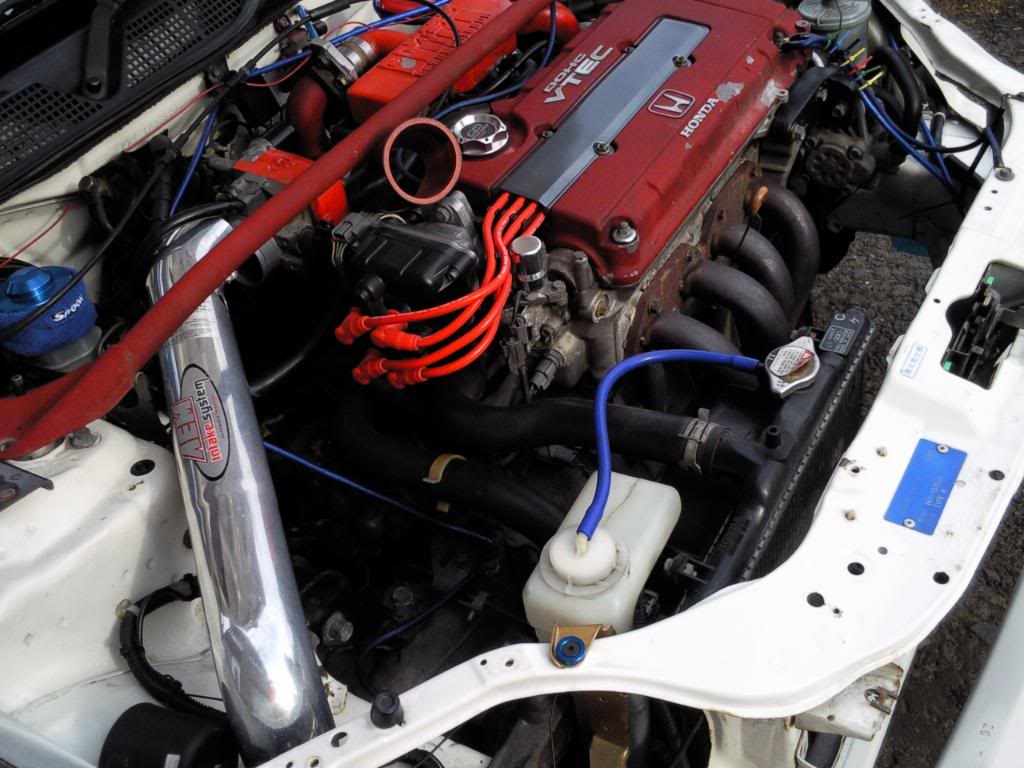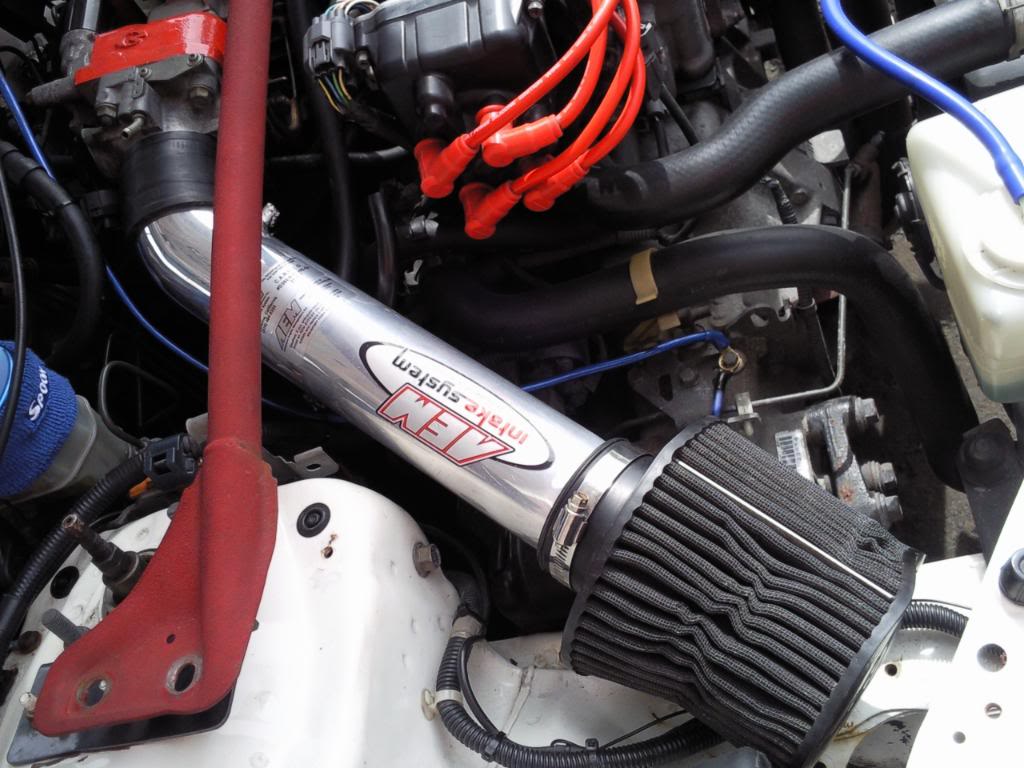 done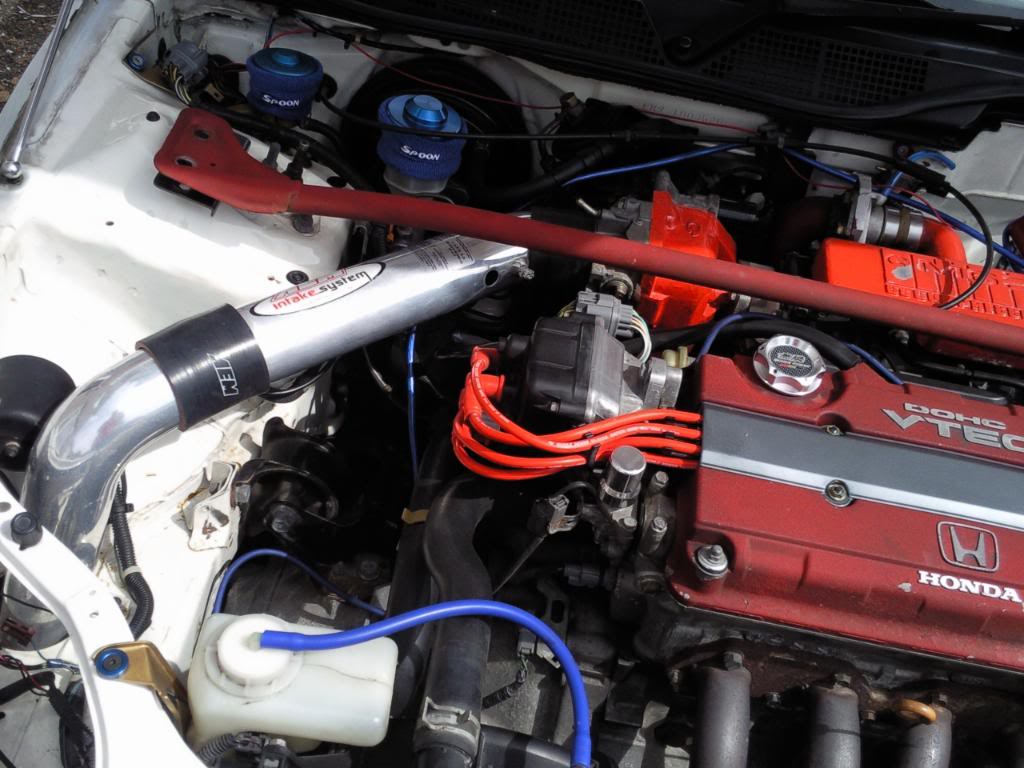 all the bits taken off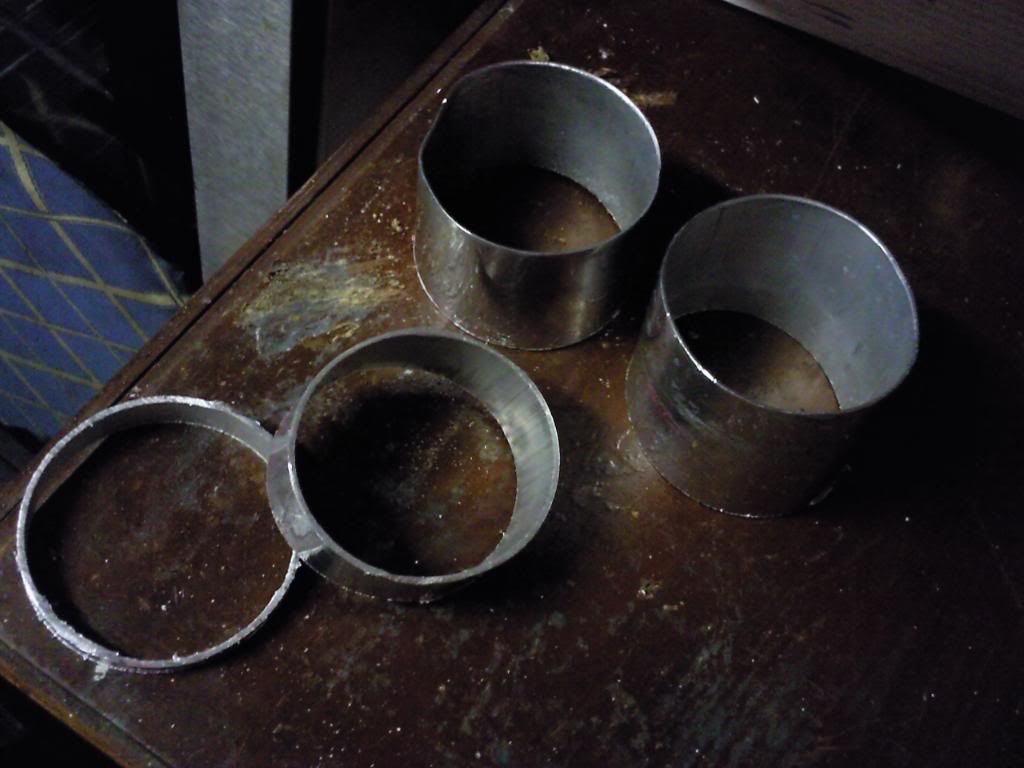 Once that was done i took it into the garage for a polish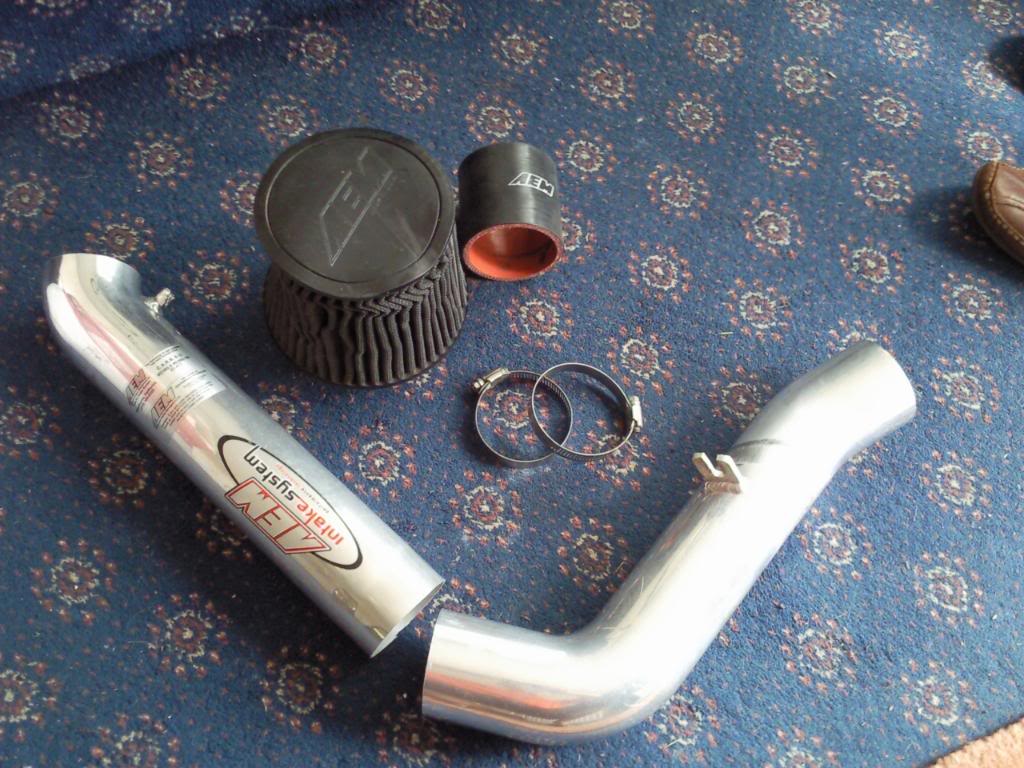 old one back on for the now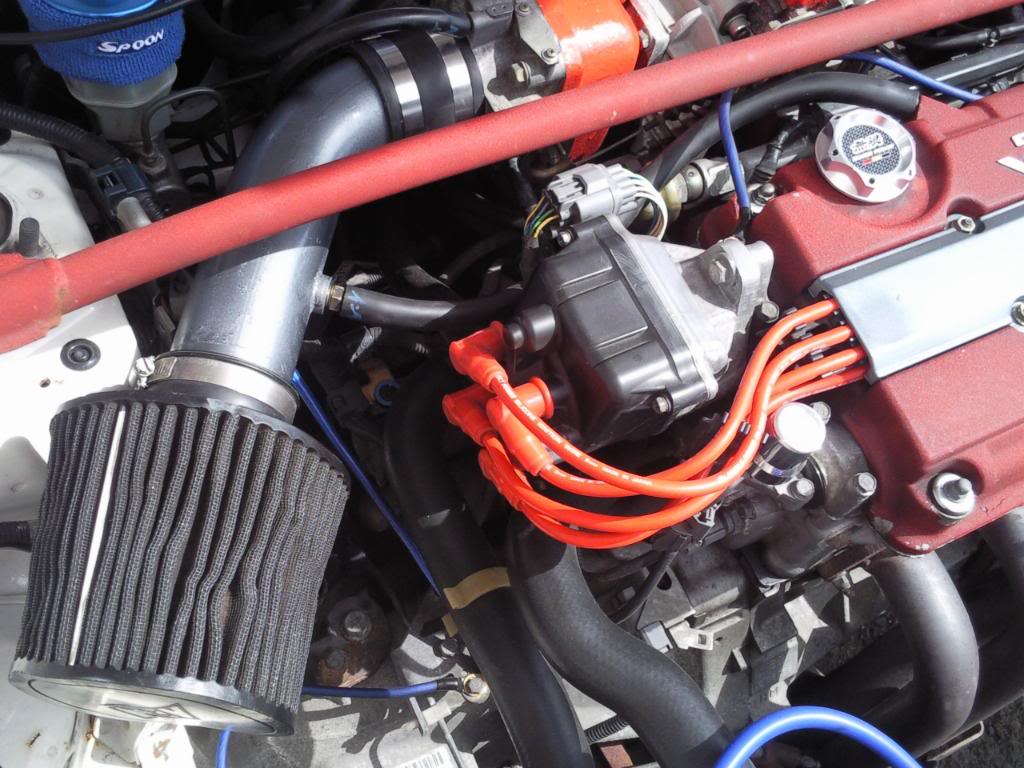 It needed a good polish so i put it to the side to get polished along with a few other things i was going to polish up and since i got hold of a higher powered drill i decided to give the radiator another blast with it too.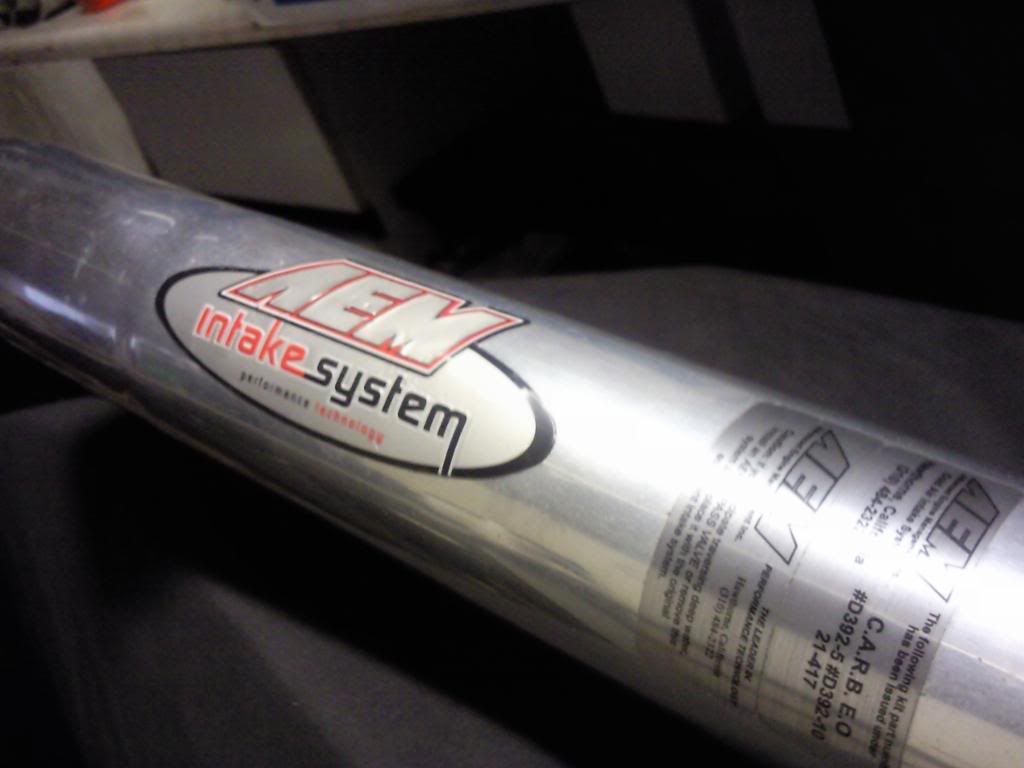 Just a quick going over and it started looking much better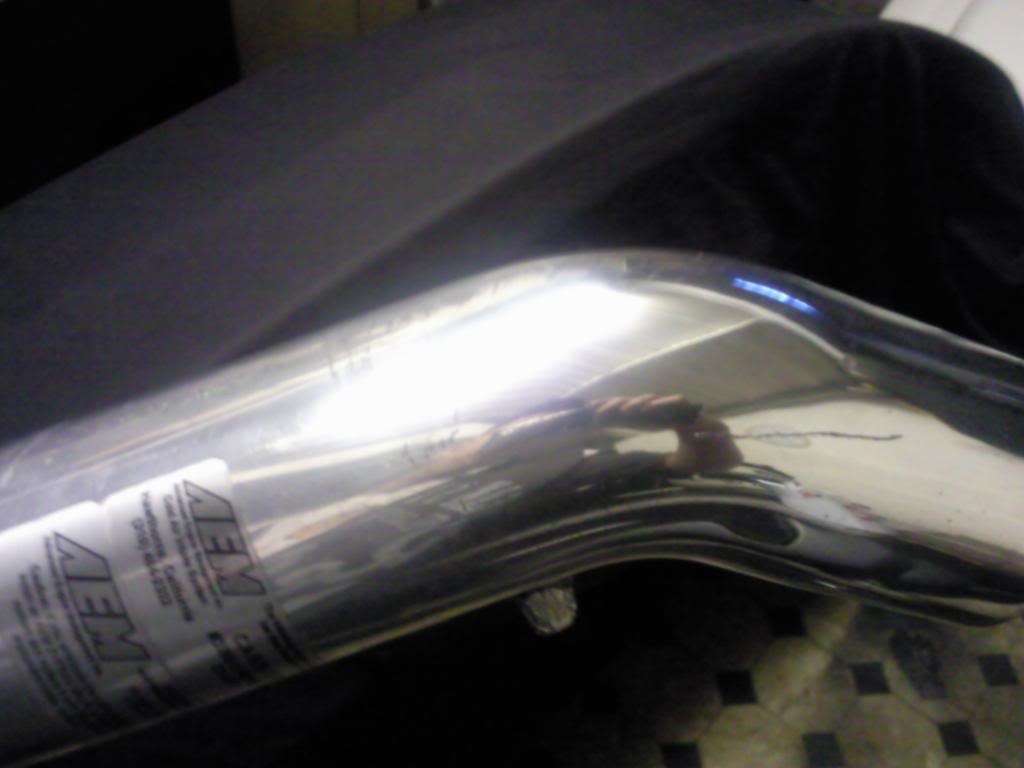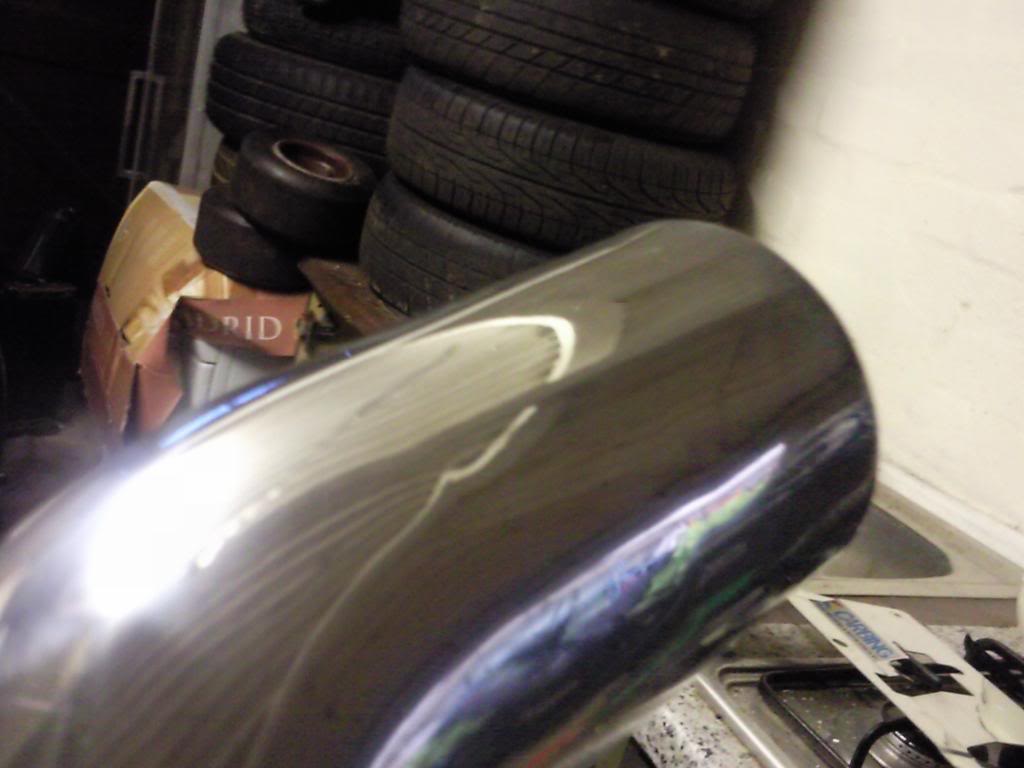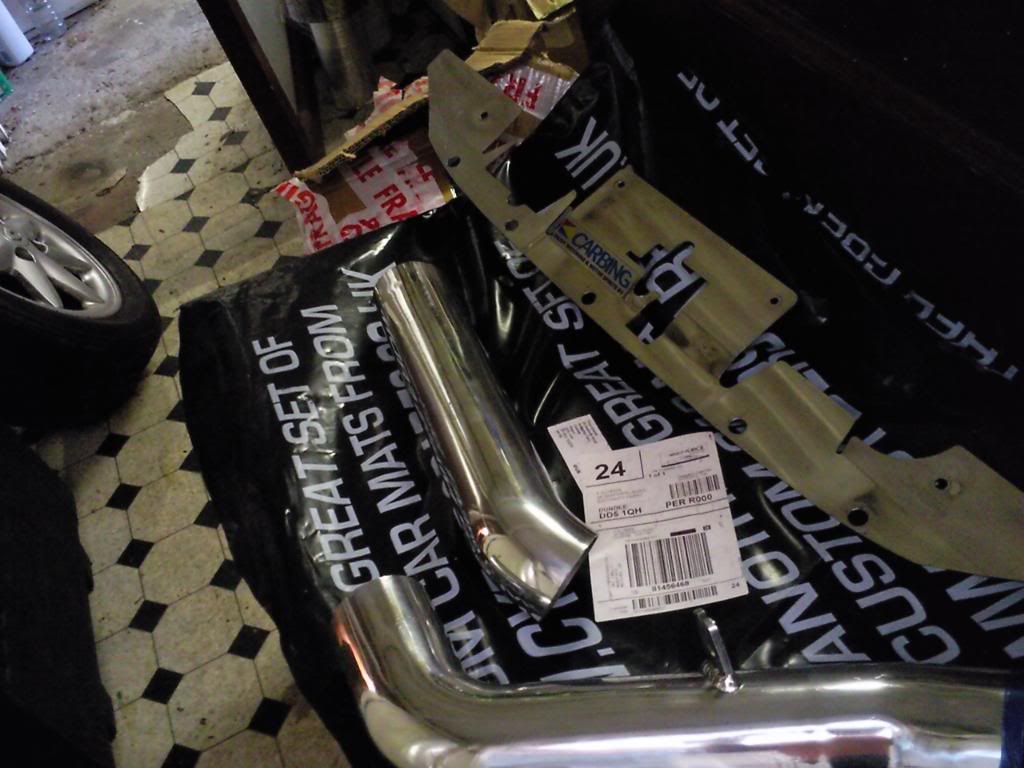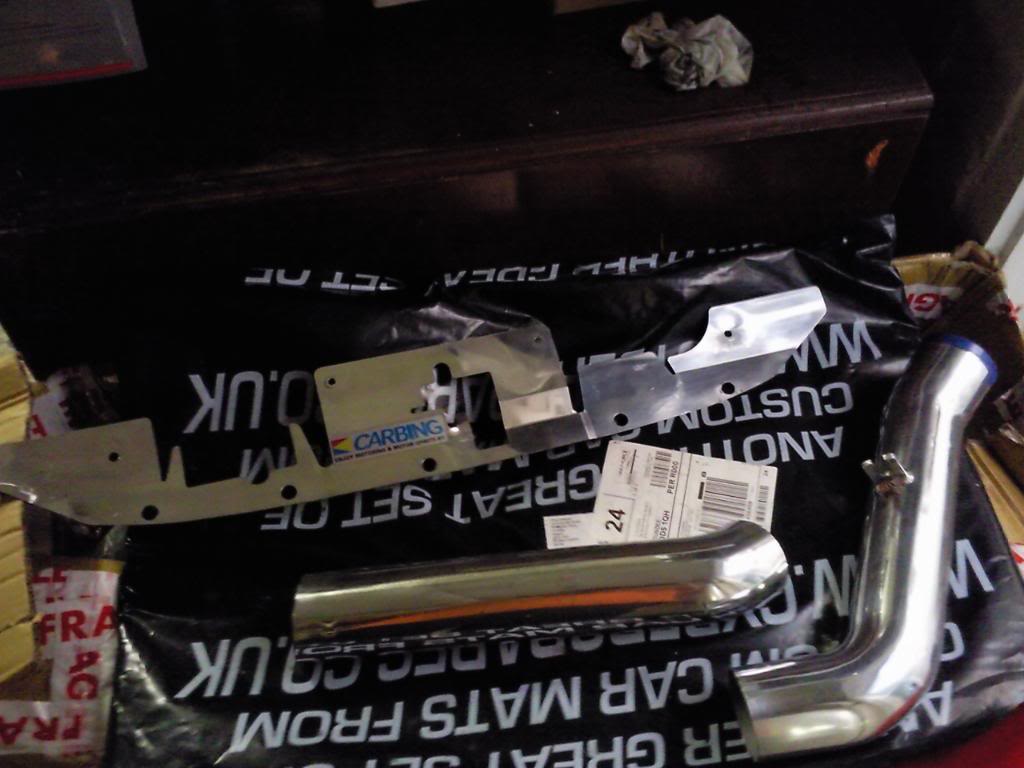 Got rid of the 6x9's in the back as i coldnt hear them anyways and were just dead weight to me.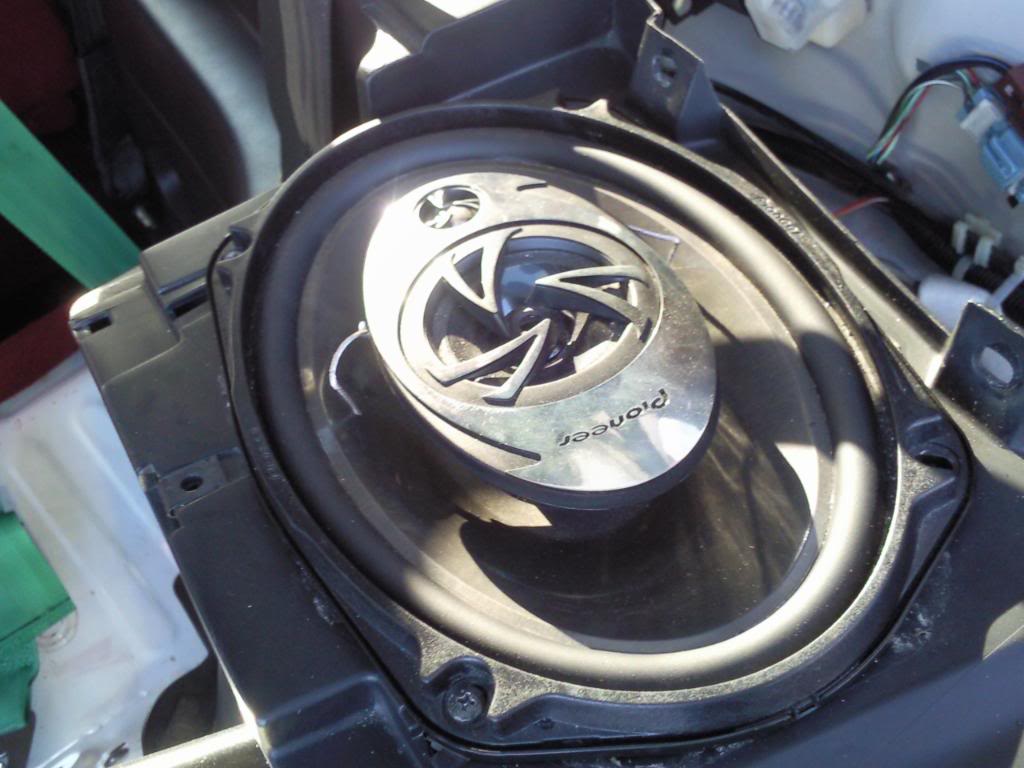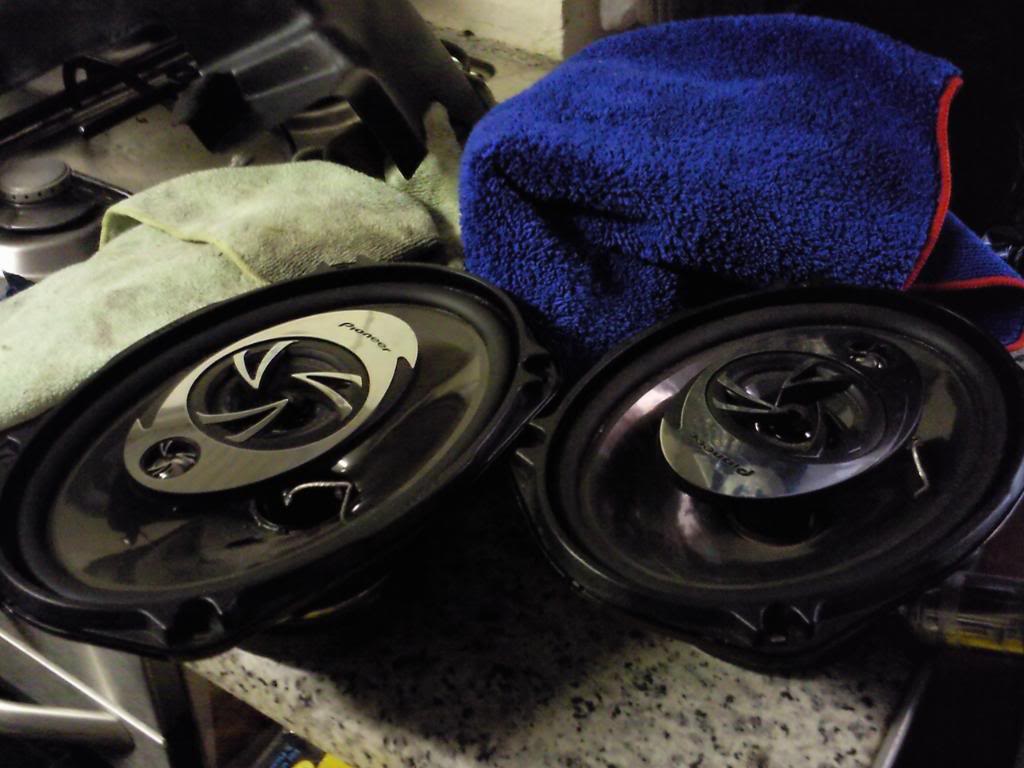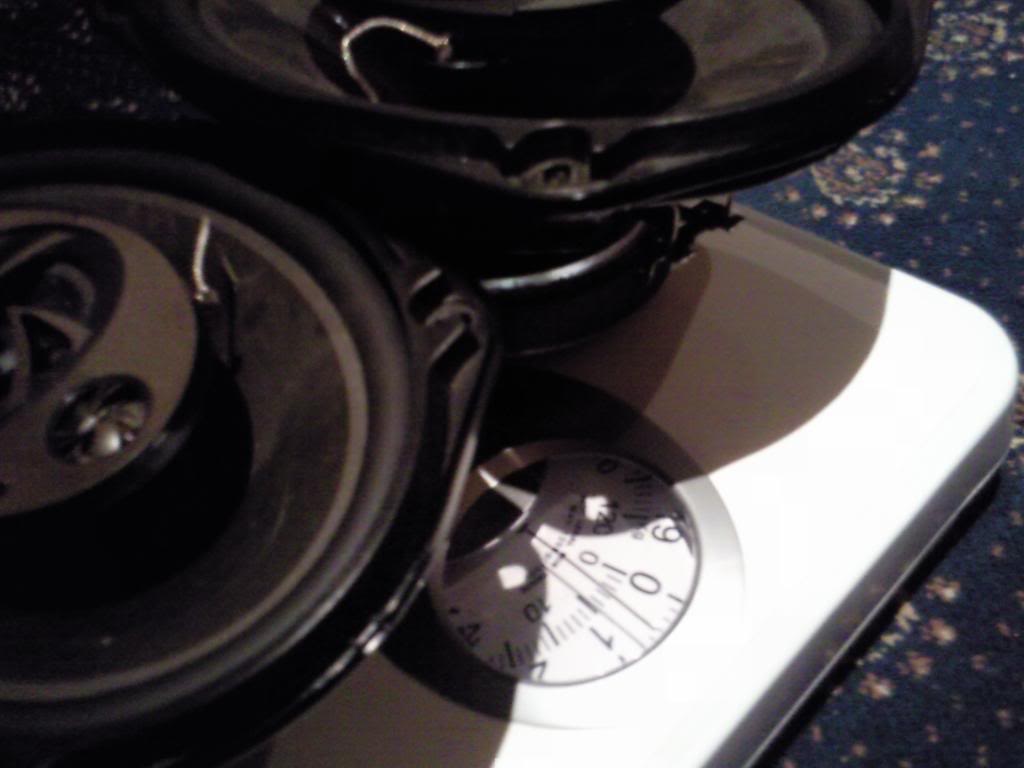 i needed to install my koyo radiator so i thought that i would drain all the old coolant out and fill her up with fresh coolant. I stay about 5 minutes down the road from the honda garage and when i asked them for honda type 2 coolant they said they dont sell it, which i found rather retarded and annoying because its actually called "HONDA TYPE 2 COOLANT". So i had to go to the next nearest dealership which was in perth as i didnt want to use anything other than honda type 2 coolant as thats what was in my car before. After a 50 mile trip i picked it up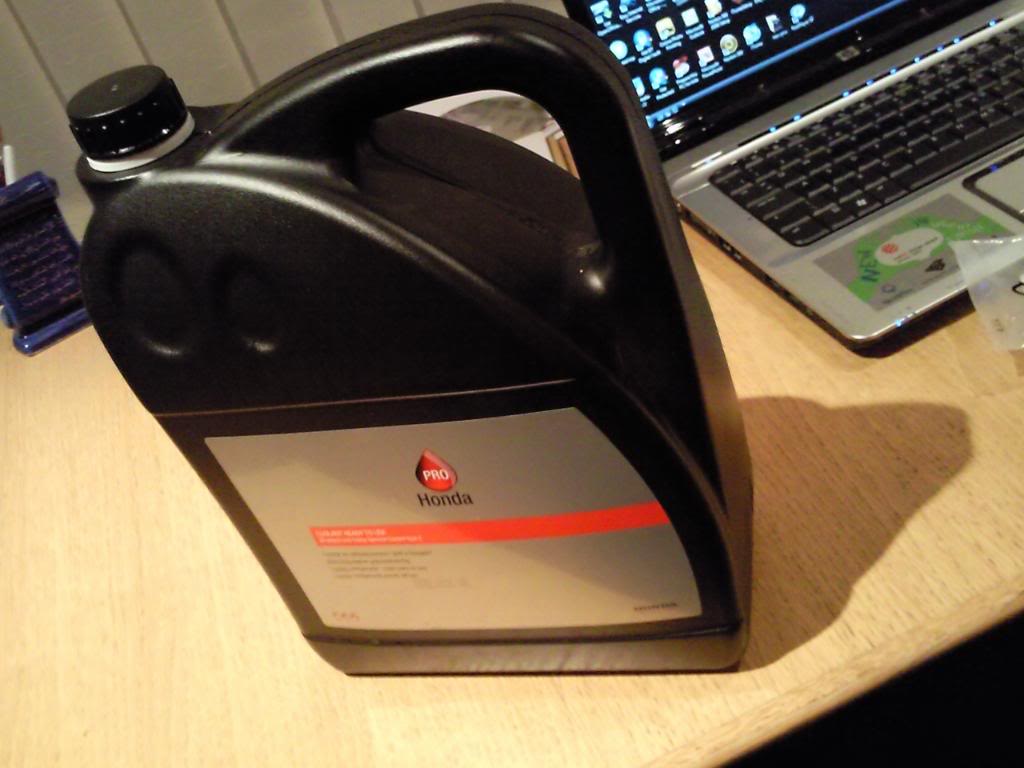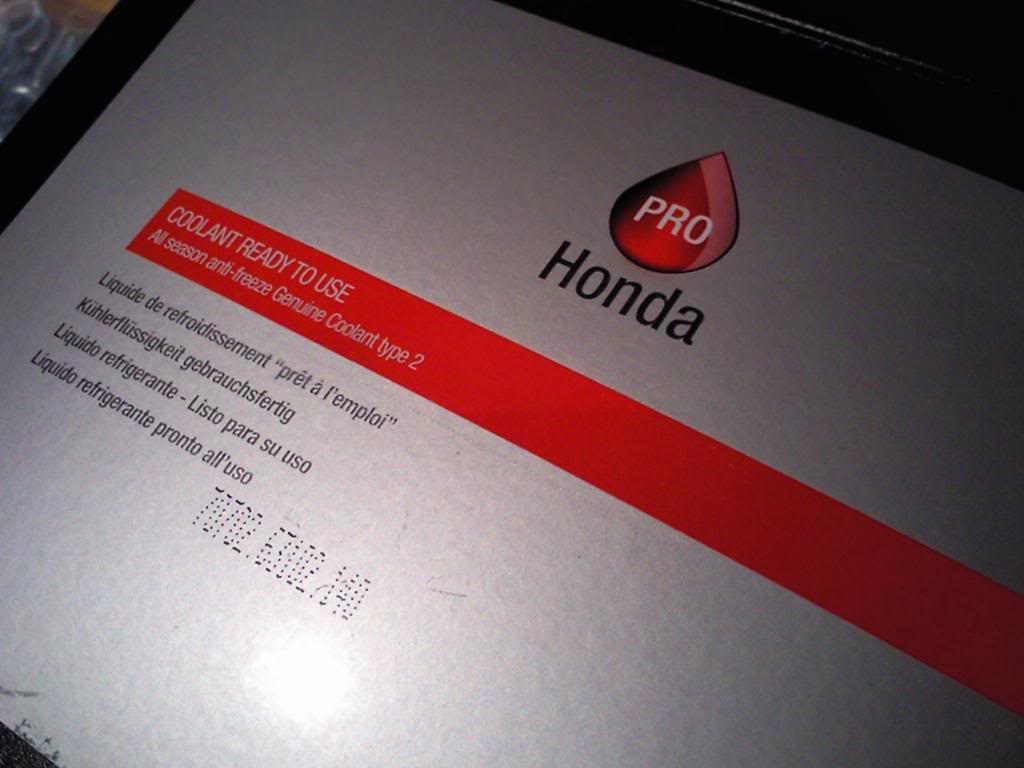 took off the fuel sender cover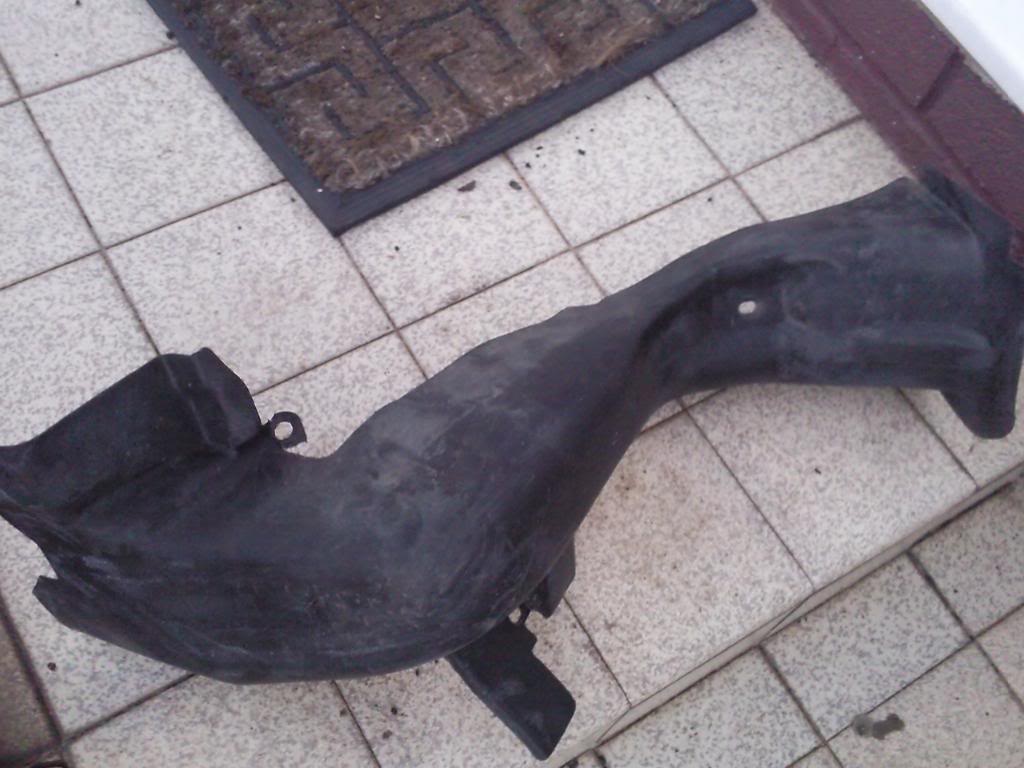 Then i cleaned and dressed it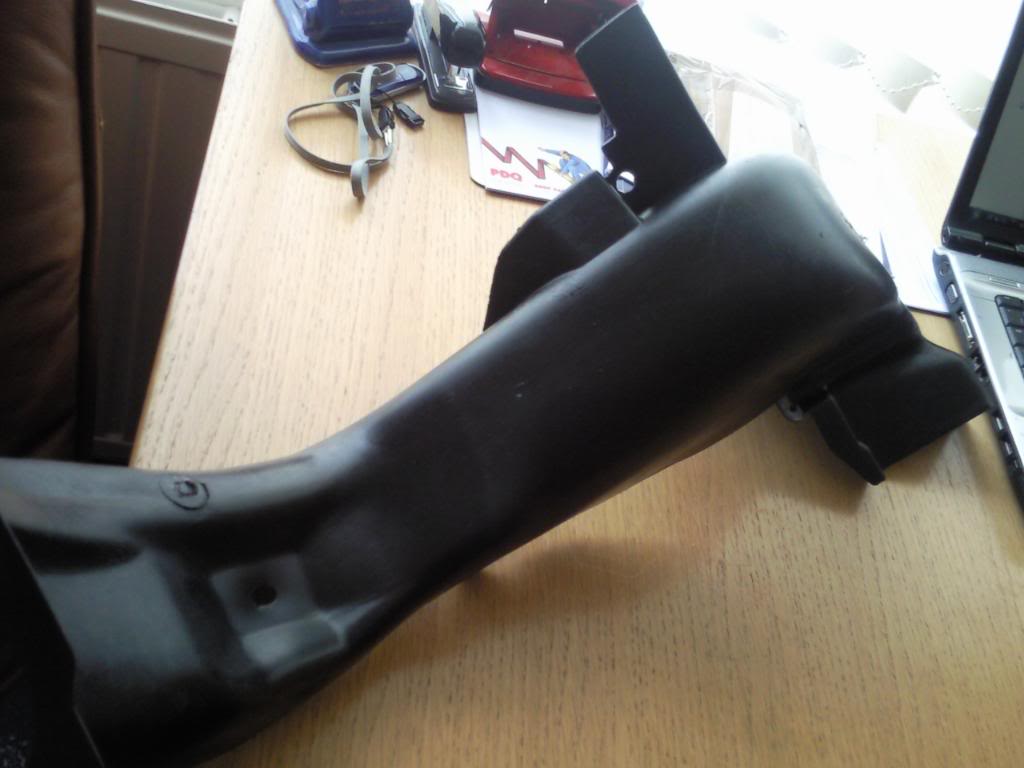 Then i went on another mad shopping trip and picked up a few more goodies.
Fully adjustable Bc racing coilovers, which are yet to be fitted. only heard positive things about these from scooby, evo and ek9 forums so im looking forward to fitting them.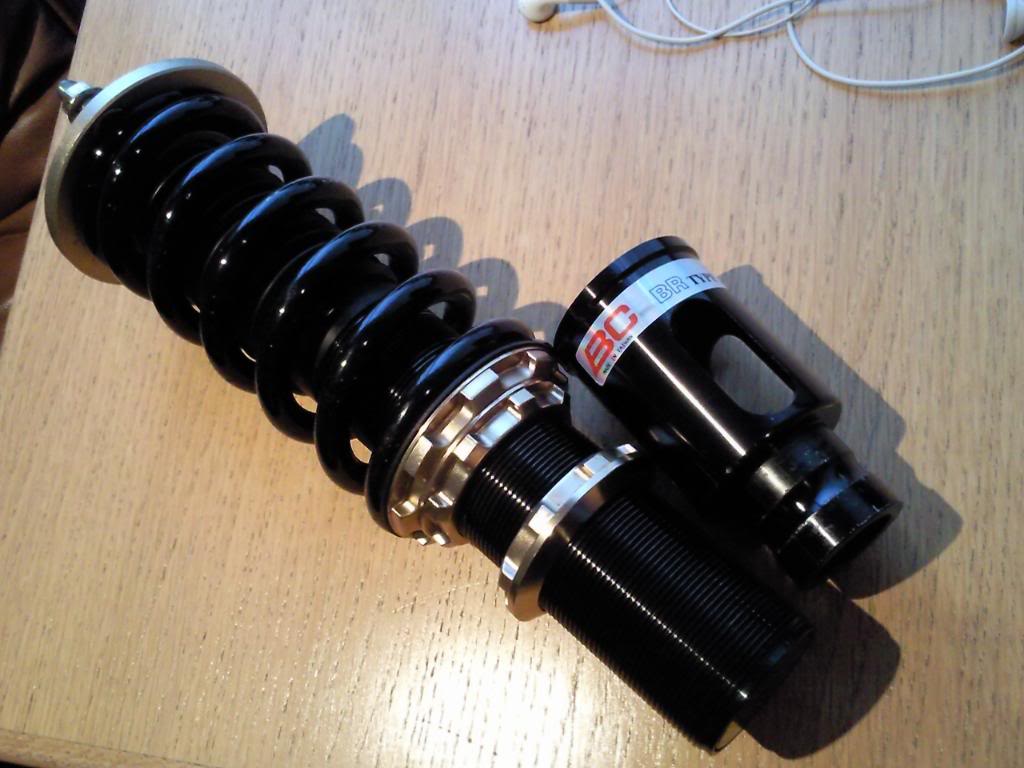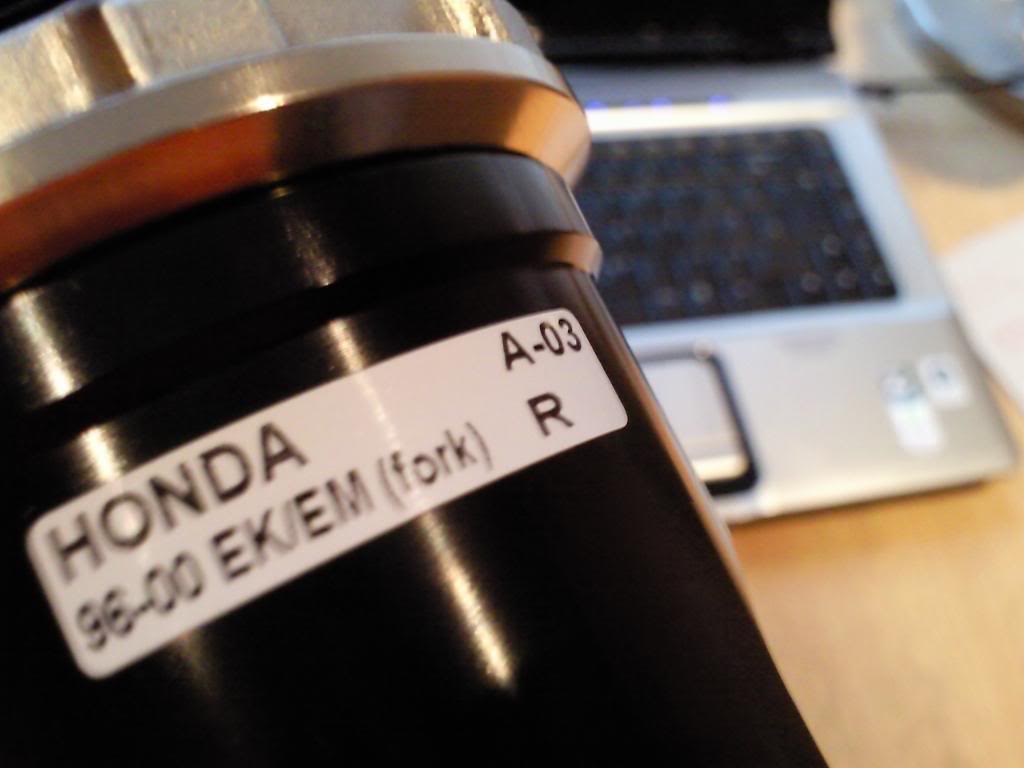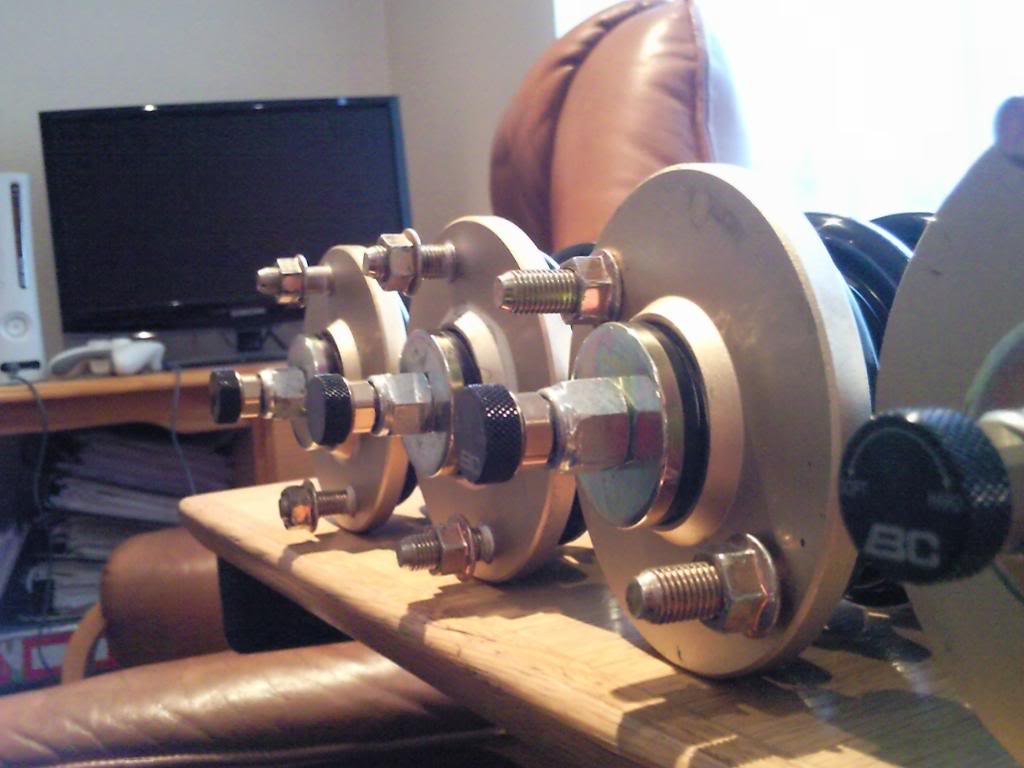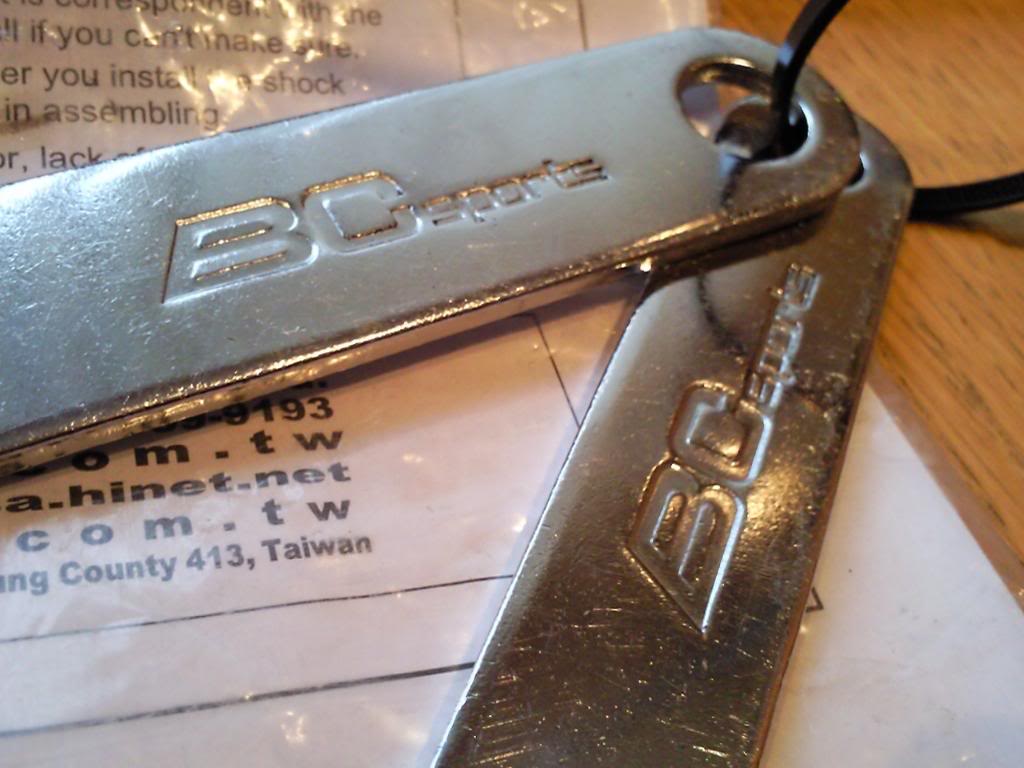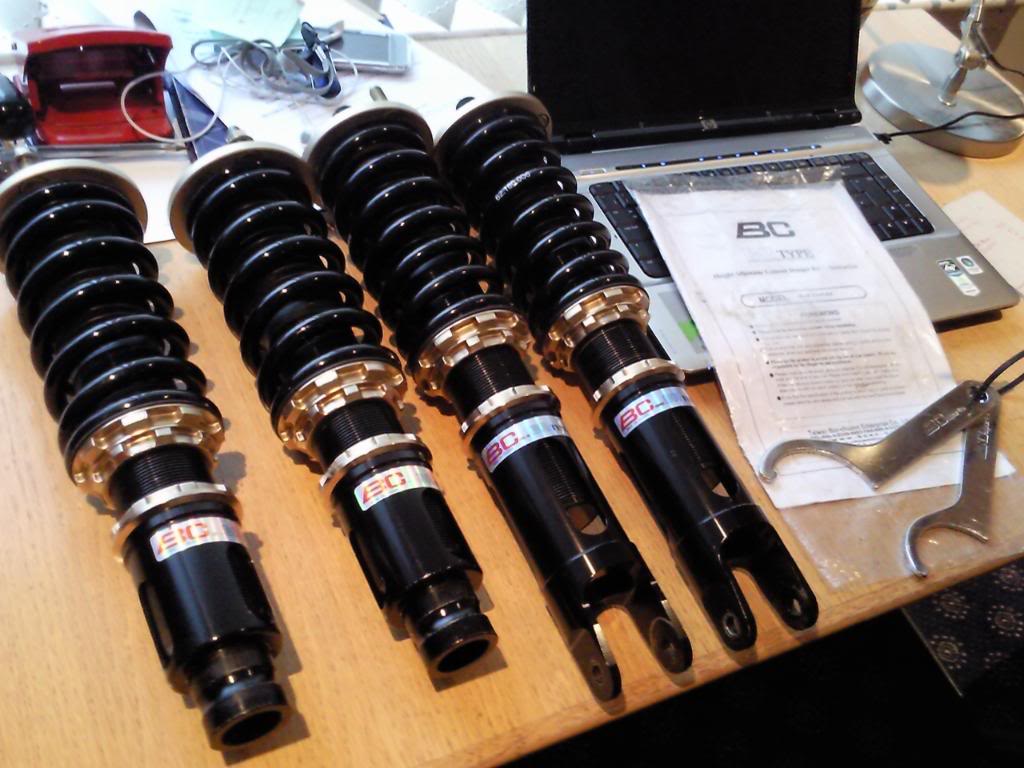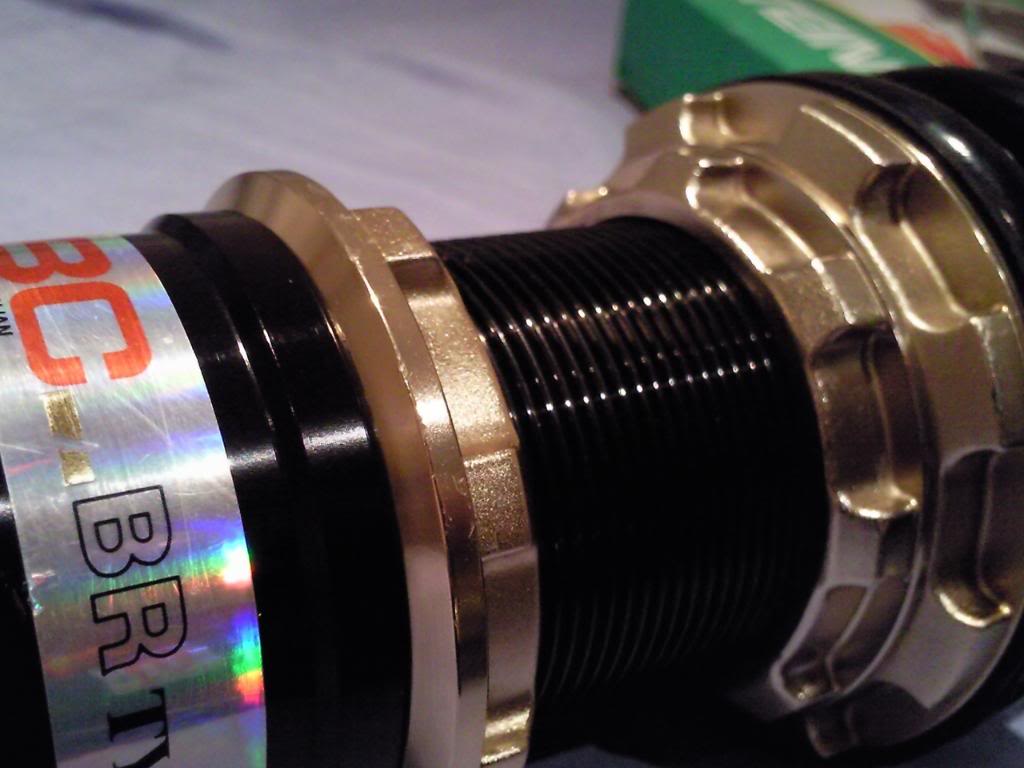 Also bought a beaks tie bar in gold, which is yet to be fitted. i was planning on buying a tegiwa imports one for £70 but decided to spend a wee bit more and get the real deal.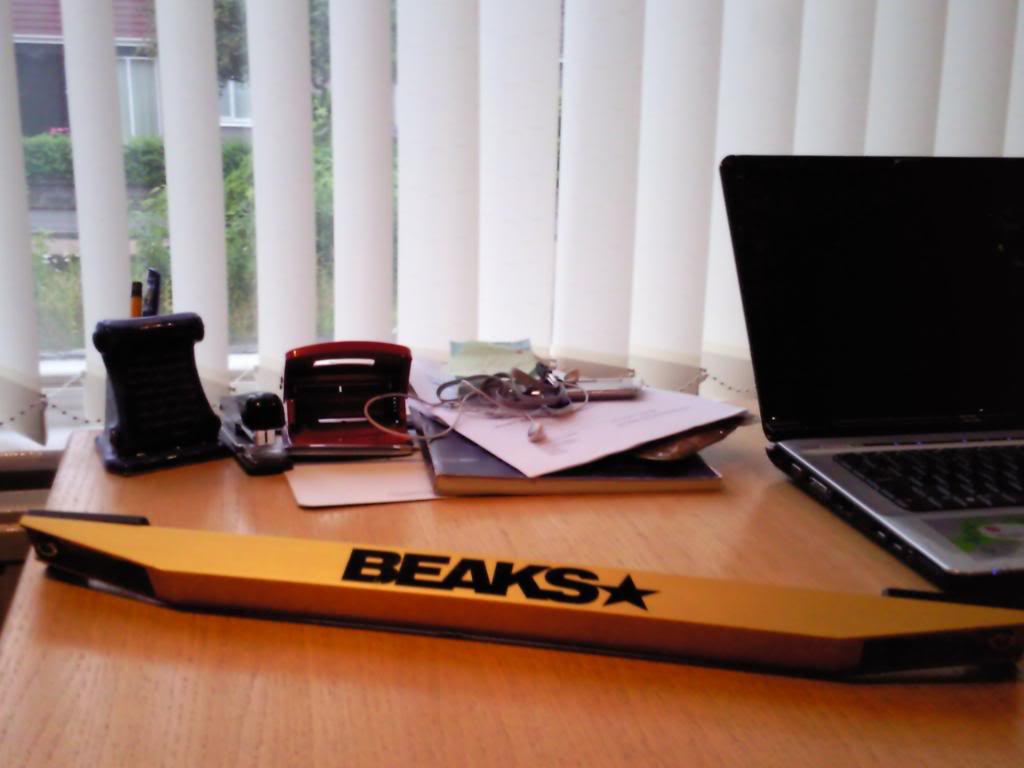 Although i bought new bonnet dampers/lifters a couple of months ago i fancied an upgrade to tein ones.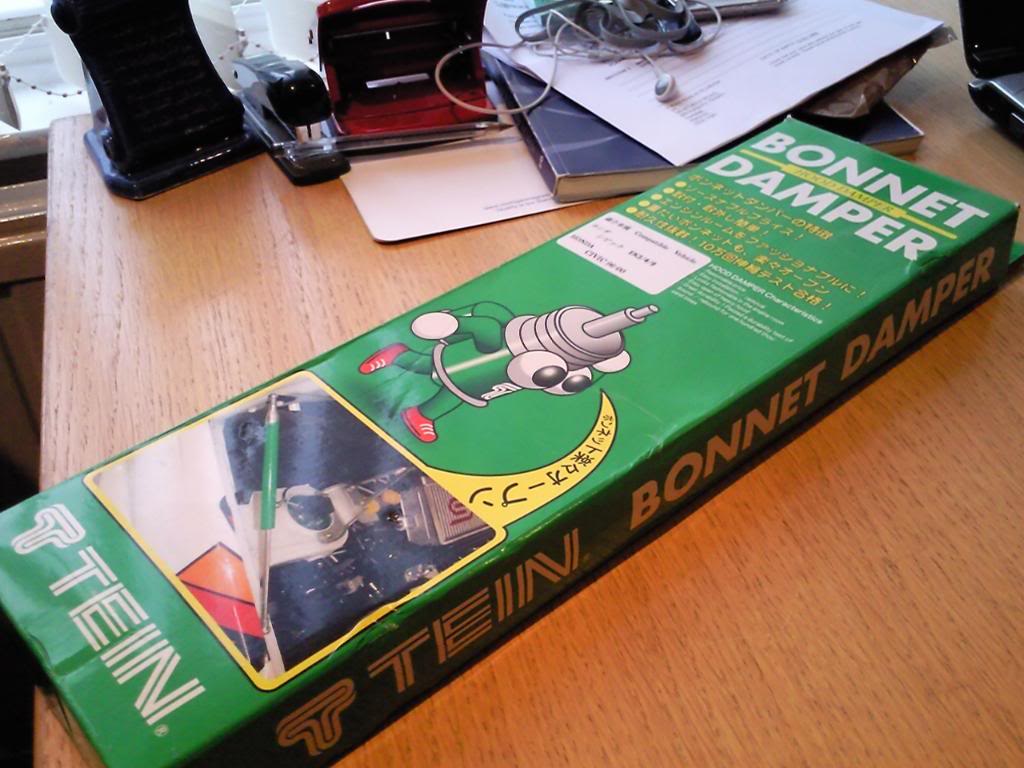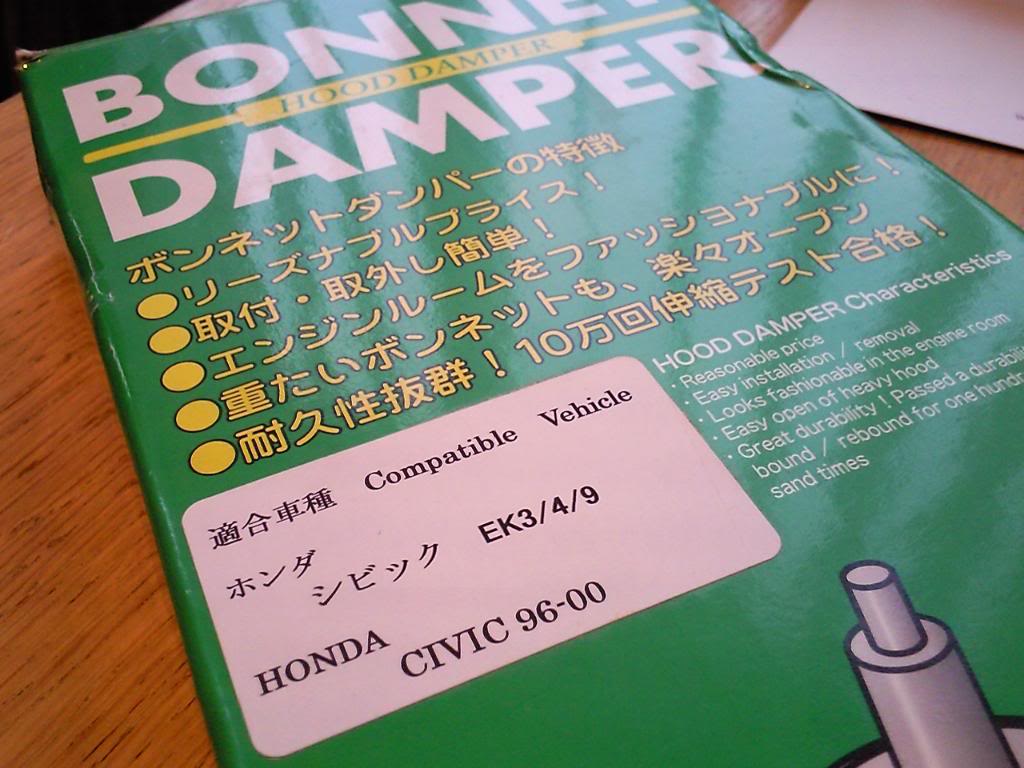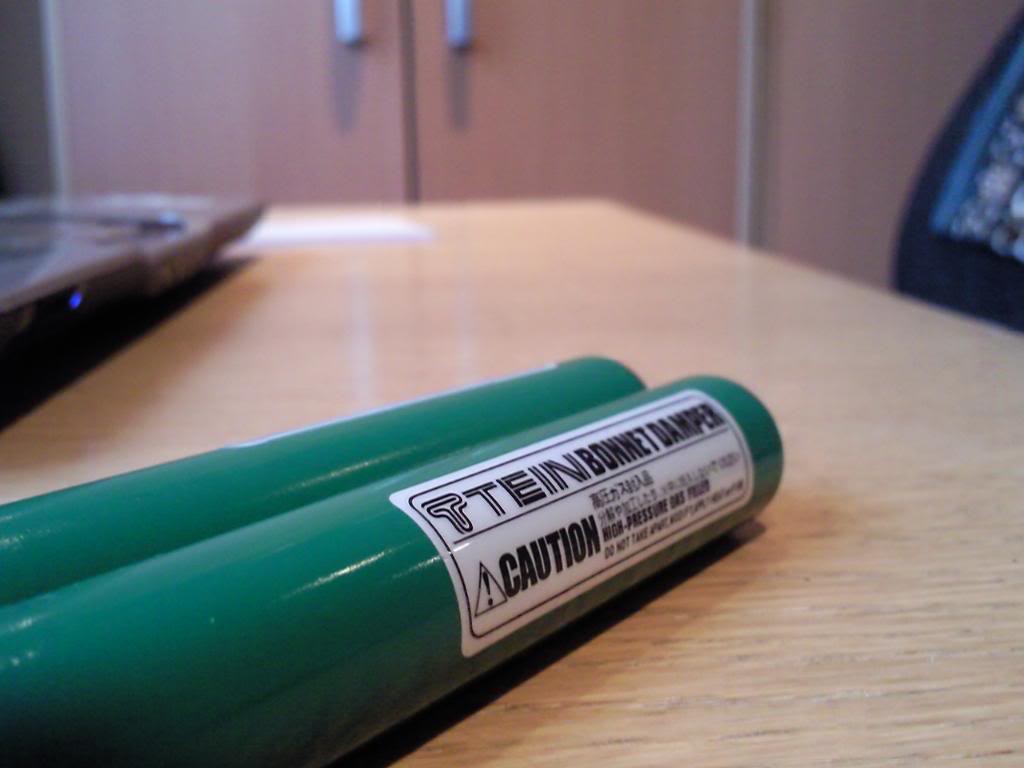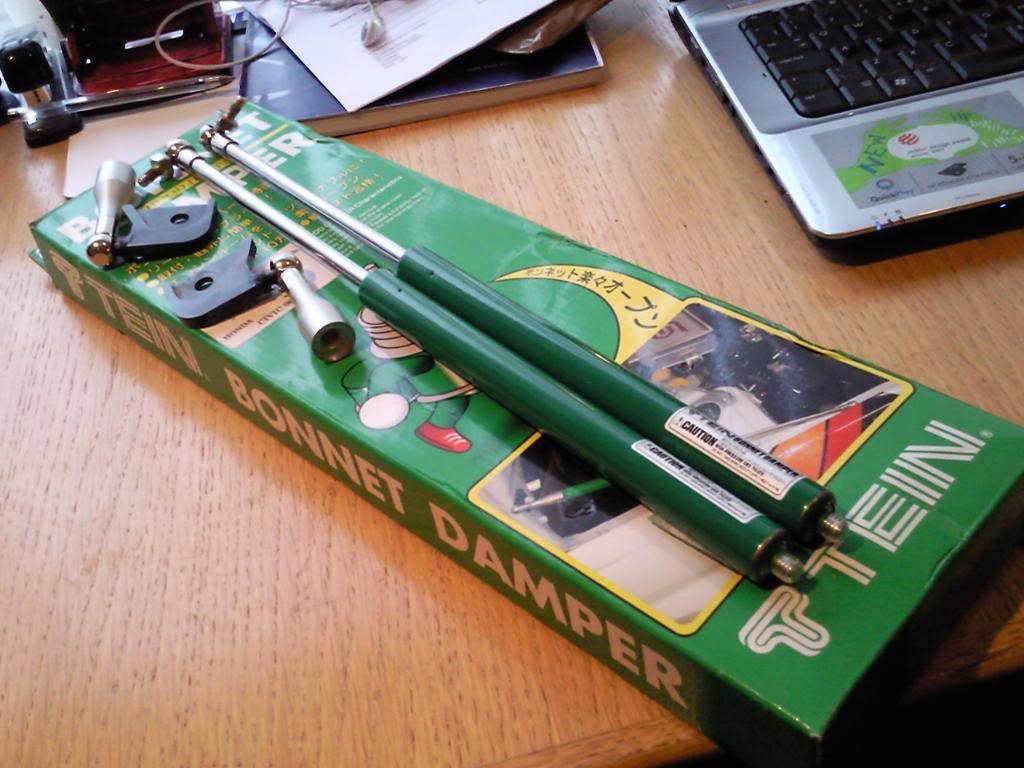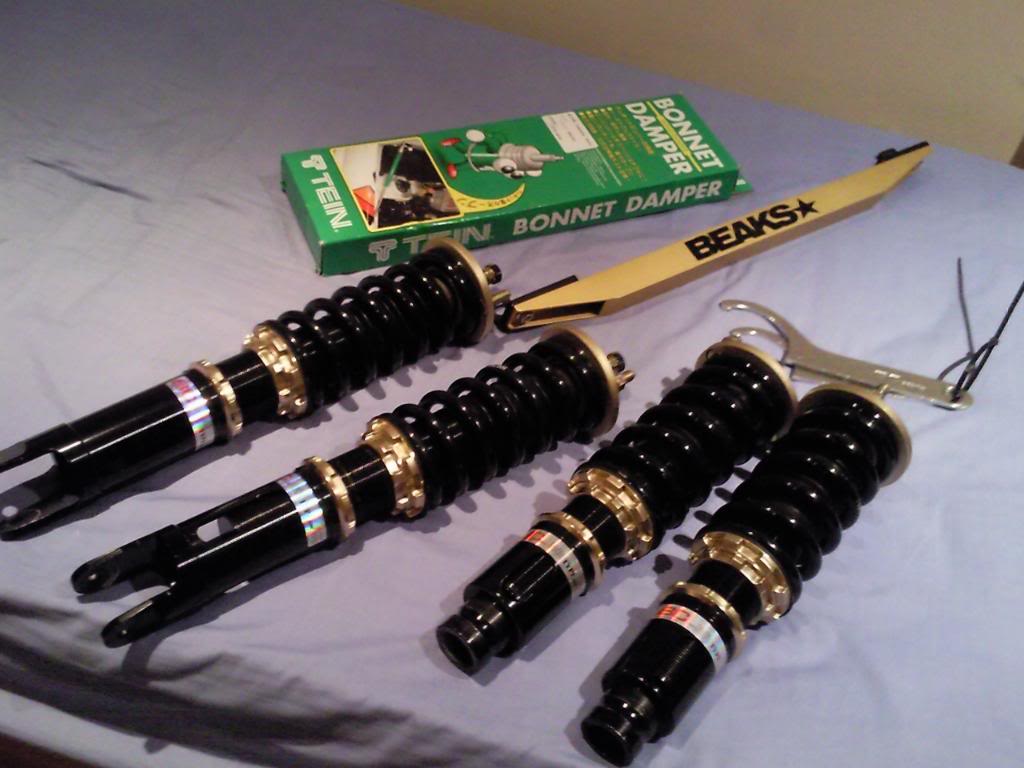 TRS tow strap. i have allways loved the look these and much prefer then to the metal ones. Got it in green to go with the takata harness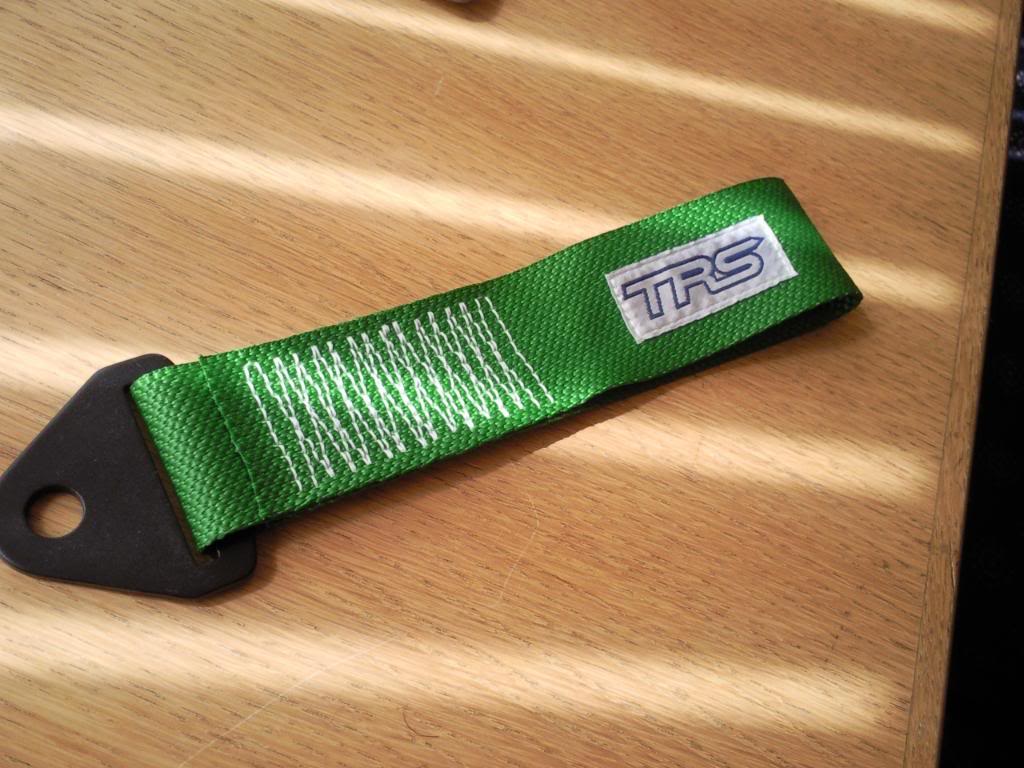 Althoough the supercharger housing was painted not to long ago by the previous owner, it wasnt the