After seeing a good few progress threads on here i thought i'd throw one out for anyone thats interested. i know she's not radically different but she has a style, components and look very individual that i aint just thrown together so thought i'd share
I picked up a phase 1 Black 225 in june 2007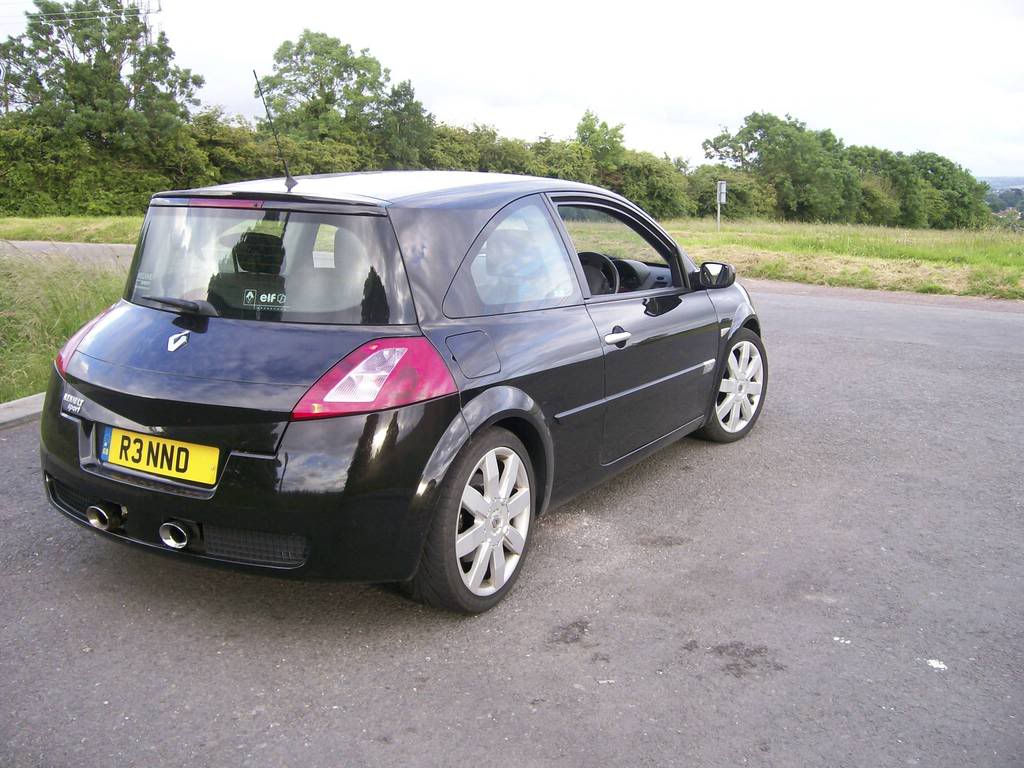 was bored of my beetle, yes a beetle, i'd fitted 18 black deep dishes some bodywork touchs and lowered it and was bored basically so set of on my merry way and bought a meganesport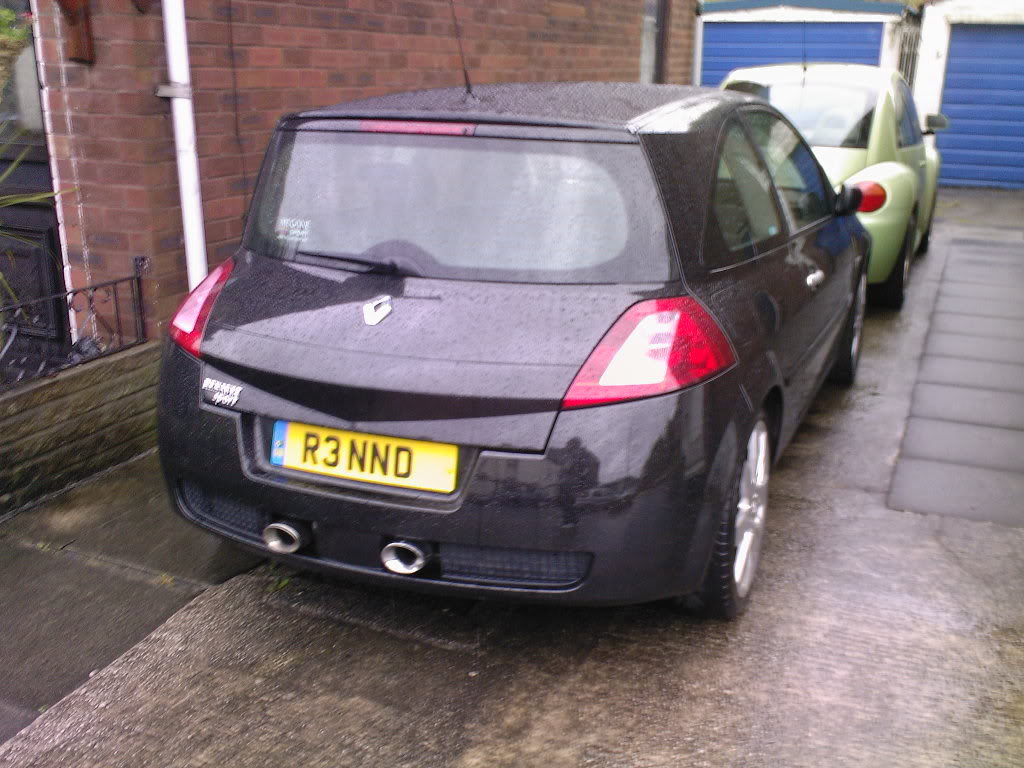 at the time i didnt know it used to belong to the founder of meganesport. so i joined up the website and found this out, i'd gone to bristol to pick up the car from a guy who had bought it from the original owner.
when i got there i just fell in love with it. it wasn't in the condition i'd of expected but was cheaper than expected and the allure of a turbo charged car just caught my eye.
the spec on arrival was a RStuning remap, powerflow exhaust, FMIC and lowered on eibach springs... most of which at the time just made me smile and nod my head as i knew little of what these did or offered.
the few weeks that followed proved and showed that the guy had no idea of how to maintain a car, she had no oil, was creaking and cracking and scratched/swirled to buggery. it also showed i was stupid in going down with the money and just buying it. anyway sh1t happens so i set to cleaning her up and making her how she is today.
first to go was rear window stickers, engine cover, bonnet heat sheild and turbo heat shield, changed the aerial and sorted interior which looked like iraq on a sat nite..
then got shinyautos lighting kit and andy b fitted me some 6k HIDS
The brakes were cooked so i set about replacing them, only to find that all the caliper pins had been scratched and bent, in -2 we cracked on and eventually got there.... wasnt happy mind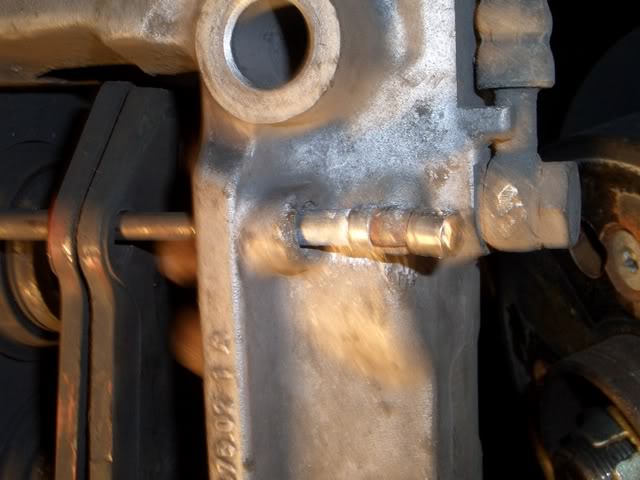 January this year i got the wheels gloss black powder coated @ the wheel specialist in Manchester, also decided to get side badges done, one or two had them done at this point but not in the same colour as the car with the writing different
As some of you know the exhaust on the car is loud when i gun it, kinda different, just jet like loud. Decided in February that the pipes were a mess so under warrenty she went off to powerflow in Bolton, long story short... the car was absolutely wrecked there, it came back with damaged alloys and an exhaust that was frankly embaressing. it stook right out, was blowing out of one pipe (due to the system being made with a straight through pipe and the right exit pipe being basically stuck onto the exhaust) as any enthusiast would be i was gutted. i wanted to sell the car n get rid i was so angry and let down
Got a recommendation to go to DANMAR in wigan, a guy there called kenny used to work for british aerospace, he cut, rejigged and tampered with the system...
Well its perfect now, sits really deep, lot more OEM but still aftermarket (if thats possible) flows been corrected so both pipes blow now, its running a powerflow backbox with no centre box, is louder and more growl like too, turbo sounds louder too. In the last few weeks especially since the pounding at RWS and FCS its developed a really deep growl now, so its bedding in nicely
Would defo recommend DANMAR in Wigan. had two Yoko parada2's fitted too on the front at the same time, champion in the dry, 'fun' in the wet. the track session at rockingham showed when warm they do stick too. but doubt i'll go for them again..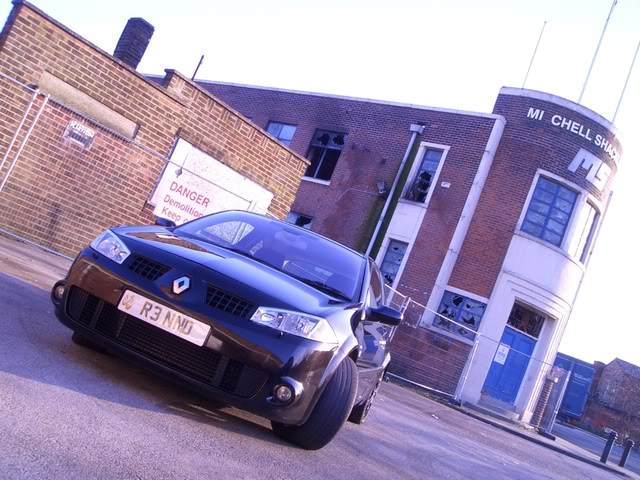 In april i changed oil and sparks on the car, stuff in it was pap, dont even know what he'd used but anyway of i went to oulton park where a mate did my service, changing oil filter and filling her up with MOTUL 300V and changing the sparks over to DENSO IRIDIUM (not sure if this has done anything but she's still running)
also decided to take out the head unit in the car, the guy who id bought it off said he was an electrician..... yeh right... the system was a mess, wires cut and live connections just sitting there. ripped it all out and fitted a sony CDX-30, very OEM but capable at the same time, im not one to blare my tunes out so something thats good but not crazy suits me fine. during this also found loads of spare wires and connections so the car must of had a sub and amp in it at some point :S
As of May the Rear of the cars electronics are essentially phase 2 with phase 2 lighting now as 'chrisNnic' donated me some actual phase 2 rear connections and they along with 'bigbob' who spend stupid hours on the car solved everything. basically i was sent the wrong stuff up and for a month the car wouldnt work and was blowing fuses left right and centre, blew headlights and LEDS which ive now taken out.
also cleaned/tightened the FMIC up whilst everything was off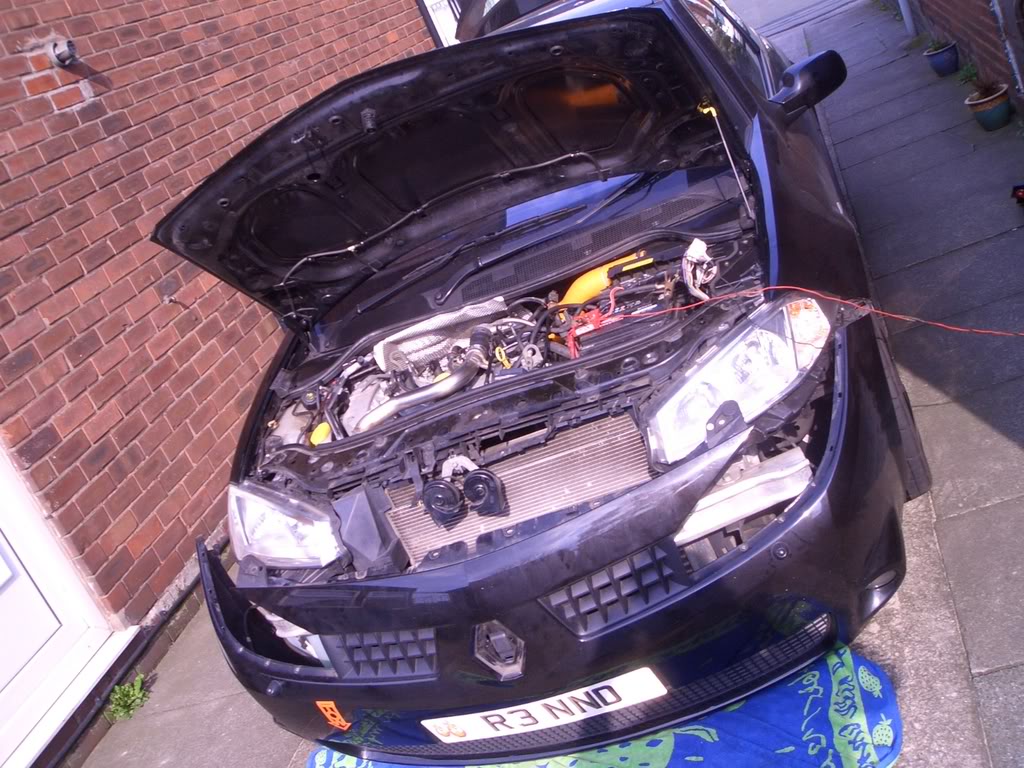 hardest thing ever to sort when in reality it should be the easiest, but at the end of it all the cars got a tidier and stronger rear lighting setup than what renault offer... not that it helps..
engine has been polished up to a stupid level and rainbow front indicators fitted on the front, silvertecs in the rear, i also decided to strike up a deal with viper performance around this time to develop some silcone parts for the engine, the result after the first one was quite impressive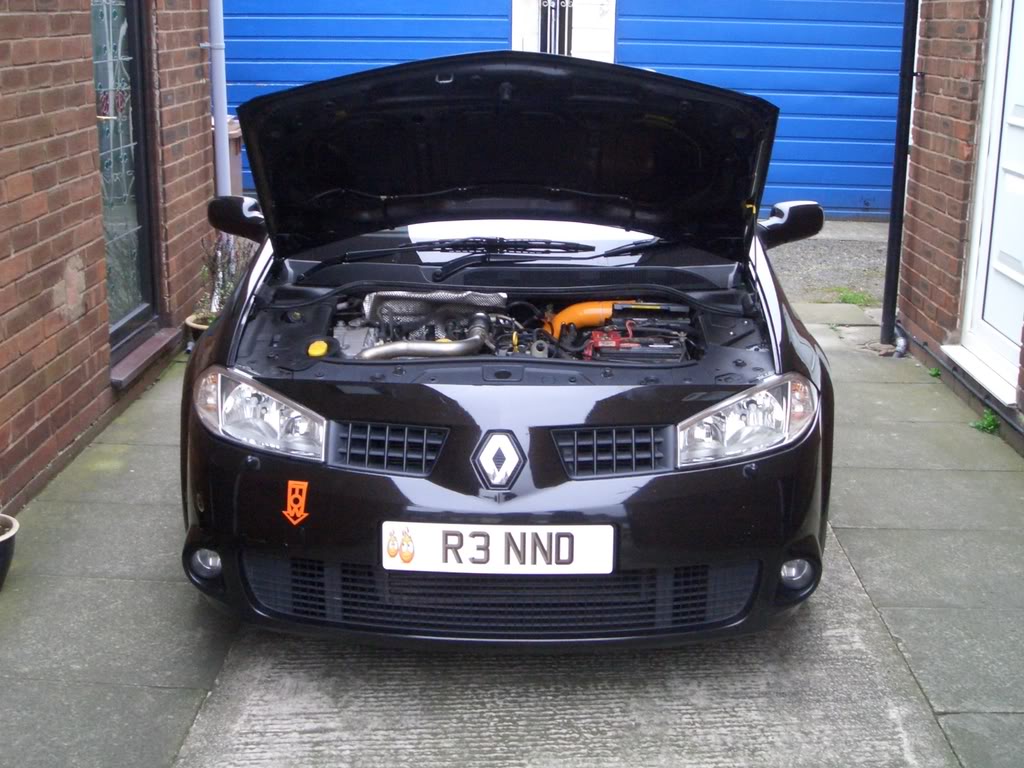 the next pipes on my window sill trying to bleach a little colour outta it winston styley as its a darker one than the one in the engine at the moment, due to a different manufactuering process
even now after having a tickle in alot of megs out there i havent been in one that pulls through third like this, it was pulling in R26s at rockingham in third (even though i'd lost a little time due to traction/ASR outta the chicane, more about that below).
the car runs an 'old' remap, not as refined as the newer ones but holds silly torque levels. this the reason for the pull in third. considering its a 54 plate car it looks as fresh and is as well maintained as some new ones (i try my best, not sparkly but me n riad always pull our sleves up for the shows)
she was Pc'ed before WSR and will be done again at the end of july
WSR
Due to working solid for three weeks before i didnt get time to clean, prep or touch the meg before RWS. i painted the badges the night before, and riad asked if he could remove the rear seats and carpets... Anyway paintbrush strokes ftw, they were that bad i had to fit a disclaimer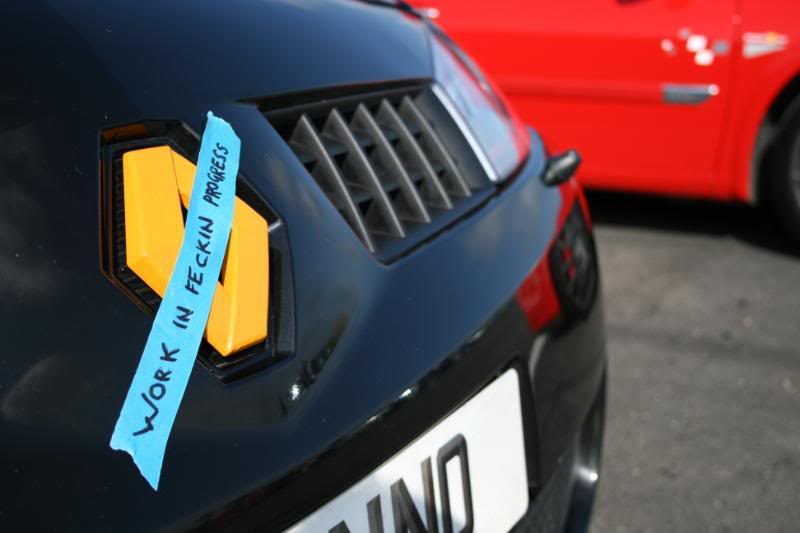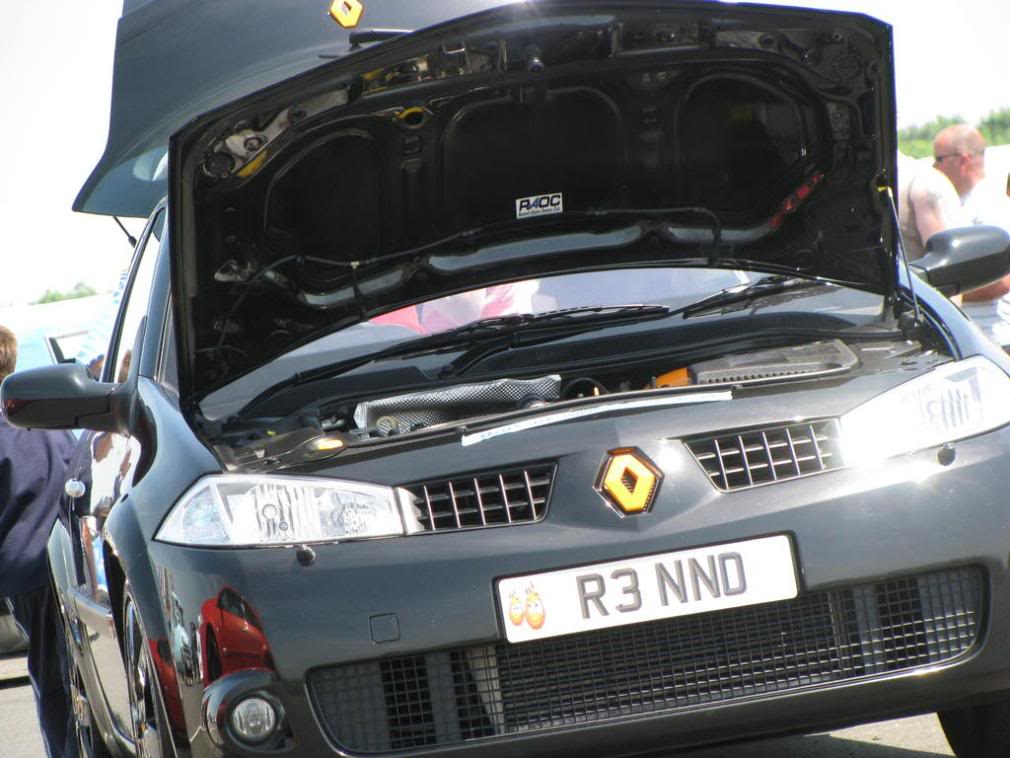 the car IMO looked well its just close up you could see the badges crapness, certainly got alot of attention though so i was happy, until the gypo tramps put ash from their cigarettes and coke cans on the car...
the seats being out definately lightened the car and rear end, not massively but enough for me too notice and react differently (especially on track at Rockingham, more details on FCS paragraph), it also showed the ineffectivness of the FullFat rear damper and spring setup on renaultsports, if you value performance then cup, trophy, R26 based chassis and suspensions are on another level, although due to having the car lowered the dampers werent that bad.
we went out on the parade lap, which in reality turned into a mini free track day, the car once warm was amazing, pulled like a b**ch and stuck too, which i didnt think she would, due to being a full fat fat cow.......
http://uk.youtube.com/watch?v=bbYyHNZDQc8&feature=related
this vid shows the car and sounds the best...
http://www.youtube.com/watch?v=yAqy5pf5p1c
:evil:
i'd got the track bug...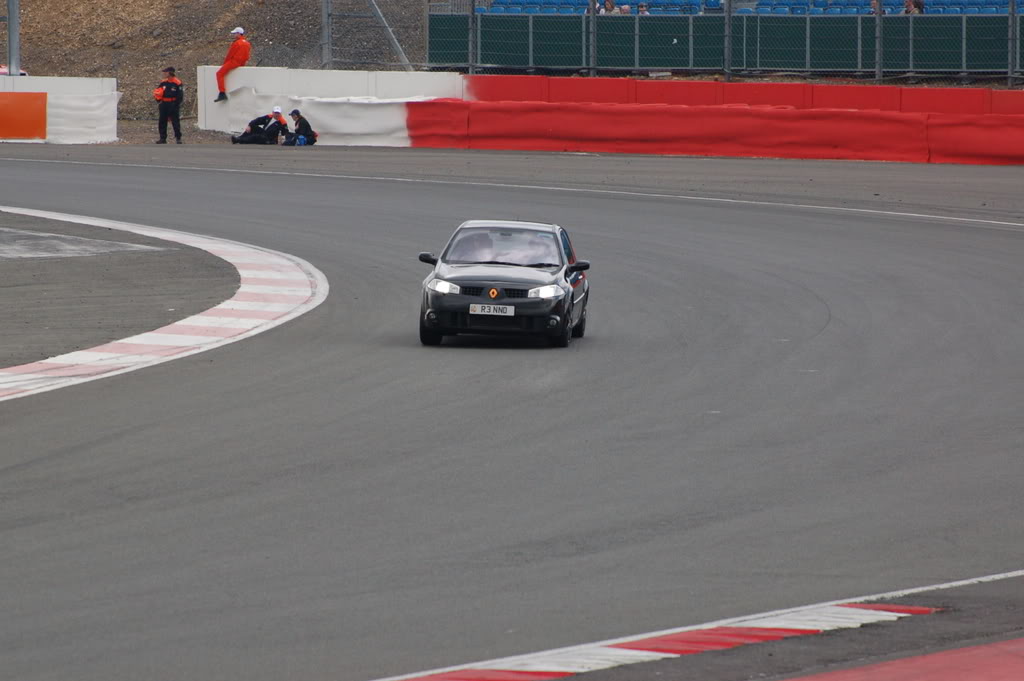 to celebrate i let riad sleep in the car that night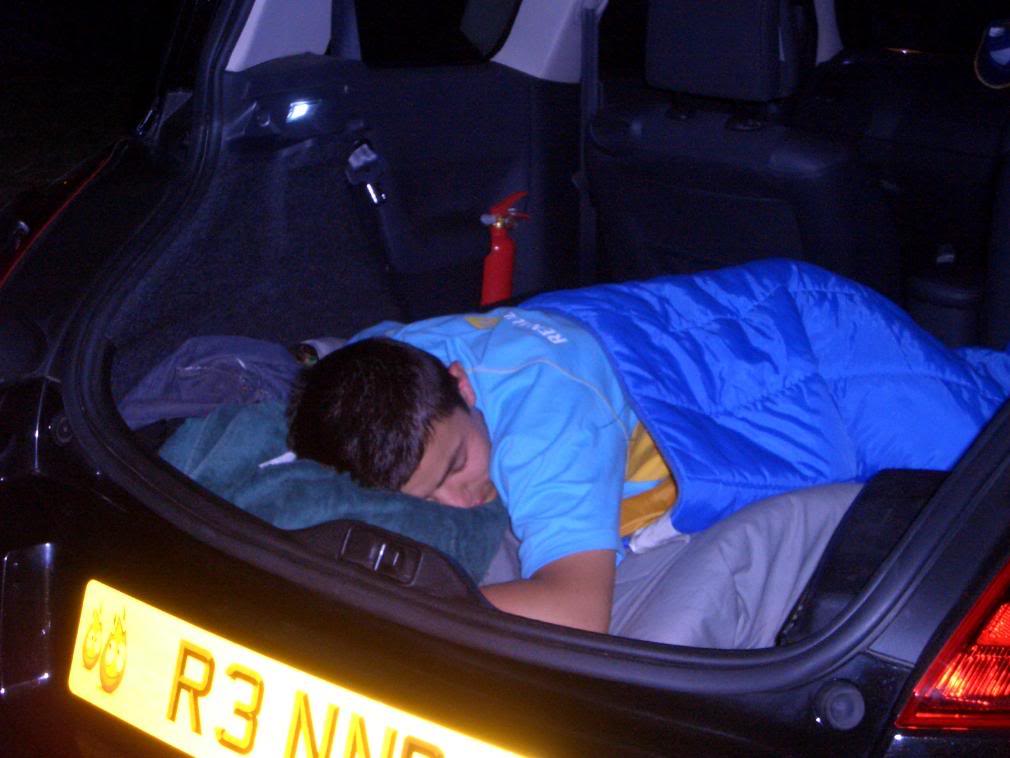 anyway
FCS
....
i sent the badges off the week before but the workshop wouldnt of had them ready for the show they said as they were soooo busy, so i got the train to whitby stayed over, crack of dawn got the train to middlesbrough, helped to paint the badges myself and got home at 3pm fitted badges, with black/gold handles, a little touch that totally changes look of car, but which meant the car had no handles for a week and the solinoids hanging out of the socket taped up with yellow tape... rat look indeed
myself and big bob in his 172 then braved the M6 to kettering, i fitted smoked indicators and the new inferno badges at the hotel, only got round to cleaning her at the show too, to the digust of a few peeeps, oppps :boring:
On track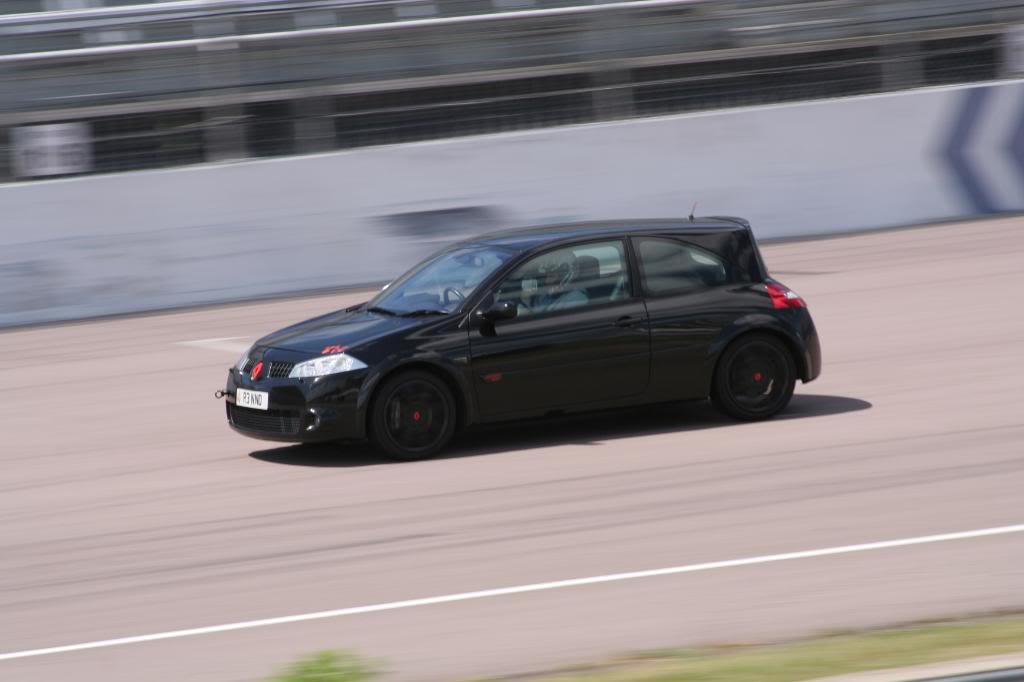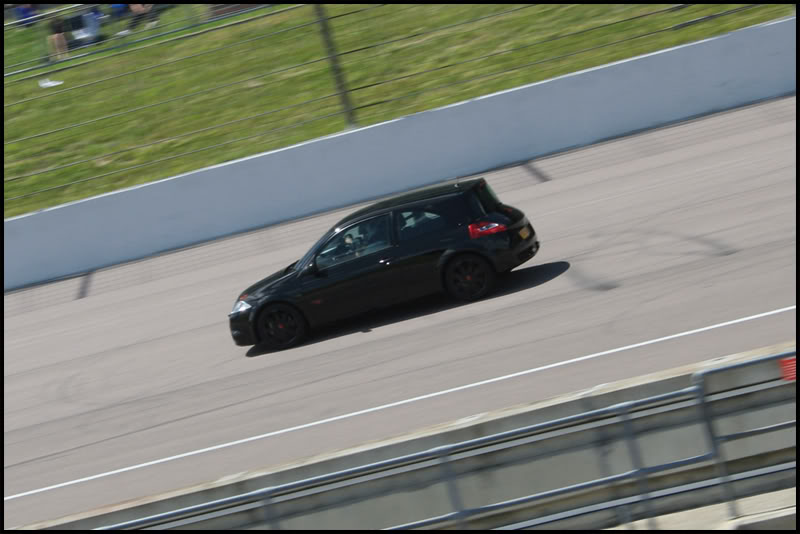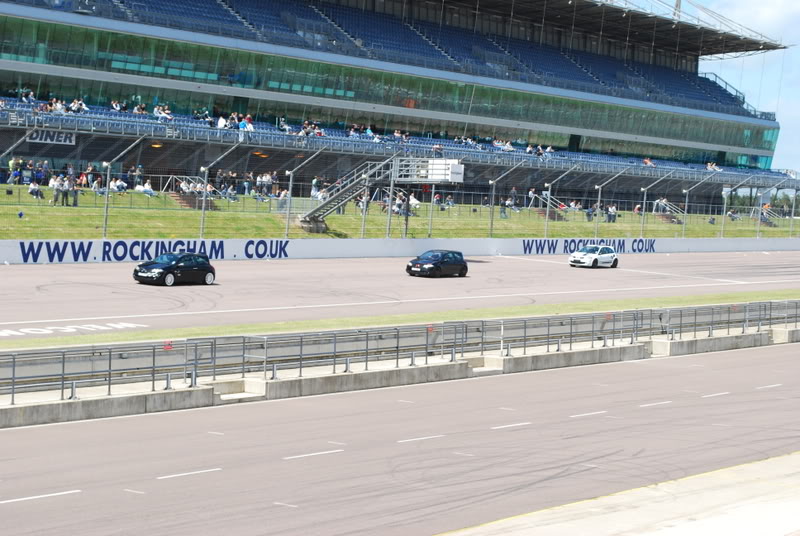 was really proud of her on track for a slack old girl she didnt half shift. think i was second to last out, with denty (white decaled R26 behind) behind me, was unfortunately stuck behind a few cars for a while but passed eventually and got on with it.
by this time the front end had caught up (well jamiemac silver R26 and basset LY R26) i let jamie through on the straight whilst we gave eachother a two finger salute, i caught a better line down the straight than jamie and was thinking about repassing/barging through. i braked into the first tight corner and we both overcooked it, jamie gravelling it, i pulled next and thought reete i'll let him sod off now.. jokes on that one
Next lap Andy bassett was a abit behind so i thought i'd see how once behind how i could keep up and eased off to let the LYR26 through.
i followed andy for 3 laps i think, on the straight we'd both agree there was nothing at all, its the LSD/damper setting that makes those r26s so track potent as through the mid section and especially the last 'chicane' they were murdering me.
the car has issues at the rear and due to this its corner exit, coupled with the banking of the circuit was killing the power onto the main straight, the car totally killed power on some laps whilst i was sat there screaming 'cummmonnnn' i changed lines and it helped a little but the full fat was not match in the twisties that i totally concede.
after talking with a few guys i now know its the rear damper settings and spring rate... which trust me, will be getting sorted asap!
i managed to put a good few moves in on people and pulled in cars through 3rd gear on the straights, as i went past the white Seat his back end twitched big time, i had to tuck my arse in then, also when Dave richmond nearly slid one up the inside on rich/gem... that was a shrieker
im defo going to be doing some more track and almost have a green light to start a major overhaul at the rear coupled with a few minor front tweeks so when they are on i'll be happier. i couldnt give 100% either as i had riad in and im not into risking his life, mine im not arsed about but not my little brothers... (even so we were still sh1t hot lol)
apparently the bumblebeast and TDK when going past together was like a thunder storm, so i'd take that alone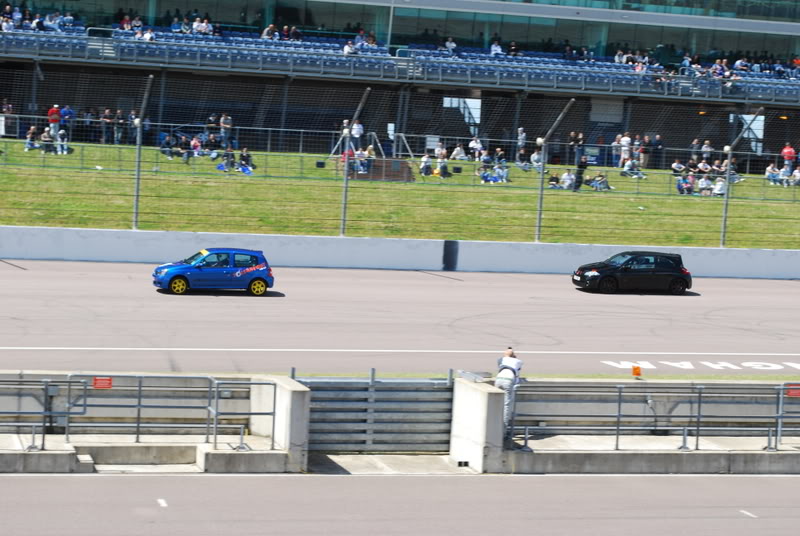 i let markcup through on the 3rd lap as he closed up in traffic, knew that he was setup for the twisties and militant in them, followed down the straight the meg pulled him in again but the sheer ability of the clios through the corners was unbelievable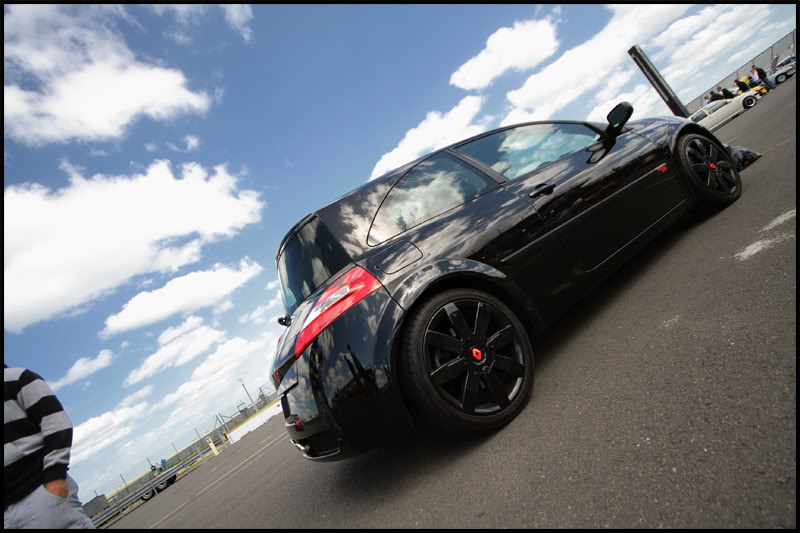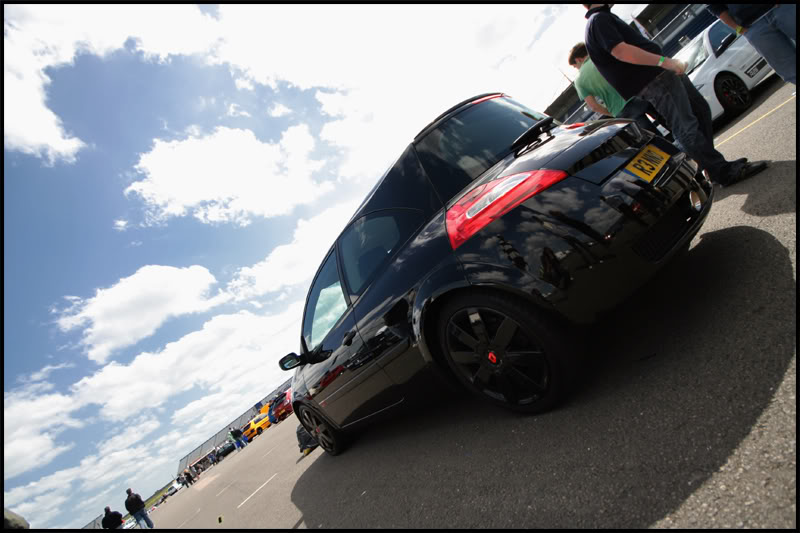 At this moment in time i need an original 'Renaultsport' for the rear as i'm going to spray it up with the rest of the bits n bobs. i can fit it now as someone kicked the car in the boot before i had it, dinting where the renaultsport badge goes... nice of them yeh
I'm also considering changing the whole inferno style details to either
yellow
or
kawasaki green
but we'll see when im back from my holidays.
the future is pretty much as follows.
my little brother 'riad' will be driving soon so we've agreed to share a little funbus like a 1.2 clio or small diesel and only use the meg for meets, spirited drives, events and track.
to help with this i'm bringing in some of the guys at 'BPM racing' who run the clio cup racer endurance spec and are masters in my eyes at setting up and running a nuts machine, also got summit planned with 'not normal developments' details of which i'm finalizing this week.
the next level
visual interior/exterior upgrades:
front bumper vents and different air intake enterance, braking ducts, front splitter off a phase 2 megane (b**ch to fit), front bumper respray, phase 2 front wipers
carbon bonnet
slightly lower stance due to suspension changes
rear bumper modification, mimicking the look of a rear venturi, cant work this out though at the mo so its a major work in progress
Gauges to go under the radio reading volts and water temp (arrives next week im away ffs)
Gauge in the A pillar showing boost (in plaster at the moment)
sport rear spoilers have grown on me recently so i'll be gettin one of them with my next bank job
As she's staying two seater i am after some track/fast road front seats, ive been offered the wide RS seats off a clio cup racer, not sure at the moment if these are a little to hardcore, i'll decide on that one on holiday
Engine/technical:
being a chav i've asked an exhaust friend to look at the fuel mapping to see if she could spit flames when VERY hot and @ full boost, so thats gettin sorted along with the suspension
I'm having another engine pipe made @ viper at the mo, its one to go with the current ones but running from manifold to intercooler
got Ferodo DS2500's sat in the boot waiting to go on and going to put some dot 5.1 fluid in too
Suspension
Not wanting to give to much away but the cars staying two seater (hint) and will be getting adjustable setup curtosey of a certain race series that this websites closely linked too, so watch this space on that one
Thanks for looking anyway, unlucky if u dont like it n think nowts done to it etc, those that know me, know i've sorted alot of wrongs on it and put alot of time and effort into her, and for an out of work actor i spend what i got on her so happy days and thanks to people that have sent little bits n bobs, offered advice and shown interest