Seeing as my Trophy is slowly getting tweeked here and there thought I'd start a project thread here. Will have owned the car 5 years this summer. I'll start with a write up from the previous years up to how little red stands now.

August 2007

Having had a ride in a mate's-mate's Trophy I knew that the next car I wanted was a Trophy. After looking around for a good few months and a few Trophies I saw this one.
Wasn't by any means local but looked tidy, right price and by some coincidence my brother wanted me to go with him to pick up a new car he'd bought in Swansea so made deal to drive him down to South Wales if we could detour over to Cheltenham.
A 170 mile drive down to Swansea, then 100 miles to Cheltenham to Auto Village Garage to see little Red.
It was in the showroom parked next to a ph1 V6, not exactly best way to sell a little 2.0l Clio
The Sales people were really open and didn't try to do the usual 'sales pitch', "you probably know more about the Clio Trophy than I do" the salesman said after we chatted a bit. Had spoken and questioned them on phone few days before.
So go the keys for a test drive and just fell in love with it on the test drive over A and B roads. Did the usual checks and then to the table to talk price.
Couple of cosmetic things I picked up on were a cracked front fog lamp lens and lack of front splitter which I managed to get them to fix and fit along with a £500 drop in price seeing as I had 'cash', a deal was done. Then 270 miles back home. Brother had left his new car at Swansea (got home at around 11 exhausted, to get up Monday at 4:30am for work lol)
Couple of weeks later I was back to collect the keys to my little red car. Back home parked next to my previous car.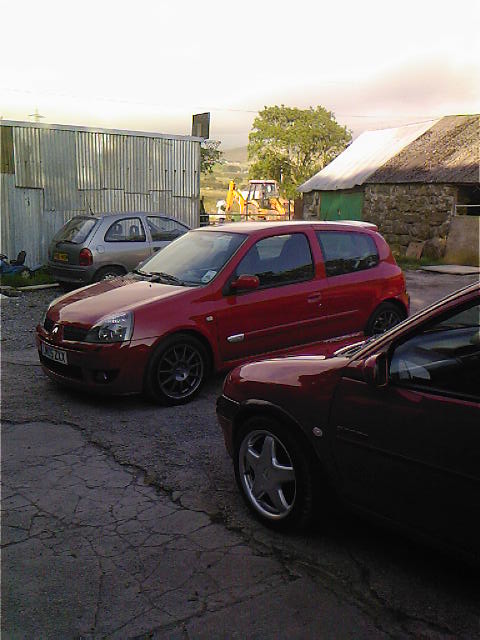 Thanks to cliotrophy.co.uk I was able to make contact with previous owner to confirm it had a Blue Flame S/S exhaust, Brembo HC discs, Ferodo DS2500 pads and braided brake lines.

March 2008 – 1st Track Day

Had bought the car fully intending to take it on track so as soon as the winter was somewhat over I booked myself onto a trackday with Circuit-days at the newly rebuilt 'Ty Croes' circuit on Anglesey.Circuit-Days ran an awesome day, never did I feel intimidated or out of my depth even on my first time on track.Had an amazing day.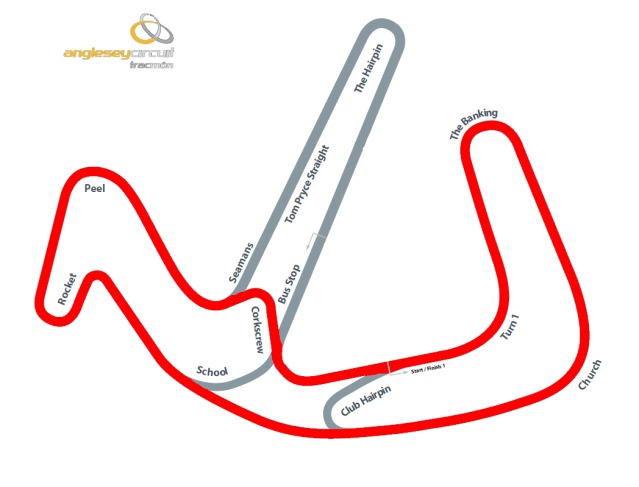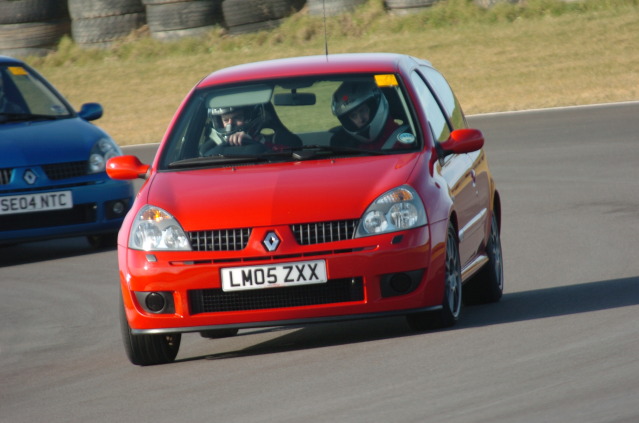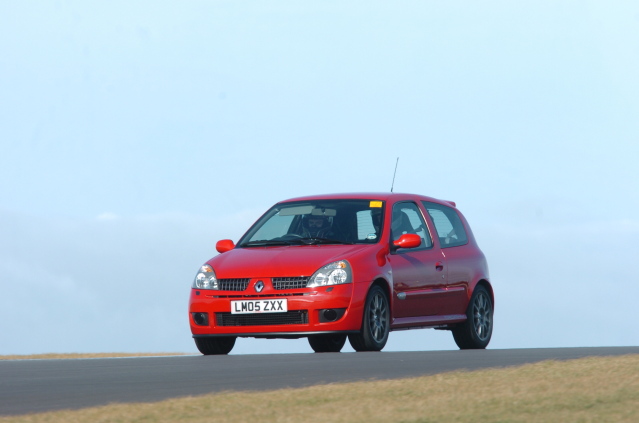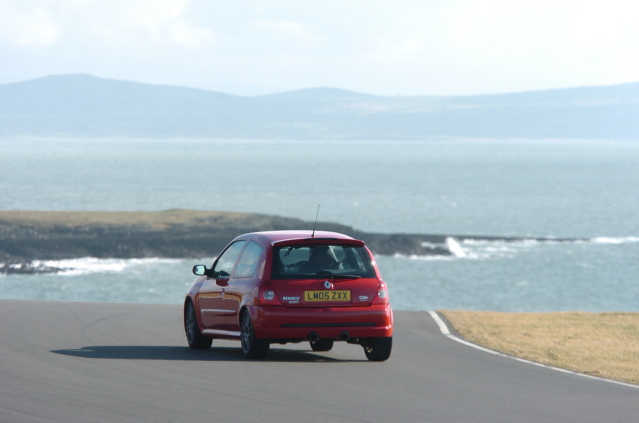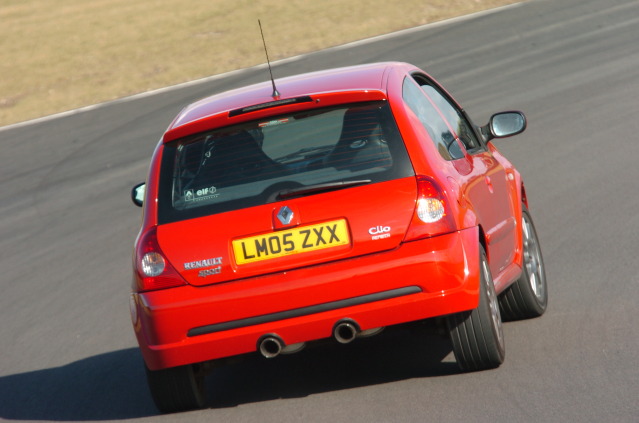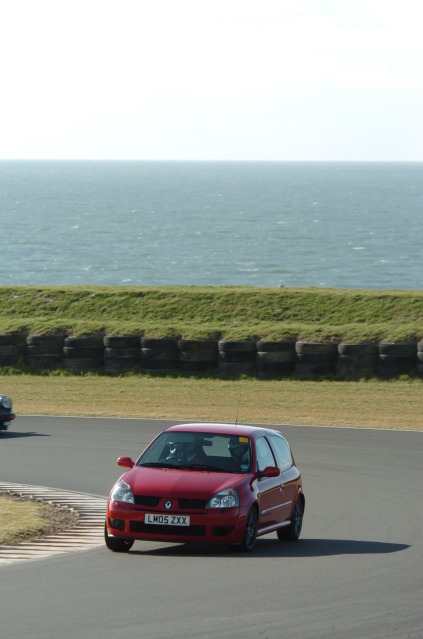 May 2008 2nd Trackday

After getting home knew there were a few things I needed doing before the next trackday.
1. Look into harnesses/CG lock.
2. A larger Jerry can.
3. Another set of wheels/tyres, save me worrying about wearing them out.
So out with the Demon Tweeks catalogue and these were ordered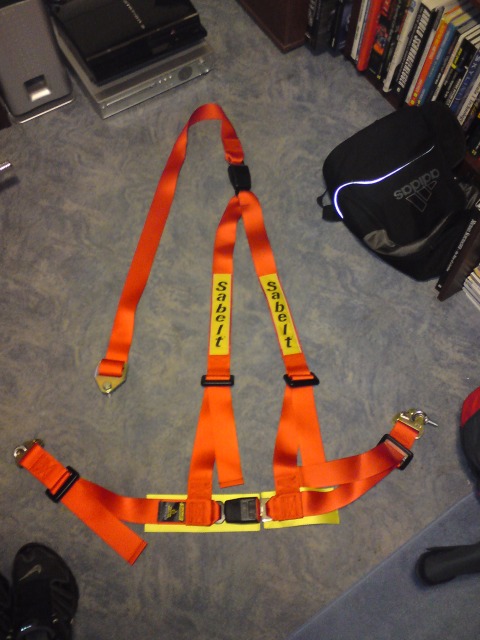 Kept my eye open for some ph1 OZ F1's but were either too far away to pick up or too expensive.
Then some luck. A group buy on here by Dave (D4ve) for at the time a batch of one off anthracite 2118's in ET43 Palmer sport heavy duty spec. They were exactly what I wanted and kept the Trophy looking standard-ish (I know they've become a Sheep wheel now, but I had them before they were
4-6 weeks later and I had them along with a set of Toyo R888's to wrap around them.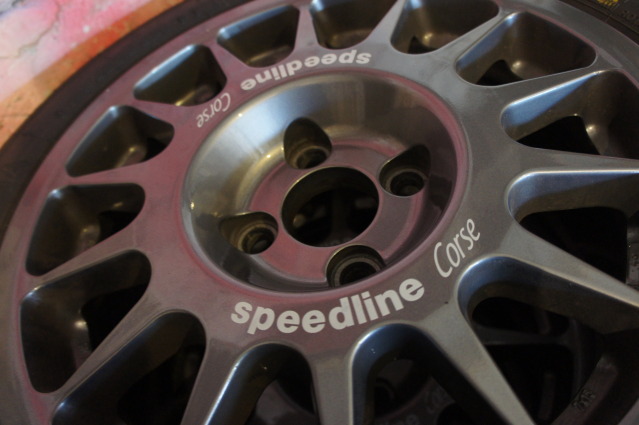 Decided to run these on the car the short distance to Anglesey Circuit from my house.
Fitted after work the night before in the pouring rain so excuse the awful 1[SUP]st[/SUP] photo.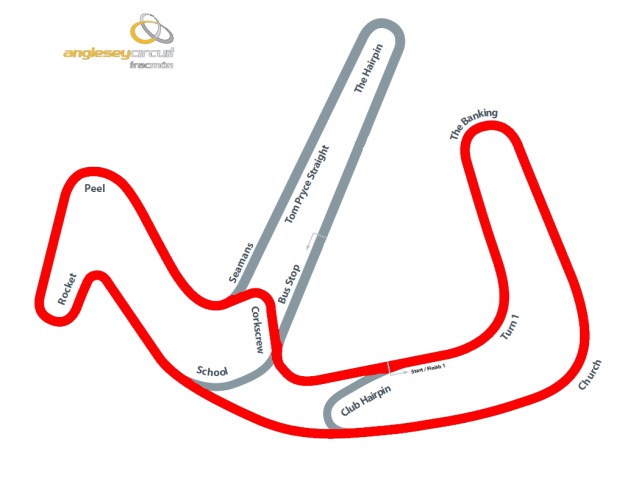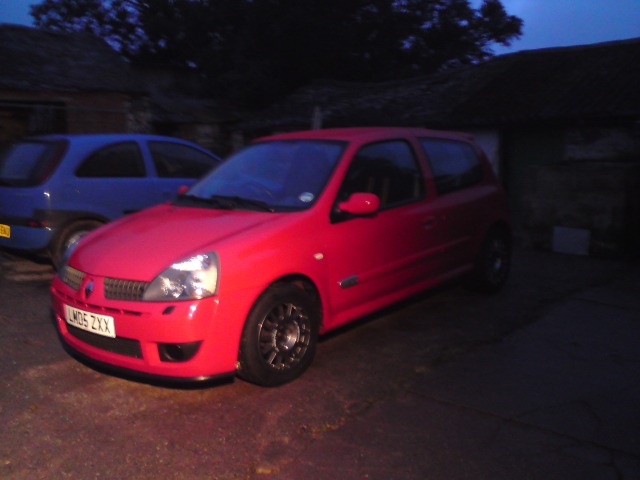 Oh and picked this up, couldn't resist buying it even though I had another helmet.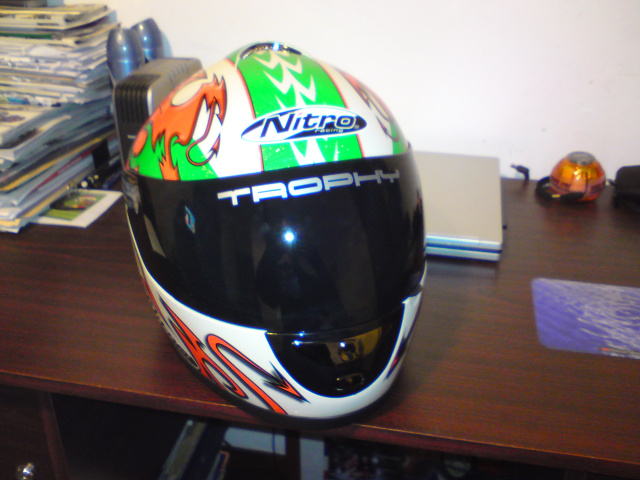 By some miracle next day was gorgeous sunshine. Didn't fancy learning how the R888 handled in the wet 1[SUP]st[/SUP] time out on them.
Photo with one of my brothers Nova GSi that had a decent specced 1600cc 8v engine . Larger valves, headwork, carbs, quaiffe diff, bilsteins etc.
Unfortunately there wasn't a photographer there this time so this is all I have from that day.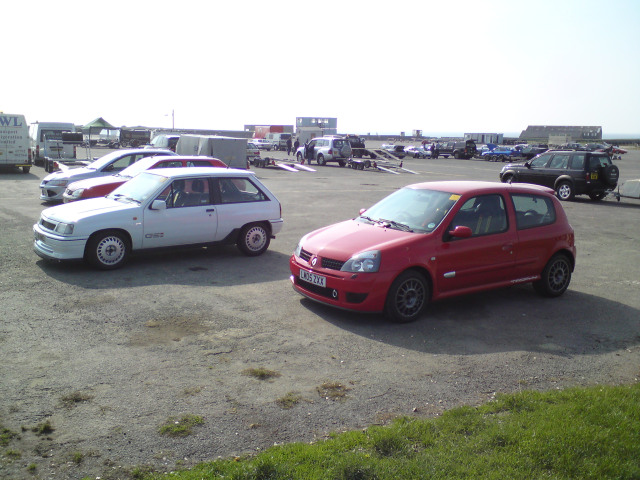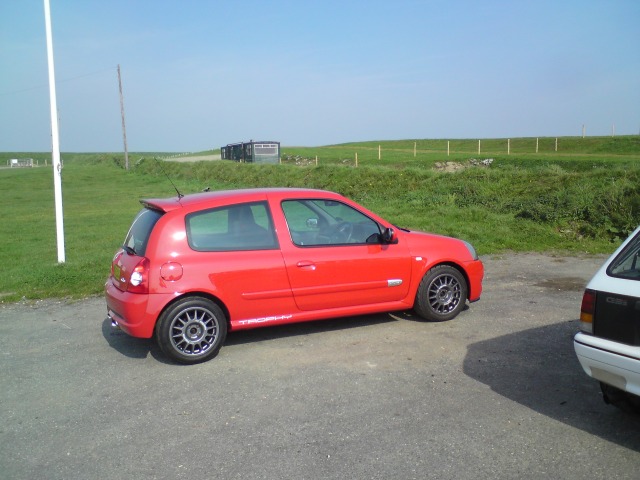 August 2008 – 3rd Trackday

Didn't do much to the car other than take out the back seats and parcel shelf for the next track day and brought the track wheels in the back with tools this time. But did add a little sticker.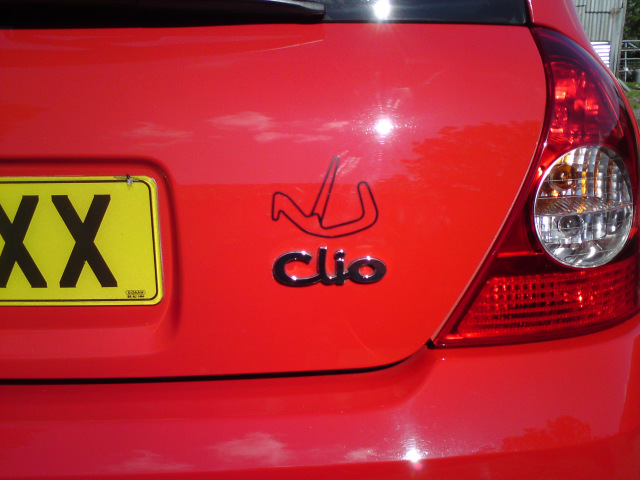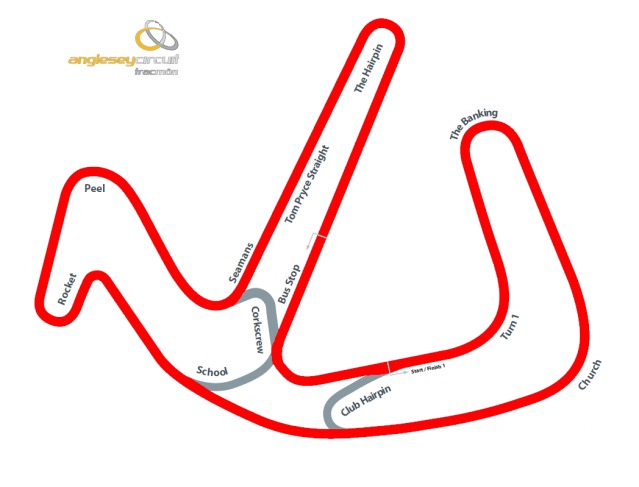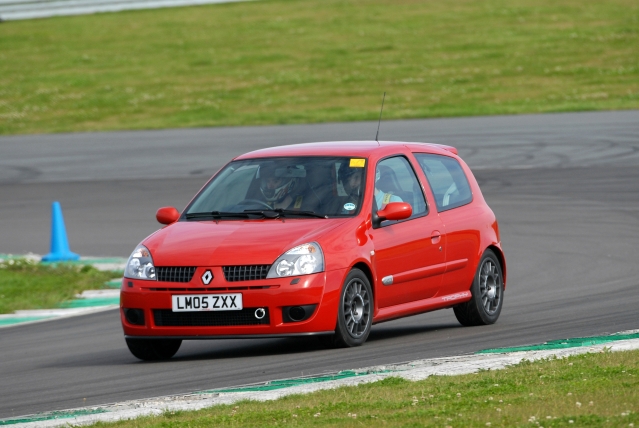 Day didn't stay dry as the usual Welsh summer weather came in. The R888's were awesome in the wet. The new surface at Anglesey must allow water to run off quickly. Once the rain fell the little Clio came to life.
Could not believe how much grip there was on the R888's neither could a guy in an Impreza when he came up to me in paddock having gone off the track several times when I was behind and then infront of him while on road normal road tyres.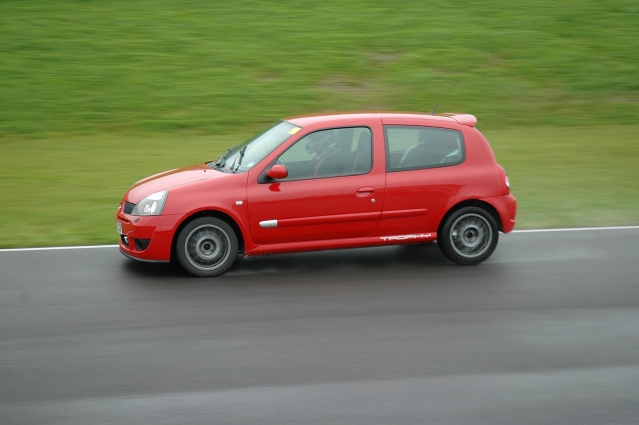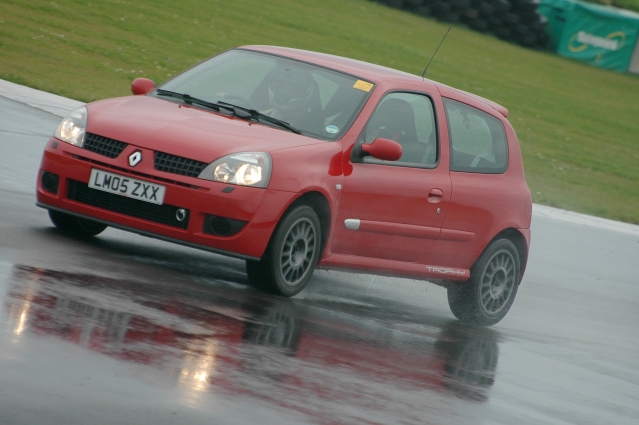 September 2008

This came up for sale 2[SUP]nd[/SUP] hand and like new, I could not say no to it.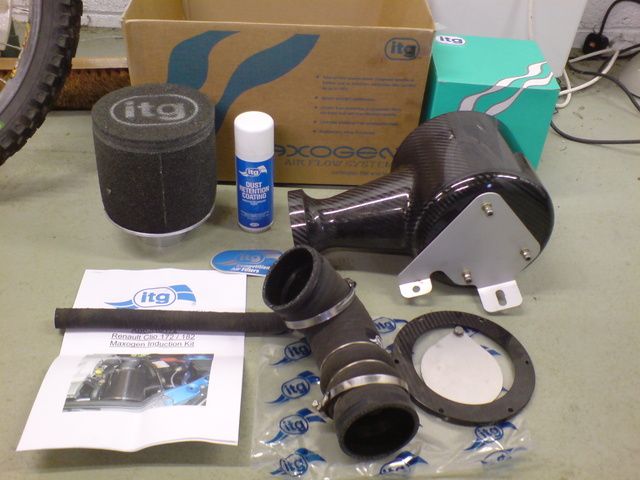 December 2008

Fitting end to a year of workmanship by the Trophy, covered in good old Welsh mud.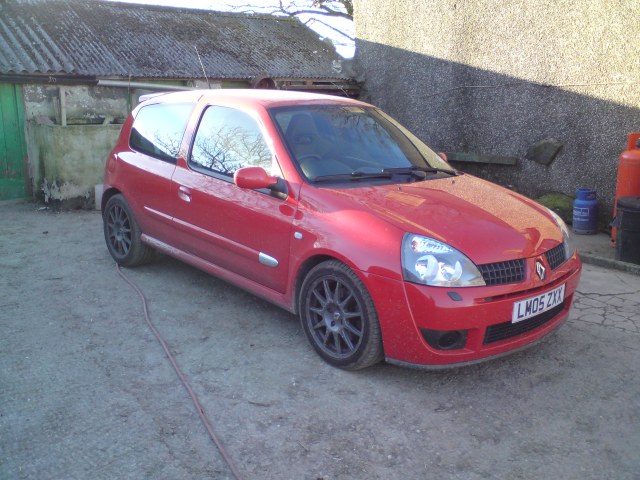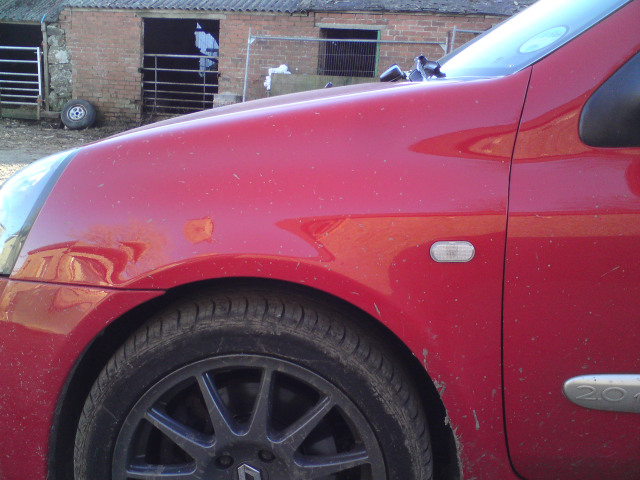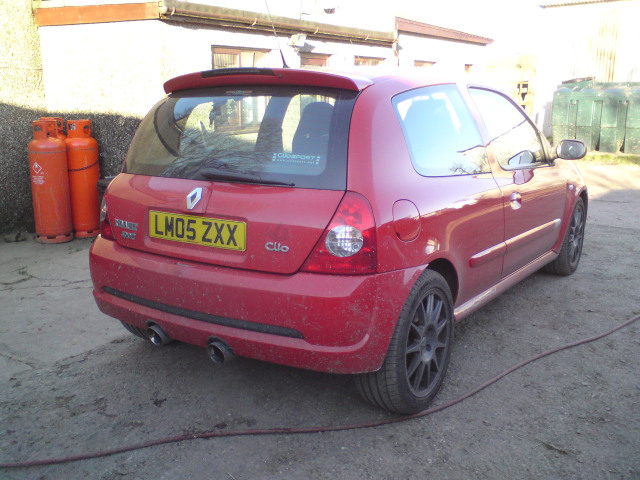 2009-present to follow, will be slightly more detailed
. Thanks for reading.
Last edited: