Oh Really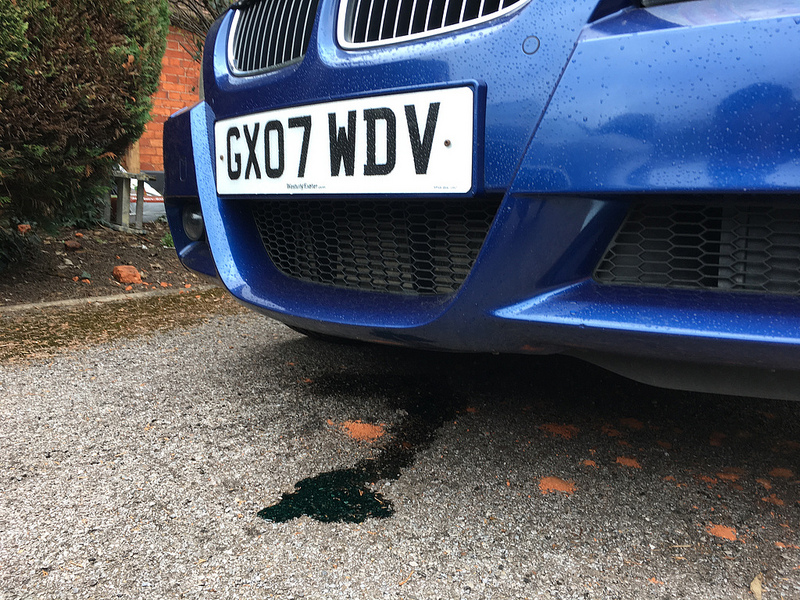 Untitled
by
Sir_Dave
, on Flickr
So, going back a couple of weeks ... i've been looking for a le mans blue e90 335i with a manual box since about September, purely on the basis that i could buy it, swop the plates over & Sarah would never notice
Unfortunately, at the back end of December, i bought a broken 325i to tinker with instead, but that aside, this appeared in Nottingham a few weeks back for 6 grand. Spec (as per the 330i) was a little odd, so manual box, electric leather with folding rear seats, Logic 7 stereo with bluetooth, active steering, but no xenon, nav or folding mirrors! Not the end of the world as i can take them off the 325i, but still, £6k was too much for a tight arse like me, despite the full BMW SH, recent water pump, valve cover & vanos solenoids via the up to date BMW warranty!
2 weeks ago i found myself on the one-way train to the midlands. Not gonna lie, when i arrived, i was disapponted, the bodywork on the car is poor, which wasnt really mentioned on the phone previously. Both bumpers have been knocked, the doors have dings on them and there is lacquer peel from a cr4ppy unsmart repair on the rear door/quarter panel. The wheels had also been refurbed by a fcking numpty, then curbed to buggery. It was clear this car had been parked on the street all its life and not given a sh1t about. Maybe thats why it had full BMW service history, because neither of its 2 owners had a fcking clue about how to look after a car. But anyways. I bought it.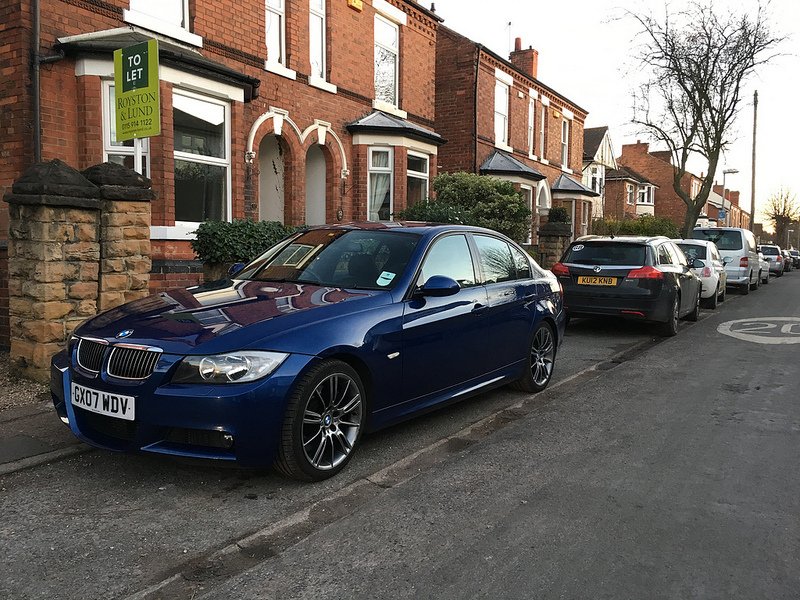 Untitled
by
Sir_Dave
, on Flickr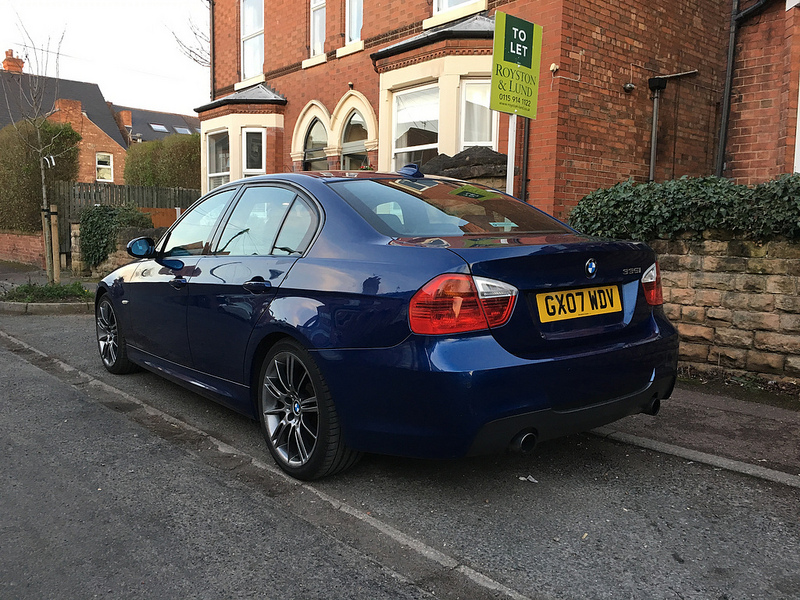 Untitled
by
Sir_Dave
, on Flickr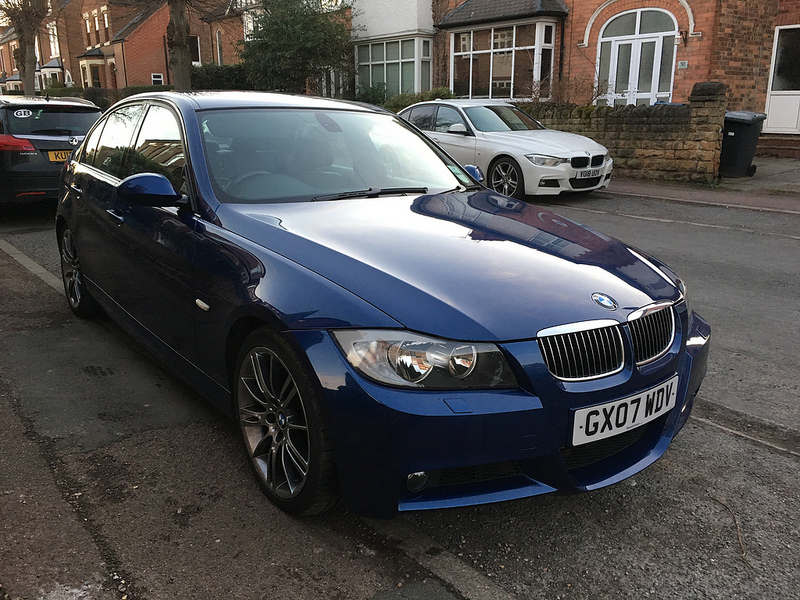 Untitled
by
Sir_Dave
, on Flickr
I had also forgotten how rubbish the pre-lci looks without the 12mm rear spacers!!
Drive home was ok, the steering is fairly poor, variable rate & overly light at lower speeds, although it does firm up when you are going quicker. Its very like the M135i. I will put a normal hydraulic rack on it at some point. The passenger rear window also doesnt go back up if you wind it all the way down, i found this out at the petrol station, then had to pull the door card off & kick the door. It went back up again thankfully. New regulator needed me thinks. The boost is nice, put your foot down in 6th on the motorway and it pulls well, i am used to the extra power over the 330i already however. Whilst it feels quick at lower revs compared to the NA engines, unlike the 330i, it doesnt reward you for chasing torwards the redline. This will need changing as well. The gearbox/clutch are also far lighter than the 330i, not as nice i dont think. All in all, as it stands now, the 330i drove far nicer. This will change over time however im sure.
This morning i swopped the silver wheels from the 325i onto it. Whoever swopped the tyres last had hero'd the front wheel nuts on, so badly so that i snapped my halfords breaker bar!!! The wheels were also firmly stuck to the hubs. More kicking required. As per the original photo, jacking the car up also released a torrent of coolant onto my driveway. Im hoping that its remnants from BMW changing a coolant pipe 2 weeks ago and A) not cleaning up after themselves B) not tighening the hose up properly C) not refilling it enough, but i've now refilled it with 1.5L of BMW coolant and will monitor as appropriate. Hopefully it stays at the same level now!!
Before: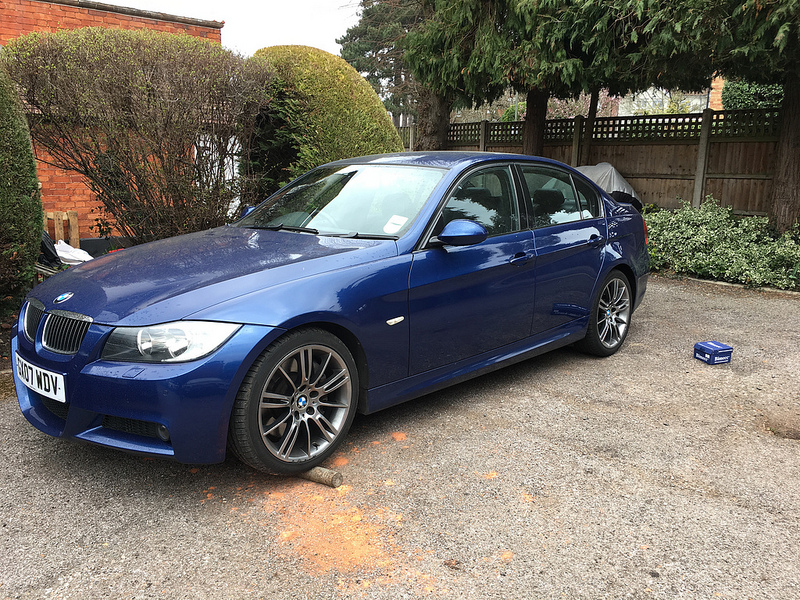 Untitled
by
Sir_Dave
, on Flickr
After (poor photos as it rained shortly after):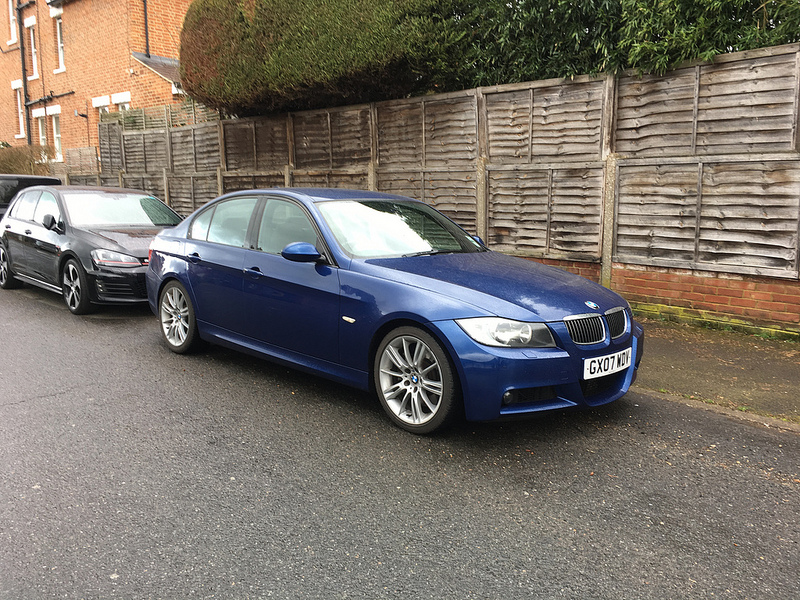 Untitled
by
Sir_Dave
, on Flickr
As you can probably tell, i also fitted a rear 12mm spacer. Much better already i think.
Finally, the plate went on. Looks just like the old 330i now ?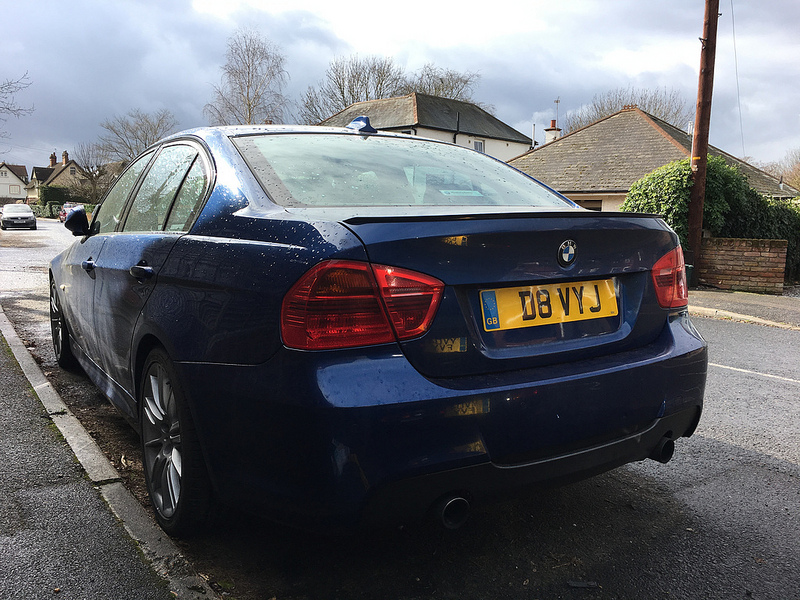 Untitled
by
Sir_Dave
, on Flickr
Future plans? OEM Retrofits galore - Xenons, dash swop for CCC Nav & 6FL/USB input (will do CIC at some point, but already have CCC), electric folding mirrors and the lumbar adjustable seats out of the 325i touring. I'll also be assessing the condition of the spark plugs/coil packs/injectors over the weekend and changing the pollen/air filters. The windscreen wipers are so bad they have permanently scratched the windscreen. I mean who does that FFS. I also need to source a new rear bumper/passenger door.
JB4 and/or MHD will be assessed at some point, but i just want to get it all fine OEM wise first.