Been on this forum for a while, as a few of you may know I turned my completely standard first ever car 1.4 Black Dynamique into a full 182 replica, everyone who has done this regards theirs as the best replica, Although Knuckles' 1.4 replica is probably the original best! However i think ive done a decent job with it, this is how as stands at the moment..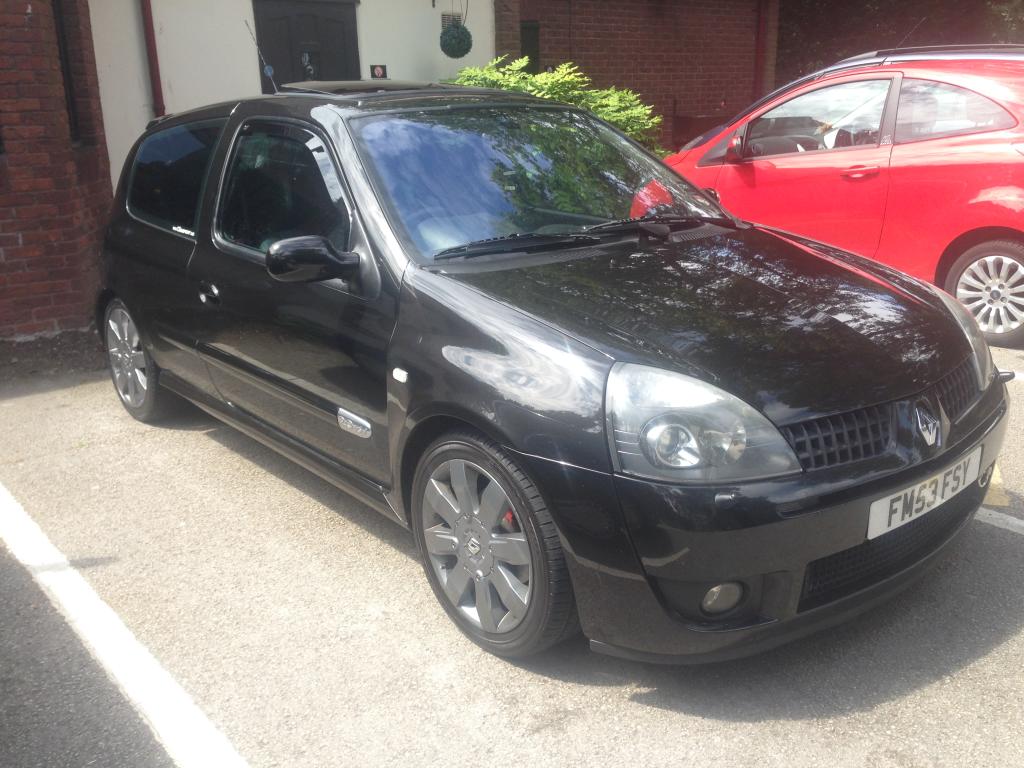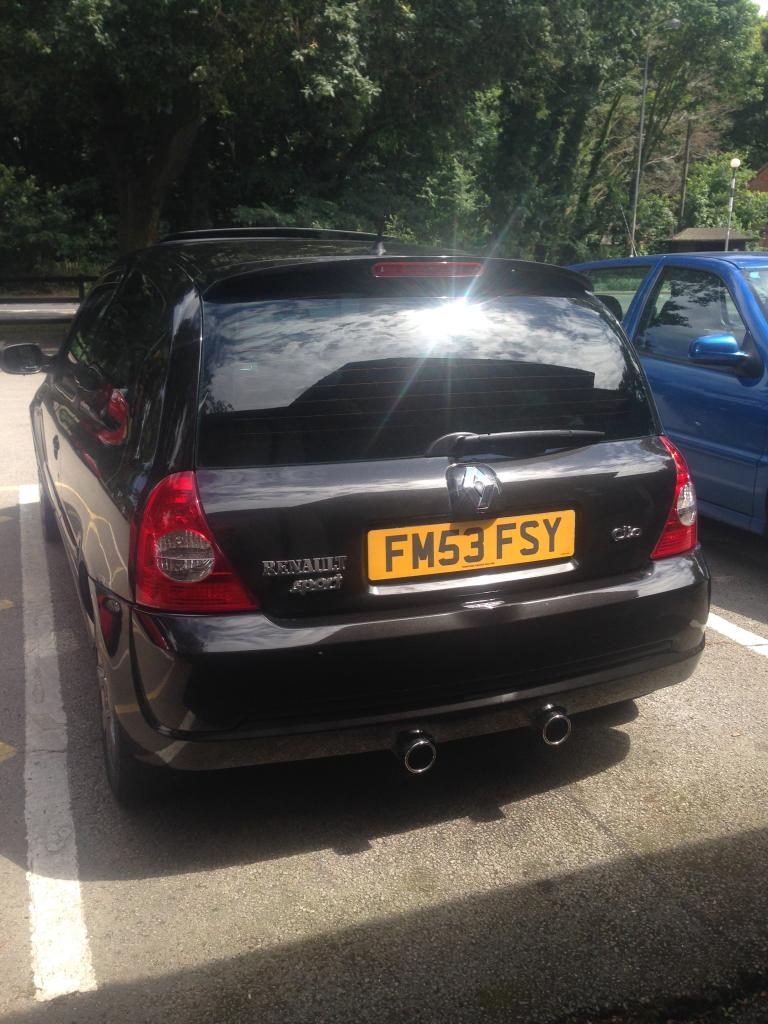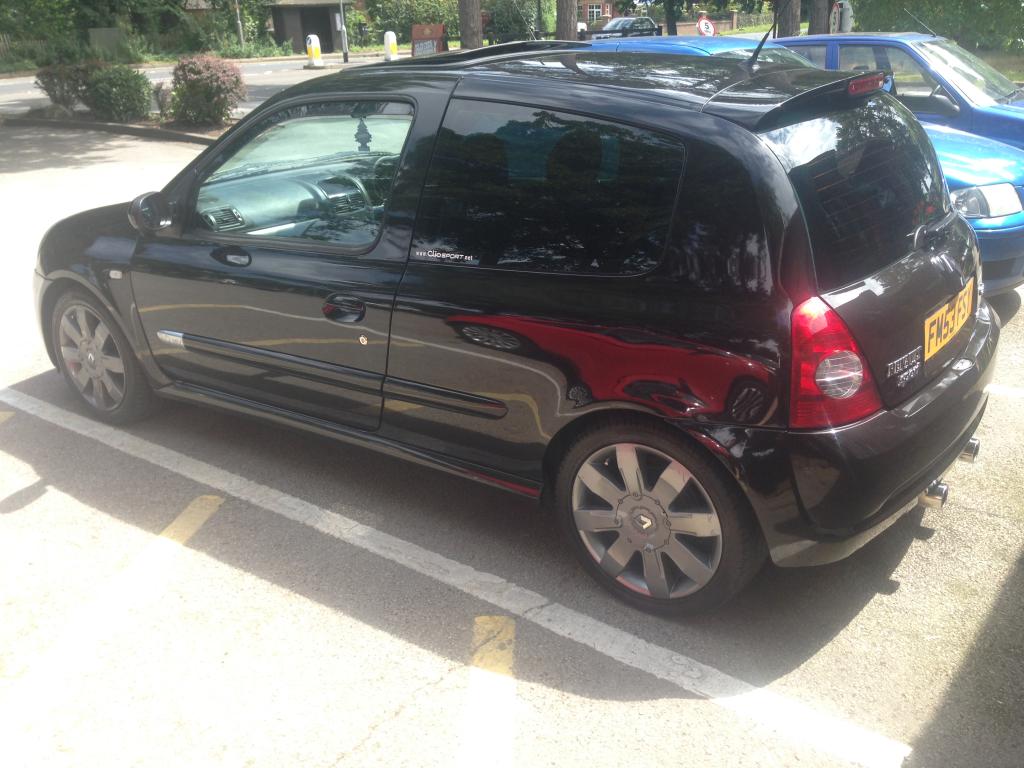 Huge laundry list of OEM mods have gone onto this car! Bought on 32K miles and now its still only on 51K
Even the interior has completely been changed, steering wheel, front and back seats, Silver carbon dash trims and Original RS mats.
This car has been my pride and joy for the last almost 3 years now.
Full write up and project thread of my progress of the car can be found here
http://www.cliosport.net/threads/joes-1-4-16v-clio-sport-replica-pic-heavy.700938/
Around a year ago i couldnt stop my itch to go and finally see what a "Real" 182 is like, one popped up locally to me, Arctic Blue on 77K, test drove it, couldnt contain my excitement and bought it almost instantly, to this day i dont know what was on this car but its pulled a lot more than other 182s ive drove? Maybe a remap? Anyway here it is/was..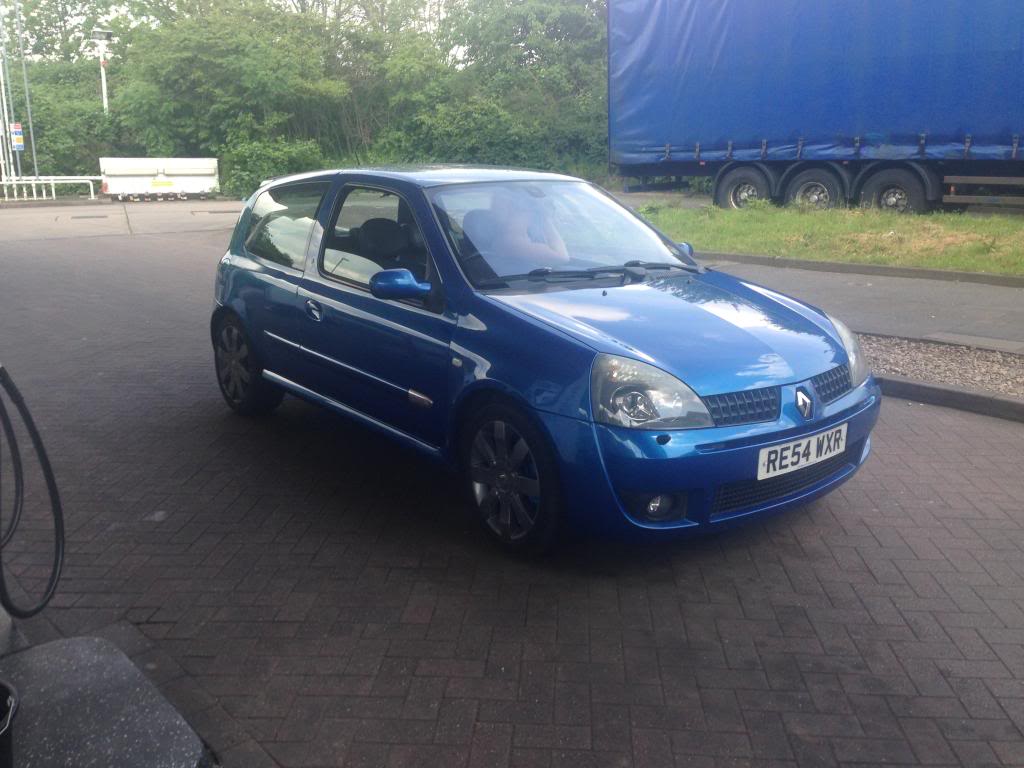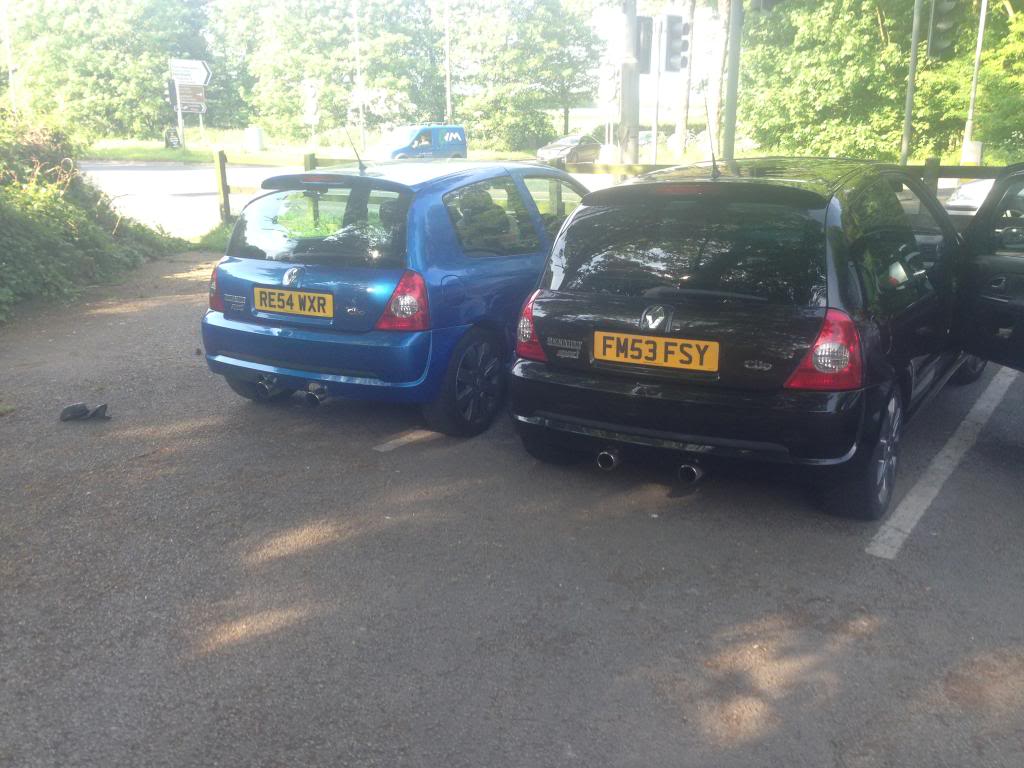 Had a Miltec and Decat that came with the car, possibly the loudest car ive been in.
Due to my innner excitement and buying and asking questions later.. i had to sell the car not even a week later, it lasted 6 days. Insurace tripled even with 2 years no claims and me being only 21/22 at the time.. tax was almost due and i didnt have enough money to fill the tank so it drank every penny i scraped to put into it within 24 hours.
Lesson learned.
So i saved up again, waiting on my 3 years no claims this October 13th 2015, and i turn 24 in July this year too so it will cost me 3pound more than what im paying on my 1.4 to insure. Tax i already know of and ive learnt to not be so heavy footed and be prepared to keep on constantly filling another 182.
A year passed, saved up around 2,000. My list had to be.. a 182, Lowish mileage and in black. Belts i would change instantly, and any extra tasteful mods would be a bonus.
Saw a BG182 in leeds before my new one, looked great on the pics! Turinis etc. Got there after a almost 2 hour drive to find it completely in a sorry state, everything needed respraying, non standard flacid flapping about stupid cone induction kit, exhaust that gave you a headache just driving normally in, "i changed the belts myself and oiled it myself" chap, no history/paperwork and i almost paid 1,700 for it too! I wouldve hated my life if i did buy it. My friend dragged me away and said no. Hero.
2 Days later i find an ebay ad for a decent looking BG182 again, tasteful mods, belts changed with proof, looked the real deal! so my friend took me 2 hours again down to peterborough. Instantly seeing it we looked at each other and knew this was more than likely the one!
didnt even want to test drive it i knew it was greatly kept! Owners brother is a Renault specialist for around 14 years, bonus! stacks of paperwork, only just ticked over to 77K, immaculate body work/paint and interior! so i bought it. Awesome guys by the way, great genuine people who love their cars and maintaining them. Credit to you guys if youre reading this.
Here is my new money pit..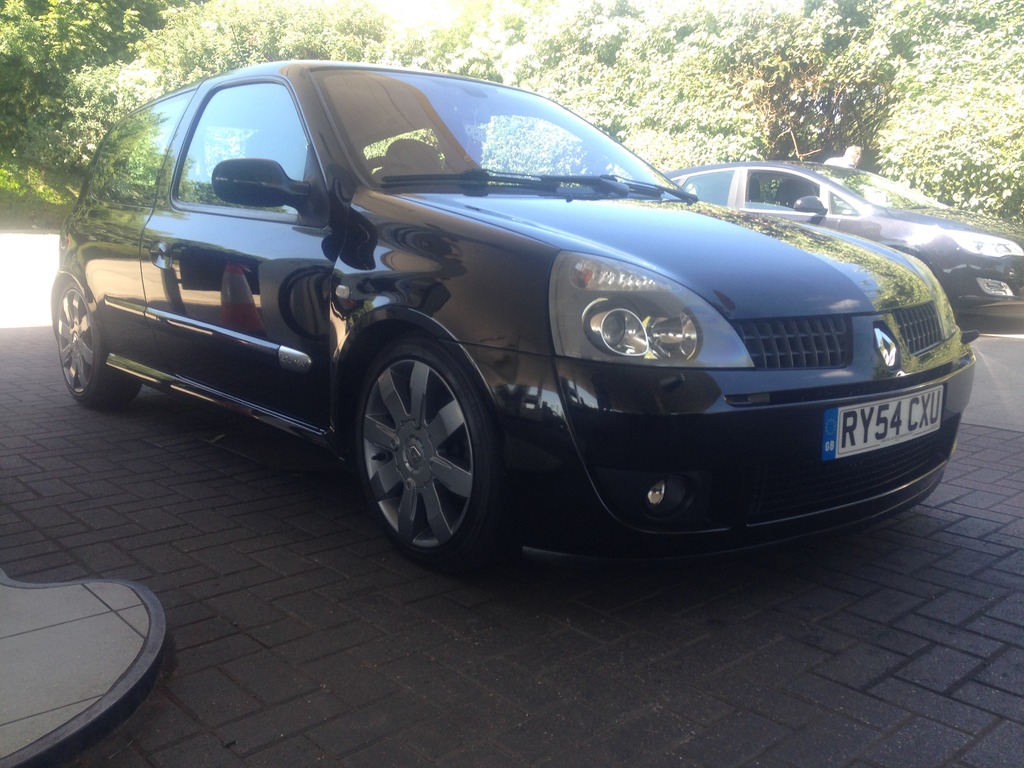 77K Miles
Last Serviced (properly) at 76K
Stacks upon stacks of Receipts and History.
197 Steering Wheel bought brand new from the guys brother, all wired in properly so working CC and SpeedLimiter.
Belts changed at 64K 2012 By Fred at BTMPerformace with proof
(bonus!)
Genuine Airbox with uprated panel filter.
Ktec Coilovers (Sitting stupidly low when bought) Original Suspension included.
Genuine Yozza Cat-back exhaust (its not that loud what are people complaining about? haha)
Best of all. Only 2,000pound! This really does seem to be a great example! Over the moon.
Old Vs. New (1.4 needs cleaning to compare properly)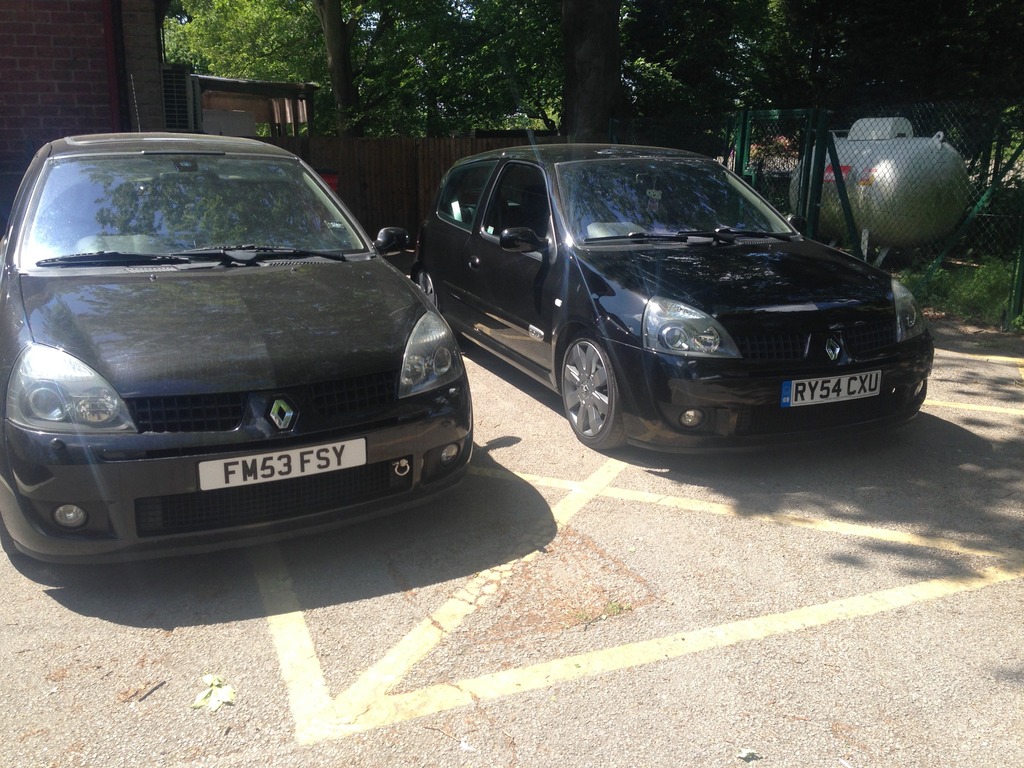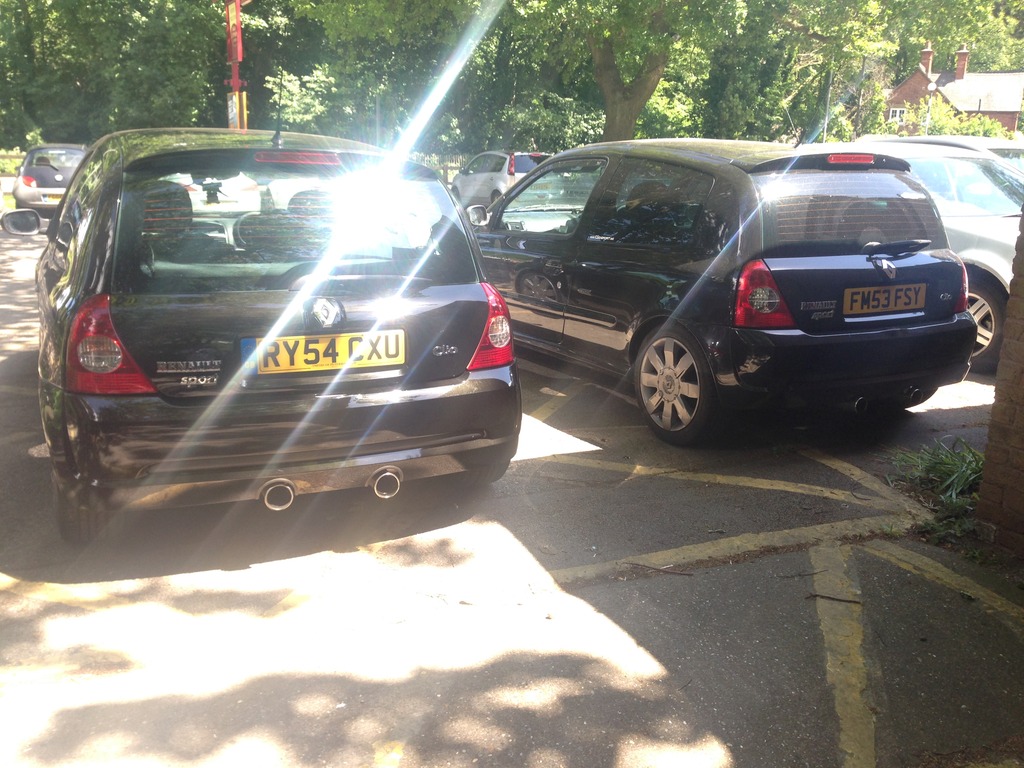 And first mod/project start ... swopped over the Tow eye from the 1.4 to the 182.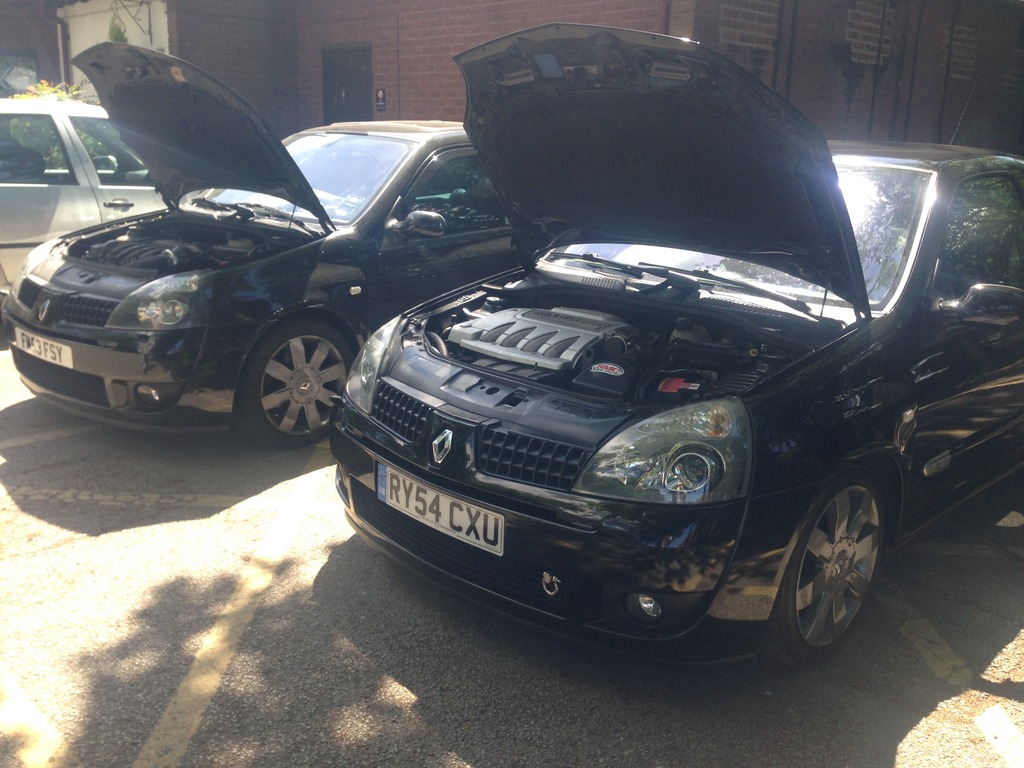 This is how low it sits, heres my "speed bump" on the driveway..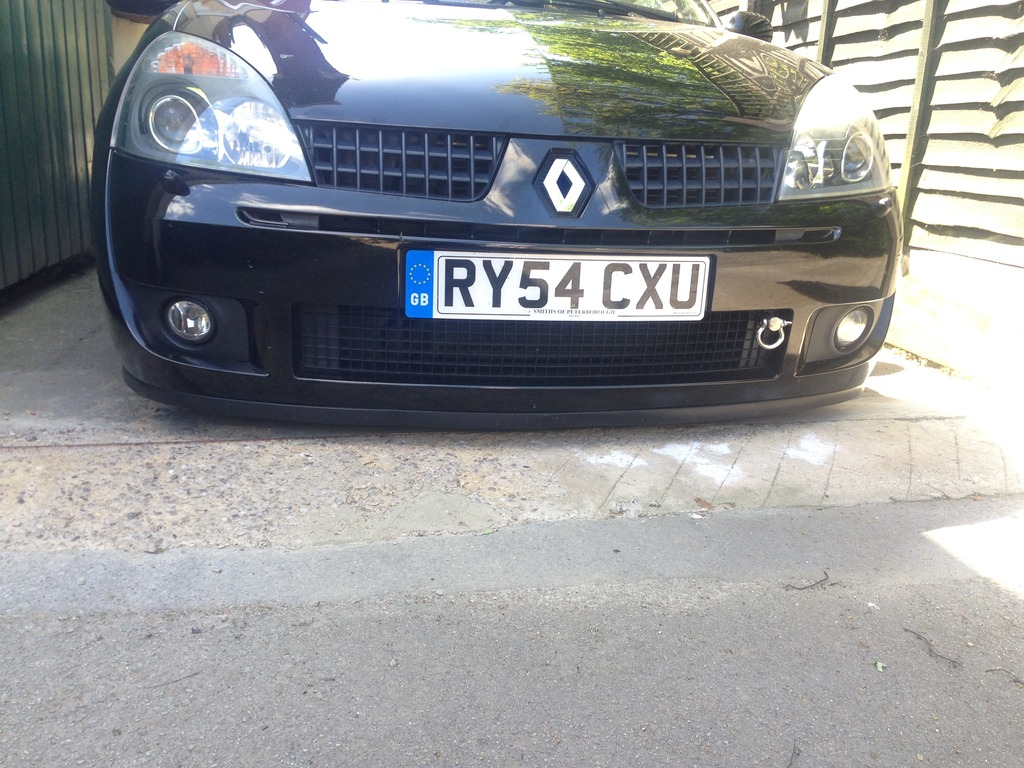 Unfortunately Nottingham is not as nice as Peterborough (well the place we picked up the 182 was nice) and im going to have to raise it slightly so i dont tear off the front end and damage the radiator etc with Nottinghams finest council roads and speed bumps.
As i said i get 3 years no claims this October 15', and i turn 24 July 11th 15' (Writing this post as of 8/6/15) so until these dates past im SORNing the car and storing it until these dates pass! Meanwhile i still have the 1.4 and it gives me more time to save for the things i want to do! So far the Short term list (First ever things to do to it) stands as this:
- Drilled and Grooved front brake discs.
- EBC Red stuff pads
- Genuine check over from a Renault mechanic family friend.
- ???
- ???
Want to get the internal health checks and upgrades for safety and handling/breaking etc out the way first before i start on non pratical visual upgrades.
Any advice on what to do would be great!
As for the visual mods when money allows i have the following planned (before i even bought the car)
Cup Turninis in white, black inner diamond and black "speedline corse" decals on the side of the rims. OCD much?
Black out front and rear diamond.
Bullets in white with black "2.0 16v" lettering.
Satin black spray front grilles and fog light surrounds.
Trophy replica spoiler just like Dans on his Arctic (been reading (; ) or if funds allow/even if one pops up, a actual trophy/V6 spoiler.
Team Hekos,
Once all the above is complete i'll then decide whether tints would benefit the car, tints suit black cars no matter what but this car as it stands at the moment looks awesome without them. We'll see in time!
Thanks for reading my life story.
This will be a slow progress/update thread.