New to this forum, so thought id share my ongoing project from clio16valver on here.
Ive had my Brooklands green 1.8 16v for probably 6 ish years maybe a bit longer. At the time I bought the car id only been driving a year, but it was a project for the time when my insurance came down. It ended up being stripped out with an F7R fitted to it.
Taken off the road probably about 3 years ago now after a garage f*cked my engine up attempting to put cams in it. At that time id hit some financial issues etc etc so it was put on the back burner.
So here are some images so what happened.
Picked it up from Blackpool 27th December 2009 i think it was. Lovely weather :shock: it was a part exchange at some scooby specialist place. It was advertised on Pistonheads for 1500 quid. I ended up paying 500. Which at the time i was very happy with, after all it was my dream clio!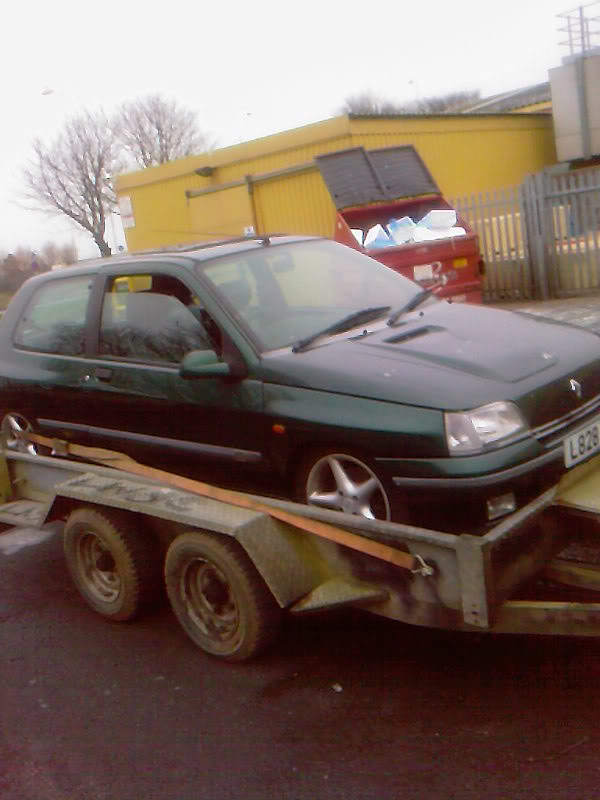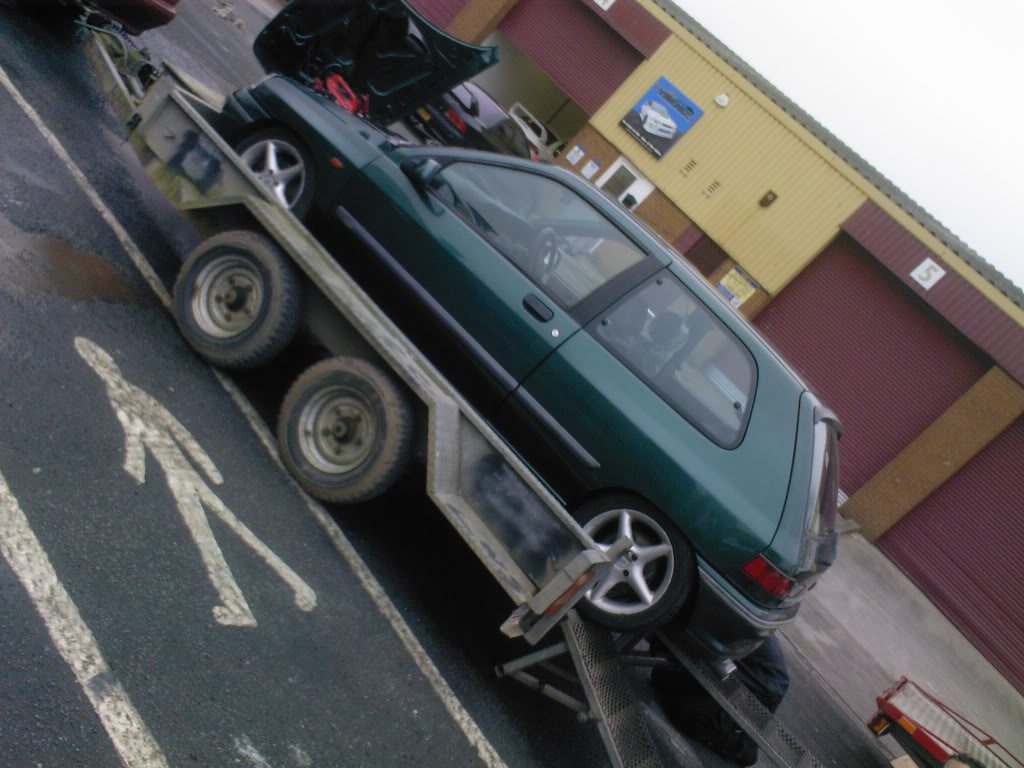 when we got it home, dad took a sigh of relief after towing it back.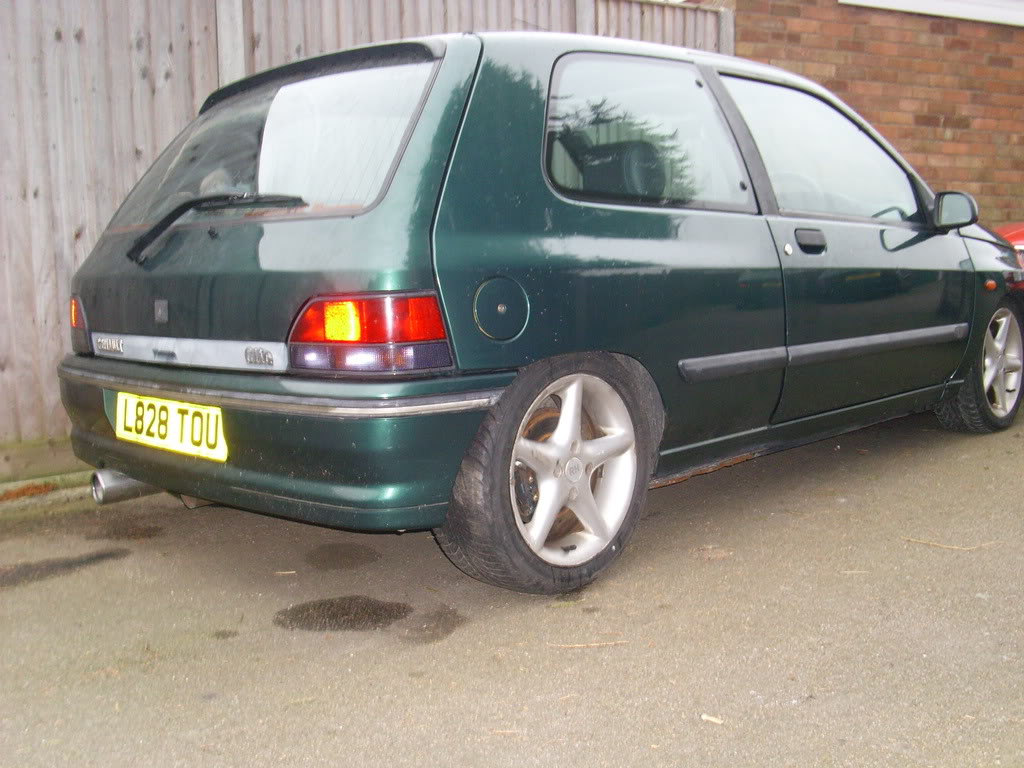 It was pretty standard-ish, full leather interior in very good condition black carpet and plastics. It was a ph1.5 so had odds and sods from both.
So after some digging around having it running for a bit etc etc found out the engine was pretty rubbish so set about to put an F7R in it
Big Brother Little Brother, the front one was my first car which set my love for clios especially Brooklands ones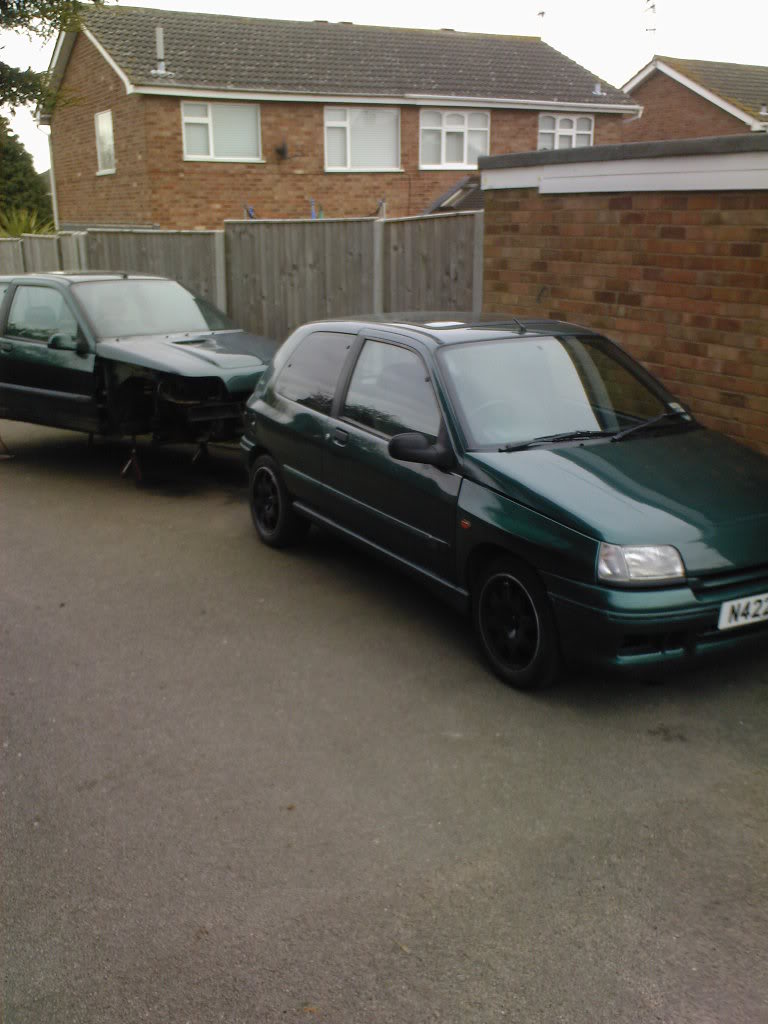 Front end stripped back to get ready for removing the 1.8 16v engine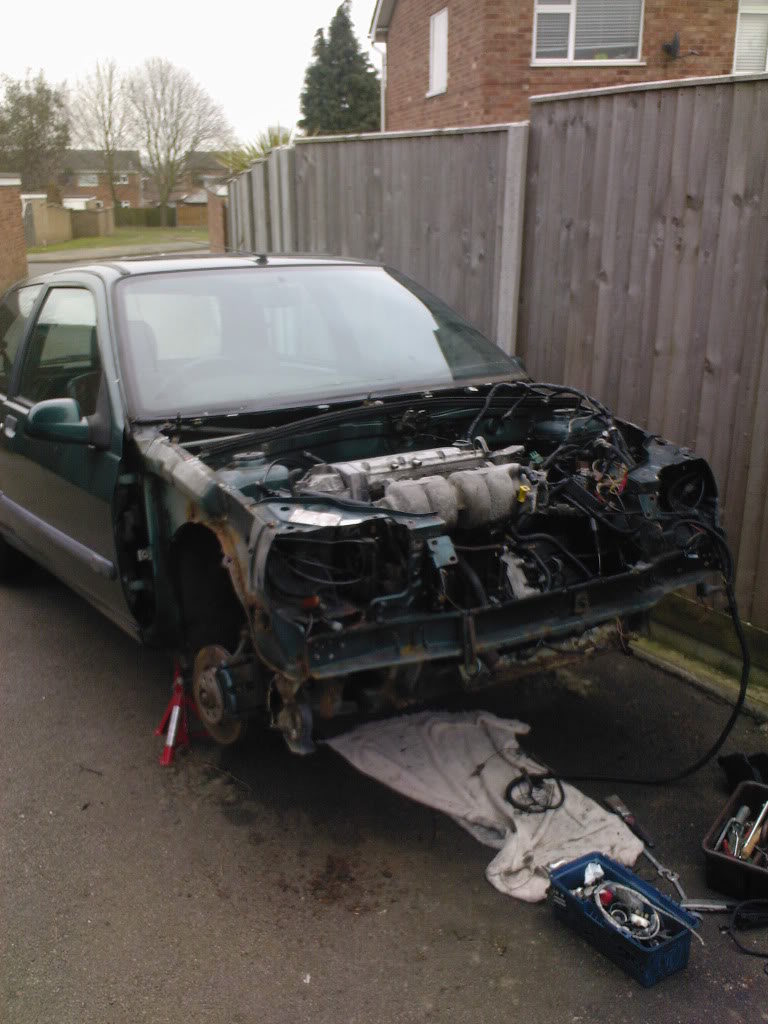 This rusty patch will prove to be the bane of this clios life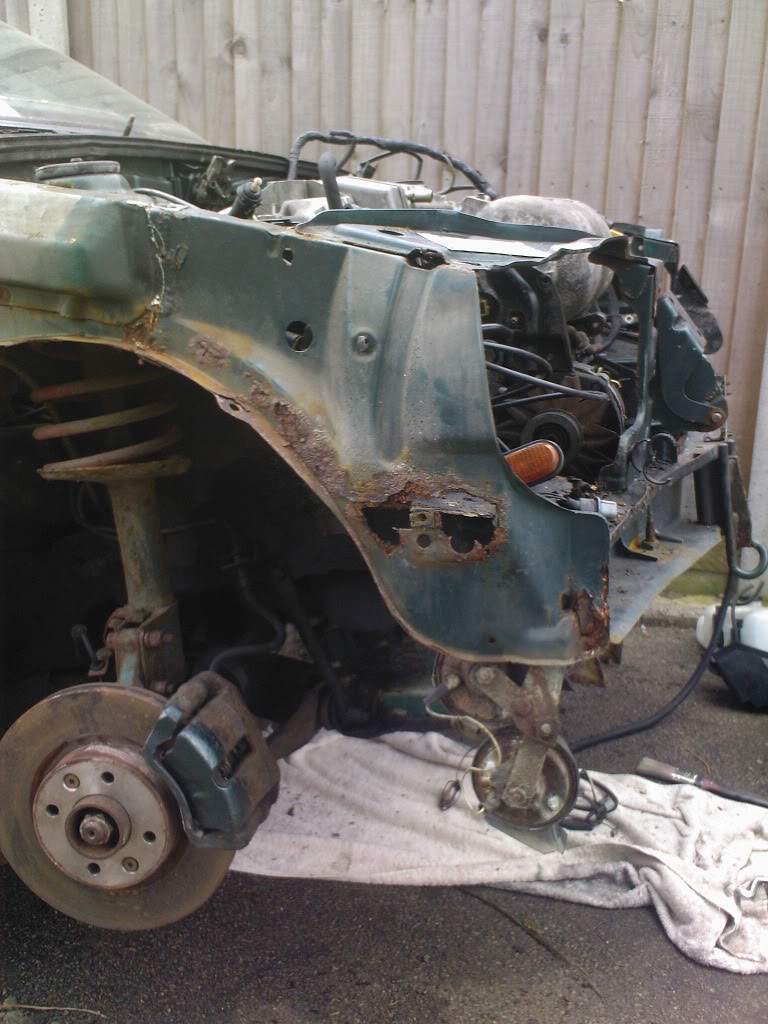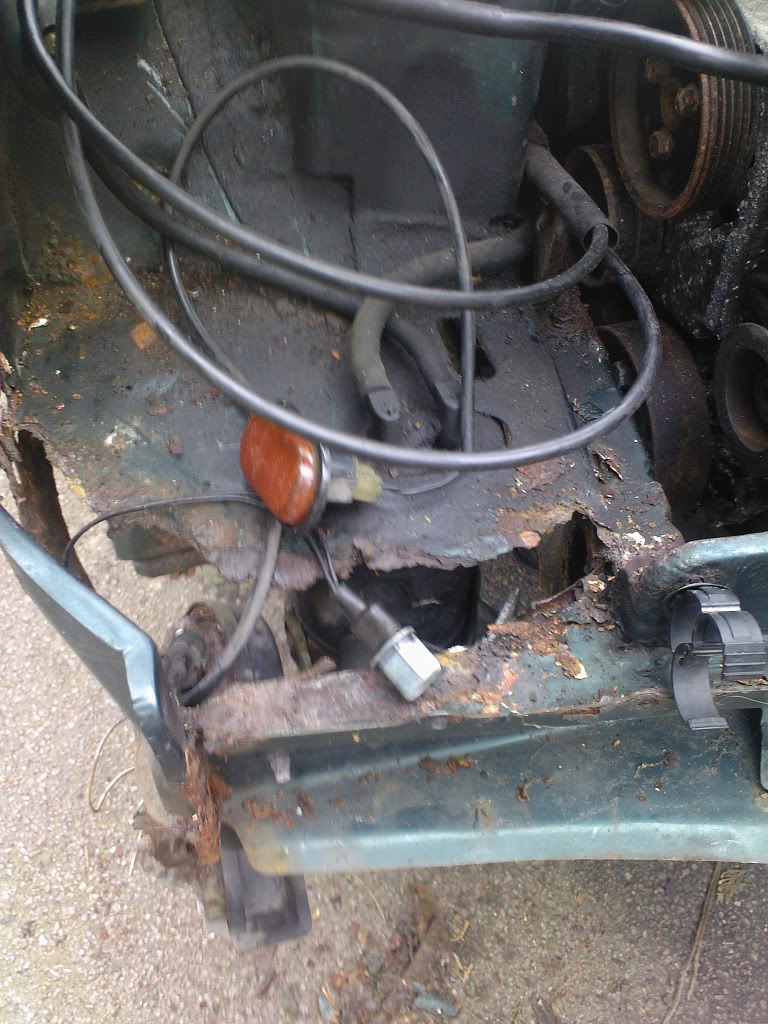 So because the 1.8 16v engine had ridiculously low oil pressure it was removed. And with it the rust on the drivers side wing/front corner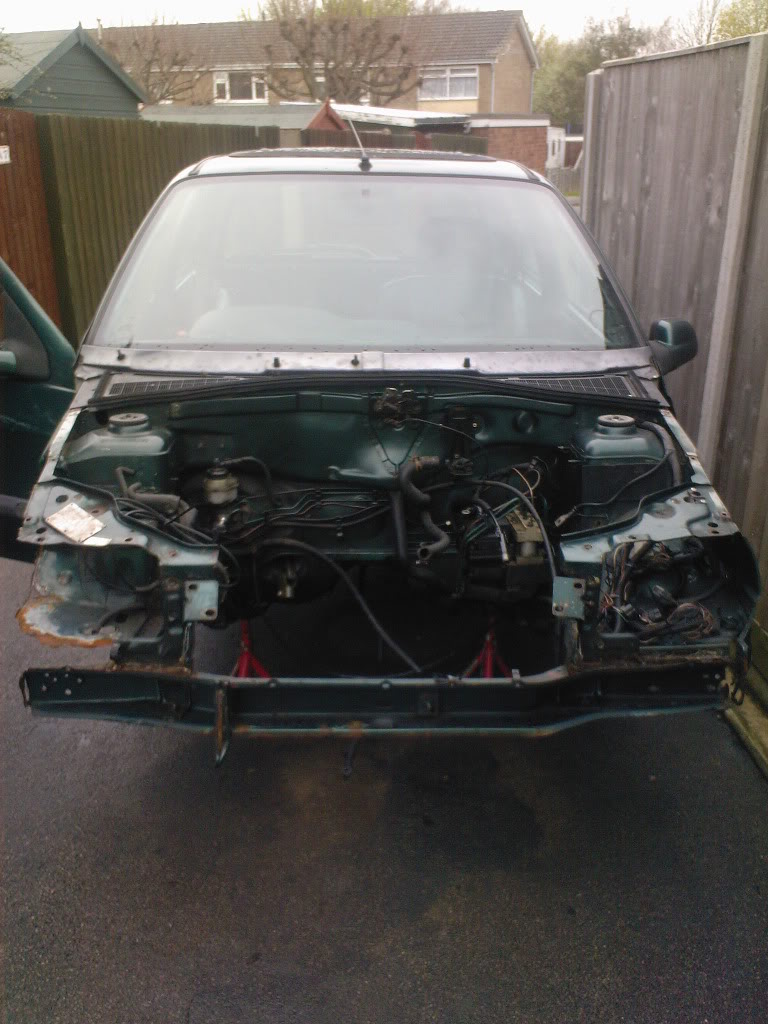 The cause of a f*cked 1.8 16v engine. Someone thought putting loads of sealant in the oil pickup pump was a good idea!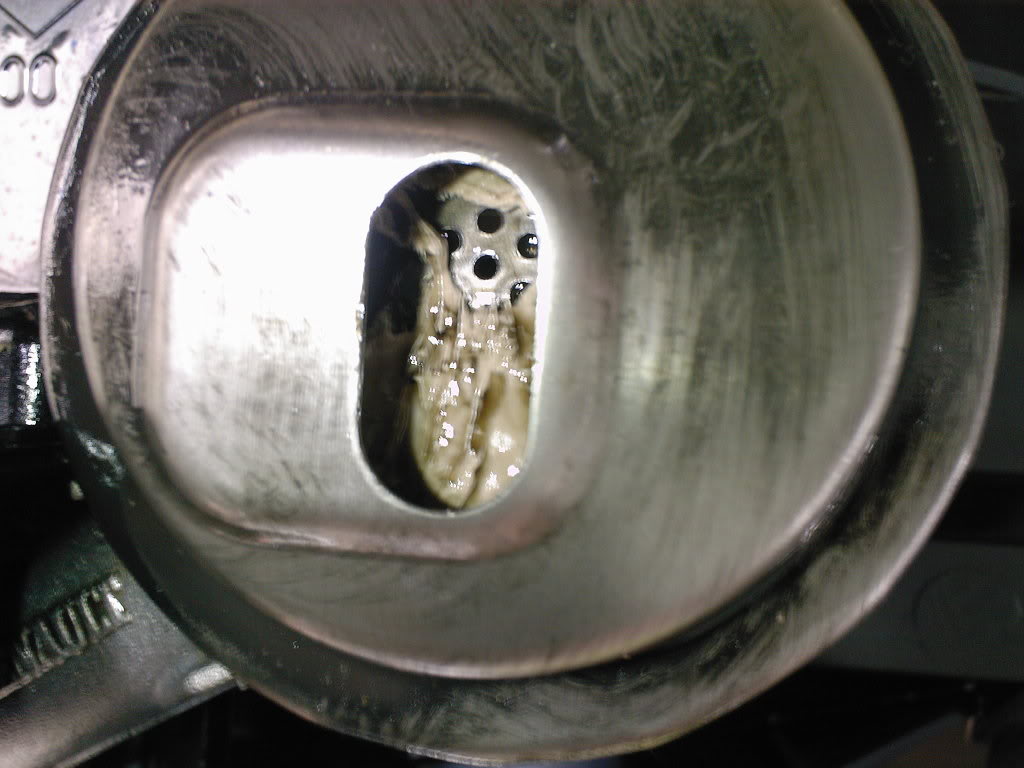 Subframe and lower brace fitted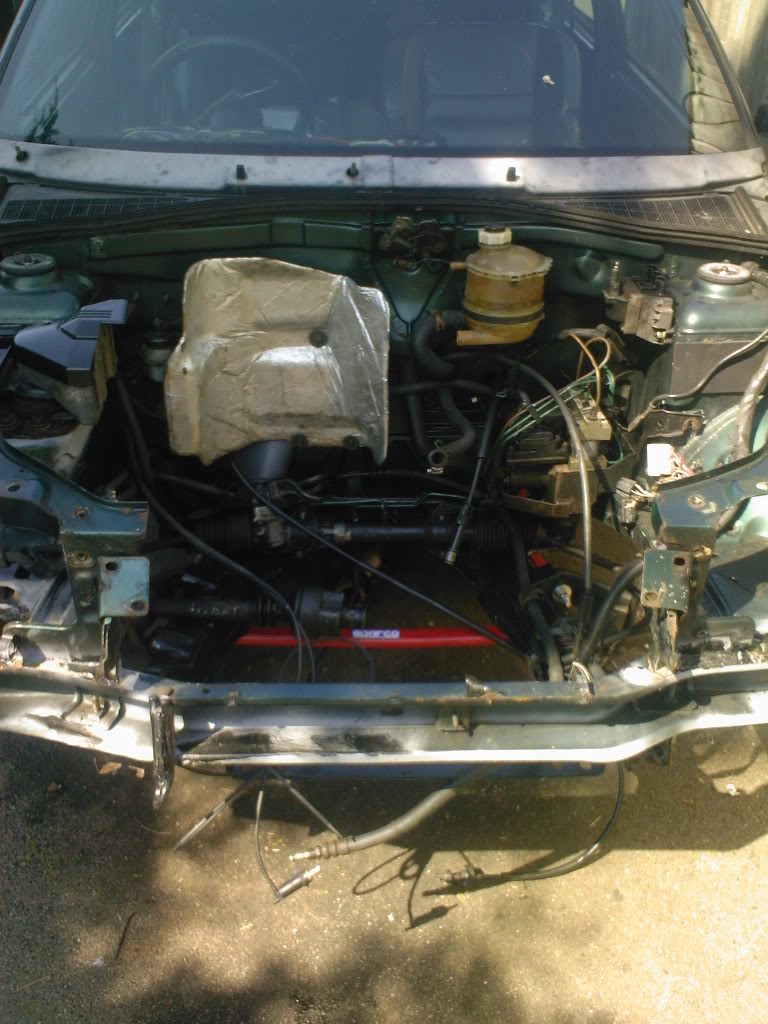 The new heart at the time it was removed from a crashed Williams 2, it had about 80k on it from memory which 6 years or so ago was pretty good.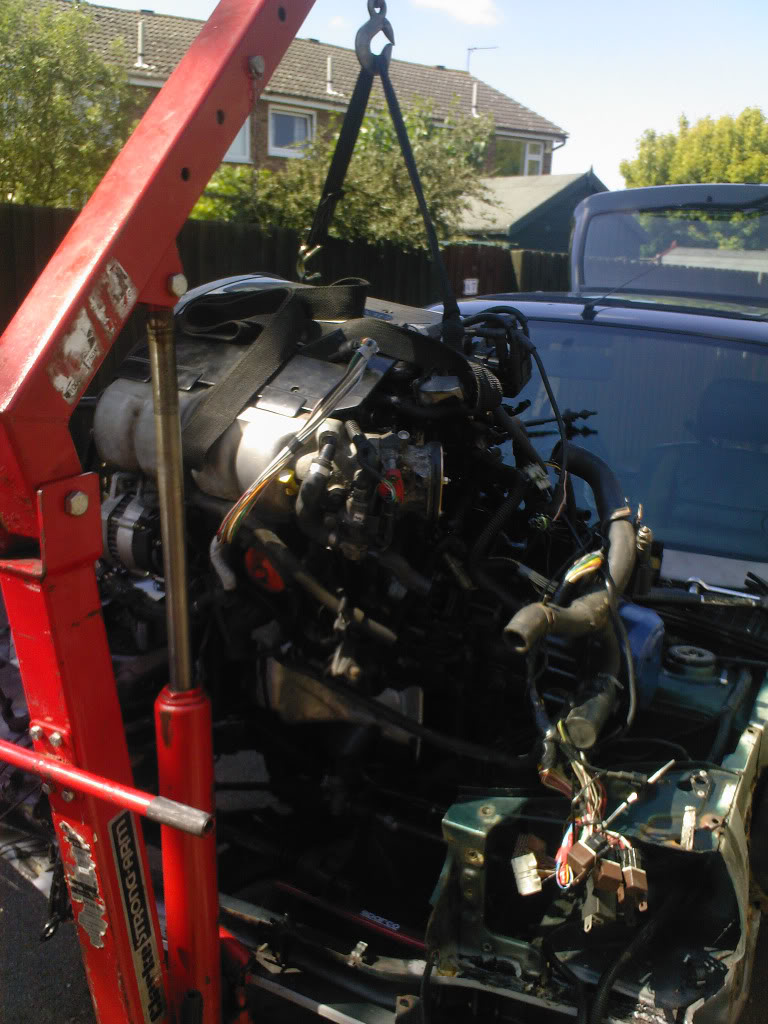 Id subframe mounted the engine but wanted to keep the PAS this was the start of the modification, it worked a treat too. but not pictures of the rest of it
Williams Dials i picked up when i was on holiday in cornwall 12k miles on them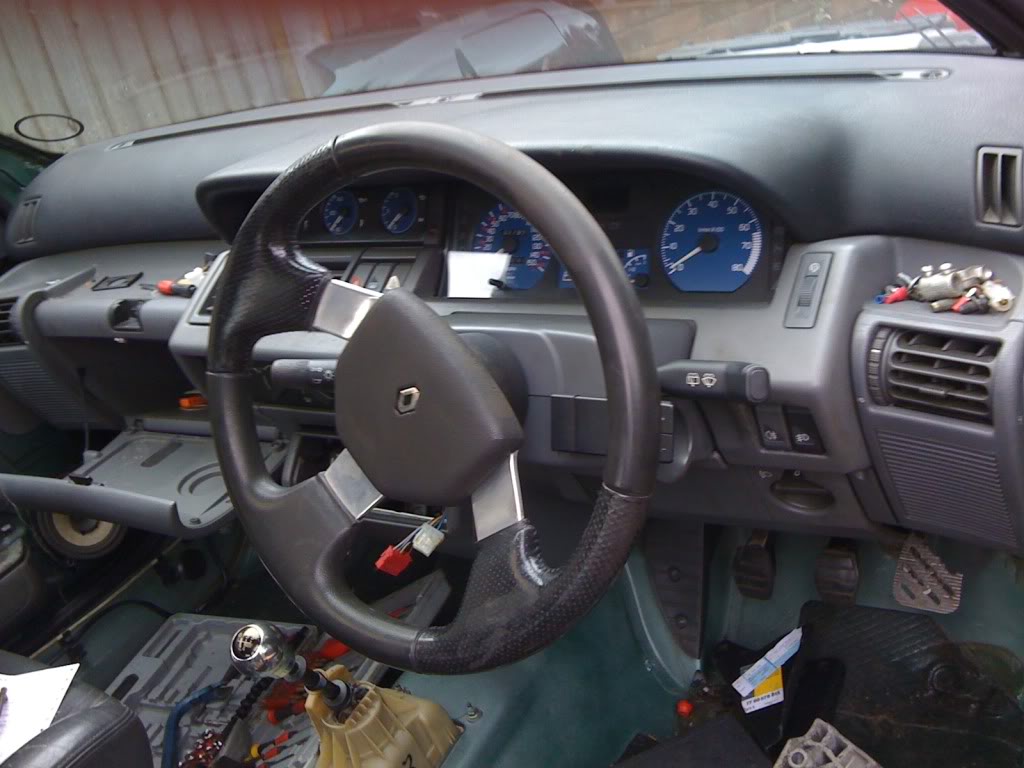 Big Arse,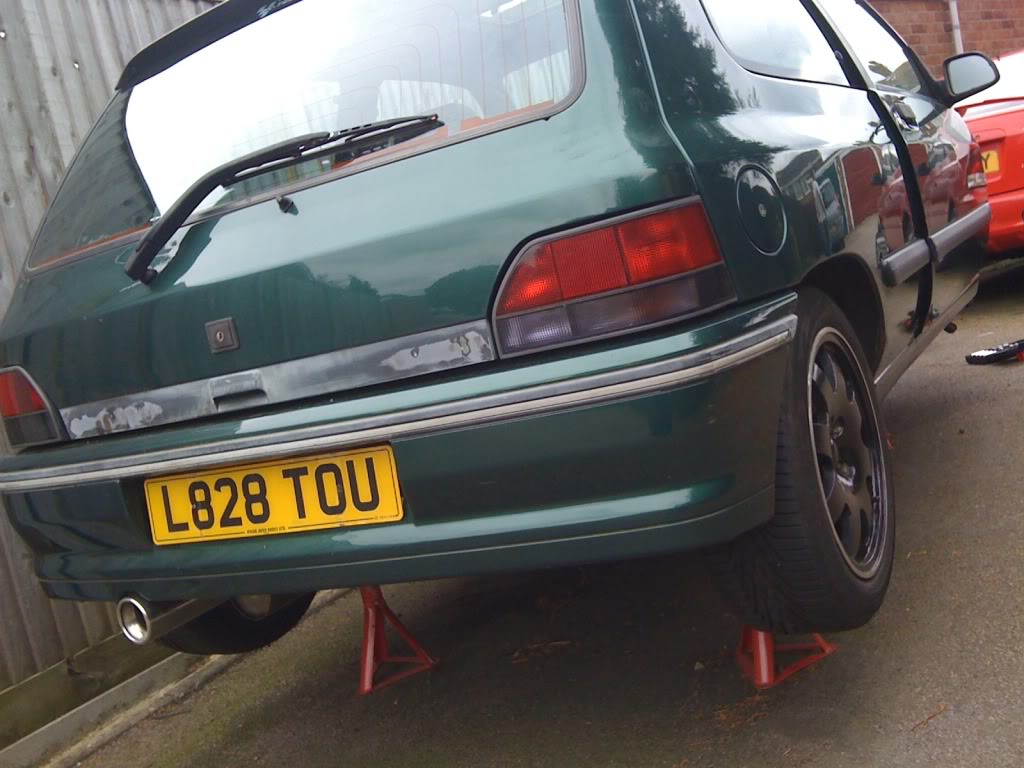 F7R Fitted, at this point there wasn't that much left to do before mot, notice the whole in the front corner still. That got patched up , ill call it patched up because the state the block left it in wast defiantly not a repair.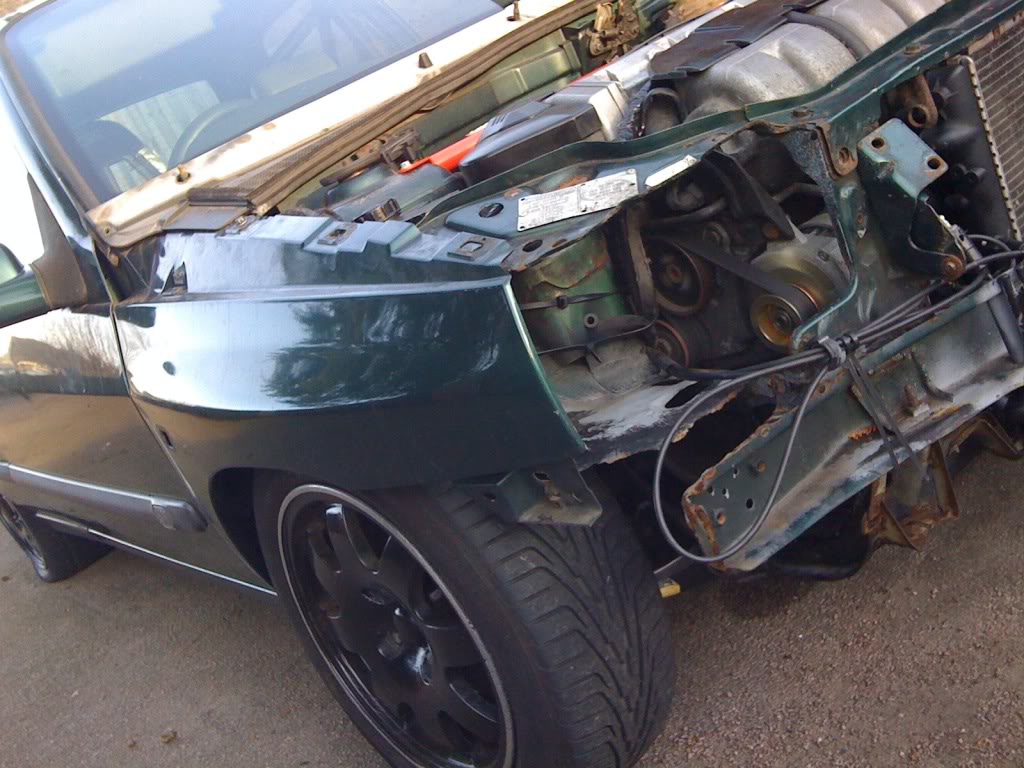 This is when I had an incident in my 172 exclusive and it was being stripped for parts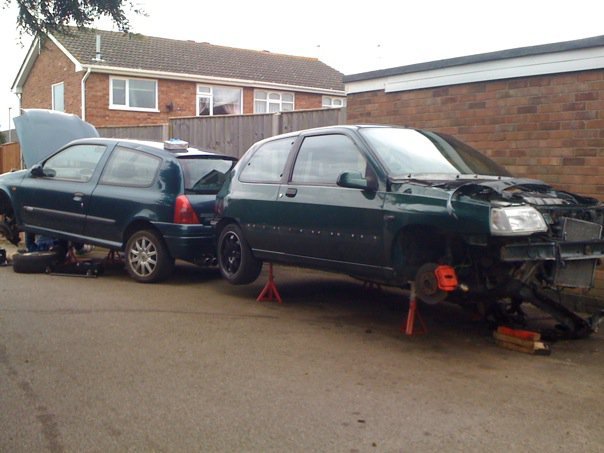 This replaced the 172 as a daily driver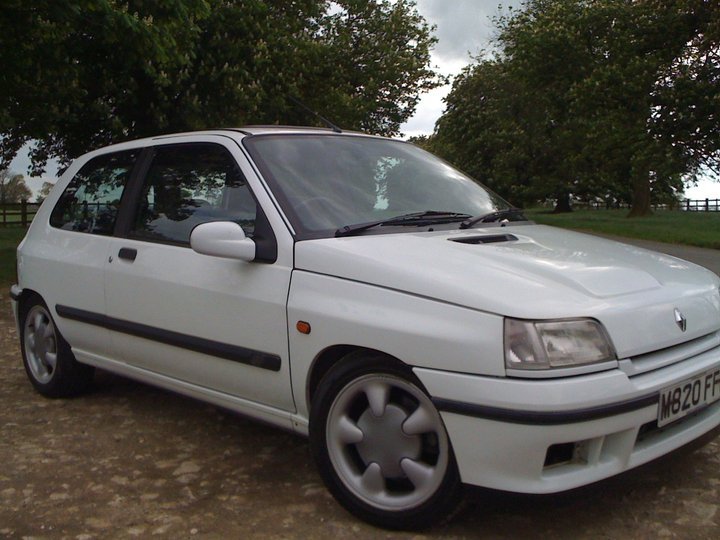 This was when it was about road worthy, the blue parts got a coat of satin black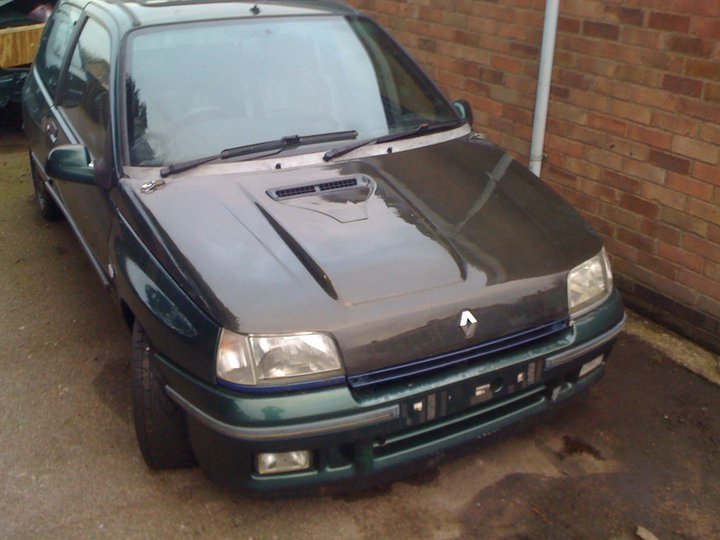 And that was that. I was on my merry way hooning about loved it modifications it had;
F7R Williams engine fitted
Avo Coilovers
Carbon Bonnet
Sparco Seat
Scorpion Exhaust- Decat - Supersprint S/Steel manifold
Carbon Grp A/N intake
Wilwoods
Ploy bushed ARB
Subframe mounted engine
Battery Relocated
Strut brace & Lower Brace
PAS Mod
Williams Wide Track
Half Cage (needs to be replaced with a full one)
Stripped out sound deadening etc, not really a modification imo
OMP wheel
Short shift gear leaver not box end
JC5 172 Box
Hill Power Hoses
Think that was about it.
Then i got the bug for a bit more poke. I found some kent cams and cat cam pullies come up pretty cheap so i snatched them up. Booked in to a local garage. What a mistake ruined the engine.
So took it back and set about fixing it. Valves for the F7R Williams engine are hard to come by and expensive from Renault. I found a bare engine for 100 quid so bought that. stripped it down for what i needed and rebuilt the head.
At this point i thought ill do a proper job on the repair panels on the front end. As i wasn't over the moon with the cowboy that did it the first time round. Stripped the car down and it got left up until recently.
Which brings us to these images;
The spares F7R I got the valves from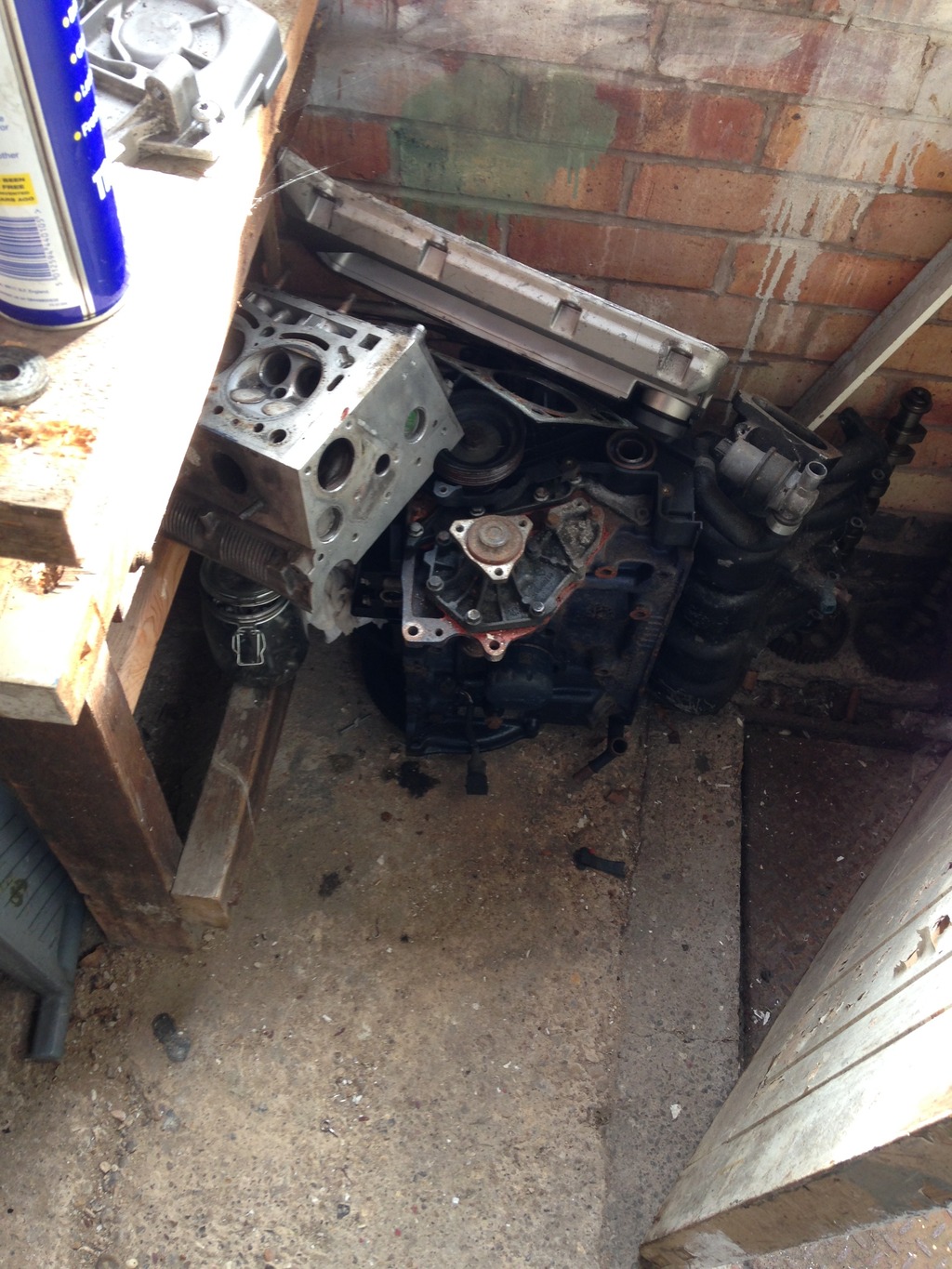 Engine built back up with the cams and timing done, they will need dialling in once its all up and running
Replacement panels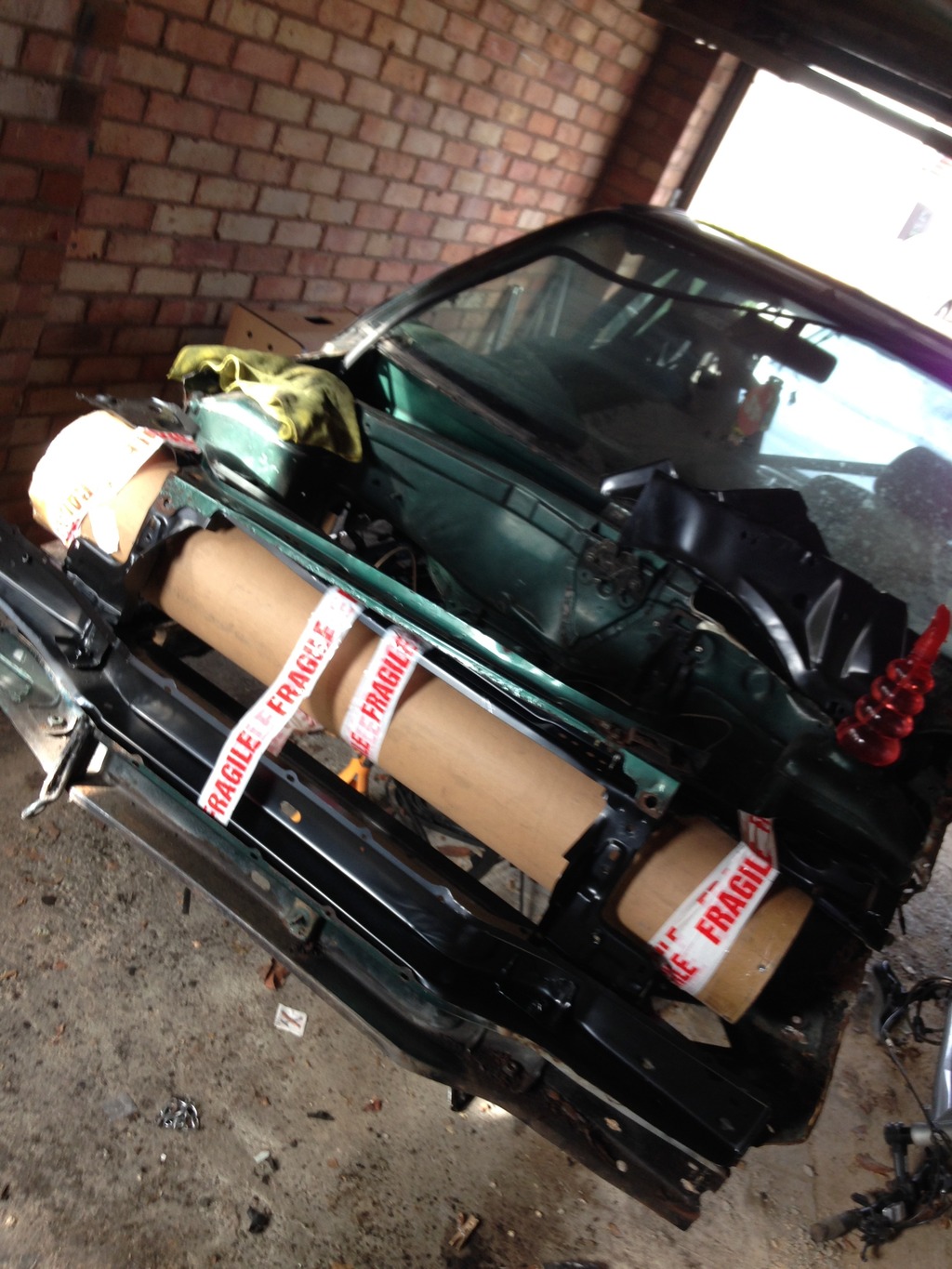 The front crossmember/slam panel. I wasn't happy with the crossmember wasn't that good of a copy but i found a decent one on eBay. So drilled out the spot welds holding the crossmember to the slam panel uprights.
Ive got my mate to do the welding as I've never really done any and he's done it since we were about 10 now building hotrods.
That then gave me something like this, before we cut the crappy metal away we made a jig for the front end with holes in it to aline the new crossmember up with the bolt locations used for the subframe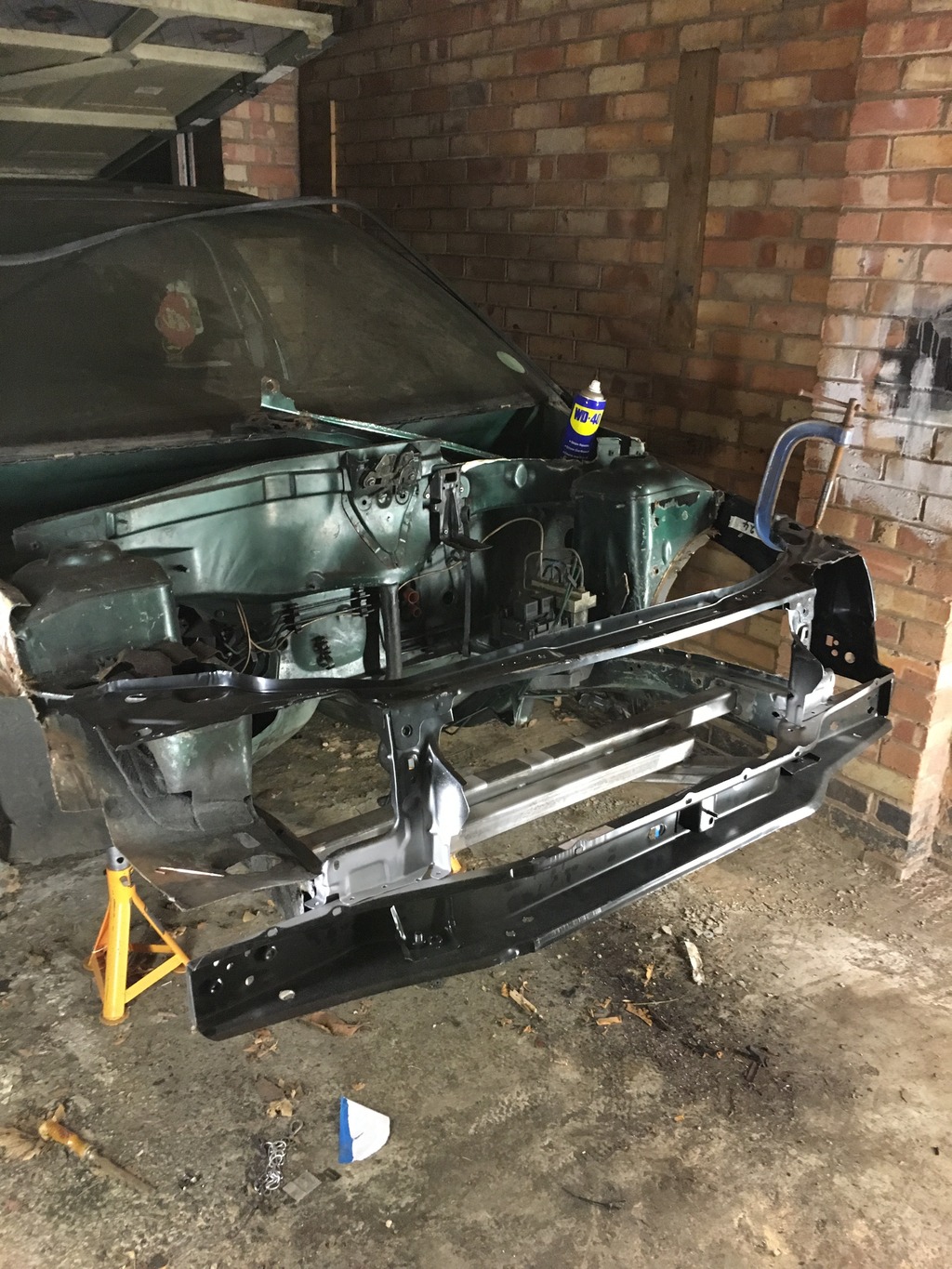 Front passenger corner needs a new panel, was told by Renault yeh yeh available, brilliant ill order one £21 be in the following friday. Await phone call nothing drive down oh yeh its no longer available. Brilliant so now I'm on the hunt for a scrap shell with both front corners in good condition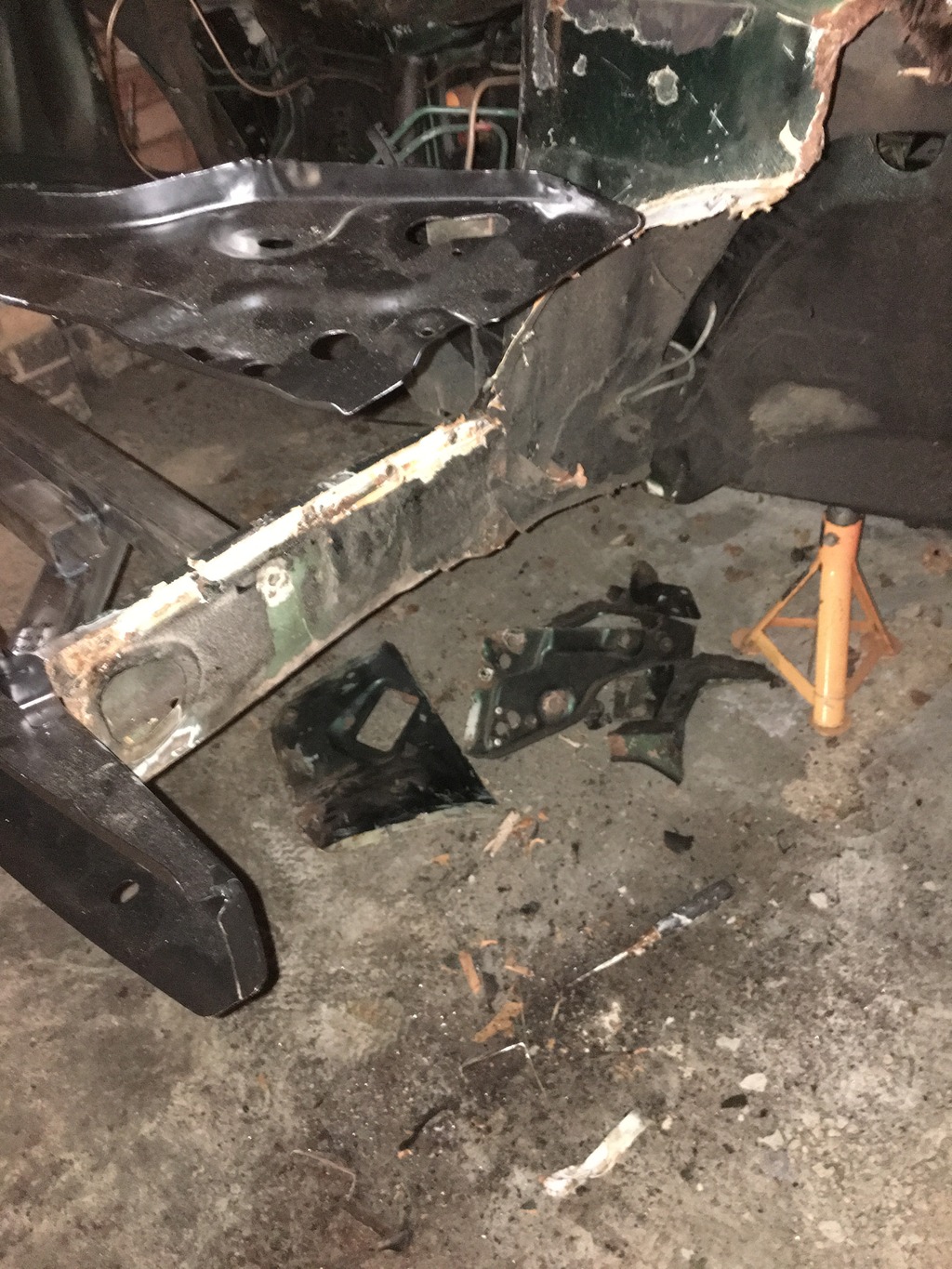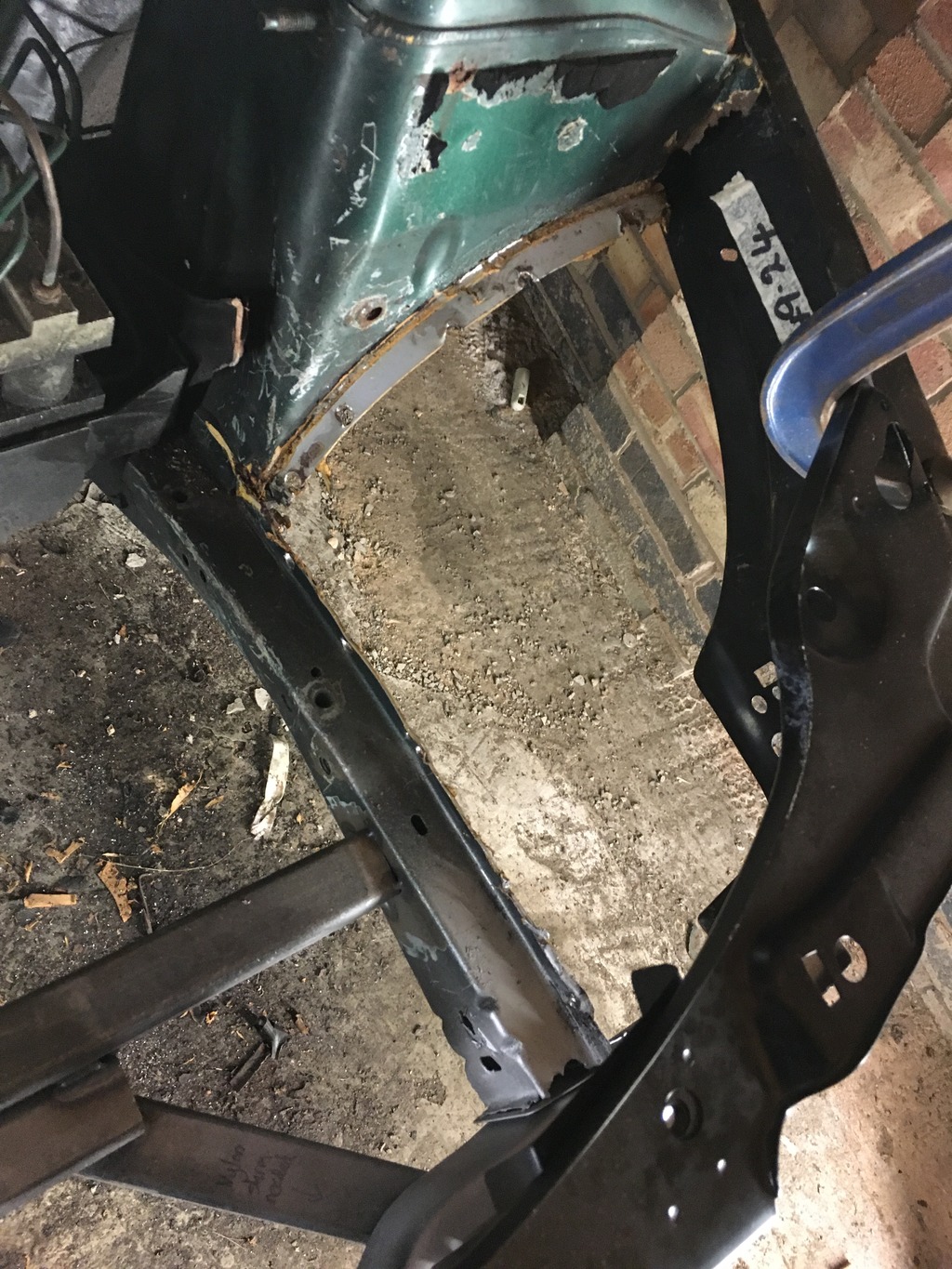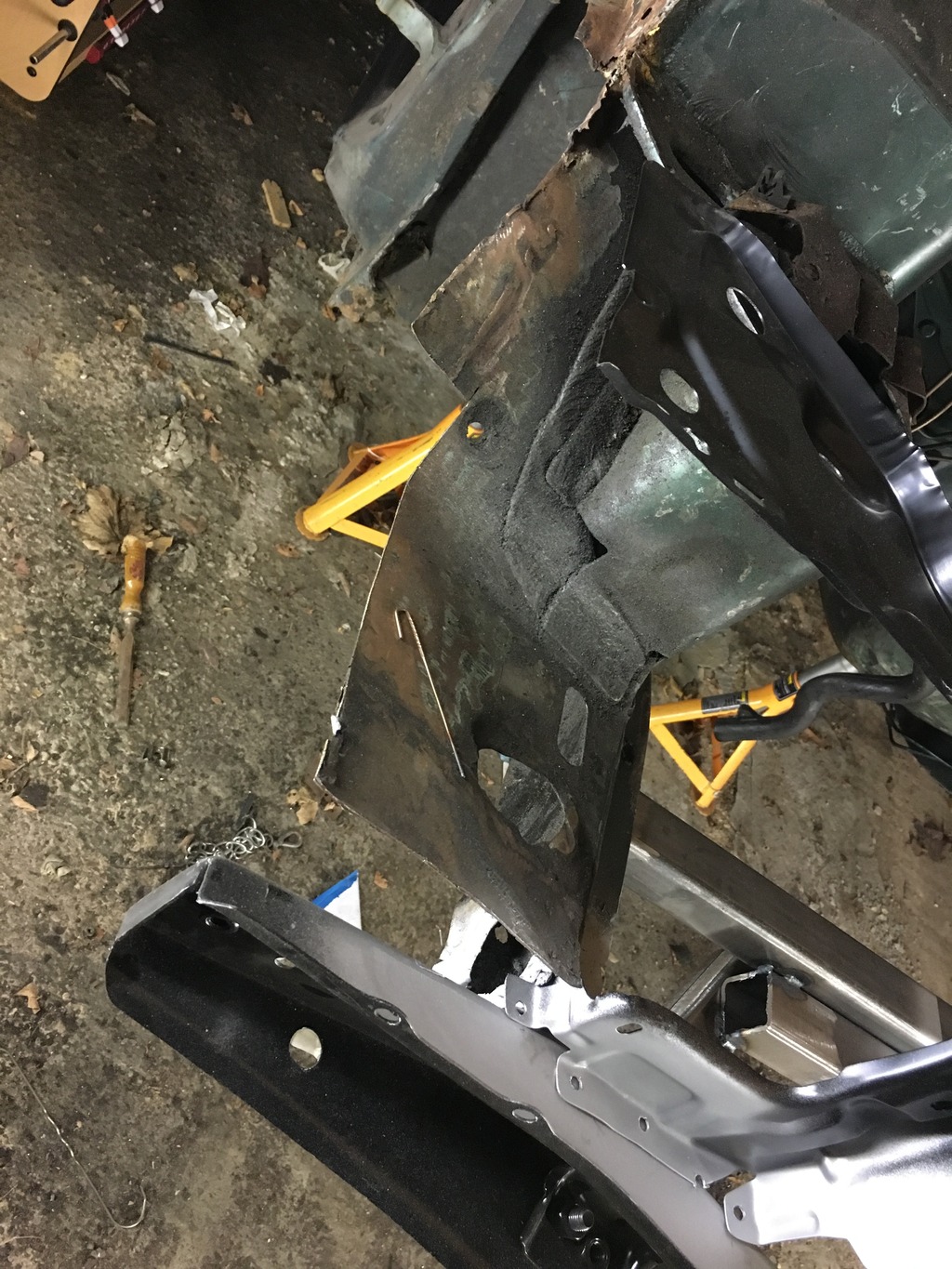 Thats pretty much where it is at the moment. More to follow slowly.
had some spare time this weekend so managed to get down there. Finally picked up 2 front legs of a kind chap in oxford. Set about picking the panels apart
Clean back the seam sealer to expose the joints and the spot weld positions, bit of a messy job. Thankfully the panel is looking good with little to no rot on it.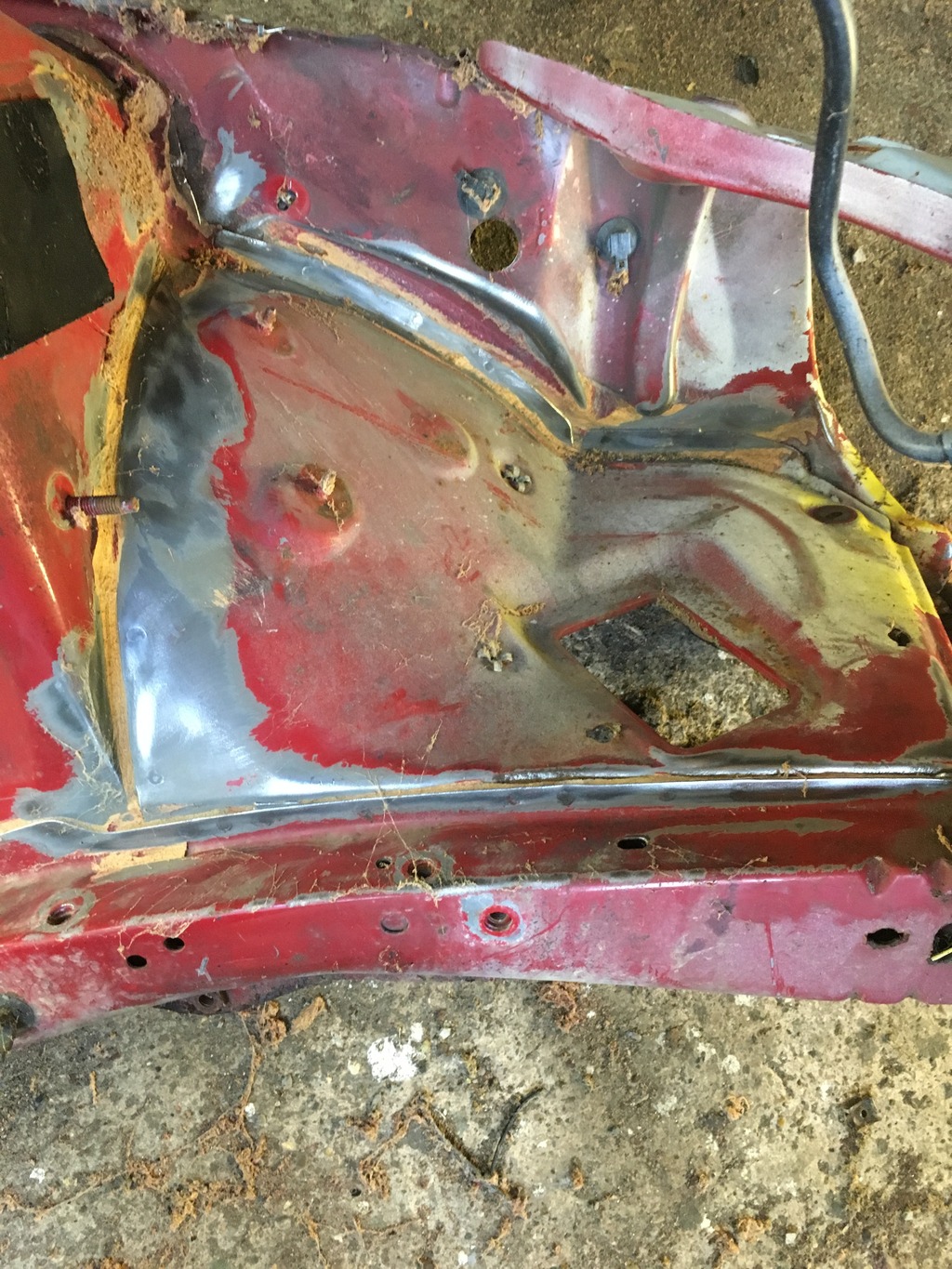 Drill out the spot welds to separate the corner section from the leg/inner wing panels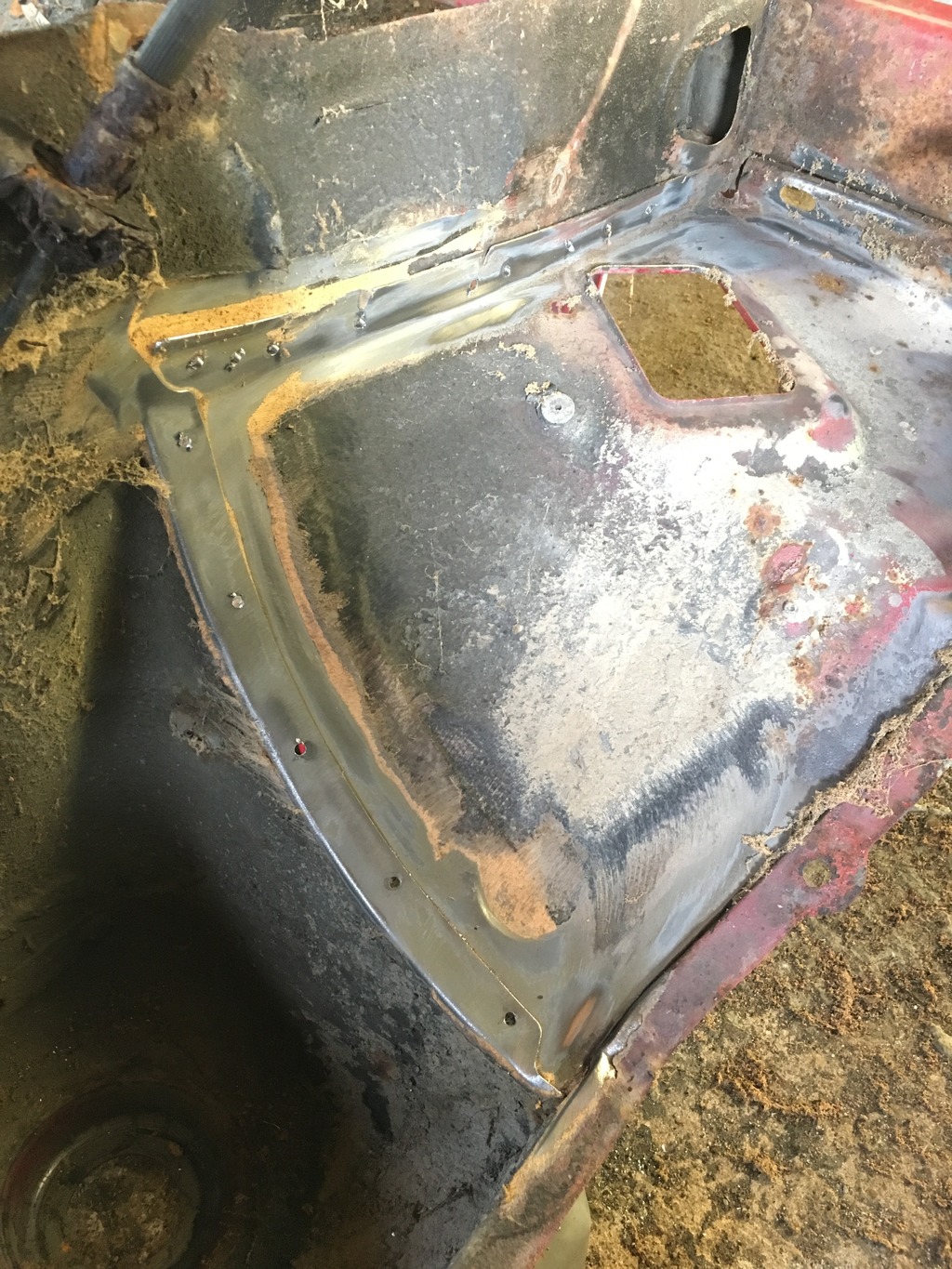 There she is. Not welding in yet the other side still needs doing then the trial with body panels and alinement.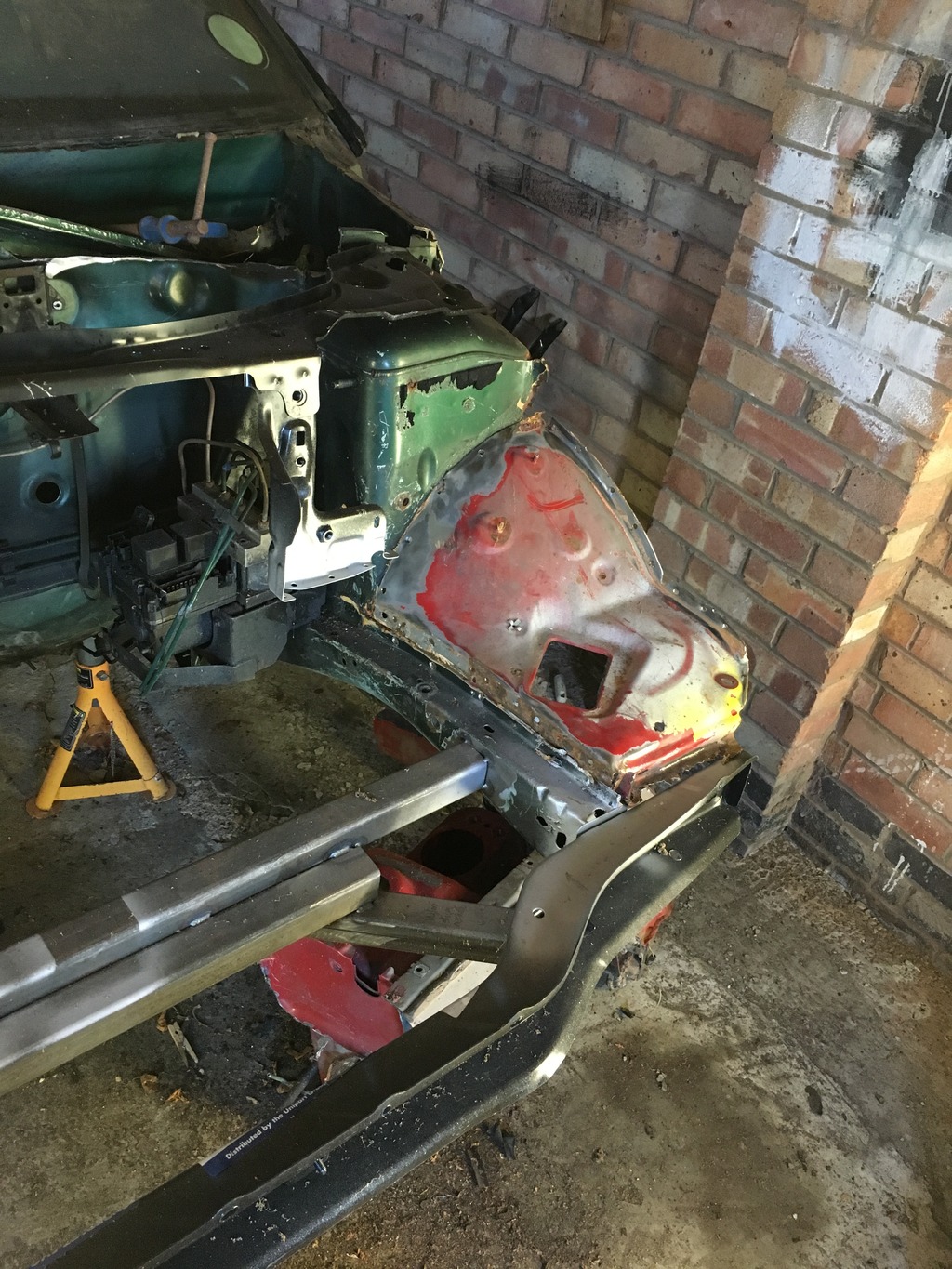 The other side is a bit more tricky with the engine mount welded to that but the same process will be done.
Heading down again in a few mins hopefully have the other side done today!
got down to the garage again today. productive weekend, its all starting to take shape at long last.
Drivers side time now, same crack as the passenger side bit more tricky with the engine mount getting the panel out.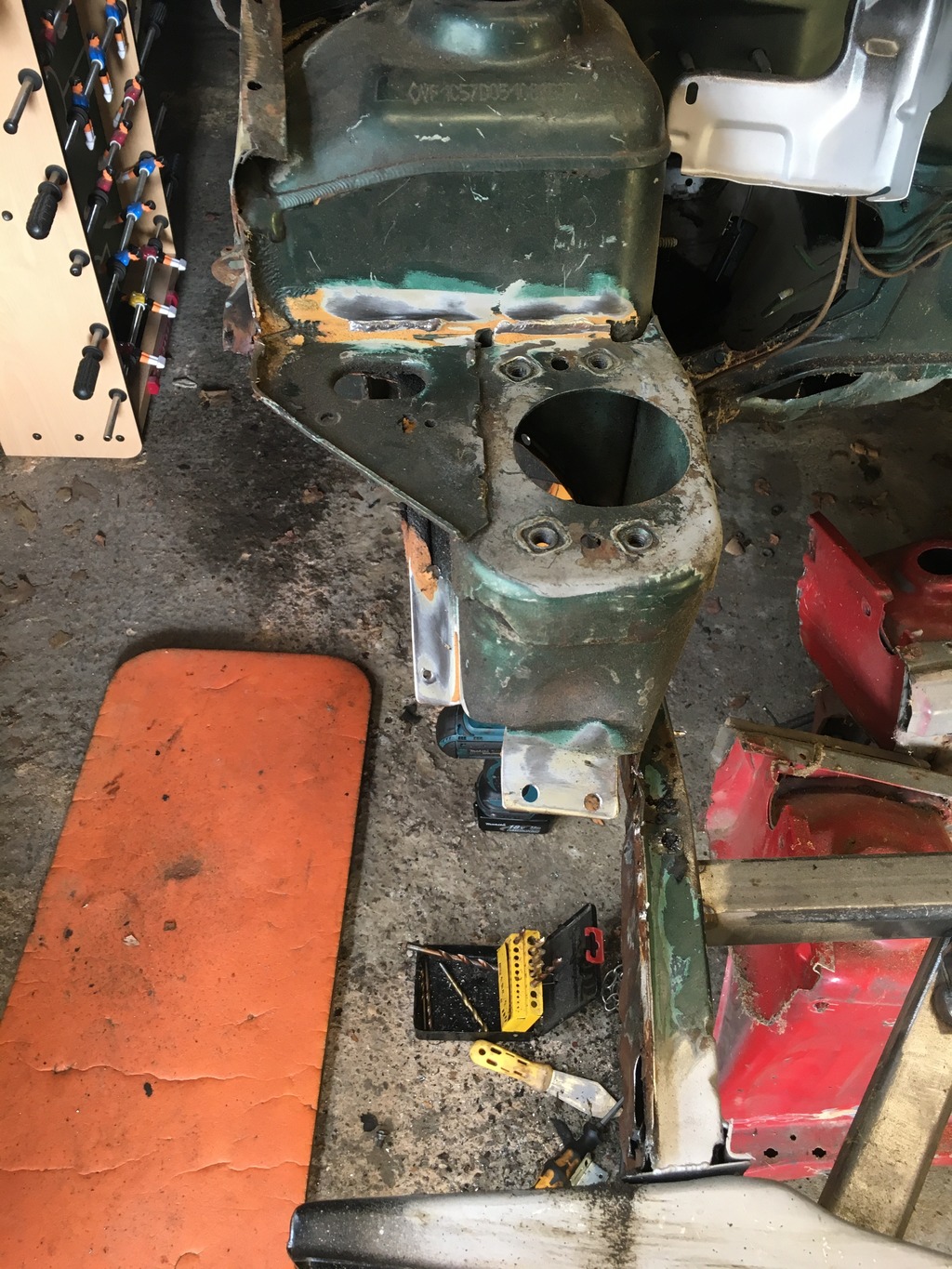 The repair section, the legs came from a car being broken and the shell was being scrapped. This side looked all good.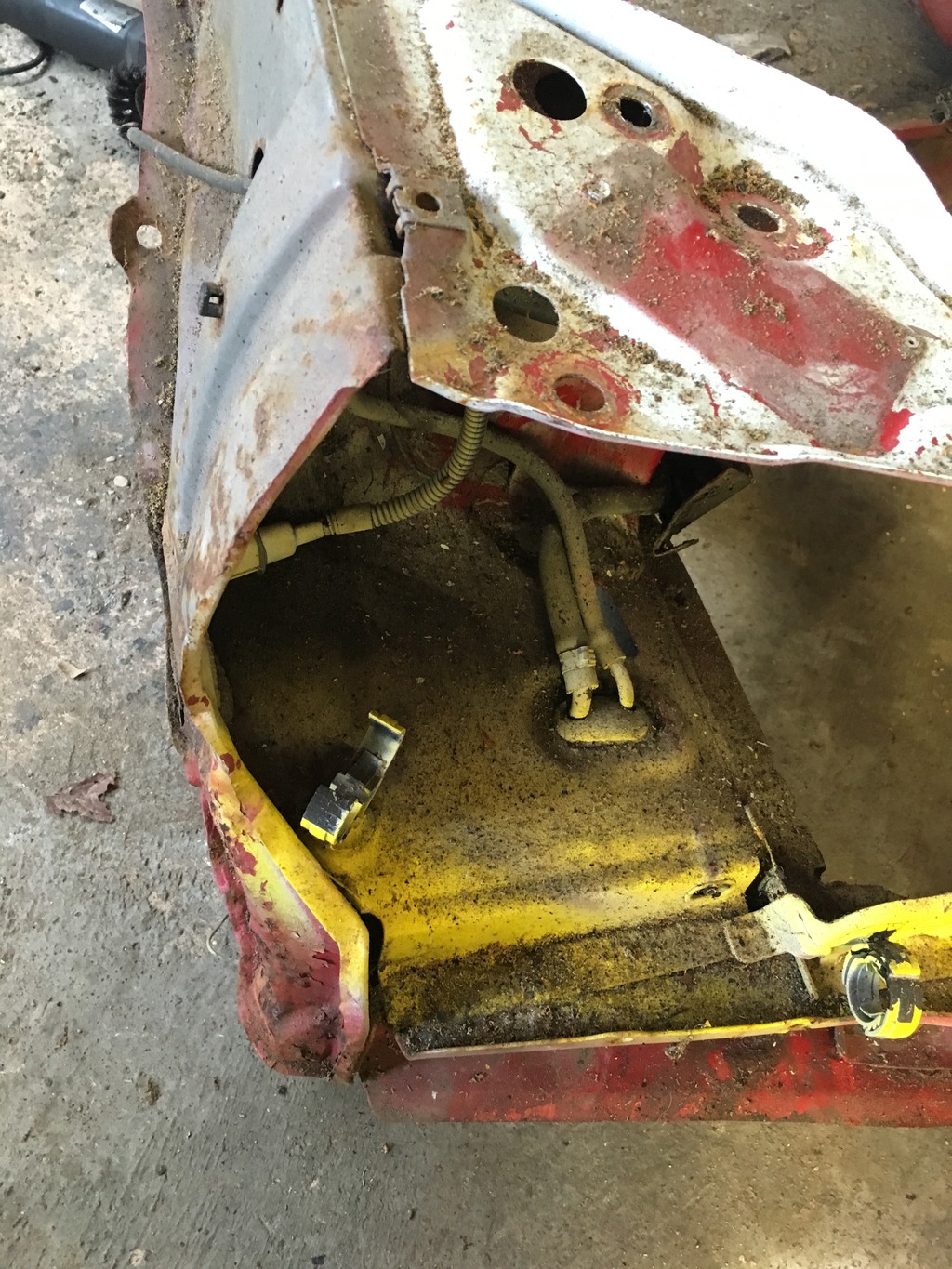 This one not so good. I thought this could be it what a waste of time looked to be rotten. Im sure they all go in the same places...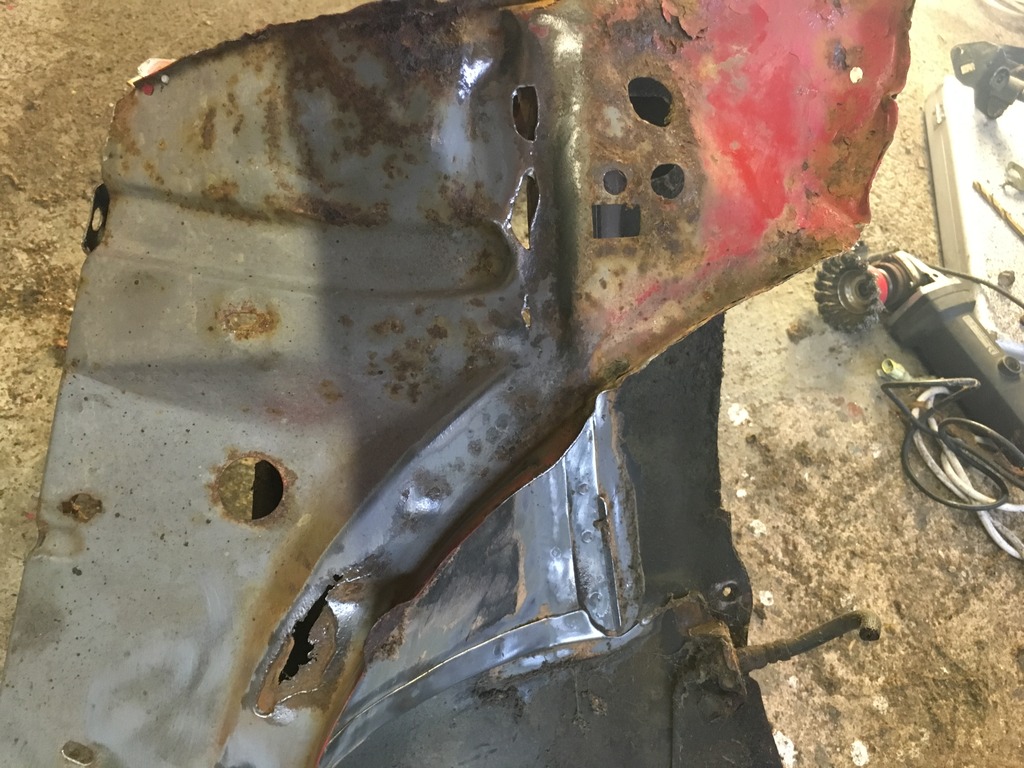 so i continued cleaning back the seam sealer drilling out the spots eventually after much swearing it came out and i was happy again!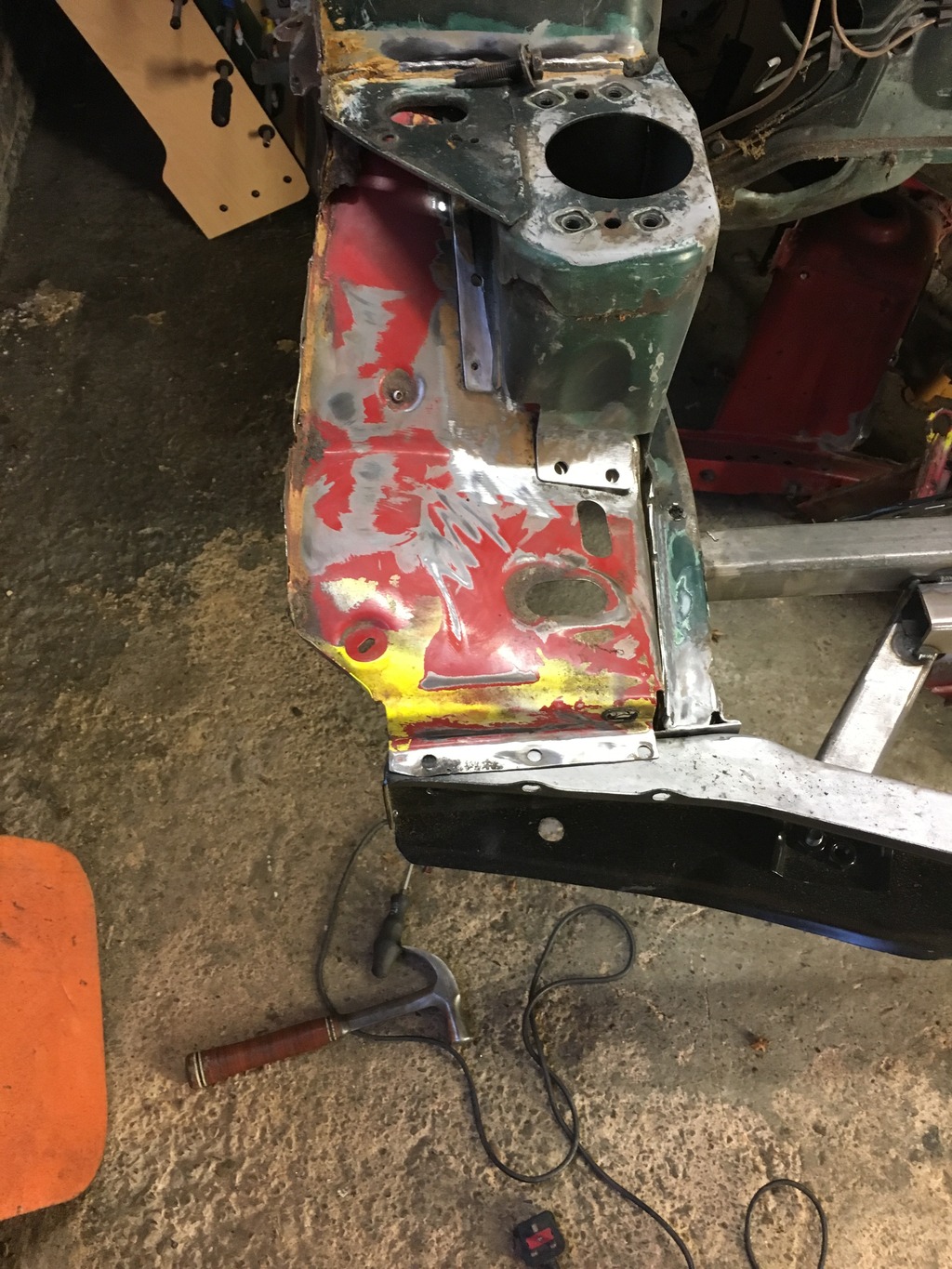 It needs a new flange that would weld to the inner wing but other than that its a good solid panel.
and we now have a car that almost has a front end complete.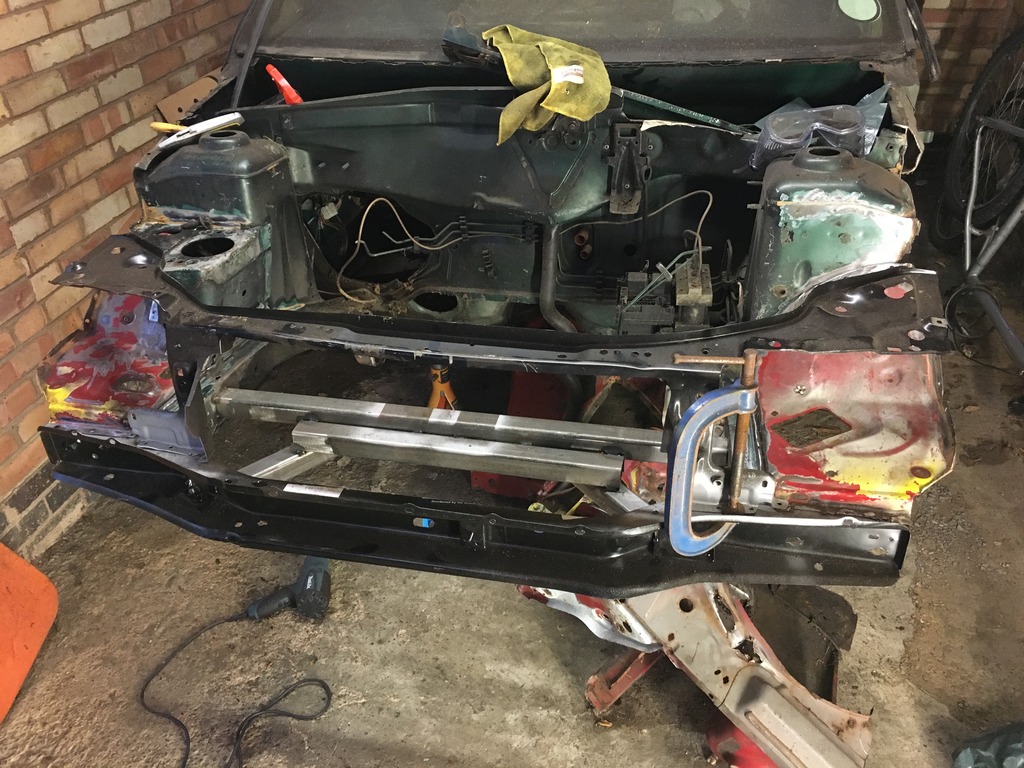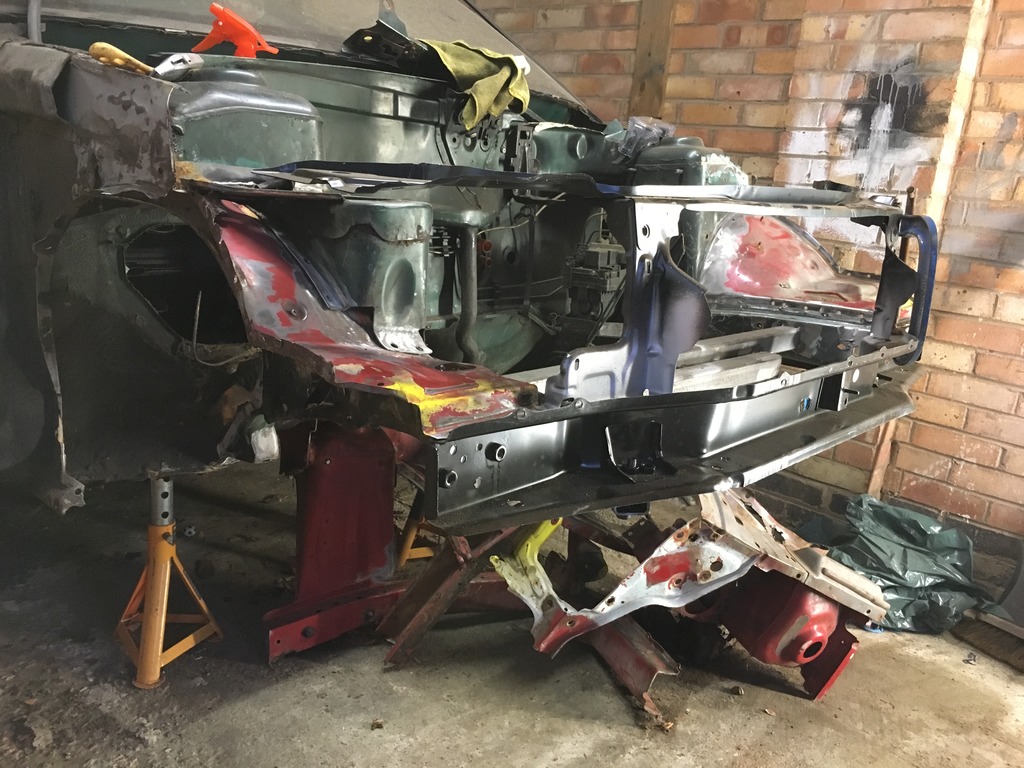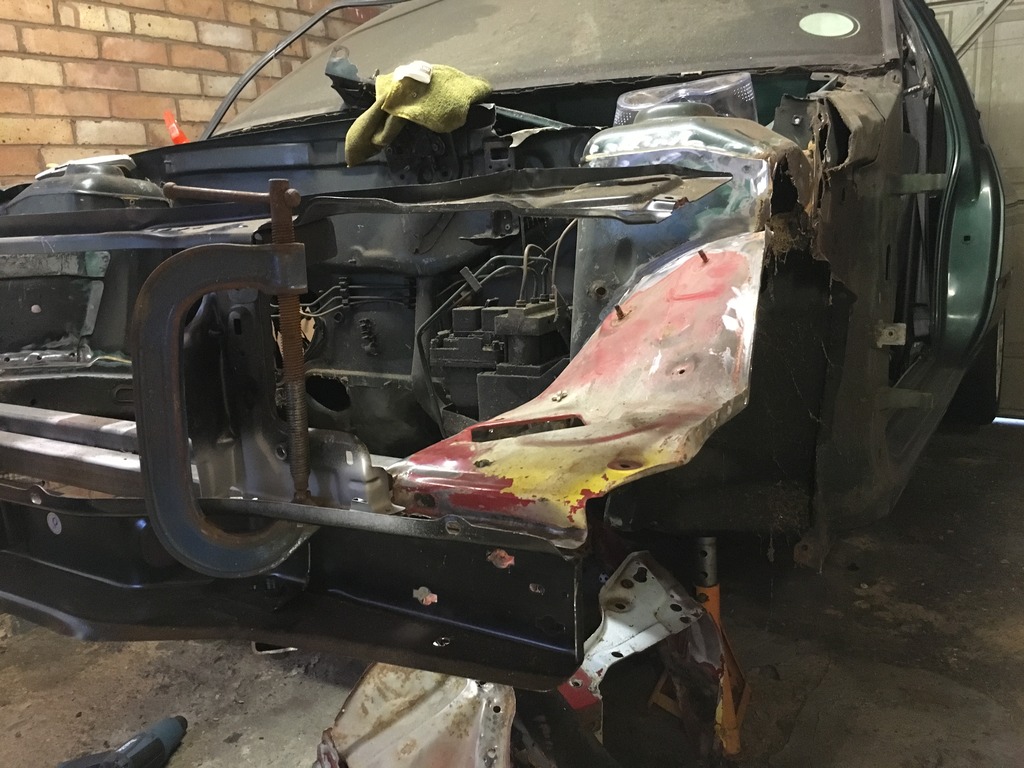 next will be getting the body panels and sort out alinement tacking it up & fully seam welding it all in place.
After that it will be sills and jacking points followed by rear arches. I hate body work!!!!
Some goodies have turned up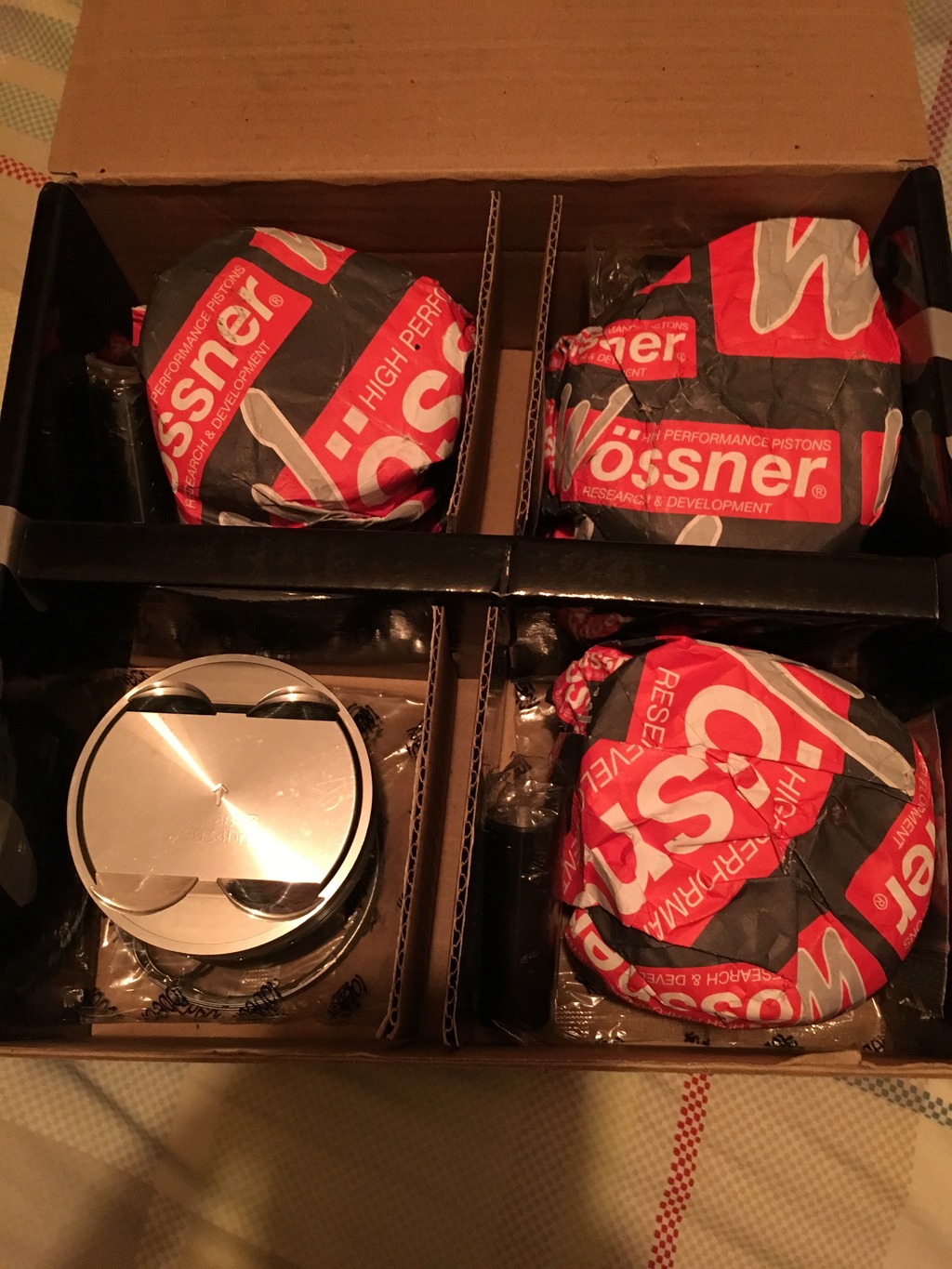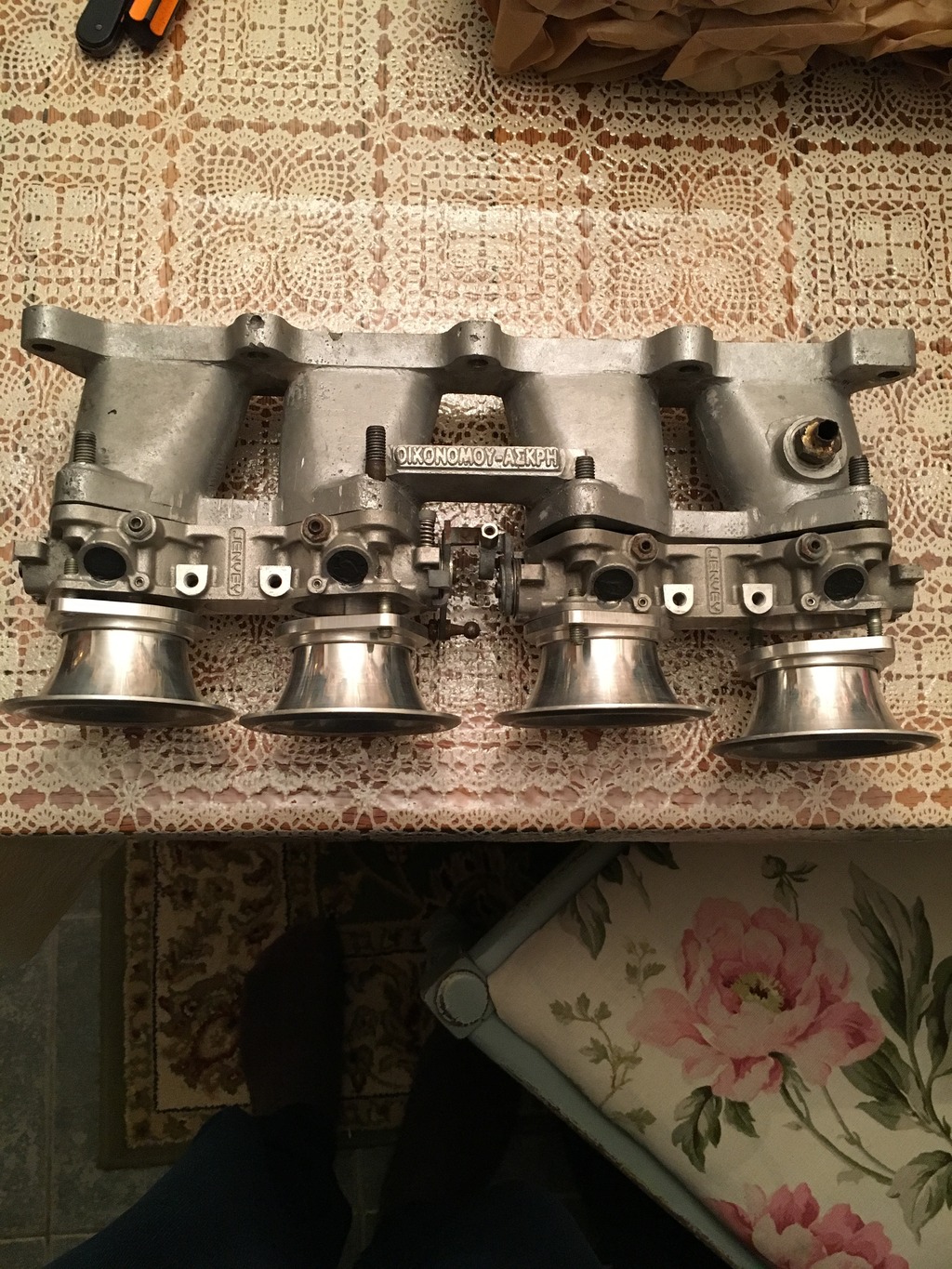 I'm going to to Mark Fish motorsports 12th December to talk about engine building etc.
Small update. Went to Mark Fish Motorsports to have a chat about my engine, so thats with him now. Heres some images of a couple of cars in his yard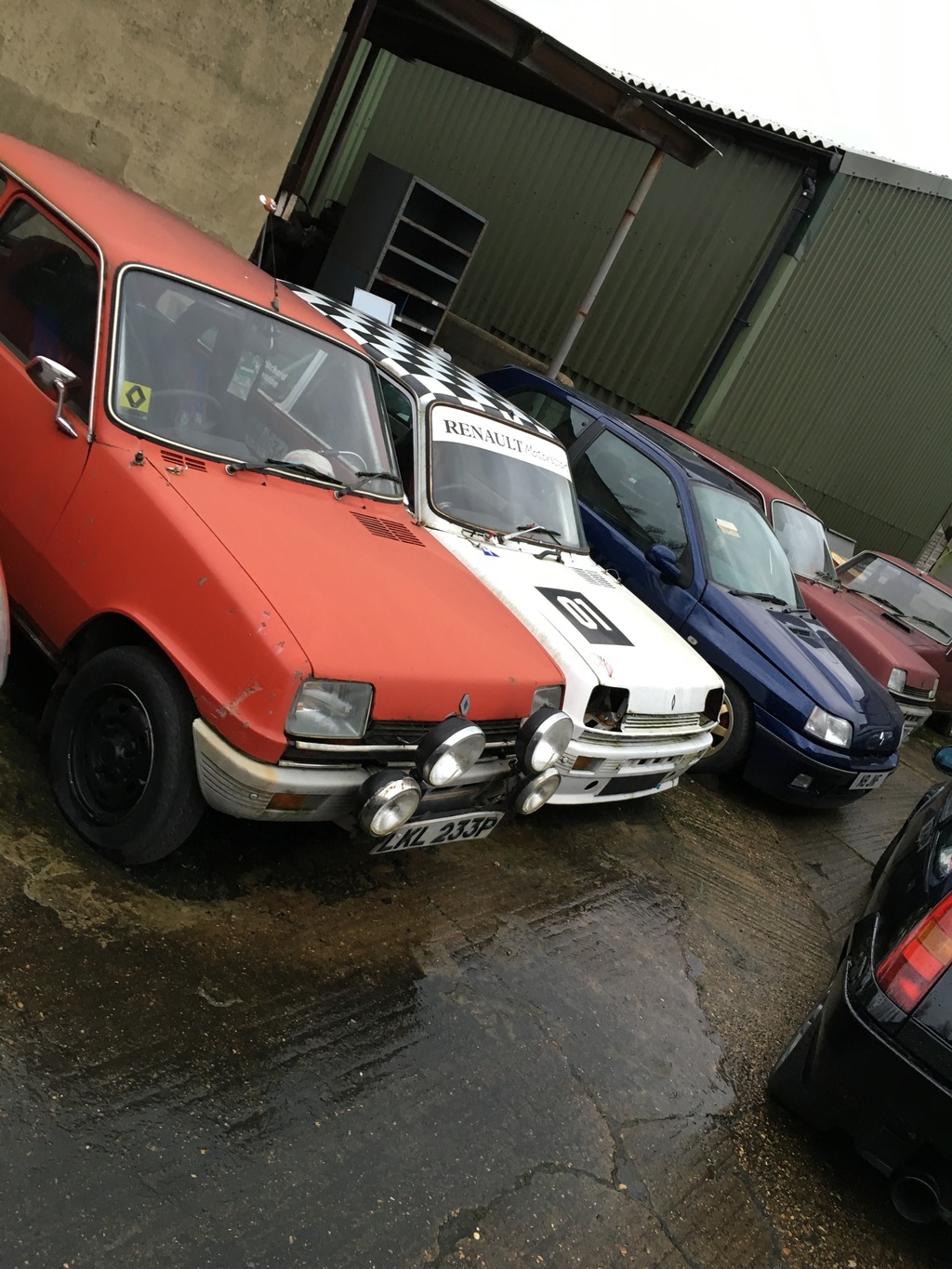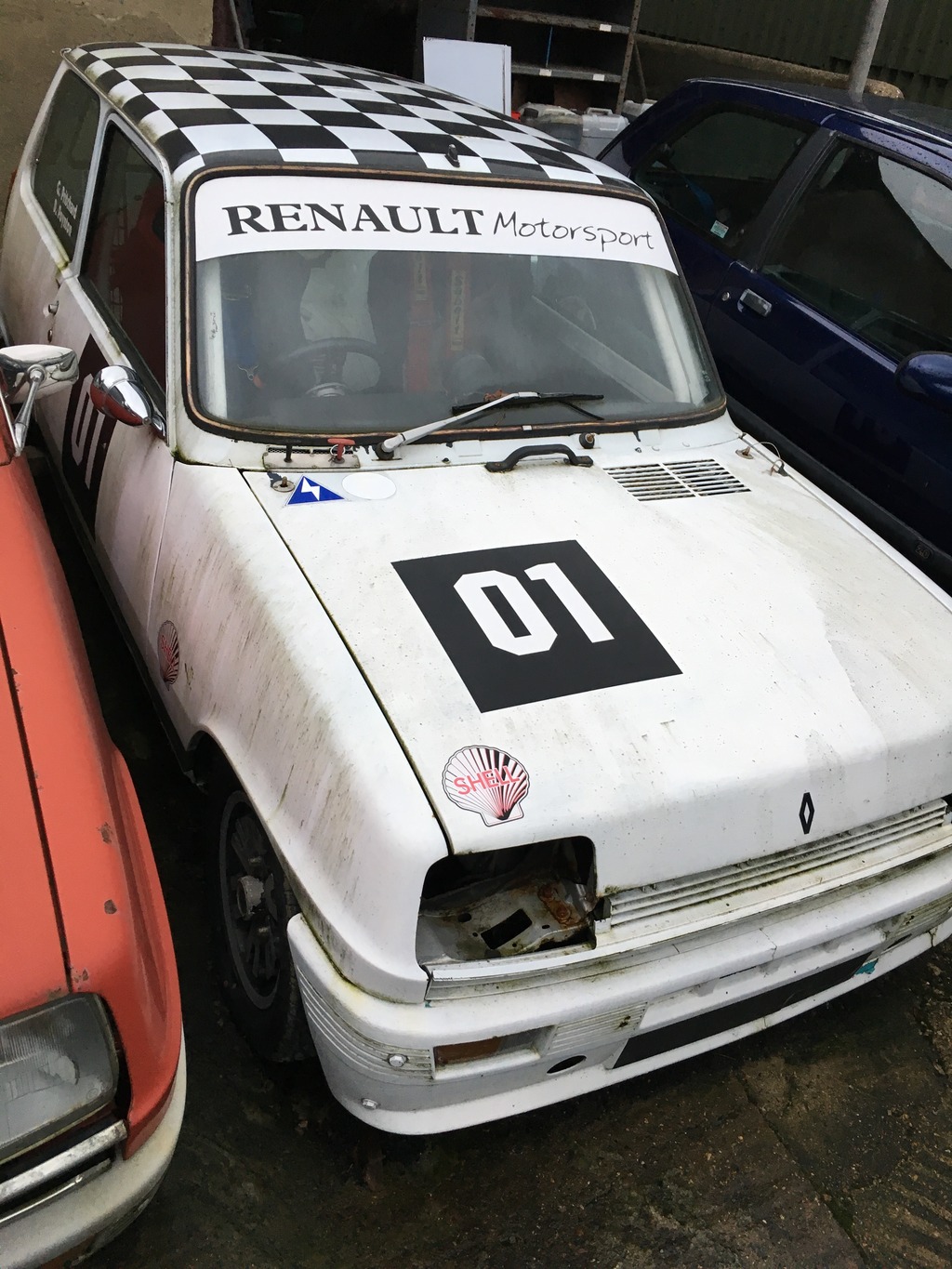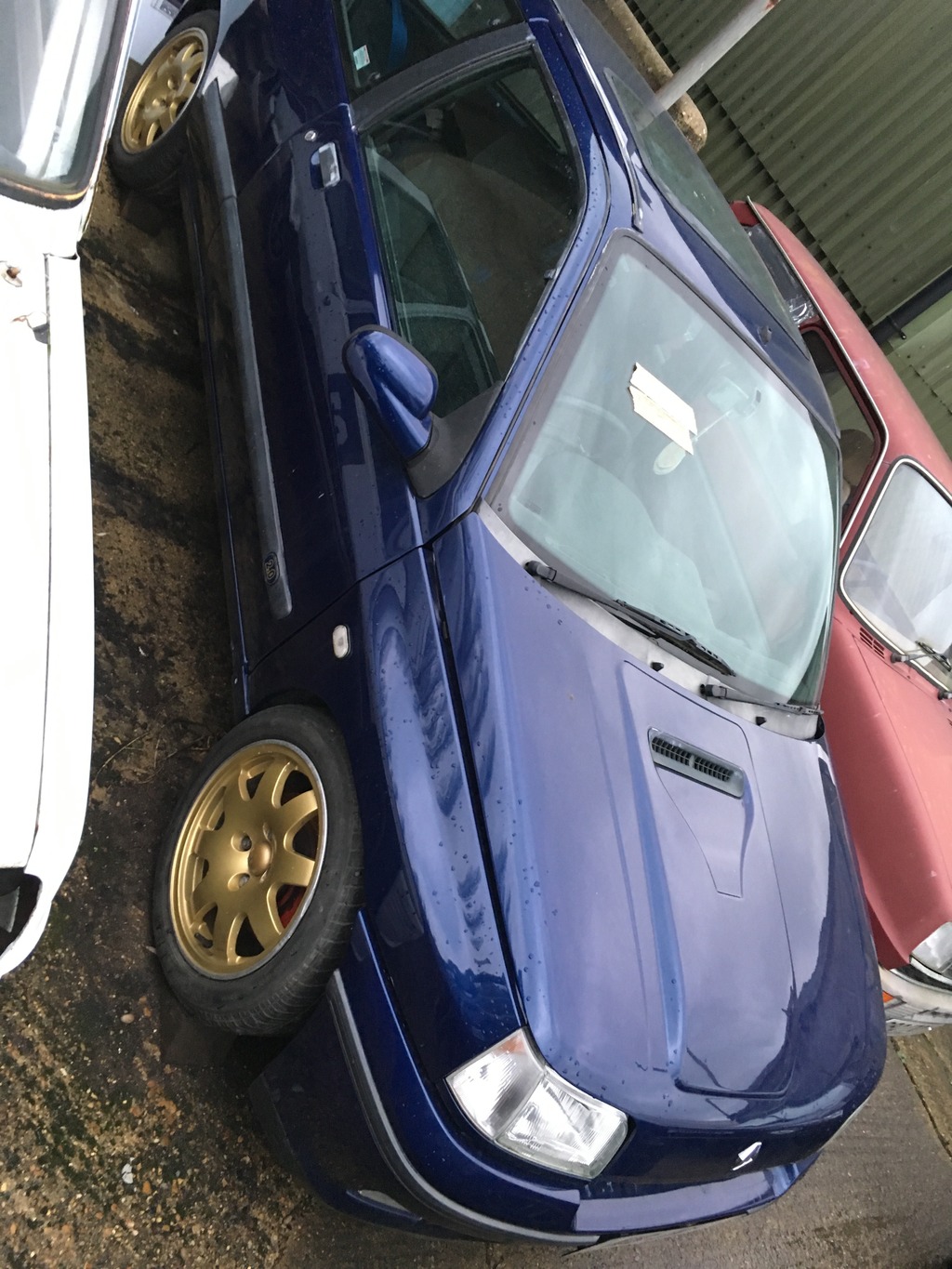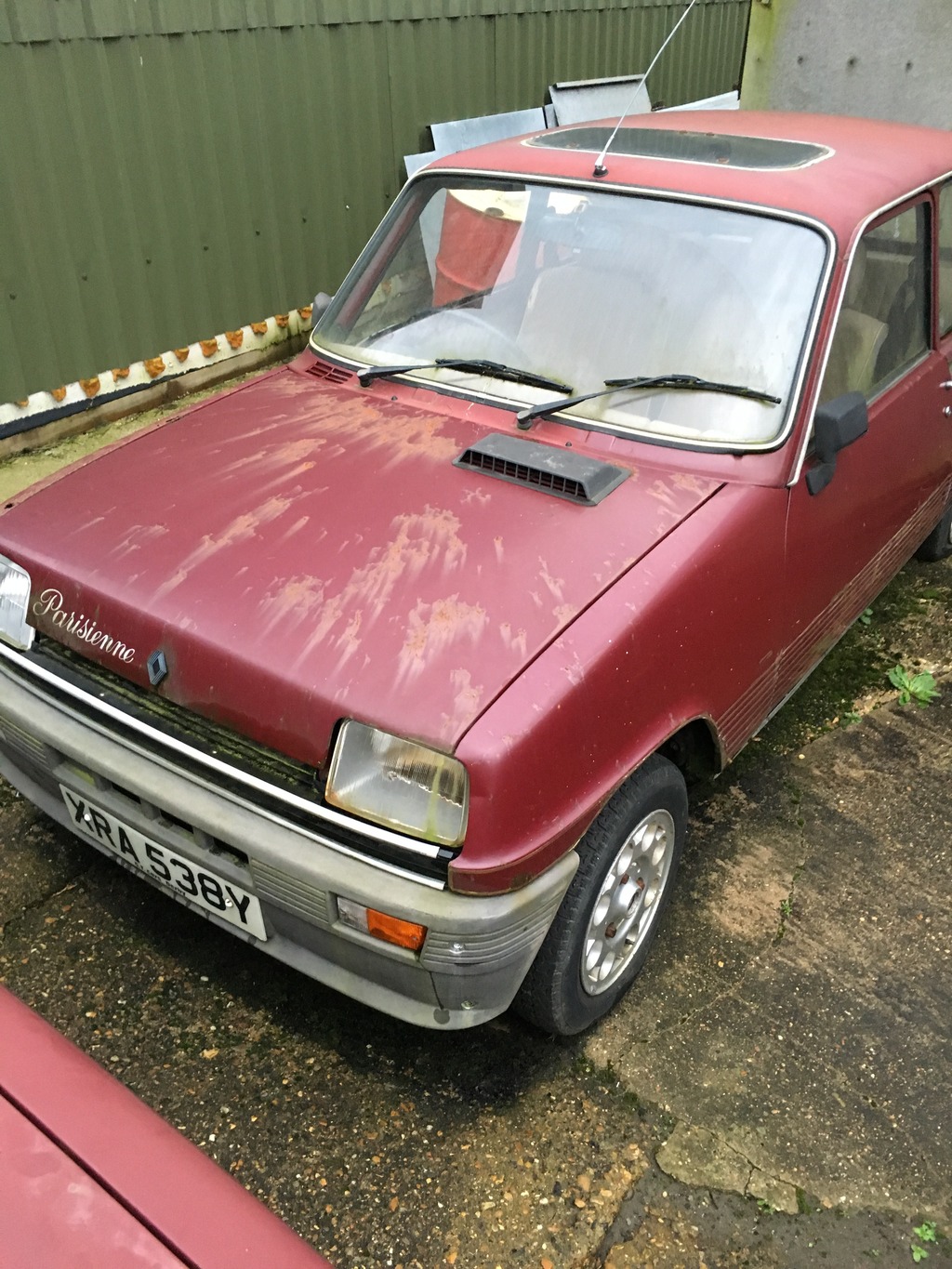 and I've managed to get some time to start welding in the repair panels heres what it looks like so far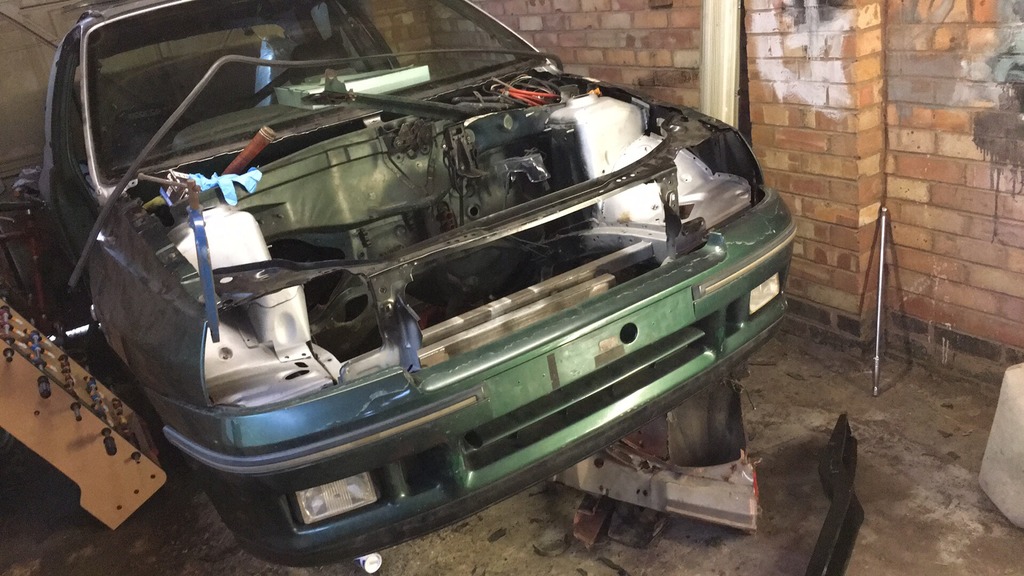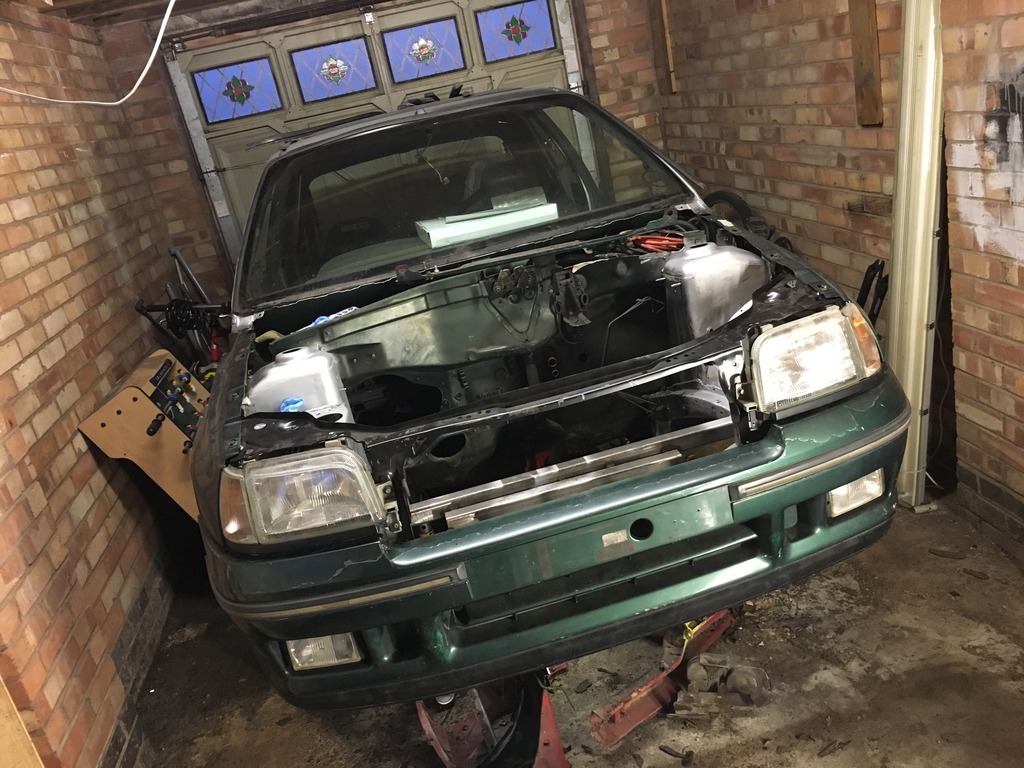 need to finish off fully welding in the panels and get my bonnet on to make sure it all lines up properly. Fingers Crossed!
a little update, removed the windscreen to attack to surface rust. Fingers cross that the shuttle area was solid, and it was!! very happy about that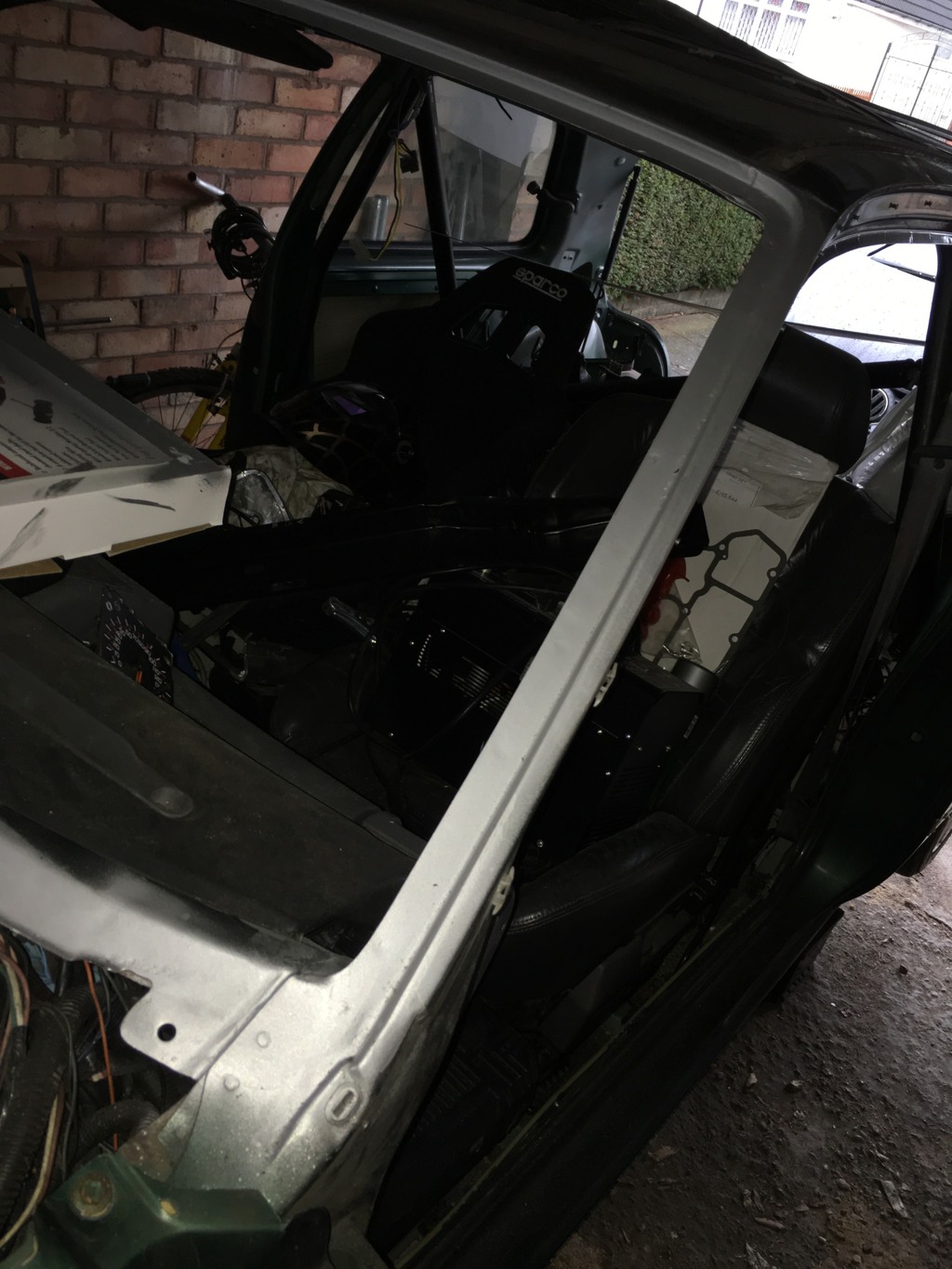 back onto the panel welding, long process. passenger side suspension turret area behind the inner wing had some rot so that came out and in went some fresh material.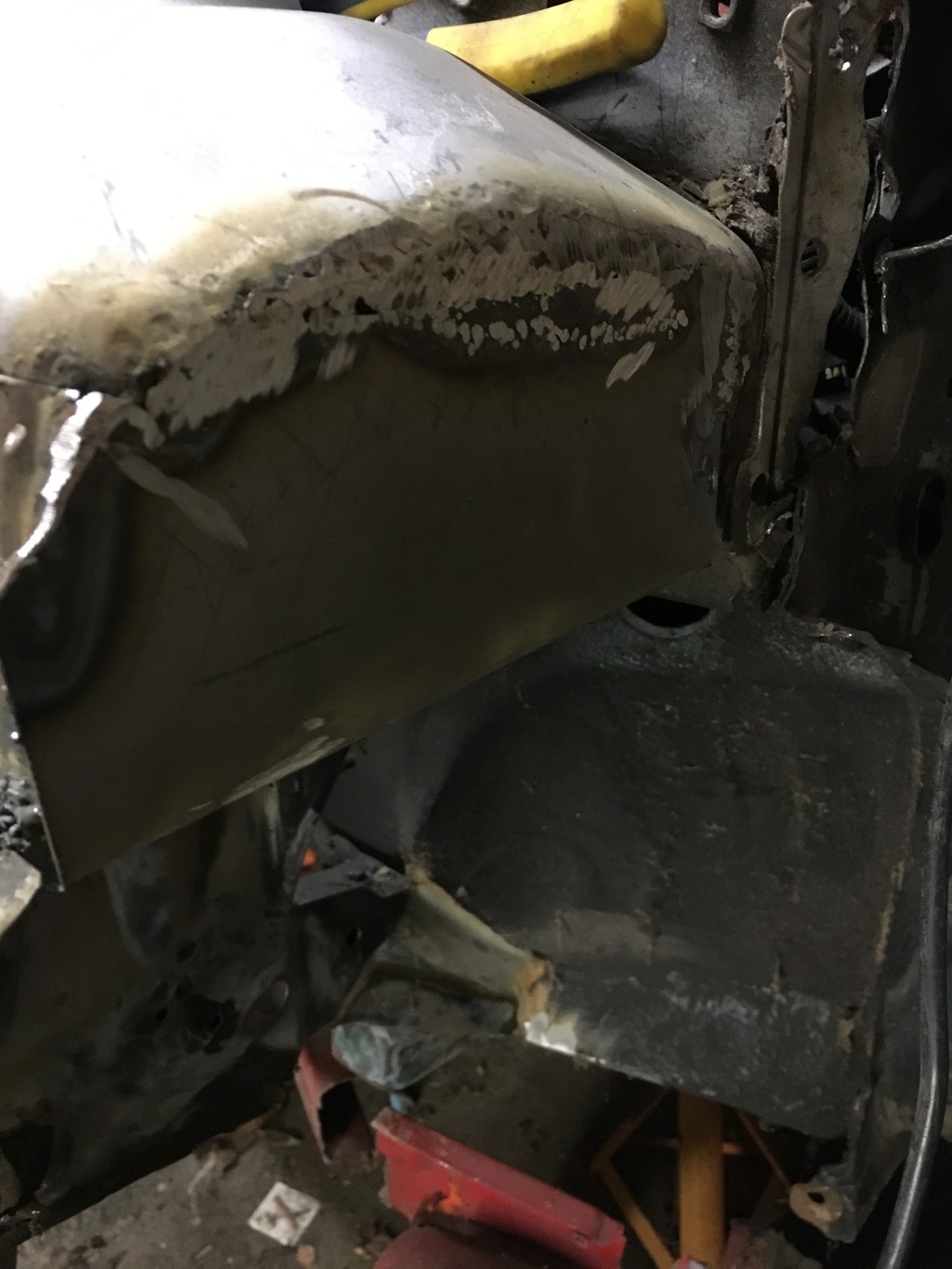 this morning i checked the body panels for how they will sit, with the subframe. The drivers side needs some tweaking to get the panel gaps better but the passenger side thats nearly fully welded is looking good so far. Need a new bumper as on of the fixing tabs to the subframe has broken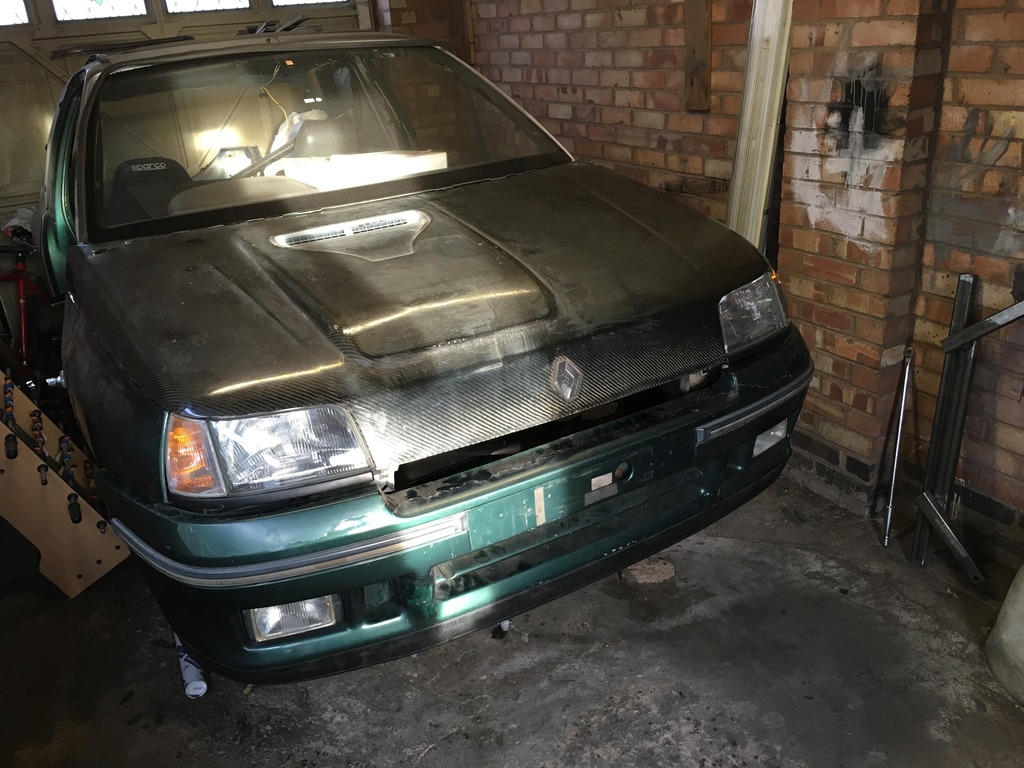 back at it tomorrow need some more gas and wire.