Hi, been on this site for a little while now, looking at everyones projects and generally learning about clios.
Ive always been a fan of them as my dad owned a lovely monaco blue 172 and a couple of my friends have also owned clio sports. Ive always said to myself that i would have one, one day.
Ive had a few nice cars before my current one, one of them being a Ford Racing Puma which i had for four years and really enjoyed it...although it wasnt a particuarly quick car in a straight line, show it some twisty bits and it was in a world of its own. The looks and sound were quite special plus there a rare sight on the road...but keeping them in top nick is an expensive pasttime. I was mad on cleaning it, as much as driving it...but then im like that with most of my cars, probably because im a valeter by trade and keen on car detailing as a hobbie.
i eventually got the puma to concours standard and did a few shows with it, getting a lot of good feedback but there was something missing...and that was that i didnt dare drive the thing anymore like it was intended, so i decided to sell it and get a track car project as i had a works van that i could use for personal use as well as work. I did actually see the car for sale pistonheads a year later and went to possibly buy it back, but it had been abused and so i had to walk away.
some pics i remember it by...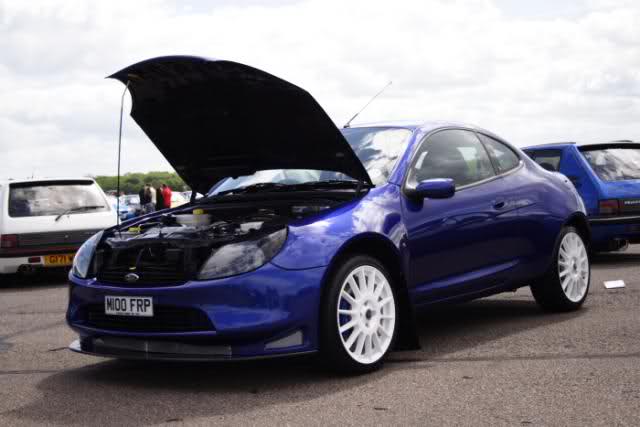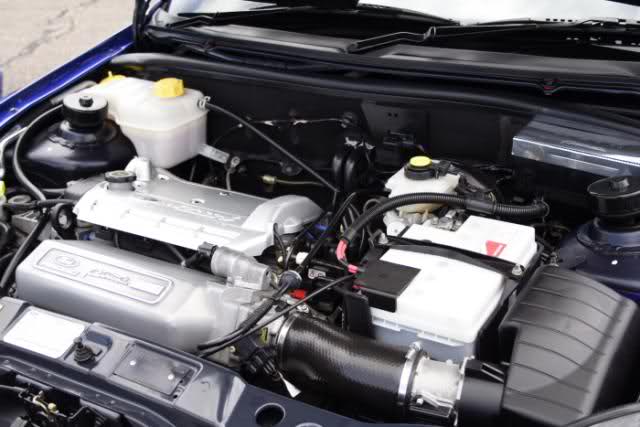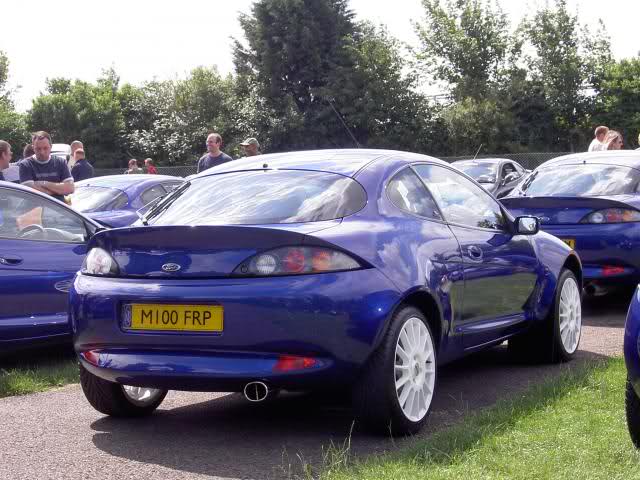 I went after a car i could have as a project for a track based car and i would be able to learn some mechanical skills from to, plus put all my own style into it, which i couldnt do with the puma as it was already done from factory.
So i bought a very clean and rust free 106 xsi in white, which i intended to strip, make lighter, fit a 16v gti engine and buckets etc. I had the car in my garage for two years in which i spent most nights messing about with it. I loved every minute of it and learnt so much, in the time it took me to make into what i wanted i did the following mods...
Strppied all unecessary sound deadening etc, fitted a 16v engine from a 106 gti with different manifold, bilsteins all round, flocked dash, buckets and harnesses, battery in boot, uprated engine mounts and powerflex bushes all round, uprated brakes etc and some compomotive wheels finished with toyo r888s...wicked.
I loved this car, did several trackdays in it including plenty of sessions at the french car show in the past couple of years, was really impressed with the car for what it was.
I had this car for just over five years in the end, but unfortunately had to sell it early this year to buy car for me and the mrs to commute in to work, and so bought a clio dci...yawn lol. Luckily though one of my best friends bought the car so i still have some involvement with it, and he loves it as much as i did...it is one seriously pampered 106.
some piccies of the old girl...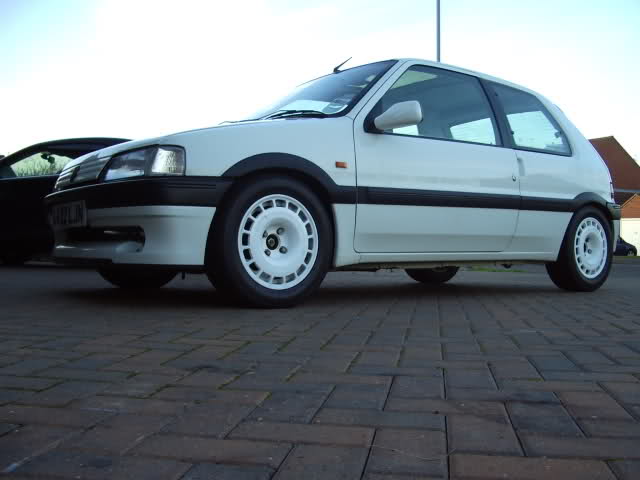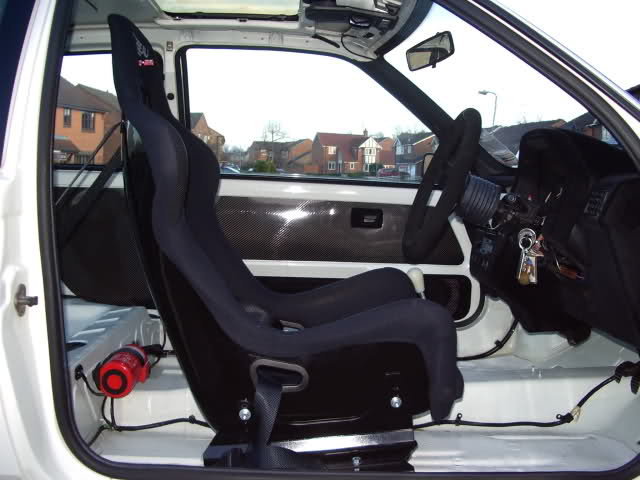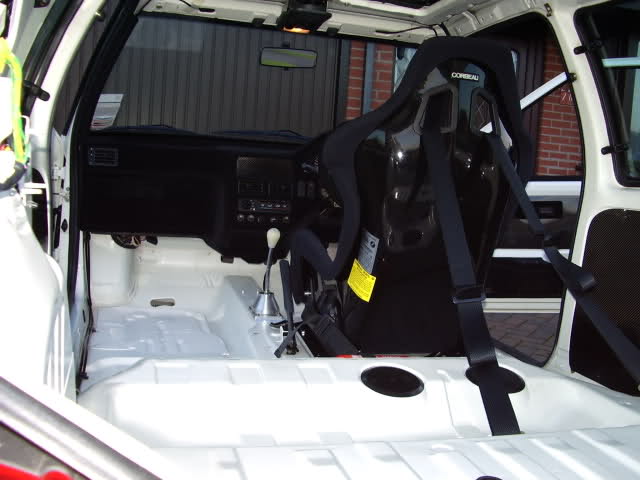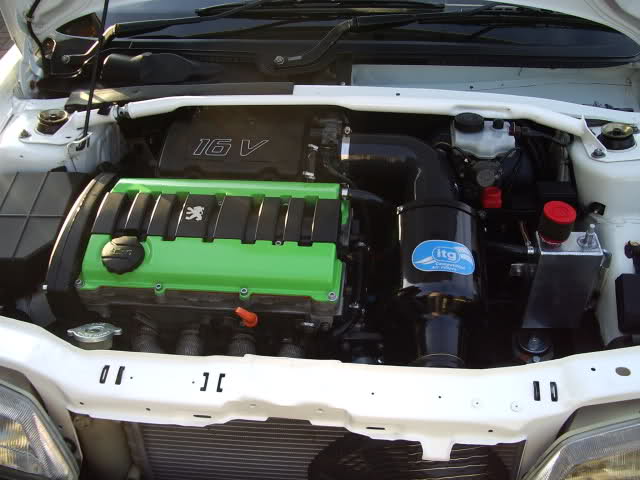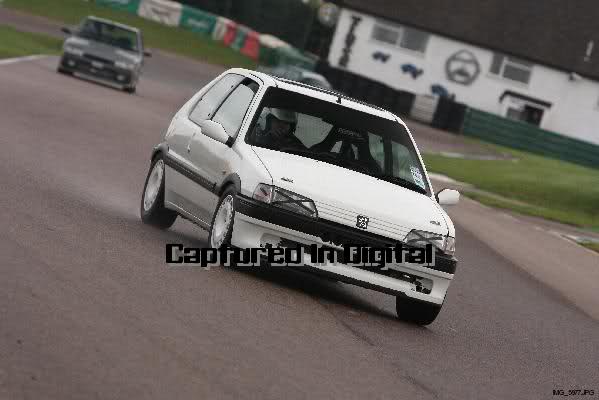 chasing down a clio cup, was a good few laps battle we had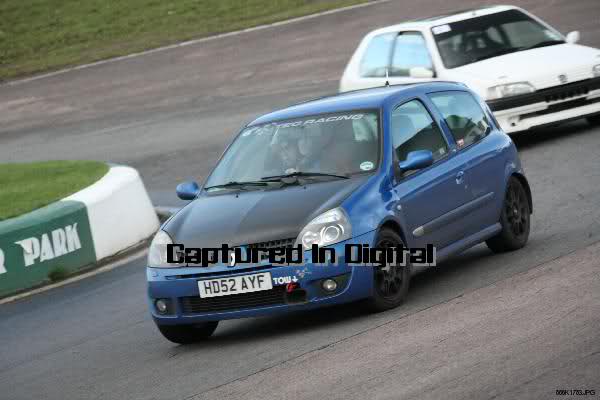 After selling the pug i just had to have something else as a toy and future project...hmm what shall i look at that wont break the bank and is a bit of me...ek9 type r, s3, teggy type r...well there was only one car really... a 172 cup!!!
Went to look at several before settleing on a little gem. 2 owners, low mileage and clean..had to have it. The chap who i bought it off also had a 182 cup car and 197 cup, oh and 2 integrales hehe. i think he had the car as toy take to france on a roadtrip with his mates, he only owned it for a few months.
I really like it and it gets the mrs's approval...alot. Ive spent a fair bit on it already, but luckily one of my mates is a technican at a local renault dealership and so i luckily get genuine parts at trade prices..plus hes handy to do some work on it.
So far ive...
replaced front and rear discs and pads, exhaust mount,coolant, gearbox oil and engine oil plus all filters etc etc, fitted magnecor leads, and changed the brake fluid as well as fitting braided hoses. Ive also had the front calipers powder coated black.
Im very lucky as well in the fact that i work literally 5 mins walk from home now and so the cup has just been garaged most of its life so far. i enjoy having it like that, so when i does come out its a bit of a chore and is so nice to drive compared to the workhorse dci that mrs uses for work.
I must admit i have probably spent more time cleaning the car then driving it so far, but thats what i enjoy and its just nice having it and occasionally driving it.
I have got plans for it, im not going to go as mad with it as i did the pug..but i would like to change it a bit and put my mark own mark on it, with the intention of doing the odd trackday.
I was thinking...
removing rear seats and replacing with rear brace and ktec tailored boot carpet
bucket seats...something like cobra imola s with harnesses
uprating the engine mounts and fitting powerflex bushed all round as they made a massive difference on the pug along with the engine mounts
maybe uprating the shockers and springs
sabelt steering wheel
refubish the wheel, cant decide on silver or anthracite
...and so on
would kind of like to go along the lines of the meg r26r
Until christmas is over i will just be pampering it with more spit and polish lol, but im hoping next year i will start going through my list of ideas...but to be honest these cars are very good out the box so im just pleased to have it really
I havent many pics at the min, will get some decent taken soon,but heres a few ive got of it so far...