Well after selling the Megane and picking up a Transporter for daily duties/family holidays I wanted a car for just running up the shops, picking the kids up and a bit of fun without costing too much.
I saw a pearl black 172 advertised on here by
@stonejedi
last October for breaking, but imo it looked too good to pull apart. All origional and only 90k. Was not too far from me and went to have a look. Had been stood for some time, but under a good quality cover. No history of belts, noisey Dephaser, seized aux belt tensioner, partially stripped interior and flat battery. Battery change and fired up straight away. Checked it all over and was in really good condition. Pearl black is one of my favourite colours. I returned the following day and collected it.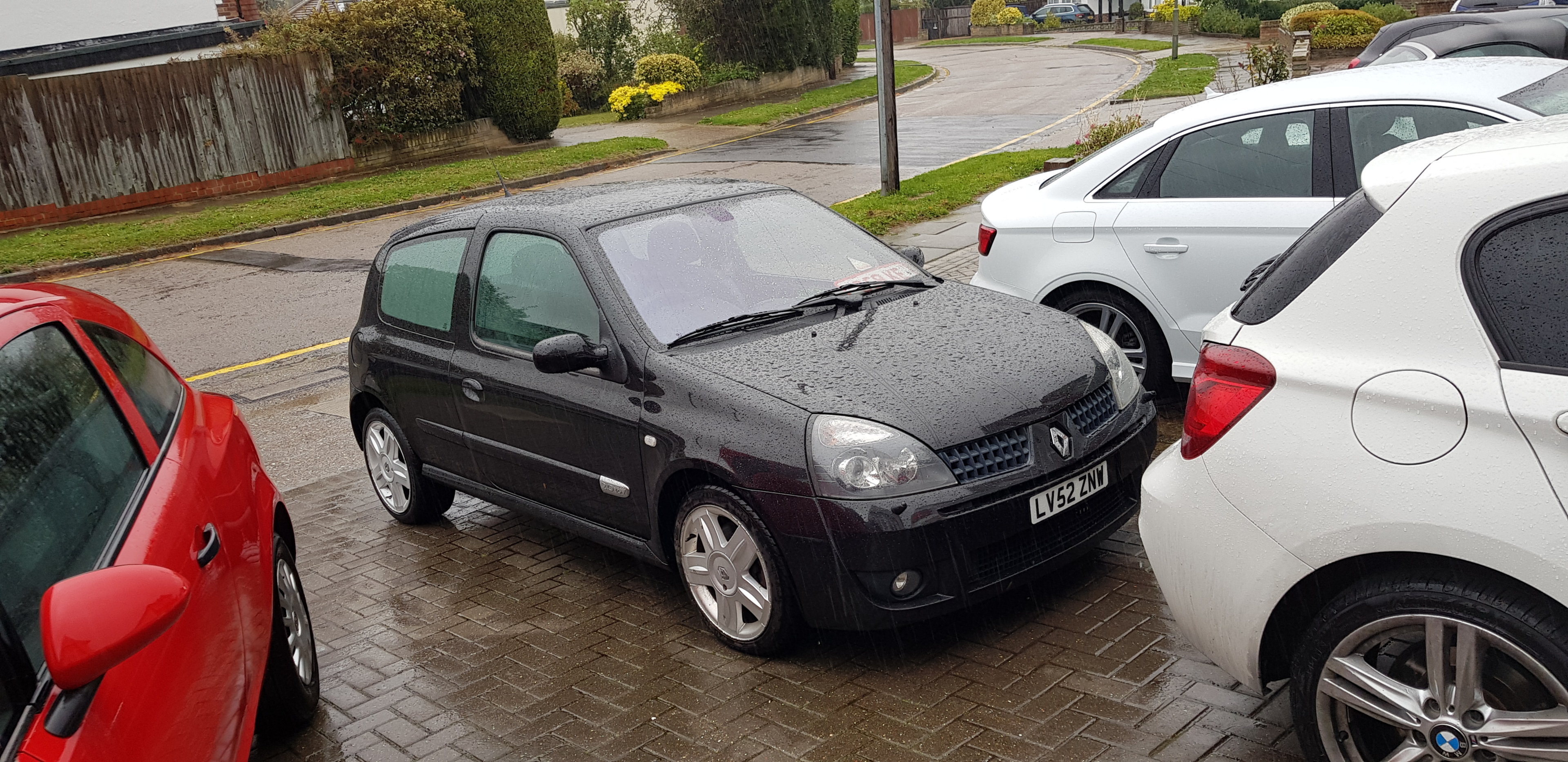 It then stood on my drive for a couple of month's. Refitted interior, sealed rear boot plugs as water was leaking into the boot, new front and rear Cup shocks fitted with Cooksports I had. Standard steering wheel with carbon thumb grips, carbon dash inserts, upgraded speakers all round with Kenwood Bluetooth stereo. I have slowly worked through a list of little jobs. The rear wiper had already been removed so I purchased and fitted a recently painted blanking plate from
@Dr Jekyll
.
I purchased brand new genuine Dephaser pulley, Cambelt kit, water pump and aux belt kit. New alternator. Couple of weeks ago it went to my Renault man to have all items fitted and timed up correctly. Oil, filter and coolant change all with the recommended Renault stuff.
Then I took for mot without the worry of any of the belts going during the test. Passed with no advisories, which was a right result. I was now able to drive the car properly for the first time. Tracking was way out and I could hear one of the wheel bearings sounded a bit noisey. Got the tracking done, which made it drive much better.
Fitted some speedline 2118's with AD08r tyres I had saved for my own Clio. I got some TPI bolts that were for sale on here because I really like the look of them!
The wheel bearing noise was really annoying and was hard to tell which one. I removed both front hubs yesterday. The drivers side one was definately gone. The passenger side has a small amount of movement. I have ordered a pair of FAG bearings, which will be fitted this week. I will then reassemble with some new track rod ends and get the tracking done again. Should then be good to use a bit more!
I purchased a black Ktr induction kit with black hose, which I am waiting to arrive. I also have 3ltr of Elf gearbox oil to change when I got the hubs.
Then I will be giving the car it's first detail for some time, which I am really looking forward too. Light restoration on the headlights, new side indicators. I have some rather nice seats to fit in too!
Now I have started the thread finally I will get some better pictures once all cleaned and in use. Not got plans for much in the way of modifications. Will prob get a few bits powder coated and cleaned up.
Most recent pic I have...