The day I brought her home. After nearly a year of not having a car I was ecstatic!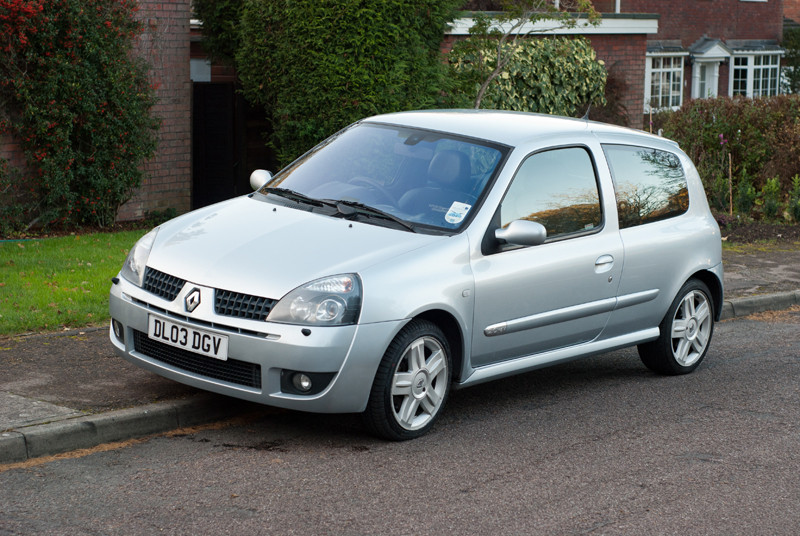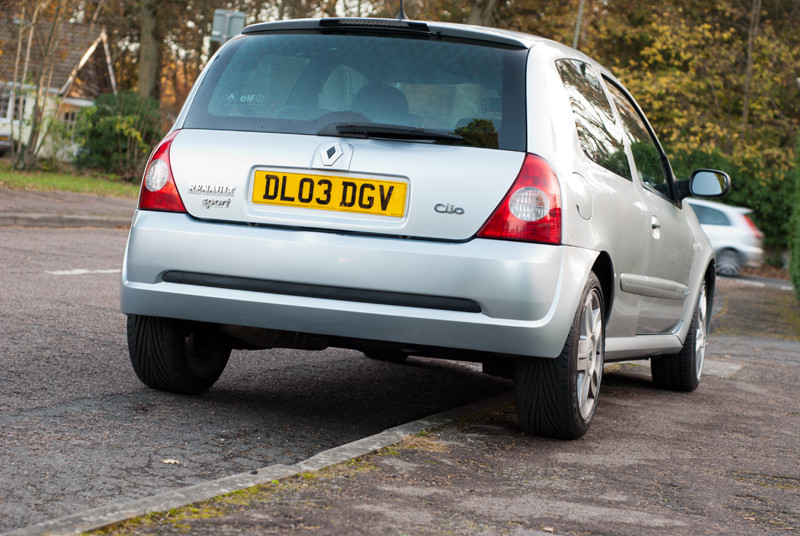 Bough from eBay (after checking it out) for the bargain price of £1200 she came totally standard with a rusty exhaust, no MOT or service history!
It ran incredibly well, and I wasn't put off by no service history because I had most eventualities covered. Interior is perfect bar a couple of slightly rough thumb grips. Outside slightly worse for ware with stone chips and marks, but for a 10 year old car I wasn't too fussed.
I had the required work done for the MOT, new rear discs and front tyres. I also found a cheap backbox from eBay for £60 because I was broke at this point.
What with the service history being unknown, I also had 'the works' done down at RenTech Portsmouth, a full cam-belt kit, aux belt kit, dephaser, water pump, oil and filter along with fresh coolant.
Next was some servicing of my own... Checked everything out and also sprayed the top grill, fog surround and badges in satin black. Also chucked on a Skoda splitter.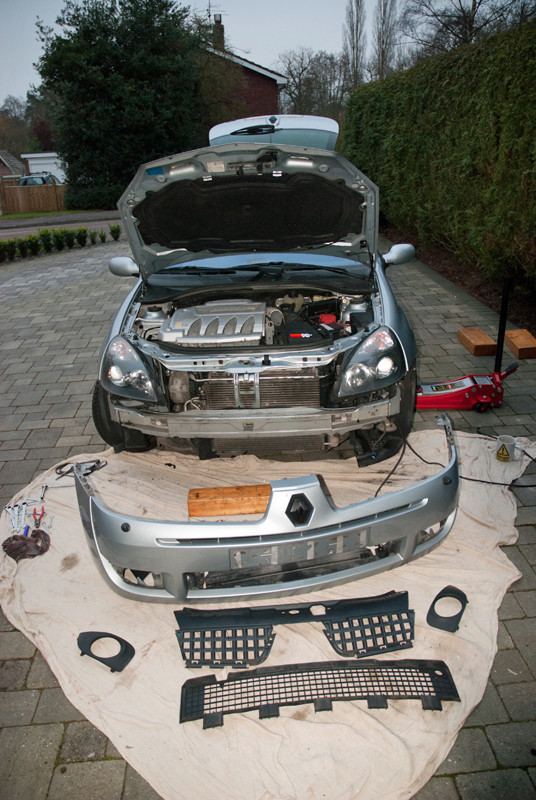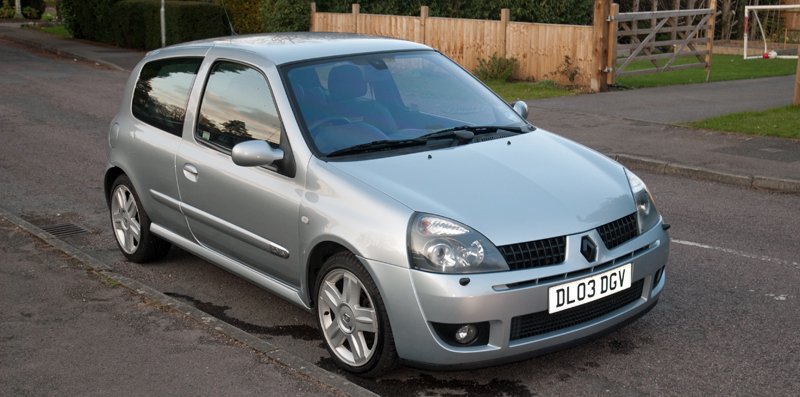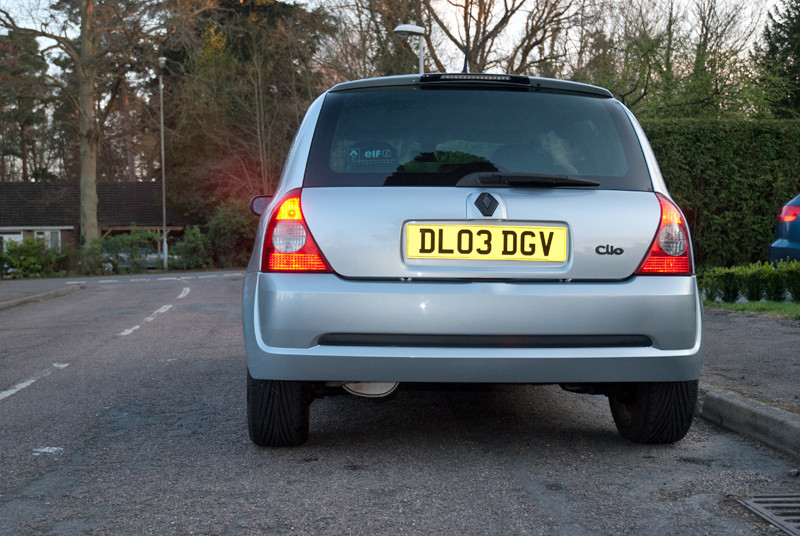 Still being broke and not having money to do 'real mods' I got some illegal plates...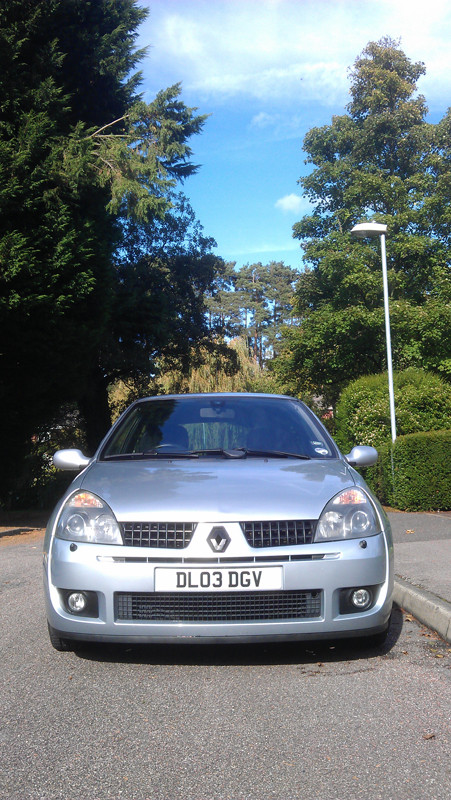 And an RS200 badge to get rid of my badly sprayed rear Clio badge.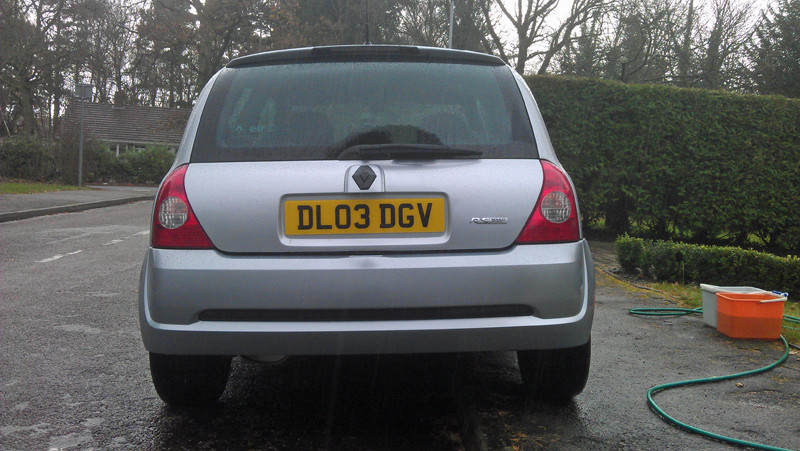 So Christmas came and I had a big month at work, so the car was treated to some goodies...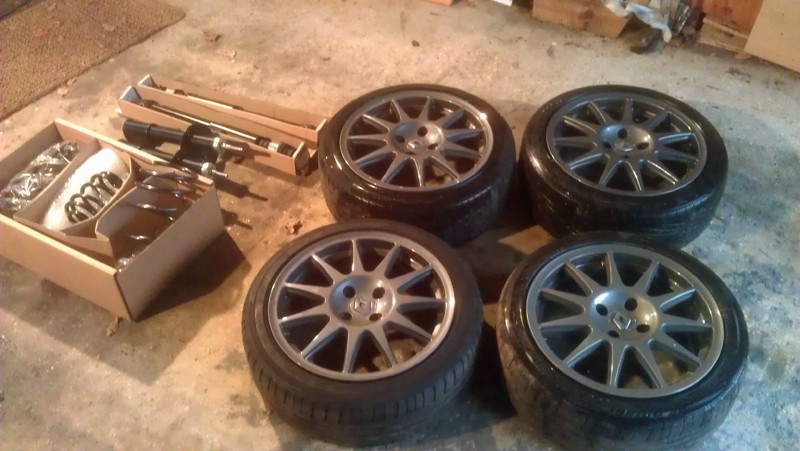 Cooksport springs, OEM dampers, and genuine Trophy wheels with centercaps and tyres.
They were fitted soon after.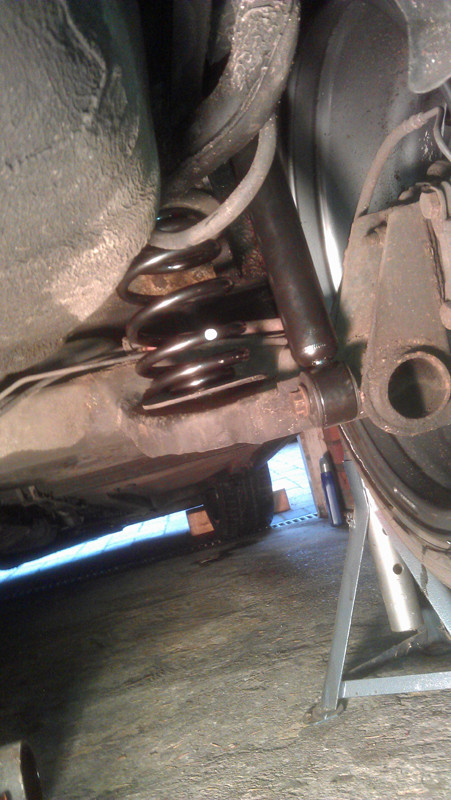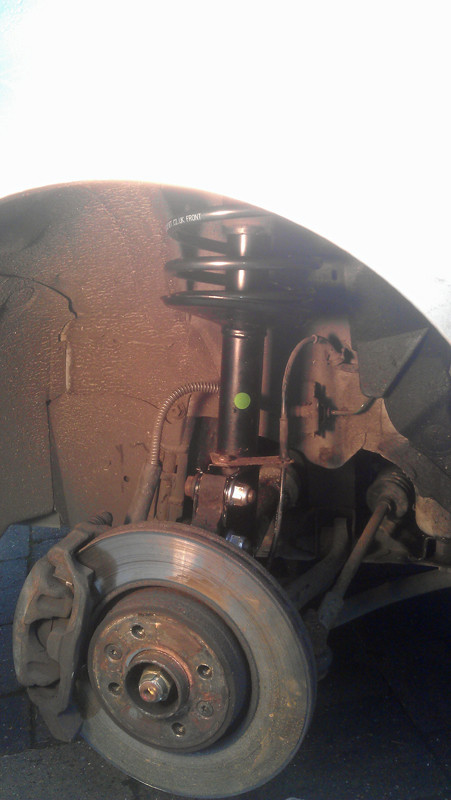 And they look the business. This is before they settled so they are a tad lower now but they sit bang on. Love the look and love the feel on the road.
Smart levels of lows allowed me to perform my civil duties, as a snow plow...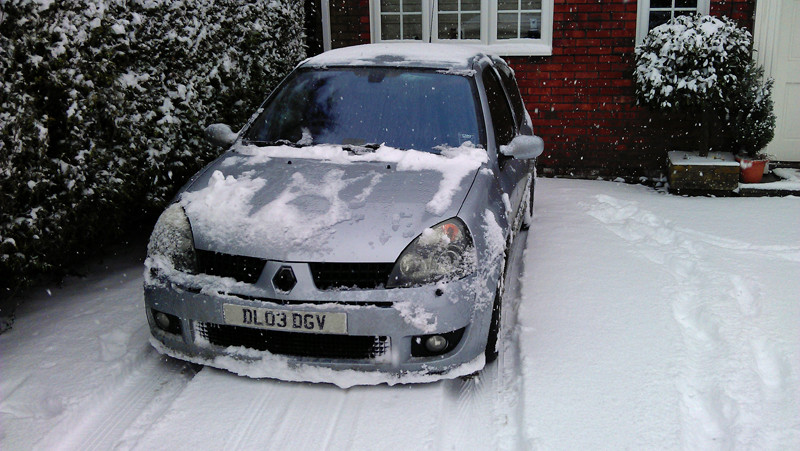 Then DISASTER!
It threw a plug about 4 weeks ago. The damage to the offending articles speaks for itself, only the inlet stopped the plug going through the bonnet.
It ate an HT Lead...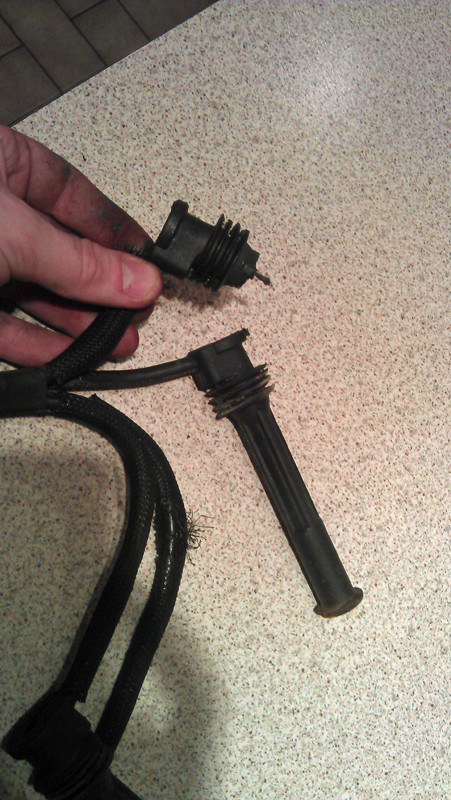 ... and jackhammered the plug. This is compare to an old plug I had hanging around.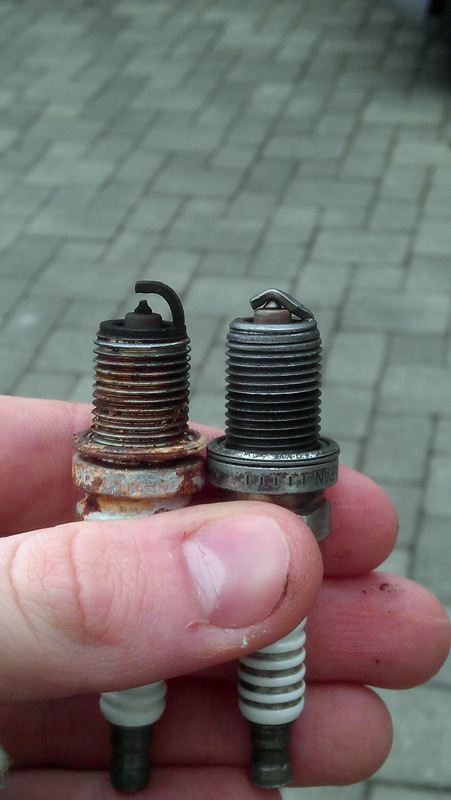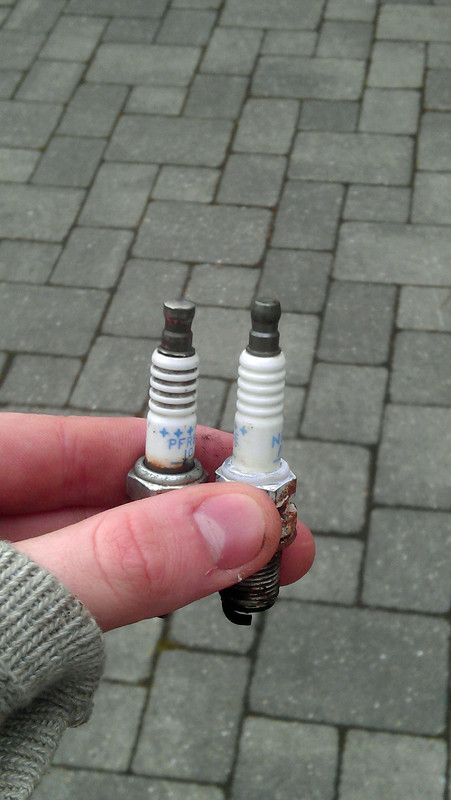 Compression test = OK
Endoscope = OK
New HT leads, New coil pack, new spark plug, and Voila! Right as rain.

A few weeks prior to the above incident, I decided it were high time to do something about the eBay back box and rotting centre pipe which at this point sounded like I was dragging a bag of nails behind me. A gorgeous Piper Exhaust with 3.5" tailpipe was on my doorstep 4 days later. I was sat with this in the garage for a month before finally getting to fit it.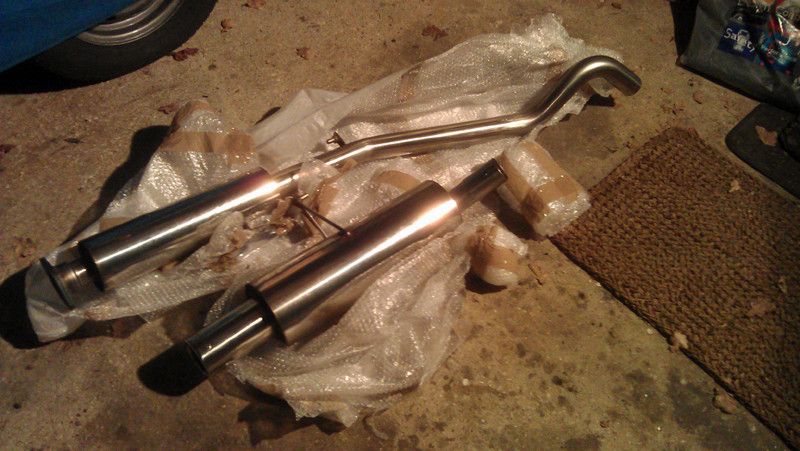 Get her in the air!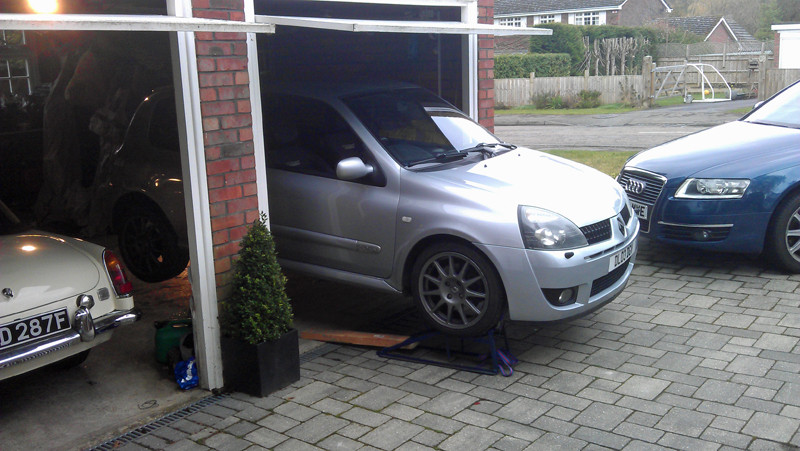 Before.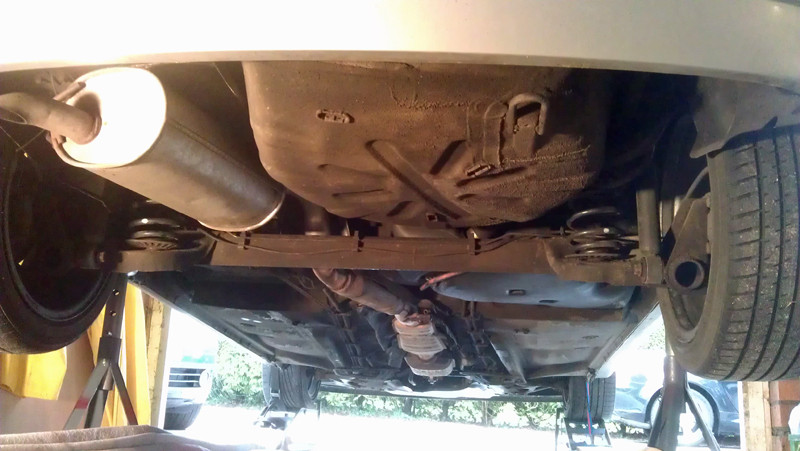 Old Vs. New
Fitting the new pipe was an absolute doddle. New mid and rear hangers, a gasket and some high temp silicone and she was done. For anyone thinking about going for a recessed exhaust, definitely take off the rear bumper and get the zaust sitting BANG ON before you think about making a mark for a cut. I have no doubt it will save you much heartache when your bumper doesn't fit on the gap where you pipe exits.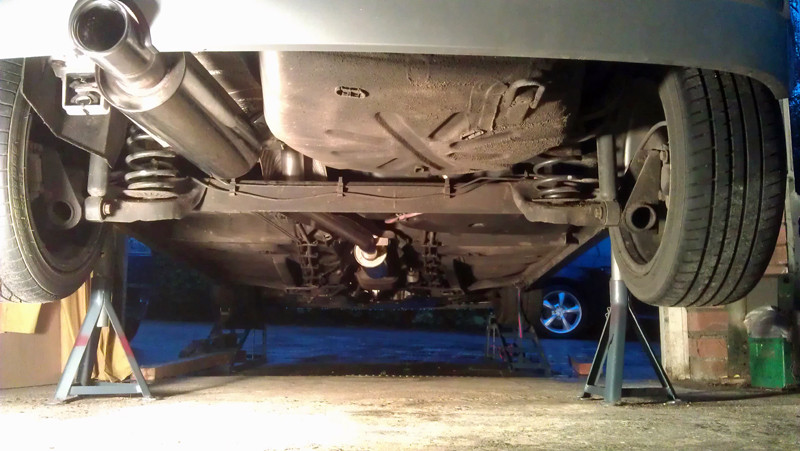 Then I grabbed a cup spoiler just for the final touch.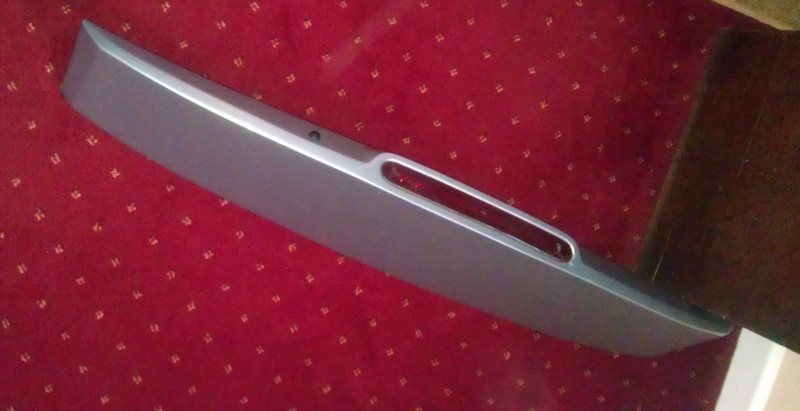 This is the car as of this morning.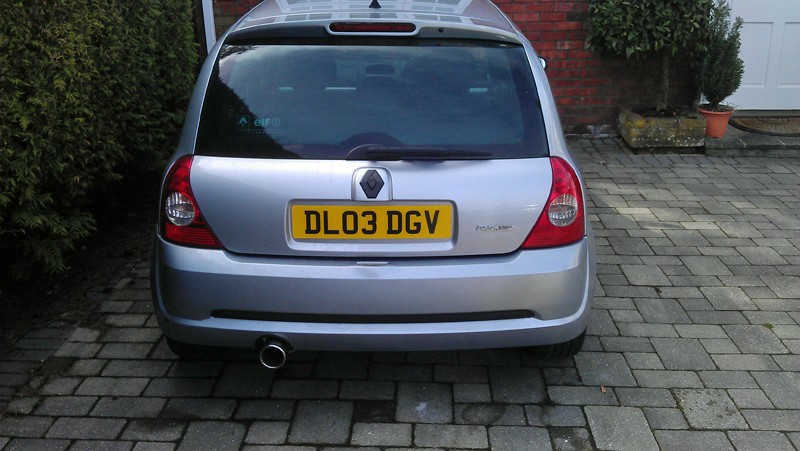 On Wednesday, I'm off to see Dan @ 519 for a 12k service, some ARP rod bolts and sump reseal (she's been leaking for a little while, time to do something about it), also a thermostat change and coolant flush. Can't remember the last time I was able to hoof it properly, damn cold-map.
Another pressing issue which I will be all over next payday is the brakes. With no service history the only thing I new about them was that the rear discs were changed for the MOT when I bought it.
At present, the rear o/s caliper is totally seized. So that will need replacing, along with new rear pads all round. I figure at the same time I will get a hold of some Goodridge braided hosing, DS2500 front pads, Brembo front disc and a total flush of the brake fluid.
​At that point I believe the car will totally solid, mechanically, bar a few minor bits.
Which leaves this must-do list...
New windscreen - cracked by a falling log in the car park at work, gutted!
New washer pump - totally SNAFU, no front or rear screen wash and no headlight wash, which leads me too...
Headlight washer delete - they look crap and they don't do anything. New MOT says that's a fail so better all round if they werent there. This leaves a dilemma, because I hate the carbon ones, and silver blanks are few and far between. Current plan is get some old cup ones and give them the satin black treatment.
Headlight auto-adjuster - either to be fixed or removed. Headlights constantly search for level making a god damn racket. I've not been able to find out the best solution for this, so any insight is welcome. Will need to be fixed for the MOT in November.
And this 'to-do' list...
New tyres all round
Engine mounts - likely uprated - definitely powerflex dog bone.
Fit Yanoo's Stiff shift kit
Poly Bushes on the front end
Pure Motorsports top mount and strut brace
Whiteline RARB
Steering wheel re-trim
New Clutch
Induction change - Maybe an RS2, maybe just matched inlets, definitely a new filter set up.
Remap to go with the above - 98ron with increased redline (hence ARP rod-bolts)
In no particular order.
The Yanoo Stiff Shift Kit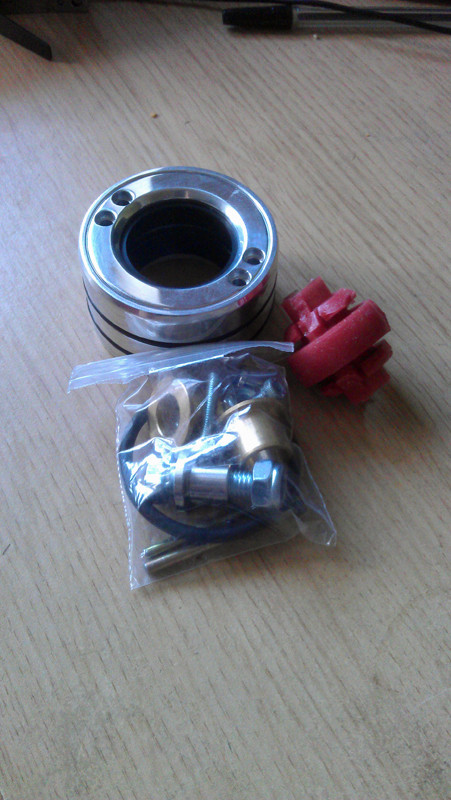 Can't wait to get it fitted, but pussied out doing it yesterday because my engine mounts are desperate for replacement and I don't need a shagged gearbox as well.
I'm going to try and get a video of the exhaust because there are very few videos around showing them in action and I think they'd be far more popular if more people had heard them.
That's all for an up to date history, I will add bits and pieces here as they happen, largely for my own amusement.