Hello everybody.
My name is Dan and I have a Clio Williams, which I've owned for about six years. I've had quite a few Renaults since learning to drive in the 90's:
Renault Clio RT 3 door (was less than 30k miles)
Renault Clio 1.8 16v Mk1 Ph1 in Tungsten (about 30k miles as well)
Renault 5 GTT Raider with about 50/60k miles - Sold for more than I bought it for, want another!
Renault 5 GTT in black - Bit of a dog this one and it blew up in the end.
...
Fast forward many years of working in London and going back to being a student:
Circa 2006
Renault Clio 1.8 16v Mk1 Ph1 in Tungsten. Virtually rebuilt the car and started to learn a lot about car maintenance at the deep end when the headgasket blew and I fixed it myself. Was a great car
Renault Clio Williams Ph1 no. 217. Had this and the car above for a while. I always loved the Williams and the amazing reviews it got in magazines when compared to supercars of the same generation, much like the Trophy, but even more so I guess
Williams 217 is in excellent health and is still with me, as a road and track car: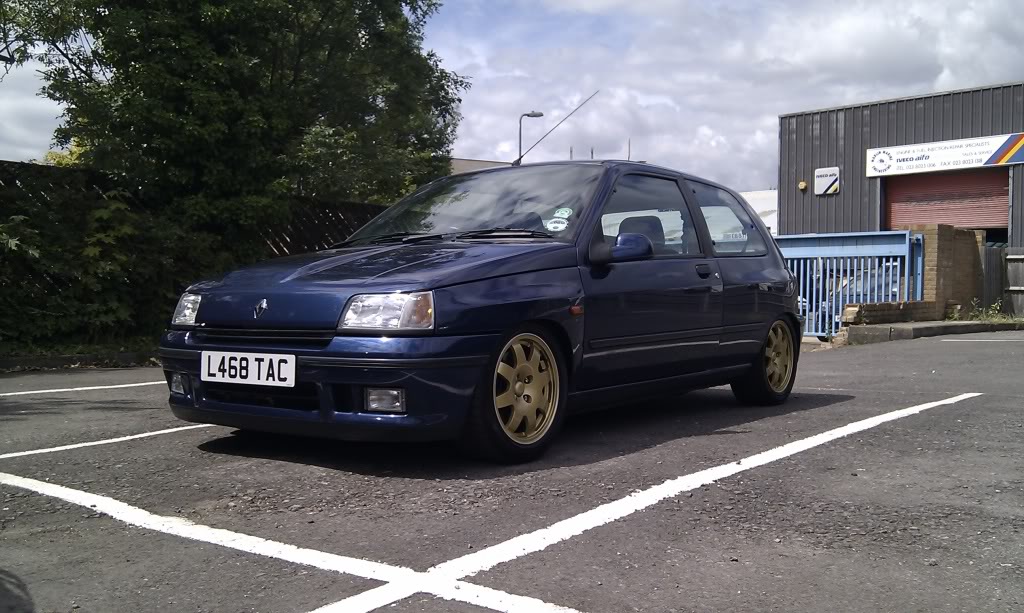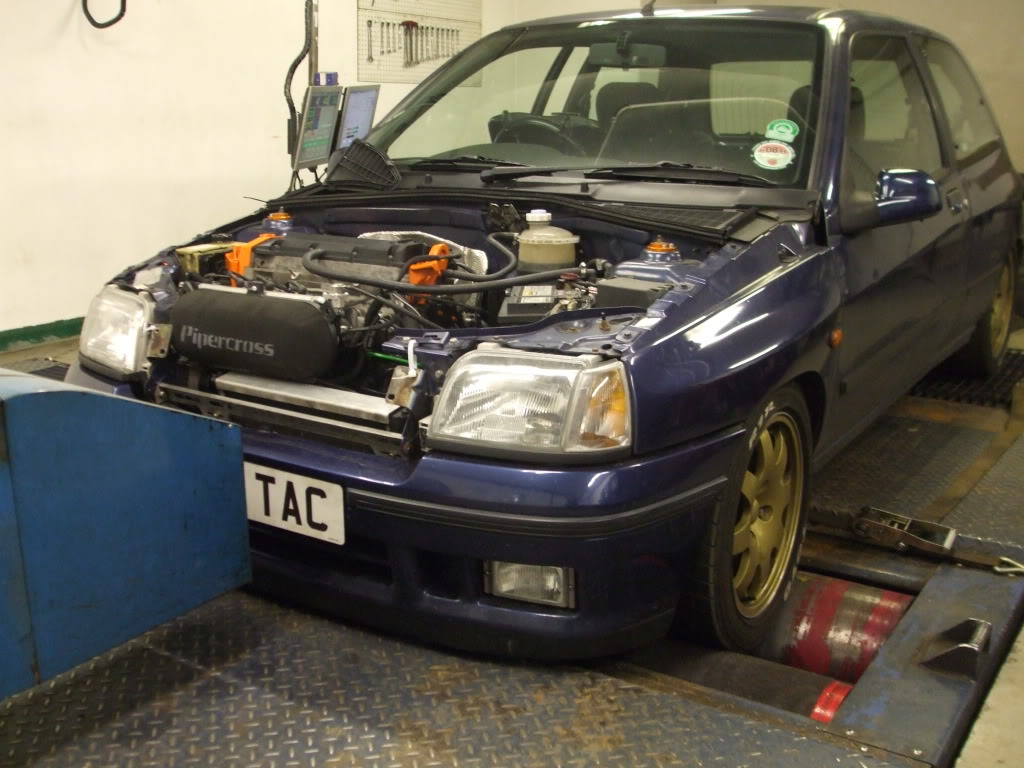 A lot of you know the Williams already as it has been around for some time now, and I've been to Hell and back with it with troubleshooting issues and crazy stuff some of you guys can no doubt empathise with!
It gets comments everywhere I go.
The 182 has a tough act to follow, but I didn't buy it to replace the Williams, but to have fun in on a more 'normal' level.
After crashing my Le Mans Blue E39 M5 in horrendous conditions, thanks to a failed DSC system and lack of skill when things start to go pear-shaped, I needed another car which was better MPG than both the Willy and M5 (both are pretty bad, Williams is okay in summer though). As I know my way around Clio's and have resources such as this website to draw upon, I started my search. As it happened my old pal 'Summeh' of WilliamsClio.co.uk fame was selling his. He drove from Kent in the middle of the night in his new toy to come and get me to see the car, after a night of debauchery out on the town in Maidstone lols
Never too old!
Here is his new toy on the M25, on our way rather *cough* hastily to Kent from Southampton:
Can you see what it is yet?
Anyway, next day I awoke with only a mild hangover, which was a surprise as we stayed out till 5am showing the kids how to drink like real men. I went to inspect the 182: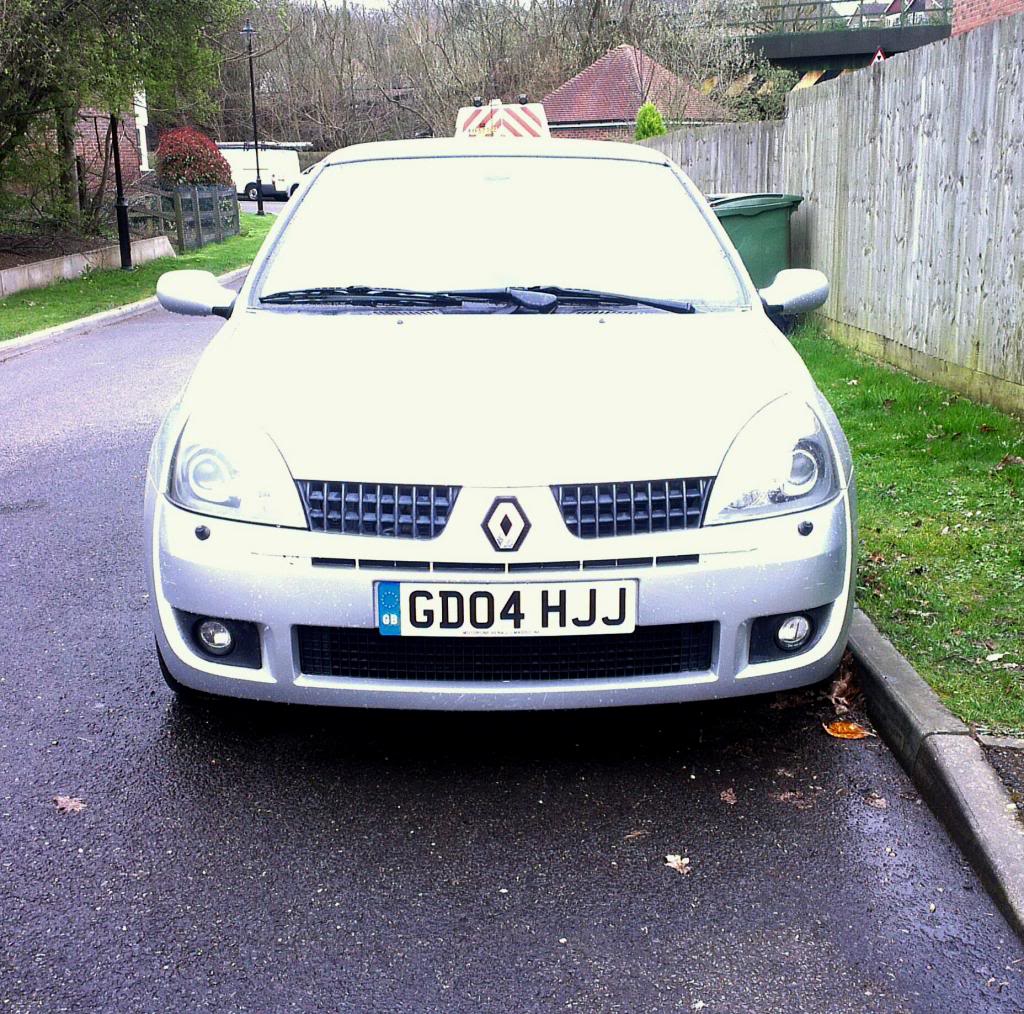 Went for a quick spin: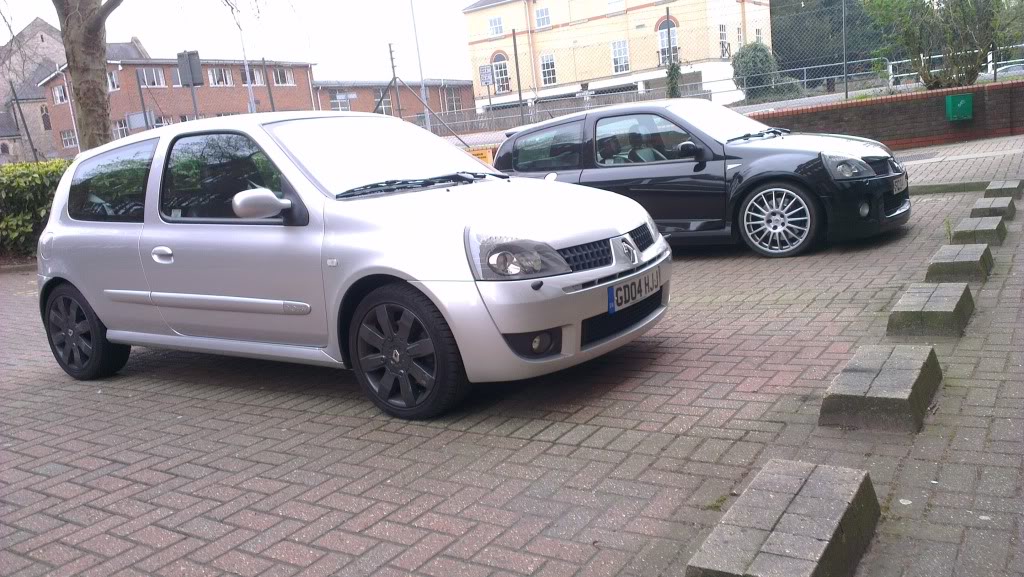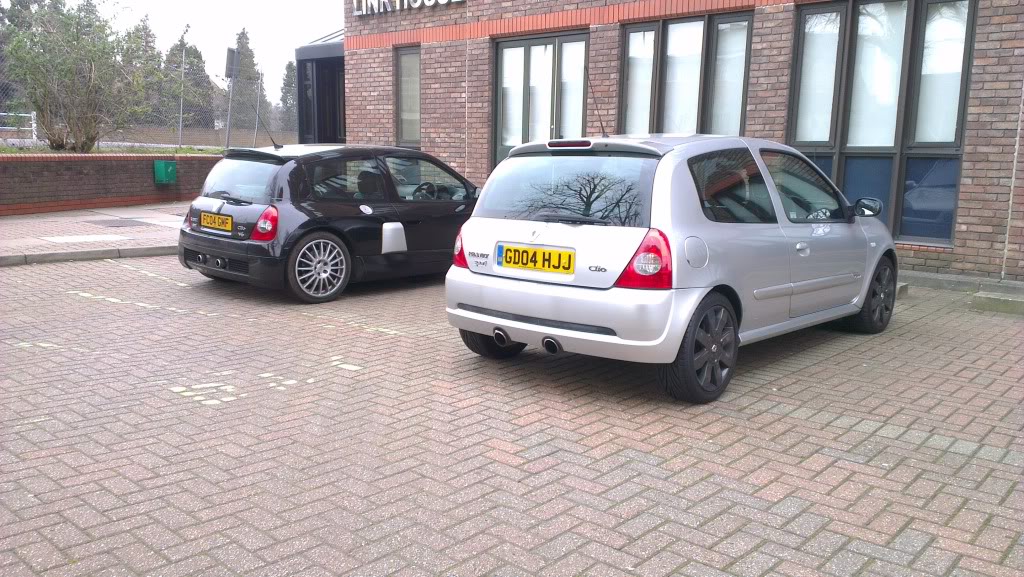 The car felt really good, but it was clear the dephaser needed doing. One thing that was weird was the driving position, after the Williams and the BMW, it felt so high! There was also an obviously low idle, which felt like it was about to stall at every junction, but never did.
Being unmodified apart from cat-back exhaust, it retains that low down torque, which is great for being nippy, but it feels restricted at higher RPM. I know the engine can give a lot more if tuned. It's also very quiet....far too civilised for me. I was at this stage used to a virtually unsilenced 5L V8 and an ITB'd mental nutter Clio with little sound deadening.
That will change.
So, what else needed doing? Well the front bumper needs TLC. No cracks, but chips and scuffs all over. The nearside wing paint was going bad and there are a few parking dings, and one on the bonnet! These need to be removed.
I took the car off Summeh and drove home, managing an awesome 41.5 MPG! At the time I was commuting 81 miles a day to work and back so this was a HUGE improvement over the 20/25 MPG of the M5, driving very conservatively.
I drove the car for about a week to work and back, and then the issues started to show themselves as I knew they would, being a Renault!
Firstly the emissions light came on. Not flashing, just on. No power loss etc. I started ordering in the usual stuff, starting at the cheap end, spark plugs first, coilpack second. Swapped them out, no joy. Checked the usual suspects, air filter, throttle body, unplugged sensors to see if it changed anything. Most ECU's set a default value if they cannot get information from a sensor, such as a MAP, air temperature or coolant sensor...crank sensor being an exception to this. Unplugging MAP sensors on the Mk1 wont allow the car to start, but it is fine on the Mk2 it seems.
Not long after, the EML began to flash and the car lost power dramatically, clearly a misfire. I unplugged an injector at a time. Injector 4 was FAIL. I later bought a OBDII thingy and the error code stored in the memory said injector 4 error as well, good to know these new fangled error reporting tools work!
At this stage I resigned from my job. Sadly, I did not get along with the Managing Director. To put it bluntly, she was a classic b**ch boss. Tried my best to get along, but there is only so much one can compromise oneself...
The good news is this meant MORE TIME TO WORK ON CARS! With the weather being fine at this 2014 spring, I parked up the 182 and started to take it to bits, the Williams once again coming to my rescue as my daily driver as it has so many times before. I ordered the following, having already replaced the MAP sensor, coilpack, spark plugs:
New dephaser pulley
New cambelt kit with all new pulleys
New crank sensor
New coolant sensor
New injector
New rear discs and pads
I also spotted a nearside front wing on Ebay in Titanium silver and a rear bumper, which I wanted to get to mess about with.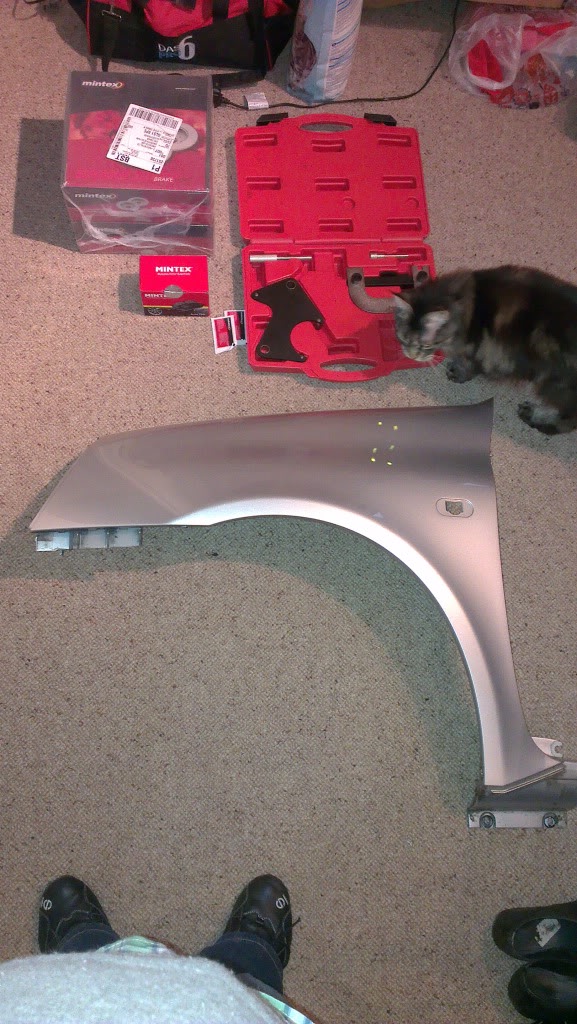 Kitty cat inspects my latest delivery. She always does this to make sure I've not been ripped off
I got the dephaser from Ebay and the belt kit. I totally forgot I had a spare F4R cylinder head with a brand new dephaser on it lol. Oh well!
The red box is a kit of tools for the cambelt change, which I found out only partly fitted properly. The pin and cam aligning tool were correct but the pulley locking wasn't going to work. Fortunately, I've done many cambelts before and knew what to expect and how to improvise with the pulleys.
Work begins: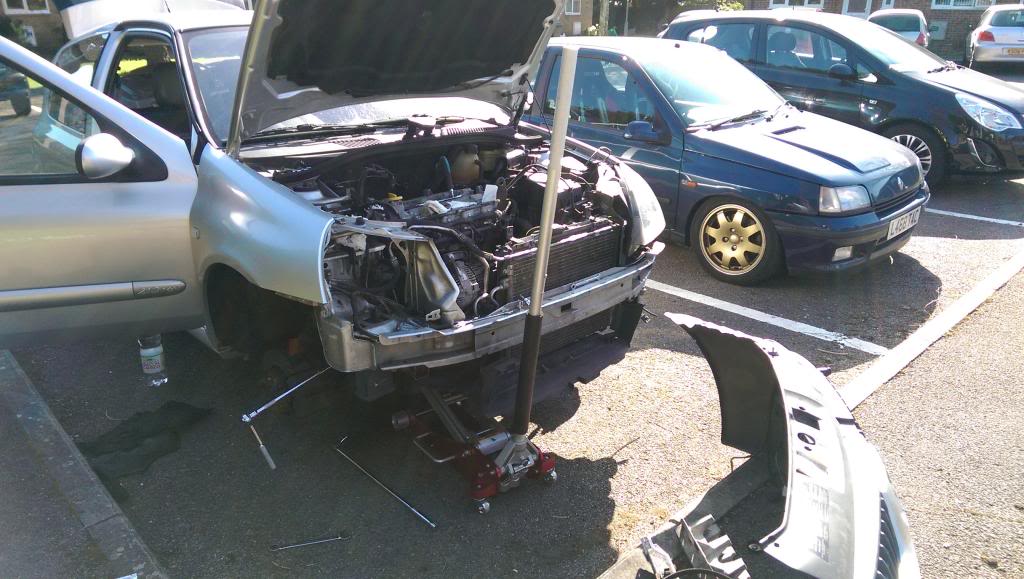 Using my really awesome hydraulic jack I get the car onto jack standsand get front wheels off. I only took the nearside wheel off to make removing bumper easier and replacing the arch is much easier. Pop the inner arches away to get to the two bolts either side holding the front bumper on. Off it comes, carefully, removing the electricals and washer pipes before removing completely. Super jack under the sump. It's a two ton jack with a big rubber pad at the jacking point, so nice and safe to use for jacking up on the bottom of the sump! I got a two tonner for the M5, and this one has a super low saddle for the Williams and the Lotus Elise I'm going to buy as well
Yey!
Intake manifold off, airbox off, HT leads out the way, electrics unplugged, plastics off, slam panel off, headlight out, jack engine a little, remove main nut on engine mount, jack up more, take off mount, injector alloy thing off (waste of space?), top cambelt cover off, pulley cover off, spark plugs out (helps with hand cranking engine to TDC and for final checking or valve clearance), pop end cap cam seals out with screwdriver (to be replaced) ready for D-shaped cam positioning tool.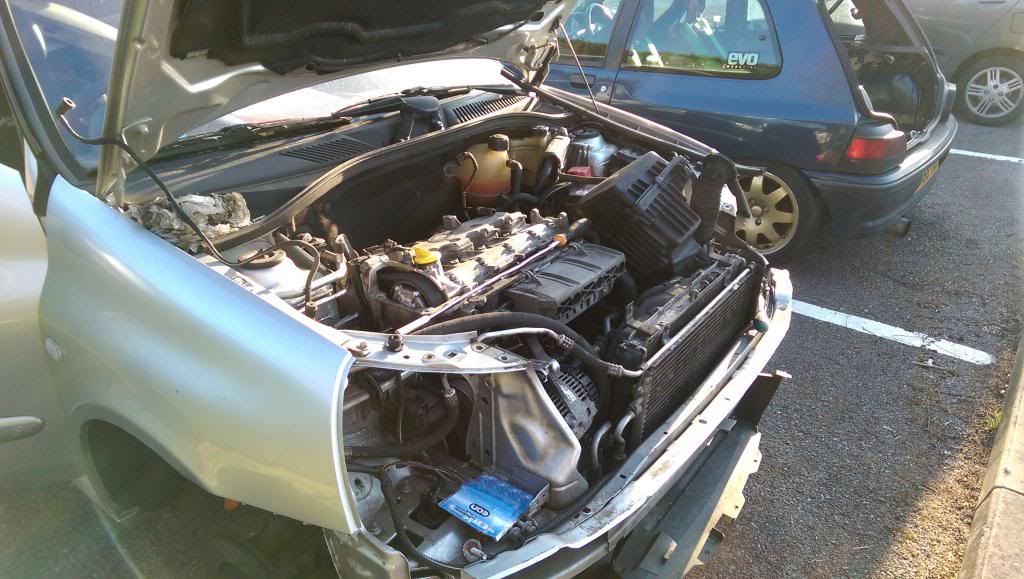 Got tired, left it overnight...but while indoors I decided to clean the headlights up a bit as they were oxidising a fair bit: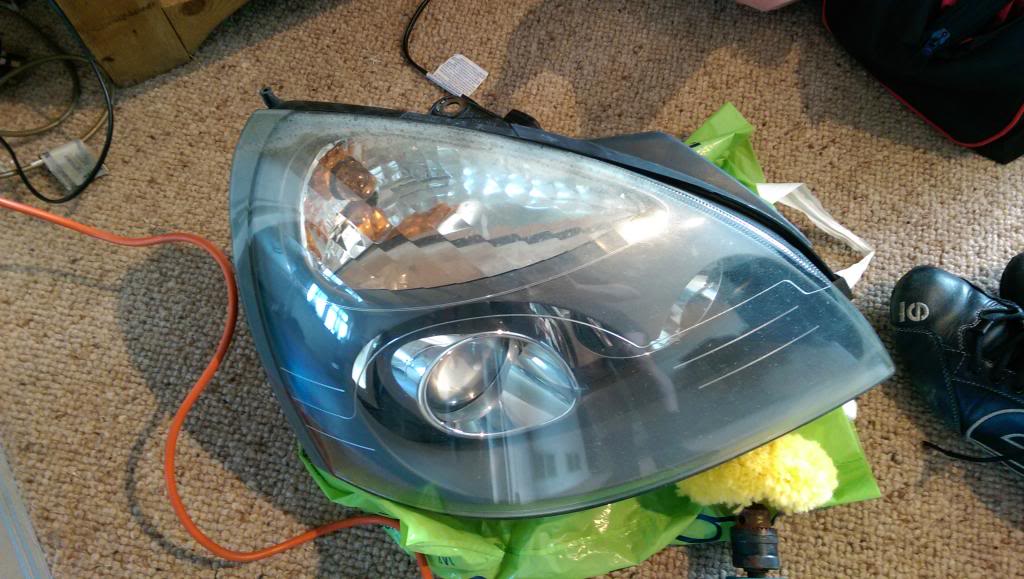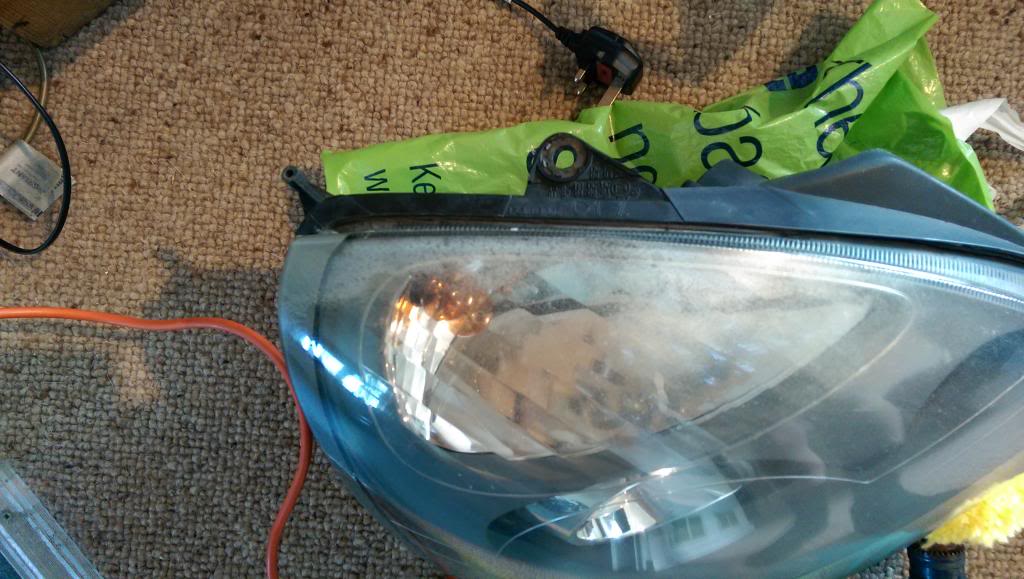 I think it would be easier to do with the headlights still on the car, but the difference was very clear to see. Excuse the pun: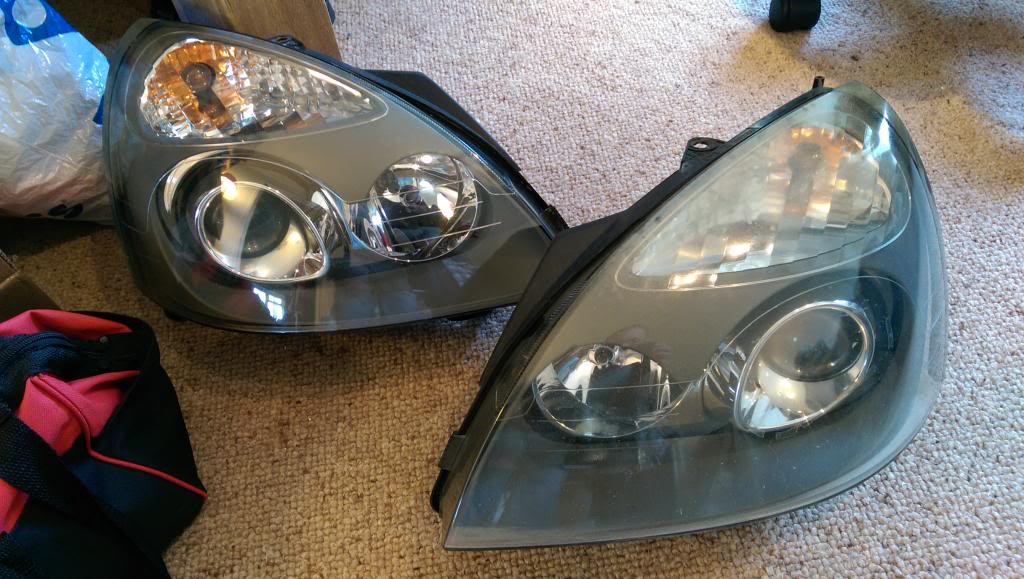 Left OS done, right is still poop. I think I can do better, but that can wait for now as I had pressing things to do in the meantime!
Having done Mk1 cambelts, this was sort of similar but with the VVT and dephaser part, different too! I took my time as I had plenty and the weather was really good. I even got a tan! I wanted to do some other jobs whilst the car was in bits, and learn my way around the internals of the Mk2. Doing stuff like this gives you the chance to see things and poke about. I was really pleased to see the structure of the car is in excellent shape. Being used to Mk1's and R5's, shell rust and corrosion is normal, but I'm pleased to see that Renault have improved their construction techniques. The only rust was on bolts and the engine block itself.
Also, most things were very easy to remove. I would say though that there is more to take off to do a cambelt than a Mk1 Clio, so it is more time consuming, though I only had one bolt shear on me, which was a minor one thankfully.
I spotted this however: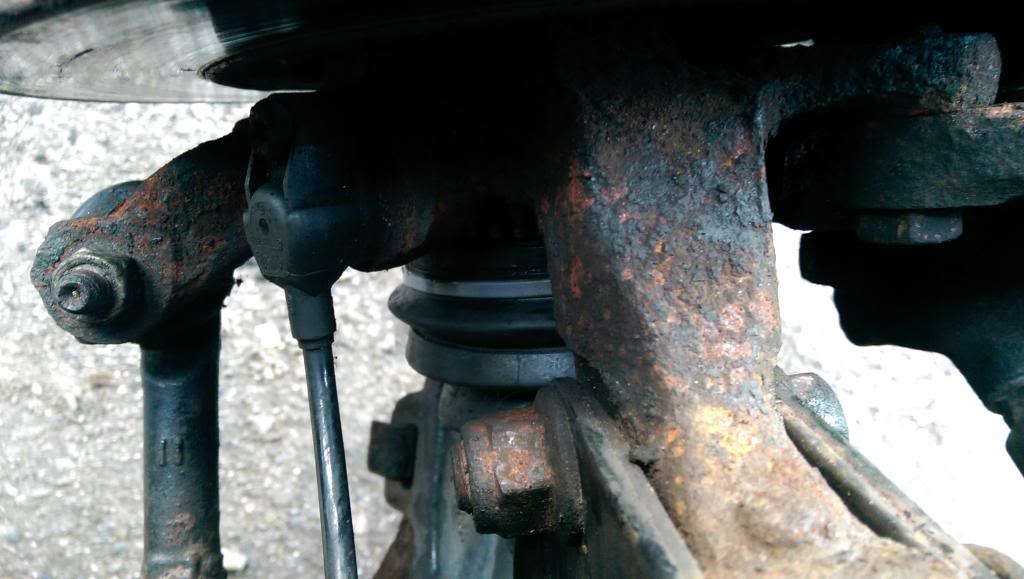 You can't really see, but the CV gaiter had popped off the CV itself, spraying damn grease everywhere. For those of you that have had the displeasure of this stuff before, it horrid and gets everywhere. I made temporary repairs, but I will return to this area again and also get my high pressure jet wash on it. It had coated the ABS ring and sensor, so I cleaned that up just in case. Horrid job. Luckily I had just done the CV on the Williams so I had a load of spare CV grease to put in before I sealed the joint.
Replacement wing on: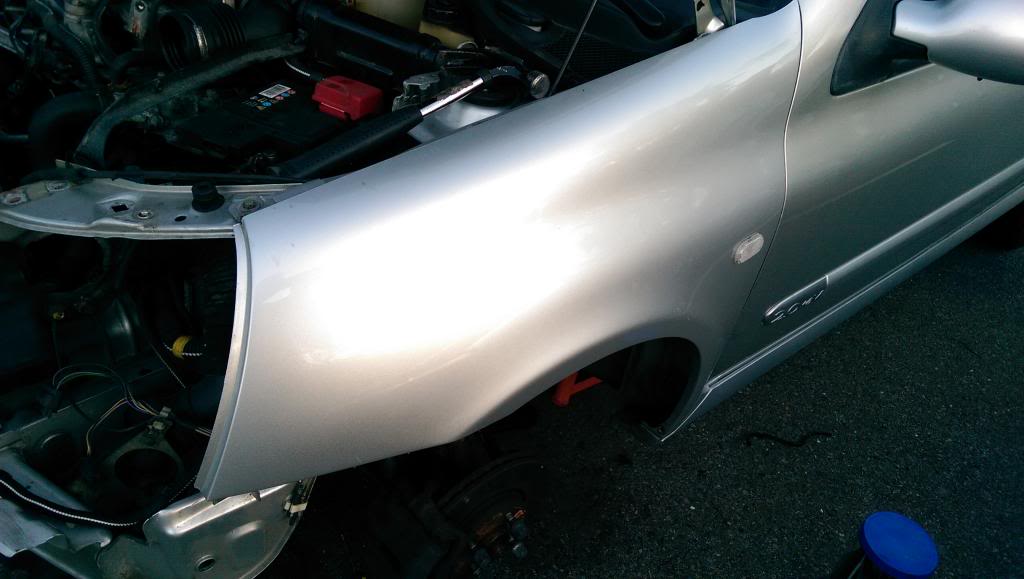 The old one was patchy and the lacquer had gone bad in places. Much better with the replacement on
A new injector: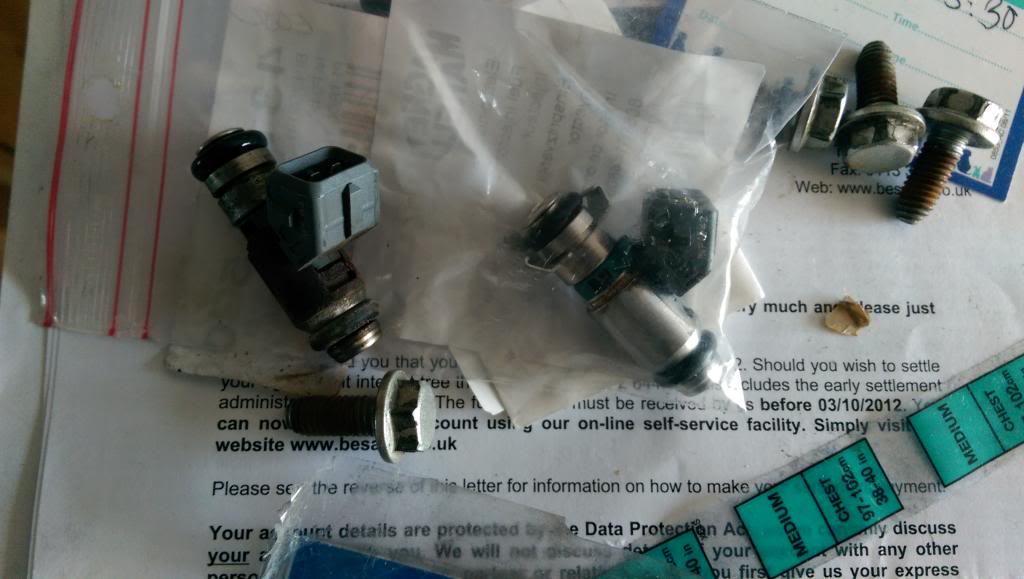 A new crank sensor: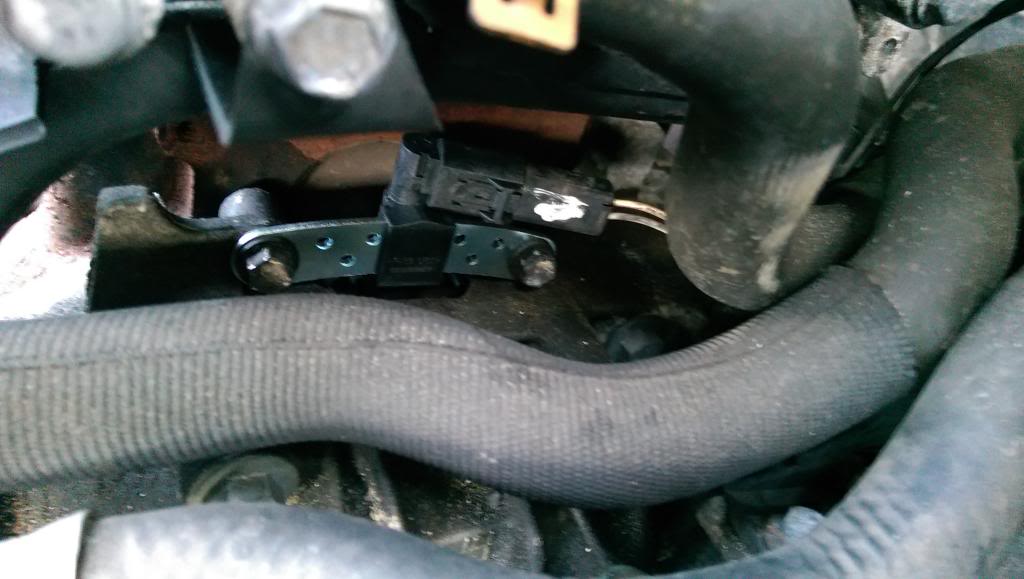 A new coilpack: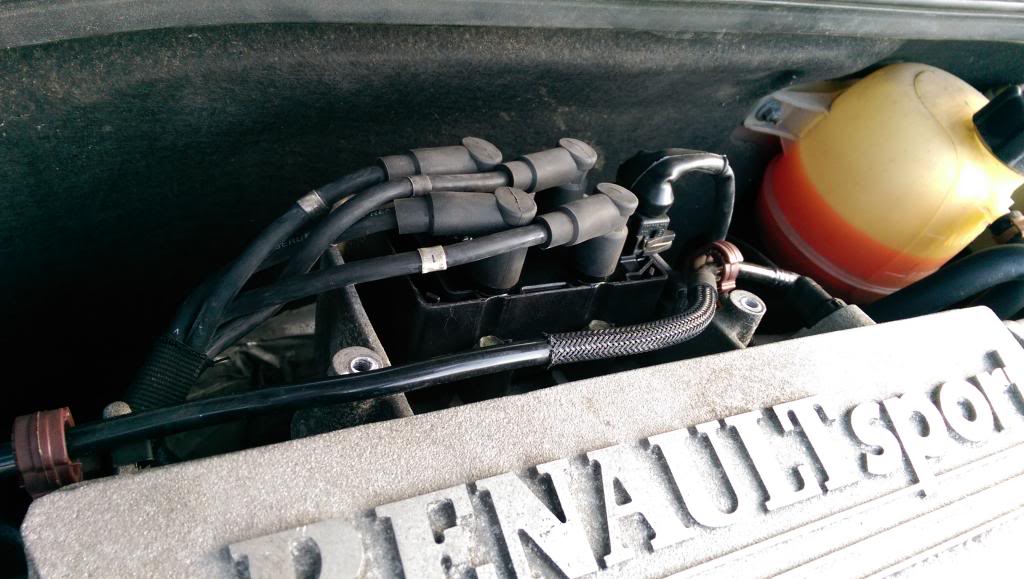 I got an email from one of the Directors where I used to work, he said a parcel had arrived for me and did I wanna catch up for a coffee and pick it up, rather than having to drive all the way to my old workplace. I said yes and popped over the next day on the bank holiday Friday. Had a chat about cars and what a tw*t my ex-boss is and grabbed parcel.
The parcel was a brand new Vibratechnics upper engine mount. I ordered it as I had gotted tired one night and totally forgot the old OEM mount was bolted in and jacked the engine up, ripping the rubber part in two. Doh! Oh well: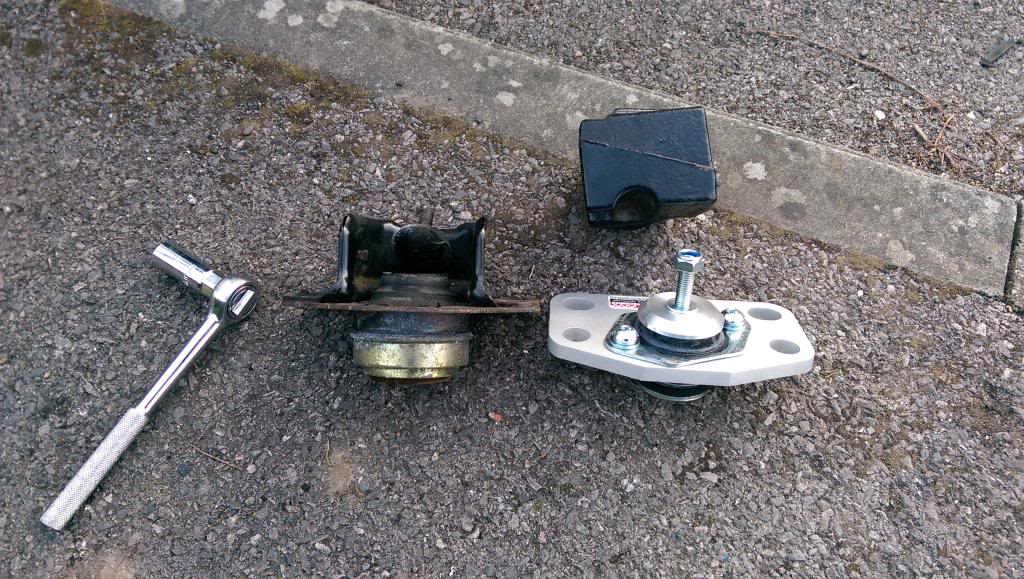 Guess which one I like more? Hoho. It is virtually identical I think the to the one in the Williams. As you can also see, I removed the stupid ballast weight as well whilst I was there. Big hunk of metal on the right side. there is one on the Mk1 valvers and Williams as well, but even bigger, as seen here: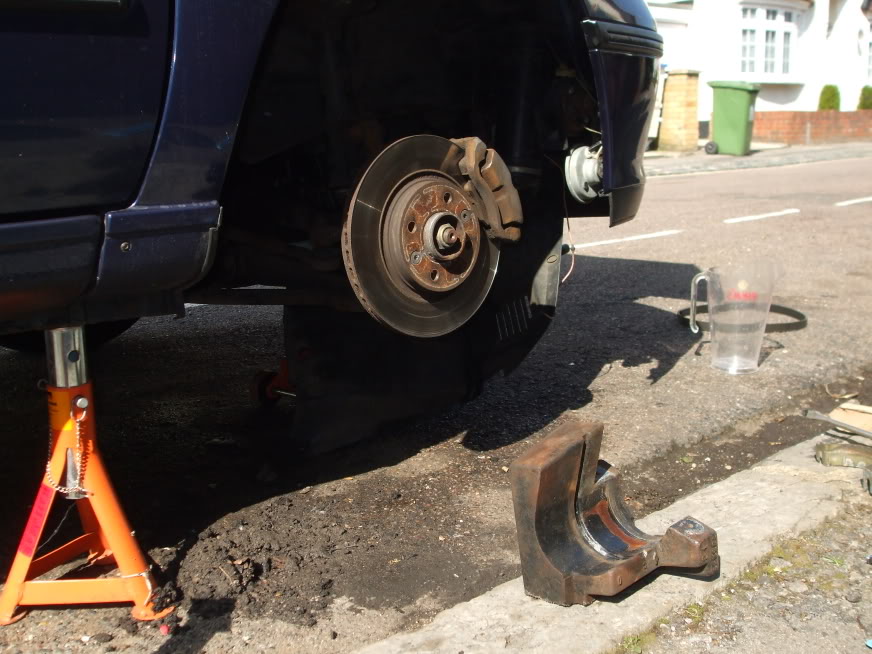 Thanks for thinking of road handling and balance Renault. But...no thanks (bins).
I didn't get many pics, but I put the new cambelt on after slackening the pulleys and replacing the dephaser. Tensioning the cambelt is a lot easier in the Mk2 than Mk1 I'm pleased to say. What was a s**tter though was when I'd got the engine back together and pulled the D cam tool, I saw the f**ker was bent at the ends!!! BAH!!!!! I could hand crank the engine, but I realised after pulling that off that the timing would be off a bit. So, had to do it all over again lol. Was easier the second time.
Back together, and happy the timing was good, I started her up. At this time I'd not replaced the injector so it still misfired, but the engine sounded miles better already. Popping the injector in removed the misfire completely. the idle was still low though when the engine warmed up...all the work had not solved that French gremlin, bugger!
I started to worry the timing had gone wrong, but I was SURE I had done it right and I triple checked it before putting it back together. Power delivery was ok at part throttle but there was clearly missing power and under load it would splutter and become erratic. I had confidence in what I had done so far and decided to look again at the electrical side of things. Diagnosis 1 was the precat lambda was f**ked. I replaced this with a nice new Bosch one and OH MY GOD the car felt SO much better!
But....the low idle persisted! And the odd hesitation. I could have just accepted things at this stage and driven it as it was, but I hate niggly issues so I carried on and finally traced a fault to the MAP sensor. The two sensors I had swapped over were fine, I suspect the plug itself or loom to be slightly damaged or receiving interference from another electrical source. Unplugging the MAP sensor transforms the car into a proper hot hatch. With the wiring repaired it will improve even more
TBC
Last edited: