Bought this back in October 2013 from Danny-Ace on the forums, he'd ebayed it randomly as a none runner (aux system removed for s/c mock up and all wiring sold) so I snapped it up for a few quid.
Its since sat on stock in a mates lockup since then over Christmas etc with me having little or no time to look at it, until now. Track season is approaching, I've already booked Bedford in May and as of now I have no car to take! so best get going!
No idea how well I'll keep this up to date, knowing me, badly! but I will give it a shot.
So here she is as I bought her back in October, JWC, one of the old valvers I remember from when I got my first one, so sort of a car I always wanted to own after it inspired me to get/modify a mk1 16v Clio.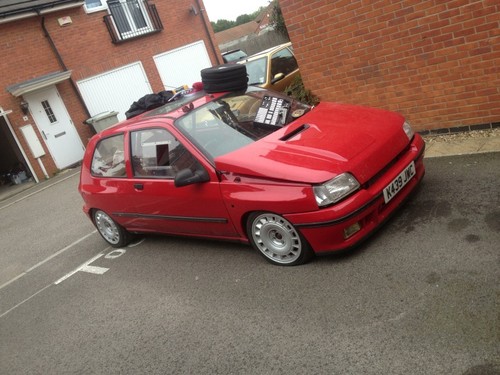 and sat tucked up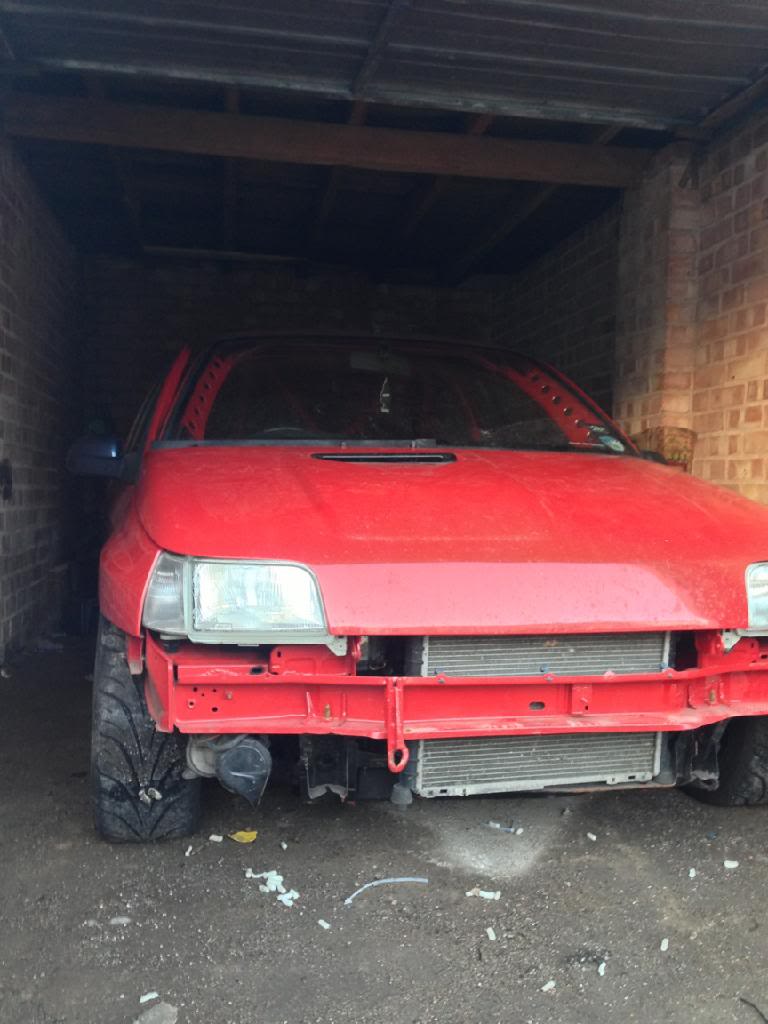 Danny had used the car on track a bit and he's spent a lot of time and effort on the car, its spec is pretty decent and although it was looking a bit sorry for itself when I collected it, I could see the potential easily.
Spec:
- Clio 1.8 16v shell fully resprayed in Clio 182 Trophy Red
- Full welded in cage, modified and added to with harness bars and tied to the a pillars
- Rewelded and mounted steering column supports and seat bars.
- Clio 172 Engine and Gearbox on 55k
- Clio 172 full front end conversion (wishbones, hubs, brakes, driveshafts)
- Brand new FK Highsport Clio Williams Coilovers modified to fit 172 hubs
- Clio Williams ARB
- Fully polybushed
- Uprated engine mounts all round
- Clio Williams PAS rack, greased and sealed for manual use
- Clio 172 Cup master cylinder
- Seam welded subframe
- Plastic windows
- Chopped doors for weight saving
- Manual Sunroof
- Mongoose exhaust, modified to link to 172 manifold and tailpipe modified
- Some sort of quickshift gearlinkage
That's all I can think of off the top of my head.
Pics of Engine and cage when I bought it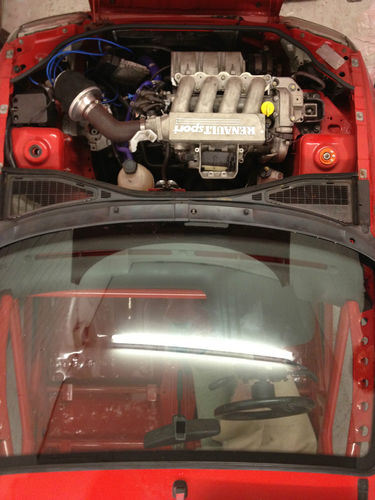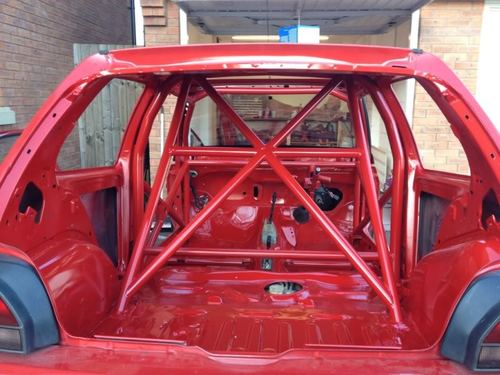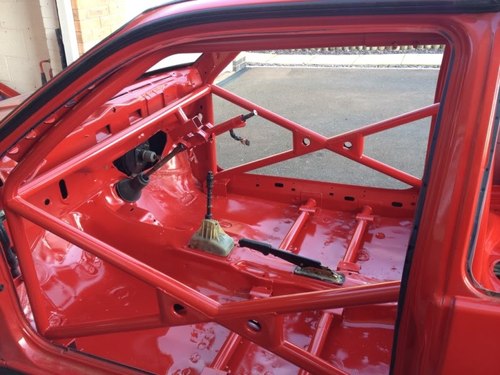 So a good base to start with. But theres some weird things that need addressing, like the front is so low that the front arch on the nearside was smashed apart and despite all the trick mods and track prep, its got Halfrauds front brake pads. And the radiator is zip tied to the slam panel, so tinkering needs to be done.
Also it has a clio 1.8 16v alternator, no use as I'm going to wire it up fully with job lot from a phase 1 172 I have in breaking currently.
So I picked it up this weekend and dragged it back home, first job before was to pop to my mates garage and check the timing as the aux belt pullet and crank bolt had been removed (s/c project legacy from Danny). Popped the locking pin in, whipped the oil caps off and bang, slotted the timing tool straight in. turned it few times, locked again and boom, in again. Bonus! so timing was still all fine
Also fitted my AST solid adjustable top mounts to the FK coilovers
Car is now back on my drive and the list of parts and things to do is as follows:
Parts Acquired:
- Mocal oil cooler and sandwich plate
- Cobra Imola 2 seats with side mounts and TRS harness'
- Helmet net
- Clio 172 Cup JC5 gearbox with Quaiffe Limited Slip Differential
- Clio 172 Alternator
- Clio 172 phase 1 full engine and interior loom with clocks UCH etc (wiper/headlight stalks as well)
- Clio 1.8 16v plug set to splice to 172 loom for lights/wipers etc
- Seam welded subframe (another one modified to fit 172 radiator correctly)
- Two Front wings
- Front Bumper with cooling ducts and proper 1.8 16v splitter
- Pair of Phase 1 1.8 16v mirror caps
- Fibreglass bonnet and pins
- Eibach camber bolts
To do:
- Fit all the above including painting/powdercoating as necessary
- Sort front end geo with camber bolts and top mounts then laser track it
- Get to Bedford on 19th May
so that's where we're at currently, hopefully some updates over coming weeks, slow progress more than likely until the nights get lighter and I can get on it after work!
quick comparison of the changes the cars undergone, as heres an old pic from when I originally used to covet the car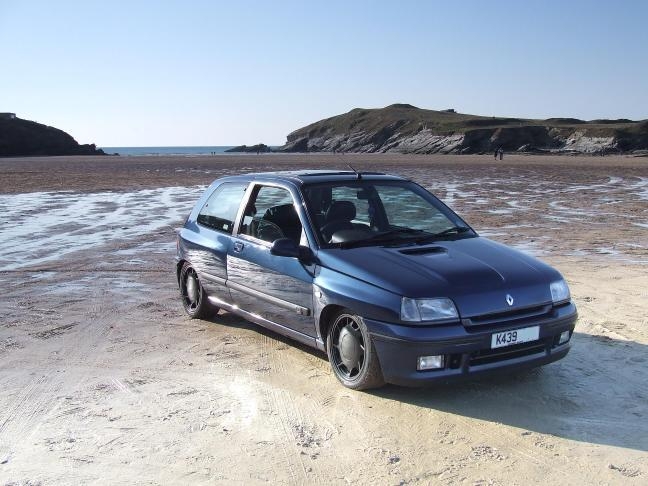 and as she currently stands in the cold light of day: