Having owned a few RenaultSports over the years (including a LY R26, Titanium 182 and my current daily a 175 DCI) I decided that this year I would get myself a 'toy' for track days (living in Silverstone is also quite handy for this). I knew it had to be a 172/182 and since January I had been constantly checking eBay/Autotrader/here for a bit of a 'fixer upper'. Nothing had quite caught my eye and I started to think that when the weather gets better it may be good to go and see some. Anyway, after a brief conversation with my Dad about what I wanted to do, he text me a few days later saying that a friend from work was selling a 182 Cup.
He put me touch with a chap named Gary who had bought the car a year ago from a forum member
@derek182
. It's on 83k with some service history and lots of receipts for various bits of work it's had over the tears. It had been modified and used on track prior to Gary owning it and came with the following spec -
Whiteline rear ARB
Group N Engine & Gearbox Mounts
K-Tec Solid Top Mounts
RS Tuner 98 RON Remap
K-Tec Stainless Cat Back
Gary had done one track day since buying it and due to a change in circumstances needed rid of it. I went over to see it and actually loved the colour even more in person. I know Inferno is a bit marmite for some but it has a really lovely finish when you see it in the flesh. Gary had a spare set of 182 alloys with Federal RSR track tyres (which I have kept and intend to use) as well as a set of head lights with black inserts and an old set of Spax RSX Coilovers that had been taken off the car and replaced with Cup shocks with Eibach springs. It actually sits quite nicely at the moment, but time will tell wether I go for a new set of coilovers in the future. So a deal was done and I took the car home that day.
Once I got it home I could give it a good once over and check the condition in more detail. It was a bit tired, scruffy and needed a little bit of love, like it seemed to of had in the past. It needs the cam belt doing and my intention is to get Chris at Beaniesport to do the full works of Cam belt, Aux belt, Dephaser and Water Pump before I do anything else big.
Here's how it sat once I got it home -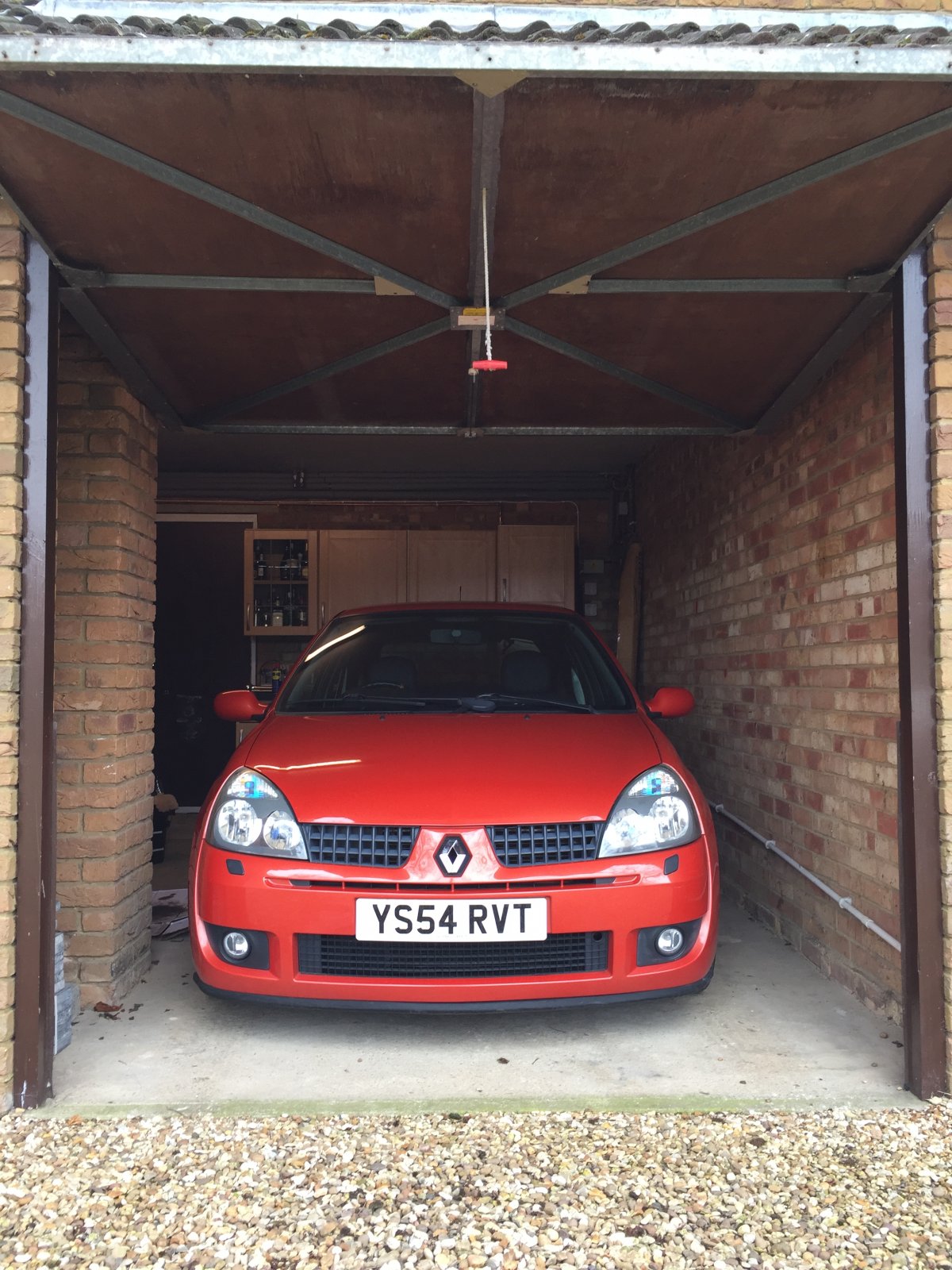 It needed a really good clean inside and out as well as a few smaller items replacing. The seat belts were the usual Clio fare as well as the boot being full of muck. It had blue bulbs in the head lights, a crusty old rear number plate light (They all end up like this..) The aerial had seen better days and it was missing its 'Cup' Badges on the doors. The dash inserts were also very tired and the engine bay had been painted in a way that I wasn't happy with -