welcome to this, rather ordinary, project thread.
be aware, I like writing.
I thought about this and immediately realized two things:
1) This thread is about a diesel clio, not a sport.
2) being this diesel clio my daily driver, you won't find any infos on welded roll cages, 4 pots calipers, straight cut gears, torsen diffs or aircon delete kits.
if you're ok with this and fancy some occasional ordinary reading then welcome, I'll be trying to resurrect a once very valid little car that's been neglected for a while but still retains loads of potential.
If you haven't read my Introduction thread I'm Diego, 27, Italian, one of many italian Londoners.
My car history started with a 1 liter Toyota Yaris, by far the best thing I've ever driven: countless trackdays, holydays, off road driving and some good quality late nights (remember, first car..)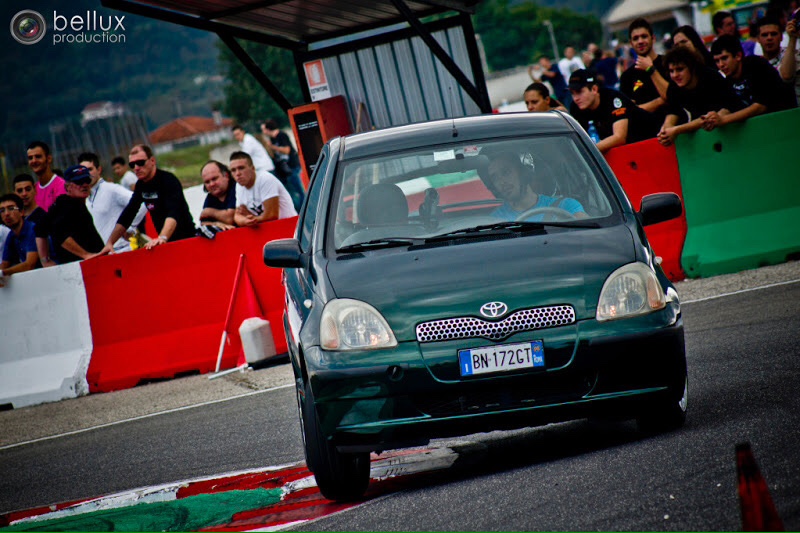 I sold that to buy a tatty EG6 Civic that i then built into a very clean looking and daily driveable track car, lots of money but in the end it looked ace and was very fast, at least for me.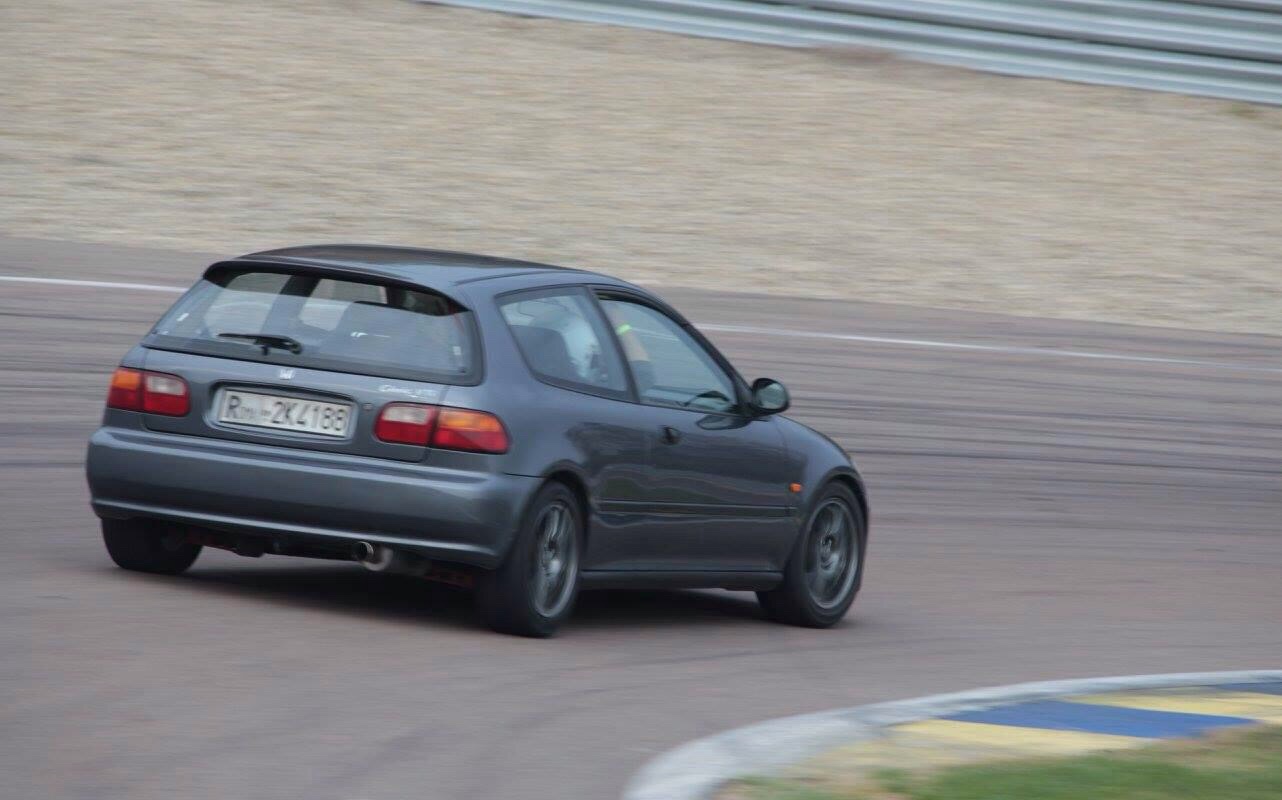 With track wheels here, used to have gloss black TD ProRace3.
When i moved here i tried to fulfill one of my all time dreams: owning a fast rwd estate car (I'm weird). So I sold the Civic to a mate back home and got myself this beauty: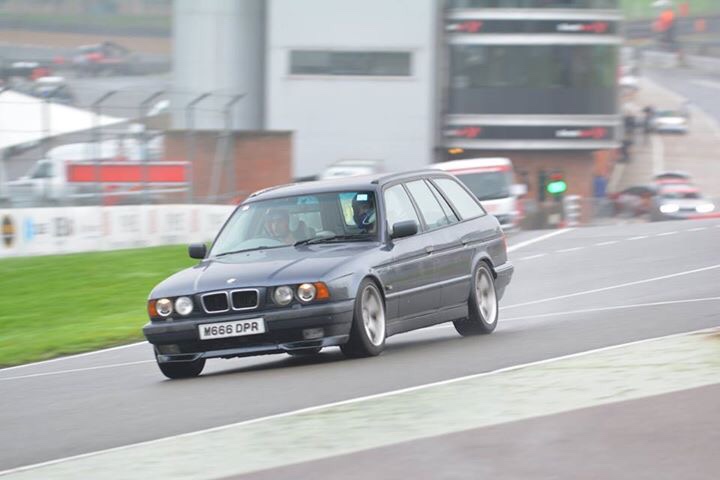 94 540i Touring E34, and it's a 6 speed, 61 made in RHD !!
Yeea, I know, nobody's impressed; but I like it, and remember, I'm weird !
I drove it for a year (don't really know how) and then realised she needed some love. I sorned it, got the axlestands out and started the project, this is June 2016.
things soon looked like this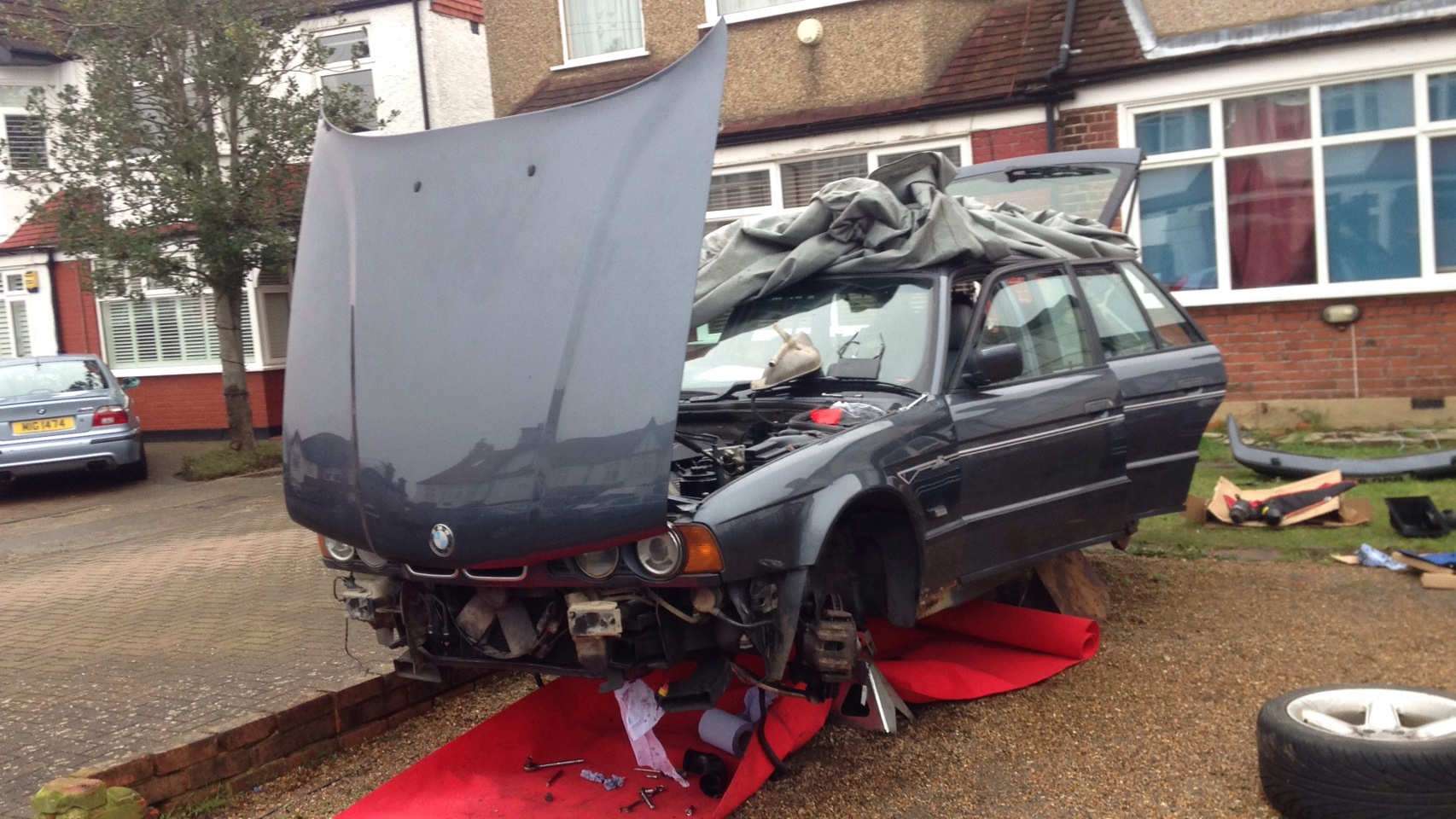 Restoring this car is taking me forever, working on it is a nightmare, parts are not always a click away, and more importantly, it does 16 mpg at best.
I was owning a car but I still had to cycle and use trains to get around, I started missing driving something mine.
Yes, I too, needed a daily.
I hate this word, people now justify having a second car with the worst nonsense, and now I'm one of them, well, I guess it proves that everybody is right !
My solution for cheap motoring has always been a Clio dCi. it's the only decent car, imho, that you could get for sub £1000 which does 65+mpg, costs £20 in road tax and occasionally has aircon, sunroof and 5 doors (these are my key parameters). I was looking for a Privilege, hopefully 80bhp. I've always had my search alerts on ebay, gumtree and auto trader but everything was either too far away or too expensive, until two weeks ago: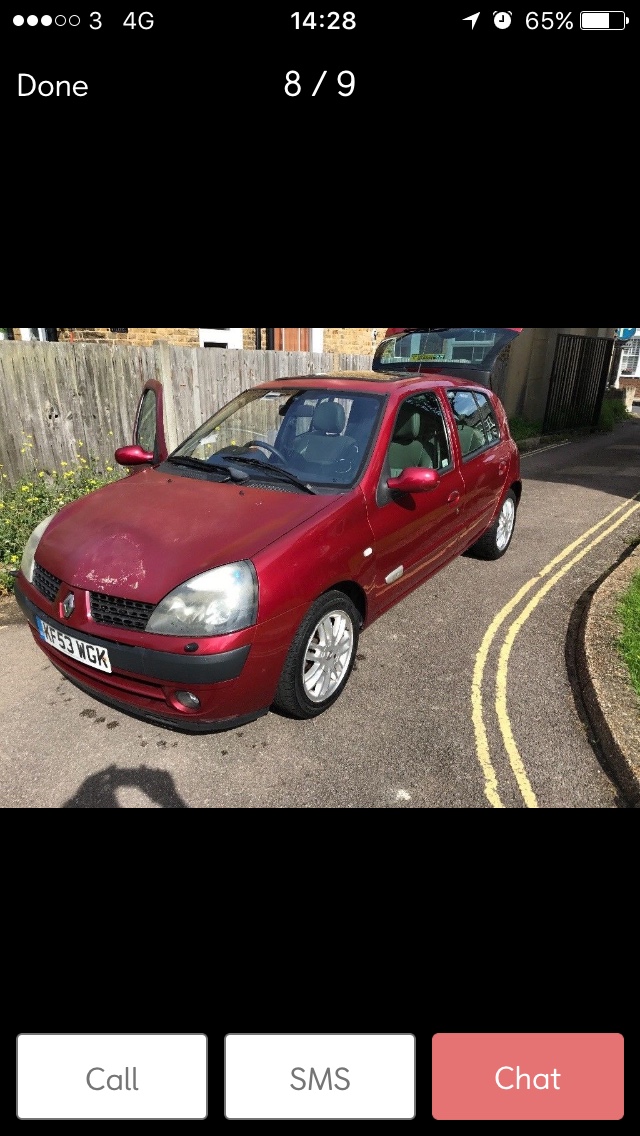 This HAD to be it, an Initiale 5 doors, dCi 80 intercooled (the one to have), 106 thousand miles, £500, 2 miles away.
waat ?
later that night I jumped on a plane for my two weeks holidays. bye bye cheap clio!
--
two weeks later the car was still there, available for sale.
went there with a colleague on my lunchbrake, started her up, no aircon, plenty of little dings and scratches, disastrous bonnet and roof, mix and match tires, overall pretty dirty, very little history, 4 owners, been sat since 2015.
on hpi check came up as a Cat C in 5/2007, damage on offside rear.
with the HPI printed out I managed to talk the guy down to £350, handed the cash over, took a risk, again (bmw memories, but that was £3k!!) and made her mine.
let me talk you through this gem if I may:
-Leather/Suede interior
-Leather steering wheel
-Auto Xenon headlights with washers
-Auto wipers
-Auto AirCon
-Electric sunroof
-factory Alpine 6CD changer
-Leather parcel shelf compartment
-Special "Jade" 15 inch alloys (name of my EX, funny as)
Should have heated seats, I see some wires but no switch ??
doesn't have electric rear windows and is not dark blue, but hey, can't have everything.
20 quid road tax seemed like a joke, monthly insurance is £47 with me driving. (remember, 27 yo italian immigrant, one year no claim on a different car no uk insurance history before then) so pretty good, and it averaged 58mpg round town when I took it home.
very smokey when going for it, I hoped that was just lack of use and old fuel.
---
First things first, I watched videos about this without even owning the car, let's clean the EGR and cooler pipe: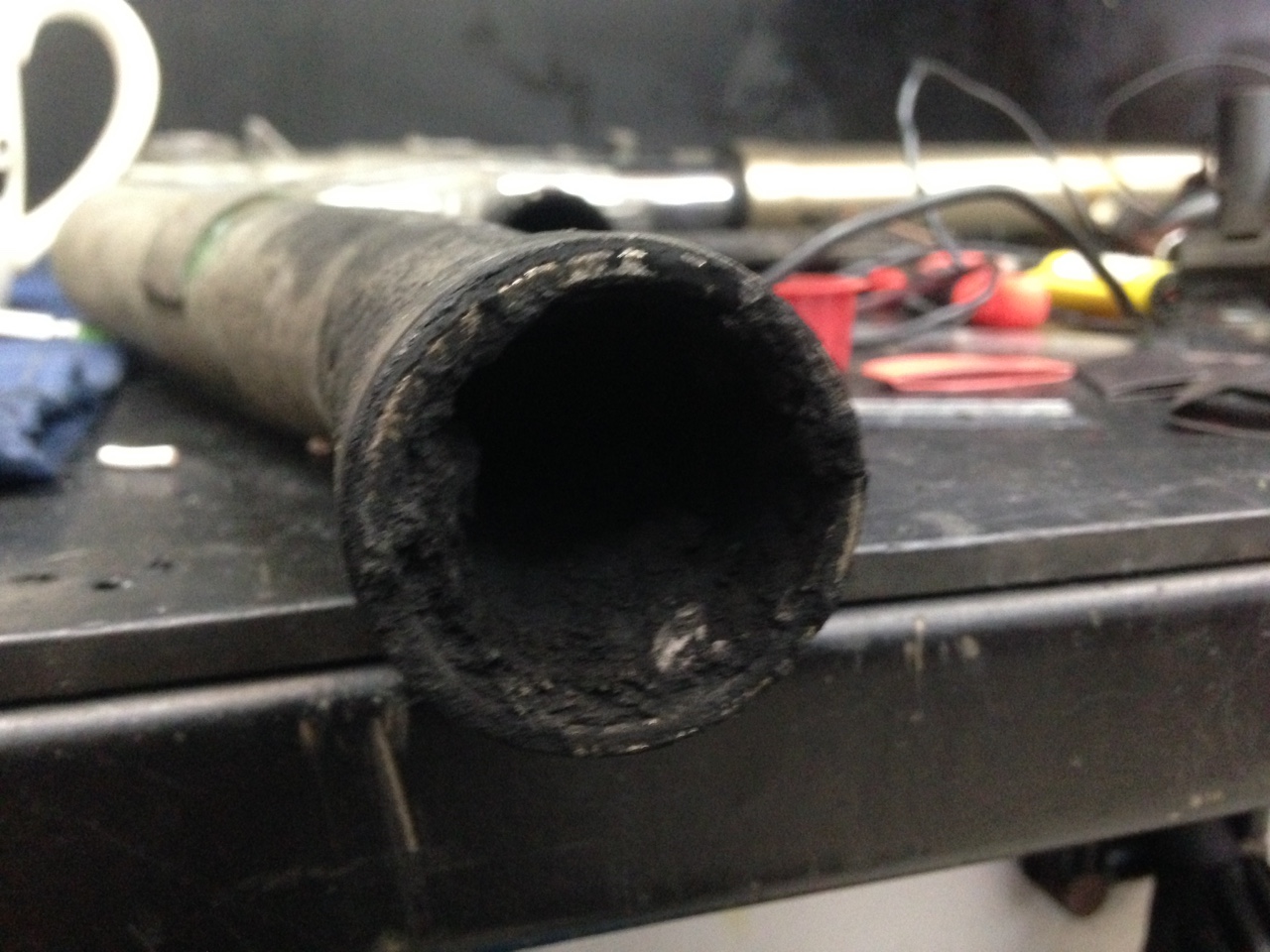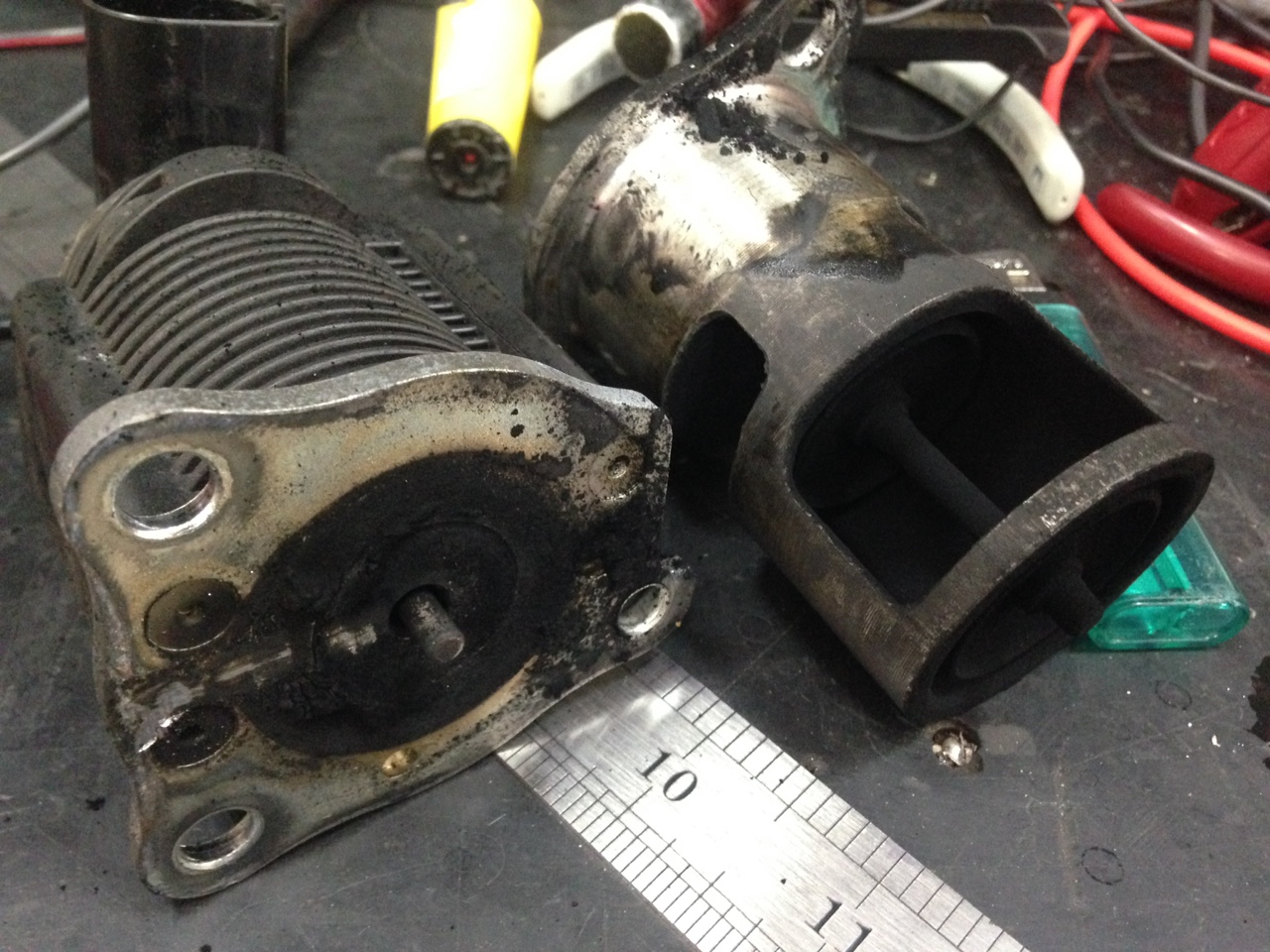 ... and I did an awesome job NOT taking any pictures ! But trust me, they came up MINT. we have an aquablaster at work, which is a lot like a soda blaster only much better. The valve itself was NEW, not a mark on it, moved freely as it should and looked great, the pipe took some serious scraping and blasting, then received two new orings and back at work. I shall take them off again to take pictures and also because I'm very curious about how they get so sooty.
The inlet manifold got a good scraping and vacuum clean, I'll be back there soon.
--
one of the rear wheel bearing was roaring since mile one of my ownership. I've heard these are pretty easy to do, let's give it a go.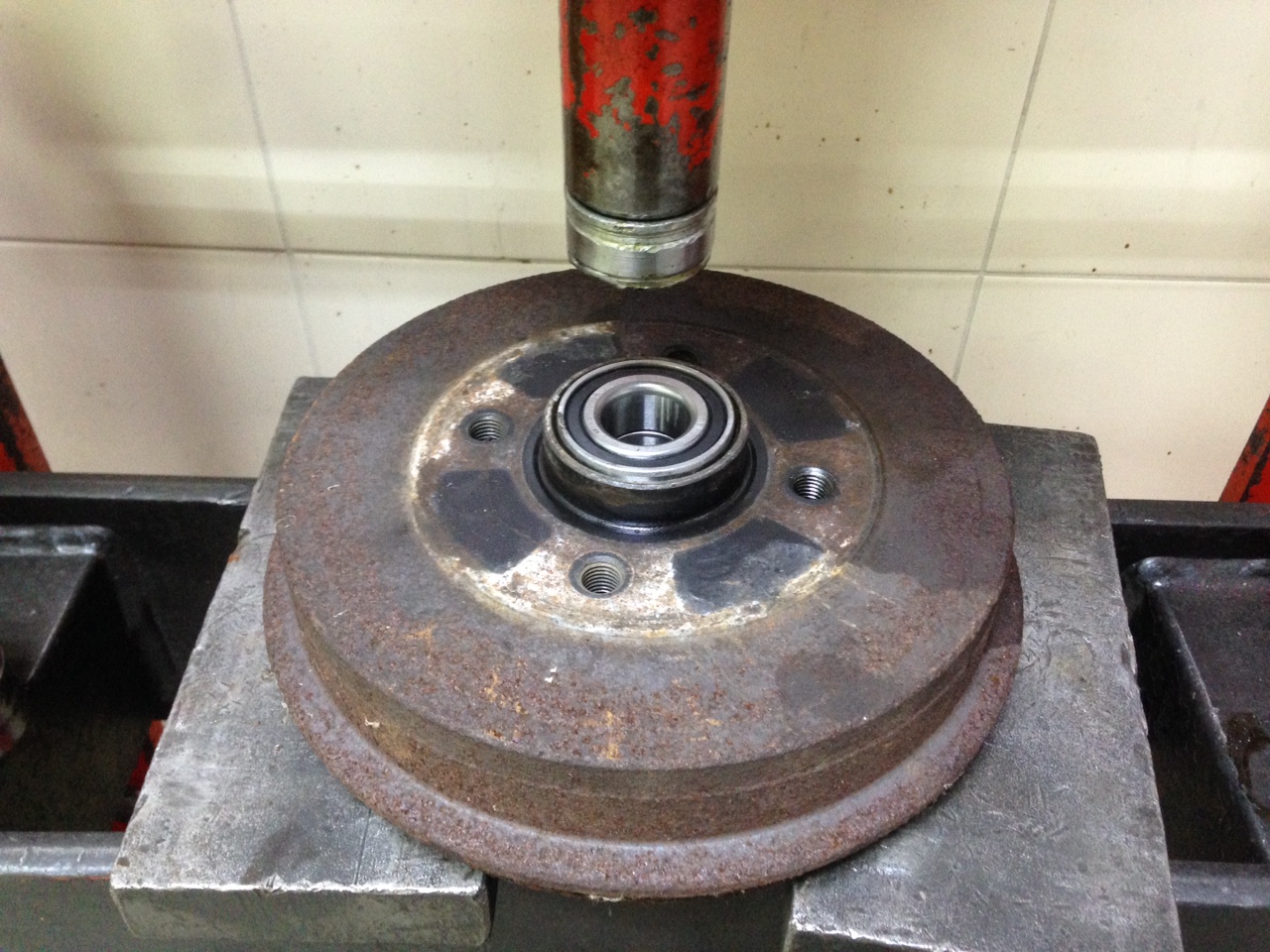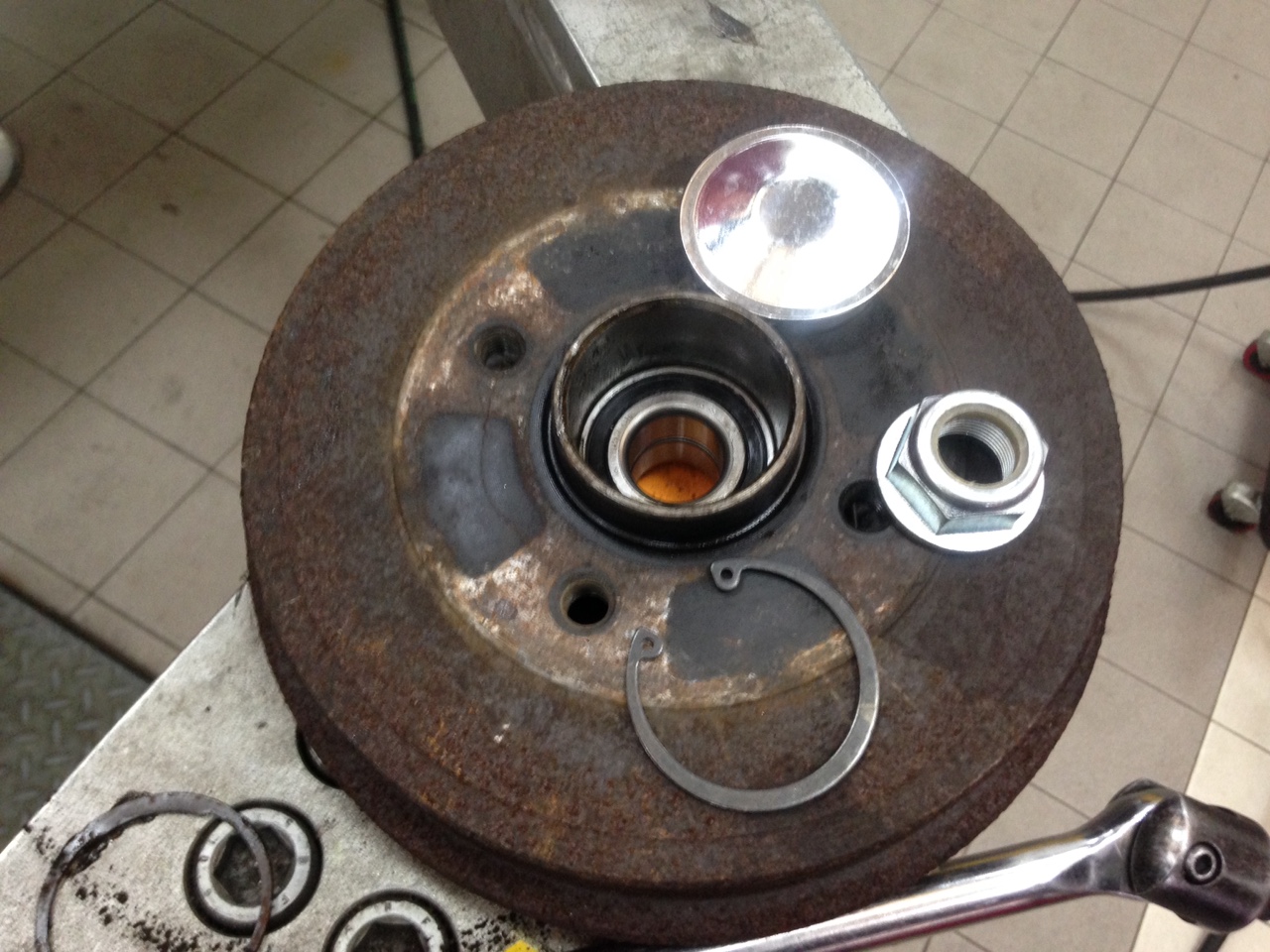 people don't lie, that was a 5 minute job, if not 4:30! I'll do the other one for peace of mind if it's this easy !!
--
next is something that is one of my trademarks: useless stuff that looks cool, at least to me. so there you have it, genuine Renault roof rack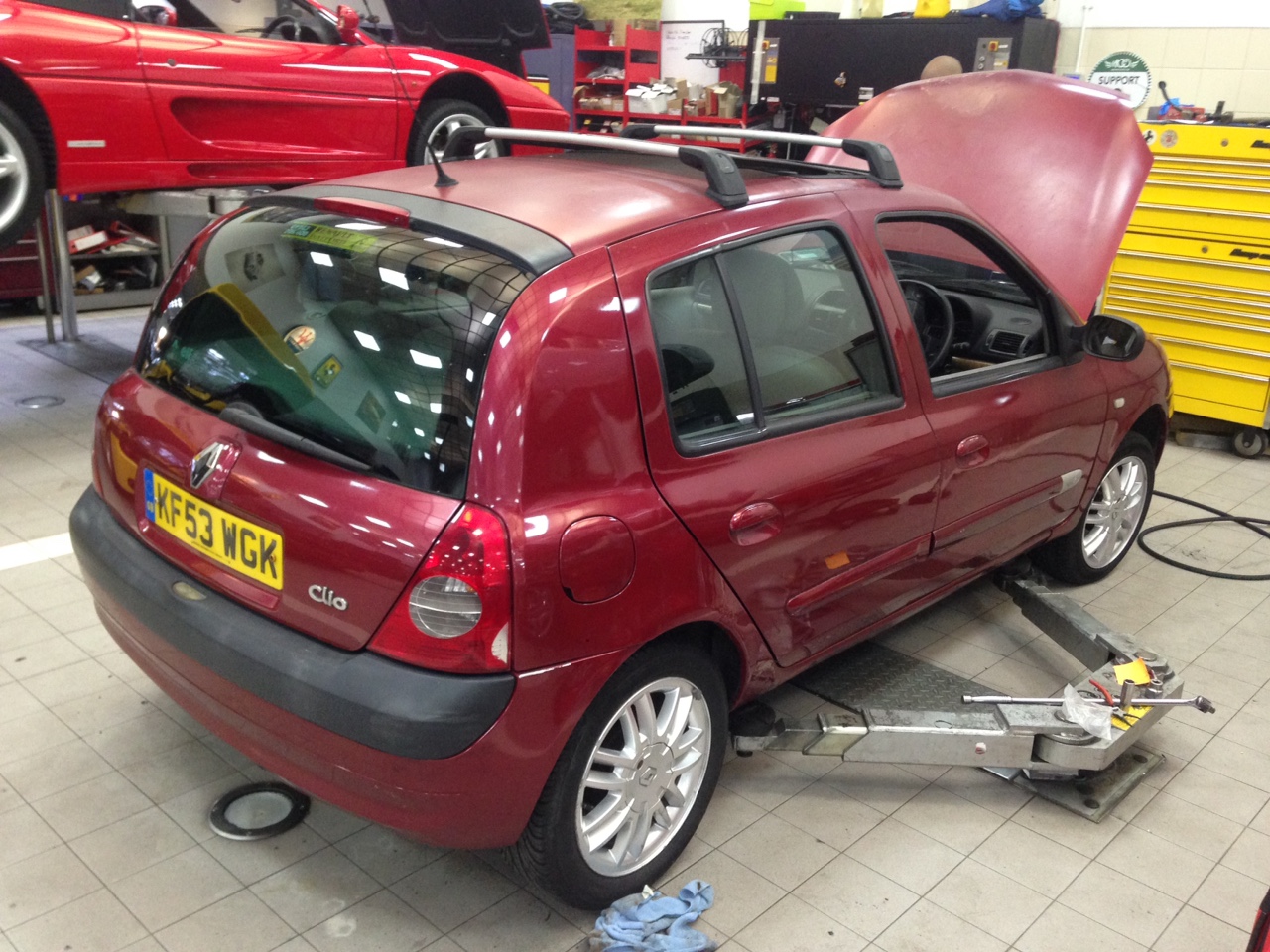 faded of course, so it matches the roof. I'll justify this with a roof box soon, then I'll be forced to drive home (italy) with it to justify that one !!
--
next, faded headlights, Unlike the bonnet, roof and roof rack these won't be staying like this. I purchased one of those 3M kits with drill attachment and gave it a go.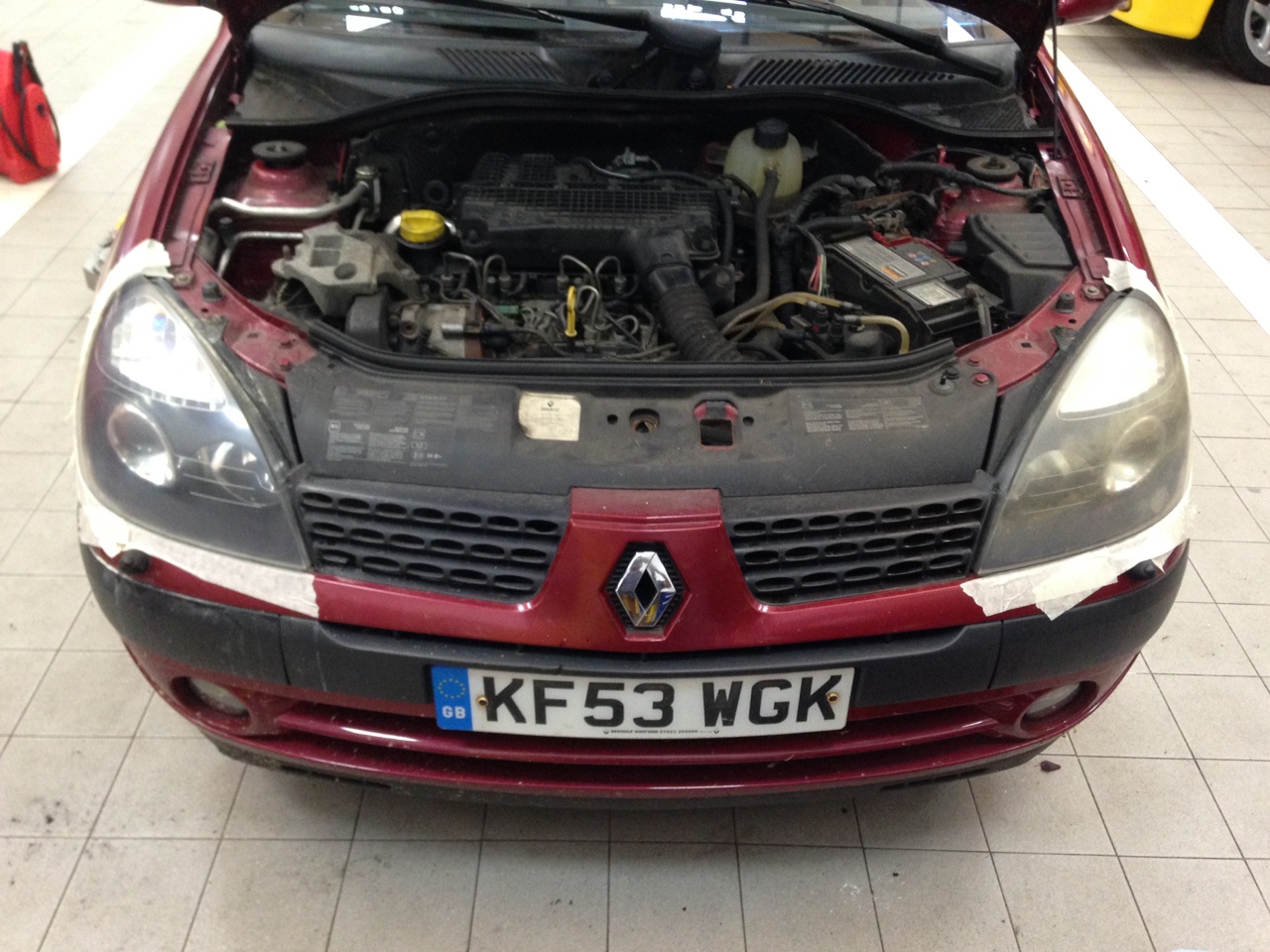 well, I'm happy. here's the before: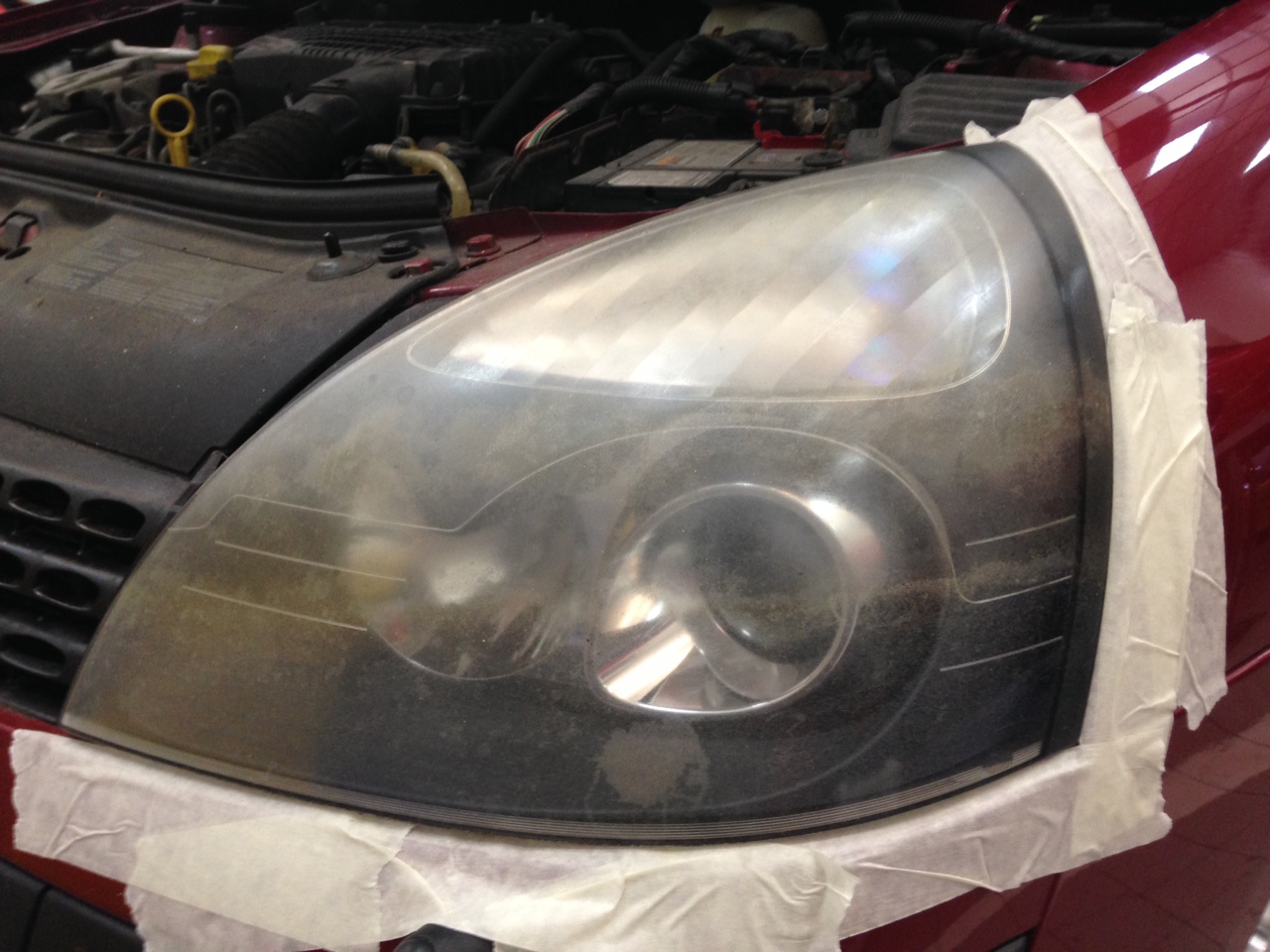 and after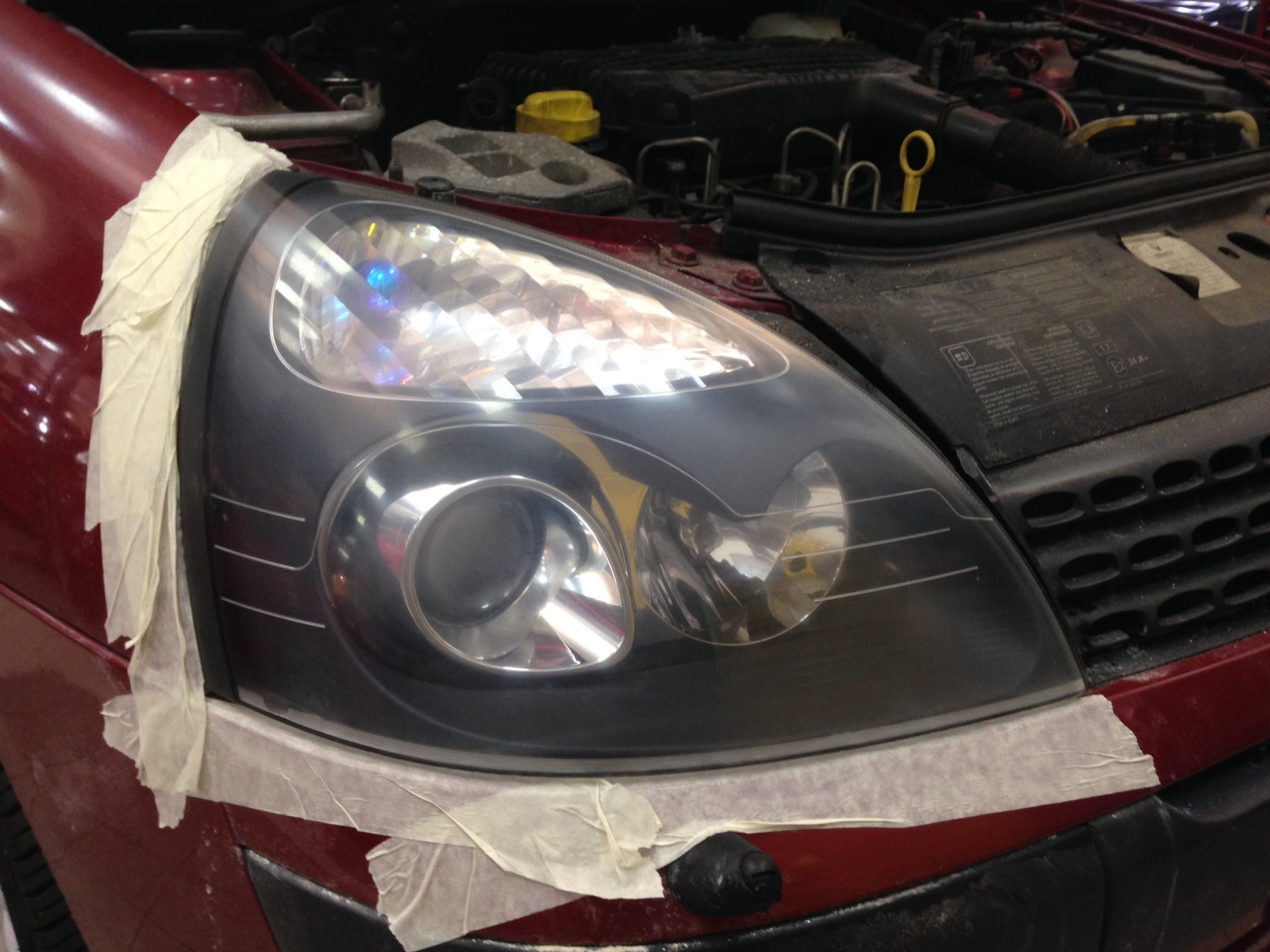 and I rushed it a lot, there's more there if you're patient, I shall try again.
--
then aircon regas. I was ready for failure because, and this is my opinion, a/c gas doesn't just fade away, if it's gone there must be a leak ! and well, there isn't really, the car held vacuum like a champ, but lost everything when the fittings were taken off, suspect schrader valve. we tightened it and gave it a go, regas it is then !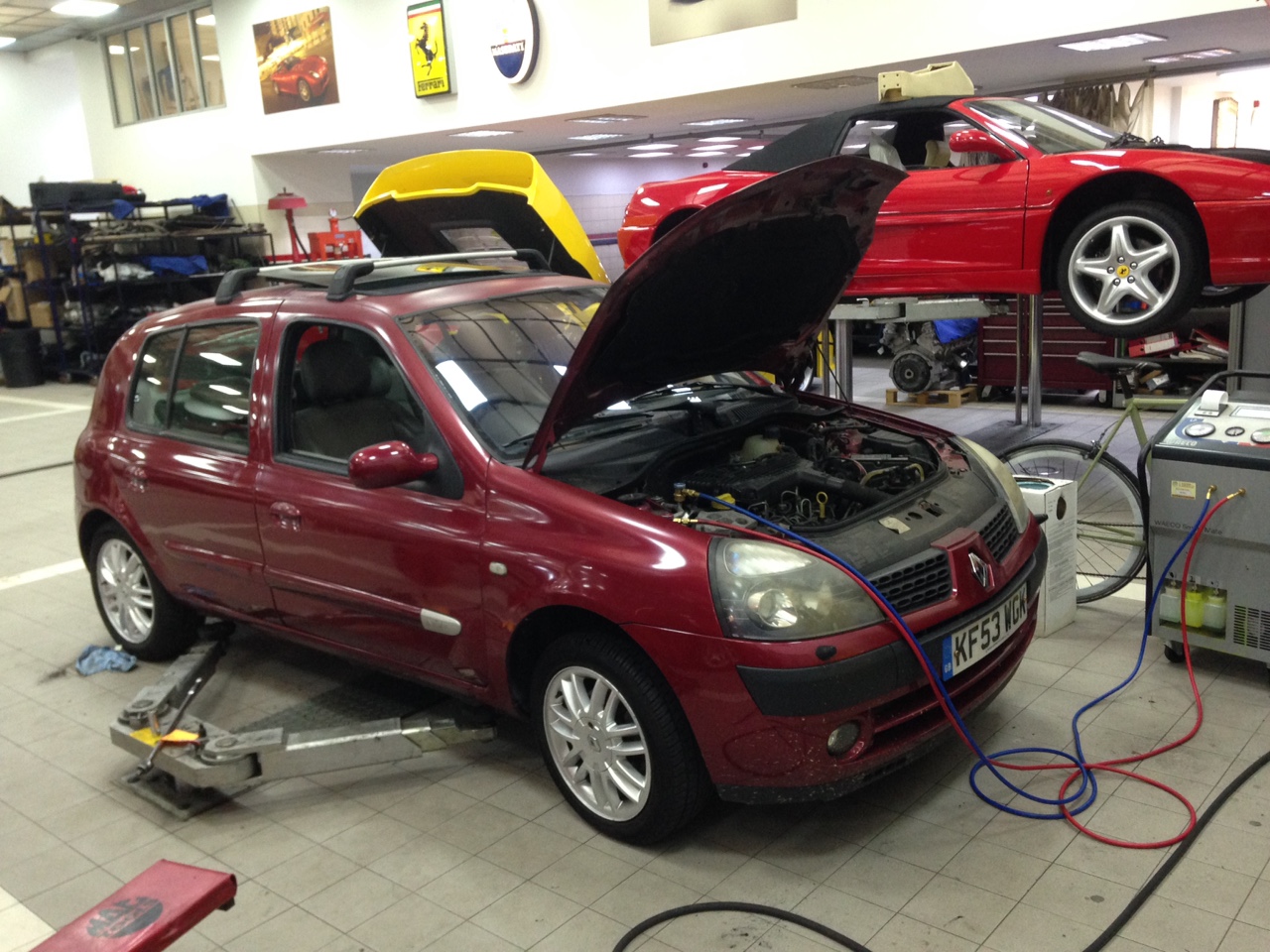 after a week of driving I think that valve might still be leaking, I'll get a new one. But hey, aircon is back for now !
I then put my first 20 liters of proper V-Power diesel with some Hydra diesel treatment that I found on ebay, and drove it for a week.
--
And we are at the present time, time to get my gloves on again for a major service; I got myself a genuine service kit, might aswell, was only 80 pounds including the oil !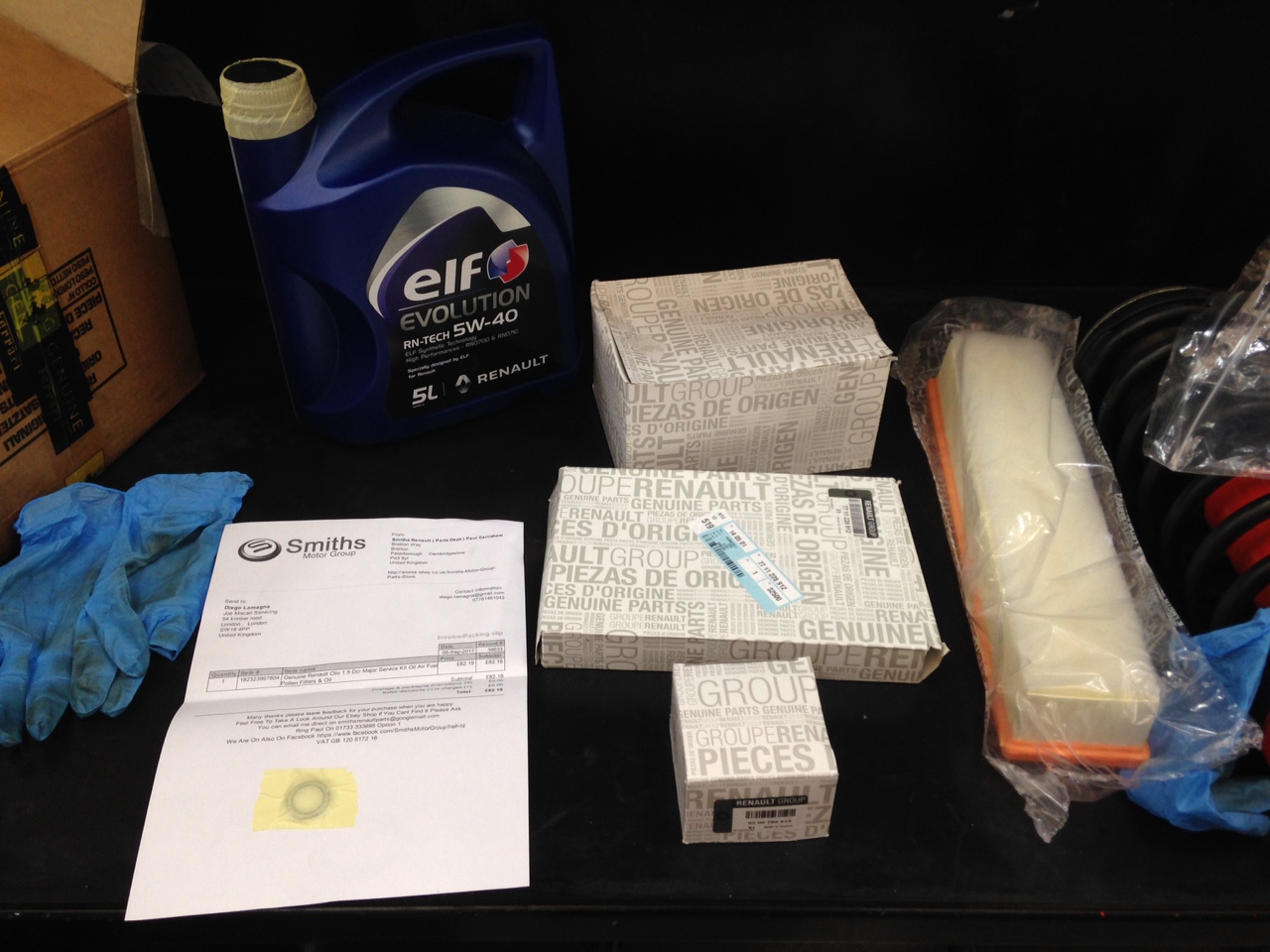 I racked the car next to an half french EB110GT, maybe even cars do small talk, at least these two should understand each other! we don't have anything french at the moment..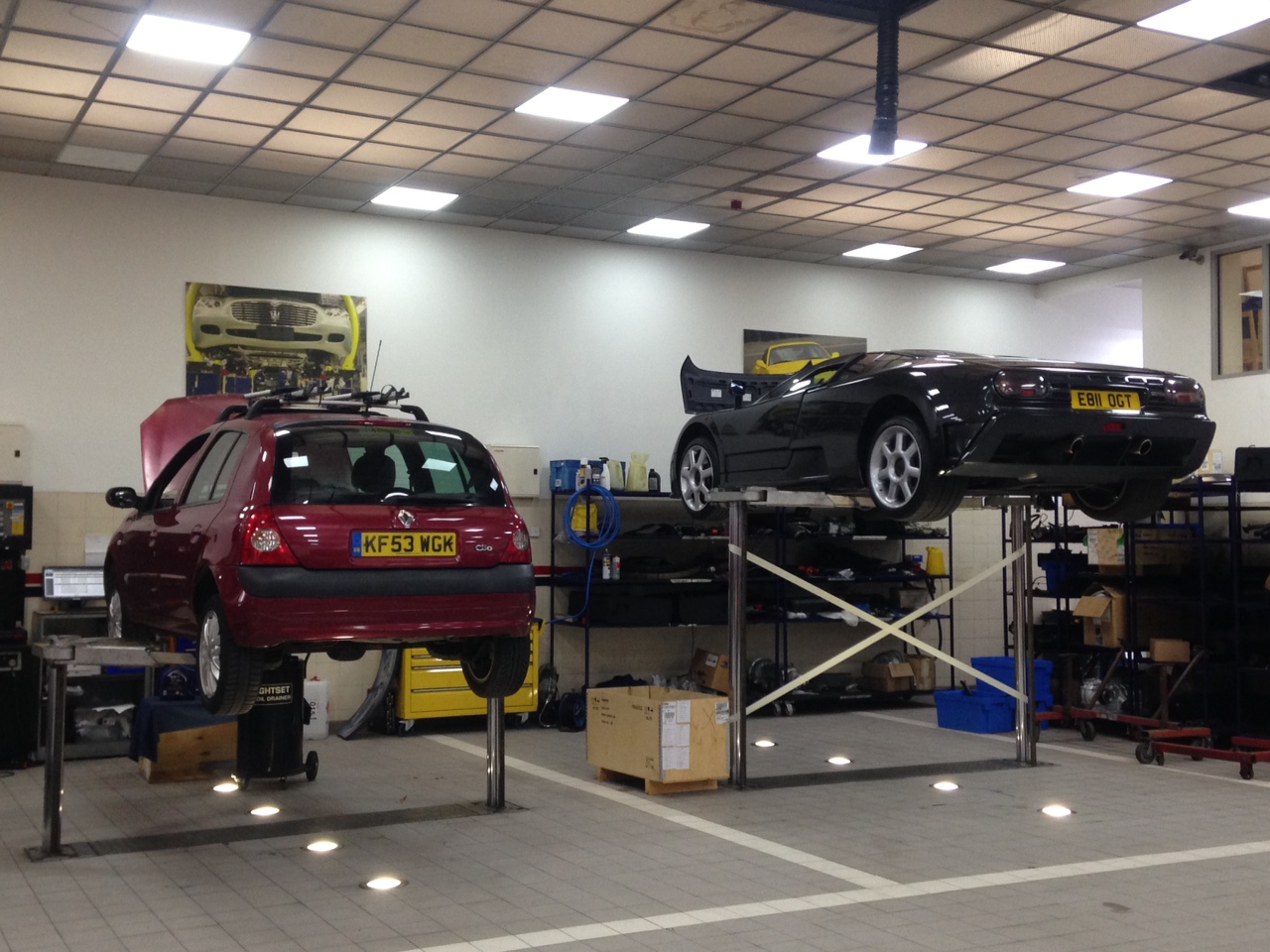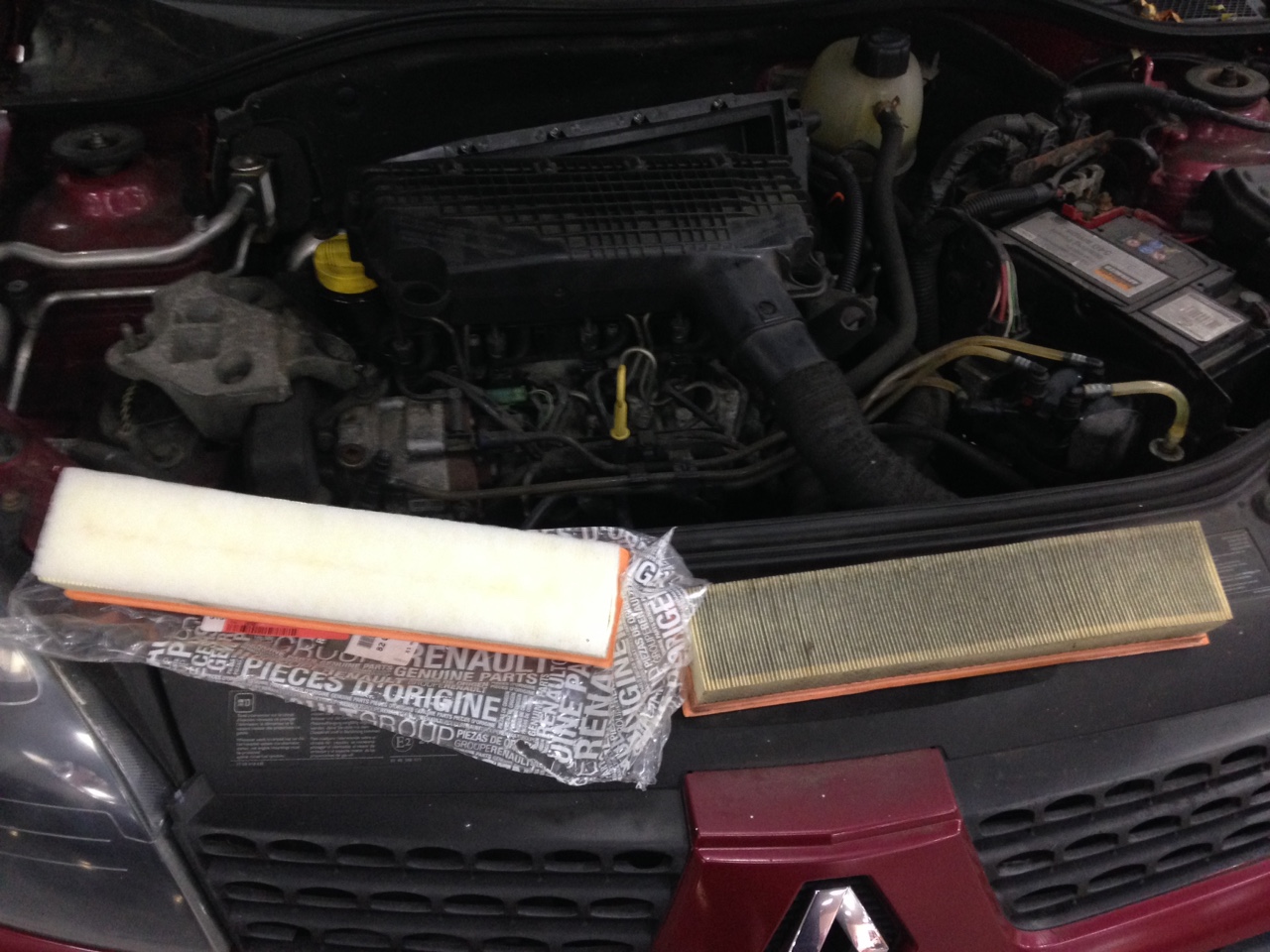 the pollen filter had never been changed I think.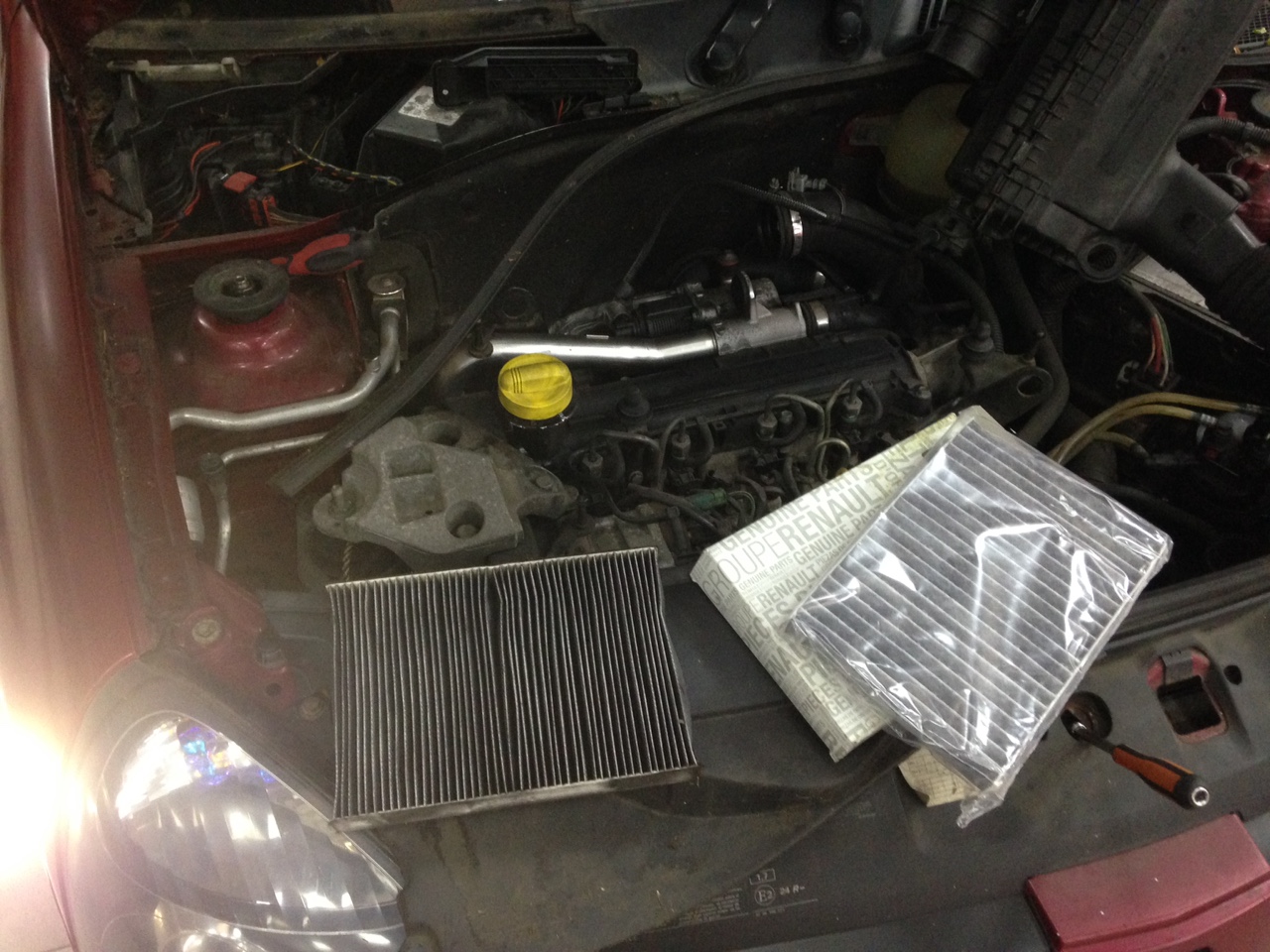 diesel filter one of the easiest I've ever done.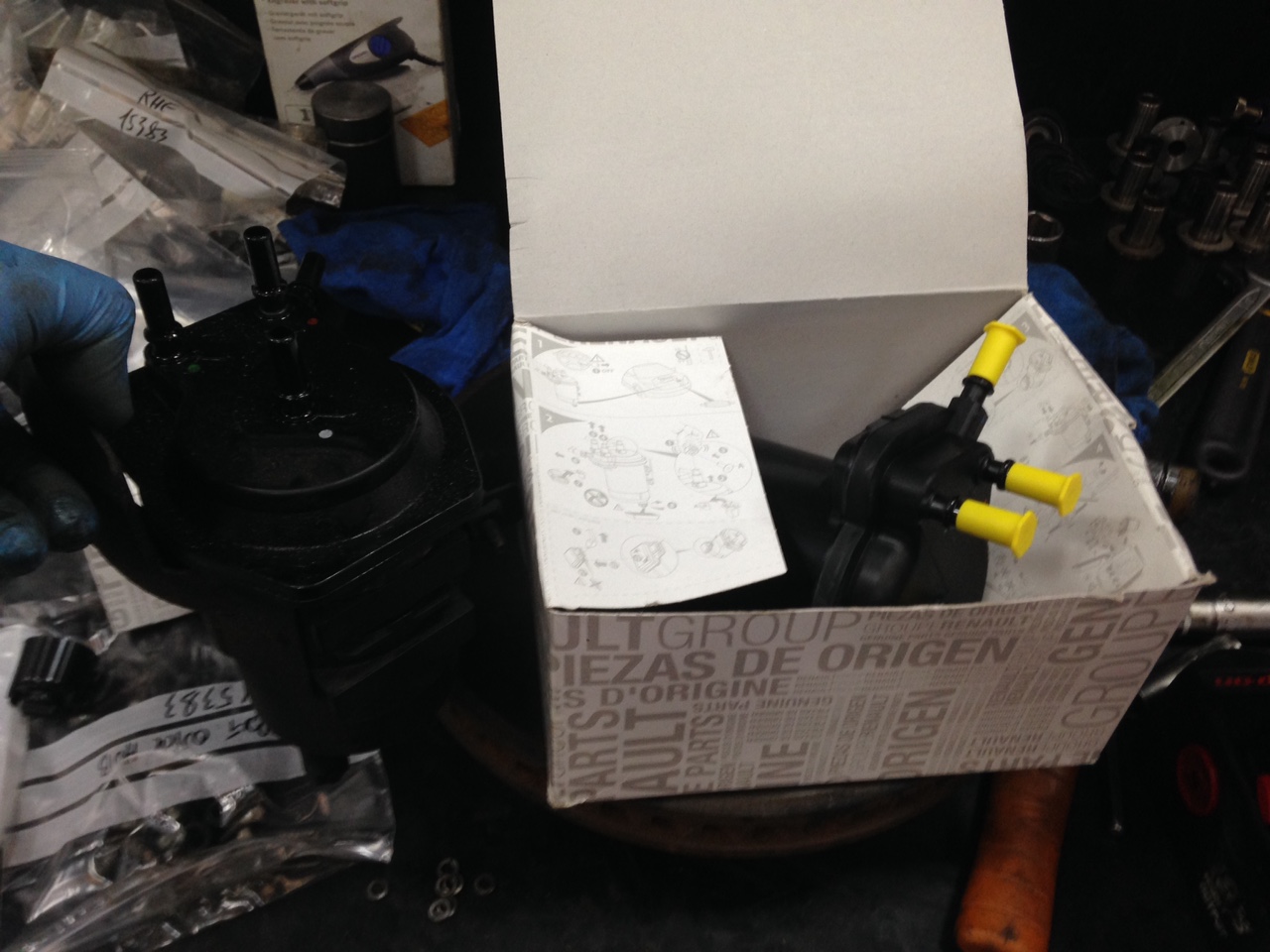 I can't stand 4 different tires, so while she was in the air I threw in two GoodYear EfficientGrip that I found on gumtree last week; 28 quid for two 2015 tires, 7mm tread left, almost new, I'd say pretty good deal.
While fitting the tires I cleaned the inside of the rims and removed any old leftover weight and glue, very common on cheap old cars; both front wheels then balanced on zero respectively with 25 and 35 grams each, they're straight.
I'll be fitting two more efficient Grip as soon as they come up at a decent price.
as said before, I replaced the other rear wheel bearing, nearside, even if not needed. the part was 10 quid, and the fitting took 2 minutes, timed this time.
God I missed cheap hatchbacks so much !
this is today, there's still some stuff to do;
I've got a complete gates timing belt and water pump kit, also some genuine Renault coolant to go with it. The job seems pretty daunting, I'll se how I go, it's needed.
Also on their way are two front shocks; the offside has an "expired" top mount that has torched the threads and won't even come off, will have to grind it off. almost two inches of vertical play, not nice. after that a geometry will be mandatory.
the brakes feel ok, plenty of pads still left but the discs are grooved and the fluid it's probably 14 years old. the abs light comes on occasionally because of a cracked sensor ring. I bought two stainless ones, to go on soon.
driver seat cannot be adjusted in height, will look into that.
clutch is heavy, but doesn't slip and the gearbox doesn't crunch, although some new oil there could help.
oh, and that Cat C thing: I think she was hit by something on the offside rear: from the jacking point up is all rust and the rear door doesn't close nicely, I'll see what I can do.
I'll also give a go at respraying the bonnet.
those 20 liters I put in lasted for 300 miles. that's almost 70mpg, city driving, I know this is ClioSport.net and not Clio MPG enthusiast club, but feels so good to be mobile without feeling guilty !
more updates soon, cheers for reading !