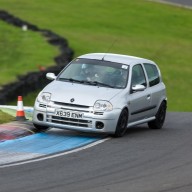 Scotland - South
ClioSport Area Rep
Evening people
Bored, so I thought I'd start a project thread for my most recent purchase! A ph1 172, 96k (roughly) on the clock, bought off a member on here on Friday, before that it belonged to
Chi
, and possibly another member on here before that. Unsure on it's full history, but the car seems good to me so I'm happy with that. No history for the belts so they'll be getting done soon by Rentec, but the dephaser is a bit noisy anyway so it was always on the cards.
Original plan was to get it, strip it, fit some bucket seats and harnesses etc and and turn it into a track car over winter, with a view to taking it up Knockhill at the start of next year's season. Unsure how that'll go, but it's a rough goal!
So anyway, since getting it on Friday I've fitted some Ph2 rear lights I had lying around, fitted a new high level brake light as the one on it was cracked, tidied up the front end a little bit (bumper had been resprayed at some point and there was overspray behind it, so done my best to get rid of that), gave the engine bay a quick steam cleaning, polished the headlights a little, and gave the car a half decent clean too. Other small jobs included fitting a new bracket for the UCH as it was hanging down at the passenger footwell, and sorting out the cold air feed for the standard airbox as that wasn't connected up (no induction noise now FTL).
Sadly only got this one photo of the car, but I'm trying to get my brother to send me some over that he took earlier today, so I'll fire those up when I get them.
Plans in the coming weeks are:
Get the belts and dephaser done. Probably water pump and thermostat too, temp gauge is sitting just below halfway when warm which I don't think is normal?
Sort out a click/clunk/knock from the steering. Happens under stress, turning steering opposite ways sitting still. Hoping it's bushes, but it's probably the rack. Good excuse to fit EPAS though!
Fit some HID's. Standard lights are shocking!
LCR front splitter
Eibach sportlines
Mist washer jets, aero wipers, silvervision indicators. The usual cheap stuff to do.
Refurb the F1's in black again. Been rattle canned. Look s**t. Oh and get some centre caps for them.
Get new front tyres, or swap the fronts with rears and go drifting
Generally enjoy the car!
Long term plans and plans for over winter are:
Find a new backbox. Current cat-back system sounds quite good, but drones a bit too much. Oh and the twin exit tailpipe looks like a chav's wet dream.
Front suspension refresh
Maybe coilovers
Smaller steering wheel
Strip it, probably including an A/C delete
2 bucket seats and 4 point harnesses
Maybe a cage at some point
Acquire more alloys (because trackcar)
Acquire more tyres (see above)
Bankrupt myself buying things from PMS. The list of things I've seen and want go on and on.
So yeah, that's about it for now. Will put up some more photos when I get them, and will try and keep this updated as much as possible. Will be more exciting than my dci project thread anyway!