These are pretty much the only snap on thing I own

Really good for removing awkward clips on cars though.

View attachment 1571882
Nice, I want these:

They are striking pry bars, my mate who works on trucks has a set and the ends are nicely hardened and have survived while most tools in his care die.
But just seen these while looking for the pic above, about 1/3rd the price too: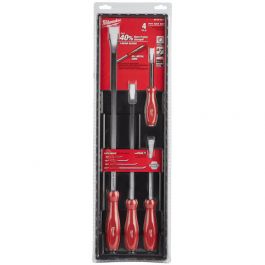 Milwaukee 48-22-9214. 4pce I-beam pry bar set. Pack includes 200mm, 300mm, 450mm and 600mm pry bars or 8, 12, 18 and 24 inches. Hammer striking crowbars for prying tough materials and pulling nails. The Milwaukee pry bars for mechanics. 045242508099.

www.bigredpowertools.co.uk