Right having owned my 182 for over a year now it's about time I started a project thread for it as a lot has changed over the past 12 months.
Firstly I owned a DCI 65 before the 182 came along. As with most people and there first cars a handful of mods happened such as Lowering Springs, Turini's, Sport Grill, 'Chavy' Angel Eye Headlights etc etc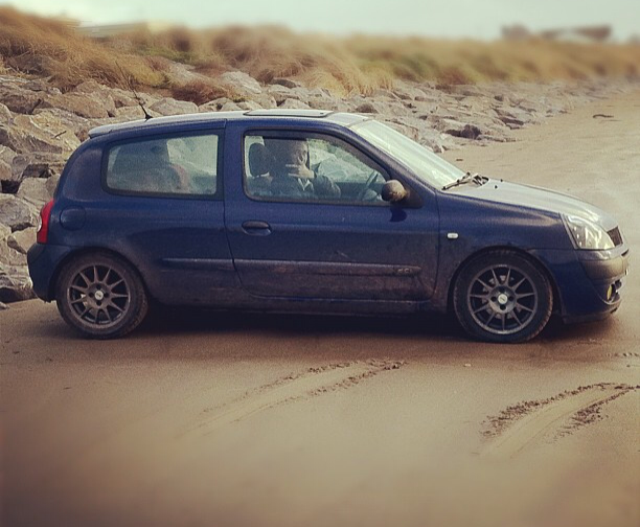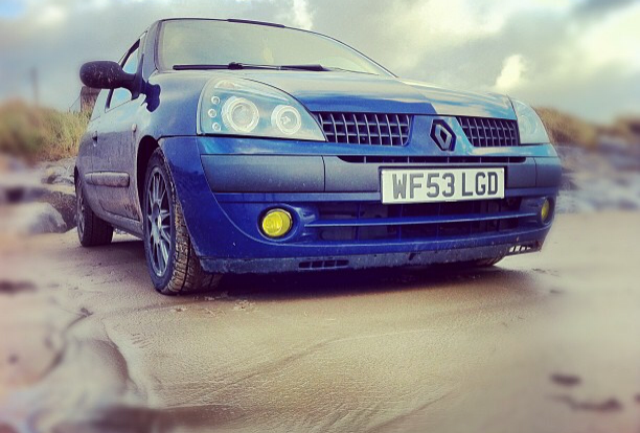 I then bought the car in April 2012 eBay and what a mistake I made! Not knowing anything about Renault Sports and not a massive amount of cars I took it for a test drive and fell in love with it. It was completely standard apart from a K-Tec Janspeed Exhaust System, HID Kit and a K-tec Panel Filter. All seemed well and I got it home on the same day off purchasing it. Picture below of when I got it home.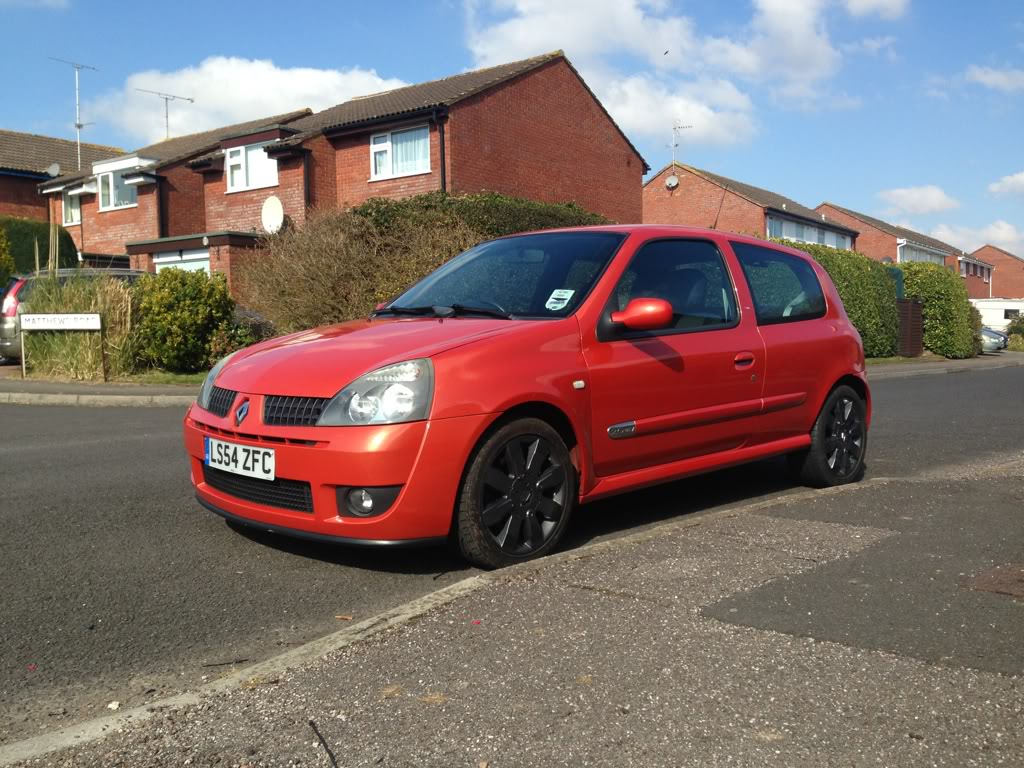 It then began to develop a funny noise from the engine so i did a quick search and found it could possibly be the dephaser pulley. I contacted my local RenaultSport specialist Dan@SJM and booked in to have a full check over of the car to diagnose any problems and boy was I in for a shock...
The noise was the Aux Belt, it had badly frayed and Dan said it was the worse one he had every seen that hadn't snapped. Further inspection of the car and Dan drew up a list of what needed to be done. This has certainly taught me a lesson for buying cars in the future, do your research!
The list: Supply and Fit; Alternator, Aux Kit, Exhaust Mounts, Rack Bushes, Oil and Filter, Washer Motor and Sump Gasket.
It wasn't the best situation to be in after buying a new car but the work had to be done so it was booked in with Dan immediately and he had it all done quickly and professionally.
I'd like to take this opportunity to thank and recommend
Dan@SJM
for all the help, favours and work he has done for me over the last year or so, a top guy with rave reviews on the quality of his service and work carried out.
After paying off the insurance and the work done by Dan it was now Mod time! First was a set of Eibach Sportline Springs. A great spring I found with relatively good ride comfort and great handling when on the cup shocks.
Springs Fitted.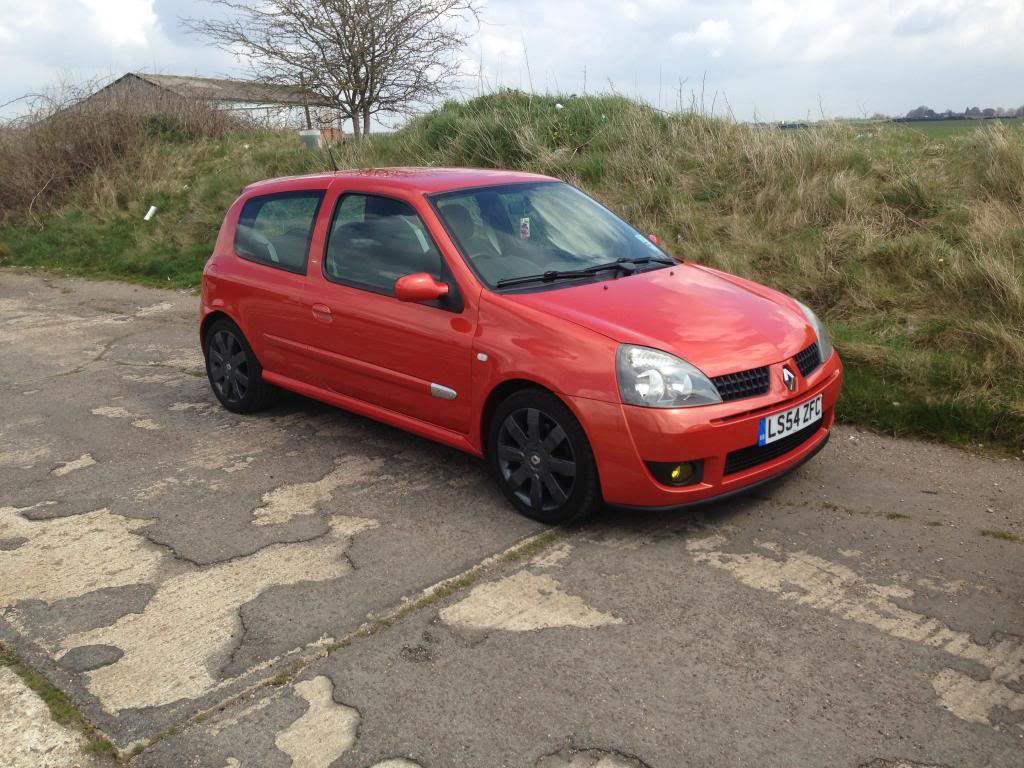 Next was a DIY induction kit consisting of a RAMair Filter, 90degree bend and a Orange Samco Induction Hose. A carbon fibre engine covered was also purchased from a member on here. I think it looks smart yet not over the top.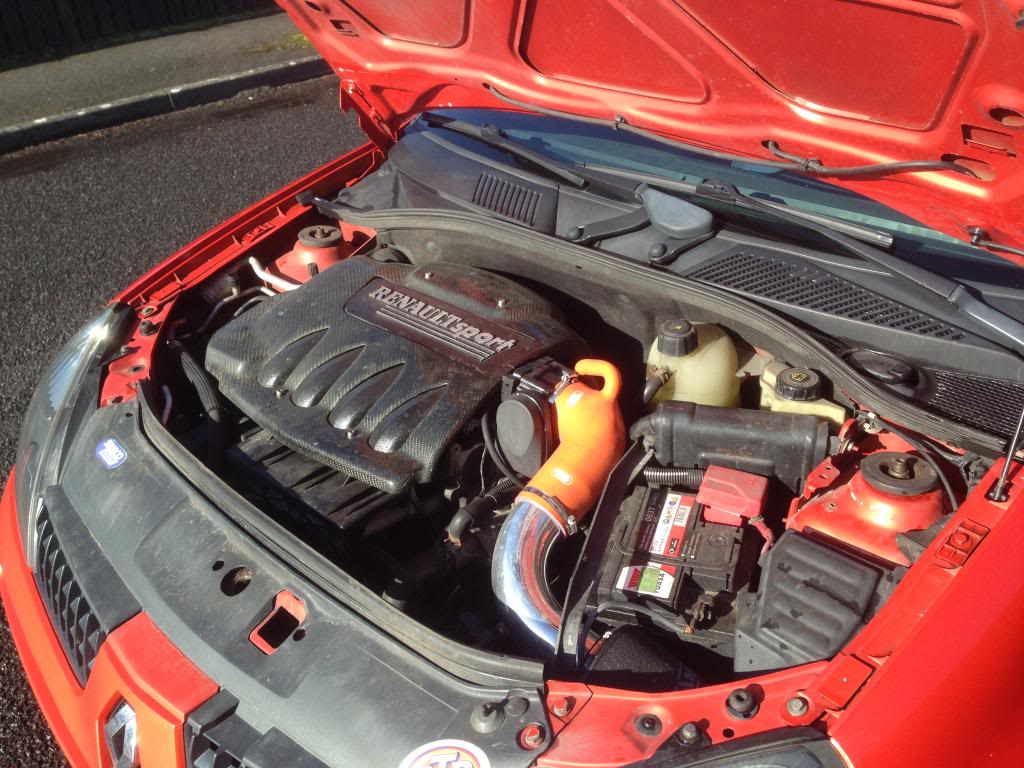 I then attended my first meet at the Barn Owl in Exeter (the monthly meet for the South West owners) and met a really great bunch of people which spurned my interest even more. I am now a regular attendee to most of the meets in the South West as they are usually a great day out with like-minded people.
A couple of meet photos I've attended.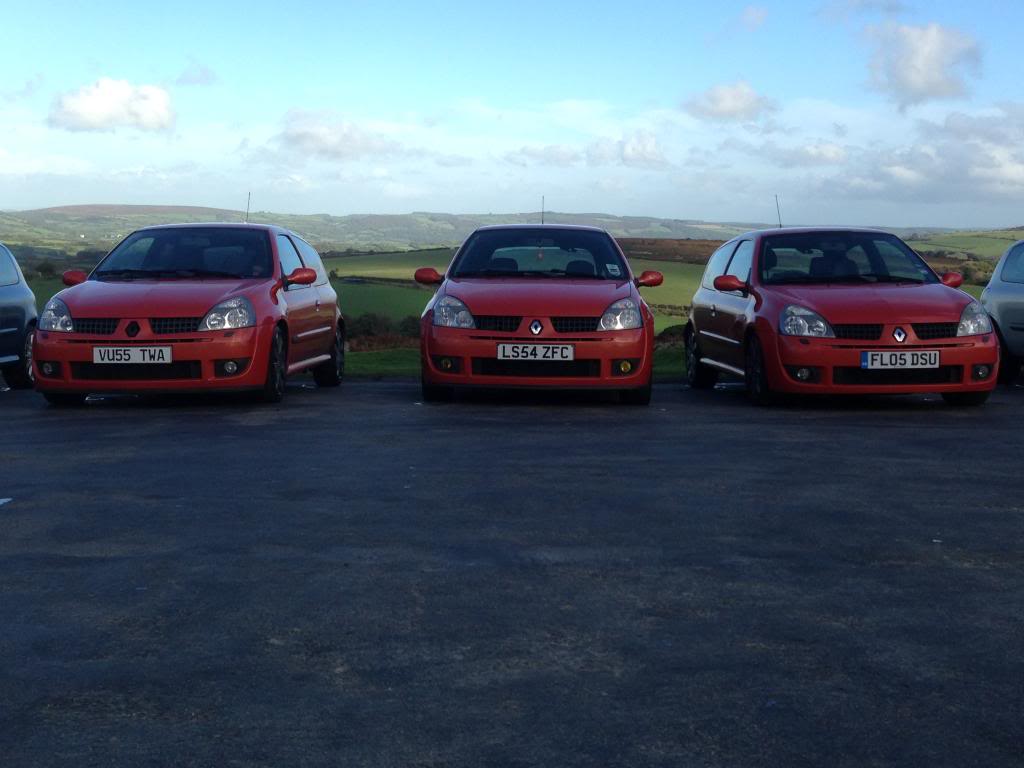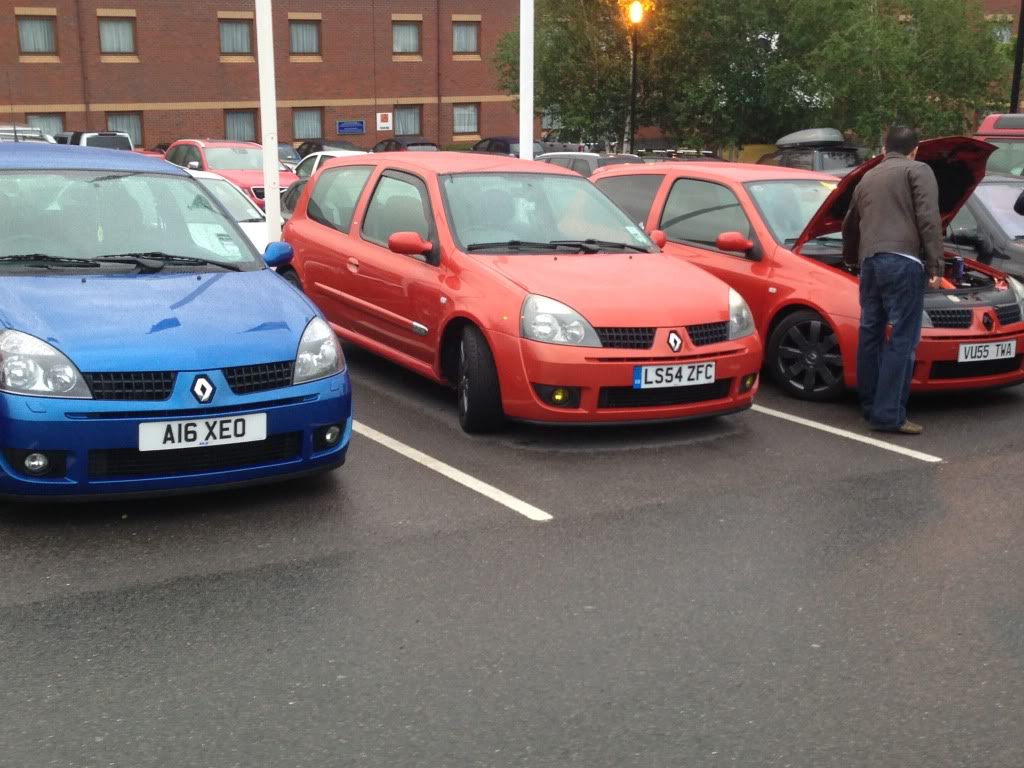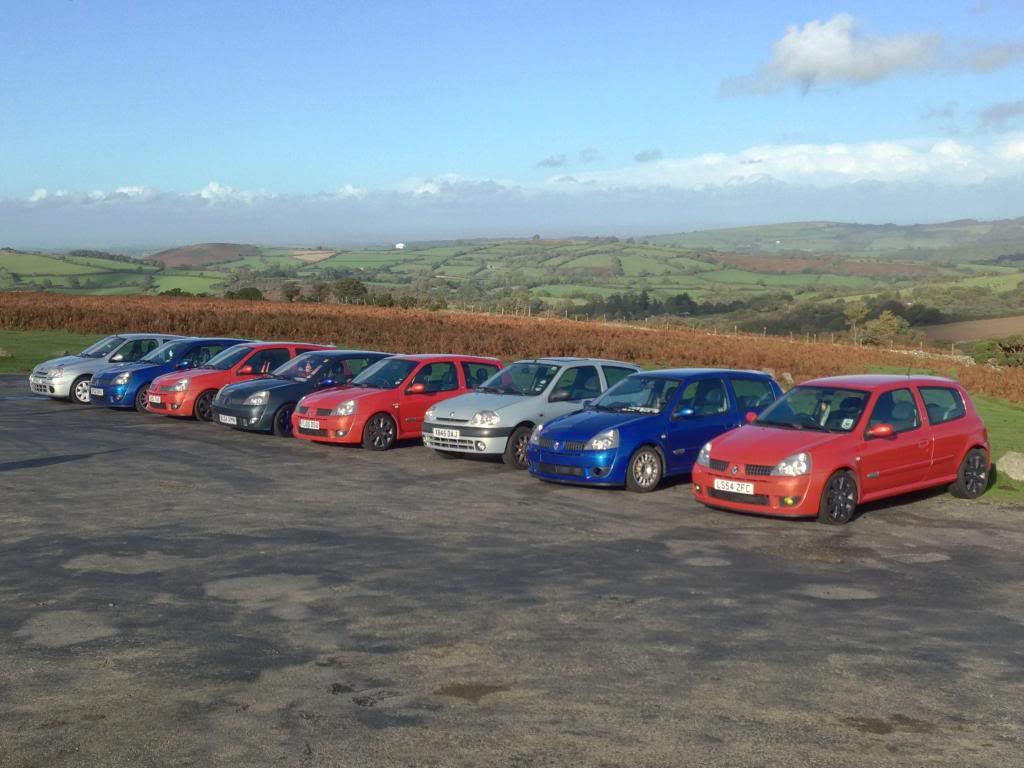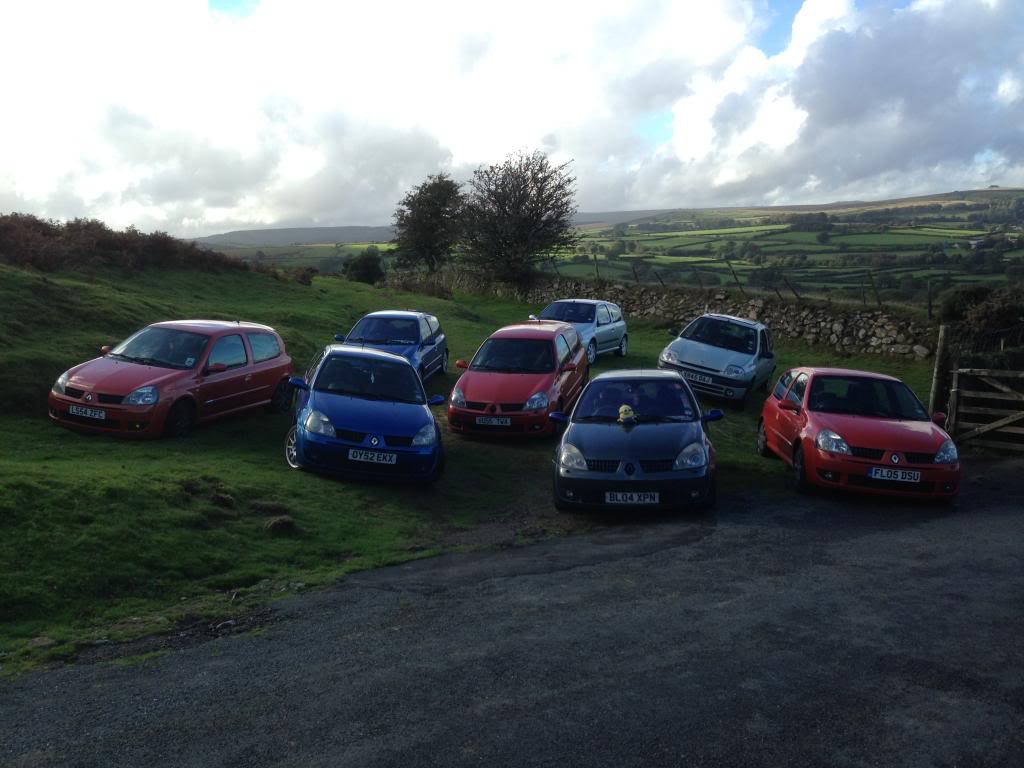 The best meet so far was the rolling road day organised at Tipton near Exeter. It was a great turnout and my car made 186bhp on the roller with the Decat, Exhaust and Induction Kit so I was very pleased.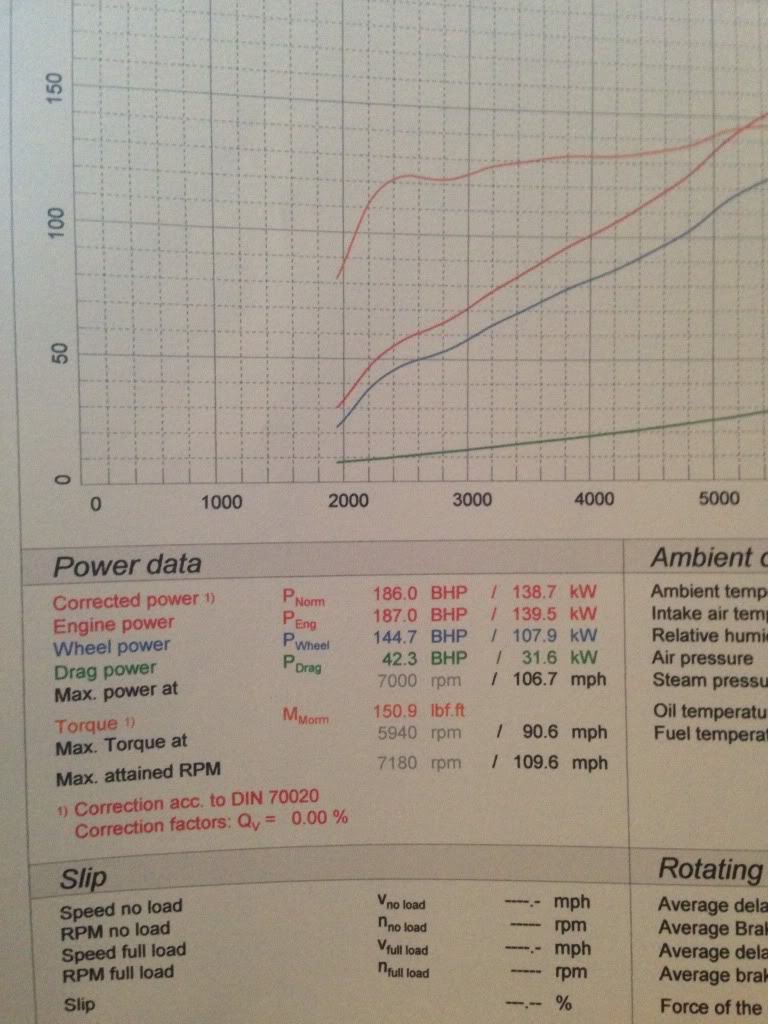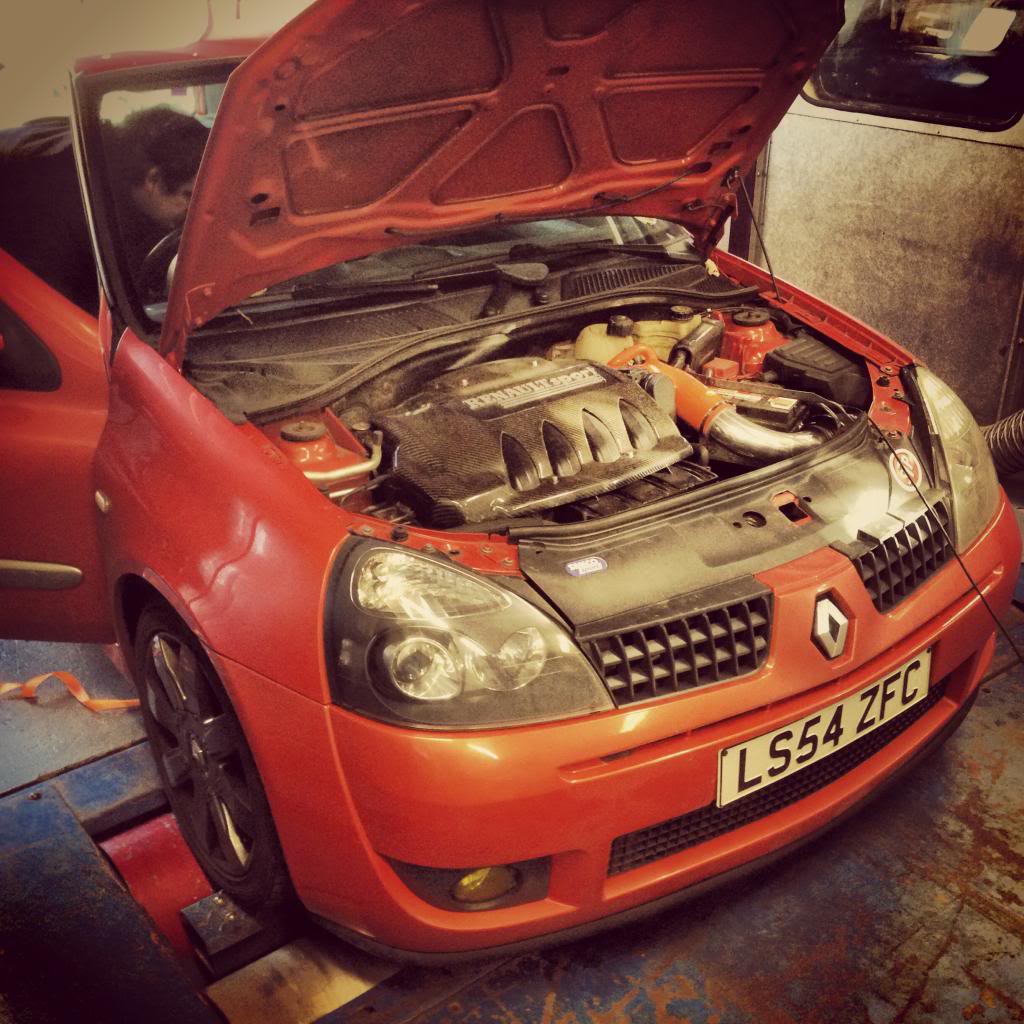 Next was some Black Insert Xenon Headlights from a 172 to replace to overly bright HID Kit installed by the previous owner. Definitely a lot better than normal bulbs and getting flashed all the time for having ultra bright HIDs!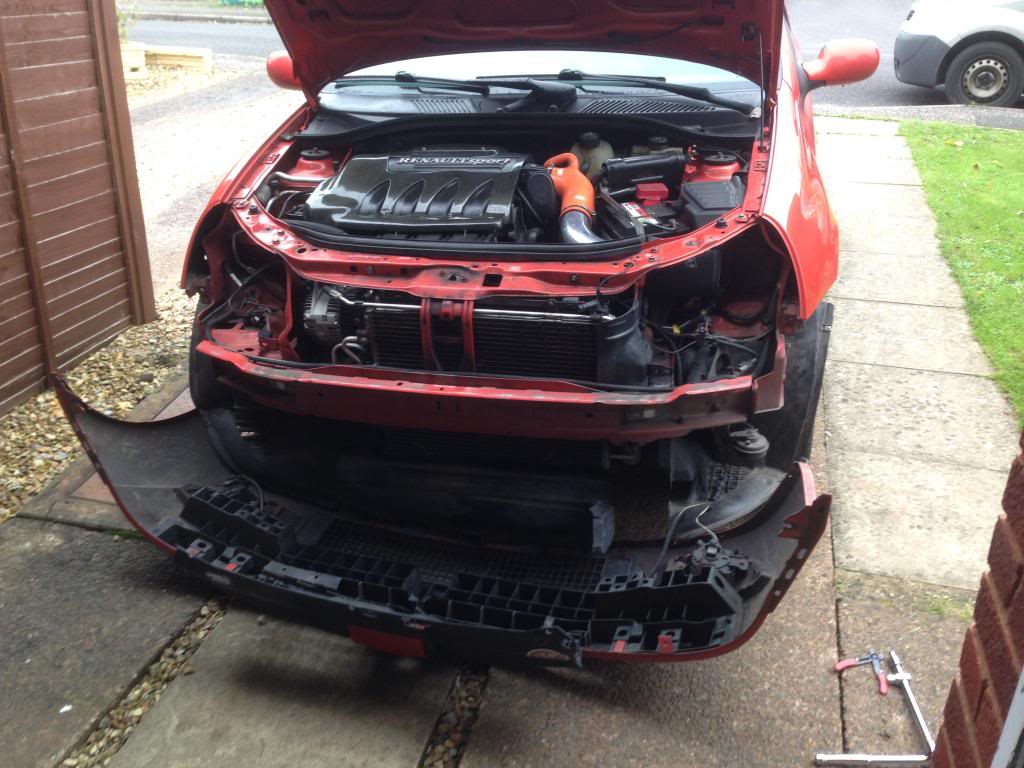 After this a Full Half Leather Interior was purchased as I wasn't a fan of the cloth cup interior (Yes I know it's slowly turning FF) and they were fitted and I actually managed to sell my cup interior for a decent amount of money! That was it for a few months until this happened down a country lane on the way to work..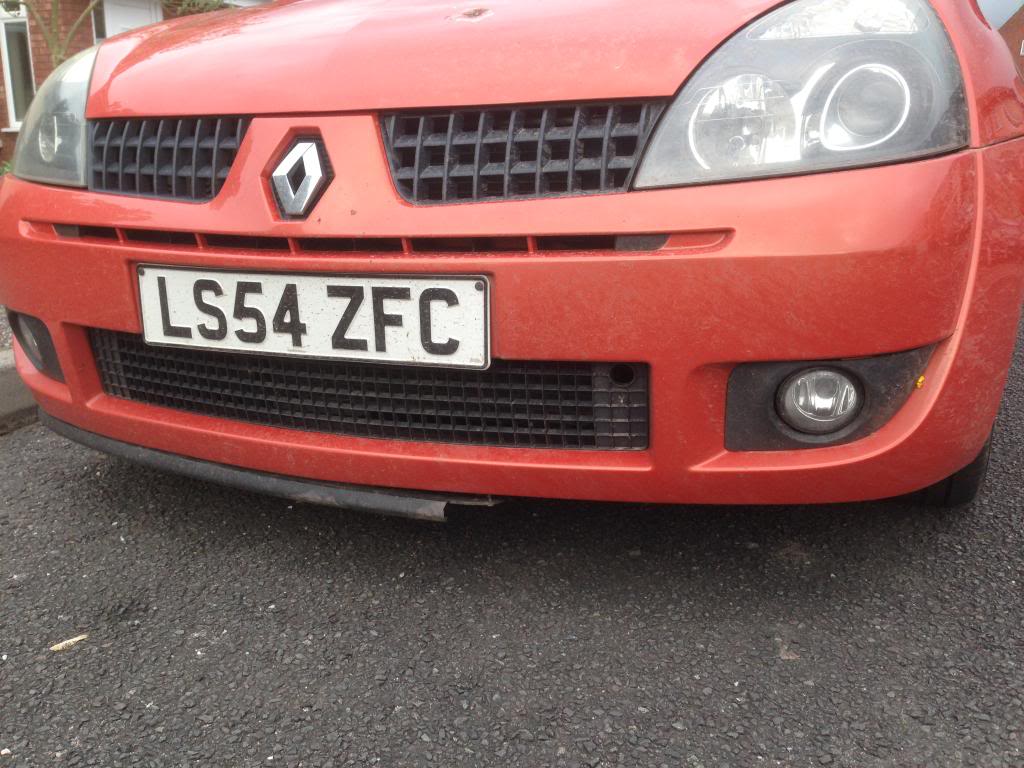 I was a bit annoyed as this was only a few days before FCS and I was on the cliosport.net stand so wanted it to look it's best! And the fact it was a genuine cup splitter but a well a Skoda Fabia one was purchased and fitted just in time.
French Car Show was awesome, met a few new faces and saw some wicked cars. Here's mine on the Cliosport.net Stand!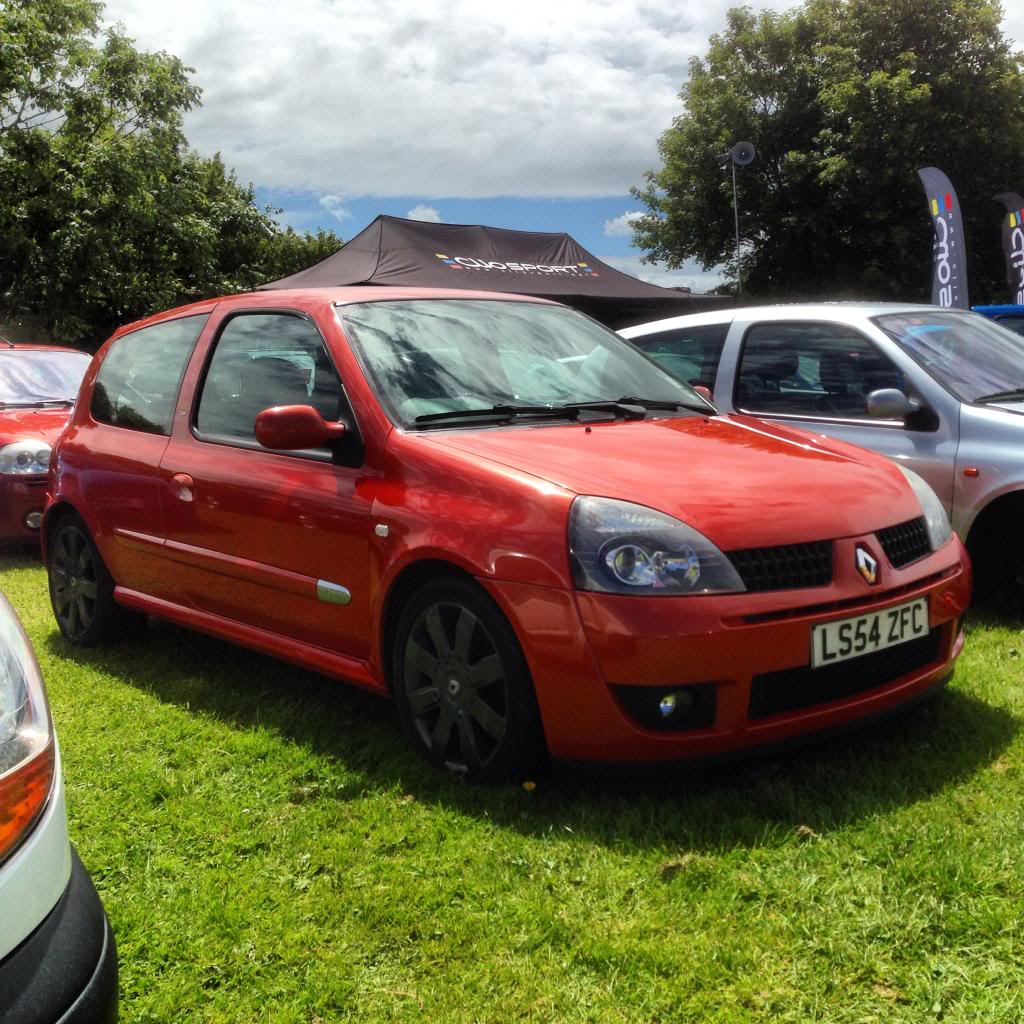 And a rolling shot.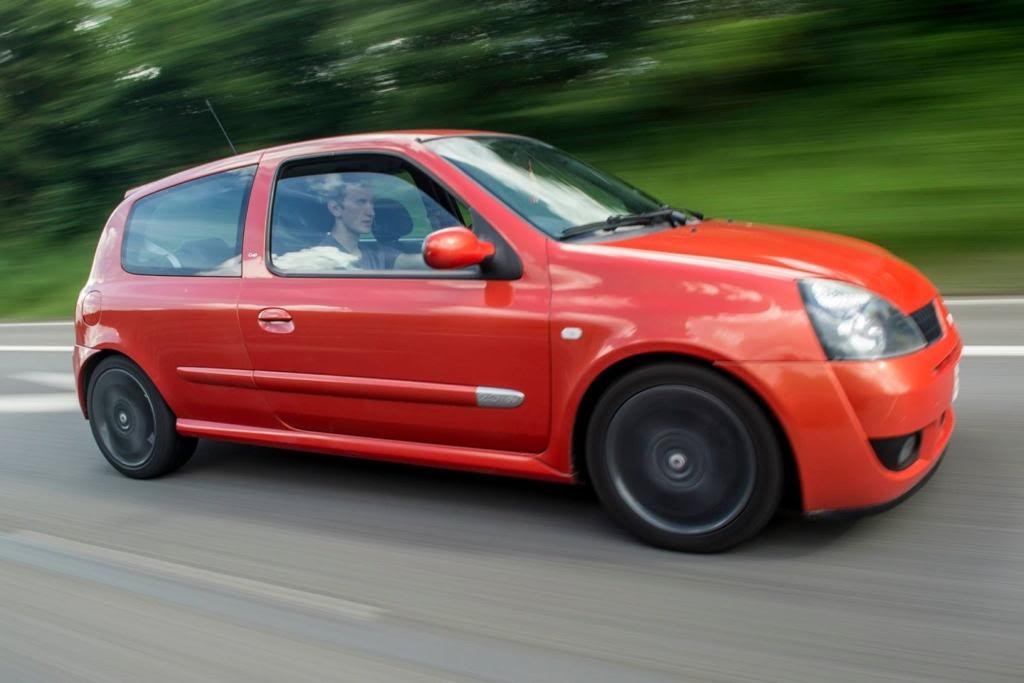 After FCS I noticed the dephaser had been rattling for a while now and checking my maintenance book the belts were now due. It was off to Dan@SJM again but before that I purchased a set of 197 cams from Chip and had them fitted and mapped by Dan whilst he was doing the belts. This made a very noticeable difference in the driveability of the car and the way the power is laid down. I can highly recommend!
Then it was a perosnalised number plate for my birthday. R7 HYY which translates to Richy.. (Roughly)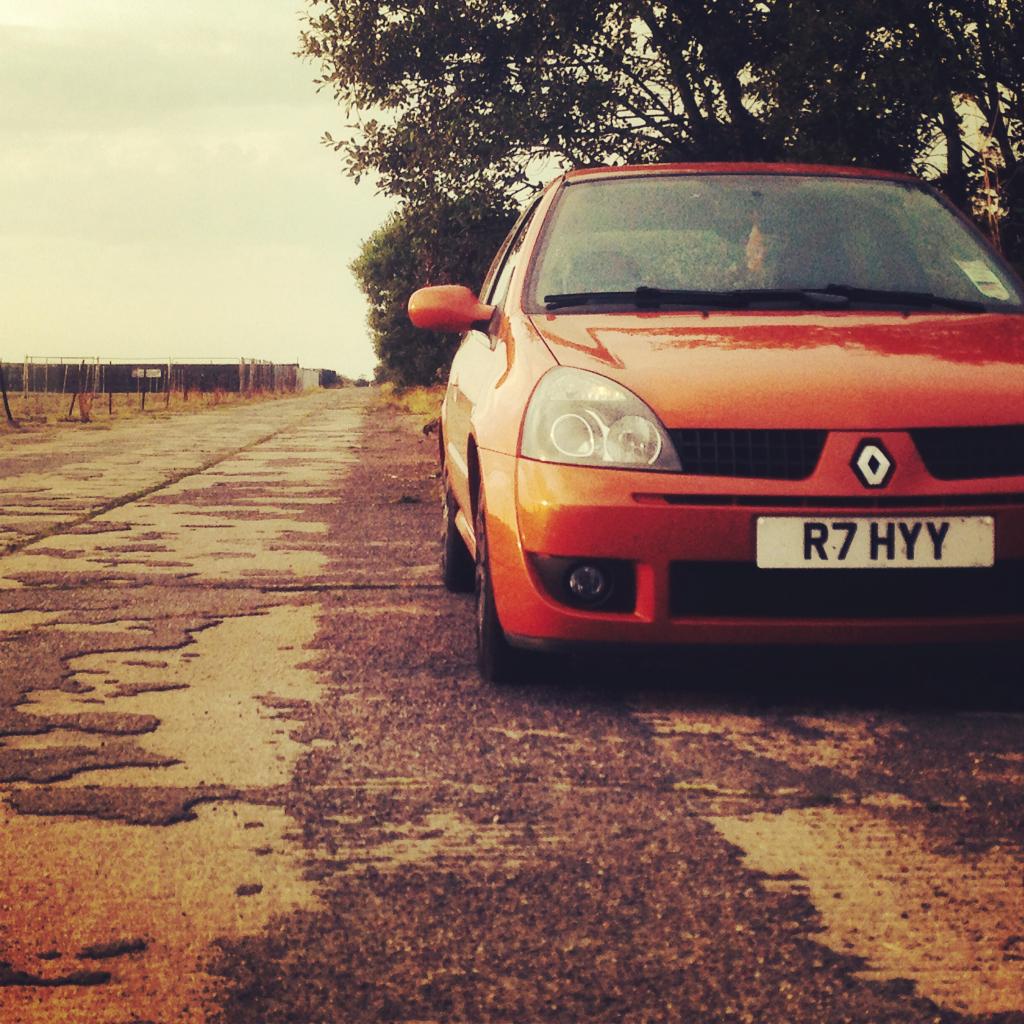 And that takes us up to today, not a massively detailed thread I know but just an update on what's happened. Not much more planned now, I have a set of Turini's in the garage I'm going to get refurbed in BMW Sparkling Graphite and I've just bought a RARB from Lawro so hope to get that fitted soon. Also another run on the rolling road is planned. I just want to enjoy the car now and save my money for something new.. or maybe some coilovers and trendlines but we shall see!
Any comments welcome and thanks for reading!